GIGABYTE P2542G Gaming Laptop Review
We take a look at GIGABYTE's P2542G gaming notebook, which performs surprisingly well as an all-around machine, but not so well as a true gaming machine.
Published
15 minute read time
Introduction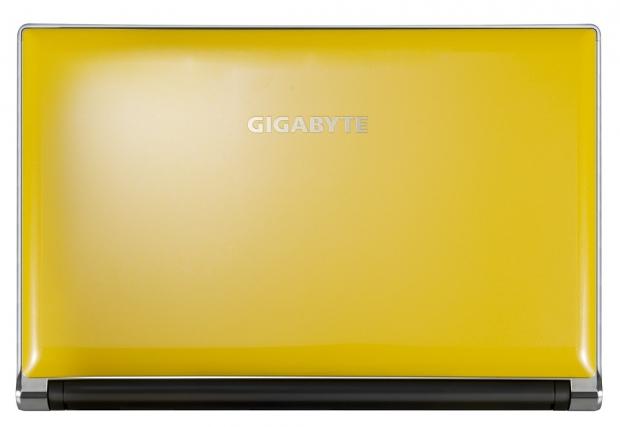 GIGABYTE has long been known for producing quality motherboards. As of late, the company has been venturing into more areas of the computing market, including video cards and, most recently, notebooks. It will be interesting to see if GIGABYTE's quality transfers over to its notebook division.
Today, we'll be looking at GIGABYTE's P2542G. One of the first things that strike you about the notebook is the color. In our case, the lid is a bright yellow, which causes the GIGABYTE notebook to stand out from the others we have reviewed. As you can see in the picture above, it's a good, strong yellow color, instead of a washed out and pale yellow.
Around the border of the lid is some fancy chrome trim, which I actually would do away with. Sure, it looks good, but it affects usability, in my opinion. Beyond the aesthetics, the system is a rock-solid gaming platform, though not the fastest one available. However, what you give up in graphics performance, GIGABYTE gives back in general performance.
The GIGABYTE P2542G performs the best in our system tests out of any of the systems we have tested so far. Coming in at a 15.6-inch machine, it's also more portable than other gaming machines, but this size also comes with some drawbacks.
With that in mind, let's take a look at the specifications and configuration options.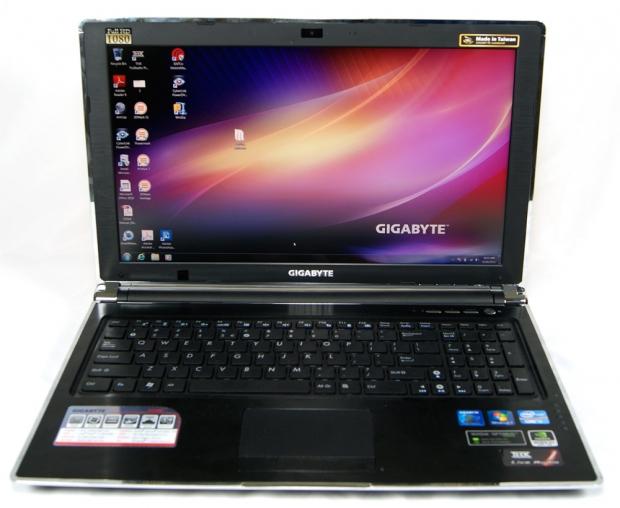 Specifications, Configurations, Pricing and Packaging
Specifications, Configurations and Pricing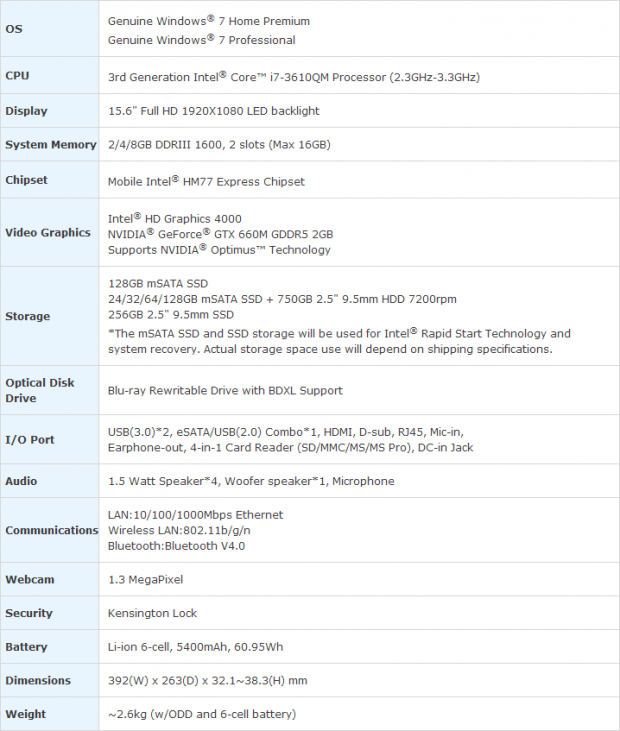 Our review system features an Intel Core i7-3610QM, an NVIDIA GTX 660M with 2GB of vRAM, 8GB of DDR3 RAM, a Blu-ray writer with BDXL support and a 256GB solid state drive partitioned into two partitions. Why they would do this is beyond me. It comes with Windows 7 Home Premium and Microsoft's Windows 8 Upgrade option.
Our exact review configuration is not for sale in the United States; however, one that has nearly everything except for the 256GB solid state drive is listed at $1294. The $1294 model features a 128GB mSATA SSD and a 750GB 7,200 RPM HDD. The GIGABYTE notebooks are all quick-ship models meaning that they are produced at the factory, sold to distributors who then sell them to the final customer.
Due to this, customization is not an option, though they have a few different configurations available. Of course, some upgrades can be done by the customer. These upgrades would include switching out the hard drive or upgrading the RAM.
The picture at the top of this page shows the different specifications that the GIGABYTE P2542G is available to come with. The main differences between the models will come in the form of storage configuration and RAM amounts.
Packaging
Due to this being the second, third, or fourth review of this system, the packaging has been pretty badly beaten up by all of the reviewers opening and closing the boxes. It's not picture worthy, however, through it all, including multiple shipping trips, the laptop has survived without a scratch.
Similar to the iBUYPOWER Valkyrie, the laptop arrived in a box inside a larger outer box that was filled with peanuts. This shipping configuration helps guarantee that the system arrives undamaged. Inside the inner box, the laptop has the traditional foam support so as to protect from vibrations, drops and other shipping-related damage.
Temperatures, Cooling and Noise
As stated in the introduction for this machine, being a 15.6-inch gaming machine, it has drawbacks. One of the main drawbacks is that the cooling system has to fit into a reduced space. This causes it to be able to remove less heat and the components run hotter.
GIGABYTE has slimmed the thickness of the P2542G, which also has an impact on the cooling capacity of the machine. So, while the machine is a gaming machine, it has a footprint that is more akin to an everyday laptop. However, this all has had an impact on cooling and the machine runs hotter than is really acceptable.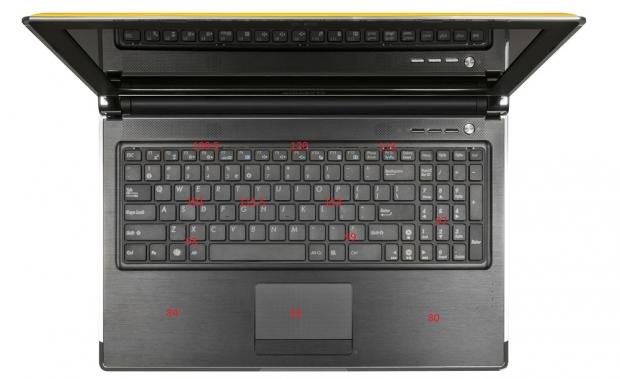 As you can see, on the front of the system, we logged a maximum temperature of 120 degree Fahrenheit and a maximum of 113 degrees Fahrenheit directly in the middle of the keyboard. For our friends using Celsius, those temperatures are roughly 49 degrees and 46 degrees, respectively. The palm rests stayed a cool 85 degrees Fahrenheit, or 29 degrees Celsius. This is likely due to having a solid state drive, which produces minimal heat compared to a traditional disk drive.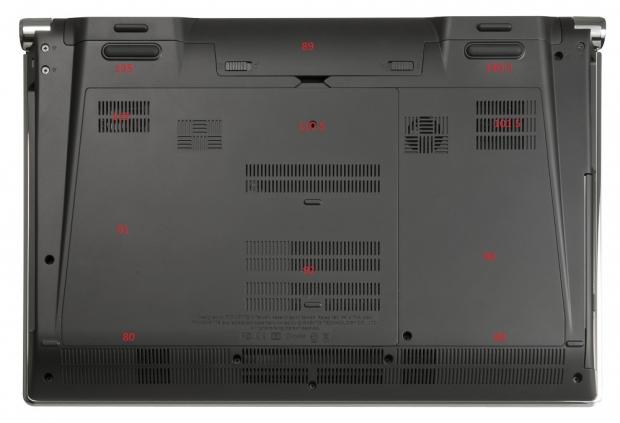 Moving around to the back side, temperatures were even higher. The maximum observed temperature was 140.5 degrees Fahrenheit, or 60 degrees Celsius. This was observed directly above hot air exhaust port. The rest of the system ranged from 80 degrees to 135 degrees Fahrenheit, or 27 to 57 Celsius. All of the hotter temperatures were towards the back of the system where the processor, GPU and heatsink assembly are located.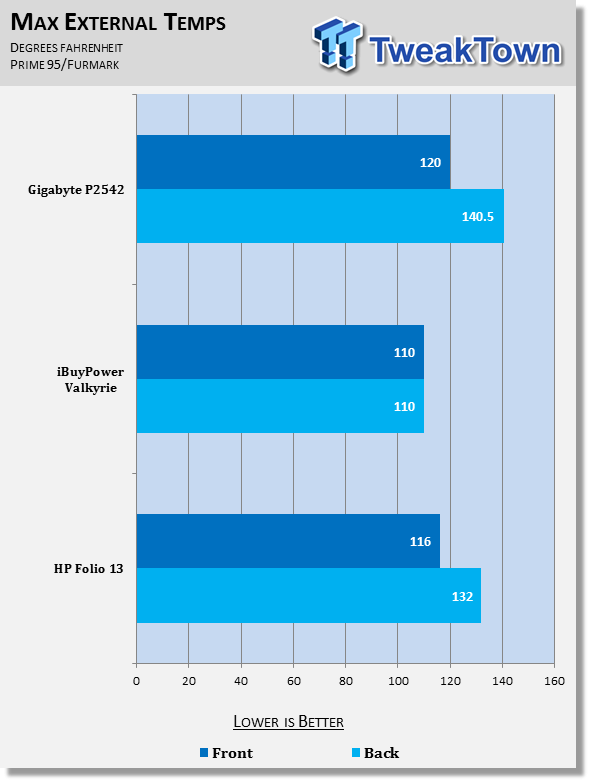 The maximum observed GPU temperature was 85 degrees Celsius, a temperature well within the limits for a video card. The CPU reached a maximum of 102 degrees Celsius, a temperature that is quite a bit higher than I would like to see a system running at. While mobile chips are designed to withstand higher temperatures, this is a bit unreasonable.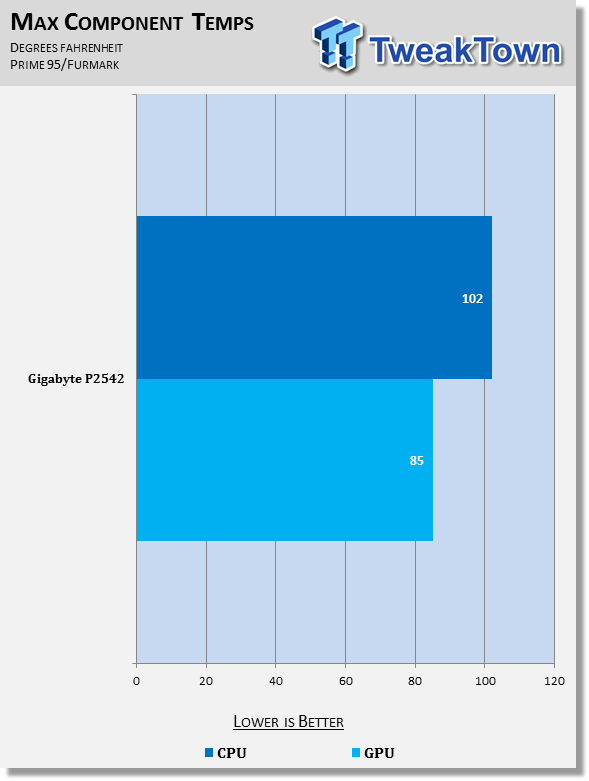 Due to the extremely high temperatures noted, it is highly recommended to use the device on a hard surface to avoid damage to skin or laptop.
We've also added a new measurement tool to our arsenal so that we can get you more accurate sound numbers. The GIGABYTE produced a sound level of 48 decibels in our measurement. Our measurement is taken in front of the laptop at roughly head level. For comparison, 30dB is a totally quiet night time in the desert, 40dB is whispering, and 60dB is a normal conversation.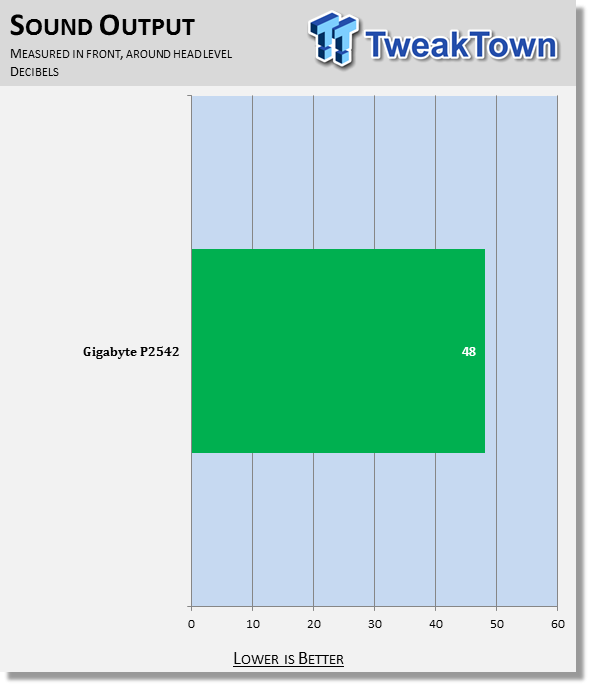 Keyboard, TouchPad, Screen and other User Interfaces
Keyboard and TouchPad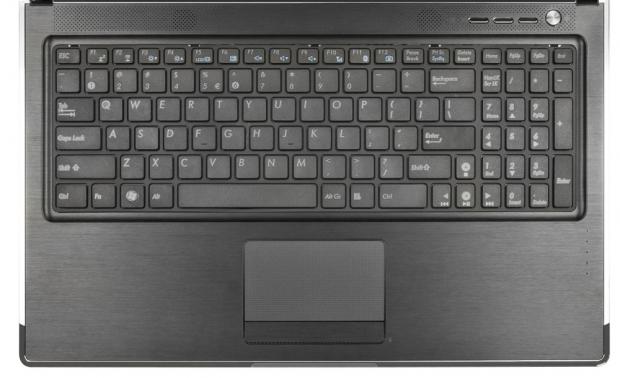 Nearly every laptop manufacturer has moved to the island-style keyboard, and GIGABYTE is no different. The keyboard on the P2542G is an excellent specimen. It's comfortable to type on and resulted in very few typos even at the start of using it.
There's quite a bit of flex near the semi-colon and arrow keys on the keyboard, but at the all-important gamer-used WSAD keys, there is nearly no flex. It appears that there is some reinforcement in this area, which results in a better gaming experience.
The full-size keyboard and number pad resulted in a very nice typing experience. I was able to quickly adjust to the system and utilize the keyboard at near my maximum typing speed, a testament to the quality of keyboard GIGABYTE has included on the P2542G.
The keys have a fairly smooth texture on the surface and appear to be perfectly flat. The keys have a smooth travel when typing, but seem to feature a slightly shorter travel distance. The tactile feel of the keyboard is also very good as the keys feature a nice resistance and a good feeling when they bottom out.
Unfortunately, GIGABYTE opted to not include a backlit keyboard on the P2542G, something that should really be included on any notebook system, especially one that is designed for gaming, as they are often utilized in a dark room.
The touchpad is a two-piece assembly. The touchpad portion and click buttons are two different pieces. The left and right click buttons are a single piece of plastic, which makes clicking towards the middle somewhat difficult. I'd prefer two separate and distinct buttons for left and right click.
The touch-sensitive area of the touchpad has small bumps over the surface, which sets the touch-sensitive area off from the rest of the system. It is also indented into the palm rest ever so slightly, but this is barely noticeable. The touchpad is centered on the system and not on the keyboard, so my wrist would occasionally move the cursor, though GIGABYTE seems to have something that prevented mouse input while typing.
Screen
GIGABYTE has fitted the P2542G with a 15.6-inch 1080p screen. The screen is of the LED backlit variety and features a matte coating so as to reduce glare. As with most matte implementations, it has a slightly grainy texture, though it's basically not noticeable when using the screen.
Viewing angles are rather impressive, since I believe the panel to be of the TN variety. Moving your head to the left or right results in a very slight change in color and brightness, even to extreme angles. Moving vertically, the panel doesn't fare quite as well, though it does better looking down from above than it does looking up from below.
Colors are vibrant and seemingly well reproduced. Of course, no TN panel will ever be able to compete with an IPS on viewing angle or color reproduction. There shouldn't be any surprises when looking at pictures on the screen, and games look good.
Testing Methodology
View our full testing methodology article.
- Accessory Port Testing
Ports to which an external storage device can be connected to are tested using HD Tune Pro to obtain their maximum, minimum and average read and write speeds. USB 2.0, USB 3.0 and eSATA ports are tested using a Corsair Neutron GTX 240GB SSD that is capable of saturating the theoretical bandwidth available.
The Corsair Neutron GTX is housed inside an Icy Dock external enclosure which features a SATA I/II/III to USB 3.0 and eSATA converter.
- Gaming Tests
3DMark Vantage is ran on the Performance preset to get a feel for how the computer would manage gaming. The CPU, GPU and combined scores are reported. A higher overall score is the best and a high GPU or CPU score shows particular prowess with tasks that use that part of the computer.
3DMark 11 is run on the Performance preset and the Physics, GPU and combined scores are reported. This test is only run if the system supports DirectX 11. A higher overall score is the target, though a high individual result shows prowess in a particular area.
- System Tests
PCMark 7 is run to get an overall idea of how the system performs as a whole. It tests all aspects of the PC and puts a score on how well it performs overall. In this test, a low scoring area can affect the overall score, so it's important to read the analysis. A higher score is better.
MobileMark 2012 is another test run to get a feeling for the system performance taken as a whole. MobileMark 2012 uses real-world applications as part of the benchmark. We use the Office Productivity suite which includes applications like Adobe Acrobat and Microsoft Word. The test also reports battery life as all tests are run on battery. Higher is better for both results.
CrystalDiskMark is run to put a number on how well the system hard disk drive / SSD runs. It measures five different metrics, of which higher is better for all. The higher the numbers, the snappier the operating system will feel, especially if the "4K" number is high, as most operating system files are small files.
- Battery Life
PowerMark is used to measure battery life of the system when set to "Balanced" and "Performance" power plans. This test simulates several different activities, but uses custom built applications.
Accessory Port Layout and Performance

The left side, from back to front, features the power port, VGA port, a USB 2.0/eSATA combo port and the optical disk drive.

The right side, from back to front, features the Kensington lock, gigabit Ethernet port, HDMI out, 4-in-one card reader, two USB 3.0 ports and a headphone and microphone jack.
HD Tune Pro
Version and / or Patch Used: 5.00
Developer Homepage: http://www.efdsoftware.com
Product Homepage: http://www.hdtune.com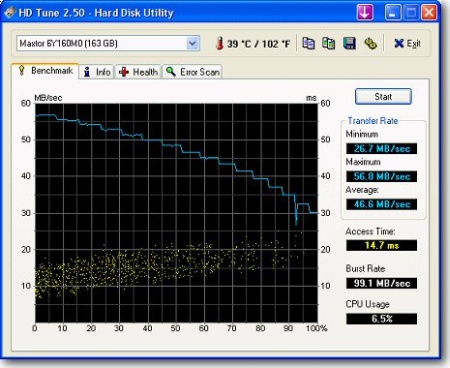 HD Tune is a Hard Disk utility which has the following functions:
Benchmark: measures the performance
Info: shows detailed information
Health: checks the health status by using SMART
Error Scan: scans the surface for errors
Temperature display
HD Tune Pro gives us accurate read, write and access time results and for the last couple of years has been gaining popularity amongst reviewers. It is now considered a must have application for storage device testing.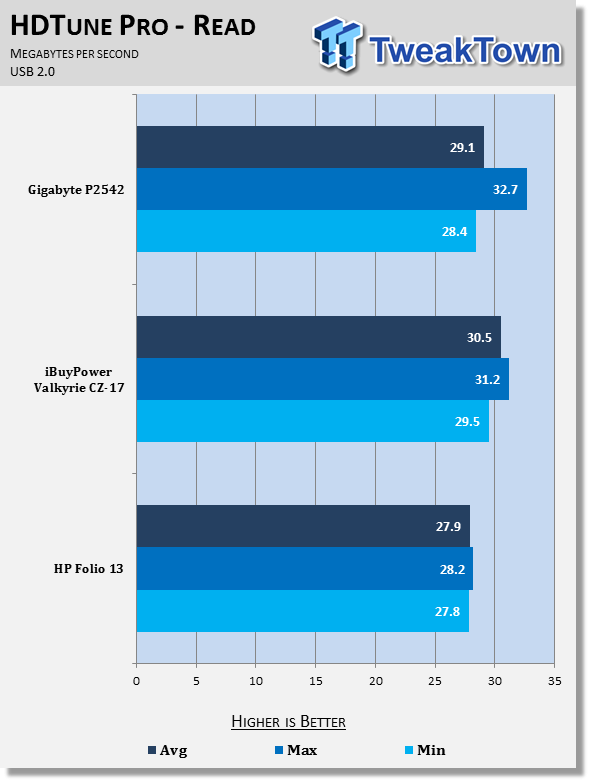 The GIGABYTE P2542G's USB 2.0 implementation doesn't really offer any surprises. It runs in a similar range as the other two comparison systems and averages out to be in the middle of the two.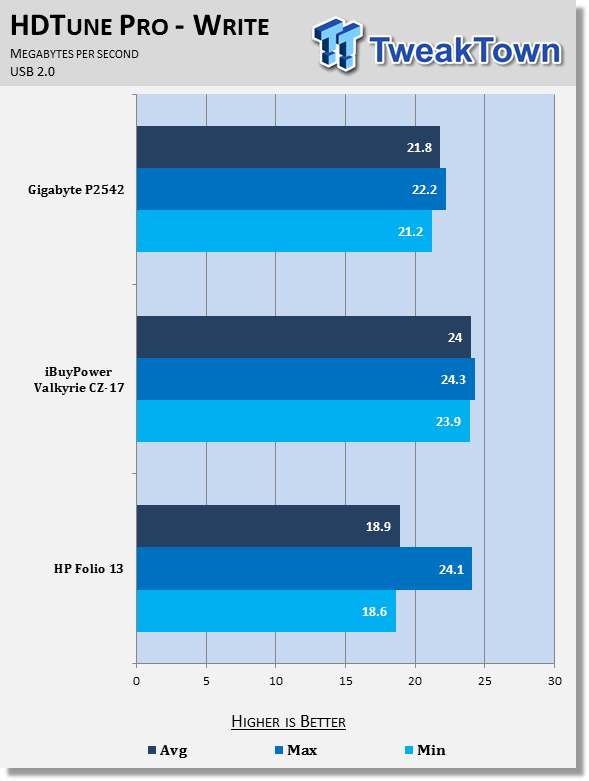 Again, nothing exactly surprising or exciting happening with the P2542G's USB2.0 write performance. The system manages an average of 21.8MB/s, which is above the HP Folio 13 and below the iBUYPOWER Valkyrie.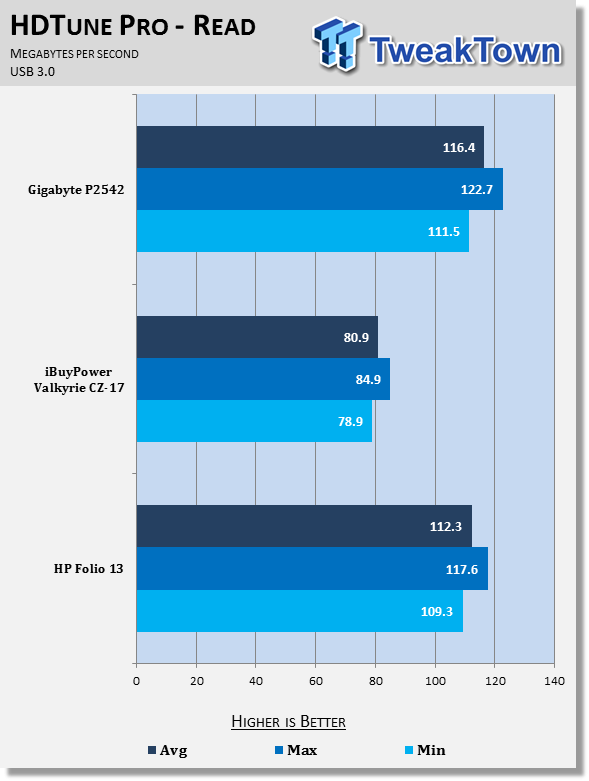 Moving to USB 3.0, however, the GIGABYTE P2542G manages to take the lead, performing significantly better than the iBUYPOWER Valkyrie and managing to eke out a victory over the HP Folio 13.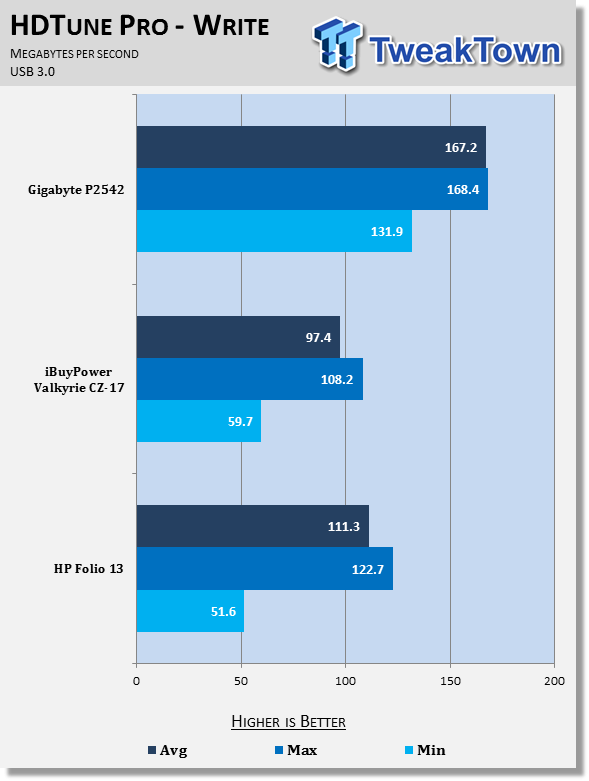 When it comes to write performance, however, the GIGABYTE P2542G provides a nice surprise. It absolutely blows the competition out of the water with an average write speed of 167.2MB/s. Considering that the next closest competitor only managed 111.3MB/s, the P2542G is the clear winner.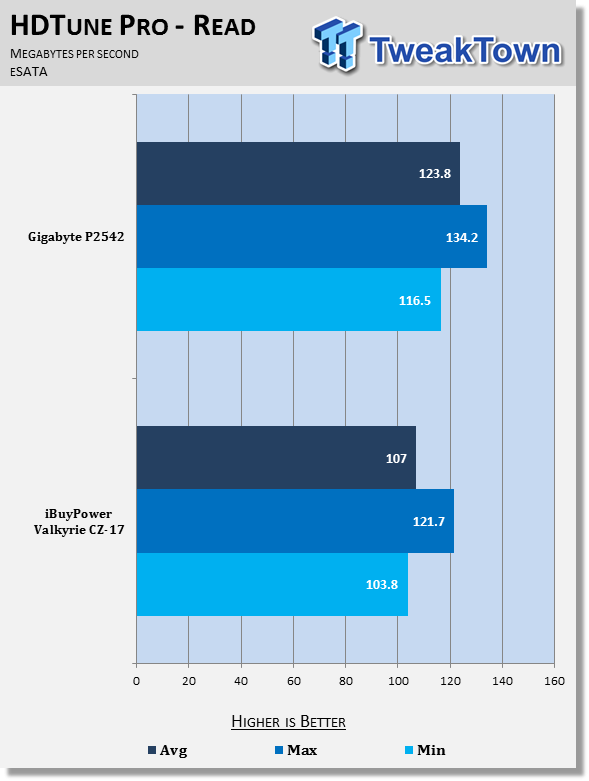 When it comes to eSATA performance, the GIGABYTE doesn't disappoint. With read speeds averaging 123.8MB/s, it easily defeats the competition.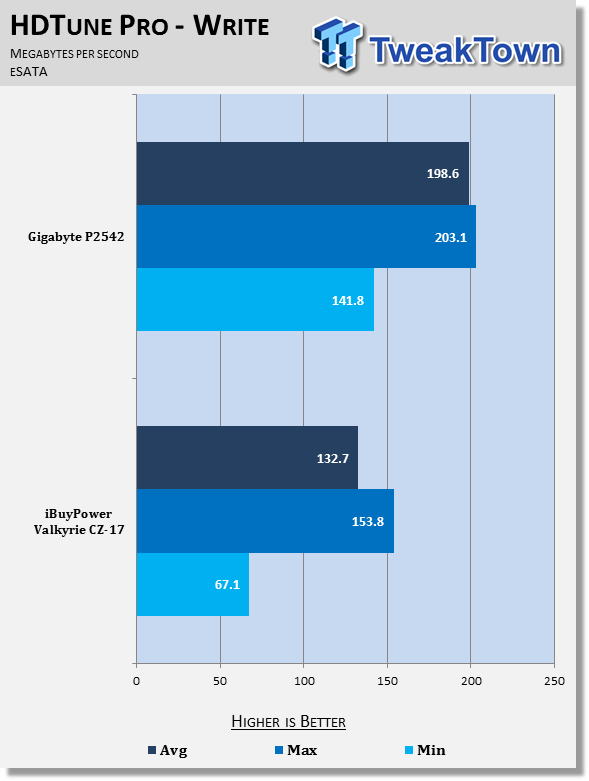 If you're looking to transfer data quickly, the GIGABYTE P2542G provides super-fast write speeds through eSATA. The minimum speed observed, 141.8MB/s, is higher than the iBUYPOWER's average transfer rate of 132.7MB/s. The P2542G averaged an impressive 198.6MB/s, nearly 70MB/s faster than the iBUYPOWER machine.
Gaming Performance
3DMark Vantage
Version and / or Patch Used: 1.1.0
Developer Homepage: http://www.futuremark.com
Product Homepage: http://www.3dmark.com/3dmarkvantage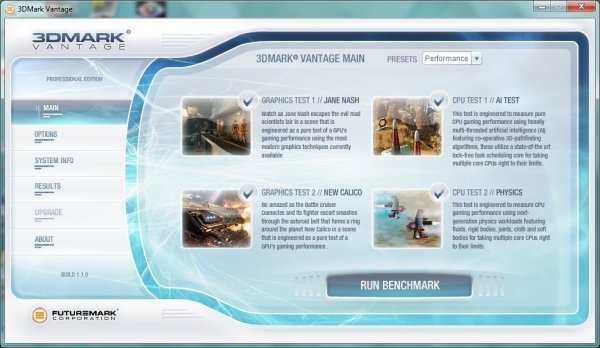 3DMark Vantage tests both processor and graphics performance and is a good indication of how systems compare. The results are generally more repeatable and consistent than other forms of benchmarking. Vantage uses DirectX 10 and can handle multi-core CPUs.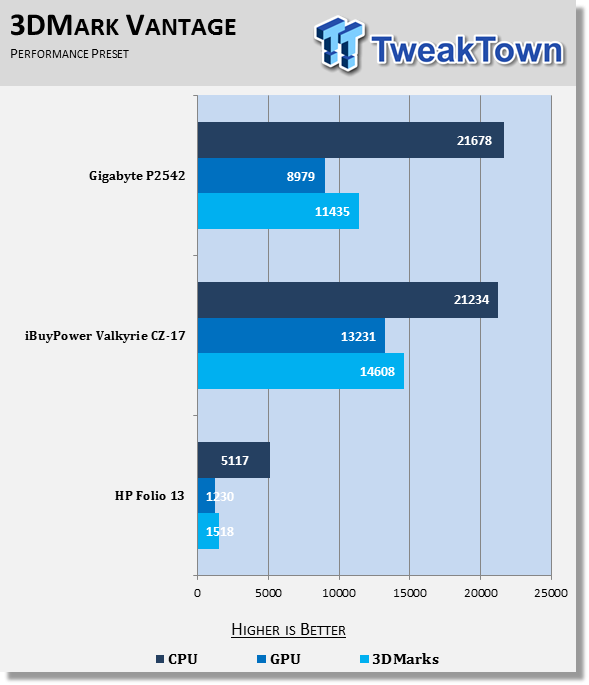 The GIGABYTE P2542G never stood a chance against the iBUYPOWER Valkyrie. However, it still produces a respectable 11435 overall score. Most games should be playable at decent quality settings and resolution settings.
Diving into the individual scores, you can see that they score nearly the same in terms of CPU score, due to them having the same processor. The difference comes from it being a 660M as opposed to a 675M. This resulted in a 4000 point difference when looking at the GPU scores.
3DMark 11
Version and / or Patch Used: 1.0.1.0
Developer Homepage: http://www.futuremark.com
Product Homepage: http://www.3dmark.com/3dmark11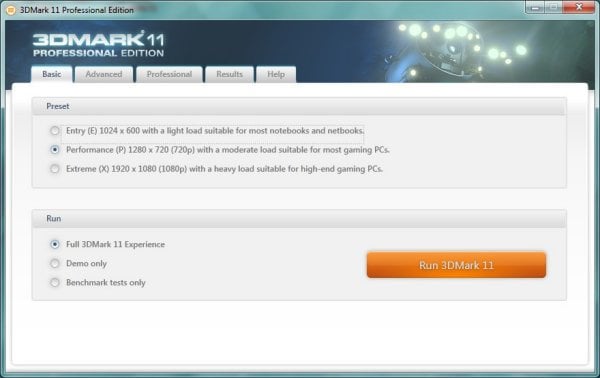 3DMark 11 is the latest version of the world's most popular benchmark. Designed to measure your PC's gaming performance 3DMark 11 makes extensive use of all the new features in DirectX 11 including tessellation, compute shaders and multi-threading. Trusted by gamers worldwide to give accurate and unbiased results, 3DMark 11 is the best way to consistently and reliably test DirectX 11 under game-like loads.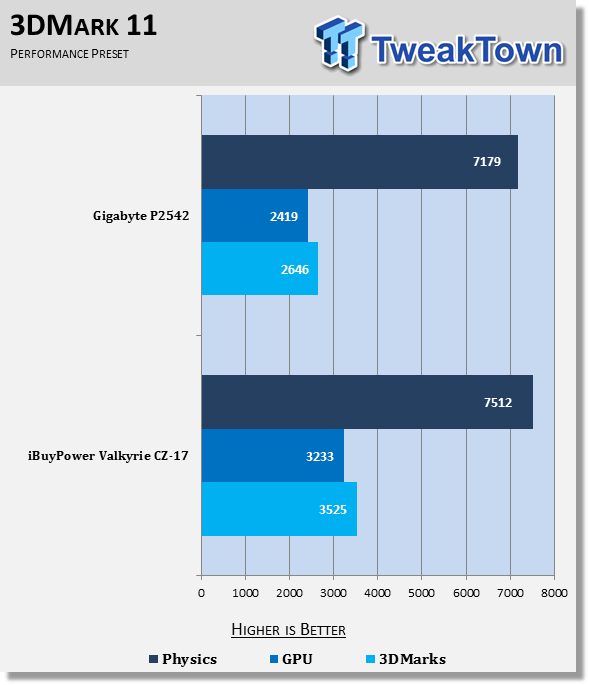 An overall score of 2646 on 3DMark 11 Performance preset from a laptop isn't quite as good as it could be. The iBUYPOWER machine beats out the P2542G by nearly 1000 points. However, 2646 isn't exactly a terrible score.
Again, this score shows that the system should have no trouble playing modern day games with a good level of detail and a reasonable rate of FPS. It may have trouble when it comes to super high resolution or quality settings.
Looking to the individual scores, we see the same trend in that the CPU score is roughly identical and that the drop in score comes from the lower spec'd 660M. Really, though, we're talking about two different classes of laptops, a 17.3-inch versus a 15.6-inch.
System Performance
PCMark 7
Version and / or Patch Used: 1.0.4.0
Developer Homepage: http://www.futuremark.com
Product Homepage: http://www.pcmark.com/benchmarks/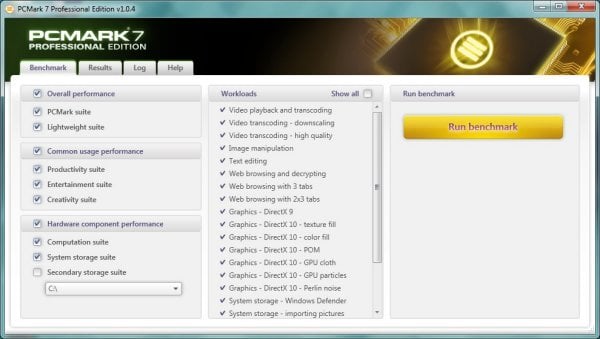 PCMark 7 is a great utility for testing a PC's all-around capabilities. It tests all aspects of the computer, from graphics performance to hard disk performance and attempts to put a score on it, which is not an easy task.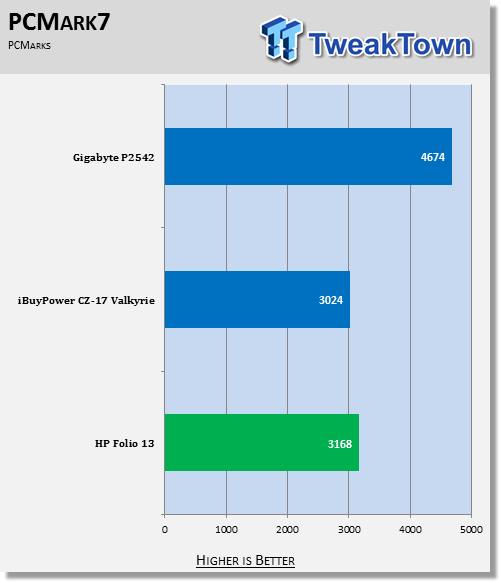 PCMark 7 supports my claim that the GIGABYTE P2542G makes a good all-around system. As you can see in the chart above, it easily outpaces the HP Folio 13 and iBUYPOWER Valkyrie by nearly 150 percent. Most of this increase comes from the solid state drive they chose to include as it is one of the faster drives on the market.
Mobile Mark 2012
Version and / or Patch Used: 1.0.0.118
Developer Homepage: http://www.bapco.com
Product Homepage: http://bapco.com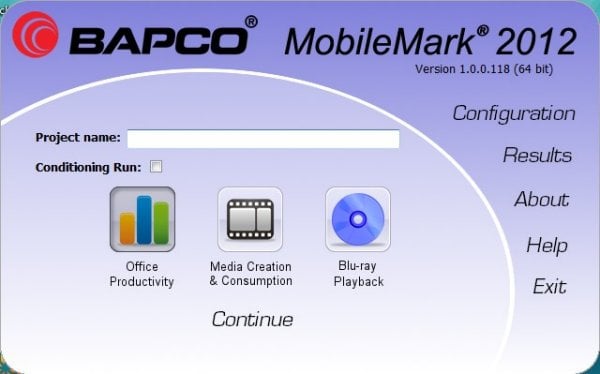 MobileMark 2012 is a premier benchmarking tool produced by BAPCo. It has several different scenarios built-in and allows you to choose which to run. It runs the test on battery life so that it produces both a score for the performance aspect and a run time for battery life.
For our testing, we chose the Office Productivity line of testing. The "Performance Qualification Rating" and battery life (in minutes) is reported below in the charts.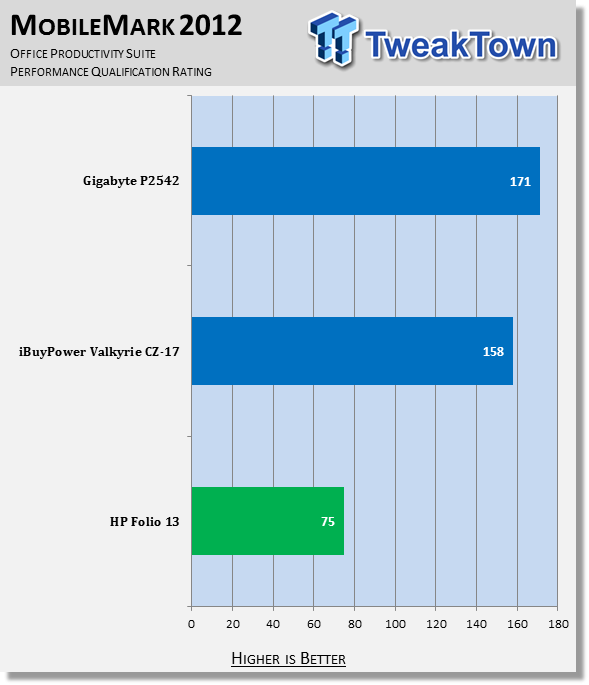 Again, the solid state drive really lends a helping hand to the P2542G's score. It's been said time and time again, but adding a solid state drive is really the best way to help a system's general performance and this just goes to prove that fact even more.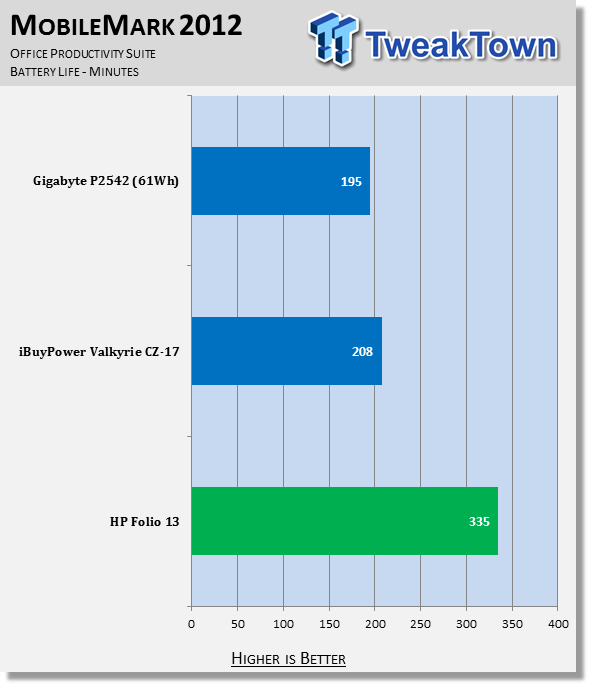 However, when it comes to battery life, the GIGABYTE P2542G performs somewhat poorly due to having only a 61Wh battery. However, it doesn't need quite as big of a battery due to the lower powered GPU and smaller screen, both of which draw less power.
CrystalDiskMark
Version and / or Patch Used: 3.0 Technical Preview
Developer Homepage: http://www.crystalmark.info
Product Homepage: http://crystalmark.info/software/CrystalDiskMark/index-e.html
Download here: http://crystaldew.info/category/software/crystaldiskmark
CrystalDiskMark is a disk benchmark software that allows us to benchmark 4K and 4K queue depths with accuracy.
Key Features:-
* Sequential reads/writes
* Random 4KB/512KB reads/writes
* Text copy
* Change dialog design
* internationalization (i18n)
Note: Crystal Disk Mark 3.0 Technical Preview was used for these tests since it offers the ability to measure native command queuing at 4 and 32.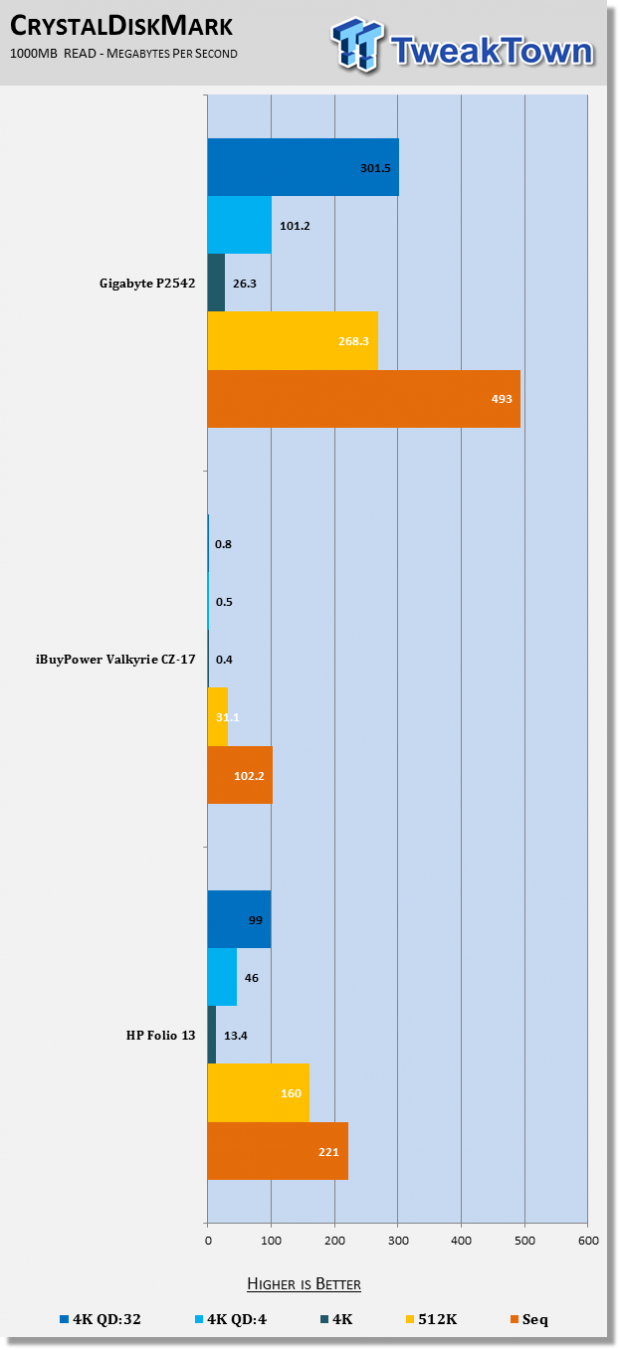 The solid state drive that GIGABYTE included in the P2542G absolutely smashes the competition. Of course, the iBUYPOWER's traditional hard drive never stood a chance, but the P2542G also smashes the SSD that is included with the HP Folio 13. It roughly doubles to triples the performance of the HP Folio 13, all of which helps make the system a great all-around machine and feel snappy to the user.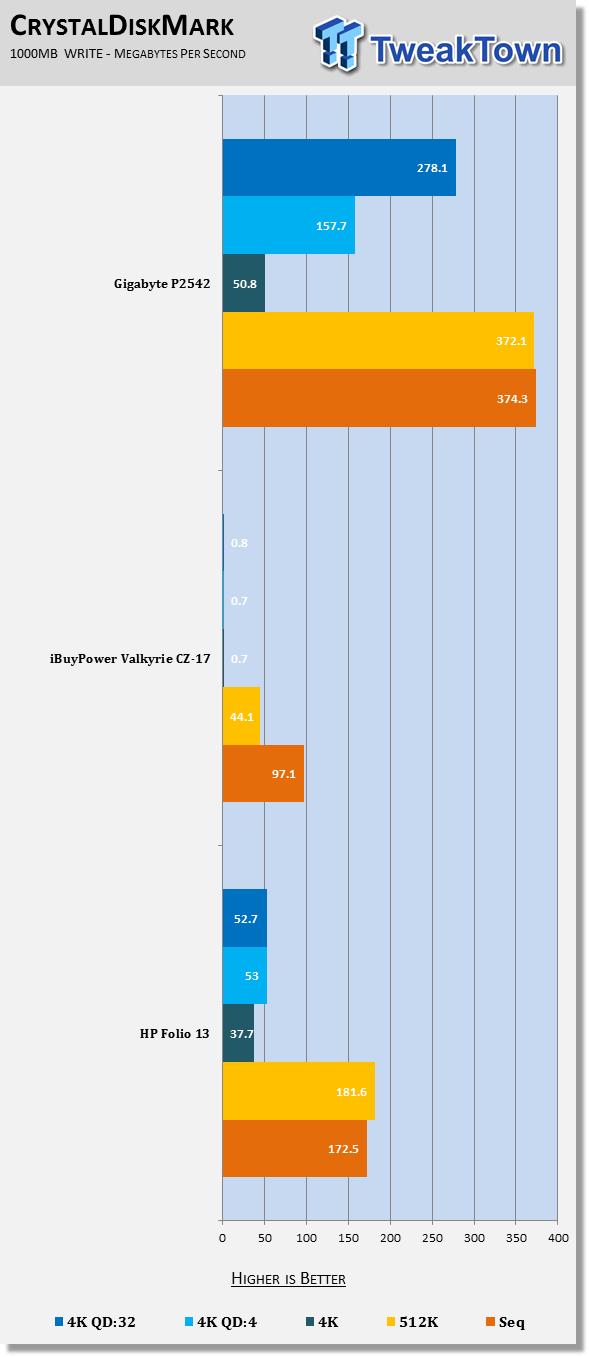 We see even better results when it comes to write speed. In some of the test suite, the GIGABYTE's SSD performs over five times faster than Folio 13's SSD. Other parts of the suite aren't as nice, granting the SSD a lead of only 13MB/s in the 4k write test. Overall, though, the SSD chosen by GIGABYTE is ridiculously fast compared to the other test systems.
Battery Life Performance
PowerMark
Version and / or Patch Used: 1.1.1
Developer Homepage: http://www.futuremark.com
Product Homepage: http://www.futuremark.com/benchmarks/powermark/
Download here: http://www.futuremark.com/benchmarks/powermark/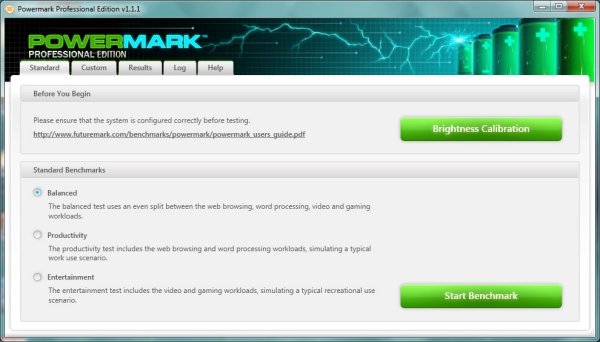 PowerMark is a benchmark produced by Futuremark that simulates different usage scenarios in order to determine battery life. It loops these different scenarios infinitely until the battery hits 15% and then gives us an estimated battery life time. For our testing, we use all four different scenarios. These are video playback, gaming, web browsing and word processing.
Tests are ran twice, once with the computer's Power Options set to Balanced and another with the computer's Power options set to High Performance.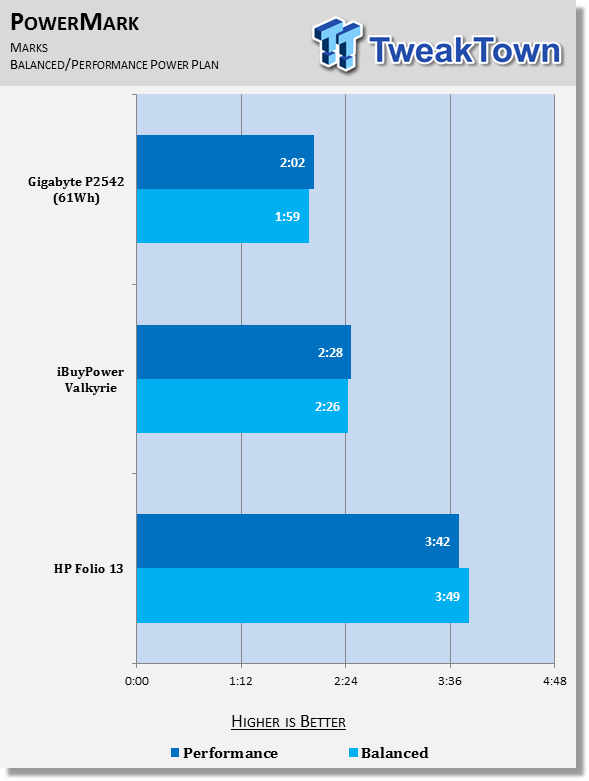 I'm rather disappointed by the battery life that the P2542G provides. Clocking in at 2:02 in performance mode and 1:59 in balanced mode, the system has roughly 30 minutes shorter battery life than the larger iBUYPOWER Valkyrie. In all reality, these results should go the other way.
GIGABYTE could opt to use a larger capacity battery, but this would weigh more and reduce the portability of the machine. It's always a trade-off and it seems like GIGABYTE went slightly more towards the portability aspect. The only issue with this is I can't use the system for as long even though I can tote it around longer.
Final Thoughts
So, we've taken a look at the hard data and have received some very curious and interesting results. As a gaming machine, it's not exactly the best. However, as a high performance, all-around use machine, it fares much better. I can't give this a full out recommendation as a gaming machine as the performance just isn't there.
If you're looking for something that is high performance and portable, then this machine becomes more appealing. It's got a very capable Core i7-3610QM quad-core processor that can handle the most difficult of CPU tasks with ease, and the entire system feels snappy due to the fast SSD that GIGABYTE has elected to use in our review model.
Electing to equip it with just a 660M GPU is a bit of a disappointment, but from an engineering standpoint it makes sense. Putting a faster, hotter GPU in this form factor would just exacerbate the heat problem that we noted during our torture testing. It would also reduce battery life, something that is already the shortest we've seen out of any of the machines to come through our lab so far.
Don't get me wrong, the NVIDIA 660M is a very capable mobile GPU. The issue is that it will require updating before a faster, more powerful GPU would. If you're not interested in keeping this system more than a year or so, the 660M should be plenty for current games and those coming out in the near future. But, if you are looking to keep it for more than a year or two, it is advisable to spend a little extra now and get something a bit more powerful, though that may require moving to a 17.3-inch design.
The GIGABYTE P2542G's 15.6-inch 1920x1080 screen is a nice panel. If the battery would last long enough, several people could enjoy watching a movie, even at off angles as the screen retains good color representation even when looking from the side or above.
Who would I recommend this machine to? If you're someone who needs a portable powerhouse, but don't need tip-top graphics performance, this machine is definitely worth checking out. For the college student, the battery life could prove an issue, but it should have plenty of horsepower for Computer Science and Engineering majors who need to crunch numbers. The fast USB 3.0 and eSATA performance definitely lends this system some use for photographers and others who need to transfer large amounts of data through the aforementioned ports.
So, where does that leave us? I'm really not that big of a fan of this GIGABYTE notebook. The styling is superb, save for the chrome trim, and I really like the bright colored lid and air vents that appear to be styled after a hotrod. However, with somewhat lackluster graphics performance, though not a surprise, battery life, lack of a backlit keyboard, and cooling, it really is somewhat of a downer. While I'm not saying don't buy this, you need to take into account some of the main issues we found with it when considering a purchase.
Portability is rather good, as it is only 15.6-inch and weighs in at only 2.6kg. However, using it while out and about could be troublesome due to the poor battery life. Also a problem is where you are going to be using it. If you're going to be stressing it while using it on your lap or typing on it, it's probably not a good fit for you.
As a final note, it's important to realize that our review configuration is not on sale in the United States. Performance with an mSATA SSD is likely to be slightly lower than what we have seen with the 256GB Lite-On SSD in this system configuration.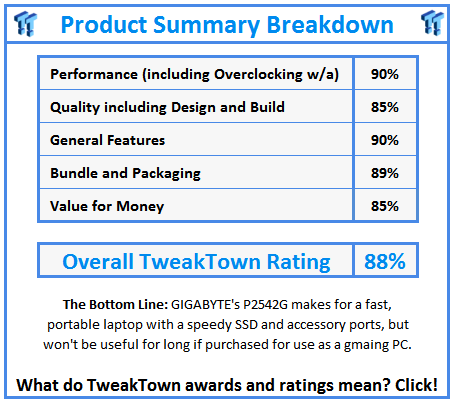 PRICING: You can find products similar to this one for sale below.

United States: Find other tech and computer products like this over at Amazon.com

United Kingdom: Find other tech and computer products like this over at Amazon.co.uk

Australia: Find other tech and computer products like this over at Amazon.com.au

Canada: Find other tech and computer products like this over at Amazon.ca

Deutschland: Finde andere Technik- und Computerprodukte wie dieses auf Amazon.de
We openly invite the companies who provide us with review samples / who are mentioned or discussed to express their opinion. If any company representative wishes to respond, we will publish the response here. Please contact us if you wish to respond.