Corsair Dominator Platinum PC3-21300 16GB Memory Kit Review
Corsair has mixed it up with the latest Dominator series of RAM. We check out the PC3-21300 Platinum kit.
Published Wed, Oct 3 2012 12:27 AM CDT
|
Updated Tue, Nov 3 2020 7:01 PM CST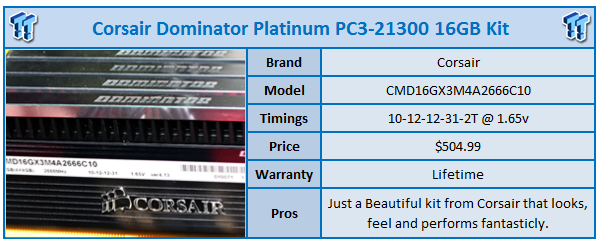 Z77 RAM really got off to a bit of a slow start, but over the last few weeks we've got a bunch of RAM come in from companies and we'll be checking them out to see just what's going on. Today we're looking at what is probably one of the hottest looking RAM kits we've seen to date.
Corsair's Dominator series has always been the cream of the crop when it comes to Corsair RAM, but the series has recently been expanded with the new Dominator Platinum series. We were lucky enough to actually get not only a look at the new kit at the TweakTown Computex Party, but also give away a 16GB kit there as well.
Ever since then we had been bugging Corsair for the kit and today we've finally got a chance to look at it and looking below you can see just how great it looks. We love the sexy chrome top and black heatsink design with fins.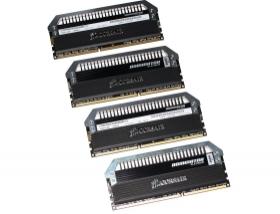 I'm a huge fan of the new chrome bit that goes across the top. I've always had a pet hate when it came to the Dominator series. When installing them the fins were always such a pain and really hurt your fingers when pushing them in. With the new cover on top, installing them is so much easier, which is fantastic.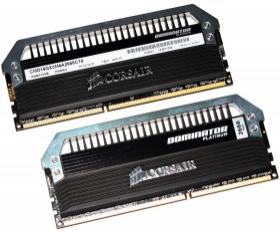 As we move in a bit closer we take a look at each side of the modules while also just getting an overall better look at the heatsink. Both sides have the Corsair logo and the new Dominator Platinum logo. One side shows the speed which in this case you can see is 2666MHz DDR. The other side has a sticker that gives us a run down on all the main information.
As we move in closer to one of the modules we get a better idea of what exactly we're dealing with. Across the top we've got the model number and the barcode. As we look at the bottom half you can see we're dealing with a 16GB kit in the form of four 4GB modules. Next to that you can also see it's a 2666MHz DDR kit which we determined just earlier and you can see 1.65v is needed.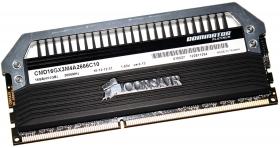 Between that you can also see the timings of the kit. This particular one is a CL10 kit and as you can see above our timings come in at 10-12-12-31-2T. This is a little relaxed, but considering not only the speed, but the fact we're dealing with a kit that consists of four modules verses two, we feel they're pretty reasonable. Moving along we can see a bit more information that doesn't mean a whole lot to us except the Made in Taiwan bit.
With our kit installed and ready to go we jumped into the BIOS of our new ASRock Z77 OC Formula and loaded up the XMP profile of the kit. We hit F10, saved and exited the BIOS and our machine booted up straight into Windows in where we could test the performance of the kit.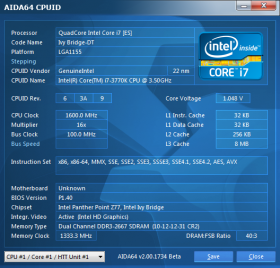 Under AIDA64 we ended up with Read / Write numbers of 23,588 MB/s / 20,907 MB/s, Copy speed of 25,774 MB/s and latency of 29.2ns. This is strong performance as you'd expect considering the default speed of the kit. As always, though, the next thing we do is head into the BIOS and see if we can get any more out of the kit.
On the RAM divider option our next choice was 2800MHz DDR which we didn't expect to work. Not so much because we didn't think the RAM couldn't do it, but we know that our CPUs IMC just isn't strong enough to run 2800MHz DDR as we had a 2800MHz DDR kit in the past that wouldn't run.
So the only option we have is to leave the kit at the 2666MHz DDR divider and then move along our BCLK which would bump our CPU speed up alongside the RAM speed. We slowly moved the BCLK up starting with 101 and then push it up normally by .5. In the end we got to a solid 103 BCLK and as you can see above that brought the RAM in at a very impressive 2745MHz DDR with the same default 10-12-12-31-2T timings.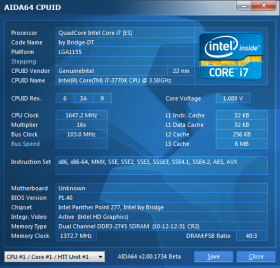 Alongside pushing our RAM speed up this also pushed our CPU speed up which will of course assist in the overall memory performance. In the end our CPU comes in running at 4015.2MHz which isn't hugely higher than the 3.9GHz that we get when running at stock due to Intel's Turbo Boost technology.
With that all done and us finding ourselves back in Windows it was time to see what kind of performance boost we could get out of the kit. Under AIDA64 we ended up with Read / Write numbers of 24,323 MB/s / 21,533 MB/s, Copy speed of 26,589 MB/s and latency of 30.4ns. Looking above you can see our latency takes the slightest hit, but across the board we see some really nice gains across the board with extra MB/s being seen in every test.
With the max OC on the RAM found we always head back into the BIOS and see what we can do with our CPU speed increased. Normally what we'd do is increase our CPU Multiplier and leave the BCLK at where ever it is. Unfortunately it didn't want to play that nice.
So what we had to do was push the multiplier up, but drop the BCLK slightly down, which meant that our RAM speed would drop slightly from the 2745MHz DDR we achieved. Looking below you can see exactly how we went.
Looking above you can see our CPU Multiplier has been pushed to 46x and our BCLK slightly down to 102 which resulted in our RAM coming in at 2720MHz DDR. Overall, though, you can see a nice boost in performance as Under AIDA64 we ended up with Read / Write numbers of 26,026 MB/s / 24,761 MB/s, Copy speed of 29,930 MB/s and latency of 29.2ns.
The new Corsair Dominator Platinum PC3-21300 16GB Kit wins in so many ways. For starters performance is awesome and you can see we've got clear overclocking headroom. As always, though, when it comes to these high performance kits, we must warn you that you're going to need a CPU that has a strong IMC (Internal Memory Controller) to be able to hit these high speeds.
We don't have much to complain about when it comes to this kit of ram. If we had to pick something it would probably be the $504.99 price tag. Saying that, though, it's an easy price tag to justify for multiple reasons. First the speed is fantastic and we're of course dealing with a 16GB kit. Alongside that the quality of the heatsink is awesome and each end has a white LED which looks great when the kit is up and running. Unfortunately it's hard to take a photo of it and give you the full effect of it, but you can take our word for it that it looks awesome.
This is a kit that is no doubt targeted at a specific kind of user - those who want both a large amount of RAM and at a decent speed. You're going to have to pay for it, but with the quality of the kit Corsair has put together here, we can't really complain much.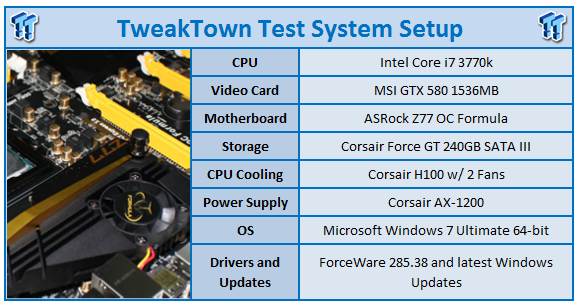 PRICING: You can find products similar to this one for sale below.

United States: Find other tech and computer products like this over at Amazon.com

United Kingdom: Find other tech and computer products like this over at Amazon.co.uk

Australia: Find other tech and computer products like this over at Amazon.com.au

Canada: Find other tech and computer products like this over at Amazon.ca

Deutschland: Finde andere Technik- und Computerprodukte wie dieses auf Amazon.de