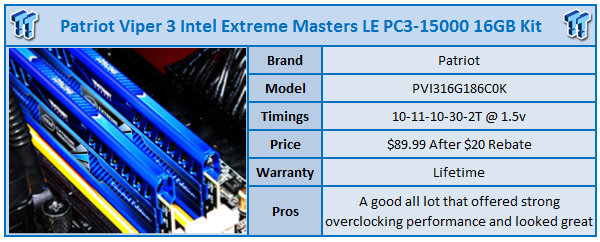 I'm just going to come out and say it. When I heard that Patriot was going to release RAM under the Intel Extreme Masters name I really thought we'd see some high speed kits. Not the PC3-15000 1866MHz DDR kit that we're looking at today.
Thinking about it a little more, though, it doesn't come as a shock that anything with Intel branding is on the lenient side of things. While Intel has indeed made what can probably be said the best overclocking CPUs in the world, overclocking isn't something they tend to focus on or promote. So, really, in the end, the lower speeds that these Intel Extreme Masters memory kits come in at aren't a huge shock.
That aside and moving onto the memory kit itself, the first thing I've got to talk about is the color of the heatsink. The blue looks absolutely awesome. As for the heatsink design it follows the new Viper 3 design from Patriot.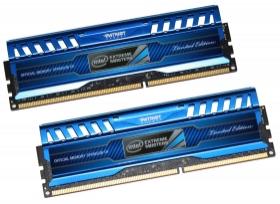 The other thing that stands out for us is the black PCB. It seems like something so simple, but we continue to see companies ignore it and instead opt for the ugly green option that we see on offer from most companies. Against the blue it again looks great, and it's just great to see Patriot opt for it here.
As we flip over one of the modules we can take a closer look at what exactly is going on with each side. One side has the Intel Extreme Masters logo in the middle and on the left side we can see that Patriot make note they're official sponsors of the Intel Extreme Masters or IEM as it's better known as. We can also see that they're a limited edition kit.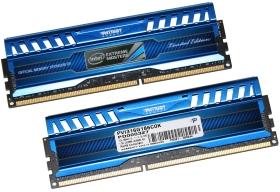 Turning over to the other side we can see the overall design is similar with the Patriot logo across the top. The main difference is we lose most of the text across the middle of the kit. Instead we've got a sticker in the middle that gives us a rundown on the main information which we'll take a closer look at now.
As we move in closer at the sticker on the kit we can see the main details of the kit including the model and part number. We also see the main details when it comes to the kit itself. You can see we're dealing with a 16GB kit and just below you can see it's in the form of two 8GB modules.

On the speed front we're dealing with a 1866MHz DDR kit and on the timings front you can see we've got a 10-11-10-30-2T setup which requires a low 1.5v.
Heading into the BIOS and moving to our XMP Profile which sets the timings and voltage to the ones just mentioned and it comes as absolutely no surprise that we ran into no problems getting them up and running.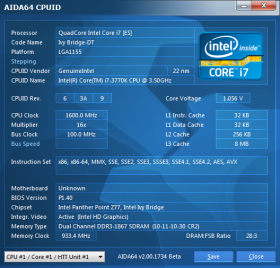 In Windows and everything up running its time to check out performance and under AIDA64 we ended up with Read / Write numbers of 20,313 MB/s / 19,942 MB/s, Copy speed of 23,017 MB/s and latency of 39.7ns.
To be honest we quickly found ourselves shocked with what was going on. We headed into the DRAM Frequency section and move from 1866MHz DDR to 2000MHz DDR and we booted up straight away. So we move up to 2133MHz DDR thinking that it will probably be our limit.
Much to our surprise we again found our machine boot. So we headed back into the BIOS and moved the voltage up to 1.65v because we know that's a limit that's never an issue for any Z77 based RAM we've tested. From that point we moved to 2200Mhz DDR and again we booted. Finally we ended up at the 2400MHz DDR memory divider at the default timings and the increased memory voltage.
For some reason, though, our timings dropped and we ended up with the kit running at 2400MHz DDR at 9-11-11-28-2T which was cool and can be seen in the below image.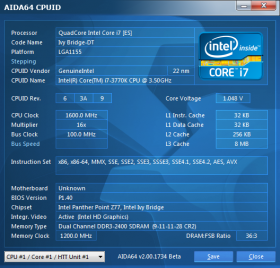 So with that all working and everything up and running we fired up the benchmarking side of things and under AIDA64 we ended up with Read / Write numbers of 22,647 MB/s / 20,736 MB/s, Copy speed of 24,897 MB/s and latency of 32.4ns.
These are good numbers and you can see across the board a marked improvement over the default 1866MHz numbers that we got. The best gain can clearly be seen in the latency side of things as we see a massive drop in that which equates to over 20%.
As always we never just leave it there. We headed back into the BIOS. Unlike the Corsair kit that didn't want to play with our 47x Multiplier and the increased BCLK, the Patriot kit didn't have that issue since we were only dealing with the stock 100BCLK.
So with our CPU multiplier pushed up to 47x we find ourselves in Windows at 4.7GHz while our RAM continued to run at 2400MHz DDR. Unlike the previous test, though, we ended up back at our default 10-11-10-30-2T timings, which can be seen in the below image.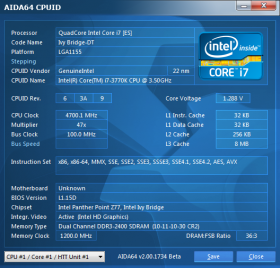 Again back in Windows and with everything up and running it was time to fire up memory benchmark and see what kind of performance we could get. Under AIDA64 we ended up with Read / Write numbers of 25,335 MB/s / 24,446 MB/s, Copy speed of 28,881 MB/s and latency of 31.4ns.
Even though the timings aren't as aggressive you can see thanks to the increased memory speed we've overall got a nice boost in performance, which is great, and exactly what we like to see. Considering we started out at just 1866MHz DDR this is just an awesome boost in performance. When you compare our starting numbers in all areas to what we ended up above it's just a really strong boost.
At $109.99 this is a fantastic priced kit. With a $20 rebate currently on offer bringing the price down the $89.99, though, the kit looks even better. Of course we have to always say when this kind of overclock is achieved that the results you may get can vary to what we get. But what this kit has going for it when it comes to achieving higher clock speeds is the fact that the timings are quite relaxed at stock speeds and the default voltage is 1.5v.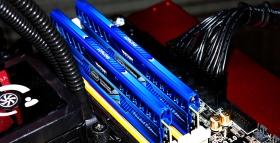 With the ability to move to 1.65v with no stress and the ability to also just leave the timings alone, you should be able to also see a nice boost in performance. Considering we're again dealing with 8GB modules that make a 16GB kit here, this is really good value. Combine that with the fact that Patriot is just a good memory brand and on a whole we've got a good looking kit.
We've got very little to complain about when it comes to the Patriot Viper 3 Intel Extreme Masters Memory Limited Edition PC3-15000 16GB Kit. I suppose the name could be a little easier to say, though.