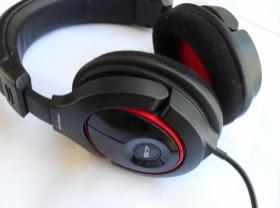 Some time ago Sharkoon made us all happy with a fantastic surround sound gaming headset, which featured all the bells and whistles inside of a well-made package. Today that company returns with an all new addition to their growing range of products and this newest addition comes in the form of the X-Tatic S7 which boasts 7.1 surround sound along with support for Dolby Digital sound as well as being compatible with the Xbox 360 and PlayStation 3 on top of all PC platforms.
So it seems from the outset that the S7 is going all out in terms of covering as many bases as possible in terms of being a true multi-platform solution. This notion is also carried across to the package where the S7 comes equipped with enough cables to wire up the Large Hadron Collider.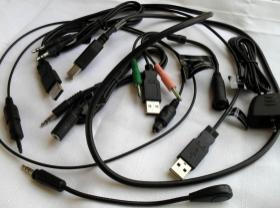 The Sharkoon S7 sets out to really cover all bases in terms of connectivity and support for many platforms of gaming device at the same time. Now this while being a logical and smart decision is really a logistical mountain to climb. And this can be seen quite clearly when looking at the sheer mass of different cables shipped with the headset as well as the very clearly illustrated user manual. The manual basically ensures that no matter what level of understanding the user possesses, there will be no confusion.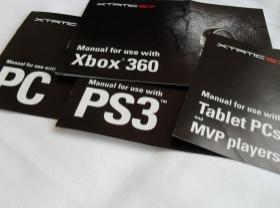 In terms of the headset itself, things are pretty simple with the unit being quite small and sturdy and made from good quality plastic, featuring a lightweight yet strong and quite rugged design. It also includes an inline control unit.
The package itself is a very comprehensive one without a doubt and in fact could be one of the most well laden we have ever seen. And this is due primarily to the fact that so many cable arrangements are needed in order to make this system compatible with all of the major gaming solutions out there right now.
For arguments sake and to keep things compact we are only covering the connection of the S7 to a regular PC. And let us tell you even this one port of call is comprehensive even for seasoned vets such as us.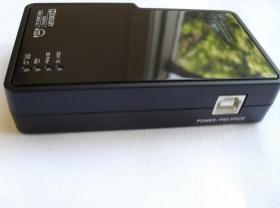 Since we have brought it up at this point of the article let's go ahead and cover the method of connection to a regular PC for gaming and movies/music. Initially two spare USB ports are going to be required, once this is done connect the S7 as per illustrated in the connect to PC component of the user manual.
But now is when things get a little more complex because the S7 also requires another connection in order to actually receive the audio signal. There are two choices for this, either analog or digital and for arguments sake we used the digital (optical) connection along with the ASUS Xonar Xense sound card.
Once all of these three connections are made, the next task is to tell Windows that your default audio device is the 'optical out' connection. This last step is very critical because it ensures that the sound is being sent in the right direction into the headset.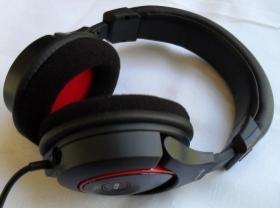 Thankfully no drivers are needed because this headset can be used with gaming consoles and a driver option would of course not be an option for them. We made special mention of the entire process because the S7 really is quite a unique design which works quite well once one gets their head around everything involved.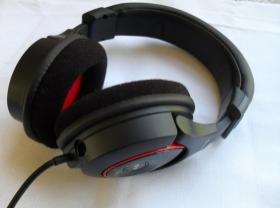 In the case of the S7 this headset is really capable of working with nearly any type of popular entertainment device out there at the moment. And we think that while making things more difficult for themselves, Sharkoon have really nailed a small niche in the market, because we have not tested a headset before that covers all bases in the way the S7 does.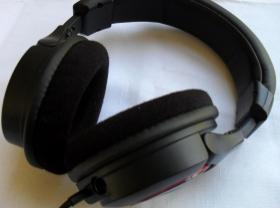 When the headset goes on it is felt to be light and very comfortable with a good point of contact with the users head at all times and this is one aspect we enjoyed quite a lot. The S7 just feels good to wear and this is vital for a headset. If it's too bulky and heavy, it matters less how the sound is because anyone will struggle to wear it for long. One thing we really enjoyed was the removable microphone which is really a great move we feel, because nearly every other headset out there today features a fixed mic and let's face it, not all users are going to need one all the time or at all.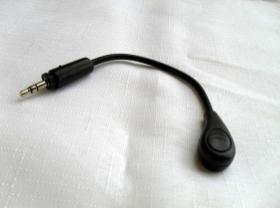 In terms of built-in features we love the Dolby Digital and Pro Logic II support and feel it a better choice than some in-house algorithm solutions offered by competitors. In terms of sound quality, the S7 is strong throughout managing to provide a level of sound quality that impresses at this price point.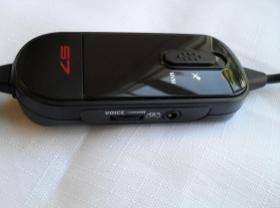 Listening to a general selection of different music through the Sharkoon S7 is an overall pleasing experience with good harmonics throughout. However, as is the case with some headsets that aim to do so much, the high-end is a little less than shimmering, sounding a little flat and washed out at times.
The low-end sounded nice and tight aided by the fact the headset sits so nicely around the users head providing a good seal. We found during testing that on most material the low-end sounded robust and strong enough to convey powerful bass when needed. The mid-range was strong as it should be with just about any headset and we found it to be detailed and full without sounding altered in any way.
Without editorializing on the matter, we have noticed a little trend emerging with high-end response of some of the headsets we have tested in the last year or so. It seems as though truly providing a respectable high-end from about 15 kHz through 20 kHz has become a bit of a thing of the past and an afterthought. As long as the low-end is right and the mid's don't sound too skinny, it seems as though true high-end extension gets left behind based on our testing.
Gaming on a PC sounded really good with a very respectable surround image being provided. The provided microphone is also a handy inclusion for people using the headset for gaming or even Skype for that matter.
Movies are aided greatly by the support for Dolby Digital playback and sound great when listening with the S7 headset. We feel this is really one of the strong areas offered by this headset and should not disappoint any movie lover.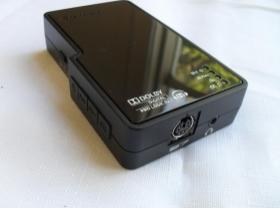 We thought the original X-Tatic was a great headset back a little while ago when we tested it. And now with the latest version on offer being the S7, we feel Sharkoon have nailed a strong product in nearly all departments and with a special mention to the painstaking dedication to making sure the S7 will connect to almost anything. It really exploits a smaller share of the market well and makes sure this headset will be targeting as many markets simultaneously as possible.