Introduction and Specifications, Pricing and Availability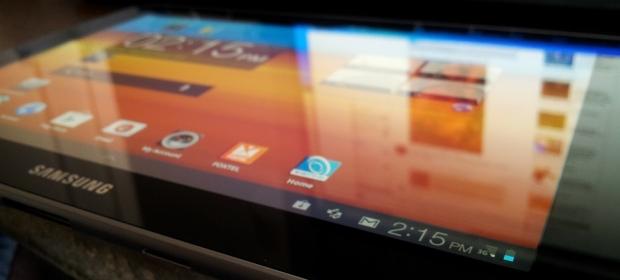 For our smart device reviews, we're going to do something a little different here. PC hardware can be reviewed with hard numbers, charts and all that jazz, but the same can't really be said for smart devices. We're going to concentrate more on the look, feel and experience of the device, rather than numbers. After all, virtually all personal use of a smart device comes down to these factors, but we will still include some benchmarks so you can see how they perform. If there's anything you'd like to see added or removed from these reviews, please do e-mail us, as we want to morph these reviews around you, the reader.
One of the first tablets I received to review as my new position as smart devices editor was Samsung's Galaxy Tab 8.9 4G. Samsung are a company known for making products in so many categories, with fridges, TVs, smart devices and so much more. Today we're taking a look at the Galaxy Tab 8.9 4G tablet.
Samsung's Galaxy Tab 8.9 is one of many in a family of Galaxy tablets from Samsung and the one I've received to review is the 4G variant, with the help of Australian telco, Telstra.
A first impression of the Tab 8.9 4G out of the box was just how light it was. Compared to my third-generation iPad, the Tab 8.9 4G is light to hold in your hand and after little while, it just feels a little heavier than a high-end smartphone, such as the Galaxy S II or Apple's iPhone 4S. The tablet I received had been reviewed before, so I can't really tell you what the unboxing of the device was like or provide any box shots, as they aren't in the best of conditions.
Samsung's Galaxy Tab 8.9 4G has Android 3.2 "Honeycomb" as its operating system and while it's a good OS, in this world of Ice Cream Sandwiches and Jelly Bean's, it's just not up to scratch. I would have thought Samsung would have updated the Tab 8.9 by now, but nope; they're still stuck on Android 3.2, when we have 4.0 on most high-end Samsung smartphones now and 4.1 on the ASUS Nexus 7. Samsung have used their TouchWiz UI, which has been painted on top of Honeycomb, so they've tried to pretty-up Google's Honeycomb OS and for the most part, it helps.
This tablet is aimed toward a segment of the market that, in my opinion, is different to the iPad. People who want the iPad, will either simply get one or look at other higher-end options such as Samsung's bigger Tab 10.1, the upcoming Galaxy Note 10.1 or ASUS' offerings. The 8.9 4G seems like the perfect in-car, on-transport companion, with its amazingly fast 4G speeds and its super-lightweight feel.
Specifications, Pricing and Availability

As you can see, the Galaxy Tab 8.9 is kitted out quite well, with a dual-core 1.5GHz processor, which handles multi-tasking without a problem. The rest of the specifications of the Tab 8.9 fall in line with most tablets of this price range, but the standout spec here is definitely the inclusion of 4G connectivity.

For a tablet like this, with its 4G connectivity, I would suggest putting it on a plan with Telstra if you're in Australia. Buying this tablet outright would not be something you'd do, as the main reason of getting this tablet over the normal Tab 8.9 would be for its 4G. Telstra are currently running a special in conjunction with Samsung through redemption. This special offers a $100 cash back from Samsung on the purchase of the Galaxy Tab 8.9 4G if purchased before October 1, 2012. All you need to do is redeem online before October 30, 2012 and you'll be $100 richer with a great tablet in your hands.
The 16GB version comes in four plans with Telstra, which I've shown below.

The 32GB also comes in four plans with Telstra, as shown below.

The unit I received was the 16GB model, but the Tab 8.9 4G also comes in higher capacities - 32GB and 64GB. The size that you would be looking to get would mostly depend on the type of tablet user you are. Play lots of games? Go for the bigger 32GB or 64GB option. Store lots of music, photos and movies? The same advice. But if you're just playing a game here or there, downloading some music sometimes and you aren't going to be storing copious amounts of data, the vanilla 16GB size is absolutely more than you'll ever need.
Availability wise, you should be able to walk into any local Telstra store and pick one of these slates up. The only limitation you'll find is the 4G coverage in your area. Currently 4G coverage is only in capital cities and a certain radius around them. Outside of these 4G coverage zones, you'll be kicked back down to 3G. This isn't necessarily a really bad thing as Telstra's 3G network is a world-class offering and the speeds are still quite impressive on 3G.
Look and Feel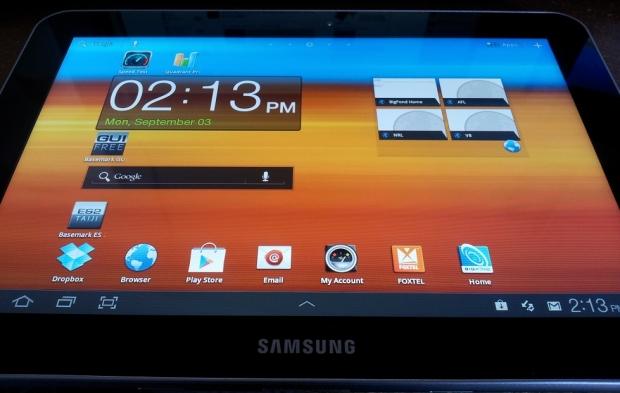 The most surprising thing about the Tab 8.9 4G is its weight. I touched on the subject at the start of the review, but it really is surprisingly light. Weighing in at just 453 grams, it really is a great weight to lug around with you. I'm used to lugging around my third-gen iPad and it really begins to blur the lines between tablet and proper PC/tablet/laptop or whatever words you'd like to use to justify its weight and size. The Tab 8.9 4G feels like the benchmark of tablet weight.
I took the Tab 8.9 away for the weekend on a family holiday and it fits into my bag snug because of its size and is light enough to hold in one hand and just walk around the house using it. Using it vertically, it just feels like an oversized phone. I'm quite surprised of the difference in use between an 8.9-inch tablet compared to the 10.1-inch of the iPad. I can't use enough words in this review to say just how great it felt to use a tablet of this weight, coming down from the brick that is the iPad - a job well done by Samsung.
Aesthetics are important and aesthetics come down to personal opinion and taste. The looks do their job, but they aren't a huge selling point. The silver trim isn't the best; I would prefer something darker, like black maybe. I think the silver is overused and I think Samsung could've done some more work on the physical design of it.
Samsung have the hard task of making their tablets physically attractive to drag customers away from the tablet with a fruit logo on the back of it. Once you're over that, you're going to turn the Tab 8.9 4G over and see that it's white. The white, at first glance, feels out of place. But, Samsung have done some stylish things on the back, where the top of the unit itself (where the camera is placed) has a silver trim, whilst the rest of the rear of the Tab 8.9 4G is white.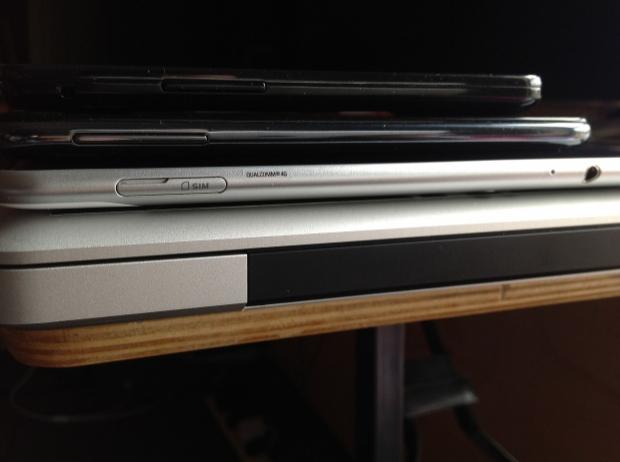 [From top to bottom: Samsung Galaxy S II, Galaxy Note, Galaxy Tab 8.9 4G and Apple MacBook Pro 17-inch 2011 Edition]
Samsung's Galaxy Tab 8.9 sports an 8.9-inch screen with a resolution of 1280x800, which means that Samsung didn't compromise on screen resolution when dropping down from the Tab 10.1 and it's slightly bigger screen with the same resolution. The resolution lets you throw a bunch of widgets and icons onto the screen and measuring in at just 8.9 inches, it doesn't feel cramped thanks to the resolution bump.
The Tab 8.9's size also makes it easier to hold it in landscape and type with two hands, without your hands feeling like they're going to stretch apart and break. I don't have the biggest hands, I'd go as far as saying I have average-sized hands. The Tab 8.9 feels comfortable in landscape, for typing or gaming, which is another benefit of its 8.9-inch size versus the 10.1-inch of most slates.
So what do we have here? We have something that feels great to hold in a single hand, with a screen that also matches the feeling of the weight. It seems Samsung really wins in these departments and after a while of use, I'm sure you'll agree, too.
There are a few downsides to the Tab 8.9, the first of which is it doesn't feature an SD card slot, meaning that whatever sized flavor you purchased it in, is it. Unlike the company's smartphones, there's no way to throw in a microSD card and expand that storage up by 16, 32 or 64GB.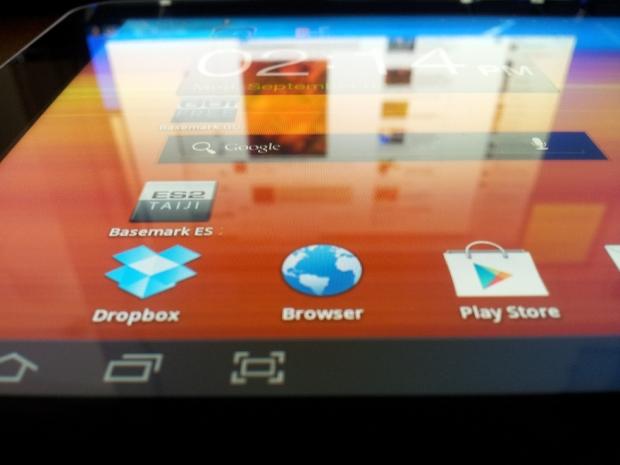 One of the smaller annoyances was that Samsung have decided to opt for a proprietary connector to charge the device. I really don't like this at all, especially when their Galaxy smartphones sport normal microUSB connectors. microUSB connectors are a perfect way of doing things, as a user can have more than one device, but have the same cable charge them. This means you can just have a handful of the same cables and use the same cable and power adapter to charge them all. Samsung's decision to use a proprietary cable on their Galaxy Tab 8.9 (and other Tab's) is just weird and I sincerely hope they flip this decision around when it comes to future Tab's.
There's no HDMI, unfortunately, which means you won't be hooking up the Tab 8.9 to your TV or monitor for big-screen gaming or showing off some pictures or video. Not that this is a selling point, but Samsung want and need to stand out from the iPad's shadow. These types of things are great selling points at the retail level, especially since most people looking to buy a Tab 8.9 most likely have a big-screen TV at home or at least a PC monitor with an HDMI connection.
Features
Ok, so we've talked about the Galaxy Tab 8.9 4G in its smaller details, but let's hit the feature set, shall we? The Galaxy Tab 8.9 4G's stand out feature is mentioned within its name, the 4G connectivity. Telstra are a big partner of Samsung, who have worked together and released the device on Telstra's 4G network. The Tab 8.9 4G I received had a Telstra 4G SIM card installed, which means I got to mess around with some seriously fast Internet access.
4G download speeds will really only help in the downloading of large files, with most websites not really benefitting from the huge leap in speeds. So, please, if you're looking at buying this device because you think the entire Internet is going to get an injection of speed, think again.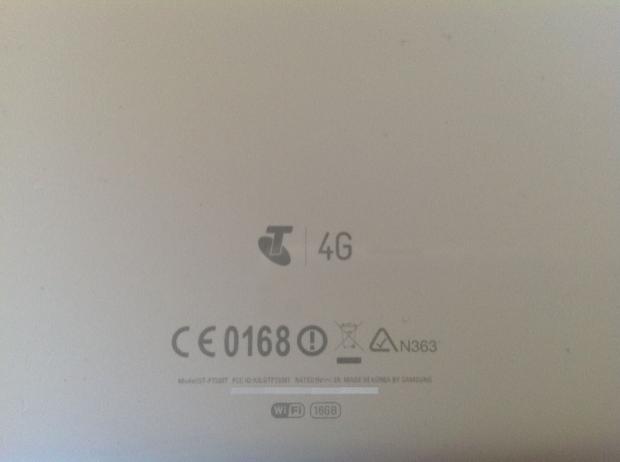 There are not many other specific features that the Tab 8.9 4G has over the competition of Android-based tablets, as it's still stuck with Honeycomb. I couldn't download or run Google's Chrome browser, as that is an ICS-exclusive, which is such a pity as it's the only browser I use. But, Google do bake in some Googleified (if it's not a word, it is now) features into Honeycomb's browser. It almost felt like a pre-Chrome browser, which wasn't as bad as I originally thought it was going to be.
Gaming with the Tab 8.9 is exactly what you'd expect from an 8.9-inch tablet, great. It's not as great as the Retina-powered third-gen iPad, but it does its job. It gets a bit warm on the back after a while of gaming, but holding a tablet for extended periods of time gets tiring anyway, so its not something you should have to be too worried about.
I've taken a few snaps with the Tab 8.9's 3MP rear-facing camera and while it's not the best camera, it'll do. Using a tablet as a camera is not something you'd want to do, because firstly you look like a weirdo and secondly, it's too big to really justify itself as a camera. Smartphones are much better at this job, in my opinion.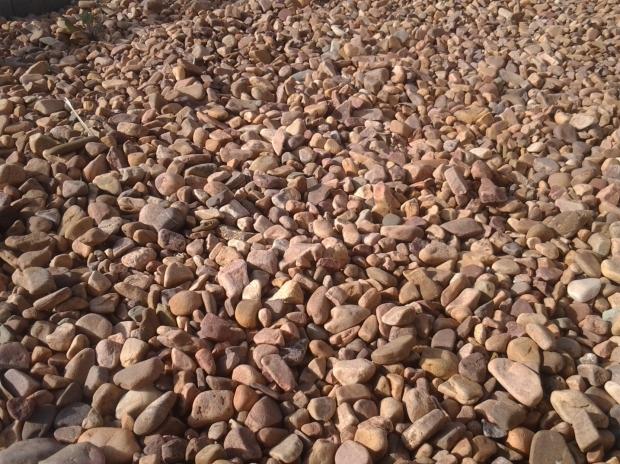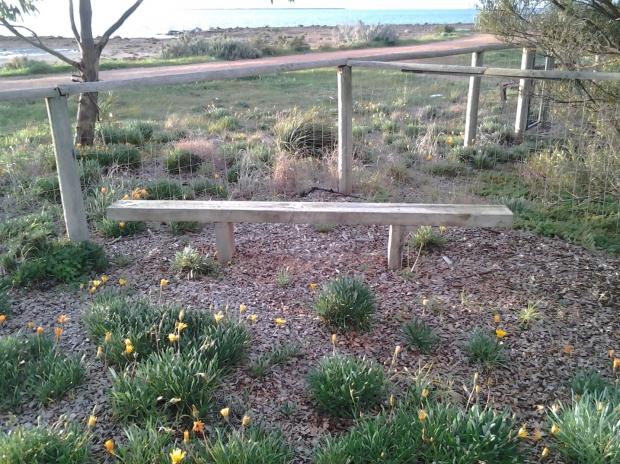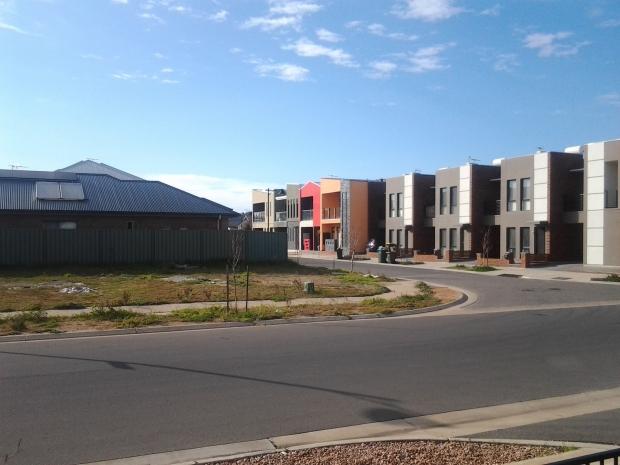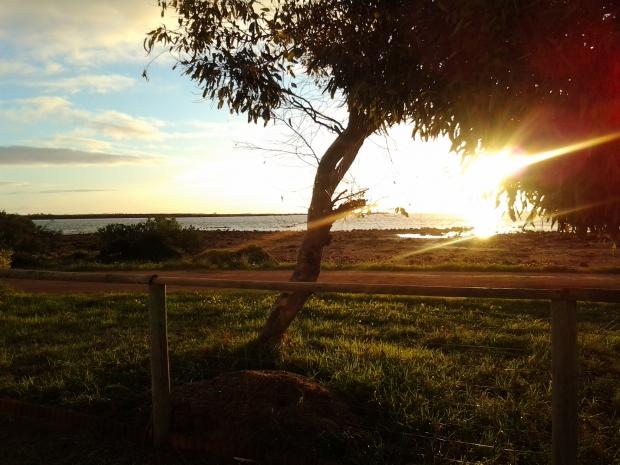 I've also taken a video to show the quality of the rear cameras video recording ability. The video loses a fair amount of its color and quality, but again, it's good enough to take a video if that's what you'd like to do with the Tab 8.9. I think the video quality is subpar to my expectations of this tablet. I expected more and would've liked to have seen Samsung throw an 8-megapixel camera into this thing for some Full HD (1920x1080p) recording.
Performance
Once I had configured the device with my Google account, I downloaded Speed Test from the Google Play store and ran the benchmark. Wow. I have never been so amazed in my life in such a short amount of time, but the speeds of Telstra's 4G just blew me away. I had results of 35Mbps downstream and 11Mbps upstream. Considering that the fastest ADSL broadband in Australia is 24Mbit, this is quite the achievement. Samsung have definitely given the Tab 8.9 a look up and down and decided that 3G just wasn't enough and that they felt the need, the need for speed.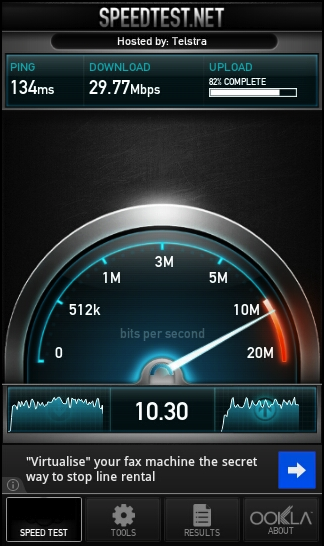 But, 4G has its strong points and with strong points, come the low points. 4G isn't available everywhere, it's only available in and around the major cities of Australia. I live in South Australia, so my initial testing was completed smack-bang in the middle of the CBD. When I was around 170km away from the CBD on my weekend away, my speeds were still actually quite good when the Tab 8.9's 4G reverted back to 3G. I was getting a download speed of 11Mbit and upload speed of a little over 1Mbit. This is actually quite surprising, but mainly a testament to Telstra's superior network. Considering my home ADSL Internet connection is only 8Mbit, it's even more impressive.
Power use on the Galaxy Tab 8.9 4G actually surprised me, I didn't expect that the battery life on this tablet would be all that good, but it really is. I have only charged the Tab 8.9 a handful of times in the near-two weeks of using it and when I was away for the weekend, I had it sitting on the table as a 3G Wi-Fi hotspot where multiple other devices accessed it. I had two smartphones and iPod touch and my notebook all accessing the Tab 8.9's 3G connection and I only had to charge it twice, at the end of each day.
This means that it took a heavy hit of usage for most of the day with multiple devices accessing its Internet connection and only complained of running out of juice after 12 hours or more of use. This is beyond impressive and definitely worth making a point of.
My thoughts after two weeks of using the device are that it is definitely a device worthy of you taking a look at it. In this iDevice-heavy world, other manufacturers seem to miss out on consumer's time, but Samsung have made a great all-round device here. The weight is amazing and makes it a joy to carry around, the screen is crisp and its 8.9-inch size is perfect for portrait or landscape use. The battery life, as I said above, is a huge selling point of the Tab 8.9. If you're in a 4G coverage zone and use it with 4G connectivity, you're going to get a huge smile on your face with its Internet speed, that's a fact.
As for benchmarks, we've decided to use Quadrant Professional Edition, as it test each section of the device itself and scores it against other similar devices. This gives us five tests, CPU, Memory, I/O, 2D graphics and finally, 3D graphics. It really sums up the performance of a smart device, with comparisons to others.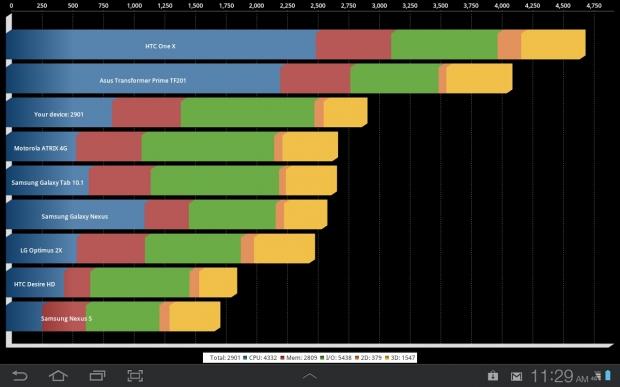 As you can see, the Galaxy Tab 8.9 4G really smashes the benchmark, only losing out to the quad-core power of HTC's One X smartphone and ASUS' Transformer Prime TF201. It easily beats Samsung's other Galaxy tablet, the Tab 10.1, the company's Nexus and Nexus S, too. You can see the large gap in CPU performance of the One X and TF201 is thanks to their quad-core CPUs, over double the CPU score of the dual-core-powered Tab 8.9 4G.
Final Thoughts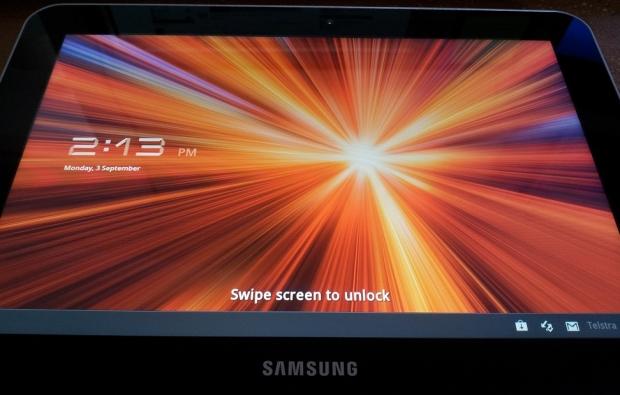 I really enjoyed my time with the Tab 8.9 4G, and I think its standout features would be two parts. First, its lightweight and secondly, its 4G connectivity. You're really only going to get the 4G version of the Tab 8.9 for the 4G, which is why 4G has been covered so much in this review. As a standalone tablet, is the Galaxy Tab 8.9 worth your money? Yes and no.
Yes in the fact that as a tablet, it's great. It's got some good hardware grunt, its light, it has great battery life and it's a joy to use. It's fall here is Samsung using Android 3.2 Honeycomb. Once you've used Android 4.0 ICS, it's hard to go back and I feel Android 4.0 is better suited to a tablet. I hope Samsung push out an ICS (or Jelly Bean) update to the Tab 8.9 soon, as it would definitely boost the slate's chances of being a contender for your hard-earned money.
After a two-week span of using the Tab 8.9, I came to like it much more than my first impressions out of the box. I think the biggest benefit for me, personally, is that I'm a big Google user. GMail, Chrome, I love the sync between apps. I can go from my MacBook Pro, to my Windows PC, to my Android-powered smartphone, and then to this Galaxy Tab 8.9 and it is all me. It's all personalized.
This is something that is great, and thanks to the apps being made available on all platforms, it makes jumping from one to the other something you welcome, rather than avoid. Google are playing much friendlier compared to other companies, and this is an approach I wish all companies took an advantage of. These devices are only going to make companies like Samsung money, if we, the consumers, enjoy them and continue buying them.
Another reason to purchase this would be to use occasionally, or if you're on the road or travelling often. Using the Tab 8.9 4G as a wireless hotspot was so simple to set up and leave, it's definitely a feature that stands out on its own two feet.
Would I personally purchase Samsung's Galaxy Tab 8.9? No. Why? Because I have an iPad. This is the problem that Samsung face, selling their tablets to people who don't have an iPad, could be swayed onto the Tab 8.9, if, and this is a big if, it had at least Ice Cream Sandwich under its hood. Pushing the tablet out into the wild with an aged Android 2.2 OS on it is just not good enough.
For most people, this won't be a problem, but trying to show the iPad next to any Android 2.2-based tablet is going to make the iPad stand out like a sore thumb. If the iPad didn't exist, and Samsung pushed an ICS update out for the Tab 8.9, this would be one of the finest tablets on the market. Size, weight, feel - it's all there.