iFrogz are a very new company whom we have not had dealings with in the past and the BOOST speaker we are looking at today is the first audio product we have seen from this company.
With the huge influx of portable devices out there right now and nearly everyone owning one of them, this is a perfect time to launch a new type of technology that can wirelessly transform a portable device into a small room filling audio device that can be shared with others.
In times of free space coming at a very high premium, things are a little different to the way they have being in the past. This was a time when bigger was always better and the market could digest a larger quantity of higher end and for that reason, ultimately more expensive gear.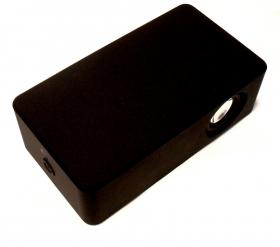 That has all changed now though, because the money simply is not there anymore for luxury items the way it used to be in a derivatives based economy. And the market has seen a huge influx of Eastern developed and manufactured products, shifting away from the plusher and extravagant North American base of manufacturer we all got used to during the 1990's.
Instead now we are seeing a larger number of new companies like iFrogz splitting the market share and offering very cheap entry level products that simply were not around nor heard of a decade ago. But we suppose the main benefit we are all receiving now is more advanced technology at cheaper prices than ever before and this is where the iFrogz BOOST portable speaker fits in today.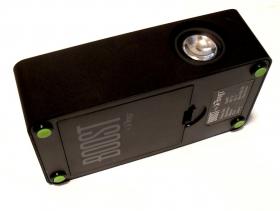 From a technical perspective the BOOST speaker uses a power source either battery or wall power in order to magnetically amplify audio being played back through the speakers built into the mobile device in question.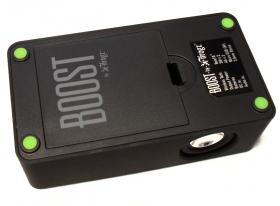 The BOOST speaker does not require drivers, cables or any type of configuration in order to work, which is really the magic of the whole idea. The only action required is to place the device the correct way around on the BOOST speaker while playing back audio in order to activate the BOOST technology. The tech in question is NearFA or Near Field Audio which is a totally new technology for us, as we have never delt with any other products that use even a similar design. And we think it's a good sound principle that will probably be used again in the future as word gets around.
The only type of speaker we can think to compare the BOOST with would be a passive radiator found in some speaker configurations which moves sympathetically along with the 'driven' speaker also in the same enclosure. But the key difference is that the iFrogz BOOST speaker does use a power source in order to work which really does make this a totally new spin on many concepts. Interestingly though, the system does not come with either batteries or a wall plug in order to be used out of the box.
And as is stated on the front of the box, the user must provide three AA batteries in order to use the speaker and to be honest we did not like this, as we do not really enjoy any product that has a set price, but then needs a further sum of money in order to be used right away. Either put batteries in the box or provide a wall plug for the unit - we are not budging on that.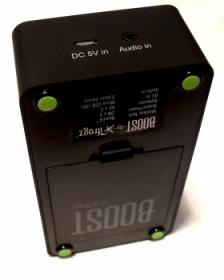 The iFrogz BOOST speaker is one of a pioneering new generation of affordable new-fangled technology that speaks to a user base without serious resources, but who knows they want quality. This is a whole totally new frontier of technological exploration happening now and we are all a part of making it happen - that's right, every last one of you out there right now has a part to play in shaping and molding a completely new and brave world of discovery and innovation. The iFrogz BOOST really embodies for us a new generation of thought becoming instant reality. It might sound a little daft now, but in a couple of years' time we feel cables, wires, drivers, and fluff will be talked about like TV tubes and VCR recorders are now.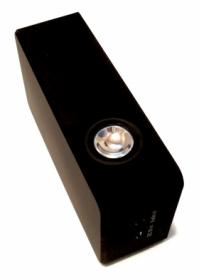 Testing with the iFrogz BOOST speaker was done using a third generation iPhone and of course the BOOST speaker itself. We flicked some batteries out of a donor device to get it running. Audio quality during testing here was really impressive for the most part considering the small size of the speakers and the fledgling nature of the technology being used. Music sounded nice and audible with a decent amount of mid-range kick and tonality from the small but cute little speakers on either side of the unit.
Listening to podcasts is probably a nicer experience than say a full blown orchestra is ever going to be on the BOOST speaker, but that just because the two small drivers can only really handle so much. We would recommend the BOOST speakers for just about anything that is not overly complex or demanding on the low end. But as a general device for boosting audio levels for friends and family to listen when they are around you and your mobile device, it works rather well.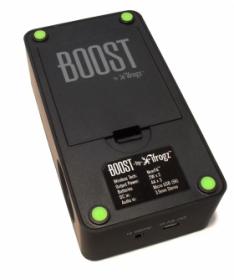 We did not have a chance to test the BOOST speaker using any other device other than the iPhone, so we are going to have to leave that up to others to find out when buying and testing it for themselves. What we did notice periodically was a slight background hum coming from the BOOST speaker when something of quite low volume level was being played back, sort of like the hum you get from an old power transformer. Now for many listening at louder levels this will not be an issue, but we did notice it at lower levels and during quiet periods of listening. We are not sure if this issue is isolated to just our review sample or not, but it's something small to keep in mind.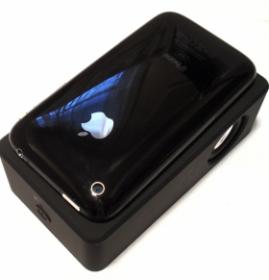 The iFrogz BOOST speaker heralds a new dawn of slick, instant and snappy technology that works right away (after buying batteries) and speaks to a generation of more cash savvy and informed users. The sound quality is pretty good for a device of this size, it's not going to produce the best sound you've ever heard, but being priced at around $40, it's a pretty good deal from your money we think. We say grab one and share it around with everyone you know, get excited about the complete paradigm shift we are seeing now in terms of sweeping away the old cable laden driver disk ridden world of yesterday and welcoming a swish and clutter-free world.