Introduction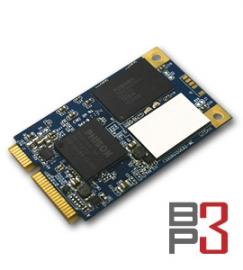 Just days ago we discussed the new SMART series product line from MyDigitalSSD. The SMART series uses the current flagship flash processor unit (i.e. controller) from SandForce and IMFT 25nm synchronous flash in an mSATA package. Although SandForce has dominated the high performance and high value markets in the 2.5" package with their one, two, synchronous / asynchronous punch, manufacturers haven't increased mSATA production volumes to levels that reduce the price at the e-tail level.
Since SandForce mSATA drives are the highest performing on the market today, they come with a high price premium. The SMART series was able to chip away at the premium by a significant margin, but not enough to bring mainstream users on board in a big way. Released at the same time as the SMART series, MyDigitalSSD's new Bullet Proof 3 series SATA 6Gbps mSATA takes over in the low cost, mainstream performance category. The BP3 is the successor to the Bullet Proof 2, an mSATA line that only reached SATA 3Gbps speeds.
The BP3 mSATA products use a similar configuration to the BP3 2.5" models, one of which we ran a world exclusive preview of last month. These product lines use the new Phison S8 controller and pair it with Toshiba's 24nm Toggle Mode NAND flash.
Just like with the new SMART series, the Bullet Proof 3 line has its own little firmware controversy. Phison is working on a new firmware that is built exclusively for the S8 controller. The firmware shipping on the BP3 is a modified version found on the BP2. We're hearing that a full performance firmware will be ready in July due to a lengthy validation cycle by Phison.
Today we'll test the MyDigitalSSD BP3 mSATA 256GB SSD with the early firmware and when available, retest with the new performance firmware.
Specifications, Pricing and Availability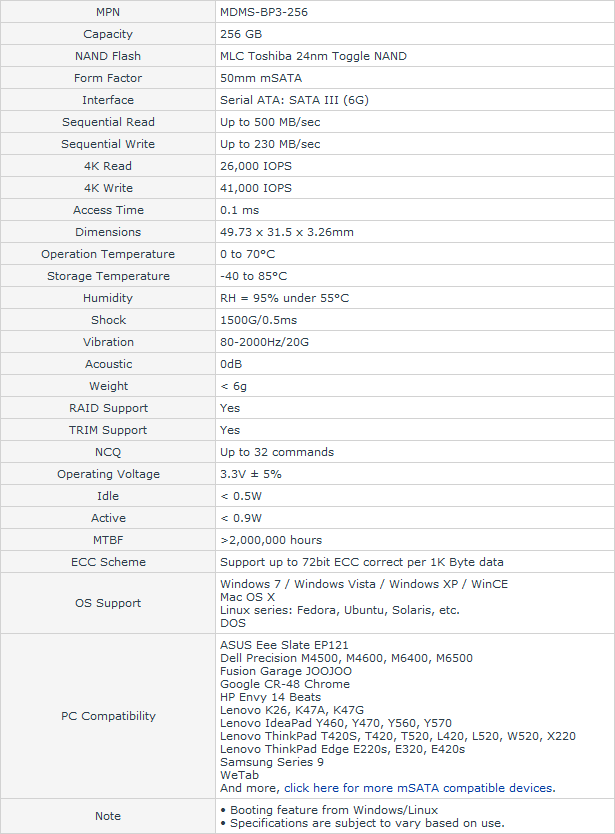 MyDigitalSSD released three capacity sizes for the new BP3 mSATA line. Those are 64GB, 128GB and the model we're looking at today, 256GB. This is a value over performance product, but given the 500MB/s read speed, we have to admit that the performance is pretty high as well. The write speed is around 230MB/s and that is one of the biggest differences between the BP3 and SMART lines. BP3 also has lower IOPS ratings and a higher latency, especially when it comes to writing data.
As we mentioned in the introduction, the performance we present today is on an early firmware revision. It is so early in fact that it was ported over from the previous generation, SATA II Phison controller. The proper Phison S8 firmware is in validation, but we won't see it till early July. Even now, the performance is very good for the price, but it can only get better as new firmware revisions roll out. Phison isn't known for kicking out new firmware revisions every couple of months, they tend to get it right early on. Speaking candidly with MyDigitalSSD, we learned that of the BP products shipped worldwide with Phison controllers, only four were returned with issues, two of which were damaged in shipping. The numbers are impressive and we learned why the return rate is so low. Phison produces their products in the same factories that Toshiba builds their SSDs destined for OEM installations. In the OEM market returns are simply not acceptable.
Like many of the products from MyDigitalSSD, TweakTown was able to secure a price break for our readers. The BP3 256GB model we're reviewing today regularly sells for $279.99 at MyDigitalDiscount, but with our coupon code (TT256BP3SAVE20) an additional $20 is taken off of the price. That make the MyDigitalSSD BP3 256GB mSATA $259.99, an excellent price for any 256GB mSATA SSD. MyDigitalSSD also sent coupon codes for the 128GB BP3 model (TT128BP3SAVE10), worth $10 off and one for the 64GB model (TT64BP3SAVE5), worth $5 off.
When it comes to accessories and add-ons MyDigitalSSD warranties the BP3 product line with a standard three year warranty. You also get two screws for mounting your mSATA drive in a notebook that uses the screw hold down mechanism.
One accessory that I think everyone should purchase is an mSATA to SATA adapter bracket. MyDigitalDiscount sells high quality adapters for $24.99, but you can find low quality versions on Amazon for as low as $9.
MyDigitalSSD BP3 256GB mSATA SSD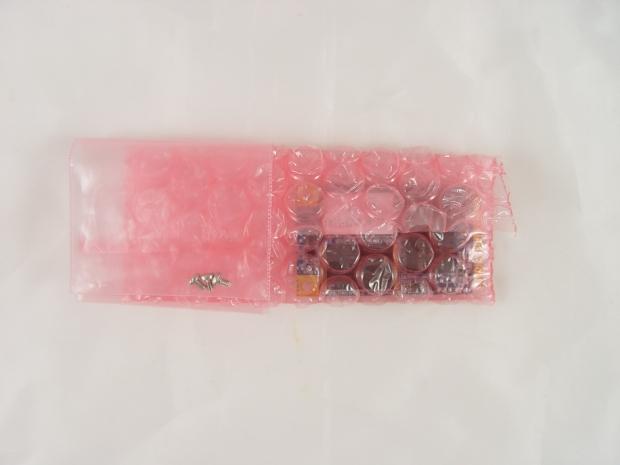 Our sample BP3 256GB was packaged in an anti-static bubble wrap bag and included two mounting screws.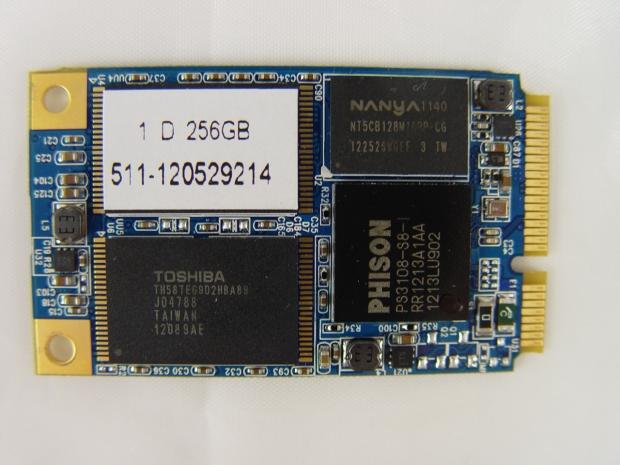 There really isn't much to mSATA SSDs and as you can see they aren't housed in fancy aluminum or steel cases. On this side we see the Phison S8 SATA III controller, two Toshiba 24nm Toggle NAND flash chips and a Nanya 128MB DRAM buffer module.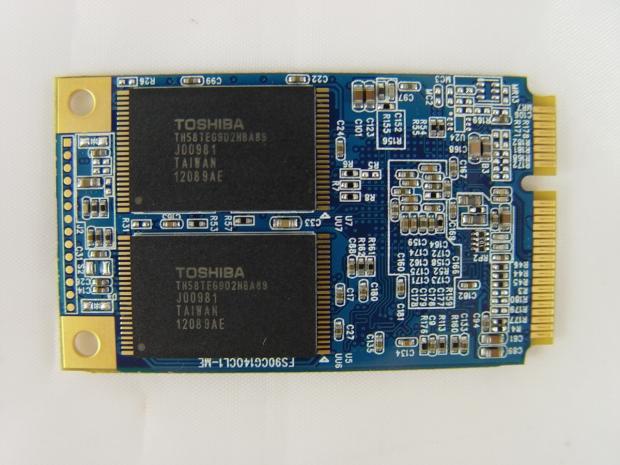 On the other side we found two more Toshiba NAND flash chips and a host of surface mount capacitors and resistors.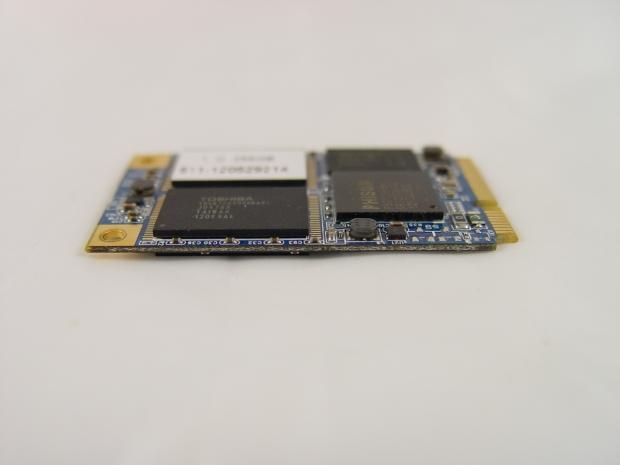 From the side we can see just how small the mSATA form factor really is. Many notebook and ultrabooks place the slots for them under the keyboard.
To be honest this is the second BP3 mSATA drive MyDigitalSSD has sent. The first was waiting for me when I returned from Computex. After not sleeping on my 24 hour flight, I opened the package and misplaced the mSATA drive. It's very small, but will one day turn up.
Benchmarks - Test System Setup and ATTO Baseline Performance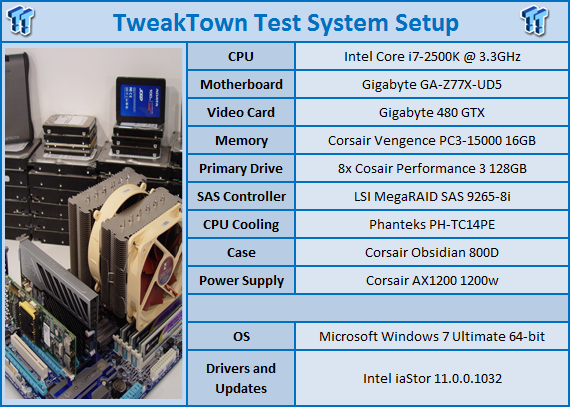 We would like to thank the following companies for supplying and supporting us with our test system hardware and equipment: AVADirect, GIGABYTE, LSI, Corsair and Noctua.
You can read more about TweakTown's Storage Product Testing Workstation and the procedures followed to test products in this article.
mSATA is a connection standard that is gaining ground on two fronts. The first is the notebook / ultrabook market where space is very limited. With companies like MyDigitalSSD producing mSATA drives that compare with full size 2.5" form factor models in capacity this standard will continue to gain traction.
The second market where mSATA is taking hold is SSD caching of mechanical HDDs. We've seen a handful of motherboard manufacturers including mSATA slots on their desktop boards. GIGABYTE seems to be leading the charge, but their mSATA slots are only SATA II. If you are purchasing an mSATA drive for a desktop motherboard choosing a lower cost SATA II model might prove to be a wise decision. Then again, your next motherboard may just have an mSATA slot with SATA III so if you can afford the additional expense a SATA III model should be better in the long term.
ATTO Baseline Performance
Version and / or Patch Used: 2.34
ATTO is used by many disk manufacturers to determine the read and write speeds that will be presented to customers.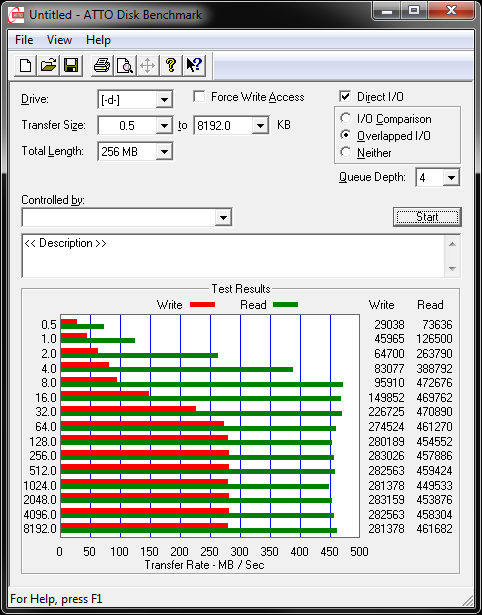 In our initial testing we were not able to achieve MyDigitalSSD's claimed 500MB/s read performance right out of the gate. We needed to move ATTO to a queue depth of 10 instead of our standard test at 4 to hit 500MB/s.With the queue depth at 4 we did achieve just over 460MB/s read and 280MB/s write performance.
Benchmarks - HD Tune Pro
HD Tune Pro
Version and / or Patch Used: 4.00
Developer Homepage: http://www.efdsoftware.com
Product Homepage: http://www.hdtune.com
HD Tune is a Hard Disk utility which has the following functions:
Benchmark: measures the performance
Info: shows detailed information
Health: checks the health status by using SMART
Error Scan: scans the surface for errors
Temperature display
HD Tune Pro gives us accurate read, write and access time results and for the last couple of years has been gaining popularity amongst reviewers. It is now considered a must have application for storage device testing.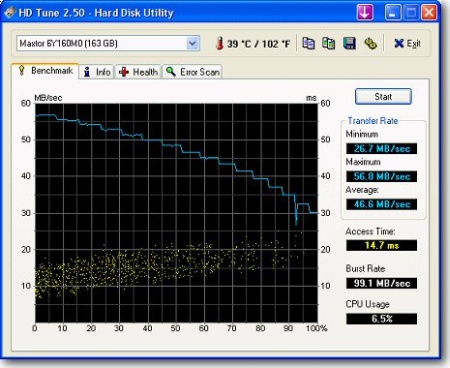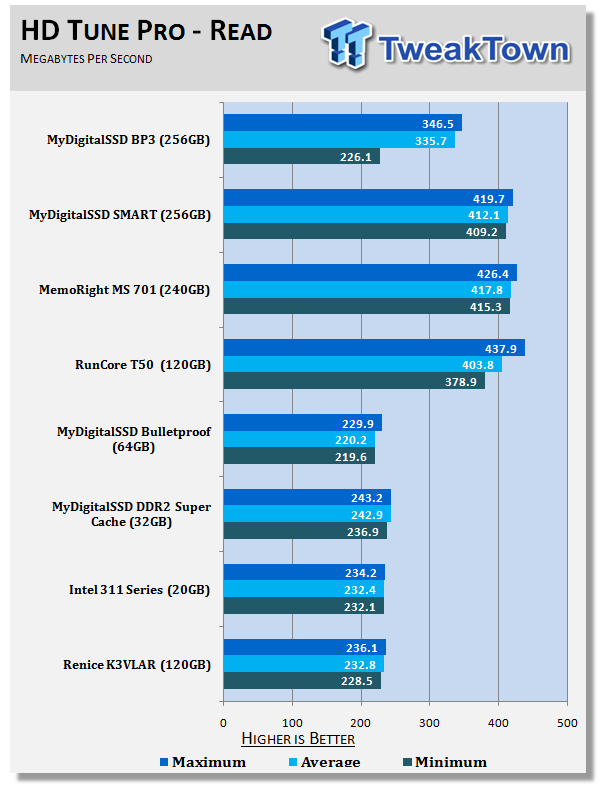 Using HD Tune Pro we measured the sequential read speed of the BP3 256GB at 335MB/s average with compressible data. Later in this review we'll look at incompressible data performance and see how the BP3 compares to the SandForce based SMART drive.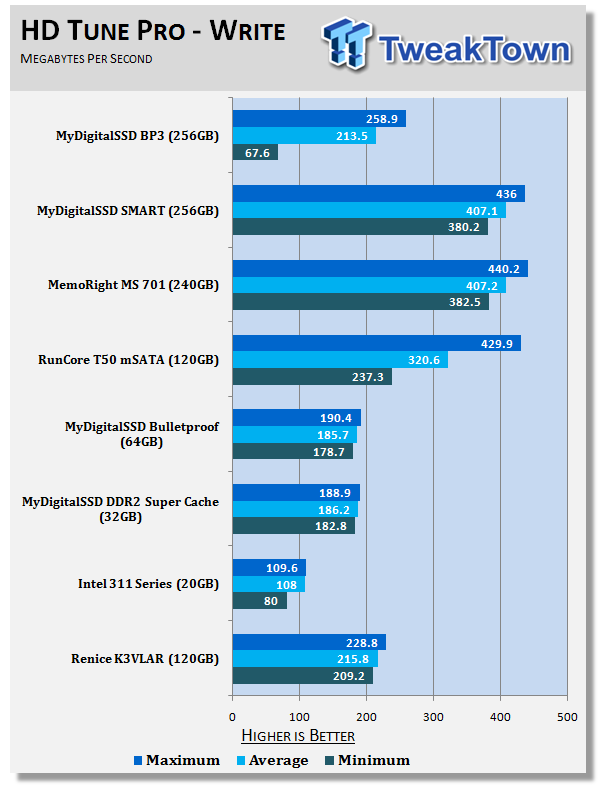 Even after a secure erase cycle I was not able to get the BP3 to produce a clean line across the drive in the write test. This tells us a couple of things, the BP3 could use a larger buffer and the write speed of the Phison S8 with the early firmware could use a performance boost as well. Hopefully these issues are addressed in the new firmware which is due out in July from what we've been told.
Benchmarks - AIDA64 Random Access Time
AIDA64 Random Access Time
Version and / or Patch Used: 1.60
Developer Homepage: http://www.aida64.com
Product Homepage: http://www.aida64.com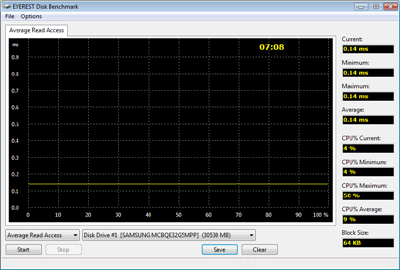 AIDA64 offers several different benchmarks for testing and optimizing your system or network. The Random Access test is one of very few if not only that will measure hard drives random access times in hundredths of milliseconds as oppose to tens of milliseconds.
Drives with only one or two tests displayed in the write test mean that they have failed the test and their Maximum and possibly their Average Scores were very high after the cache fills. This usually happens only with controllers manufactured by JMicron and Toshiba.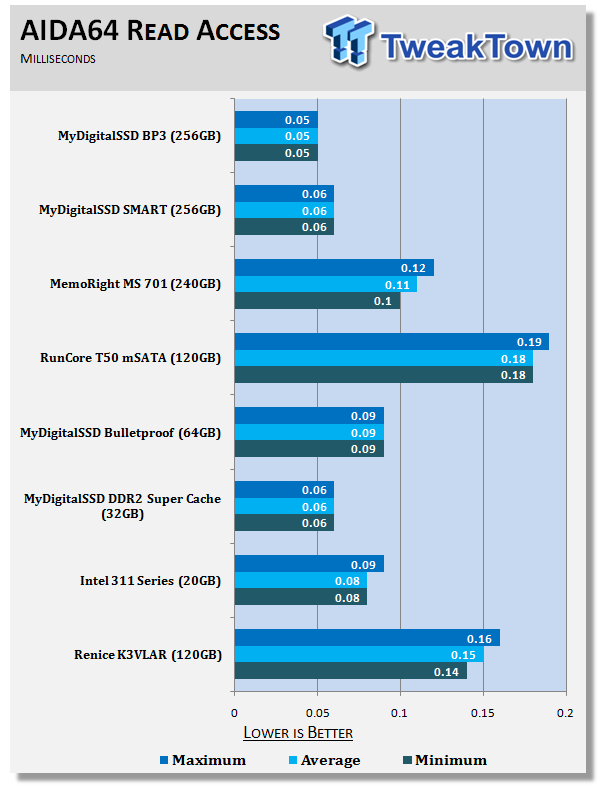 Access time is easily the nicest feature on solid state drives and it greatly improves the user experience over standard mechanical drives. The read access for the MDSSD BP3 is a solid .05ms and that performance holds steady across the range of the drive.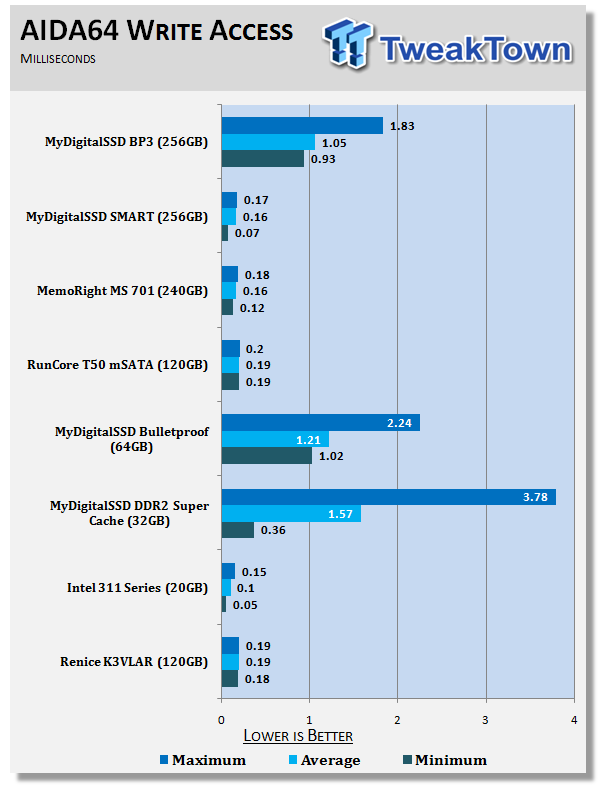 The read access is really good, but the write access could use a lot of help. The original Bullet Proof is listed on the chart and as you can see the BP3 follows the same path on the chart. With an average write latency of just over 1ms, the BP3 isn't a stand out performer in this test. The latency isn't high enough to cause shuddering problems, but it isn't low enough to compete with some of the best mSATA drives on the market that use SandForce controllers.
Benchmarks - CrystalDiskMark
CrystalDiskMark
Version and / or Patch Used: 3.0 Technical Preview
Developer Homepage: http://crystalmark.info
Product Homepage: http://crystalmark.info/software/CrystalDiskMark/index-e.html
Download here: http://crystaldew.info/category/software/crystaldiskmark
CrystalDiskMark is a disk benchmark software that allows us to benchmark 4K and 4K queue depths with accuracy.
Key Features:-
* Sequential reads/writes
* Random 4KB/512KB reads/writes
* Text copy
* Change dialog design
* internationalization (i18n)
Note: Crystal Disk Mark 3.0 Technical Preview was used for these tests since it offers the ability to measure native command queuing at 4 and 32.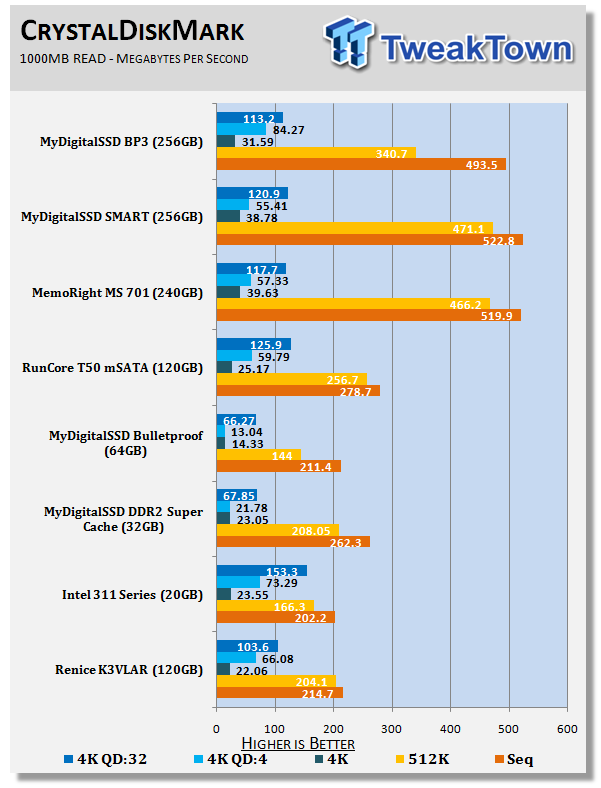 In CDM we are looking at 4K and native command queuing performance. This test uses incompressible data so the SandForce based drives don't have the opportunity to take advantage of their complex compression algorithms.The single command 4K read delivers impressive performance that is very close to the SandForce based drives. When things start to get stacked up the BP3 really takes off, delivering nearly 30MB/s more read performance at 4 requests. The SandForce drives retake the lead at 32 requests though by a small margin.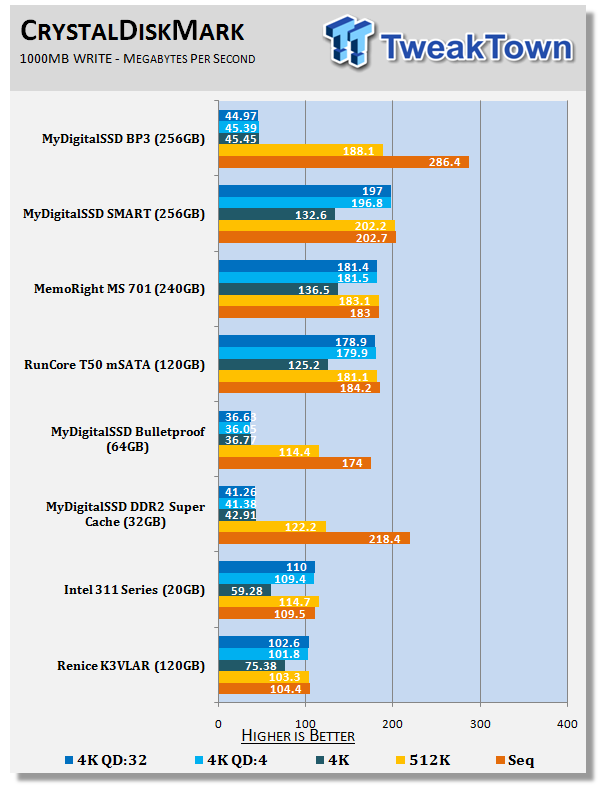 The Phison S8 controller does not take advantage of NCQ when writing data to the drive. Here we see 45MB/s 4K writes across the board regardless of queue depth.There is a glimmer of hope, though. Since this test uses incompressible data we can compare the sequential write speed of the Phison to the SandForce in this test. In the sequential test the Phison outperforms all of the SandForce and for that matter, every other mSATA SSD in our chart.I don't foresee Phison enabling NCQ writes with the new firmware, but we are hoping for the best. Phison controllers tend to lack this feature regardless of form factor.
Benchmarks - PCMark Vantage Hard Disk Tests
PCMark Vantage - Hard Disk Tests
Version and / or Patch Used: 1.0.0
Developer Homepage: http://www.futuremark.com
Product Homepage: http://www.futuremark.com/benchmarks/pcmark-vantage/Buy It Here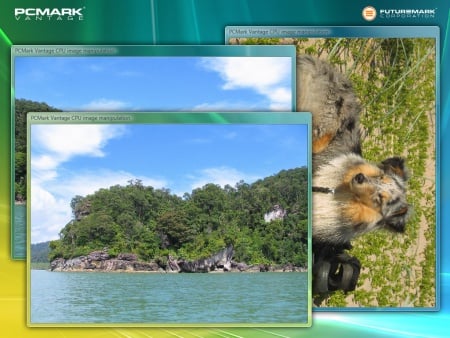 PCMark Vantage is the first objective hardware performance benchmark for PCs running 32 and 64 bit versions of Microsoft Windows VistaÂ. PCMark Vantage is perfectly suited for benchmarking any type of Microsoft Windows Vista PC from multimedia home entertainment systems and laptops to dedicated workstations and high-end gaming rigs. Regardless of whether the benchmarker is an artist or an IT Professional, PCMark Vantage shows the user where their system soars or falls flat, and how to get the most performance possible out of their hardware. PCMark Vantage is easy enough for even the most casual enthusiast to use yet supports in-depth, professional industry grade testing.
FutureMark has developed a good set of hard disk tests for their PCMark Vantage Suite. Windows users can count on Vantage to show them how a drive will perform in normal day to day usage scenarios. For most users these are the tests that matter since many of the old hat ways to measure performance have become ineffective to measure true Windows performance.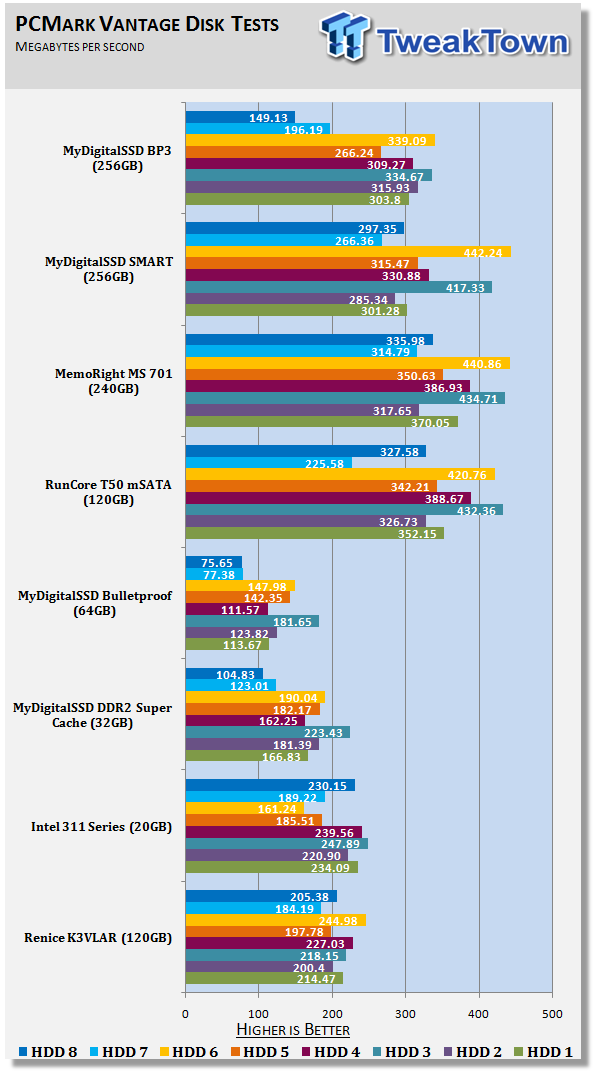 HDD1 - Windows Defender
HDD2 - Gaming
HDD3 - Windows Photo Gallery
HDD4 - Vista Startup
HDD5 - Windows Movie Maker
HDD6 - Windows Media Center
HDD7 - Windows Media Player
HDD8 - Application Loading
So far the MDSSD BP3 has hung in there in many tests with the higher priced SMART series drive also from MDSSD. The real-world tests though show when and where performance lags behind the premium option.Here we see that in nearly every area the BP3 is slower than the SMART. The BP3 did fare much better than I expected though and even gave the SMART a reality check when sequential read performance was under the gun. Maybe the most important test for active notebook users, the Application Loading test was won by the BP3 when comparing it to the SMART 256GB.
Benchmarks - AS SSD
AS SSD Benchmark
Version and / or Patch Used: 1.2.3577.40358
Developer Homepage: Alex Intelligent Software
Product Homepage: Alex Intelligent Software
Download here: http://www.alex-is.de/PHP/fusion/downloads.php?cat_id=4&download_id=9
AS determines the performance of Solid State Drives (SSD). The tool contains four synthetic as well as three practice tests. The synthetic tests are to determine the sequential and random read and write performance of the SSD. These tests are carried out without the use of the operating system caches.
In all synthetic tests the test file size is 1GB. AS can also determine the access time of the SSD, the access of which the drive is determined to read through the entire capacity of the SSD (Full Stroke). The write access test is only to be met with a 1 GB big test file. At the end of the tests three values for the read and write as well as the overall performance will be issued. In addition to the calculated values which are shown in MB/s, they are also represented in IO per seconds (IOPS).
Note: AS SSD is a great benchmark for many tests, but since Crystal Disk Mark covers a broader range of 4K tests and HD Tune Pro covering sequential speeds, we will only use the Copy Benchmark from AS SSD.
- Copy Benchmark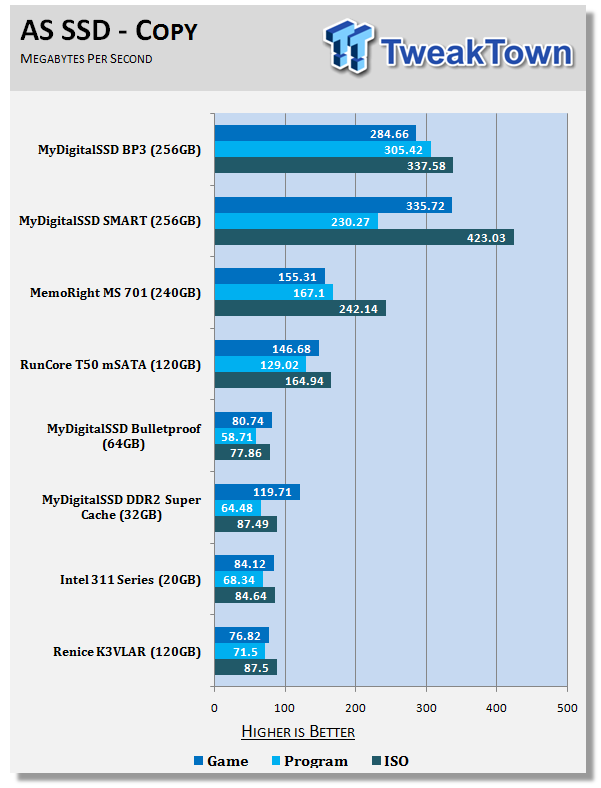 The same high sequential speeds also helped deliver a best of average in the data copy test. MyDigitalSSD's low cost BP3 is a solid performer when copying data from one partition to another on the same drive.
Benchmarks - Anvil Storage Utilities
Anvil Storage Utilities
Version and / or Patch Used: BETA 11
So what is Anvil Storage Utilities? First of all, it's a storage benchmark for SSDs and HDDs where you can check and monitor your performance. The Standard Storage Benchmark performs a series of tests, you can run a full test or just the read or the write test or you can run a single test, i.e. 4K DQ16.
Anvil Storage Utilities is not officially available yet but we've been playing with the beta for several months now. The author, Anvil on several international forums has been updating the software steadily and is adding new features every couple of months.
The software can be used several different ways and to show different aspects for each drive. We've chosen to use this software to show the performance of a drive with two different data sets. The first is with compressible data and the second data set is incompressible data. Several users have requested this data in our SSD reviews.
Fill Compressible Data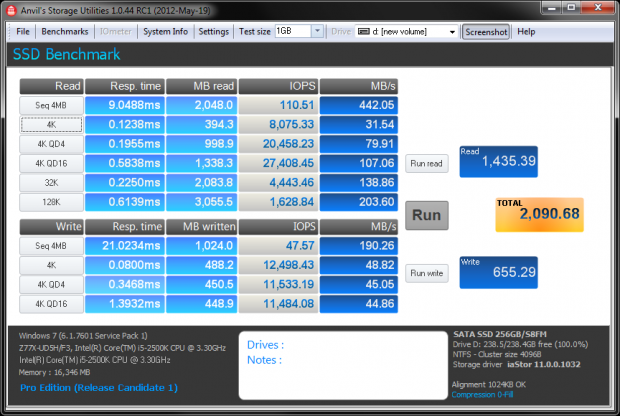 Incompressible Data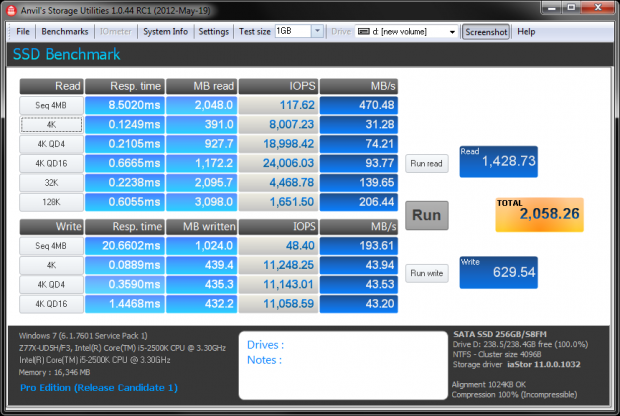 You asked for Anvil Storage Utilities and we delivered. We've chosen to use this new benchmark to highlight compressible vs. incompressible performance.The BP3 doesn't gain an edge when dealing with purely compressible data like the SandForce drives do and because of that the performance is steady across the board between these two file types.
Benchmarks - Passmark
Passmark Advanced Multi-User Tests
Version and / or Patch Used: 6.1
Developer Homepage: http://www.passmark.com
Test Homepage: http://www.passmark.com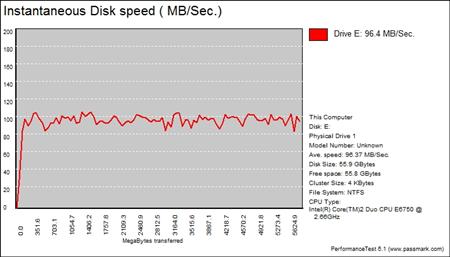 Many users complain that I/O Meter is too complicated of a benchmark to replicate results so my quest to find an alternative was started. Passmark has added several multi-user tests that measure a hard drives ability to operate in a multi-user environment.

The tests use different settings to mimic basic multi-user operations as they would play out on your server. Variances is read / write percentage as well as random / sequential reads are common in certain applications, Web Servers read nearly 100% of the time while Database Servers write a small amount of data.
The Workstation test is the only single user environment and will be similar to how you use your system at home.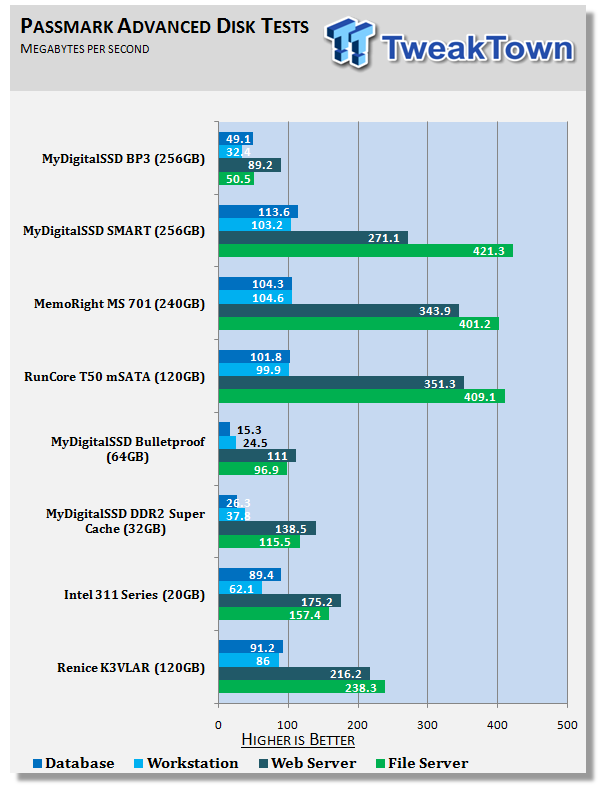 The MyDigitalSSD BP3 isn't going to make it to any servers anytime soon, but MDSSD isn't marketing this product for enterprise tasks. We still like to run these tests since more and more companies are starting to include consumer SSDs into their server strategy.
Final Thoughts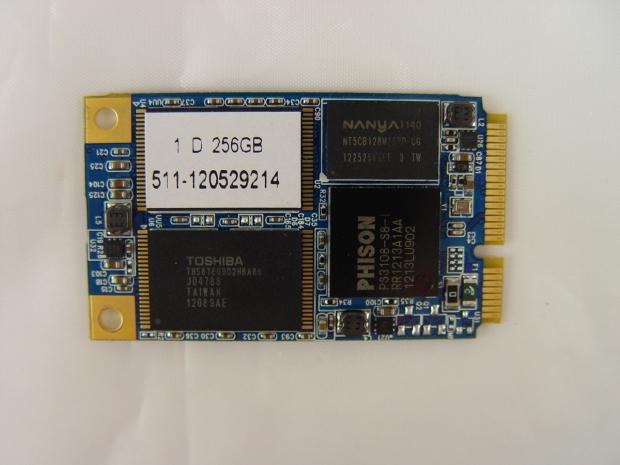 I'm going to dive right into the facts about the MyDigitalSSD BP3 today. At this time the largest capacity you can purchase in an mSATA form factor is 256GB. If doesn't matter if the controller is SandForce, Marvell or Phison. When it comes to capacity at the high-end, 256GB is what we have until 2013 when IMFT releases ONFi 3.0, 128Gbit die chips.
Given that most of these mSATA drives are destined for note/ultrabooks with their power saving C-States, SpeedStep and other performance robbing technologies, speed becomes less of an issue. The more mainstream you go the higher the chances of your notebook being crippled for the sake of battery life and the green agenda. Aside from a few Alienware, Ivy Bridge based gaming notebooks, mSATA is about as mainstream as you're going to get. So in short, speed is good, but your notebook will limit your performance unless you are willing to configure it for higher performance and reduced battery life.
Since this is TweakTown and mainstream is for people who read other sites, let's dive into performance. Anything we say about the performance today will not be valid in two to three weeks. Phison already has their performance firmware built and barring any issues, we'll have it early July. The BP3 with the Phison S8 controller delivers good performance now, but we're hoping for more with the new firmware. There are some areas we'd like to see Phison improve upon, but we're not holding our breath - like NCQ writes. Other areas, like sequential write performance, should see a nice increase - at least that is what we're hearing. The biggest issue we observed, write latency, is still up in the air. I think this is more of a hardware limitation, but when it comes to SSD firmware being involved, we can't say either way.
For both mainstream users and even power users, price is more often than not the biggest concern. The MyDigitalSSD BP3 256GB mSATA that we reviewed today costs just $259.99 (with the TT Exclusive coupon code TT256BP3SAVE20) at MyDigitalDiscount.com. That puts this drive very close to the $1 per GB realm, a destination mSATA products rarely visit. Even in its current form with initial release firmware, the value of the BP3 mSATA line is very apparent. Given the performance increase that is scheduled and quickly approaching, I don't see a reason why this model shouldn't be at the top of your purchasing list.
That is a pretty big claim considering we just reviewed the SMART model that is much faster in some areas. It really comes down to the host system. mSATA with a SATA III interface is almost exclusively found in note/ultrabooks (desktop motherboards with mSATA are only SATA II at this stage) and the power saving (or performance robbing depending on how you look at it) features will level the performance. So, if you are going to be crippled regardless of how fast your potential is, buy the cheaper option and save the money for your desktop that can run an SSD at full speed, all the time.
We'll follow up with an article covering both BP3 products we have on hand when the new firmware goes live in July.