Introduction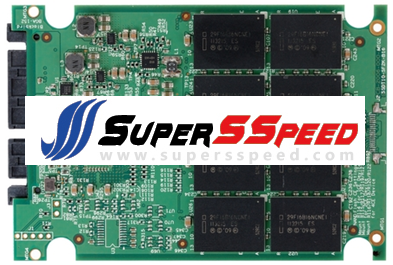 It's a lazy Saturday, my wife is on her vacation in sunny Florida and my boys are lost in multiplayer Dead Island. The Barrett Jackson So-Cal Auction is on Speed in the background and every now and then, I peek over to see the exotics rolling through the auction block. Looking past the car I see people on a mission. Their mission is to sift through the hundreds of cars to find the one deemed worthy of their dime, the collector car of their dreams. This year at Computex Taipei 2012 in Taiwan I too was on a similar mission.
Two months ago a very special SSD made headlines in Asia, a true muscle SSD with performance that can only be described as exotic. Within minutes of reading about the SuperSSpeed S301 Hyper drive, I fired off an email to every SuperSSpeed email address I could find. After not hearing back in 24 hours I hit the social networking sites and resent emails in Google Translation Chinese. The replies were still non-existent. At that point, SuperSSpeed went to the top of my list of companies to visit at Computex.
So, what is so special about the S301 for the world's top volume SSD reviewer to make it such a high priority? The answer is simple, performance. The SuperSSpeed S301 Hyper uses the SandForce SF-2281 controller, the top performing Flash Storage Processor on the market today, but we see SF-2281s every time we turn around. What makes this SSD special is the flash, Intel Single Level Cell (SLC) to be exact.
Five years ago, SLC flash was still turning up on prosumer SSDs still, but the cost of a 64GB SLC SSD was around $1200. Just after that, SLC all but disappeared as the reign of low cost Multi-Level Cell took off. Since then, if you wanted a SSD with SLC you had to purchase an enterprise product from a specialty manufacturer, the kind of company that doesn't sell on Newegg or publish their price list. If you had to ask about the cost, then it wasn't for you.
We all know MLC flash prices have taken a serious nosedive in the last couple of months. NAND flash makes up the bulk of the cost of a SSD so when the flash decreases, SSD prices decrease as well. IMFT and Toshiba have increased their efficiency and are getting more grade A dies per wafer. Until now, we've only heard about the status of MLC flash, but it appears that SLC flash is riding the flash pricing coaster with MLC and at least for now, SLC is what I'd consider affordable.
Specifications, Pricing and Availability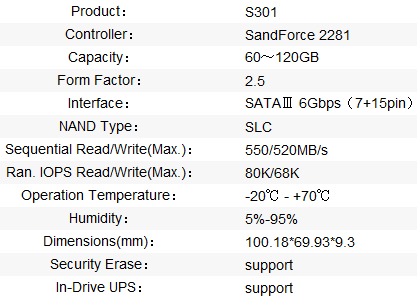 The SuperSSpeed S301 Hyper SLC SSD isn't on the market just yet, but as you'll see today, SuperSSpeed isn't far away from a retail unit. Two models are slated for production and they vary by capacity, 60GB and the model were looking at today, 120GB.
Anytime we start talking about SLC the first thing that comes to mind is price. Just days ago we spoke with the CEO of SuperSSpeed and were informed these units should cost at e-tail around two times the price of a comparable SF-2281/MLC drive. With MLC drives hitting the $1 per GB mark that could mean as low as $2 per GB, but even if we're talking about $3 per GB, we'd be happy.
The second thought SLC rushes to our head is performance - lots and lots of performance. To date, very few SF-2281 drives with SLC flash tests made it to the public domain. Since we caught the Chinese preview two months ago, we already know the S301 delivers massive performance. Per the spec sheet the claimed performance numbers don't look much better than your standard off the shelf 2281/MLC drive, but as we've shown before with synchronous vs. asynchronous flash, the spec sheets never tell the whole story. We'll show you that again today, but I'll save the spicy details for the benchmark results.
At this point, you have to be wondering who is this SuperSSpeed and where did they come from. I took a 24 hour flight to Computex to find out, but the truth is, I didn't even need to leave my living room. SuperSSpeed has an office in California where they negotiate to manufacturer SSDs for companies that sell them under their own flag. In Hong Kong, SuperSSpeed is known for their NAND flash sales to other manufacturers who build SSDs. Although the name is new to many, SuperSSpeed and their parent company have been deep in the SSD game for a long time.
Let's take a look at their flagship product.
Packaging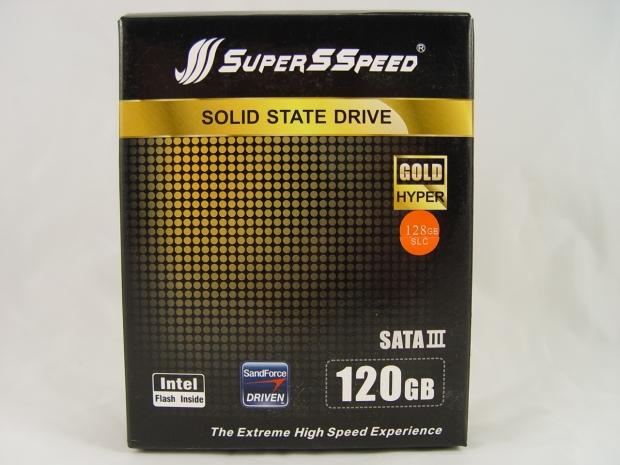 SuperSSpeed warned us that the packaging may change by the time this product comes to market. The box used was the same as the Hyper 240GB MLC SSD we also received. A sticker was placed on the box that states this is a SLC model, we'll keep you updated with news posts when we hear more and when the product is picked up by e-tailers.
On the front, we see the familiar SandForce Driven logo, SATA III and a new Intel Flash Inside logo. The Intel logo caught us off guard a bit, but we're glad to see a manufacturer working to inform the buyer about the product with such detail.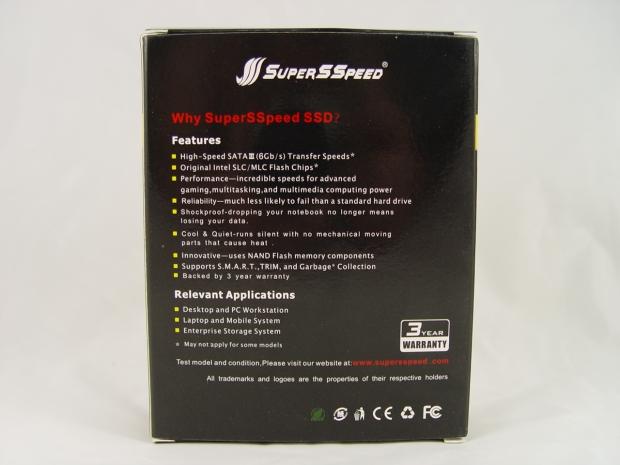 A general list of features and applications list is on the back of the package. It also displays the three year warranty information.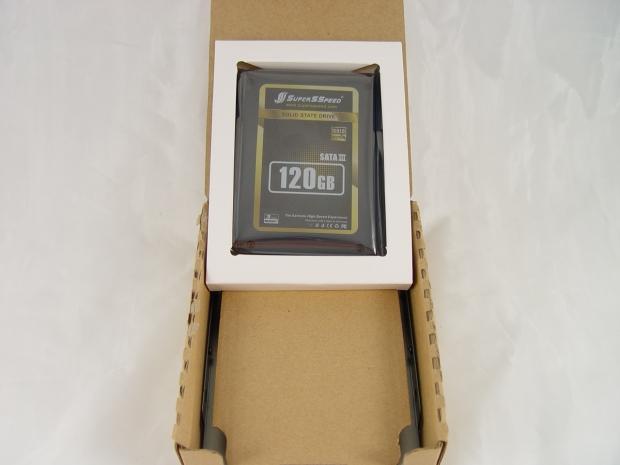 The packaging was designed well on the inside. We've seen this layout before on Intel consumer SSDs.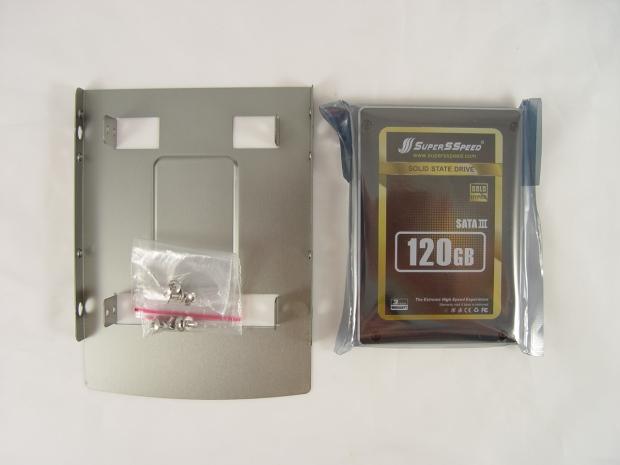 Inside we found the S301 SLC SSD, mounting screws for two SSDs and a 2.5" to 3.5" form factor adapter bracket.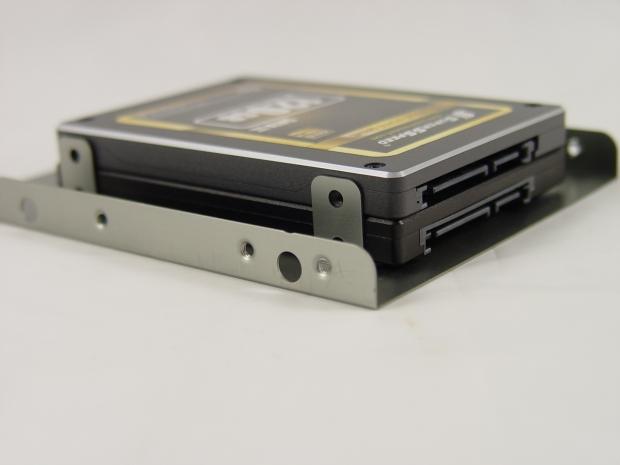 This is the first time we've seen a bracket designed this way. As we stated, screws were provided for two drives and this bracket can accept two 2.5" SSDs. This is a welcome change to the standard brackets we've seen for the last few years. The only thing we don't like about this bracket is it lacks the proper offset so your drives will not line up with your standard 3.5" spinners.
SuperSSpeed S301 Hyper SLC 120GB SSD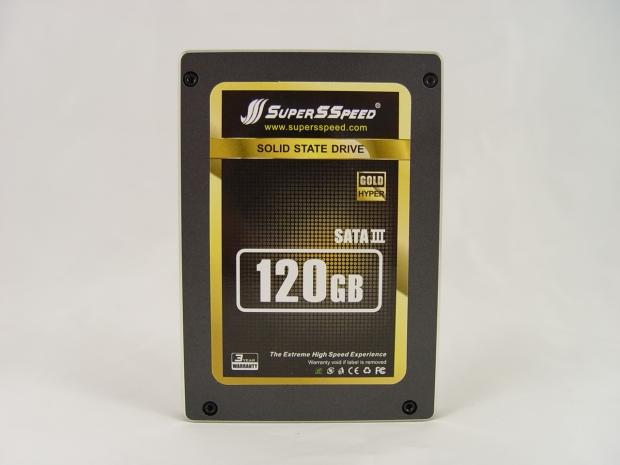 Just like the outside box, the S301 also uses the MLC model's case and this may change when SuperSSpeed gets closer to retail.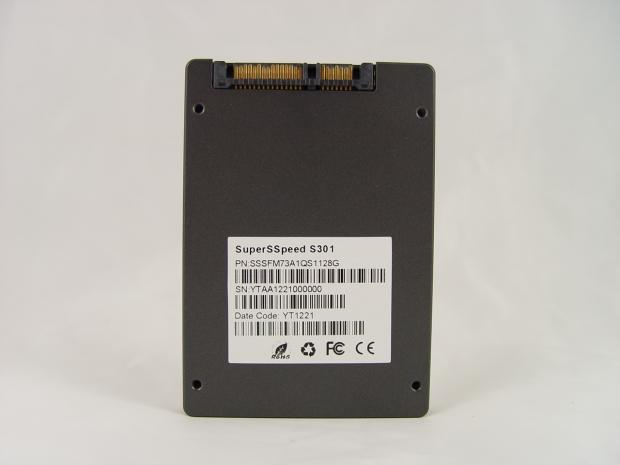 The outside looks just like a typical SSD, nothing special outside, but like always, it's what's on the inside that counts. The 000000 serial number means this one will make it to my wall of special parts after it's retired from my notebook.Given this is real premium SLC flash the chances of me wearing the drive out is non-existent since current SLC flash will last under normal consumer conditions for something like thirty years.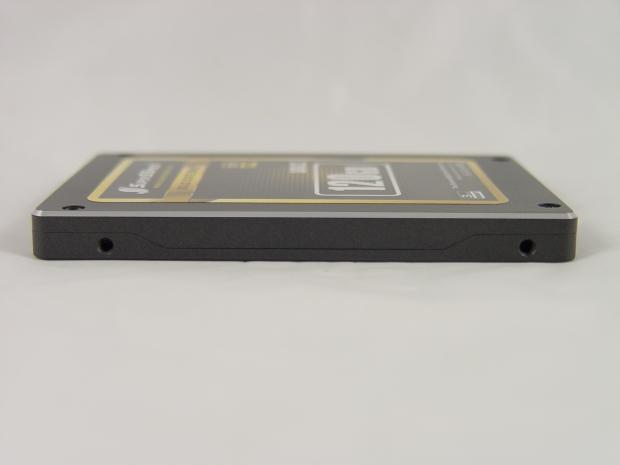 The case has the standard mounting points on the side and on the bottom of the drive.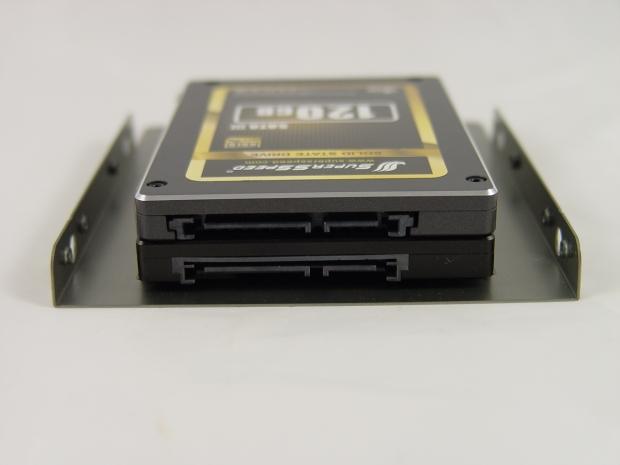 The SATA power and data points are where they should be on a 2.5" form factor drive. Here we see the drive in the included desktop adapter bracket. Note that the bracket has a lip so you won't be able to use it in a drive sled with a backplane. Also, the drive is not offset to the left side so the electrical connectors won't like up with a backplane either. We do really like the dual drive design since it makes installing two drives faster and doubles our potential SSD density per PC.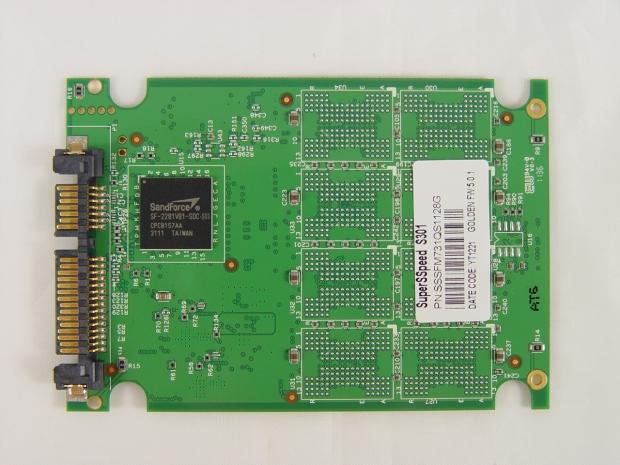 On this side of the PCB we see the LSI SandForce SF-2281 flash processor unit and a few surface mount components. On the label we see this drive has firmware 5.0.1. If you follow the reviews here at TweakTown, you know this firmware and its successor 5.0.2 have an issue with TRIM. We'll talk more about that in the review.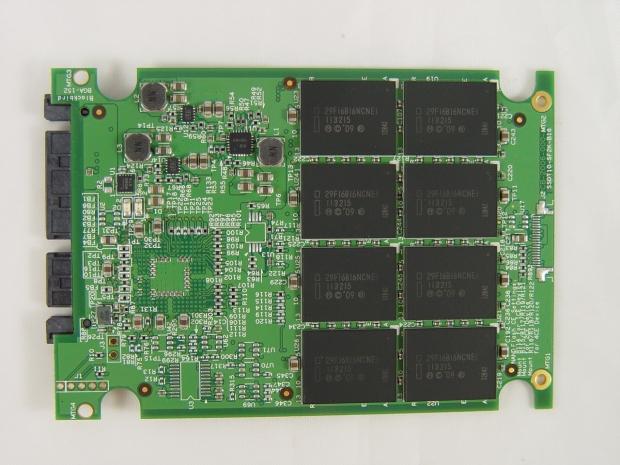 The majority of the components are on this side of the PCB. Most of the power regulation is found here and that beautiful Intel 25nm SLC flash is here too. There are eight flash chips in total, 16GB each.
There is an interesting notation at the top left of the PCB in this image, Blackbird. Most likely this is a code name. Google wasn't any help when we searched.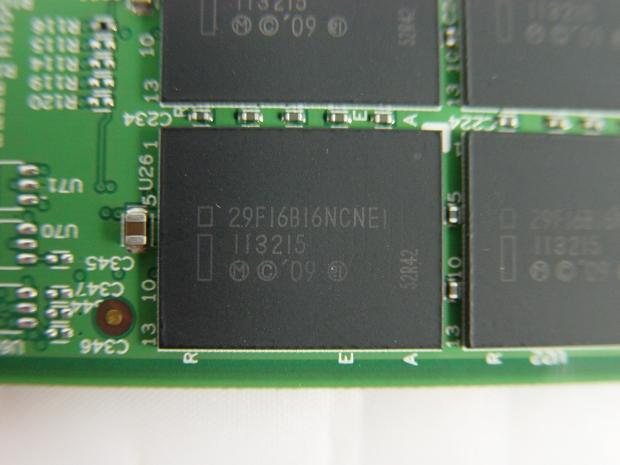 Intel 25nm SLC flash... Gentleman, start your engines!
Benchmarks - Test System Setup and ATTO Baseline Performance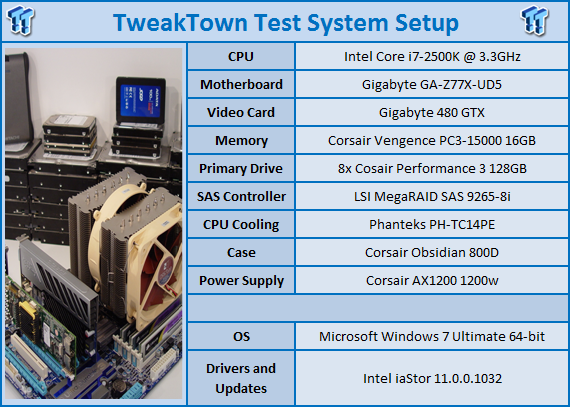 We would like to thank the following companies for supplying and supporting us with our test system hardware and equipment: AVADirect, GIGABYTE, LSI, Corsair and Noctua.
You can read more about TweakTown's Storage Product Testing Workstation and the procedures followed to test products in this article.
In order to fully utilize SATA III you need a system with native SATA III support. P67, Z68, Z77 and X79 systems are preferred, but AMD has made advances in their newer SATA III systems as well. Older X58 systems with Marvell based SATA III ports do not deliver the same high levels of performance, so we recommend newer systems when available.
ATTO Baseline Performance
Version and / or Patch Used: 2.34
ATTO is used by many disk manufacturers to determine the read and write speeds that will be presented to customers.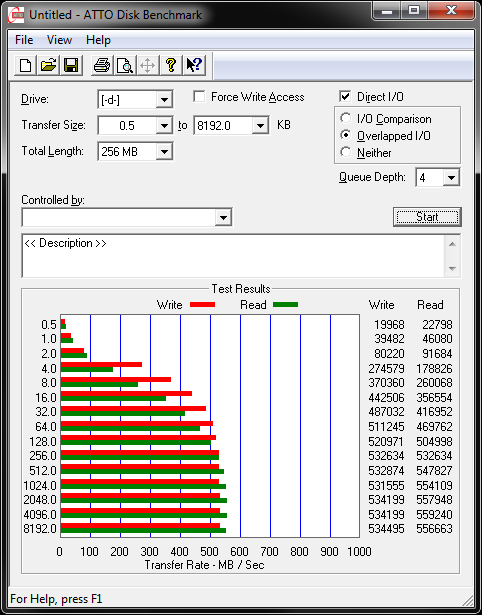 Right out of the gate, we see typical SandForce peak performance levels. Our measured maximum read speed was just over 556MB/s. The write speed was very close to 535MB/s.
SLC flash will not increase the maximum read or write speed of an SSD so the peak numbers won't change.
Benchmarks - HD Tune Pro
HD Tune Pro
Version and / or Patch Used: 4.00
Developer Homepage: http://www.efdsoftware.com
Product Homepage: http://www.hdtune.com
HD Tune is a Hard Disk utility which has the following functions:
Benchmark: measures the performance
Info: shows detailed information
Health: checks the health status by using SMART
Error Scan: scans the surface for errors
Temperature display
HD Tune Pro gives us accurate read, write and access time results and for the last couple of years has been gaining popularity amongst reviewers. It is now considered a must have application for storage device testing.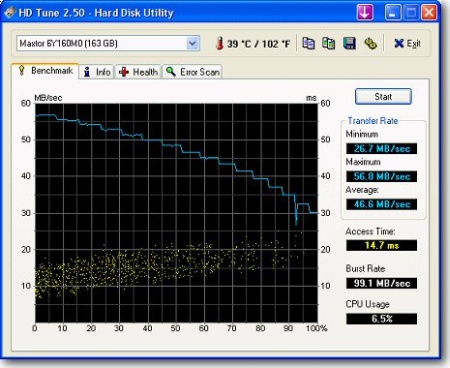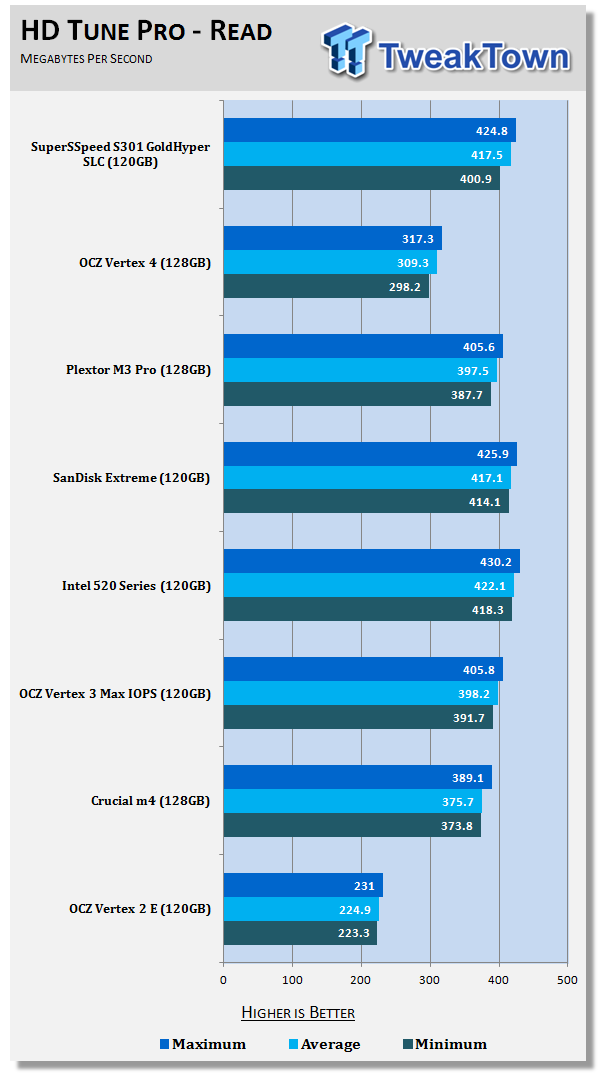 Using HD Tune Pro to measure the sequential read speed across the drive we see a solid 417.5MB/s average speed, the same as the SanDisk Extreme 120GB SandForce SF-2281 / 24nm Toggle MLC drive.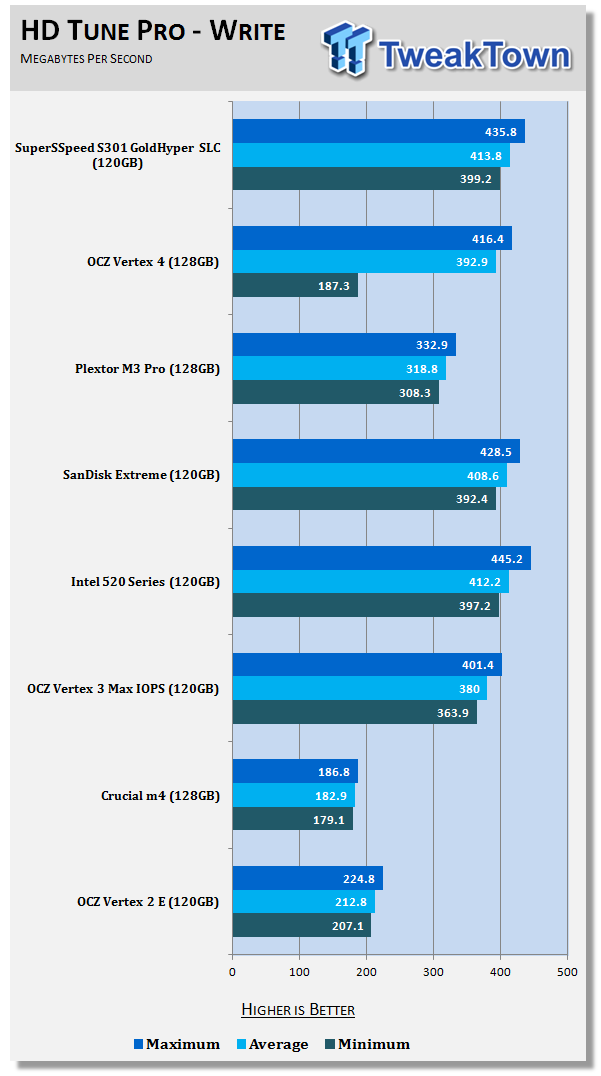 In the sequential write test, the SuperSSpeed S301 scores nearly 414MB/s, a new record for the 128GB drive class.
Benchmarks - AIDA64 Random Access Time
AIDA64 Random Access Time
Version and / or Patch Used: 1.60
Developer Homepage: http://www.aida64.com
Product Homepage: http://www.aida64.com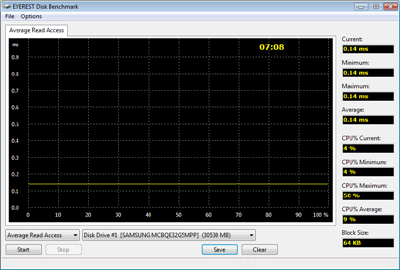 AIDA64 offers several different benchmarks for testing and optimizing your system or network. The Random Access test is one of very few if not only that will measure hard drives random access times in hundredths of milliseconds as oppose to tens of milliseconds.
Drives with only one or two tests displayed in the write test mean that they have failed the test and their Maximum and possibly their Average Scores were very high after the cache fills. This usually happens only with controllers manufactured by JMicron and Toshiba.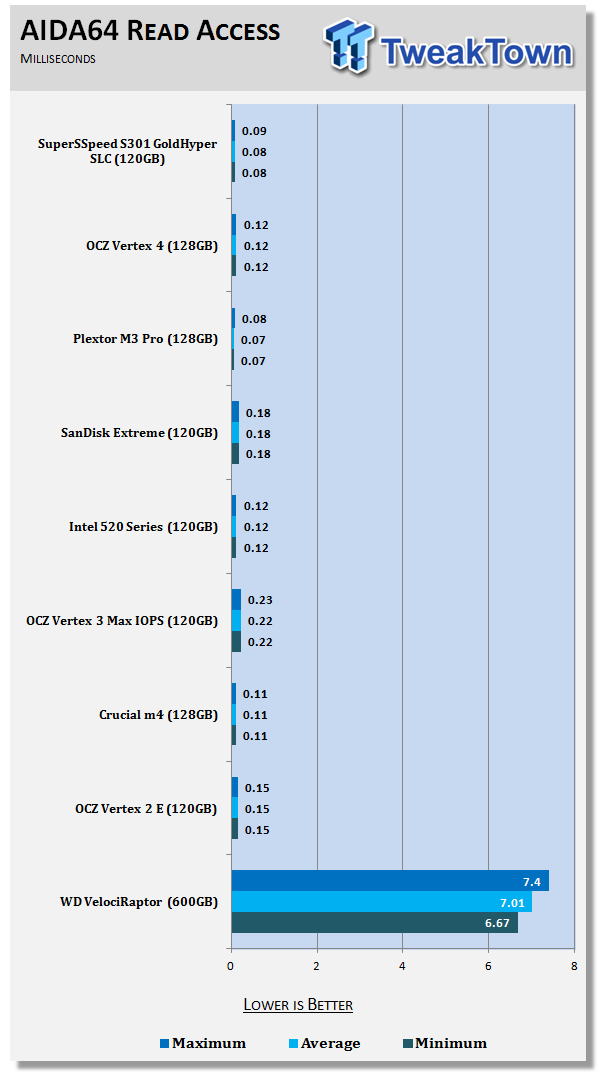 The SuperSSpeed S301 isn't going to waste any time disguising itself from the rest of the SandForce pack. In AIDA64, one of the very few benchmarks that display latency to the microsecond, the S301 delivers .08 ms read access on average. Looking at the other SandForce SF-2281 controlled drives; we see averages of .18, .12 and .22.
Access time is very important to end users although the data rarely makes it to manufacturers product sheets. The access time, especially the read access time, is what makes your computer feel fast. It has a direct affect on the user experience and your perception of how fast the system is.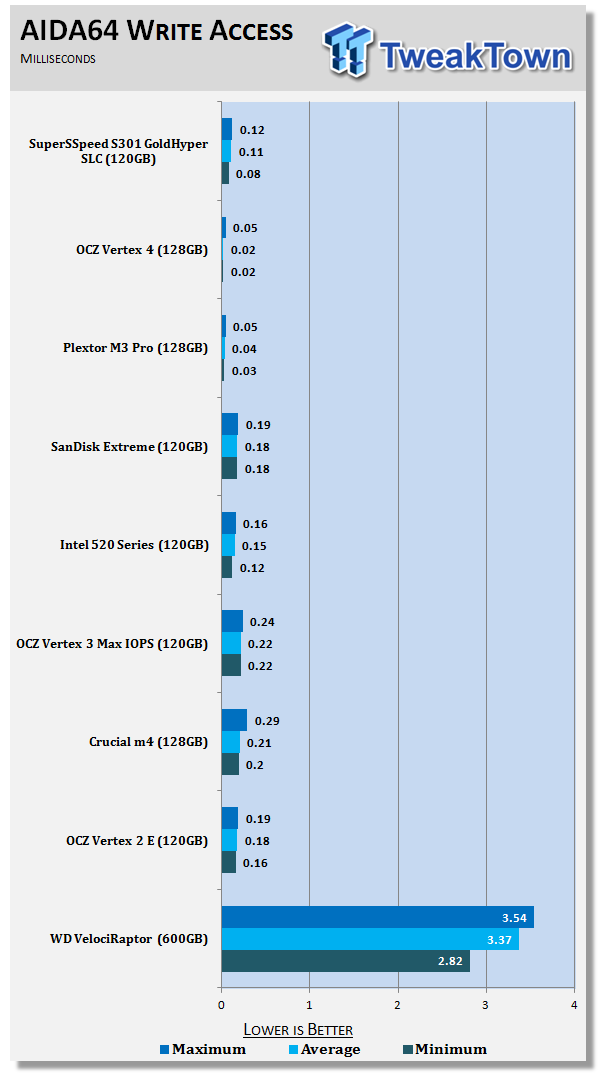 The write access times are also class leading for the SandForce based SSDs. The .11ms average is twice as fast as the OCZ Vertex 3 MaxIOPS and better than the Intel 520 series and SanDisk Extreme.
Benchmarks - CrystalDiskMark
CrystalDiskMark
Version and / or Patch Used: 3.0 Technical Preview
Developer Homepage: http://crystalmark.info
Product Homepage: http://crystalmark.info/software/CrystalDiskMark/index-e.html
Download here: http://crystaldew.info/category/software/crystaldiskmark
CrystalDiskMark is a disk benchmark software that allows us to benchmark 4K and 4K queue depths with accuracy.
CrystalDiskMark gives us our first taste in this review of working with incompressible data. The SandForce architecture deals with incompressible data a little differently than compressible data. Data that can be compressed is done so at the controller and then stored on the flash. When you compress data it takes on a smaller size so less data has to be written to the flash. Incompressible data, data that is already compressed, can't be reduced to a smaller form or at least reduced enough to effect performance. Incompressible data is transferred slower than compressible data using SandForce controllers. Key Features:-* Sequential reads/writes* Random 4KB/512KB reads/writes* Text copy* Change dialog design* internationalization (i18n)
Note: Crystal Disk Mark 3.0 Technical Preview was used for these tests since it offers the ability to measure native command queuing at 4 and 32.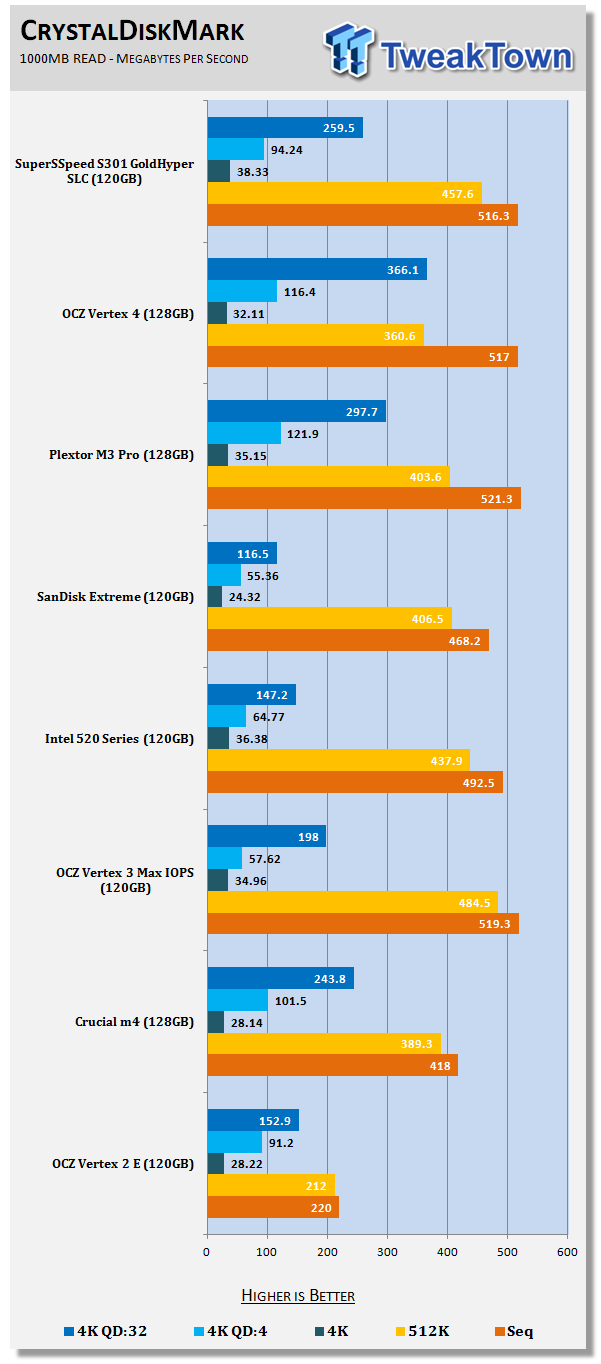 Starting with the 4K read performance, we see the SuperSSpeed S301 SLC taking the 120/128GB charts performance lead. This is only by a small margin but a lead is a lead. When we get to the 4 command read the S301 outperforms the other SandForce controlled drives by a solid 30MB/s or more depending on the drive. By the time we get to 32 commands the S301 takes off with a massive lead. The Marvell and Indilinx Infused drive are very good when the commands are stacked with incompressible data but the S301 does a good job of closing that gap.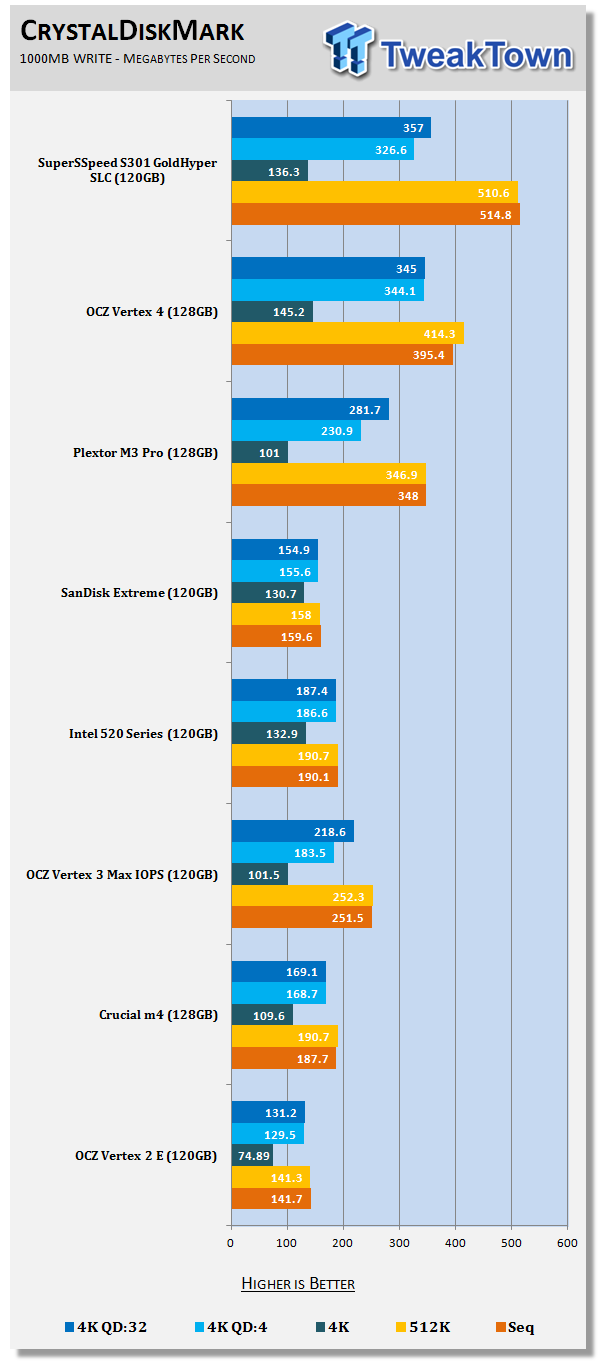 Normally we use CDM for looking at 4K and NCQ performance, but since this is our first look at working with incompressible data, we'll also look at the sequential performance as well.
The SandForce SF-2281 / MLC drives seem to hit a brick wall around 170MB/s. The OCZ Vertex 3 MaxIOPS seems to defy this rule, but not by much. We see now that this issue has more to do with the flash and less to do with the controller.The SuperSSpeed S301 SLC goes way beyond the 170MB/s incompressible write limits in both sequential and 4K tests. The performance in this test is amazing; class leading for SandForce controlled drives and the 4K at depth writes are unbelievable given what we've long considered a weak point for SandForce.
Benchmarks - PCMark Vantage Hard Disk Tests
PCMark Vantage - Hard Disk Tests
Version and / or Patch Used: 1.0.0
Developer Homepage: http://www.futuremark.com
Product Homepage: http://www.futuremark.com/benchmarks/pcmark-vantage/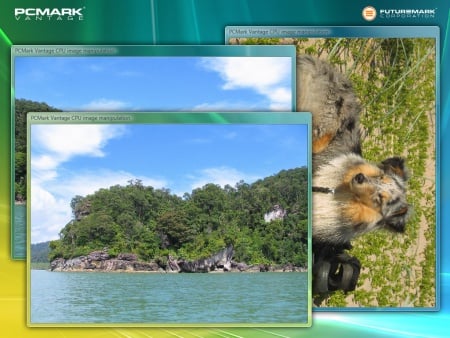 PCMark Vantage is the first objective hardware performance benchmark for PCs running 32 and 64 bit versions of Microsoft Windows Vista. PCMark Vantage is perfectly suited for benchmarking any type of Microsoft Windows Vista PC from multimedia home entertainment systems and laptops to dedicated workstations and high-end gaming rigs. Regardless of whether the benchmarker is an artist or an IT Professional, PCMark Vantage shows the user where their system soars or falls flat, and how to get the most performance possible out of their hardware. PCMark Vantage is easy enough for even the most casual enthusiast to use yet supports in-depth, professional industry grade testing.
FutureMark has developed a good set of hard disk tests for their PCMark Vantage Suite. Windows users can count on Vantage to show them how a drive will perform in normal day to day usage scenarios. For most users these are the tests that matter since many of the old hat ways to measure performance have become ineffective to measure true Windows performance.

HDD1 - Windows Defender
HDD2 - Gaming
HDD3 - Windows Photo Gallery
HDD4 - Vista Startup
HDD5 - Windows Movie Maker
HDD6 - Windows Media Center
HDD7 - Windows Media Player
HDD8 - Application Loading
We mentioned the SuperSSpeed S301 sent to us was using firmware 5.0.1. This firmware has the TRIM bug we've been fighting for the last couple of months. By the time this drive is unleashed FW 5.0.3 will be available and the TRIM issue will be a thing of the past.
That said, we still had to run a secure erase cycle to get a solid score in Vantage. Half way through our testing we went ahead and secure erased the drive so we could show the performance we expect to see from the SuperSSpeed S301 SLC at launch. We think the numbers speak volumes, but this is with the drive empty. I still prefer my own version with data on the drive.
Benchmarks - PCMark Vantage - Drives with Data Testing
For a complete breakdown on the Drives with Data Testing please read this article. You will be able to perform this test at home with the files provided in the article - full instructions are included.
- Brief Methodology
SSDs perform differently when used for a period of time and when data is already present on the drive. The purpose of the Drives with Data testing is to show how a drive performs in these 'dirty' states. SSDs also need time to recover, either with TRIM or onboard garbage collection methods.
Drives with Data Testing - 25%, 50%, 75% Full States and Dirty / Empty Test
Files needed for 60 (64GB), 120 (128GB), 240 (256GB)
60GB Fill - 15GB, 30GB, 45GB
120GB Fill - 30GB, 60GB, 90GB
240GB Fill - 60GB, 120GB, 160GB
Empty but Dirty - a test run just after the fill tests and shows if a drive needs time to recover or if performance is instantly restored.

HDD1 - Windows Defender
HDD2 - Gaming
HDD3 - Windows Photo Gallery
HDD4 - Vista Startup
HDD5 - Windows Movie Maker
HDD6 - Windows Media Center
HDD7 - Windows Media Player
HDD8 - Application Loading
In this test, where we populate the drive with controlled data at different stages, there really isn't a way to get around the TRIM issue. When we have the firmware fix, we'll update this article with a new chart and an edit.
The light use test (orange bar) the SuperSSpeed S301 SLC shows the very impressive 86K Mark score we achieved with a secure erase in the middle of our testing cycle. When we followed up tested Vantage right after a secure erase cycle, we achieved a score of just over 90K. Achieving between 85K and 89K is what we expect to see on a drive with working TRIM and I'm leaning close to the higher end of that estimate than I am the lower side.
There really isn't a way to get a proper 50% data on disk number with the TRIM issue. The good news is, even with broken TRIM, the SuperSSpeed S301 SLC 120GB runs as the same speed as the Intel 520 series 120GB drive. The SanDisk Extreme, another SandForce based drive tested with FW 5.0.1 scores around 8K Marks lower than the S301. What I would give to see the S301 with working TRIM right now! I suspect this drive will be the first to score in the high 60K Mark area when half full and it may even break 70K.
Benchmarks - AS SSD
AS SSD Benchmark
Version and / or Patch Used: 1.2.3577.40358
Developer Homepage: Alex Intelligent Software
Product Homepage: Alex Intelligent Software
Download here: http://www.alex-is.de/PHP/fusion/downloads.php?cat_id=4&download_id=9
AS determines the performance of Solid State Drives (SSD). The tool contains four synthetic as well as three practice tests. The synthetic tests are to determine the sequential and random read and write performance of the SSD. These tests are carried out without the use of the operating system caches.
In all synthetic tests the test file size is 1GB. AS can also determine the access time of the SSD, the access of which the drive is determined to read through the entire capacity of the SSD (Full Stroke). The write access test is only to be met with a 1 GB big test file. At the end of the tests three values for the read and write as well as the overall performance will be issued. In addition to the calculated values which are shown in MB/s, they are also represented in IO per seconds (IOPS).
Note: AS SSD is a great benchmark for many tests, but since Crystal Disk Mark covers a broader range of 4K tests and HD Tune Pro covering sequential speeds, we will only use the Copy Benchmark from AS SSD.
- Copy Benchmark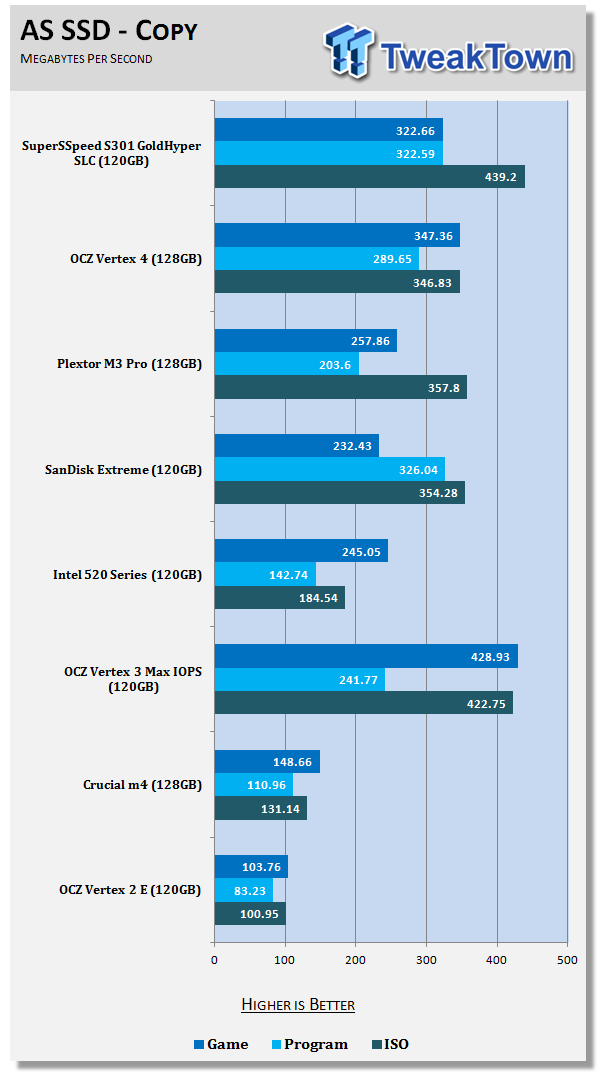 Given what we've seen so far, any test where the SuperSSpeed S301 Hyper outperforms the other SandForce drives is not a surprise.
Benchmarks - Anvil Storage Utilities
Anvil Storage Utilities
Version and / or Patch Used: BETA 11
So what is Anvil Storage Utilities? First of all, it's a storage benchmark for SSDs and HDDs where you can check and monitor your performance. The Standard Storage Benchmark performs a series of tests, you can run a full test or just the read or the write test or you can run a single test, i.e. 4K DQ16.
Anvil Storage Utilities is not officially available yet but we've been playing with the beta for several months now. The author, Anvil on several international forums has been updating the software steadily and is adding new features every couple of months.
The software can be used several different ways and to show different aspects for each drive. We've chosen to use this software to show the performance of a drive with two different data sets. The first is with compressible data and the second data set is incompressible data. Several users have requested this data in our SSD reviews.
Fill Compressible Data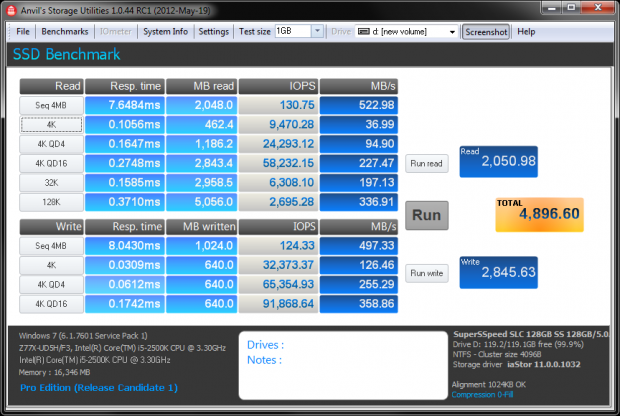 Incompressible Data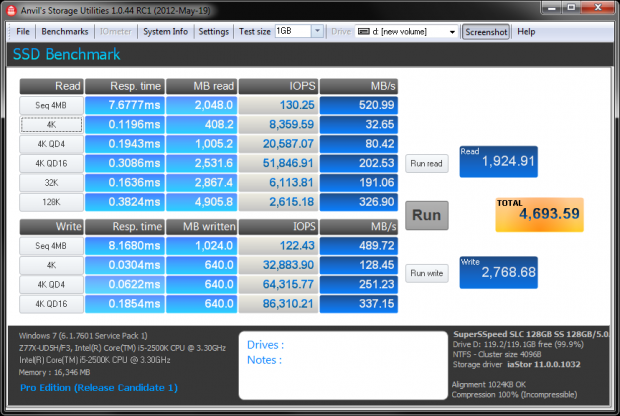 You asked for it and we delivered it, Anvil Storage Utilities benchmarks are now on TweakTown.
This is where the SuperSSpeed S301 Hyper SLC 120GB stands out from the crowd of "˜regular' SandForce based SSDs. The drive doesn't lose a lot of performance when moving from compressible to incompressible data. This drive is just all fast, all of the time.
Benchmarks - Passmark
Passmark Advanced Multi-User Tests
Version and / or Patch Used: 6.1
Developer Homepage: http://www.passmark.com
Test Homepage: http://www.passmark.com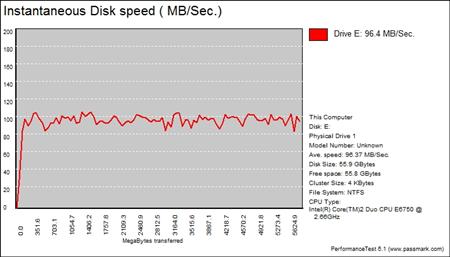 Many users complain that I/O Meter is too complicated of a benchmark to replicate results so my quest to find an alternative was started. Passmark has added several multi-user tests that measure a hard drives ability to operate in a multi-user environment.

The tests use different settings to mimic basic multi-user operations as they would play out on your server. Variances is read / write percentage as well as random / sequential reads are common in certain applications, Web Servers read nearly 100% of the time while Database Servers write a small amount of data.
The Workstation test is the only single user environment and will be similar to how you use your system at home.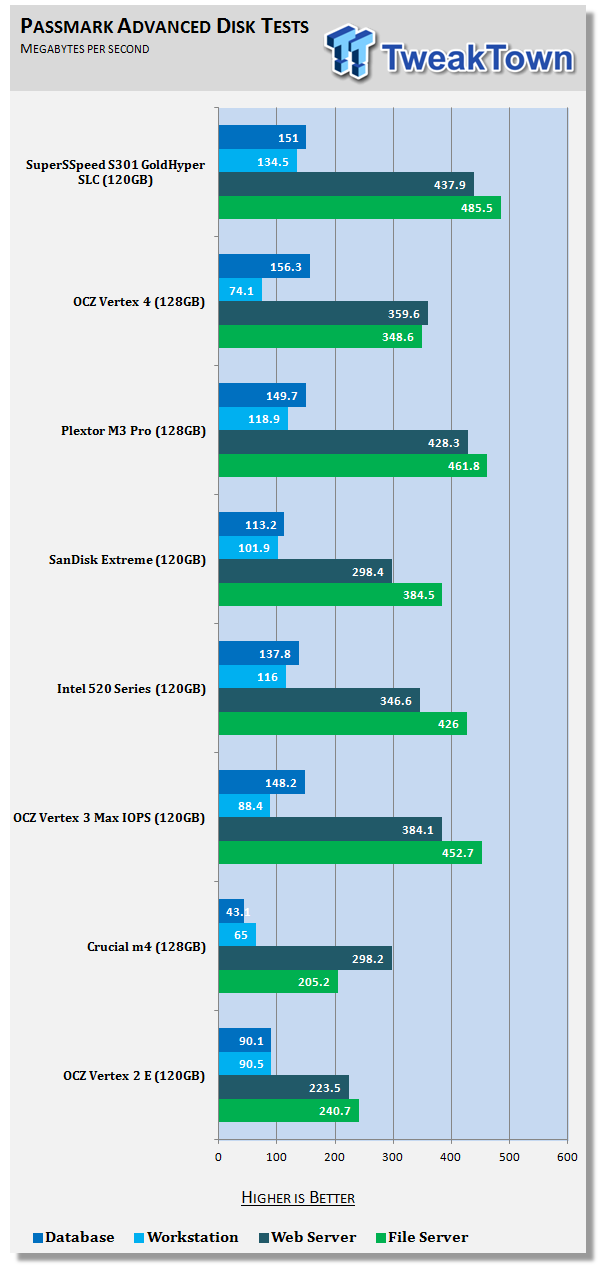 We've learned that several datacenters are starting to use consumer grade SSDs in their rack cabinets. The performance vs. price on consumer SSDs is so appealing that light use servers, especially those in high read environments, have started being migrated to MLC drives.The SuperSSpeed S301, while being a prosumer / consumer SSD would make a great drive for the enterprise market even though it lacks some of the advanced power features like CapX capacitors.
Final Thoughts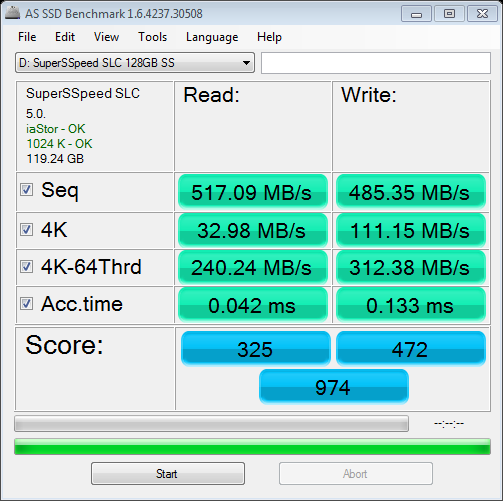 While writing this review I found an advertisement from Hong Kong for the SuperSSpeed S301 SLC SSD. In the advertisement, it shows the drive and lists the 120GB model $1999 HKD. The 60GB lists for $1099 HKD. Using Google I learned the 120GB, after conversion, comes out to just over $258 USD and the 60GB is around $141 USD. This was a SuperSSpeed advertisement in a magazine so those are most likely MSRP prices. I'm not going to hold this as gospel just yet, we'll wait till they tip up for sale in this part of the world, but at the very least, this is a very good sign that 2x MLC prices for SF-2281 / SLC is possible. For that price, hell for twice that price, I'm in for a handful to run in RAID.
With the price out of the way we can turn our attention to what really counts, performance. Clearly the SuperSSpeed S301 Hyper SLC is the fastest 120GB consumer SSD on the planet. At this time it isn't even close in the 120/128GB category. We don't want to limit the drive to just the 120/128GB category because it's faster than the 240/256GB drives as well. We've said the SandForce SF-2281 is the fastest consumer controller on the planet at this time and when you pair it with SLC flash, it really shines.
Just to break this down a bit deeper let's look at some of the details that bring me to this conclusion. The SF-2281 controller outperforms every other consumer SSD controller with the drives filled to 25%, 50% and 75% of user capacity. The Plextor M3 Pro 128GB gets very close in this size category, but no cigar. That is with MLC flash and not even factoring in SLC flash. With SLC flash, the performance increases quite a bit since that pesky read, erase, write cycle is reduced from 600 micro-seconds (MLC Type 78) to just 220 micro-seconds (SLC Type 74). The read access speed for this SLC flash is 25 micro-seconds, half that of MLC flash. This explains the reduced read access times we observed with the SuperSSpeed S301.
Audio/video professionals have taken issue with SandForce's architecture that can underperform when working with files that were previously compressed. This is a valid argument if you don't factor in the speed of the drives with data present. The SuperSSpeed S301 SLC removes that argument almost entirely. In our testing we observed a very small incompressible data tax, but nothing like when 2281 is paired with MLC or even Toshiba Toggle flash. This may be the greatest benefit of using SLC with this controller in a consumer environment. There is very little performance loss when working with compressed files.
The 4K and native command queuing performance is also off the chart, even when compared to larger capacity drives. We've yet to talk about the enterprise aspect of the S301, but we'll save that for a future article from Paul. SLC flash does have a P/E count of 100,000 cycles. Most MLC drives use 10K flash and several drives are shipping today with 5K cycles. The longevity difference is massive, but as I stated in the review, most enthusiasts won't even reach 10K cycles before replacing their SSD with the latest and greatest.
Latest and greatest, that is a good place to take this article. The SuperSSpeed S301 Hyper 120GB drive isn't listed for sale just yet so it is the latest and the performance, longevity and even the price vs. performance ratio make it the greatest 2.5" SSD to ever hit our lab. Expect to see more from this innovative SSD manufacturer who has the resources and charisma to actually produce a class leading consumer SLC drive at an amazing price.