In recent times, memory specialists Corsair have really broadened their scope with what is now several top notch audio products covering both headsets and speaker systems. However it's not until today that we have the first wireless gaming headset from Corsair, which boast's algorithm based surround sound thanks to some nifty software that runs in the background.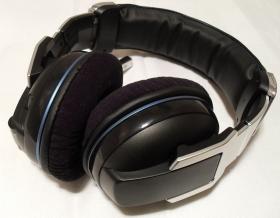 The Vengeance 2000 offers up to ten hours battery life and a range of up to forty feet which means you will not miss out on any of the action. The Vengeance also offers large 50mm drivers which is always a good sign of things to come, in terms of being able to handle low bass and powerful sound.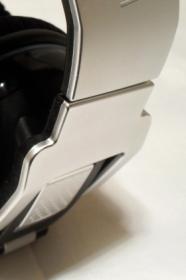 So from the start it looks like the Vengeance 2000 is another impressive looking headset from Corsair. But this time we have the added benefit of wireless support, which means there is no need to worry about messy cables, which is a really good thing in the realm of headphones.
System Specifications
Headphones:
Frequency Response: 20hz-20,000Hz
Impedance: 32Ohms @ 1Khz
Drivers: 50mm
USB power consumption: 500 ma
Connector: USB type A
Wireless Range: 40ft
Battery Life: up to ten hours
Microphone:
Type: Unidirectional noise-canceling condenser with adjustable, rotating boom.
Impedance: 2.2 k ohms
Frequency Response: 100 Hz - 10khz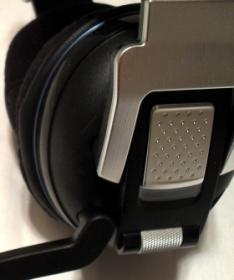 Taking a look at the technical specs now and the first thing that we notice is the choice to use a large 50mm driver to power the headset and we feel as always, that this is a good choice in terms of providing the best overall sound quality.
But moving on and looking at the headsets wireless capability and it can be seen that a range of up to 40ft can be achieved with the Vengeance 2000. This sounds in theory fantastic, but we will see how common homely items such as walls and doors affect this number.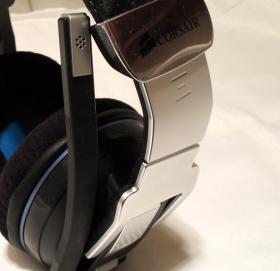 Looking at the specs for the included mic and we are not overly surprised by any of these numbers given as they are all ball-park, for a mic that will ultimately be used just for voice chat functions.
Control of the system can be done via the software interface which must be downloaded from the company website and also allows for control over several other included features. Alternatively control can be handled via the small wheel located on the side of the headset.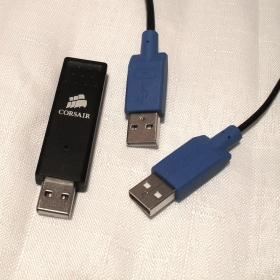 In terms of how it all works; the headset itself is wireless as we know and thus receives a signal from a small transmitter which is extended a couple of feet and then terminates in a USB connection to the computer. There is also a facility for charging the headset via a USB cable. Battery life is said be around the ten hour mark, but that will vary depending on how much drain is put on the battery.
Overall, it looks as though Corsair have taken a decent recipe for making a competitive headset and added wireless support which has got to be a hit amongst a plethora of wired options available at the moment.
The Corsair Vengeance 2000 is really quite an impressive unit indeed, built from quality materials and extending on a proven design formula. This headset was a breeze to install and provided there is access to an internet connection, the driver download will also be.
In terms of wearing the headset and enjoying the wireless freedom, well things are pretty good here. We are yet to experience a Corsair headset that we feel is not more than comfortable enough for its design purpose and that continues here today. With the soft memory foam acting to make our ears feel padded and at ease, even after a duration of time had elapsed, it still felt good.
The wireless functionality is simple and works a treat put simply however there is a little more to it than that we are afraid. During our evaluation period we noticed some small issues with drop-outs and minor discontinuation of signal probably caused by an object such as a wall or door we would think. Obviously this is a fairly common thing with wireless devices, but our concern for mentioning it was that it occurred within 10-15ft which is less than half of the specified range.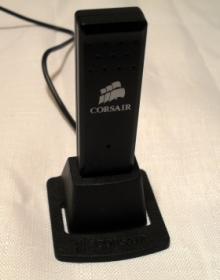 Both movies and music performed quite well with the Vengeance 2000, aided by the well implemented software control panel. During testing we found listening to live concerts to sound great with lots detail and a powerful and rich sound that we really enjoyed. Movies are a slightly different affair due to the lack of true support for surround decoding and of course the lack of more than two dedicated speakers. However, that does not stop the Vengeance 2000 from sounding really good when listening to movies and with the help of the goodies in the control panel, it manages to sound really good.
The bottom line here is that really no matter if it's a movie or music being played back, from our testing, we conclude that both sound really good. The low end is probably the most exiting aspect to the sound quality of this headset, with good mid range and probably just slightly rolled off high end which seems to be the case often with the use of a 50mm driver.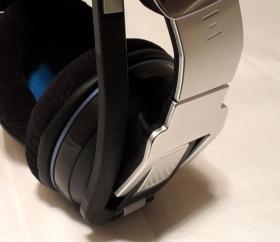 In terms of gaming performance the Vengeance 2000 is going to be a slightly mixed bag for the same reason we have discussed in previous articles. And for those who have not followed, we are referring to the lack of true surround sound offered in regards to the amount of speakers available and moreover the only support for surround algorithms is via the Corsair proprietary surround FX available. Which are all well and good for many uses, but lack support for the algorithms used by today's latest games.
The Vengeance 2000 offers an enjoyable experience with gaming and will offer many hours of fun and wireless frills. It's not the best gaming headset solution out there, but it does a pretty good job of it. The Corsair Vengeance is a well built and thought out headset that finally adds wireless to a powerful headset that offers support for surround sound as well. In fact, there were many things we liked about the Vengeance 2000.
The wireless function works really well and is nicely implemented into the headset. We also liked how such powerful audio was sent through the air and into the headset, it just sounded very cool. There were some small issues with walls and doors though, but this does happen with wireless equipment sometimes. So, in conclusion, what we have is a well made and designed wireless headset that is sure to please many people in its ease of use and durable design. It looks as though Corsair are really coming into their own with what is now becoming a strong selection of audio products.