Introduction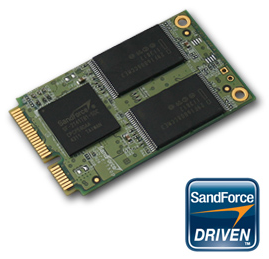 Up till now MyDigitalSSD has focused mainly on lower cost SSD products produced with Phison controllers in Toshiba factories. The early products made up the BulletProof series and were reliable, low cost offerings, but lacked the gut busting performance offered only by SandForce controlled drives. MyDigitalSSD is still offering the BulletProof series and has even just released a new mSATA model based on the Phison S8 controller, much like the one found in the BulletProof 3 512GB that we reviewed just before Computex.
The BP3 is fast, but over the years we've learned that the only way to get SandForce level performance is to use a SandForce controller. That is where the new SMART series comes in. Based on the SandForce SF-2281 controller and IMFT synchronous flash NAND, the MyDigitalSSD SMART is tapped to compete with similar products on the market from RunCore and MemoRight. The SATA III interface insures performance over 500MB/s as long as your notebook or desktop with mSATA is configured to take advantage of SATA 6Gbps speeds.
The MyDigitalSSD SMART uses SandForce's 0-provisioning, i.e. RAISE free programming so you are able to access more user area, 7% more than RunCore's T50 and MemoRight's MS-701. On the 256GB model were looking at today, that means you have access to 16GB more space than the 240GB available from the competitions products.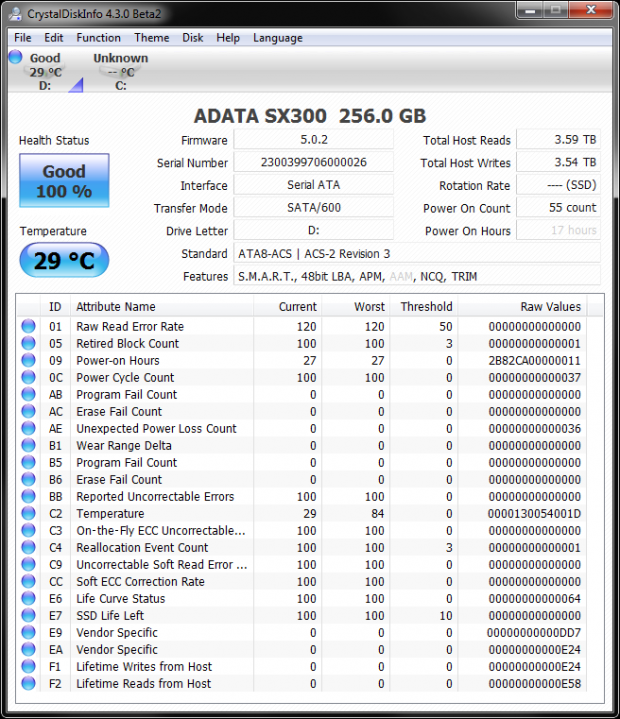 This was made possible by ADATA, the actual manufacture of the new MyDigitalSSD SMART products. We rarely go into the details of who actually built a third-party's drive, but MyDigitalSSD didn't do much to hide it. ADATA was the early adapter of RAISE free and so far the only company we know of with SandForce products on the market configured this way. We do know that CoreRise can manufacture SSDs in this configuration, but with a minimum order of 100 drives, we've yet to see any hit retail shelves.
In the Crystal Disk Info image above we see two things that really stick out. The first is the MyDigitalSSD is in fact an ADATA SX300. ADATA has publically talked about this upcoming product, but has yet to get them in e-tail shops. MyDigitalSSD has beaten them to the punch, but we see this several times a year with products manufactured by ADATA and sold to third party resellers.
The second most important piece of information CDI gives us is the firmware used on the SMART/SX300. We've already documented the SandForce 5.0.1 and 5.0.2 firmware issues in the past, but to keep your head from spinning, we'll recap here. The new 5 series firmware has an issue with TRIM. Per the WHQL spec, TRIM has a 70ms window to take place, but with this firmware not all of the TRIM command is passed along. As you write to the drive you are taking up space, as you delete data, the TRIM command isn't cleansing the flash so a full read, erase cycle will take place every time you write to flash that was written to previously. The end result is slower performance than you would normally see with working TRIM in place.
We identified this issue and promptly submitted it to SandForce who then validated the problem. Since then we've had weekly updates from LSI SandForce and the fix is currently in the validation stage. To date, we've held all reviews of products shipped with 5.0.1 and 5.0.2 other than the SanDisk Extreme (where we first found the issue) and ADATA SP900 (the first RAISE free product to arrive). You might of thought we missed several launch day reviews from products like the VisionTek Race or Kingston HyperX 3K, that wasn't the case, we just shelved them until FW 5.0.3+ arrives. After bringing back a nice collection of products from Computex, we now have 19 SSDs on hold in the lab with the issue. Hopefully in the coming weeks everything will be resolved and we can get back to business as usual.
You might wonder why manufacturers would release products with 5.0.1 or 5.0.2 FW knowing that TRIM wasn't working correctly. The truth is most were not aware of the problem and the performance increase from the 5 series FW is very fast. When everything is running at it should 5.0.2 is around 15 to 20% faster than FW 3.3.4 depending on the application. Some companies are even releasing new product SKUs with the same hardware as the previous SandForce SF-2281 based drives, just with the new firmware. The difference is significant and we can see why some are looking to cash in on the increased performance.
Let's turn our attention back to the MyDigitalSSD SMART and take a look at the new 256GB model.
Specifications, Pricing and Availability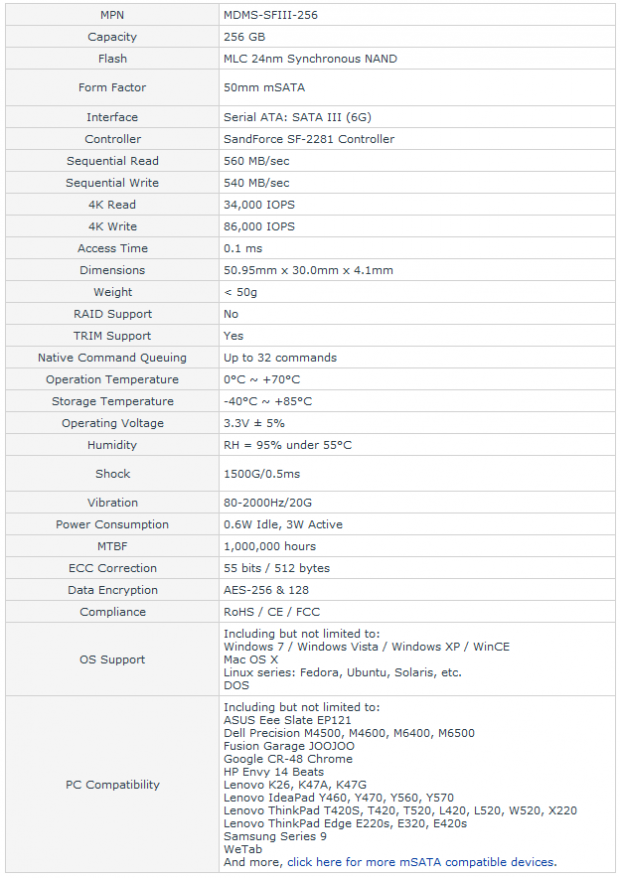 MyDigitalSSD has three SMART models based on capacity. All three are currently selling at MyDigitalDiscount and Amazon, but at the time of writing, only a few from each capacity were left from the first batch. We sat in on a call a few nights ago between MDSSD and their supplier and were reassured that MDSSD will have a sufficient number of each capacity available by the time this article hits the web.
There are so many good things to talk about that we're going to work backwards a bit. Let's just dive right into the price. When we reviewed the RunCore T50 120GB mSATA SSD it cost right around $400. NAND flash production has increased since then, but the T50 is still far from 'low cost' even by today's standards. The MyDigitalSSD 256GB that we're reviewing today costs less than the T50 120GB. The price breakdown looks like this - 256GB for $319.99, 128GB for $179.99 and the 64GB for $99.99. The closest competitor to the SMART series is the ADATA SX300 and MemoRight MS-701, both are unavailable for purchase at the time of writing.
The form factor is 50mm mSATA. Finding a comprehensive list of notebook and ultrabooks that use mSATA has proven difficult, mainly because more are coming to market every week. Just last week my friend called me to say his new Alienware gaming notebook has two mSATA slots under the keyboard! I would estimate that over 100 notebooks now ship with an open mSATA slot and several more are shipping with low speed SSDs populating the mSATA port.
We haven't covered the flash yet, so let's get it out of the way. The spec sheet stated 24nm Synchronous flash, but that isn't exactly correct. The flash is Micron codename L74, so 25nm synchronous flash original die from a 300mm wafer produced in Fab 4 in Boise, Idaho. We prefer the simple form though, IMFT 25nm synchronous flash - the good stuff.
MyDigitalSSD is offering a standard three year warranty with every SMART mSATA SSD. When it comes to add-ons you also receive a pair of screws for securing your drive into a slot that uses screws to secure the drive. I would also suggest purchasing an mSATA to 2.5" adapter as well; especially since we know a firmware update is coming. MDD sells them for $24.99, but we found some on Amazon for as low as $9.99. This is important because you can't flash the firmware on your operating system drive while booted into the operating system.
MyDigitalSSD SMART 256GB mSATA SSD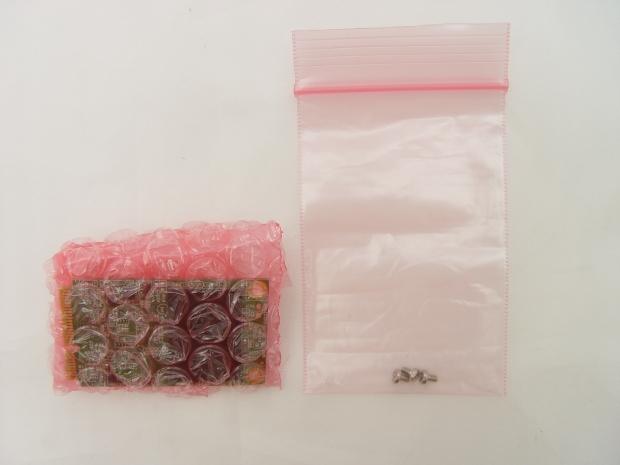 We received the first unit MDSSD had available so the package work wasn't completely sorted out. In our package we received the SMART mSATA SSD and a Zip-Lock type bag with the securing screws.
With the sticker in place there isn't much to see on this side, but MDSSD listed all of the information you'd want to find on the sticker.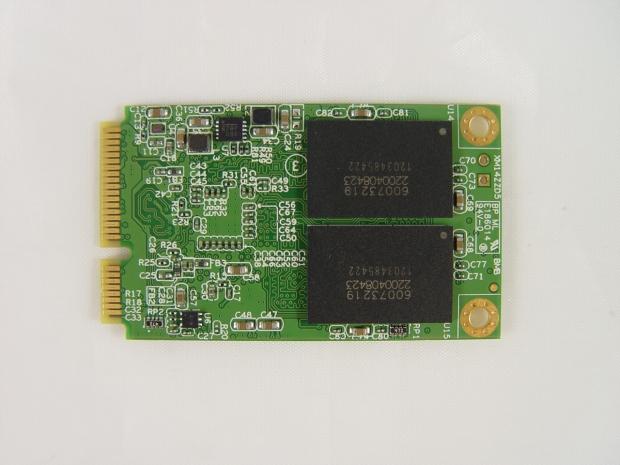 On the other side we found two 25nm flash chips that are private labeled. At Computex we spoke with ADATA and learned they are buying massive amounts of flash so they can hand pick the best chips and sell the rest off. As flash technology continues to decrease in die size and premium chips become rare, this process will help ADATA stay ahead.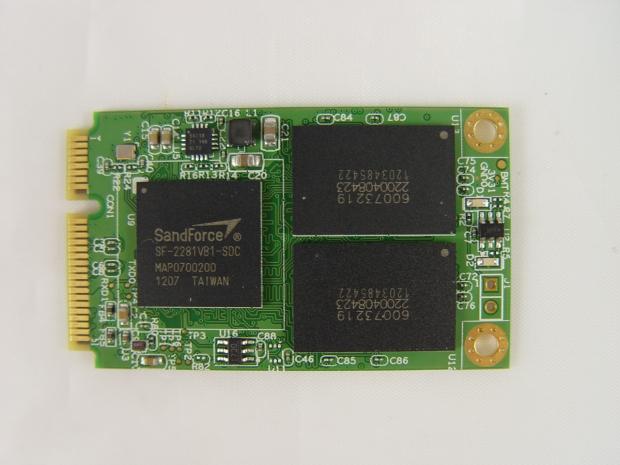 With the sticker off (and a voided warranty) we see the SandForce SF-2281 controller and two more flash chips.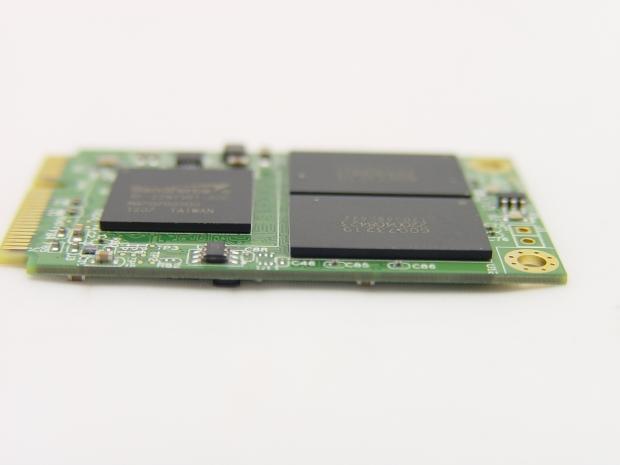 A quick shot from the side so you can see how thin mSATA SSDs are.
Benchmarks - Test System Setup and ATTO Baseline Performance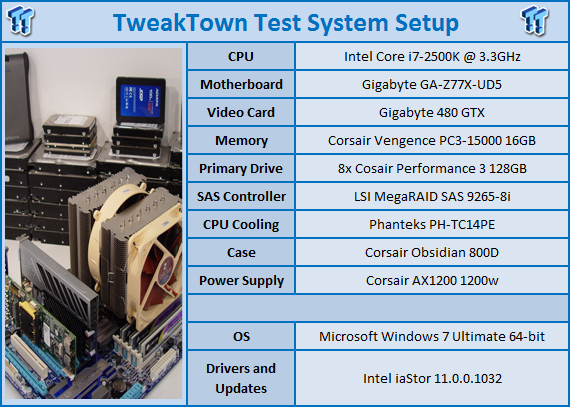 We would like to thank the following companies for supplying and supporting us with our test system hardware and equipment: AVADirect, GIGABYTE, LSI, Corsair and Noctua.
You can read more about TweakTown's Storage Product Testing Workstation and the procedures followed to test products in this article.
mSATA is a connection standard that is gaining ground on two fronts. The first is the notebook / ultrabook market where space is very limited. With companies like MyDigitalSSD producing mSATA drives that compare with full size 2.5" form factor models in capacity, this standard will continue to gain traction.
The second market where mSATA is taking hold is SSD caching of mechanical HDDs. We've seen a handful of motherboard manufacturers including mSATA slots on their desktop boards. GIGABYTE seems to be leading the charge, but their mSATA slots are only SATA II. If you are purchasing an mSATA drive for a desktop motherboard choosing a lower cost SATA II model might prove to be a wise decision. Then again, your next motherboard may just have an mSATA slot with SATA III, so if you can afford the additional expense, a SATA III model should be better in the long term.
ATTO Baseline Performance
Version and / or Patch Used: 2.34
ATTO is used by many disk manufacturers to determine the read and write speeds that will be presented to customers.
The MyDigitalSSD SMART is like a gum stick sized piece of dynamite. We recorded nearly 560MB/s read performance and nearly 535MB/s write. A big portion of this speed comes from the new 5 series firmware which was a performance update over the 3 series.
Benchmarks - HD Tune Pro
HD Tune Pro
Version and / or Patch Used: 4.00
Developer Homepage: http://www.efdsoftware.com
Product Homepage: http://www.hdtune.com
HD Tune is a Hard Disk utility which has the following functions:
Benchmark: measures the performance
Info: shows detailed information
Health: checks the health status by using SMART
Error Scan: scans the surface for errors
Temperature display
HD Tune Pro gives us accurate read, write and access time results and for the last couple of years has been gaining popularity amongst reviewers. It is now considered a must have application for storage device testing.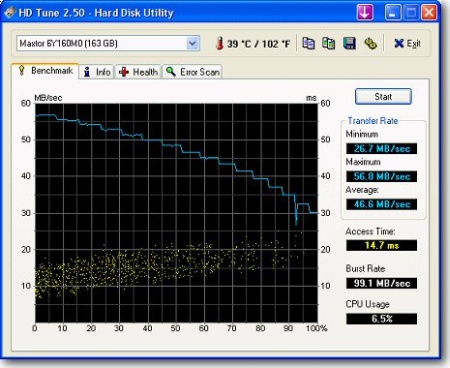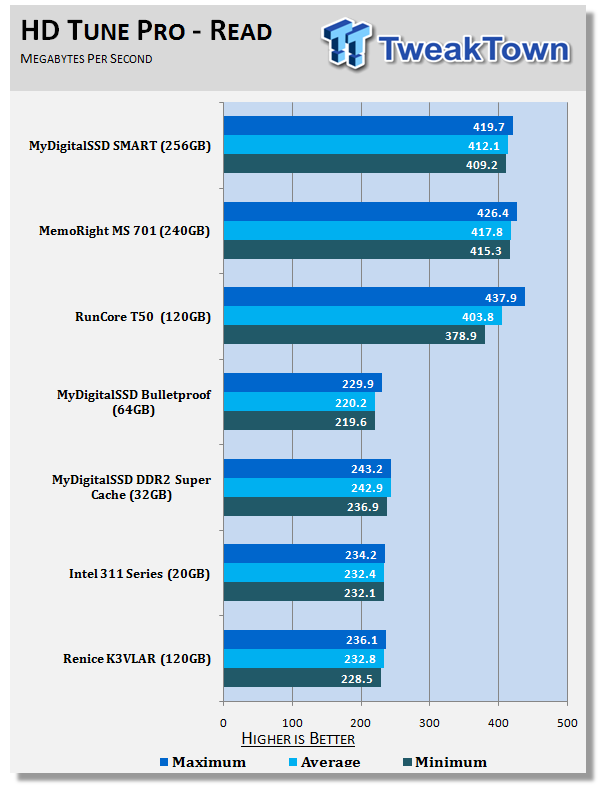 Fresh out of the box the MDSSD SMART 256GB delivers very good performance. In our sequential read test we achieved a solid 412MB/s average speed.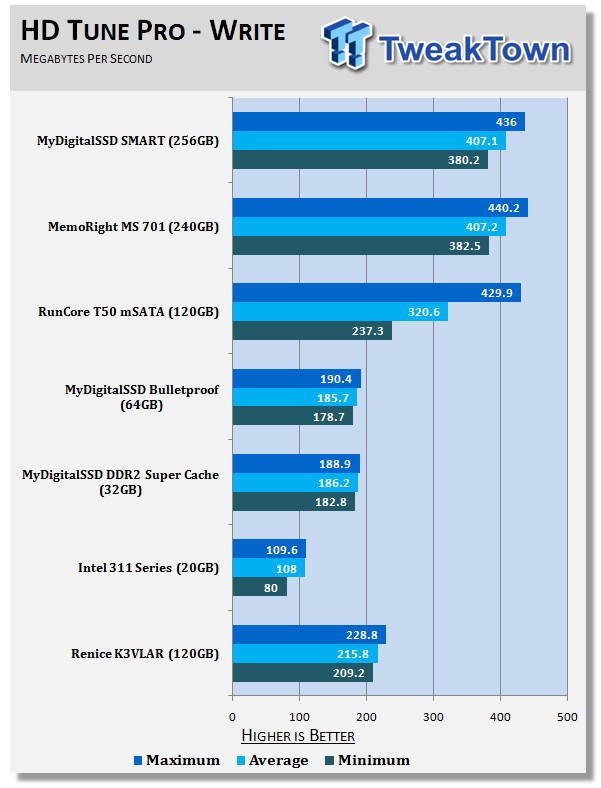 The write speed is very good as well, but as we mentioned with the firmware TRIM issue, you won't see the 400+ MB/s average sequential write speed for long until the new and fixed FW is ready for the drive.
Benchmarks - AIDA64 Random Access Time
AIDA64 Random Access Time
Version and / or Patch Used: 1.60
Developer Homepage: http://www.aida64.com
Product Homepage: http://www.aida64.com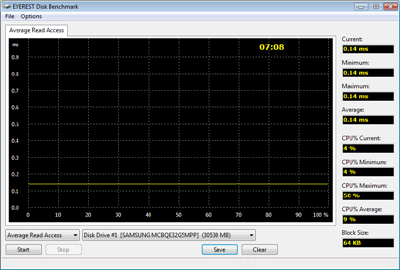 AIDA64 offers several different benchmarks for testing and optimizing your system or network. The Random Access test is one of very few if not only that will measure hard drives random access times in hundredths of milliseconds as oppose to tens of milliseconds.
Drives with only one or two tests displayed in the write test mean that they have failed the test and their Maximum and possibly their Average Scores were very high after the cache fills. This usually happens only with controllers manufactured by JMicron and Toshiba.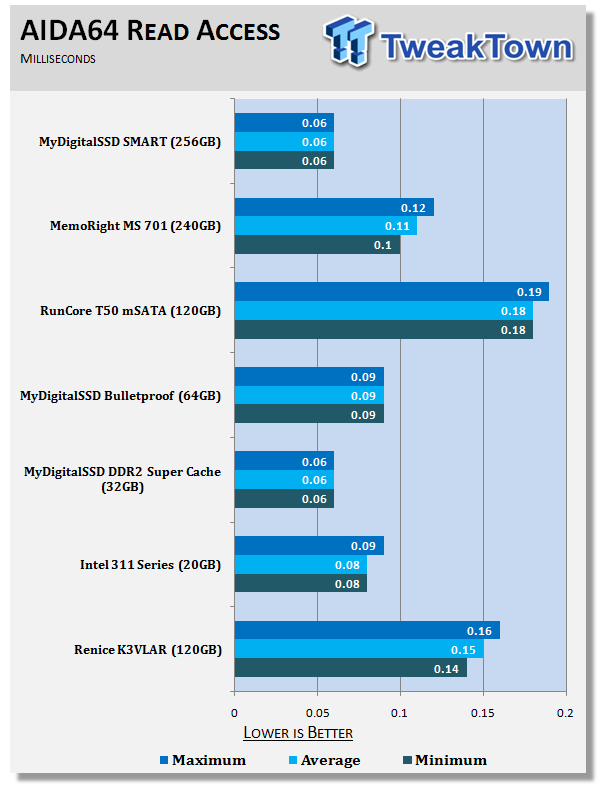 The read access times are some of the lowest we've scored on a SandForce based SSD to date. The numbers aren't quite a low as the Marvell controllers produce, but still very low.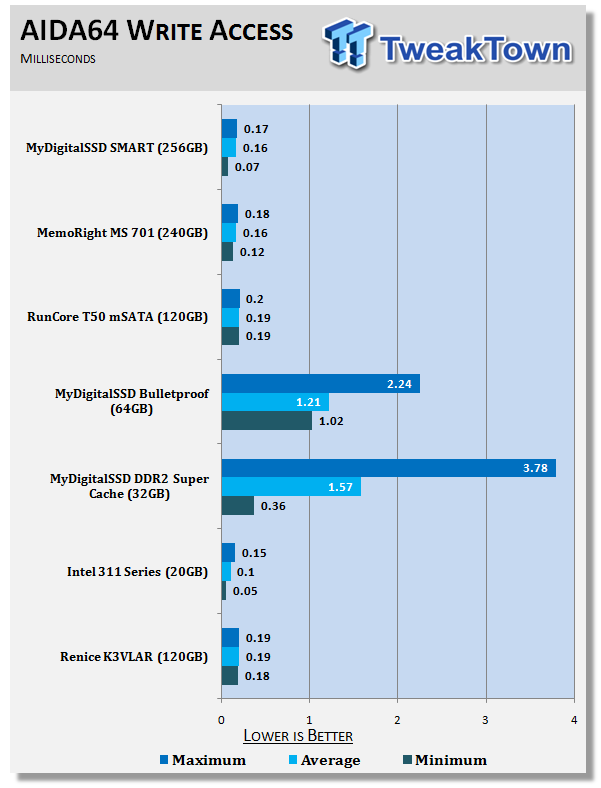 One of the biggest advantages of the new SMART mSATA compared to MyDigitalSSD's Bullet Proof line is the SandForce's DRAMless system. The Phison controllers use a DRAM buffer to mask slow write to flash speeds where the SandForce SF-2281 is very fast with its own built in buffer system.
Benchmarks - CrystalDiskMark
CrystalDiskMark
Version and / or Patch Used: 3.0 Technical Preview
Developer Homepage: http://crystalmark.info
Product Homepage: http://crystalmark.info/software/CrystalDiskMark/index-e.html
Download here: http://crystaldew.info/category/software/crystaldiskmark
CrystalDiskMark is a disk benchmark software that allows us to benchmark 4K and 4K queue depths with accuracy.
Key Features:-
* Sequential reads/writes
* Random 4KB/512KB reads/writes
* Text copy
* Change dialog design
* internationalization (i18n)
Note: Crystal Disk Mark 3.0 Technical Preview was used for these tests since it offers the ability to measure native command queuing at 4 and 32.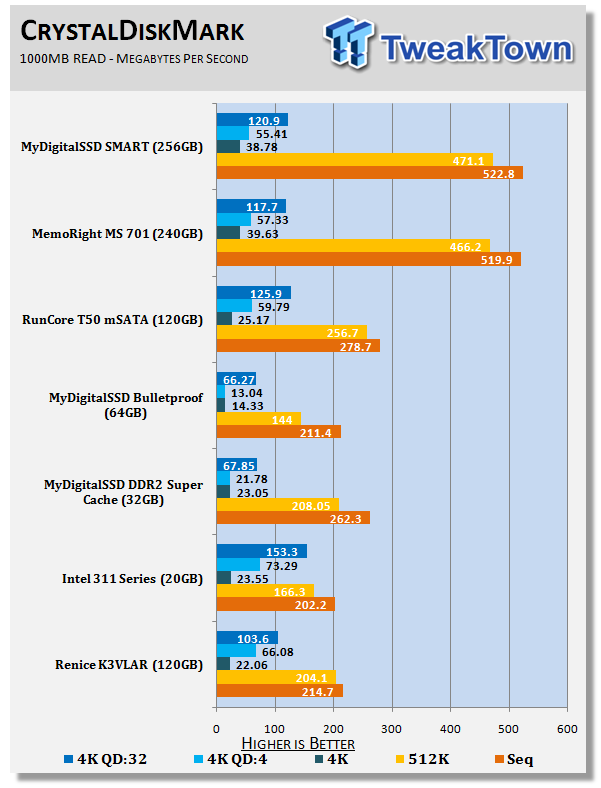 In CDM we're looking at 4K and NCQ performance. The 4K read of the SMART is just under 40MB/s, which is in line with the MemoRight MS-701 - another SandForce based mSATA SSD. The SMART scales well with native command queuing, going to 55MB/s with four commands and an impressive 120MB/s with 32.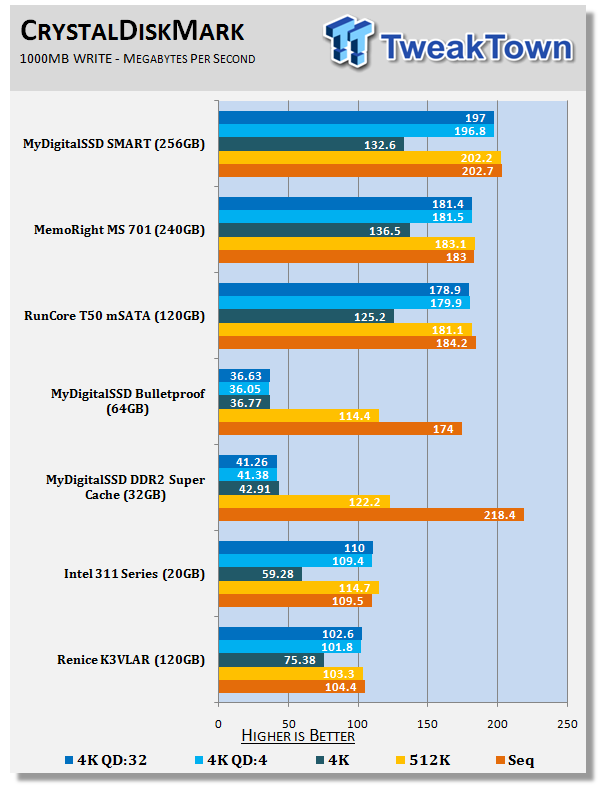 There are some downsides to the mSATA drives on the market today and this is where you will find one of them. Here we see the NCQ performance getting up to around 200MB/s and then hitting a wall. This is also the same wall we see on the 120GB 2.5" form factor drives. The reason why the 256GB drives hit this limit is because they rarely use the same number of channels as the 2.5" 240/256GB SandForce SSDs.
Still, the numbers are impressive compared to non-SandForce mSATA SSDs.
Benchmarks - PCMark Vantage Hard Disk Tests
PCMark Vantage - Hard Disk Tests
Version and / or Patch Used: 1.0.0
Developer Homepage: http://www.futuremark.com
Product Homepage: http://www.futuremark.com/benchmarks/pcmark-vantage/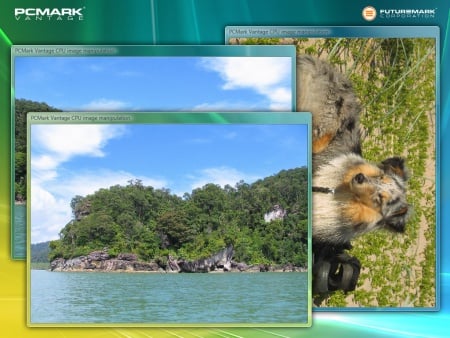 PCMark Vantage is the first objective hardware performance benchmark for PCs running 32 and 64 bit versions of Microsoft Windows VistaÂ. PCMark Vantage is perfectly suited for benchmarking any type of Microsoft Windows Vista PC from multimedia home entertainment systems and laptops to dedicated workstations and high-end gaming rigs. Regardless of whether the benchmarker is an artist or an IT Professional, PCMark Vantage shows the user where their system soars or falls flat, and how to get the most performance possible out of their hardware. PCMark Vantage is easy enough for even the most casual enthusiast to use yet supports in-depth, professional industry grade testing.
FutureMark has developed a good set of hard disk tests for their PCMark Vantage Suite. Windows users can count on Vantage to show them how a drive will perform in normal day to day usage scenarios. For most users these are the tests that matter since many of the old hat ways to measure performance have become ineffective to measure true Windows performance.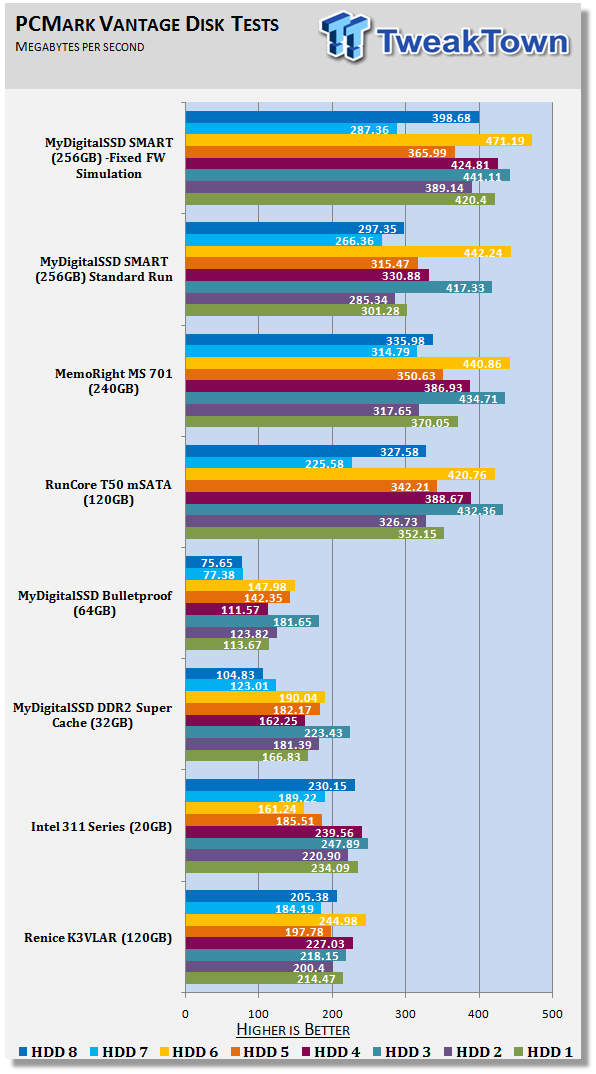 HDD1 - Windows Defender
HDD2 - Gaming
HDD3 - Windows Photo Gallery
HDD4 - Vista Startup
HDD5 - Windows Movie Maker
HDD6 - Windows Media Center
HDD7 - Windows Media Player
HDD8 - Application Loading
It really wasn't fair for us to run this test in a compromised state knowing that the new firmware is right around the corner. So, to even everything up we're publishing two MDSSD SMART tests in the same chart. At the very top is the performance you will see after the fixed FW comes out (if SF didn't have to slow the drive down). Just below the Fixed FW Simulation is our standard test with Vantage ran as it would be during our testing cycle.
The Fixed FW Simulation scored just over 85,000 Marks which is only possible with the 5 series FW. Our normal run with the TRIM compromised FW scored just over 71,000 Marks. Firmware 3.3.2 and 3.3.4 were on the MemoRight and RunCore SandForce mSATA drives and score between 73K and 75K.
Benchmarks - AS SSD
AS SSD Benchmark
Version and / or Patch Used: 1.2.3577.40358
Developer Homepage: Alex Intelligent Software
Product Homepage: Alex Intelligent Software
Download here: http://www.alex-is.de/PHP/fusion/downloads.php?cat_id=4&download_id=9
AS determines the performance of Solid State Drives (SSD). The tool contains four synthetic as well as three practice tests. The synthetic tests are to determine the sequential and random read and write performance of the SSD. These tests are carried out without the use of the operating system caches.
In all synthetic tests the test file size is 1GB. AS can also determine the access time of the SSD, the access of which the drive is determined to read through the entire capacity of the SSD (Full Stroke). The write access test is only to be met with a 1 GB big test file. At the end of the tests three values for the read and write as well as the overall performance will be issued. In addition to the calculated values which are shown in MB/s, they are also represented in IO per seconds (IOPS).
Note: AS SSD is a great benchmark for many tests, but since Crystal Disk Mark covers a broader range of 4K tests and HD Tune Pro covering sequential speeds, we will only use the Copy Benchmark from AS SSD.
- Copy Benchmark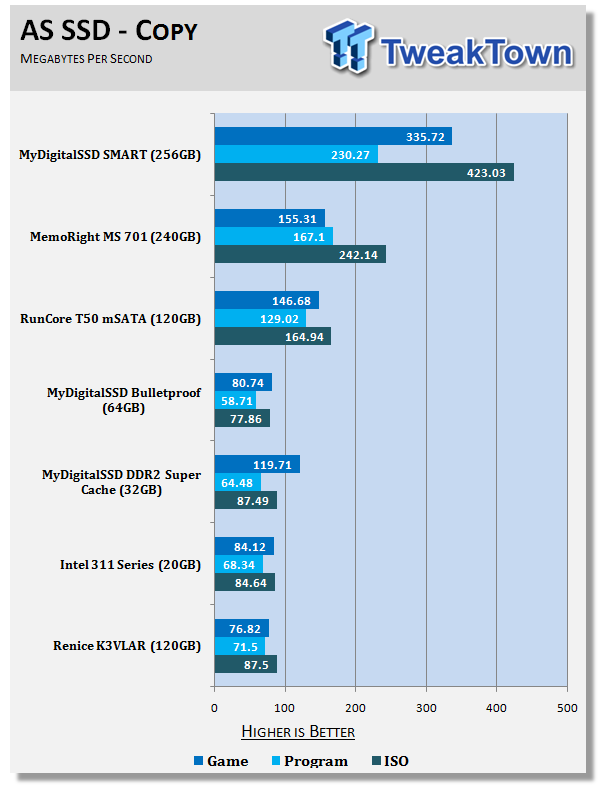 One area that SandForce has worked very hard on is the AS SSD File Copy test. When the SF-2281 first hit the market the performance was round half of what we see today with the MDSSD SMART 256GB.
Benchmarks - Anvil Storage Utilities
Anvil Storage Utilities
Version and / or Patch Used: BETA 11
So what is Anvil Storage Utilities? First of all, it's a storage benchmark for SSDs and HDDs where you can check and monitor your performance. The Standard Storage Benchmark performs a series of tests, you can run a full test or just the read or the write test or you can run a single test, i.e. 4K DQ16.
Anvil Storage Utilities is not officially available yet but we've been playing with the beta for several months now. The author, Anvil on several international forums has been updating the software steadily and is adding new features every couple of months.
The software can be used several different ways and to show different aspects for each drive. We've chosen to use this software to show the performance of a drive with two different data sets. The first is with compressible data and the second data set is incompressible data. Several users have requested this data in our SSD reviews.
Fill Compressible Data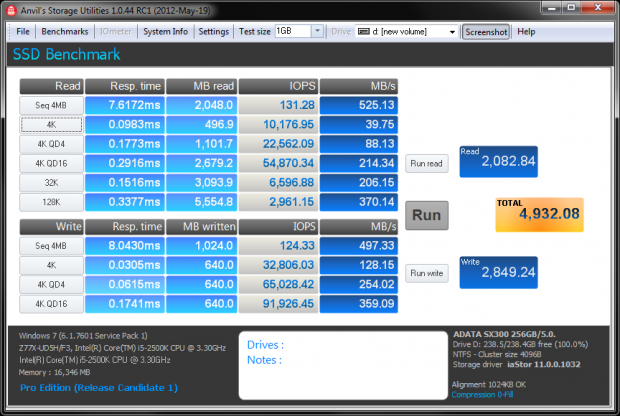 Incompressible Data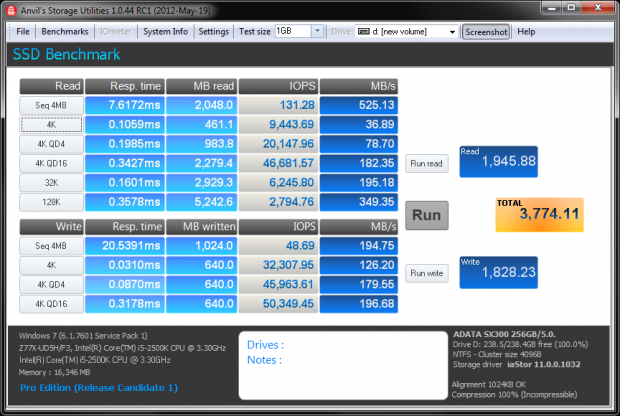 You asked for Anvil Storage Utilities and we delivered. We've chosen to use this new benchmark to highlight compressible vs. incompressible performance.
With less channels the MDSSD SMART sees a large performance hit when switching to 100% incompressible data. The impact though isn't as bad as we see when using asynchronous flash.
Benchmarks - Passmark
Passmark Advanced Multi-User Tests
Version and / or Patch Used: 6.1
Developer Homepage: http://www.passmark.com
Test Homepage: http://www.passmark.com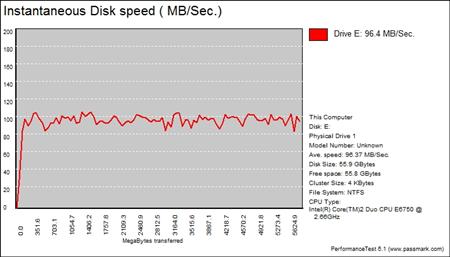 Many users complain that I/O Meter is too complicated of a benchmark to replicate results so my quest to find an alternative was started. Passmark has added several multi-user tests that measure a hard drives ability to operate in a multi-user environment.

The tests use different settings to mimic basic multi-user operations as they would play out on your server. Variances is read / write percentage as well as random / sequential reads are common in certain applications, Web Servers read nearly 100% of the time while Database Servers write a small amount of data.
The Workstation test is the only single user environment and will be similar to how you use your system at home.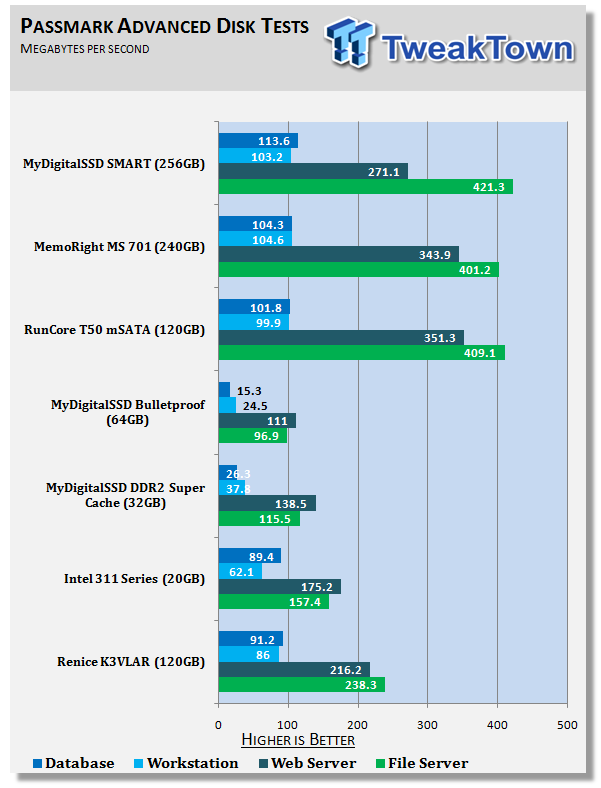 We aren't going to see mSATA in the enterprise anytime soon, but we still like running these tests to see the comparison.
Final Thoughts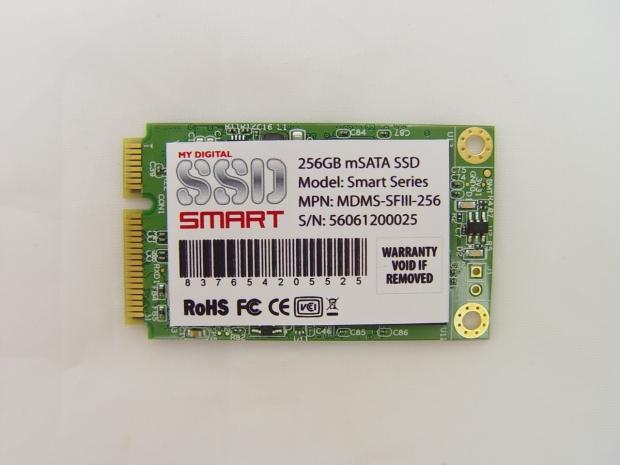 mSATA is already gaining a lot of traction in the mobile market. Ultra-thin ultrabooks are leading the way, but the standard is quickly being adapted in other markets as well. Several of the new Intel Z77 motherboards shipped with an mSATA slot for Intel Rapid Response duties and many full sized notebooks, either openly or secretly have mSATA onboard as well. I don't think the standard will overtake the 2.5" market anytime soon, but in the next couple of years, mSATA will surely make somewhat of a dent.
Of the products that are shipping with their mSATA slots filled, many are occupied by older technology with slower performance. When a company's advertise their ultrabooks they are simply saying, "Hey it ships with a 128GB SSD." All you have to do is spend five minutes on TweakTown to know that SSDs vary in performance quite a bit from one controller to the other. Older products repacked to fit the mSATA spec are a cheap way to get that 'we have an SSD inside' advertising mark, but fail to deliver cutting edge SSD performance. Because of that, most SSDs shipped in ultrabooks have lackluster performance.
The answer to lackluster performance in your new ultrabook is the MyDigitalSSD SMART. It features the proven performance of a SandForce SF-2281 controller, quality flash and will verify what you've thought all along... your OEM SSD is slow.
The only real downside is what gives the SMART such a high upside. SandForce isn't exactly making the All-Star game this year with their firmware batting average for 2012. The 5 series is makes any SandForce SSD the fastest on the market right out of the box, but the down side is it quickly degrades to the kind of performance you're already seeing in your OEM SSD. Giving SandForce the benefit of the doubt, the fix is coming, but we've already spent two months waiting. I think everyone will be much happier with the situation once the fix is released and we have amazing performance that has the tools needed to stay amazing.
So, how does this all fit in with MyDigitalSSD and their new SMART mSATA? With RunCore's T50 priced to the moon and MemoRight's MS-701 still MIA in the e-tail market (we are hearing rumors of a high price at release too), the MDSSD is the lowest priced, SandForce based, synchronous flash mSATA drive on the market. That statement goes a long way because it is much faster than any Phison, Marvell or Samsung controlled drive. If you can live with buying now and flashing later then the MyDigitalSSD SMART makes sense today. To do that you'll want to spend the money on a 2.5" adapter bracket to make the process easier. The brackets cost as low as $9 from Amazon and it's my opinion that you should have one already. If you don't want to go through the hassle of flashing your boot drive then hold off until SandForce fixes their firmware issue. Either way, the SMART is a wise choice.