VisionTek Ultimate Performance PC3-17000 16GB Memory Kit Review
While not a name you expect to hear in the RAM arena, we look at a kit of memory from the folks over at VisionTek.
Published Thu, Jun 14 2012 8:15 AM CDT
|
Updated Tue, Nov 3 2020 7:01 PM CST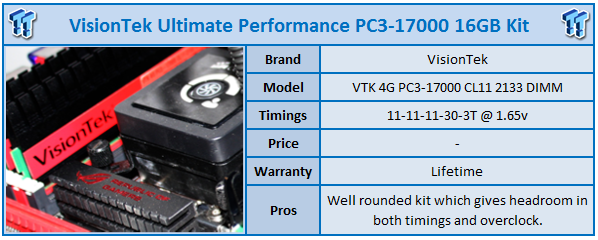 They're not going to be the first name that comes to mind when you're thinking about RAM. To be honest, VisionTek probably wouldn't come to mind period, but last year we had a look at a 8GB PC3-12800 kit from the company and we found ourselves impressed. Today we hope the kit we're looking at today does the same.
While the original kit we looked at from VisionTek was a more mainstream kit aimed at a more budget price point, today we're looking at a kit that sits a little higher on the performance pyramid.
Pulling the kit out of the package one of the first things we notice about the kit is that it's not that loud or flashy. Instead of going for some super "bling" looking setup, you can see VisionTek has opted for a more subtle approach when it comes to the heatsink design.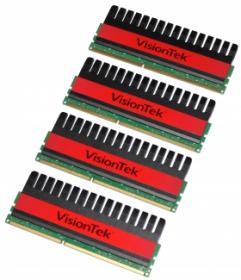 Consisting of four modules of course means we're dealing with a quad-channel kit here today for the X79 platform, but of course there's always the option to use all four DIMMs in a Z68 / Z77 based dual-channel motherboard.
When it comes to the overall design of the kit there's not heaps going on. We've got a black and red theme with the heatsink and sticker and each side of the sticker has the VisionTek logo on it.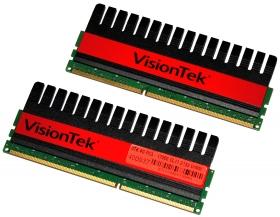 The main difference is that one side has the VisionTek logo in the middle while the other has it to the side due to the fact we've also got another sticker here that gives us a run down on some of the main specifications.
Moving in closer we get a better idea of what exactly we're dealing with here today. We're dealing with 4GB modules which mean our total kit size comes in at 16GB. The speed is PC3-17000 which translates to 2133MHz DDR and you can see that VisionTek has opted for a CL11 setup.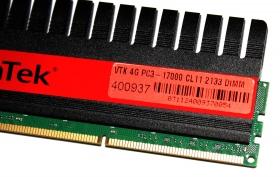 While not shown here, if we head into AIDA64 and go to the CPU ID section we can see exactly what kind of setup we've gone on the timing front. Looking below you can see at 2133MHz DDR we're running an 11-11-11-30-3T @ 1.65v setup which is on the loose side when it comes to timings.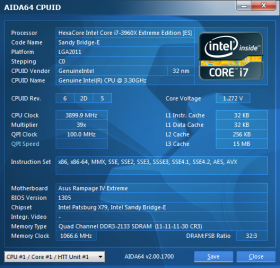 Considering we've managed higher than these speeds on our X79 testbed in the past we knew that getting up and running at these speeds wasn't going to be an issue and of course with XMP set we booted straight into Windows the first time.
Under AIDA64 we ended up with Read / Write numbers of 18,766 MB/s / 15,056 MB/s, Copy speed of 16,947 MB/s and latency of 48.9ns.
Performance is pretty much where we'd expect it to be for a 2133MHz DDR quad-channel kit. The main thing we want to know, though, is what we have in terms of headroom. The issue with the X79 platform is that we don't have the same flexibility when it comes to RAM overclocking. With that said we headed into the BIOS and started messing around with the BCLK.
After a bit of messing around we finally ended up with a 105 BCLK which as you can see below helped push the RAM speed from 2133MHz DDR to 2240MHz DDR. At the same time we can see it helped push our CPU up to 4094MHz thanks to the increase in BCLK that's on offer.
Under AIDA64 we ended up with Read / Write numbers of 19,683 MB/s / 15,859 MB/s, Copy speed of 17,712 MB/s and latency of 47.0ns.
Overall you can see a boost across the board and a drop in latency times. Normally the next thing we would do is head back into the BIOS and bump our CPU speed up as high as possible and see what kind of performance we end up with. Before doing that, though, I wanted to see if we could do anything with the Command Rate.
3T is the loosest option available and we've seen it show up a little now from some companies who have opted to use it over 2T. Overclocked, though, I thought we'd try 1T to see if we had any luck. While we booted with no issue, as we hit Windows, we got a BSOD. Moving to 2T, while getting a little further, ended in the same result.
A lower Command Rate at 2240MHz DDR just didn't want to happen so we headed back into the BIOS to up our CPU multiplier and boost our overall CPU speed which always helps boost memory performance. Looking below you can see we ended up with a 44x Multiplier which helped push our CPU speed to 4619MHz.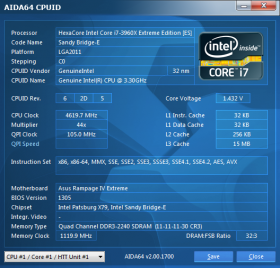 Under AIDA64 we ended up with Read / Write numbers of 20,993 MB/s / 17,890 MB/s, Copy speed of 19,680 MB/s and latency of 45.4ns.
As you'd expect we get a nice boost in performance across all areas, but as always, the best gains are seen when looking at the copy speed, which sees a nice increase while the overall latency drops nicely. Hand in hand with the overclocked CPU, we see some really nice performance come out of the VisionTek kit here today.
While we'd normally leave it at that I thought we'd head back into the BIOS one last time, and jump to the default XMP setup again. This time, though, instead of messing around with the speed, we'd mess around a little with the timings. As we mentioned CL11 is quite a relaxed setup so we thought it's possible that there could be some headroom on the latency front.
Having a look below you can see we ended up in Windows at the default 2133MHz DDR speed with a 10-11-10-30-1T setup. This is a nice improvement over the stock 11-11-11-30-3T setup and should yield some nice gains in a couple of areas.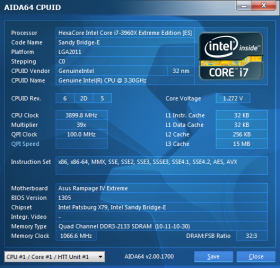 Under AIDA64 we ended up with Read / Write numbers of 19,396 MB/s / 15,055 MB/s, Copy speed of 17,267 MB/s and latency of 46.6ns.
Comparing these numbers to the stock you can see a slight boost in the Read and Copy numbers, but the most notable improvement comes in the latency department, as we drop to 46.6ns. This is actually lower than the kit at 2240MHz DDR when it's using its default timings.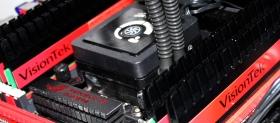 The VisionTek Ultimate Performance PC3-17000 16GB Kit isn't loud and flashy or anything like that, it's just a solid looking kit of RAM that performs well. While the timings feel a little loose out of the box, they do allow for a higher overclock while the option to tighten them is also available if running at stock.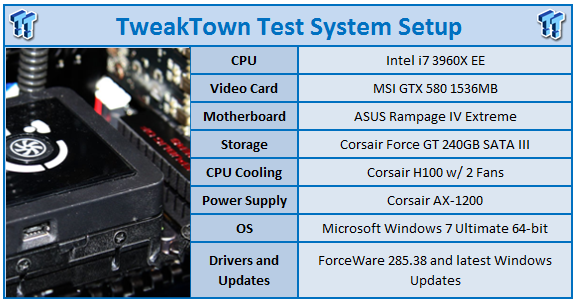 PRICING: You can find products similar to this one for sale below.

United States: Find other tech and computer products like this over at Amazon.com

United Kingdom: Find other tech and computer products like this over at Amazon.co.uk

Australia: Find other tech and computer products like this over at Amazon.com.au

Canada: Find other tech and computer products like this over at Amazon.ca

Deutschland: Finde andere Technik- und Computerprodukte wie dieses auf Amazon.de