Beginning its gestation as a direct prequel to Scott's 1978 Sci-Fi/Horror hit Alien, Prometheus turned into something grander and more profound. Touching on some deep philosophical questions, Prometheus isn't quite the thinking man's sci-fi film (some of the plot points don't stand up to close inspection), but you'll be pondering the mysteries of the film for some time.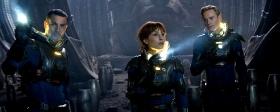 The year is 2089. Drs Elizabeth Shaw (Noomi Rapace) and Charlie Holloway (Logan Marshall Green) have made a discovery that could change the course of human history - a star map leading to a distant planet with an ecosystem not to dissimilar to our own, proving that we aren't alone in the universe after all.
The founder of the immense Weyland-Yutani corporation, Peter Yutani (Guy Pierce) has taken personal interest in the project, funding the trip to the planet LV-223, in the hope that the answers to life's great questions can be obtained.
When the vessel Prometheus reaches the planet after two years of travel, Shaw and Holloway are given strict orders by Mission Director Meredith Vickers (Charlize Theron) to search the planet, but not make contact with its inhabitants - if indeed any have survived.
[img]2[/img]
When the search party discovers the exo-skeletons of a race of alien beings, the hope of finding life is quickly dashed. But when a chamber of mysterious pots are unsettled by Weyland's technological paragon, the android David (Michael Fassbender), the genesis of life soon coalesce. Quickly, wonder soon turns to terror when the true intentions of the mission and the revelation of the planet are revealed.
[img]3[/img]
It's incredibly hard to write a review of Prometheus without delving into the main plot points, which slowly lead to payoffs in the film's final third. Whilst some of these are telegraphed well in advance, and many will be surprised by how much of the film has been glimpsed in trailers and TV spots, there are still some surprises which are a joy to discover and realize.
Despite only being in cinemas for a few days, the intense interest in the movie has led to thousands of reviews being published, and forums lighting up, and the word is good, but not great. I've heard and seen the word 'disappointment' being bandied about rather frequently. However, I really enjoyed Prometheus despite its issues.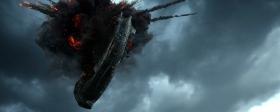 Some of the philosophical points feel ham fisted, character motivation is questionable, coupled with some seriously significant logic gaps. However of all the films sins, I felt the psychological terror of the original Alien which is largely missing in action, replaced by far less subtle (albeit very effective) moments of gruesome terror, is by far its largest.
Alien fans will be best advised to leave their pre-conceptions and personal theories at the cinema door before entering. This isn't Alien 0.5. When Ridley Scott says that there is no real correlation, but hints at the Alien DNA, he means it - quite literally. But the closing scene leads to a significant franchise moment which for me sealed the deal, even if it did feel ever so slightly forced.
Despite my hesitations, I have enough good will for Prometheus to give it my solid recommendation. In fact, I'd be happy to see it again very soon.