Introduction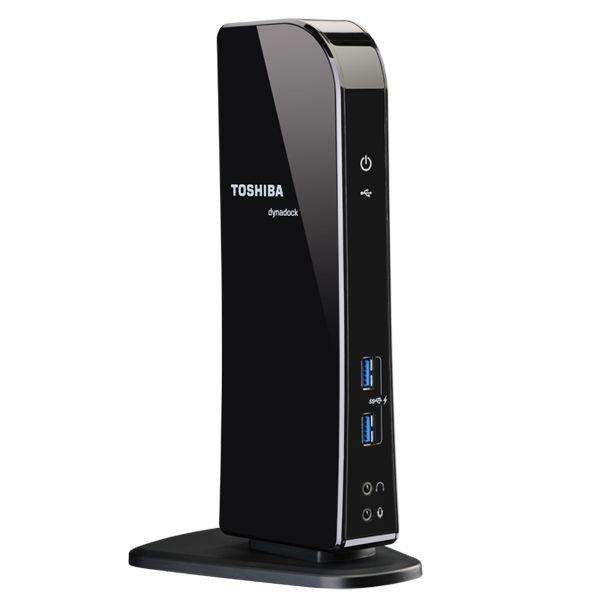 Today we're looking at a rather unique product. For many years notebook manufactures have offered docking stations for their notebook products that make it easier to move from the office or the road to your home office. These docking stations are generally model or series specific so when you bought or were issued a new notebook, you needed a new docking station.
The premise works like this, your portable notebook rests on a base station and that base station (called the dock) was connected to traditional desktop components like a display, mouse, wired Ethernet (for faster than Wi-Fi speeds) and in some cases a full size keyboard. Most notebooks are quite capable of handling desktop-like workloads, especially those using an SSD for storage, so getting the full desktop feel was natural.
The biggest downfall though was the whole model specific thing. A Dell dock will not work with a Lenovo dock which will not work with an HP and so on. To compound the problem a dock made for say a Lenovo T60 series will not work with a Lenovo W700 series. With a price that ranges from $150 to upwards of $300 depending on age and features, a new docking station to go with your new notebook adds a considerable amount of cost to your total cost of ownership.
Toshiba, coincidentally a notebook manufacturer as well, has released an improved method and builds upon the traditional features of a docking station, but removed the proprietary aspect.
Specifications, Pricing and Availability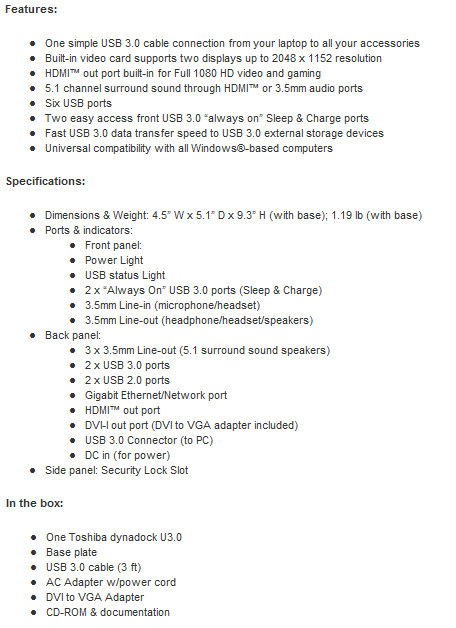 The all new Toshiba Dynadock U3.0 Docking Station works with both notebooks and desktops to increase functionality. With recent technological advances, the Dynadock goes much further than your business class Dell dock ever thought about. Looking at the specifications we see some true enthusiast class features wrapped into a small mainstream device with a very small footprint.
The Dynadock U3.0 brings two video outputs that are actually quite good. No texture tearing when you drag web pages or even YouTube videos. One video out is HDMI and that signal also carries 5.1 surround sound. The other video out is DVI-I which can be converted to either HDMI (without audio) or VGA with a converter. Toshiba includes a DVI to VGA converter with the unit as well. Moving past the video portion, the Dynadock also has six USB ports - two of which are USB 3.0 and 'always on'. This means that even if your notebook or desktop are powered down or even removed, the always on USB ports can still charge items like cell phones, tablets and such.
For most users those features are enough to entertain the Dynadock as a potential purchase item, but the dock doesn't stop there. One of my biggest complaints about using a notebook is Wi-Fi. Even with the latest wireless N goodies throughout the house, sometimes you just need to transfer a very large file and Wi-Fi just isn't a real option. With the Dynadock U3.0 you can plug in your gigabit Ethernet to the dock and use that for your network connectivity.
All of this connectivity has to come back to the host machine at some point and that is where USB 3.0 comes in. The Toshiba Dynadock U3.0 is capable of running all of these features with USB 2.0, but you can expect the video to not perform as well and obviously your USB thumb drives will operate at USB 2.0 speeds. Still though, the 35MB/s of USB 2.0 is enough to get you by. USB 3.0 with 10 times the bandwidth of USB 2.0 makes everything much nicer.
When it comes to actually purchasing the Toshiba Dynadock U3.0, you have several options. We found product in both the retail and e-tail space. Most of the shops that carry this model charge right around $179, but we managed to find a shop with Google Price Search that advertises $130. I consider $50 to be a considerable savings and to be honest spending $130 instead of $180 might be the difference in buying this product or not picking it up.
Let's take a look at the actual unit.
Packaging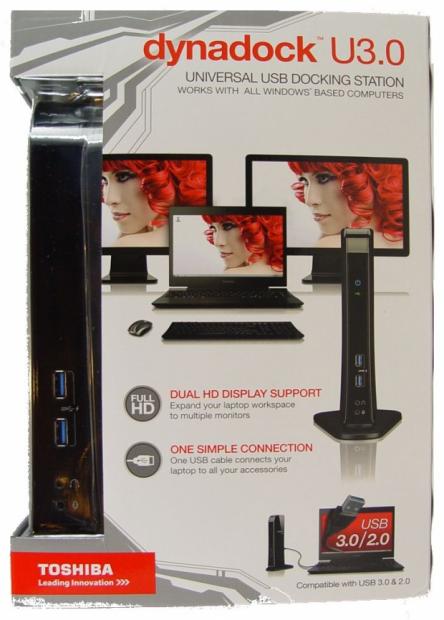 Toshiba's Dynadock U3.0 will be a retail item unlike most of the products I review. This is targeted right smack in the middle of the mainstream. Toshiba has comprised an informative package that fits the placement and we get quite a bit of information on the package. Not only that, but Toshiba has placed the actual device on the side, all exposed so retail shoppers can see the product and not have to guess or play find the small text when looking for features.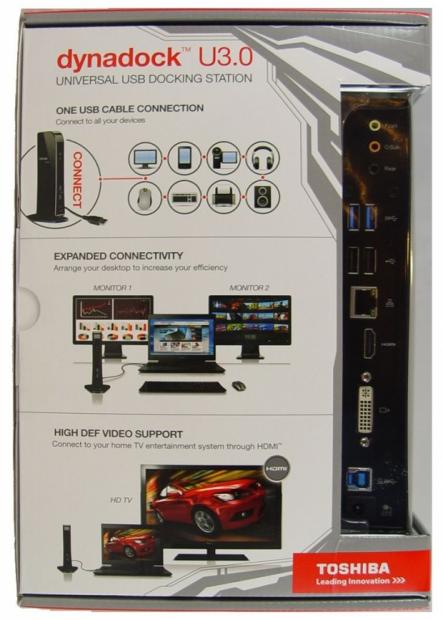 A picture says a thousand words, but in this case, a few pictures list nearly a dozen features.

If you need it all spelled out for you, there is a panel on the box for that, too.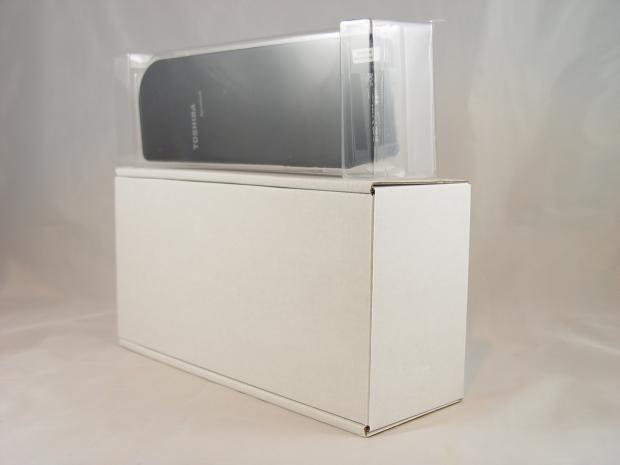 The inside packaging is well organized with the piano black dock stored in a separate compartment.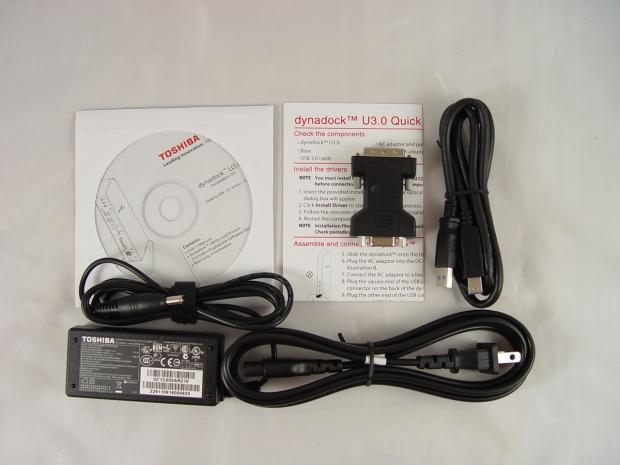 The accessory package comes with all of the needed components and even a DVI to VGA adapter. You do not get a DVI to HDMI or HDMI to DVI adapter which we would have liked, but since you know now, you can pick one up while shopping, if you need it.
One thing you will not want to do is lose or misplace the disk. We went to Toshiba's website for new drivers and didn't even find the shipping drivers available for download. At least at this time you are pretty much dead in the water without this disk. Speaking of the disk, we're not sure why Toshiba included a disk at all. With many Ultrabooks shipping without optical storage some users will find themselves without drivers and in need of another device to read the disk to copy the drivers to a flash drive.
Toshiba Dynadock U3.0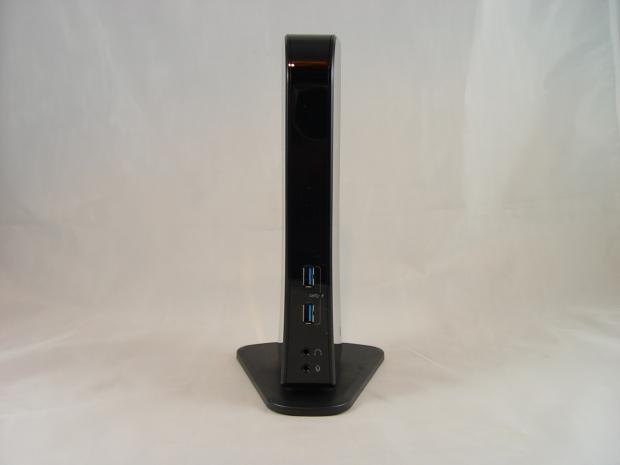 Let's do the 360 shuffle and then come back in for a closer look. The actual dock itself is very light, but the base has a bit of weight to it. We suspect inside the base is a steel panel. This is important because the weight of the cables, especially DVI could have been an issue with tipping the unit over. Toshiba eliminated that with the heavy base.
On the front we have two USB 3.0 ports that are always on for charging devices. Also on the front we found two 3.5mm audio jacks that are included for headset / microphone combinations.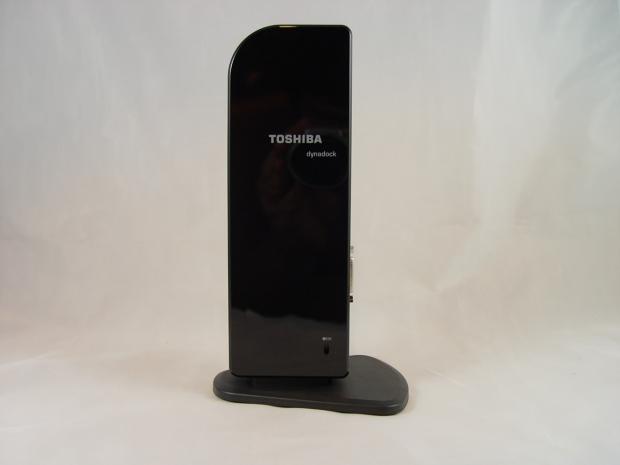 We love the look of piano black when devices are new, but the surface is so smooth that micro scratches show up almost right out of the box. Piano black also shows finger prints like no other surface known to man. At my home I have several devices that are piano black, it was a feature on all of the Pioneer A/V receivers and even a Pioneer plasma TV that I use for gaming. They are nice to look at, but don't touch them unless you have to. When you do touch them you have to wipe the finger prints off or they will drive you up the wall since they stick out that much.
On this side is a security hole, the same type found on most notebooks and high dollar accessories that you don't want to walk off.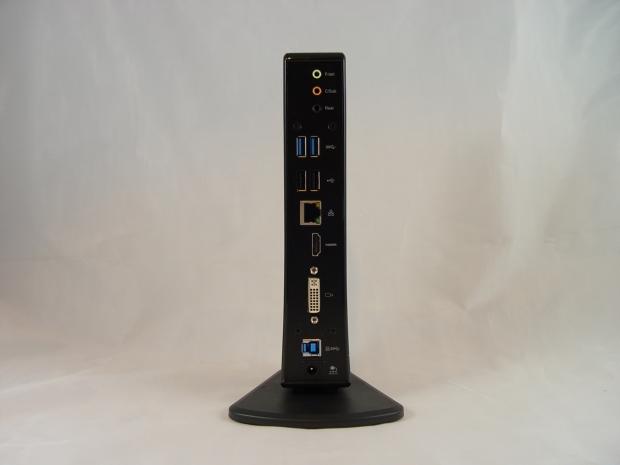 Nearly all of the connections are on the back of the device which is good because you don't want to see a cable cluster on your clean desktop.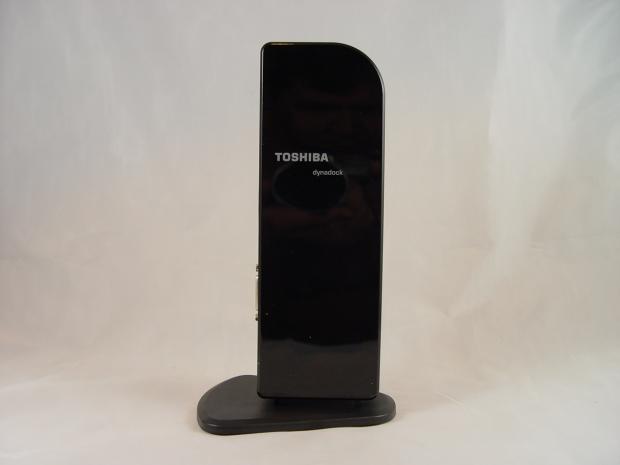 Nothing of interest can be found on the other side. The unit is around 3 inches deep though and that goes out to around 4.5 or 5 inches with the base.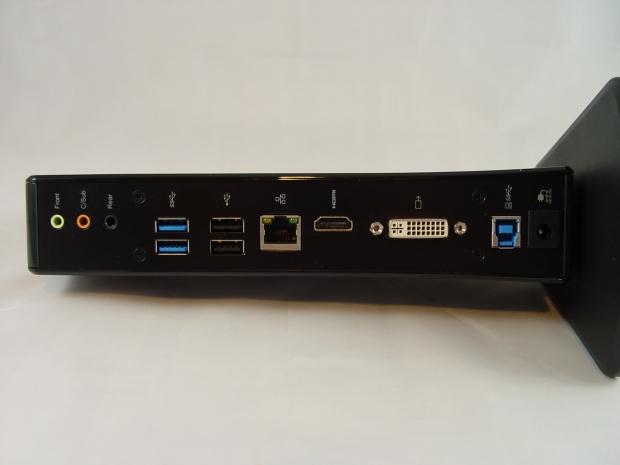 Here we see the close up of the back of the Dynadock U3.0. Everything is laid out well and you even have a decent amount of room for your USB devices. Going from left to right we have the three audio output channels that provide 5.1 audio. Next are the USB ports, two 3.0 and two 2.0 for attaching your permanent devices like mice, keyboards, printers and so on. The gigabit Ethernet is next down the line, a nice addition to the feature list. Then the dual video outputs, one DVI and one HDMI with audio out. Finally we have the host system connection which is a single USB 3.0 port. Just beside that is the power plug that provides power to the dock and the always on USB ports in the front.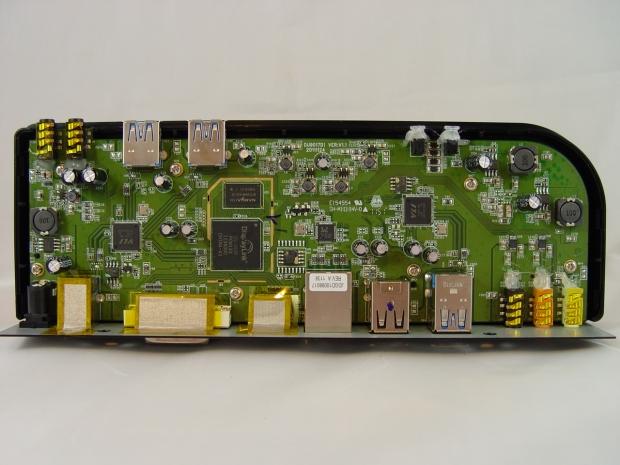 With the top off of the Dynadock U3.0 we can see the inside of the unit.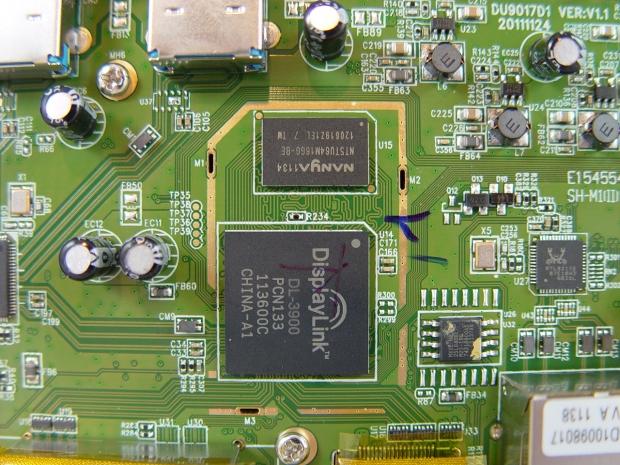 In the middle we found a DisplayLink chip with a Nanya memory chip linked to it.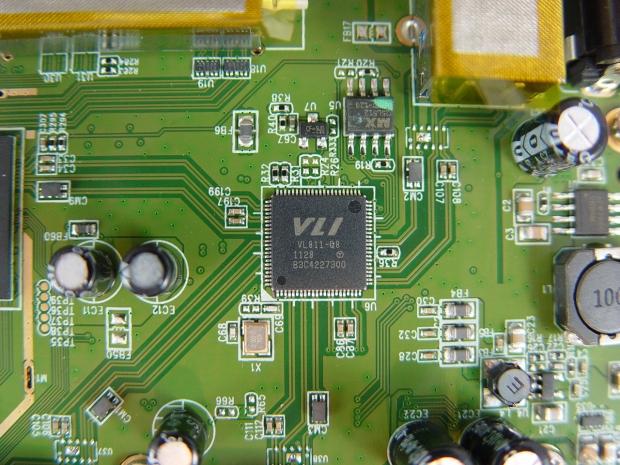 Just off to the side of the DisplayLink chip we found two VIA VL-811UDB 3.0 chips. This is VIA's second generation USB 3.0 product. Each VL-811 chips can handle direct communication with four devices. With two onboard, we now know how Toshiba was able to include so many USB ports on the Dynadock U3.0.
Dynadock U3.0 in Use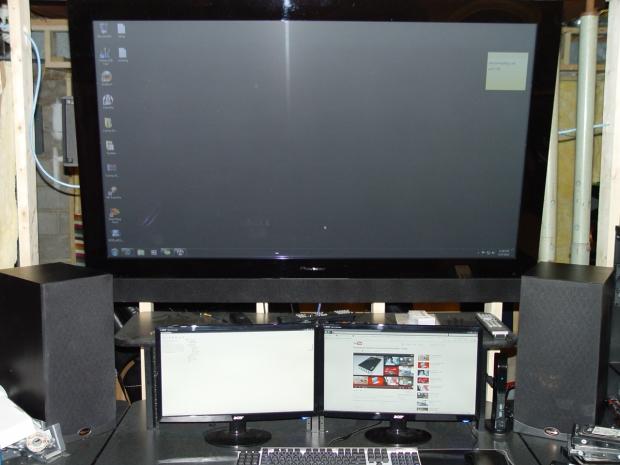 I spent a solid three days testing the Toshiba Dynadock U3.0 in both my gaming / power user rig and a Lenovo notebook. This system is a little bit higher spec that what most users are going to have at home, but well let's be honest, I'm a reviewer and it's my job to make sure parts work as they should... someone has to do it right?
I would love to be able to report that everything worked absolutely perfect every time. It would make this review shorter and we could just finish this article right now. That wasn't the case, though.
In my desktop configuration we ran into some issues right from the start. The main issue was boot time. This is something you notice every time you turn the computer on. The system takes much longer to boot with the Dynadock U3.0 attached than it does without. The difference is a solid 45 to 60 seconds.
The next issue has to do with how the host computer behaves once you get to the Windows 7 login screen. Our USB devices attached to the computer do not show up right away so you can't use them... that includes the keyboard and mouse. These devices were attached to the host computer and NOT the Dynadock U3.0. Our Corsair keyboard wouldn't even light up for at least 60 seconds after getting to the Windows login page. The Razer mouse also had issues and wouldn't start tracking for at least 15 seconds after hitting the Windows login page. After the 15 seconds has past and we had full use of our mouse we started to use the On-Screen Keyboard to type in the password so we didn't have to wait for the keyboard to communicate with the host computer. When you are using 8 SSDs in a RAID configuration, you've already paid for instant boot times, but the U3.0 erodes your several thousand dollar investment rapidly.
Once inside Windows with all of the accessories working properly you would expect the Dynadock U3.0 to just work as it should... but it doesn't. Every time we booted into Windows with the dock installed we had the issues above and still didn't get video out on our second and third monitors which are attached to the dock. Each time we had to unplug the USB 3.0 connection back to the host computer, then reattach it for the device to work. The whole process was a real pain in the butt since we first installed the dock behind our attached monitors to keep the desk space as empty as possible. Within a few restarts we realized that a position change was needed to keep our sanity so we could detach and reattach the connection to the host when needed.
After we played cable shuffle at every reboot, the Dynadock U3.0 worked very well. The secondary monitors run at 1080p HD resolutions and we enjoyed movies and other videos at that native resolution without issue. Text scrolling, usually an issue with low cost video cards, proved to be problem free and without texture tearing.
The USB 3.0 ports when used for transferring data from a ultra high speed thumb drive were much slower than when plugged directly into the host machine. This was to be expected though because you are taking a single USB 3.0 port, passing through two video signals, running four USB 3.0 ports, two USB 2.0 ports and a number of other connections. There is only so much bandwidth to go around, but the Dynadock U3.0 manages the bandwidth wisely so your one high-speed device doesn't kill off the other connections.
Final Thoughts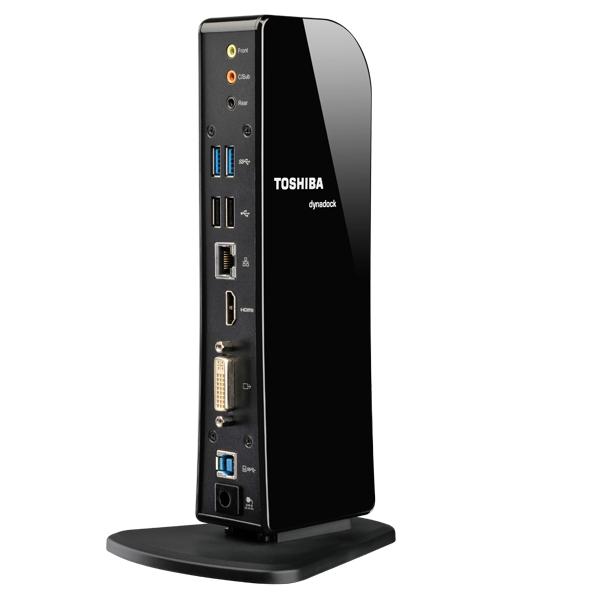 When compared to a brand / model specific docking station, the cost of Toshiba Dynadock U3.0 is quite a bargain. After looking around for Lenovo docking stations for our W701ds we found several online, most costing around $250. The W701ds dock uses USB 2.0 technology and has about a third of the features of the Toshiba unit we tested today. The one item that the Lenovo unit has that is lacking on the Dynadock U3.0 is an eSATA port. This may be an issue for some users, but given that USB 3.0 is mature and plentiful (i.e. cheap), you can purchase a basis USB 3.0 enclosure for around $30 and not look at eSATA again.
The ability to use the Dynadock U3.0 with any host system is a big plus in our book and it makes your previous docking stations obsolete for the most part. The Dynadock will not power your notebook though, that would of been quite a treat, but electrically impossible without adding a significant amount to the overall cost and power draw from the wall socket.
The issues that plague the Toshiba Dynadock U3.0 weren't specific to the desktop as we also had them with our notebook as well. Hopefully most if not all of these issues can be corrected with driver modifications or easy to achieve firmware updates. We spent some time on Toshiba's website looking for newer software bits, but didn't find any. Also, there is not a software interface for the Dynadock U3.0, as you might expect. All of the configurations are changed in the normal Windows locations so you don't have to learn new software or be a genius to get the results you desire.
When it comes to pricing, I feel the difference between the $130 online price and the more common $180 retail price is quite significant. For me, I would pay $130 for the Dynadock U3.0 after the odd behavior was fixed, but at $180 I think I'd pass until these hit the bargain bins with closeout pricing. A big part of that statement goes back to the enthusiast in me who already has the capability of running three monitors from my expensive video card. My system also has gigabit Ethernet, USB 3.0 ports galore, 5.1 surround sound and every other feature offered by the Dynadock U3.0.
On the other hand, if I only had a notebook or ultrabook, the tables get turned. No one likes to put a notebook on their lap that has 10 cables running back to desk accessories. The single USB 3.0 cord is appealing when it comes to notebook use and the additional functionality provided by the Dynadock U3.0 isn't found in most notebooks, especially the ability to run two additional monitors and surround sound audio. So, on the notebook side we can easily see where the Toshiba Dynadock U3.0 can be a must have product... even with the current issues.