Scott was founded by Hermon Hosmer Scott (HH Scott) on the east coast of the United States. Scott invented the first amplifier in 1947, the digital tuner in 1975 and has registered more than 150 patents.
Nowadays, Scott is one of the bigger key players on the electronic goods mass market. But for us Scott is a completely new company, as we have not dealt with them before today.
As is our tradition then; a clean slate is to be drawn. For Scott, they want to try and impress us with their all new Sound and Light solution in one system called the Luminor which features support for most Apple mobile devices. And it also sounds a bit like prehistoric bringer of light or something. So, without further Hub Bub, we give you; Luminor!
In these times of ever increasing green-ness towards well, just about all aspects of our lives really, it's not as strange as you might think to find a speaker and LED light together in the one package.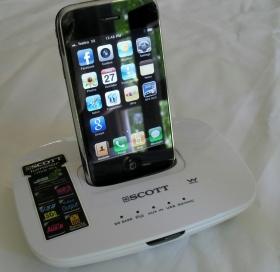 The idea is that an Apple mobile device gets plugged into the docking station and then the magic happens when the dock sends the signal out via 2.4GHz wireless signal to the LED speaker-lights which take the place of ordinary lights in a given room.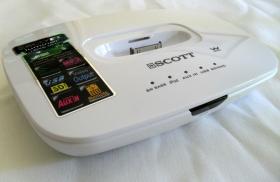 Now if we completely ignore the beetling of all (us) audio purists then this idea could be a good one, after all who doesn't want to save space in their living rooms and be even greener at the same time? But for some it is just a little bit like telling people "I sleep in the back of my car now because I've made my bedroom a sanctuary for rare trees" which really is, all well and good. But we are just not sure in the long run that the appeal will last.
Holding the dock and two globe speakers, and everything feels quite heavy and solid with a decent level of quality materials being used throughout. The look of everything is not out of keeping with the 'uber sheik look of the Apple products it's designed for. The actual globes themselves are heavy as we would expect.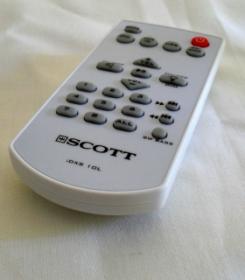 There is also a small remote included to control the various functions of the system, which is a nice touch. But we must be honest here, this solution really looks biblically out dated in comparison to the Bluetooth docks from Creative that allow the iPhone/iPod to be used as the remote control for the system.
There is also the option of connecting a subwoofer which we did not receive with our sample pack, so we cannot comment on that area. Also included is an Aux jack on the rear of the control dock for connection of other devices that are not Apple branded.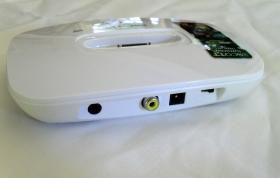 The notion of having sound in more than one room using this system is an interesting one, although the concern of having a sub-woofer also available for these extra rooms could become apparent. We think one really good solution would be to have a combination indoor/outdoor setup perhaps for 'AL fresco dining. Actually we might have just come up with a good marketing angle; these could be put to great use in space limited cafes, bars and small restaurants.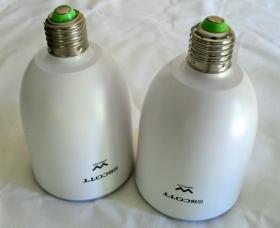 Included in the package is a couple of cables which might come in handy as well as a wall plug, batteries for the remote and couple of mounts to cater for different model Apple devices. Overall though the package in itself is pretty good, however we would really have liked to see a sub-woofer bundled in somewhere. Without one, it's really very difficult to determine what sort of reasonable amount of sound quality might be expected from such a setup.
Due to the very unique design of the Scott system there are many different setup options available to the user. And each of these different setup options will deliver a unique sound of its own.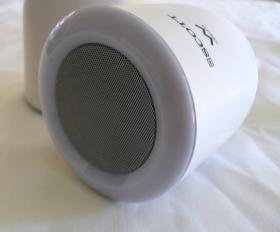 For the purposes of this review we were given the control dock and two of the globes which would give a result of a single pairing of left and right channels without the sub being included. So clearly we cannot test the low end potential of the system and also the multi room abilities that the system also possess.
Out of the box, the system comes paired with the bulbs included. However, if you want to add extra bulbs ($110 AUD each - ouch!), then a new pairing must be made using a paper clip and the hand of a master watchmaker to garner access to the inset pairing buttons on both dock and bulb/speaker, within 60 seconds, so maybe call Ethan Hunt, too.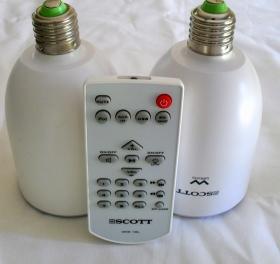 One other small concern we have here is that this system is not cheap with the dock and two bulbs (one would be pointless) and then the user must also provide outlets for the bulbs to work correctly. We have all come to take things being ready to go out of the box for granted. And when it actually came to installing this system in an older house, it's very difficult. We know for a fact that many houses in Australia still use the old bayonet light fittings, so this is not really a good idea. You can just plug a normal speaker system in within a minute or two and have it up and running anywhere you want.
In terms of how it all sounded, things were a little bit mixed. We thought that for vocal material everything sounded quite good with reasonable clarity to the sound and enough volume to get things going. The mid-range frequencies were reasonably well defined as well, but probably just behind the high-end due to the size of the speaker driver used.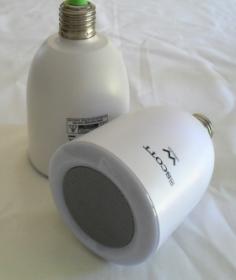 Listening to certain types of music such as piano or light strings can be an enjoyable experience using the Scott Luminor system. That is provided of course that things do not start to get too heavy in the bass department because the absence of a dedicated low end reproduction unit will become apparent.
We would really hesitate before recommending these to be used for heavy music listening or movie viewing that contains a lot of low-end material without the subwoofer being added, but that's going to push the price up again unfortunately. Obviously Scott knew that things would be less attractive with a higher price for the sub included and made it optional, but that's a little bit like saying, "We will sell you this car, but the brakes are optional" - it's just not really going to work well.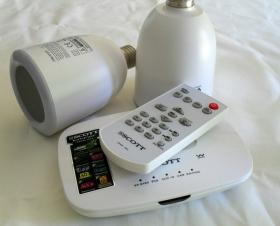 The bottom line then; and it's a little bit of everything. We liked how the Scott Luminor system was put together and it's a fairly simple design. The sound quality is quite good overall, but the separating out of the subwoofer as an optional extra is going to be an issue because simply this is not a bargain with a starting price of $250 AUD and a further $110 for each speaker/bulb... and did you want bass with your treble? Well, add another $150 AUD for the sub hitting stores in February. And now you can see some of the issues we have in giving this system our full recommendation.