Introduction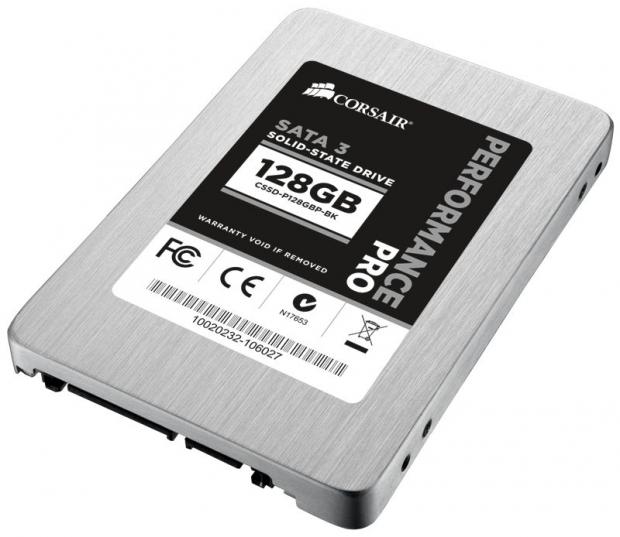 Just before CES we published our take on the Corsair Performance Series Pro 256GB model. The drive was very fast, even shattering our PCMark Vantage HDD test records for a single drive while empty.
Being a larger capacity size we compared the drive to the 240GB drives from Team SandForce products and again the Performance Pro performed well. The one area the 256GB Performance Pro didn't do so well in, well, let me first say in relation to the SF-2281 controlled drives, is when the drive was filled to 50% capacity. In this very important test the Performance Pro 256GB was a bit slower. So, to sum it up the 256GB Performance Pro was very fast, but not fast enough to take the performance crown in its capacity size group.
Today we're looking at the 128GB model. For me this review started out as another run-and-gun, get it over with because people will want to see it, but I won't be that impressed type of review. The drive sat on a shelf for a couple of days while I played Battlefield and tried to get over my post CES depression caused mainly by the fact that I can't get good steak back at home like I can get there. Now that I've tested this drive I feel much better, although it would be nice to get some good steak still.
So, if you are having steak withdraws and need something to cheer you up, get a Corsair Performance Pro 128GB. If you want to know why the Performance Pro 128GB is the first real challenger to the SF-2281 controlled 120GB drives on the market, then read on to find out.
Specifications, Pricing and Availability
I've already started off with some bold claims, but I do understand your hesitation. In the 256GB review I peaked your interest with the notion that it was faster than the 240GB Team SandForce drives only to shoot the Performance Pro 256GB down for lower performance when filled to half capacity. That isn't the case this time.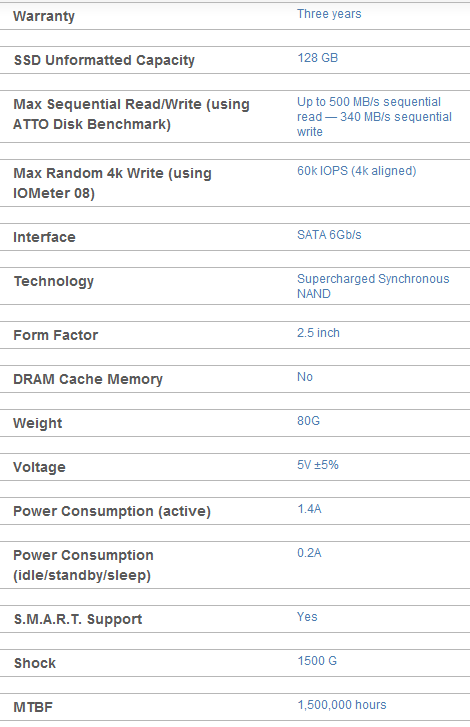 Looking at the specification we see that the Corsair Performance Pro 128GB is a solid state drive with up to 500MB/s read and 340MB/s write speed. Those speeds are quite fast, but on paper they don't match the SandForce SF-2281 controlled 120GB drive's numbers. Thankfully we are not playing an on paper game, this isn't Dungeons and Dragons - this is building your killer PC.
There is an error on Corsair's webpage specifications and that is in the DRAM Cache Memory slot. Here Corsair lists "No" but the reality is the Performance Pro has cache and a lot of it. The cache system is fairly unique in that it uses dual 256MB chips for a total cache size of 512MB.
The controller is a Marvell 88SS9174-BKK2, one that we've seen tip up more than a few times now. The beauty of this controller is its ability to be tuned via programming and firmware updates. That makes the BKK2 very potent when paired with the right accompanying hardware and programmed for performance.
Corsair always does a solid job incorporating the extra hardware users want with their solid state drives. With the Performance Pro you get a desktop adapter bracket, screws for installing your drive in a desktop and a solid three year warranty.
There are many good things about SandForce based drives and high performance isn't the only one. The Corsair Performance Pro 128GB at this time is still missing out on the other, price. This is going to be a bit difficult for Corsair to hit with the Performance Pro packing all of that cache. Still, the 128GB model isn't priced out of existence, the Newegg price at the time of writing is 209.99. This is about what you'd expect for a high performance 128GB SSD, but for 149.99 USD you could have a Force GT 120GB, one of the best made 2281 controlled drives on the market today.
The Packaging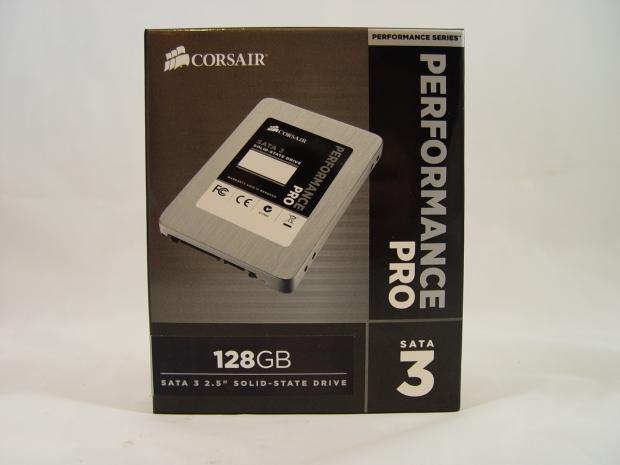 There isn't too much going on with the front of the Performance Pro package. Corsair does list the capacity size and lets us know the drive is SATA III.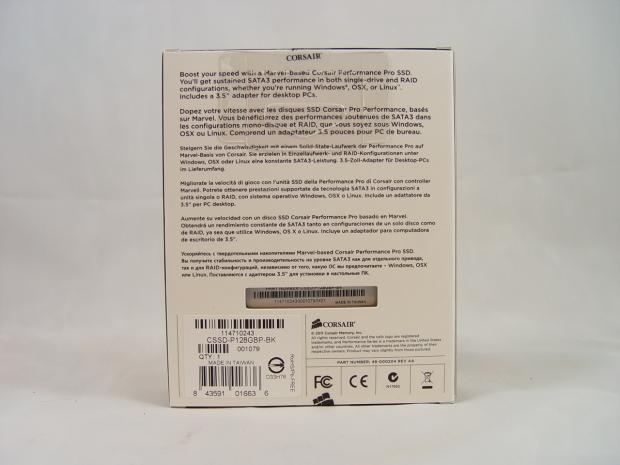 On the back we get some general information about the drive in a few different languages, but no performance information is given.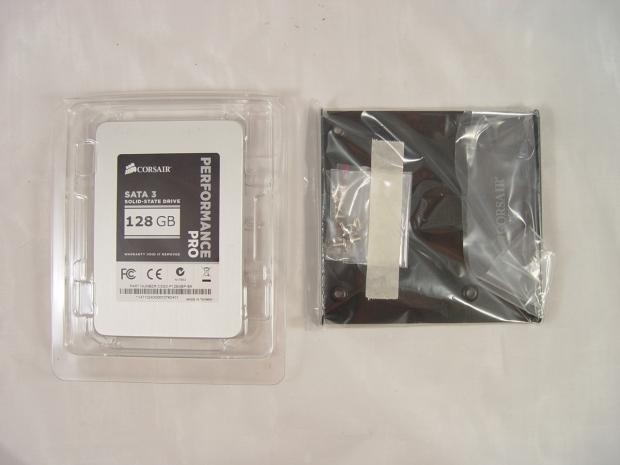 On the inside we found Corsair packaged the Performance Pro 128GB well with the drive kept separate from the accompanying hardware.
Corsair Performance Pro 128GB SSD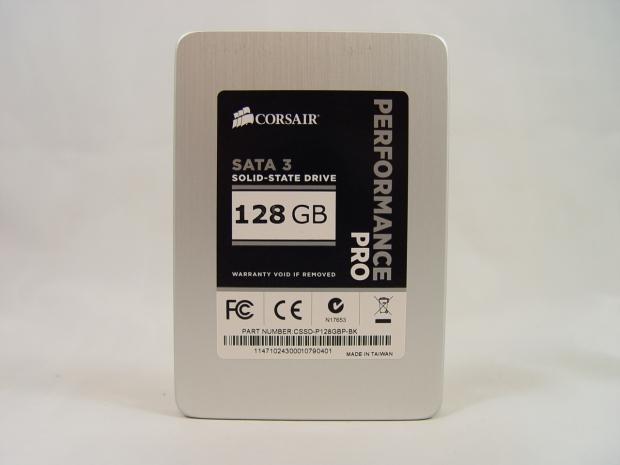 Here we get our first look at the Corsair Performance Pro 128GB drive. The drive follows the same color scheme as the package. Just like the package, the drive also shows the capacity size right on the front.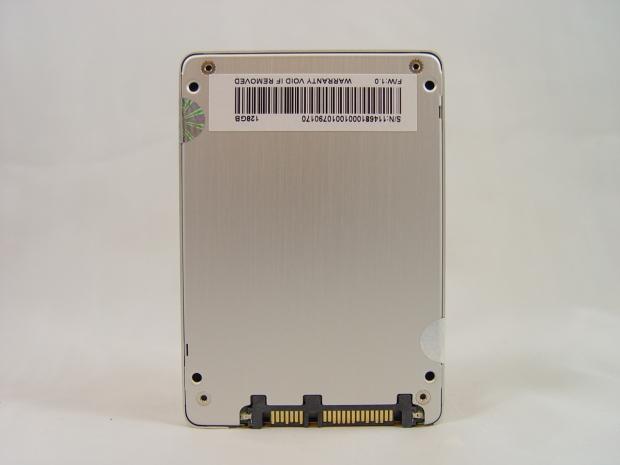 The Performance Pro has an all aluminum housing and has all of the proper mounting locations including those on the bottom that you can see here.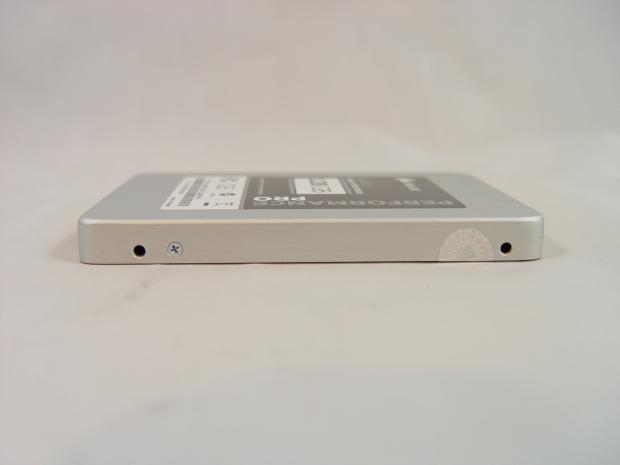 The side mounting points are also where they should be so you won't have any issues installing the drive in your notebook or desktop with the included desktop adapter bracket.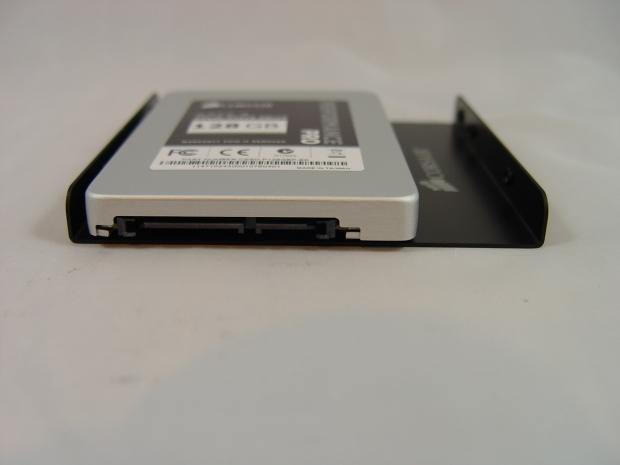 When using the adapter the drive is offset to the left side so the SATA power and data points line up with your 3.5" traditional drives.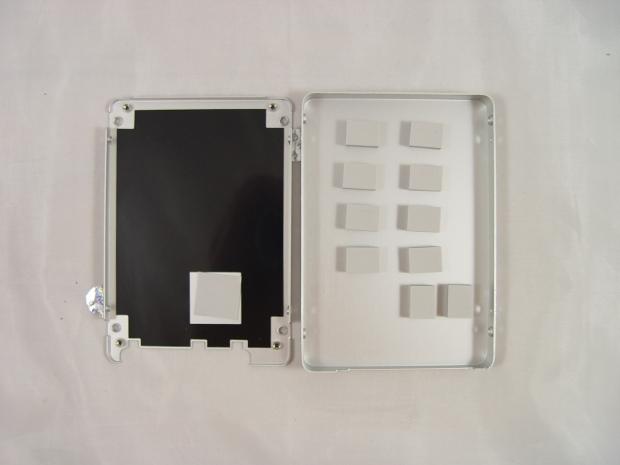 Inside the case we found thermal pads that draw heat away from the components and aid in keeping the entire drive cool. In testing we didn't find anything that would lead us to believe the drive runs hot, but it's always nice to see the extra mile being included with a product. The thermal pads also help in securing the internal PCB and reduce vibration to the SSD from other components in your system.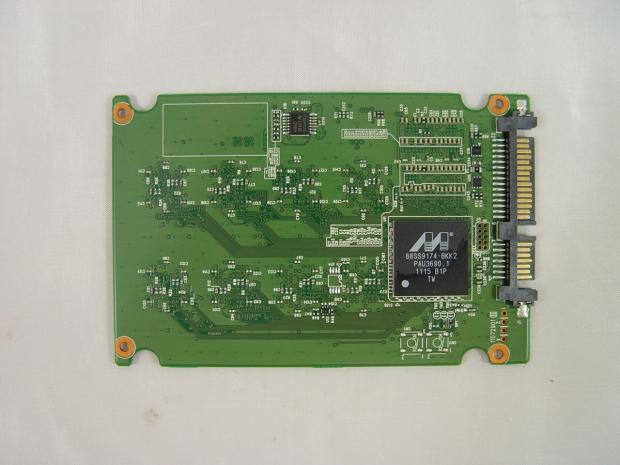 Finally we get to the PCB which is a bit odd compared to most of the drive's we've seen to date. On one side we found the Marvell 88SS9174-BKK2 controller and that is all over here.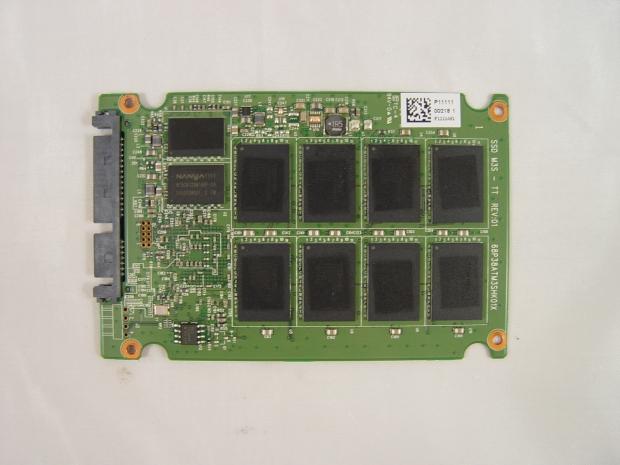 The rest of the components are on this side. Here we found eight Toshiba 32nm Toggle Mode Flash chips and two 256MB Nanya DRAM cache chips. This is quite the setup since we are used to seeing 16 NAND flash chips on SSDs and dual cache chips, well look out because the Performance Pro is a bit unusual.
Benchmarks - Test System Setup and ATTO Baseline Performance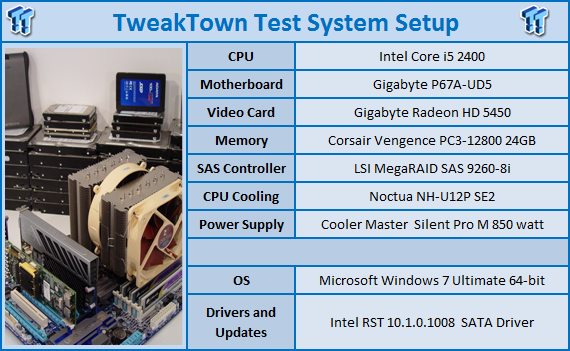 We would like to thank the following companies for supplying and supporting us with our test system hardware and equipment: AVADirect, GIGABYTE, Cooler Master, LSI, Corsair and Noctua.
You can read more about TweakTown's Storage Product Testing Workstation and the procedures followed to test products in this article.
The days are quickly counting down for this test system as I'm finished validating the new X79 rig. We're not finding a lot of differences between P67, Z68 and X79 when it comes to SATA III products, but the X79 sure does look good. In your own system the only way to get the full performance of SATA III is to use one of these systems with native SATA III onboard.
ATTO Baseline Performance
Version and / or Patch Used: 2.34
ATTO is used by many disk manufacturers to determine the read and write speeds that will be presented to customers.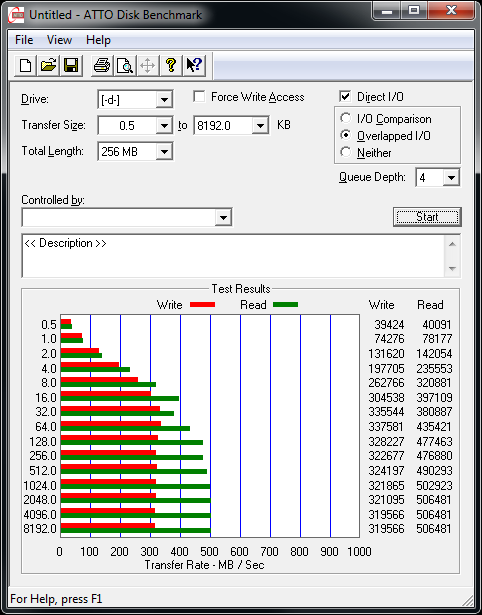 In ATTO we see Corsair's claims were fairly accurate on their specifications page. Here we recorded a maximum read speed of 506MB/s and 337MB/s write speed.
Benchmarks - HD Tune Pro
HD Tune Pro
Version and / or Patch Used: 4.00
Developer Homepage: http://www.efdsoftware.com
Product Homepage: http://www.hdtune.com
HD Tune is a Hard Disk utility which has the following functions:
Benchmark: measures the performance
Info: shows detailed information
Health: checks the health status by using SMART
Error Scan: scans the surface for errors
Temperature display
HD Tune Pro gives us accurate read, write and access time results and for the last couple of years has been gaining popularity amongst reviewers. It is now considered a must have application for storage device testing.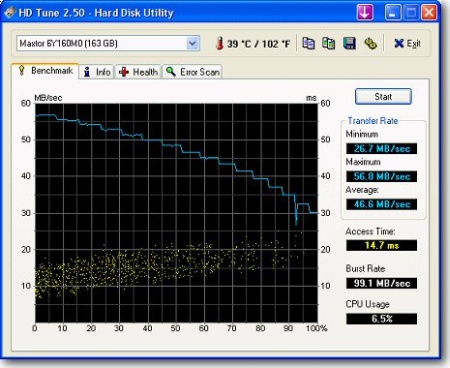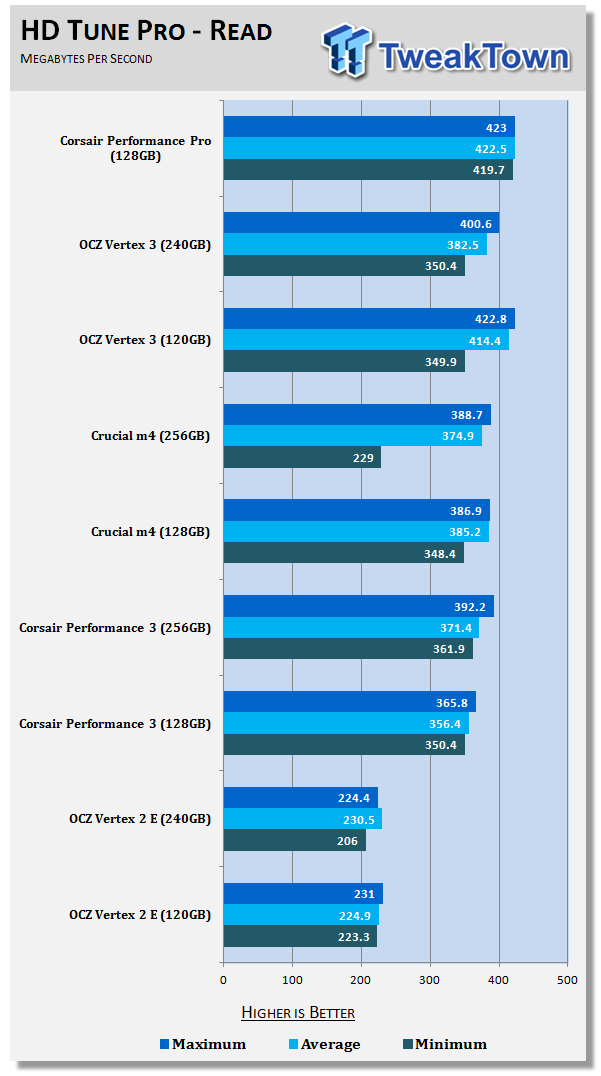 Reading across the drive we see good solid read performance when the drive is in a new state. The minimum, average and maximum speeds are very close together with an average speed of 422.5MB/s. This is one of the highest read speeds we've recorded with a single 2.5" SSD.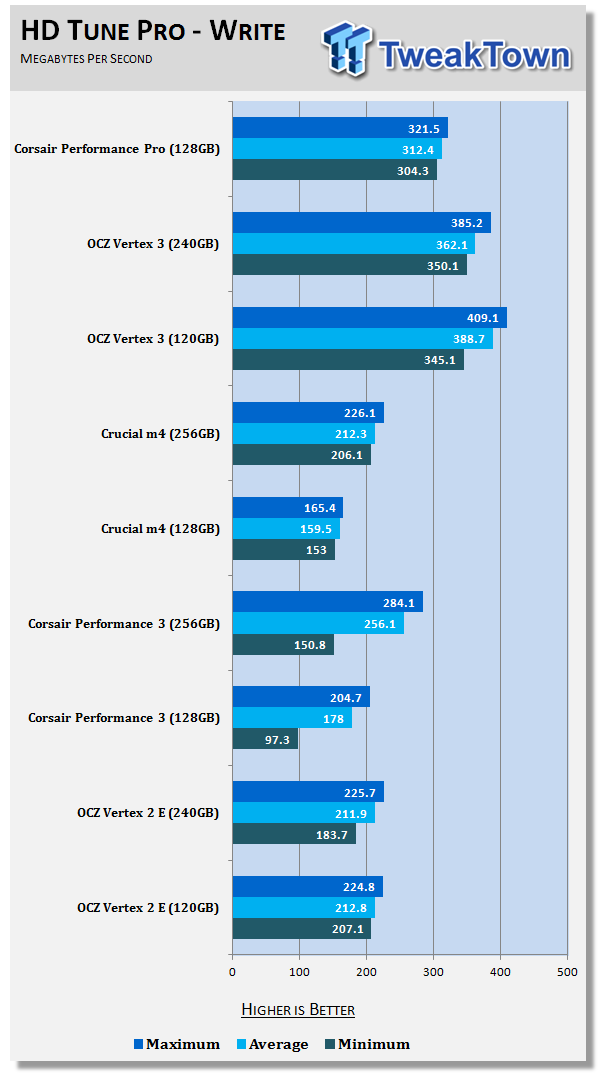 As you may know smaller traditional SSDs, those with a DRAM cache aiding the write cycle are slower than the larger drives. Here we see the Performance Pro 128GB keeping the write performance tidy, but it is quite a bit slower than the Vertex 3 120GB drive with a SandForce SF-2281 controller.
Benchmarks - AIDA64 Random Access Time
AIDA64 Random Access Time
Version and / or Patch Used: 1.60
Developer Homepage: http://www.aida64.com
Product Homepage: http://www.aida64.com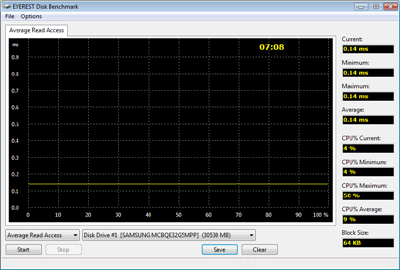 AIDA64 offers several different benchmarks for testing and optimizing your system or network. The Random Access test is one of very few if not only that will measure hard drives random access times in hundredths of milliseconds as oppose to tens of milliseconds.
Drives with only one or two tests displayed in the write test mean that they have failed the test and their Maximum and possibly their Average Scores were very high after the cached fills. This usually happens only with controllers manufactured by JMicron and Toshiba.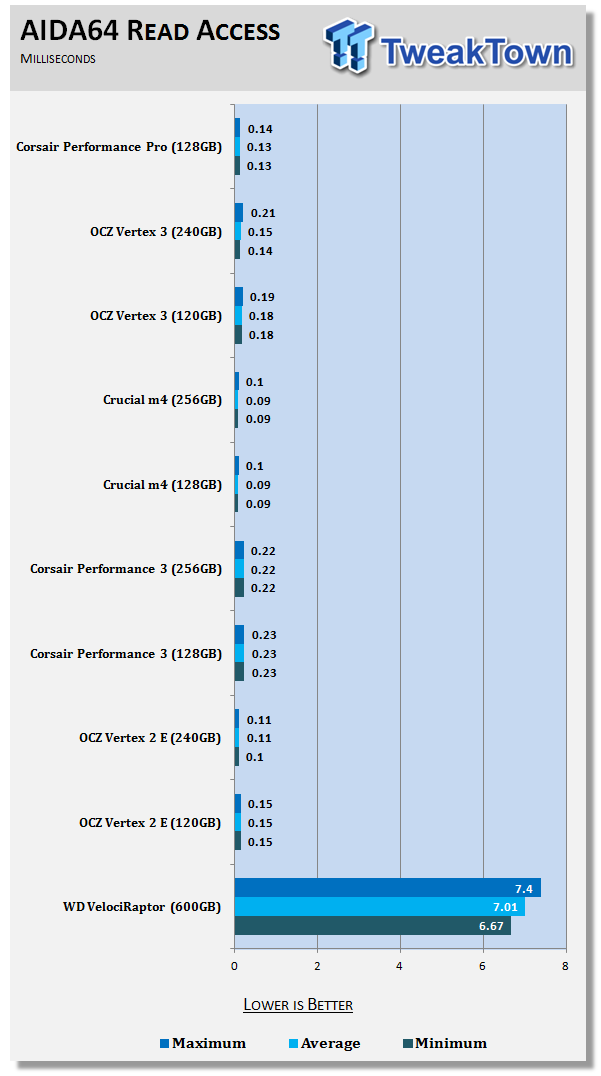 If you are not already on the solid state drive bandwagon then the thought of ultra low access times is a foreign concept. In this chart you can see the read access scores of a Western Digital VelociRaptor, one of the quickest consumer platter drives on the market. The SSDs are able to access data much faster, but there is little variation between one SSD and another.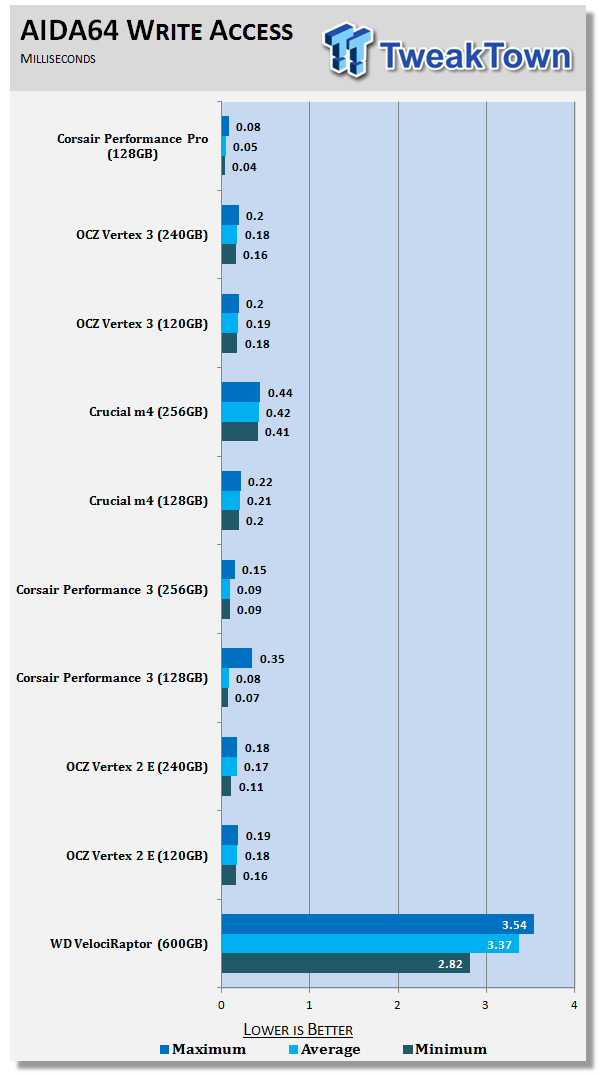 The same is not true with the write access. Here we see the Corsair Performance Pro outperforming several of the other SSDs in write access times. This is mostly due to the advanced cache on the drive.
Benchmarks - CrystalDiskMark
CrystalDiskMark
Version and / or Patch Used: 3.0 Technical Preview
Developer Homepage: http://crystalmark.info
Product Homepage: http://crystalmark.info/software/CrystalDiskMark/index-e.html
Download here: http://crystaldew.info/category/software/crystaldiskmark
CrystalDiskMark is a disk benchmark software that allows us to benchmark 4K and 4K queue depths with accuracy.
Key Features:-
* Sequential reads/writes
* Random 4KB/512KB reads/writes
* Text copy
* Change dialog design
* internationalization (i18n)
Note: Crystal Disk Mark 3.0 Technical Preview was used for these tests since it offers the ability to measure native command queuing at 4 and 32.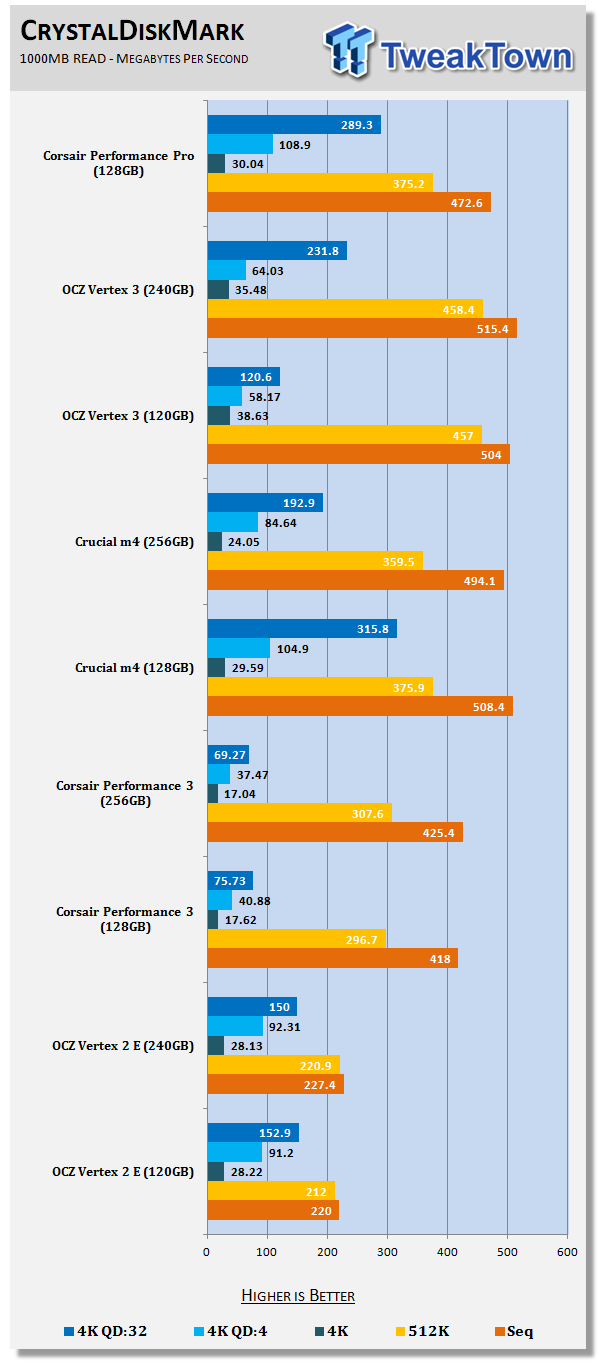 In this test we read 4K block data at queue depths. The biggest surprise is the 32 command depth read test where the Performance Pro hits nearly 290MB/s. The 4K 4 depth test was nearly 109MB/s read, which is a significant improvement on the SandForce 120GB drives.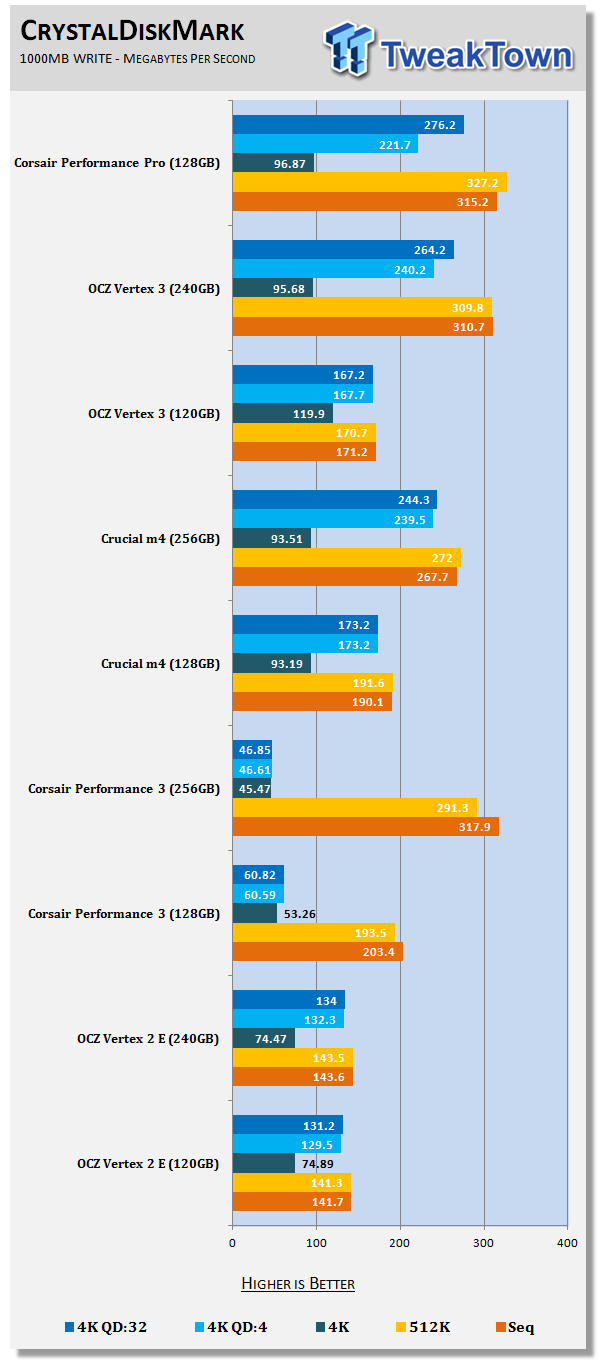 Most 120GB/128GB drives hit a brick wall that is much lower than the limits of their larger capacity size versions. You can see the effect on the Vertex 3 120GB drive, the wall is just under 170MB/s. The Corsair Performance Pro 128GB has no such limit and is able to rocket away with around 100MB/s more write speed at high queue depth.
The trouble is actually getting into situations where you can use such a high queue depth. The 4 command depth is also higher than the SF-2281 controlled drives, but the margin is much lower.
Benchmarks - PCMark Vantage Hard Disk Tests
PCMark Vantage - Hard Disk Tests
Version and / or Patch Used: 1.0.0
Developer Homepage: http://www.futuremark.com
Product Homepage: http://www.futuremark.com/benchmarks/pcmark-vantage/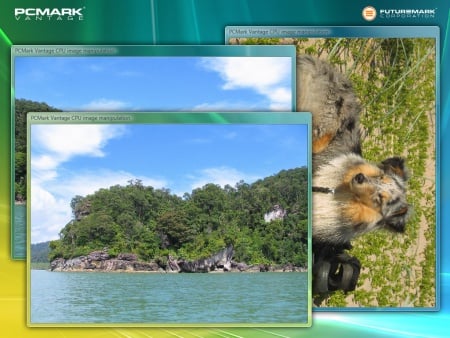 PCMark Vantage is the first objective hardware performance benchmark for PCs running 32 and 64 bit versions of Microsoft Windows Vista. PCMark Vantage is perfectly suited for benchmarking any type of Microsoft Windows Vista PC from multimedia home entertainment systems and laptops to dedicated workstations and high-end gaming rigs. Regardless of whether the benchmarker is an artist or an IT Professional, PCMark Vantage shows the user where their system soars or falls flat, and how to get the most performance possible out of their hardware. PCMark Vantage is easy enough for even the most casual enthusiast to use yet supports in-depth, professional industry grade testing.
FutureMark has developed a good set of hard disk tests for their PCMark Vantage Suite. Windows users can count on Vantage to show them how a drive will perform in normal day to day usage scenarios. For most users these are the tests that matter since many of the old hat ways to measure performance have become ineffective to measure true Windows performance.

HDD1 - Windows Defender
HDD2 - Gaming
HDD3 - Windows Photo Gallery
HDD4 - Vista Startup
HDD5 - Windows Movie Maker
HDD6 - Windows Media Center
HDD7 - Windows Media Player
HDD8 - Application Loading
The real-world performance difference between the 256GB and the 128GB Corsair Performance Pro is very small. Both drives managed to exceed 84,000 Marks which make them the fastest SSDs in this test to date.
Benchmarks - PCMark Vantage - Drives with Data Testing
For a complete breakdown on the Drives with Data Testing please read this article. You will be able to perform this test at home with the files provided in the article - full instructions are included.
- Brief Methodology
SSDs perform differently when used for a period of time and when data is already present on the drive. The purpose of the Drives with Data testing is to show how a drive performs in these 'dirty' states. SSDs also need time to recover, either with TRIM or onboard garbage collection methods.
Drives with Data Testing - 25%, 50%, 75% Full States and Dirty / Empty Test
Files needed for 60 (64GB), 120 (128GB), 240 (256GB)
60GB Fill - 15GB, 30GB, 45GB
120GB Fill - 30GB, 60GB, 90GB
240GB Fill - 60GB, 120GB, 160GB
Empty but Dirty - a test run just after the fill tests and shows if a drive needs time to recover or if performance is instantly restored.

HDD1 - Windows Defender
HDD2 - Gaming
HDD3 - Windows Photo Gallery
HDD4 - Vista Startup
HDD5 - Windows Movie Maker
HDD6 - Windows Media Center
HDD7 - Windows Media Player
HDD8 - Application Loading
The standard test on the previous page runs the drives without data on them. This is really good for benchmarking SSDs when looking for high values, but it is not accurate for telling you how a drive will perform in your computer since you are going to have data on your drive. We prefer a more realistic approach to real-world benchmarks and feel that a 50% capacity test is a much better way to judge SSD performance.
The Corsair Performance Pro 128GB matches the Vertex 3 120GB tit for tat in our runs with data on the drives. The Performance Pro 256GB was a little slower than the Vertex 3 240GB, but the 128GB model is actually a little faster.
Benchmarks - AS SSD
AS SSD Benchmark
Version and / or Patch Used: 1.2.3577.40358
Developer Homepage: Alex Intelligent Software
Product Homepage: Alex Intelligent Software
Download here: http://www.alex-is.de/PHP/fusion/downloads.php?cat_id=4&download_id=9
AS determines the performance of Solid State Drives (SSD). The tool contains four synthetic as well as three practice tests. The synthetic tests are to determine the sequential and random read and write performance of the SSD. These tests are carried out without the use of the operating system caches.
In all synthetic tests the test file size is 1GB. AS can also determine the access time of the SSD, the access of which the drive is determined to read through the entire capacity of the SSD (Full Stroke). The write access test is only to be met with a 1 GB big test file. At the end of the tests three values for the read and write as well as the overall performance will be issued. In addition to the calculated values which are shown in MB/s, they are also represented in IO per seconds (IOPS).
Note: AS SSD is a great benchmark for many tests, but since Crystal Disk Mark covers a broader range of 4K tests and HD Tune Pro covering sequential speeds, we will only use the Copy Benchmark from AS SSD.
- Copy Benchmark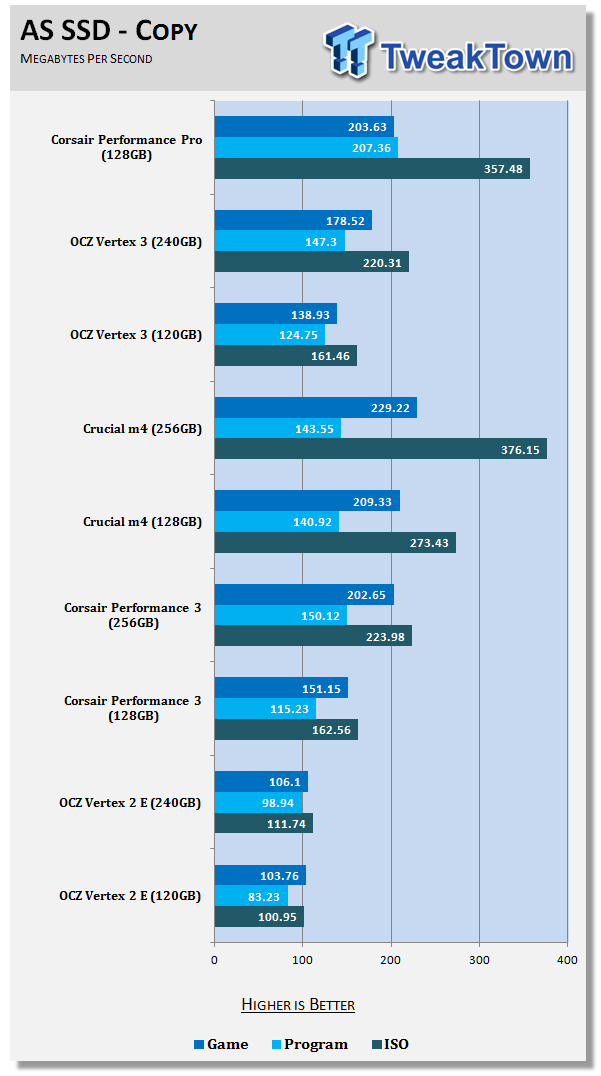 The Corsair Performance Pro doesn't care if your data is compressible or incompressible like the SandForce drives especially those with asynchronous flash. The drive we are testing today is also very quick when transferring data to and from the drive. This is something you tend to do more often with larger SSDs, but the 128GB model leaves you plenty of room after your OS and other programs to bounce movies and music around.
Benchmarks - Passmark
Passmark Advanced Multi-User Tests
Version and / or Patch Used: 6.1
Developer Homepage: http://www.passmark.com
Test Homepage: http://www.passmark.com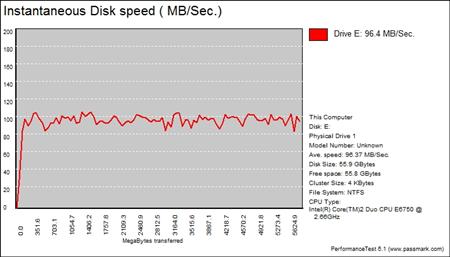 Many users complain that I/O Meter is too complicated of a benchmark to replicate results so my quest to find an alternative was started. Passmark has added several multi-user tests that measure a hard drives ability to operate in a multi-user environment.

The tests use different settings to mimic basic multi-user operations as they would play out on your server. Variances is read / write percentage as well as random / sequential reads are common in certain applications, Web Servers read nearly 100% of the time while Database Servers write a small amount of data.
The Workstation test is the only single user environment and will be similar to how you use your system at home.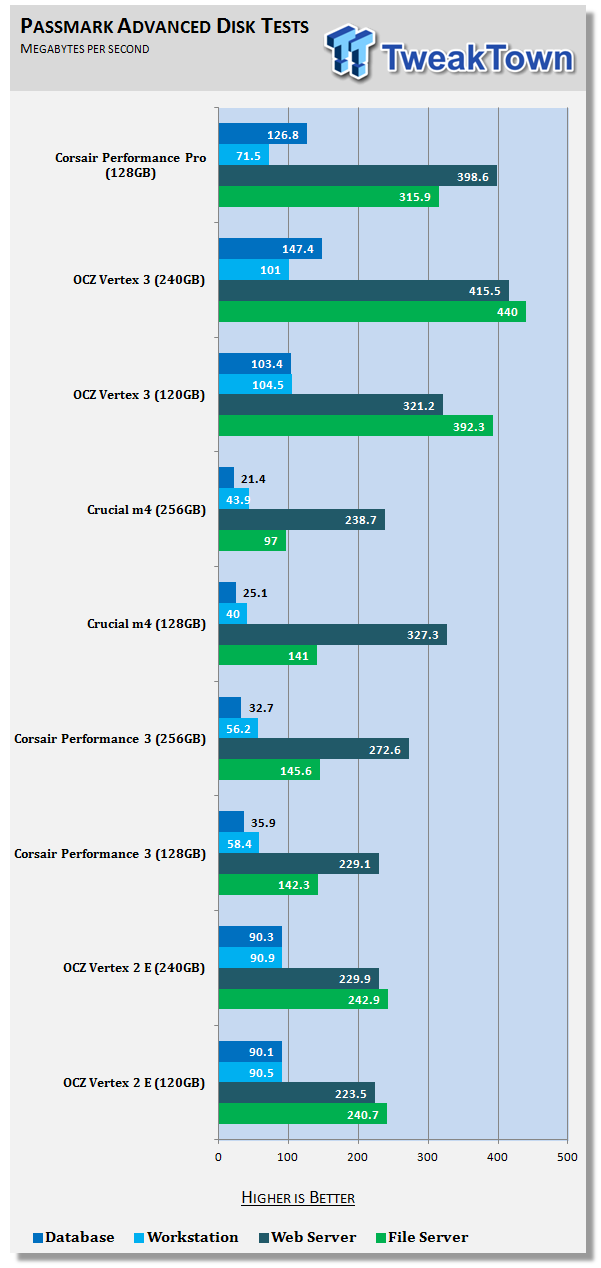 The Corsair Performance Pro isn't designed to be an enterprise drive, at least not at this time, but it does toss up some impressive enterprise level numbers when asked to do so.
Final Thoughts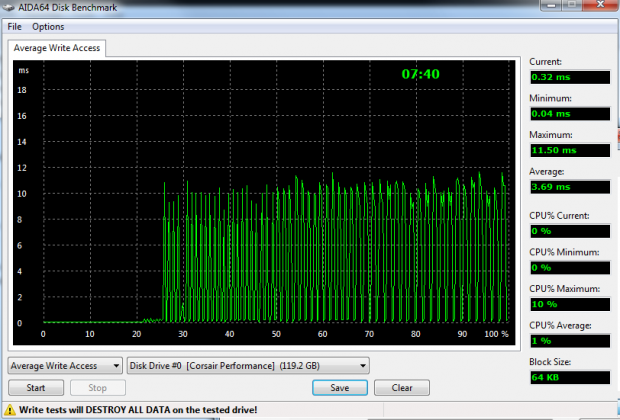 I have to admit I don't feel like I've unlocked all of the mysteries of the new Performance Pro drives just yet. On Corsair's webpage they talk about the advanced garbage collection algorithms built into the programming, but we have yet to benefit from these. At some point we'll start working on a RAID article which is where front end garbage collection helps the most since most operating systems use TRIM these days. We did manage to see the drive performing a cleanup operating while running some intense tests and then following them with a write access test. The GC burst really hurt the write access times as you can see in the image above. I would hate to be do anything write intensive while the GC is working but like I stated, this was a pretty intense load we put under the drive and completely artificial in nature.
Today we determined that the new Corsair Performance Pro 128GB is able to swing SandForce like performance. The drive is very fast and even manages to outperform the darlings of 2011 in a few places while running roughly the same speed in the others. There is still that one little bit keeping us from telling you to run out and buy this drive today.
After the 256GB Performance Pro review I was hoping to see a price reduction before publishing the 128GB results online. That simply hasn't happened yet and the price is holding this product back. In late 2011 Team SandForce drives hit record low prices, not even the HDD shortage could slow the declining prices even though more demand was placed on SSD manufactures. I actually think SSD prices dipped even lower since makers were selling more drives, more manufacturing meant volume deals on components needed to build the drives. With high quality SandForce drives now selling for around $150 for 120GB of capacity, the Performance Pro has a $50 gap to make up before we can recommend it over the established king of the ring.
Those of you who were burnt on the early SF drives with firmware issues and swore the controller off for good will find a silver lining in the Performance Pro; you will just have to pay a little more for making that call.