Introduction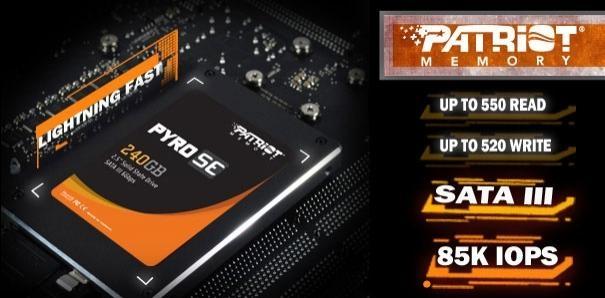 2011 has come to an end, but that doesn't mean technology is slowing down one bit. For the second year in a row the solid state drive market was dominated by SandForce. If you wanted to produce a drive that was capable of the highest performance possible, you needed to start with a SandForce SF-2200 Series controller and pair it with either ONFi 2.0 or Toggle Mode NAND flash.
Looking out on the horizon we don't see SandForce trying to leap frog themselves early this year and we don't see why they would need to. Last month we looked at the latest from Indilinx (OCZ Octane) and Marvell (Corsair Performance Pro) and neither controller managed to muster the performance of the SF-2281. Sometime in the middle of 2012 we'll see Team SandForce manufactures move to 24nm Toggle Mode and maybe even 20nm IMFT flash, but neither of these technologies will bring a great deal to the table over the tried and true SF-2281 / synchronous flash combination we have today. The Patriot Pyro SE uses this magical combination to deliver amazing performance for general computing tasks and at an equally amazing price point.
Patriot's Pyro brand hasn't been a stranger to our pages. We've looked at the 120GB and 240GB baseline models with asynchronous and found them to be the entry level for high speed SSDs in 2011. The Pyro SE is the next evolution, a tick higher on the ladder and uses more expensive but faster performing synchronous flash.
Both products offer very good access times, the performance you feel while opening programs and Windows, but the SE is capable of delivering greater performance when the drive start to get populated with data. Our Fill Test shows the SE is capable of substantial performance gains or more appropriately less performance loss when compared to the asynchronous flash models on the market.
Specifications, Pricing and Availability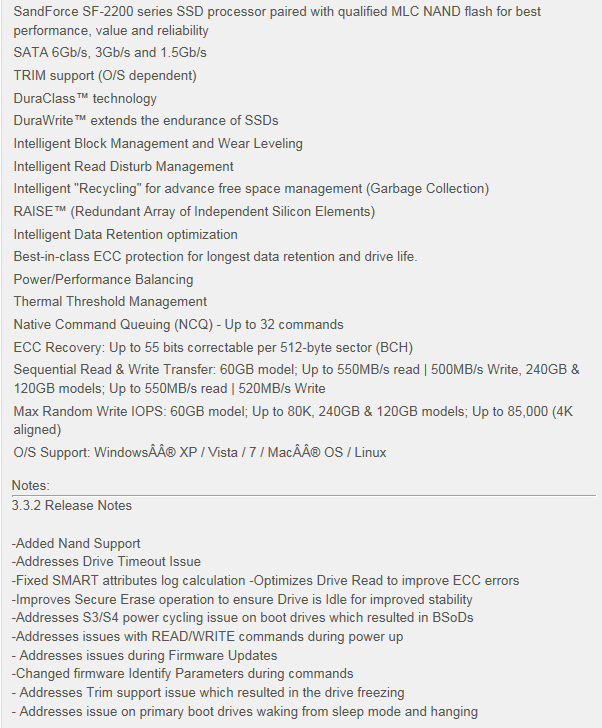 Patriot is offering the Pyro SE products in three capacity sizes to give users a wider range of options. Those are 60GB, 120GB and the model we are looking at today the 240GB. The 240GB is the highest performance model in the cluster since SSDs perform better with more parallel reads and writes. The stated performance is on par with other SF-2281 controlled drives we've seen in the past - 550MB/s read and 520MB/s write speed. All of the common SandForce controller goodies are also included, RAISE, 55-bit ECC per 512 Sector, DuraClass and DuraWrite are all proprietary technologies unique to SandForce based drives and help give these controllers the tools needed to achieve yours tasks at class leading speeds.
I glued together two pages from Patriot's webpage. The second portion shows many of the firmware fixes from the latest SandForce / Patriot firmware release. Patriot is one of the few companies that discloses changes made in firmware releases. They are also one of the few companies that offer new firmware on day one of release. We've found this to be a very important step in the customer service process and one that brings about a better user experience, especially when a release is as important as version 3.3.2.
When first released, the Patriot Pyro SE had a difficult time on the market due to pricing issues. These came from retailers and e-tailers keeping the new kid on the block priced higher than other similar products on the market. Those issues have now been taken care of and the Pyro SE is now fighting for market share on both performance ability and price. The 60GB is available today from Newegg for just 109.99, the 120GB model is listed at 164.99 and the 240GB model we are looking at today is at 404.99. All prices are after modest mail in rebates but are now some of the better deals available for high performing SF-2281 / synchronous flash based drive, i.e. the ones you want to purchase for your system.
The entire Pyro product line does suffer from one flaw for desktop users. Neither the Pyro nor the Pyro SE ship with a desktop adapter bracket, something we like to see with all SSD products. A standard three year warranty is included with both products, though.
The Packaging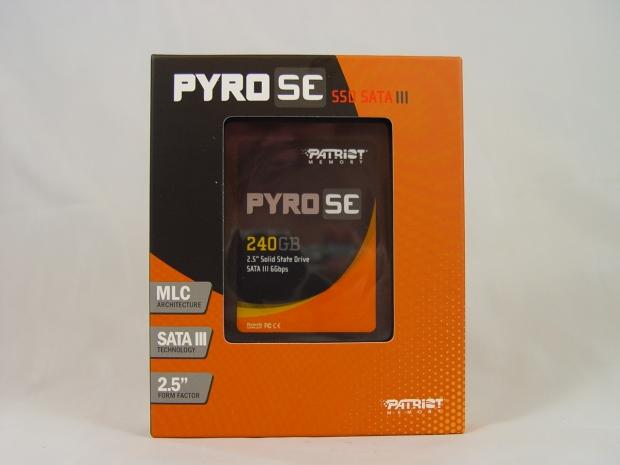 The Pyro SE package is very orange; you can't really miss it in a line up as your eyes are drawn to it instantly. On the front Patriot shows some of the features, MLC flash, SATA III Technology and 2.5" Form Factor.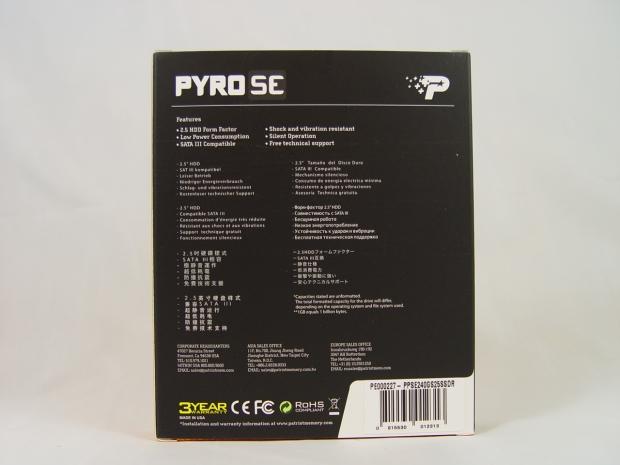 The back of the package gives us some general information about the Pyro SE, but we didn't find any performance information. We like being able to look at the box in retail stores and find how fast the drives are.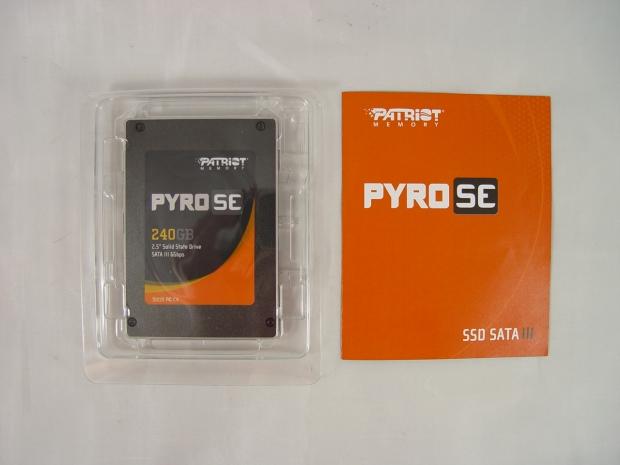 There isn't much going on with the inner packaging. The drive ships in a plastic container to keep the drive secure and Patriot includes a paper manual to get you up and running quickly.
The Patriot Pyro SE 240GB SSD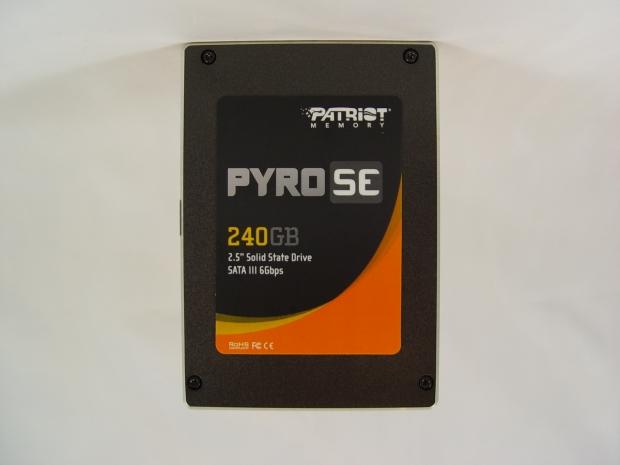 The orange and black theme carries over from the package and onto the drive itself. We actually like the look, it is a nice departure from the black and silver everyone else seems to be using.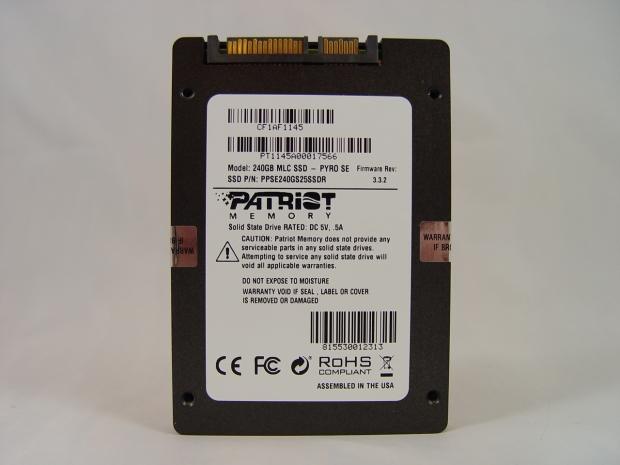 The part, serial and model numbers are all listed on the back. The drive also shows which firmware shipped on the drive. As you can see drives are already shipping with the latest 3.3.2 firmware release that fixes several issues.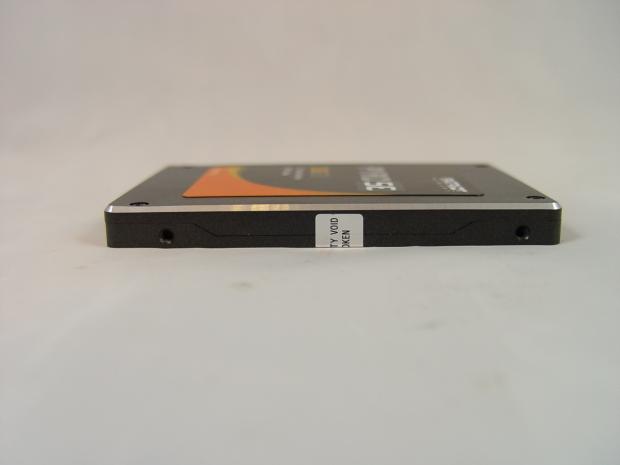 The side mounting points are positioned where they should be so you won't have any issue with the Pyro SE being installed in a desktop adapter bracket or notebook drive sled.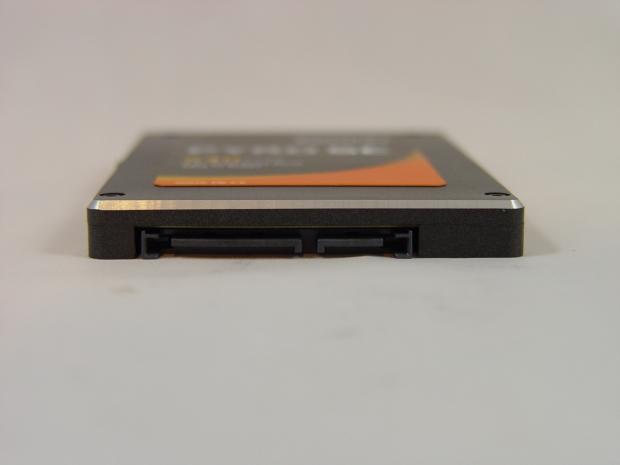 The SATA power and data connectors are offset to the side as they should be.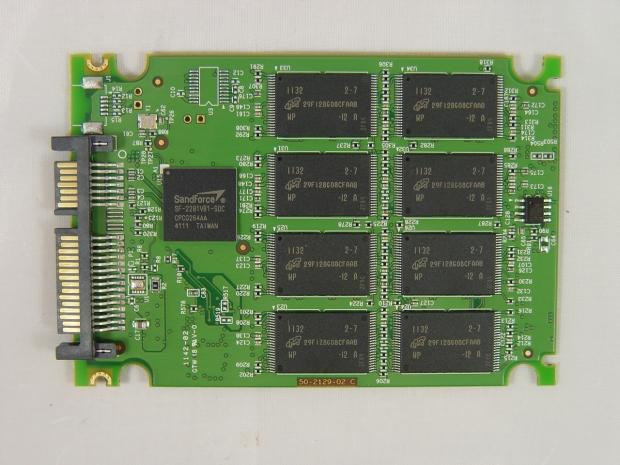 On the inside it's business as usual for the Pyro SE. The same PCB is used for both the 120GB and 240GB models. On this side we found a SandForce SF-2281 controller and eight Micron branded 25nm synchronous flash chips.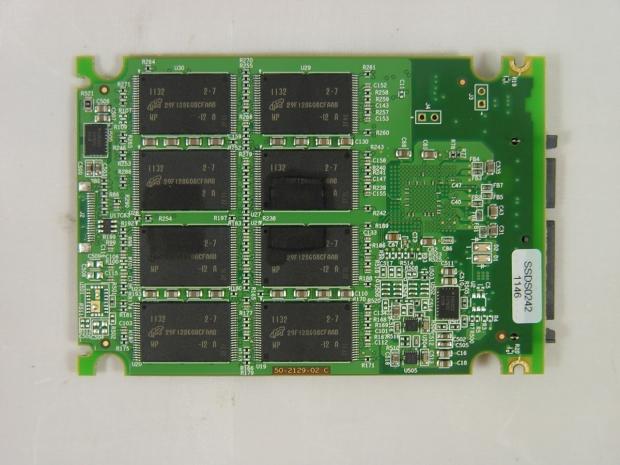 The remaining eight flash chips are on the opposite side and can be viewed here.
Benchmarks - Test System Setup and ATTO Baseline Performance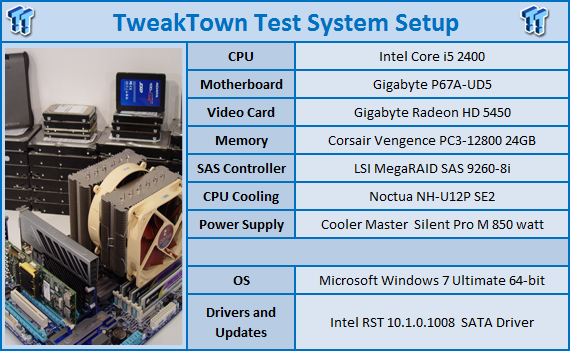 We would like to thank the following companies for supplying and supporting us with our test system hardware and equipment: AVADirect, GIGABYTE, Cooler Master, LSI, Corsair and Noctua.
You can read more about TweakTown's Storage Product Testing Workstation and the procedures followed to test products in this article.
In order to fully utilize SATA III you need a system with native SATA III support. P67, Z68 and X79 systems are preferred, but AMD has made advances in their newer SATA III systems as well. Older X58 systems with Marvell based SATA III do not deliver the same high levels of performance, so we recommend newer systems when available.
ATTO Baseline Performance
Version and / or Patch Used: 2.34
ATTO is used by many disk manufacturers to determine the read and write speeds that will be presented to customers.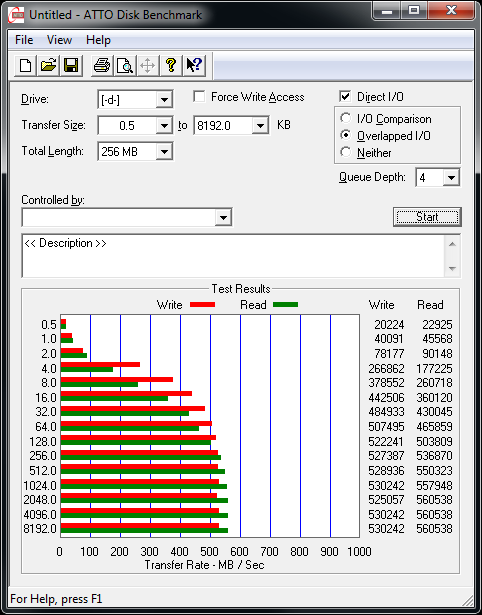 Using ATTO we managed to achieve a read speed over just over 560MB/s and a write speed just over 530MB/s. These are a bit higher than most of the drives we tested in 2011. Changes to the firmware and an overall very good design allowed Patriot to squeeze every drop of performance from the Pyro SE.
Benchmarks - HD Tune Pro
HD Tune Pro
Version and / or Patch Used: 4.00
Developer Homepage: http://www.efdsoftware.com
Product Homepage: http://www.hdtune.com
HD Tune is a Hard Disk utility which has the following functions:
Benchmark: measures the performance
Info: shows detailed information
Health: checks the health status by using SMART
Error Scan: scans the surface for errors
Temperature display
HD Tune Pro gives us accurate read, write and access time results and for the last couple of years has been gaining popularity amongst reviewers. It is now considered a must have application for storage device testing.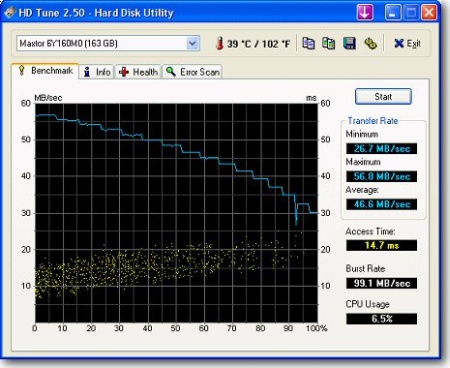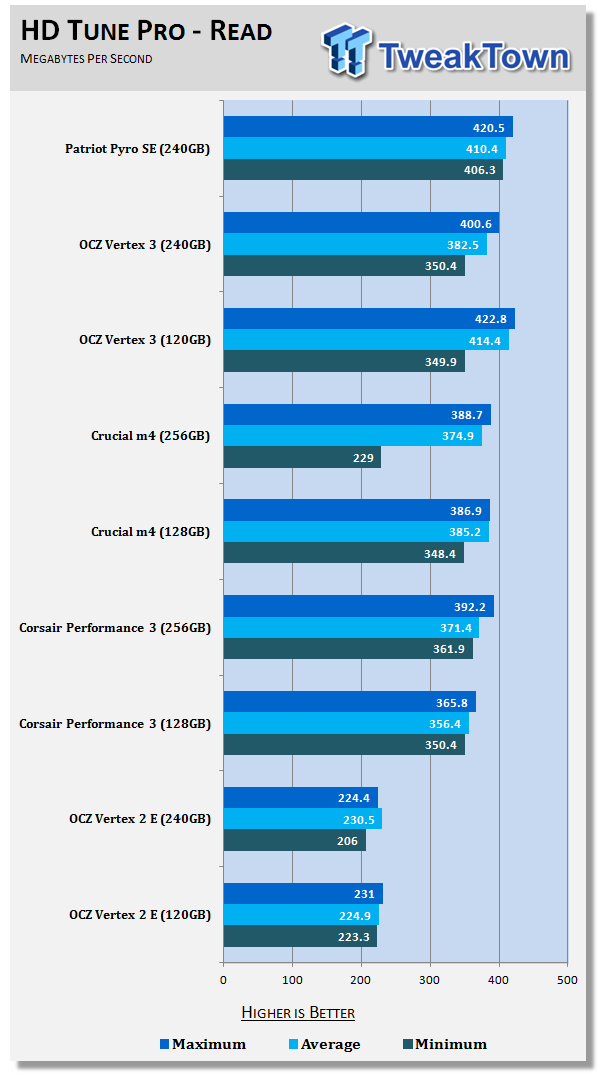 The HD Tune Pro numbers verify what we observed in ATTO, the Pyro SE is a speedy little drive with a great deal of performance. While reading across the drive we averaged around 410MB/s. The group was very tight as well with just a small amount of deviation in the plot line.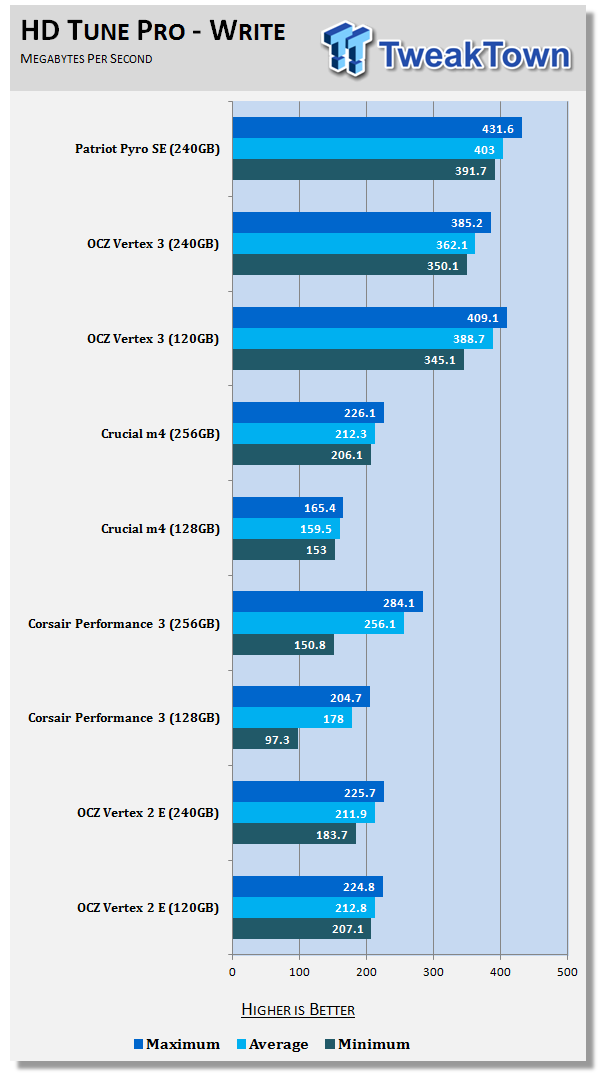 The write test across the drive was just as impressive with an average write speed of around 403MB/s. The plot line was a little wavier this time around but still stayed within 40MB/s from minimum to peak performance.
Benchmarks - AIDA64 Random Access Time
AIDA64 Random Access Time
Version and / or Patch Used: 1.60
Developer Homepage: http://www.aida64.com
Product Homepage: http://www.aida64.com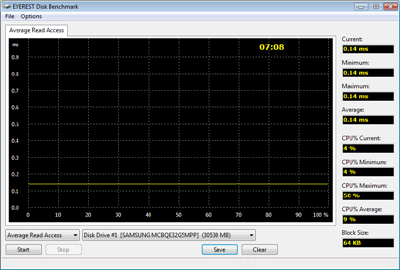 AIDA64 offers several different benchmarks for testing and optimizing your system or network. The Random Access test is one of very few if not only that will measure hard drives random access times in hundredths of milliseconds as oppose to tens of milliseconds.
Drives with only one or two tests displayed in the write test mean that they have failed the test and their Maximum and possibly their Average Scores were very high after the cached fills. This usually happens only with controllers manufactured by JMicron and Toshiba.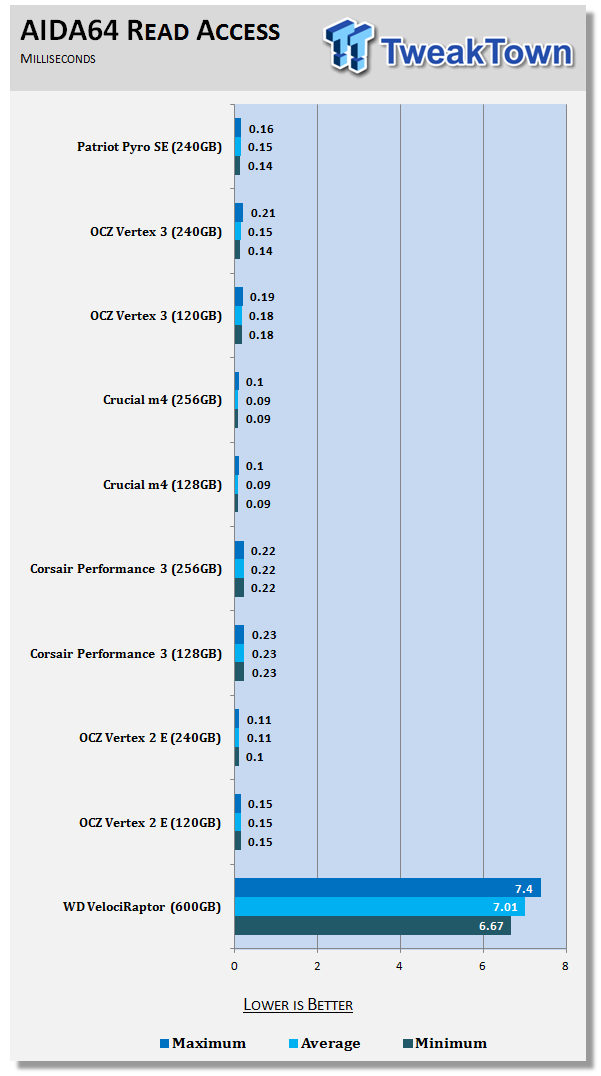 The latency between a request and the action are what most users find most impressive about SSDs when they start to work with them. This is called access time and it's the number one reason why SSDs feel so fast when opening windows and programs. The Pyro SE falls in line with other SF-2281 controlled drives on the market today which is to so it does very well.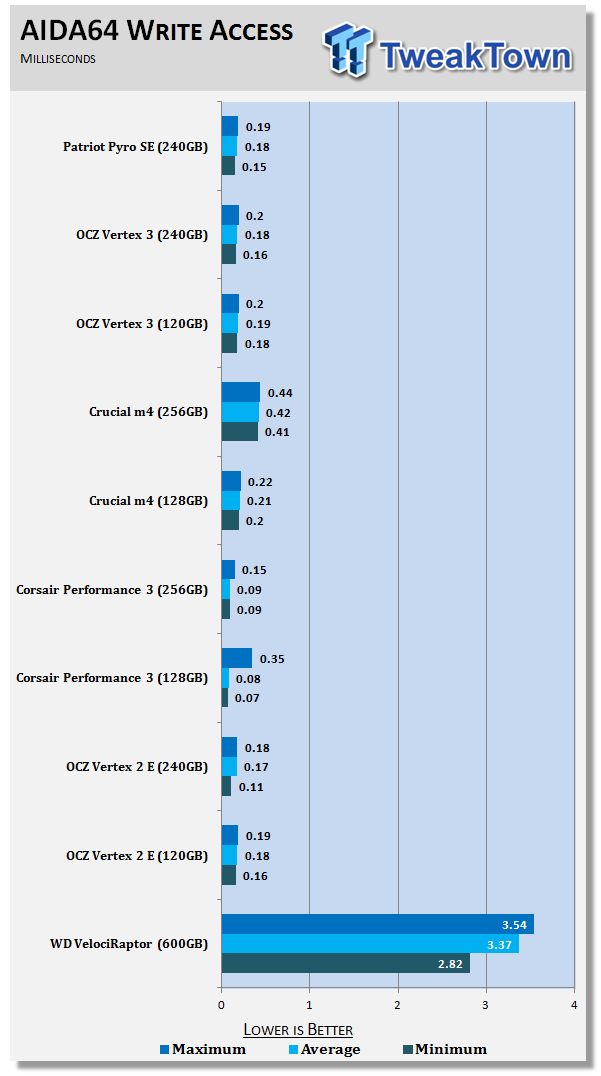 The write access time is also predictable with the Pyro SE. This action is controlled by the SF-2281 controller.
Benchmarks - CrystalDiskMark
CrystalDiskMark
Version and / or Patch Used: 3.0 Technical Preview
Developer Homepage: http://crystalmark.info
Product Homepage: http://crystalmark.info/software/CrystalDiskMark/index-e.html
Download here: http://crystaldew.info/category/software/crystaldiskmark
CrystalDiskMark is a disk benchmark software that allows us to benchmark 4K and 4K queue depths with accuracy.
Key Features:-
* Sequential reads/writes
* Random 4KB/512KB reads/writes
* Text copy
* Change dialog design
* internationalization (i18n)
Note: Crystal Disk Mark 3.0 Technical Preview was used for these tests since it offers the ability to measure native command queuing at 4 and 32.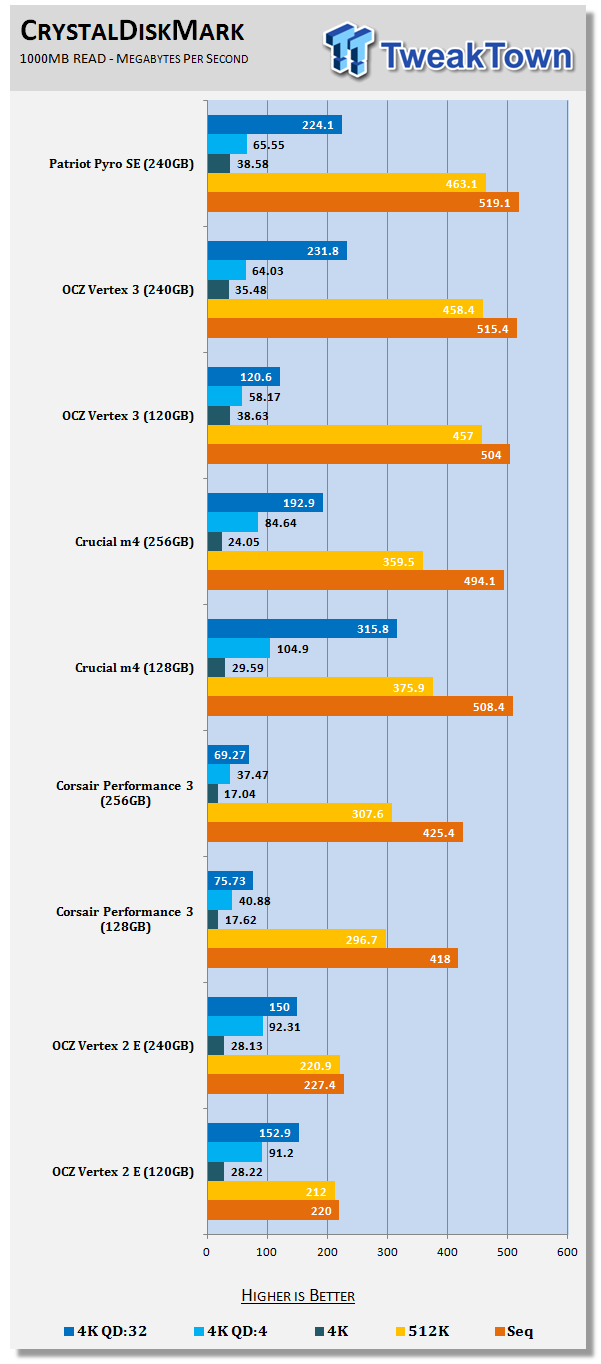 In CDM we recorded very good incompressible data performance numbers. The 4K read test shows nearly 40MB/s being transferred and that number scales nicely when commands are stacked. The Patriot Pyro SE is able to handle up to 32 commands at a time and when you get to that point you can read close to 225MB/s.
The 120GB Pyro SE hit a wall around 170MB/s in our test, but the 240GB model is able to write without limit reaching nearly 270MB/s at 32 commands. The 4 command write rate at 4K is also impressive, nearing 260MB/s.
Benchmarks - PCMark Vantage Hard Disk Tests
PCMark Vantage - Hard Disk Tests
Version and / or Patch Used: 1.0.0
Developer Homepage: http://www.futuremark.com
Product Homepage: http://www.futuremark.com/benchmarks/pcmark-vantage/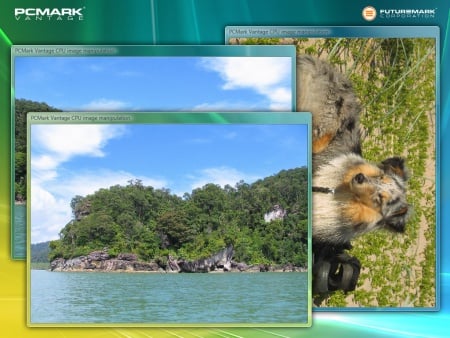 PCMark Vantage is the first objective hardware performance benchmark for PCs running 32 and 64 bit versions of Microsoft Windows Vista. PCMark Vantage is perfectly suited for benchmarking any type of Microsoft Windows Vista PC from multimedia home entertainment systems and laptops to dedicated workstations and high-end gaming rigs. Regardless of whether the benchmarker is an artist or an IT Professional, PCMark Vantage shows the user where their system soars or falls flat, and how to get the most performance possible out of their hardware. PCMark Vantage is easy enough for even the most casual enthusiast to use yet supports in-depth, professional industry grade testing.
FutureMark has developed a good set of hard disk tests for their PCMark Vantage Suite. Windows users can count on Vantage to show them how a drive will perform in normal day to day usage scenarios. For most users these are the tests that matter since many of the old hat ways to measure performance have become ineffective to measure true Windows performance.

HDD1 - Windows Defender
HDD2 - Gaming
HDD3 - Windows Photo Gallery
HDD4 - Vista Startup
HDD5 - Windows Movie Maker
HDD6 - Windows Media Center
HDD7 - Windows Media Player
HDD8 - Application Loading
We are still waiting for SandForce to release a firmware that will allow us to break the 80K mark point, but the Pyro SE 240GB came very close at 78,481. There have been a handful of firmware releases that have brought performance improvements and you can see the progress on our chart by comparing the Vertex 3 with initial release firmware to the Pyro SE 240GB with the latest update.
PCMark Vantage - Drives with Data Testing
For a complete breakdown on the Drives with Data Testing please read this article. You will be able to perform this test at home with the files provided in the article - full instructions are included.
- Brief Methodology
SSDs perform differently when used for a period of time and when data is already present on the drive. The purpose of the Drives with Data testing is to show how a drive performs in these 'dirty' states. SSDs also need time to recover, either with TRIM or onboard garbage collection methods.
Drives with Data Testing - 25%, 50%, 75% Full States and Dirty / Empty Test
Files needed for 60 (64GB), 120 (128GB), 240 (256GB)
60GB Fill - 15GB, 30GB, 45GB
120GB Fill - 30GB, 60GB, 90GB
240GB Fill - 60GB, 120GB, 160GB
Empty but Dirty - a test run just after the fill tests and shows if a drive needs time to recover or if performance is instantly restored.

HDD1 - Windows Defender
HDD2 - Gaming
HDD3 - Windows Photo Gallery
HDD4 - Vista Startup
HDD5 - Windows Movie Maker
HDD6 - Windows Media Center
HDD7 - Windows Media Player
HDD8 - Application Loading
We prefer our own method of testing PCMark's Vantage software. With the drive half full the results dip into the high 49K range which is still very good for a solid state drive going into 2012.
Benchmarks - AS SSD
AS SSD Benchmark
Version and / or Patch Used: 1.2.3577.40358
Developer Homepage: Alex Intelligent Software
Product Homepage: Alex Intelligent Software
Download here: http://www.alex-is.de/PHP/fusion/downloads.php?cat_id=4&download_id=9
AS determines the performance of Solid State Drives (SSD). The tool contains four synthetic as well as three practice tests. The synthetic tests are to determine the sequential and random read and write performance of the SSD. These tests are carried out without the use of the operating system caches.
In all synthetic tests the test file size is 1GB. AS can also determine the access time of the SSD, the access of which the drive is determined to read through the entire capacity of the SSD (Full Stroke). The write access test is only to be met with a 1 GB big test file. At the end of the tests three values for the read and write as well as the overall performance will be issued. In addition to the calculated values which are shown in MB/s, they are also represented in IO per seconds (IOPS).
Note: AS SSD is a great benchmark for many tests, but since Crystal Disk Mark covers a broader range of 4K tests and HD Tune Pro covering sequential speeds, we will only use the Copy Benchmark from AS SSD.
- Copy Benchmark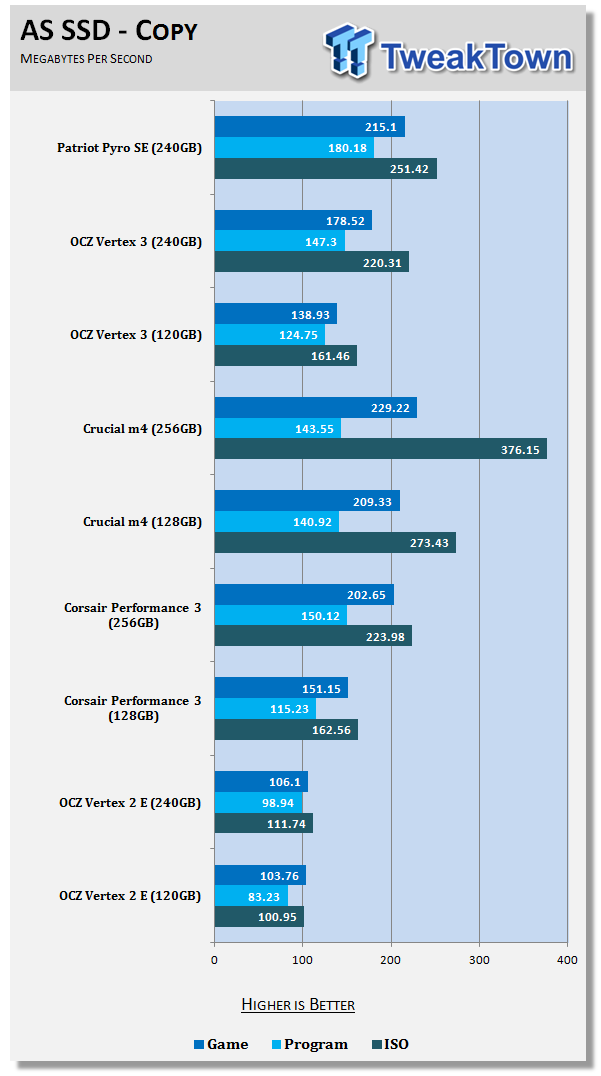 SandForce and Patriot have worked very hard on their firmware releases among other things. One area that has benefited is file transfer performance. The Pyro SE 240GB is able to deliver over 200MB/s in two of the three tests.
Benchmarks - Passmark
Passmark Advanced Multi-User Tests
Version and / or Patch Used: 6.1
Developer Homepage: http://www.passmark.com
Test Homepage: http://www.passmark.com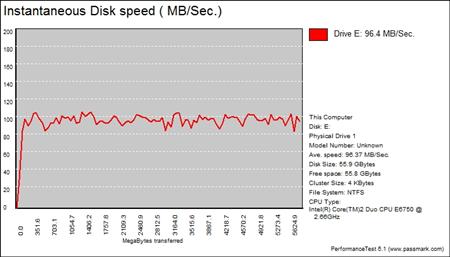 Many users complain that I/O Meter is too complicated of a benchmark to replicate results so my quest to find an alternative was started. Passmark has added several multi-user tests that measure a hard drives ability to operate in a multi-user environment.

The tests use different settings to mimic basic multi-user operations as they would play out on your server. Variances is read / write percentage as well as random / sequential reads are common in certain applications, Web Servers read nearly 100% of the time while Database Servers write a small amount of data.
The Workstation test is the only single user environment and will be similar to how you use your system at home.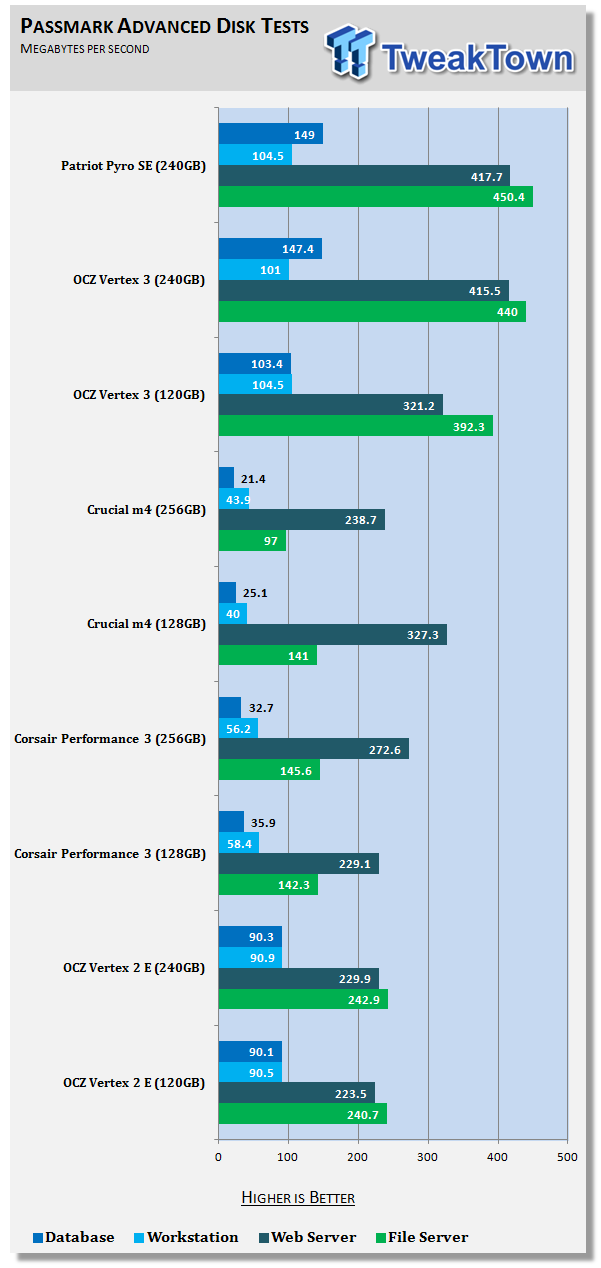 We don't use the server tests to analyze consumer drives often, but it's always nice to run these tests and have the data available for those who may look at building a server based on these products.
Final Thoughts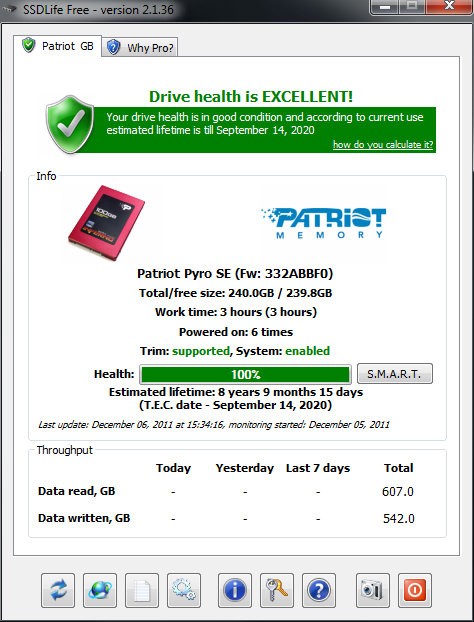 Generally around this time of year we spend more time looking forward at next year's products than we do with products that are currently on the market. Blame the economy, global unrest or the Mayan Calendar if you want, but the 2012 SSD outlook isn't going to change too much, at least in the first half of the year. The SSDs that currently top our performance charts will remain there for the next several months and may actually be better products than those coming in 2Q 2012. Next year we will see 20 and 24nm flash hit the market, but there isn't any early indication of big performance gains. These new products may actually prove to be slower than what we have today. We can point back to early 2011 when SandForce SF-1200 controlled drives started getting treated with 25nm flash as an example.
That among other considerations like the HDD shortage and post-holiday specials means right now is a very good time to buy a new SSD. The current crop of SF-2281 / synchronous flash drives are remarkably fast, faster than the newest generation controllers from Marvell and Indilinx and the 25nm synchronous flash has proven to be a great performer with a long life span.
I hate to say it but all good things come to an end and 25nm flash is on its way out. We really don't know what issues newer flash will bring, but on paper it shouldn't last as long as the current 25nm. If you are someone looking to purchase an SSD and use it for a very long time, like until SATA IV hit then I would consider purchasing a Patriot Pyro SE before the next product release.
There are still some minor issues that should be brought up. The Pyro and Pyro SE do not ship with a desktop adapter bracket, an accessory that ships with many competitors products. This can cause issues when installing the drive in desktop computers. Also, the Pyro SE isn't the cheapest SF-2281 / synchronous flash drive on the market, but it isn't the most expensive either. Patriot does have a solid track record of good customer service and timely firmware updates for their SSDs, something we can't say about all SSD manufactures.
All things considered the Pyro SE release is above average, but still a bit rough around the edges when it comes to the fine details.