Introduction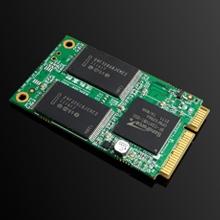 When Matt Dawson from MyDigitalDiscount worked for RunCore, he set them the path to embrace netbook and next generation notebook storage products. Matt is one of the people who helped push netbook technology to the mainstream and his contributions include helping develop faster storage products for the platform. Matt is no longer with RunCore, off to focus on his own products for MyDigitalSSD, but his guidance and direction lives on at RunCore.
RunCore is producing two mSATA SSDs these days, one a SATA II model and the one we are looking at today, a SATA III unit. The RunCore RCP-V-T50 uses a SandForce SF-2281 controller and pairs it with 25nm IMFT MLC flash. At this time there are very few SATA III mSATA ports in production machines, but that will change soon. Intel has already told us that in 2012 at least 60 new ultrabook designs will come to market. Of that sixty, several will feature an mSATA interface and most will support SATA III speeds.
Already on the market are innovative designs from Lenovo and other manufacturers that support SATA III mSATA, so there are already products in place that can use the RunCore T50.
Specifications, Pricing and Availability
Obviously the big draw with this product is the mSATA interface. There are a growing number of mSATA SSDs on the market, but very few are capable of SATA III speeds. As we mentioned before, RunCore currently makes two mSATA products, one with a SandForce SF-1200 SATA II controller and the one we are looking at today that runs at SATA III speeds and uses a SandForce SF-2281 controller.
The SF-2281 was the top controller of 2011 and it looks to be the early must have controller for 2012 also. The RunCore mSATA T50 model uses that controller to achieve 540MB/s read speed and up to around 500MB/s write speed.
We ran into some issues with this drive early on, as did many others as observed in reports online from consumers that turned early adapters. These issues were taken care of with the latest firmware release put out by SandForce and RunCore. Since the update all of our problems have been elevated and our 120GB sample now runs problem free without the BSOD errors we ran into early on.
On the RunCore website we found that RunCore released three capacity sizes for the T50; 30GB, 60GB and the largest 120GB model we are looking at today. Online we managed to find the 30GB for 99 Dollars, the 60GB model for 179 Dollars and the 120GB model that we are reviewing today for 319 Dollars, all at MyDigitalDiscount.com. These prices seem a bit out of place when measured against similar equipped 2.5" SSDs, but the mSATA interface is new so it doesn't get the same breaks as the mass produced products on the market. We suspect that prices will start to drop as the interface picks up steam and demand picks up. Storage companies can't help but over supply the market these days.
The Packaging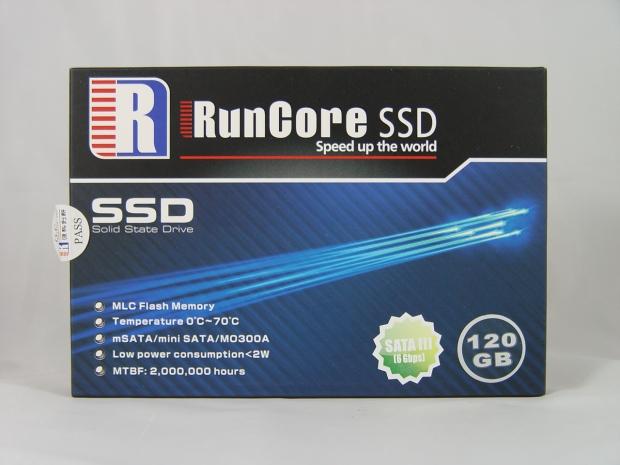 RunCore has a new package design for their SSD products. The blister packs are now gone and a new box design has taken the plastic packages place. The box design allows RunCore to give even more information on the front and back of the package. On the front of the T50 package we found the SATA III information as well as the capacity size.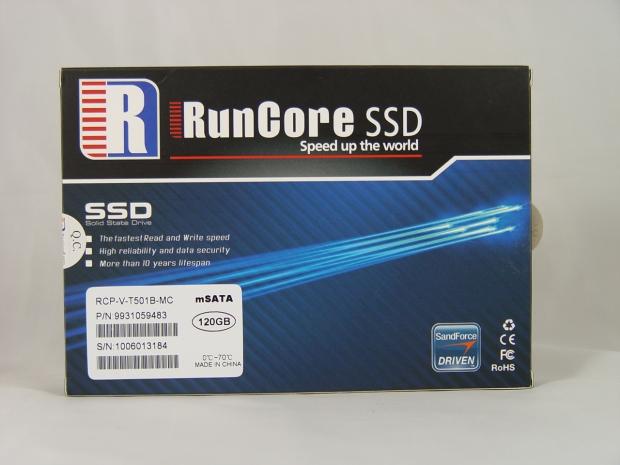 There wasn't a lot of information on the back of the box other than the part and serial number. The official model name for this product is RCP-V-T501B-MC.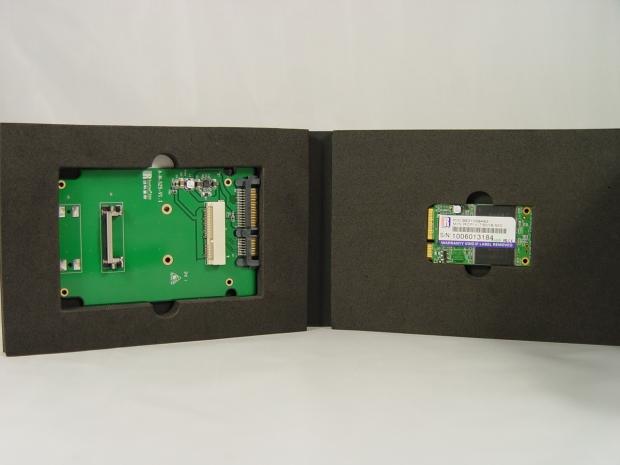 The drive and included 2.5" adapter are packed on separate sides of the inner box so nothing bounces around inside the box.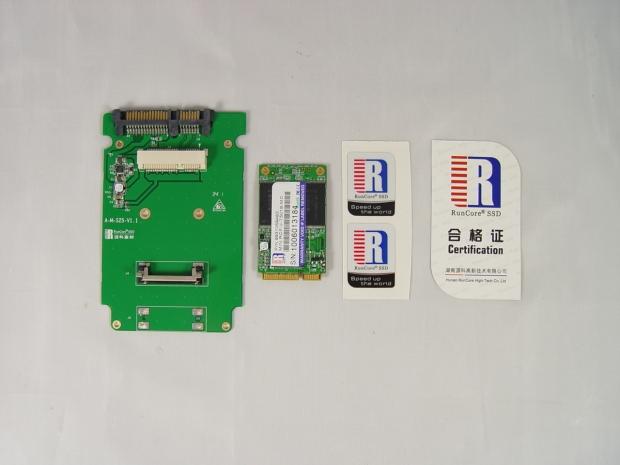 The total package includes an adapter plate that allows the mSATA drive to connect to standard SATA cables - this is useful for backing data up from the drive or cloning an existing drive's data. You also get the mSATA drive, two RunCore stickers and a certificate that lists the drive's build date and inspector's name.
The RunCore Pro V 2.5" SATA III SSD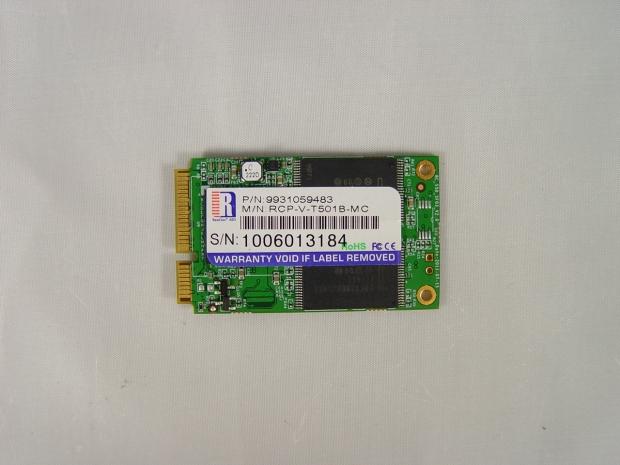 Here we get our first look at the RunCore mSATA 120GB drive. You can't see too much on this side with the sticker in place.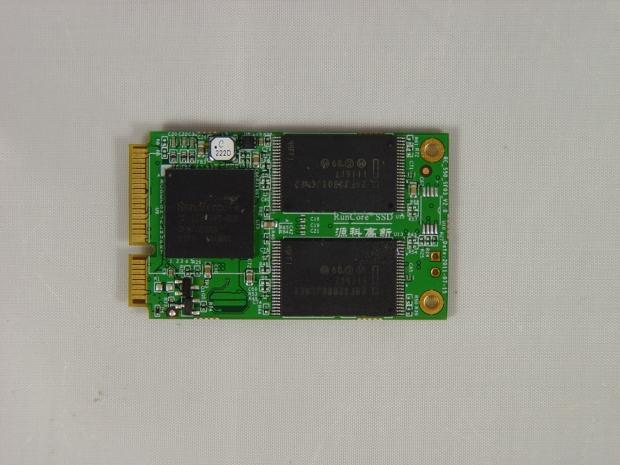 Ah there we go - much better. RunCore produces their own PCB for the T50 mSATA. The SandForce SF-2281 controller allows the drive to run at SATA III speeds, up to 540 MB/s which is quite fast. 25nm IMFT flash is also used with the SandForce controller - two on each side of the PCB.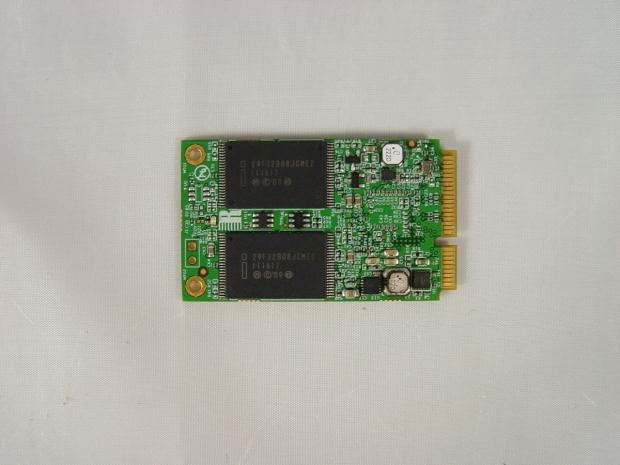 There isn't too much happening on this side of the drive other than the two flash chips.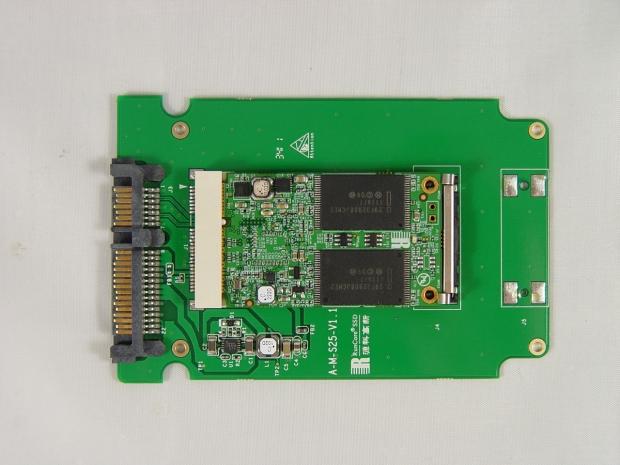 I really like the adapter that ships with this drive. It allows us to test these mSATA parts on our standard test system.
Test System Setup and ATTO Baseline Performance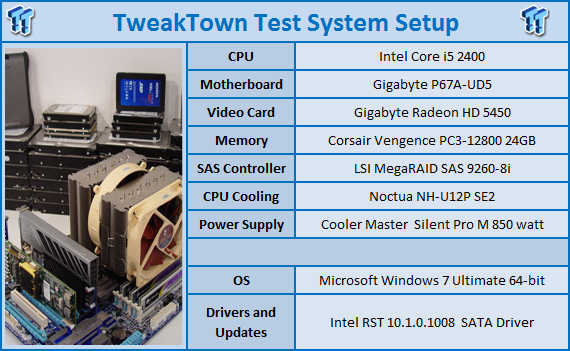 We would like to thank the following companies for supplying and supporting us with our test system hardware and equipment: AVADirect, GIGABYTE, Cooler Master, LSI, Corsair and Noctua.
You can read more about TweakTown's Storage Product Testing Workstation and the procedures followed to test products in this article.
The RunCore RCP-V-T50 is a fairly unique part that mates mSATA with SATA III - there are very few parts on the market that share these two specifications. The T50 is capable of working with SATA II, but should max out at around 280MB/s read and 270MB/s write speeds, the limits of SATA II. Today we're testing the drive with the included SATA adapter on an Intel chipset that supports native SATA III.
ATTO Baseline Performance
Version and / or Patch Used: 2.34
ATTO is used by many disk manufacturers to determine the read and write speeds that will be presented to customers.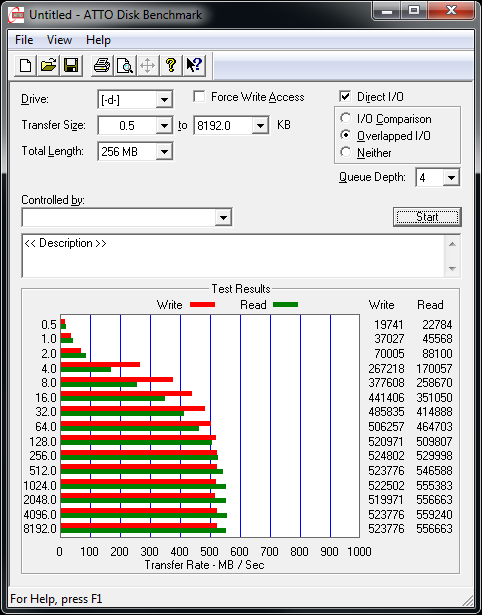 It's hard to associate the T50, a tiny mSATA drive with performance over 500MB/s, but that is exactly what we have here. The tiny T50 produced higher numbers than the RunCore Pro V 2.5" SATA III we tested just the other day. This tells us that the T50 is a no compromise product and is able to deliver real SandForce SF-2200 class performance.
Benchmarks - HD Tune Pro
HD Tune Pro
Version and / or Patch Used: 4.00
Developer Homepage: http://www.efdsoftware.com
Product Homepage: http://www.hdtune.com
HD Tune is a Hard Disk utility which has the following functions:
Benchmark: measures the performance
Info: shows detailed information
Health: checks the health status by using SMART
Error Scan: scans the surface for errors
Temperature display
HD Tune Pro gives us accurate read, write and access time results and for the last couple of years has been gaining popularity amongst reviewers. It is now considered a must have application for storage device testing.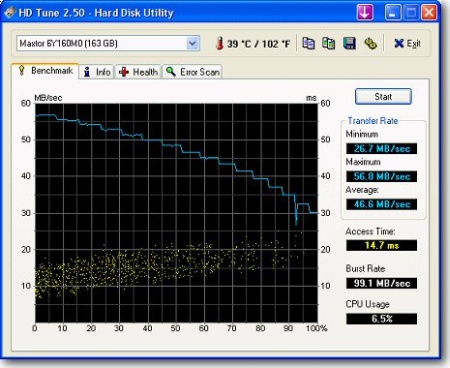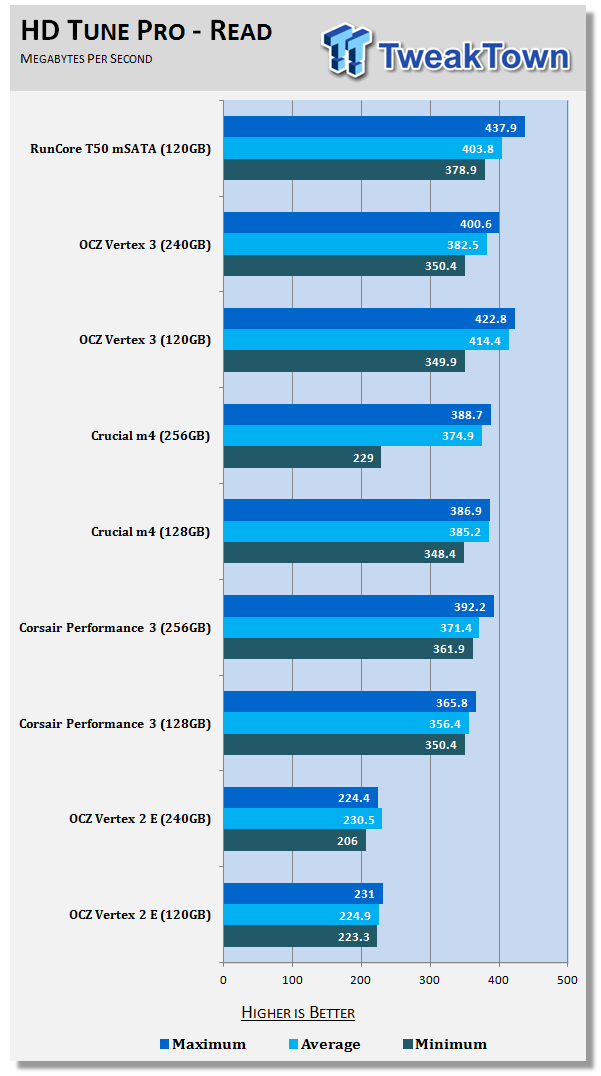 We were really disappointed with the Pro V we tested, but the T50 gives us a rebirth of confidence in RunCore and their products. In the read test across the drive we measured an average speed of 403MB/s.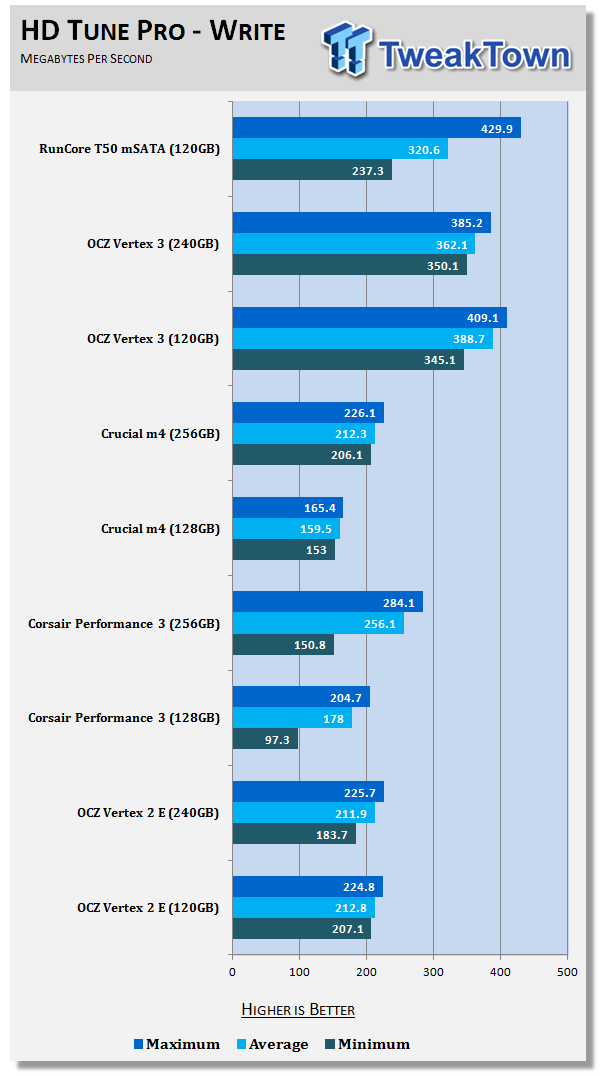 The write test peaked at just under 430MB/s while writing across the drive, one of the highest we've ever measured in this test. The average score dropped to just over 320MB/s and the minimum dipped to just under 240MB/s, but we are satisfied with the results.
Benchmarks - AIDA64 Random Access Time
AIDA64 Random Access Time
Version and / or Patch Used: 1.60
Developer Homepage: http://www.aida64.com
Product Homepage: http://www.aida64.com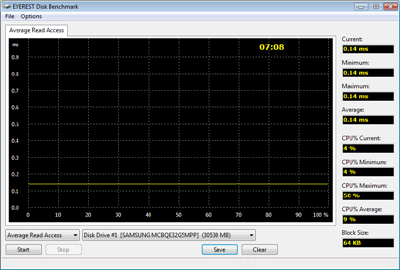 AIDA64 offers several different benchmarks for testing and optimizing your system or network. The Random Access test is one of very few if not only that will measure hard drives random access times in hundredths of milliseconds as oppose to tens of milliseconds.
Drives with only one or two tests displayed in the write test mean that they have failed the test and their Maximum and possibly their Average Scores were very high after the cached fills. This usually happens only with controllers manufactured by JMicron and Toshiba.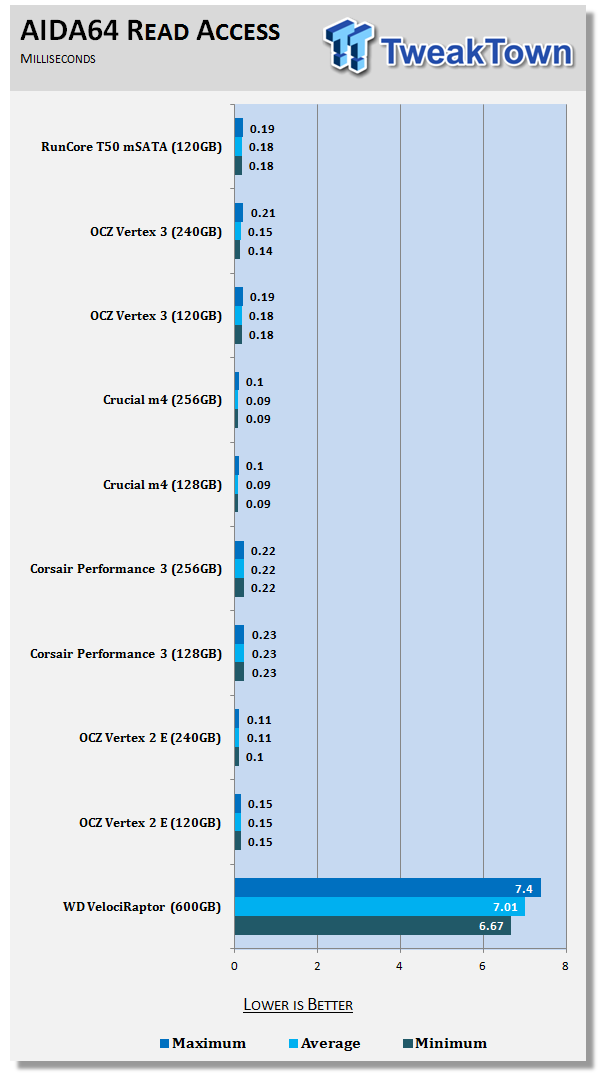 We can talk about big transfer performance all day long, but it's only part of the story. We hear from readers quite a bit and the number one comment has to do with SSDs instant reactions, how fast your request is put into motion, how fast a window pops up after you click the icon. This is made possible by the ultra low access times offered by SSDs and they have this ability because they don't need to wait for a mechanical action to take place. The RunCore T50 does really well, even with the added latency of the adapter in line with the test setup.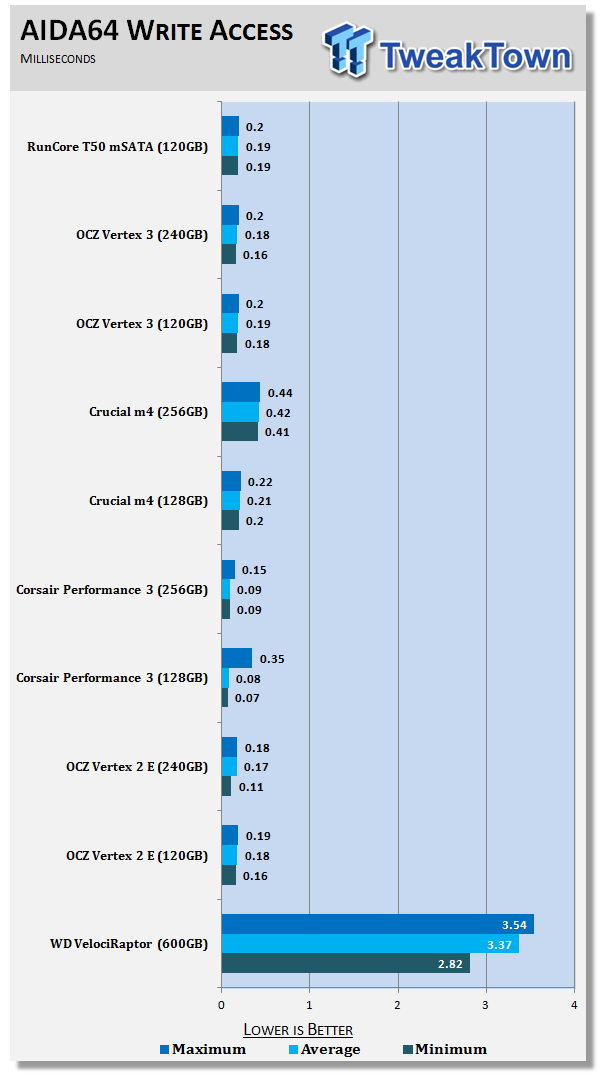 Both the read and write access times produced by the mSATA T50 are in line with other SandForce SF-2281 controlled drives we've tested. Nothing wrong with that!
Benchmarks - CrystalDiskMark
CrystalDiskMark
Version and / or Patch Used: 3.0 Technical Preview
Developer Homepage: http://crystalmark.info
Product Homepage: http://crystalmark.info/software/CrystalDiskMark/index-e.html
Download here: http://crystaldew.info/category/software/crystaldiskmark
CrystalDiskMark is a disk benchmark software that allows us to benchmark 4K and 4K queue depths with accuracy.
Key Features:-
* Sequential reads/writes
* Random 4KB/512KB reads/writes
* Text copy
* Change dialog design
* internationalization (i18n)
Note: Crystal Disk Mark 3.0 Technical Preview was used for these tests since it offers the ability to measure native command queuing at 4 and 32.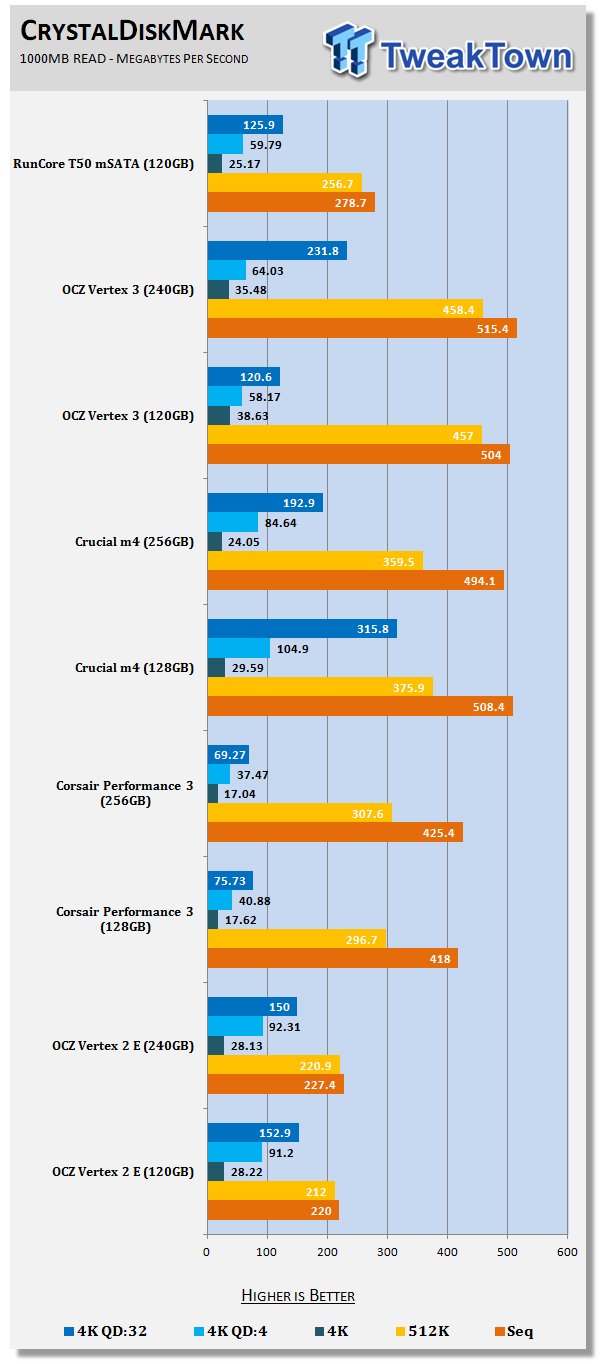 The RunCore T50 mSATA SATA III drive only uses four flash chips so it is at a disadvantage in some tests even though the chips are denser than what we'd see on a 2.5" drive with up to sixteen chips. The drive also uses asynchronous flash and not the higher rated synchronous flash. This shows up in our tests where incompressible data is used. Even with the asynchronous flash the T50 produces good 4K read results that scale well when the commands are stacked using native command queuing.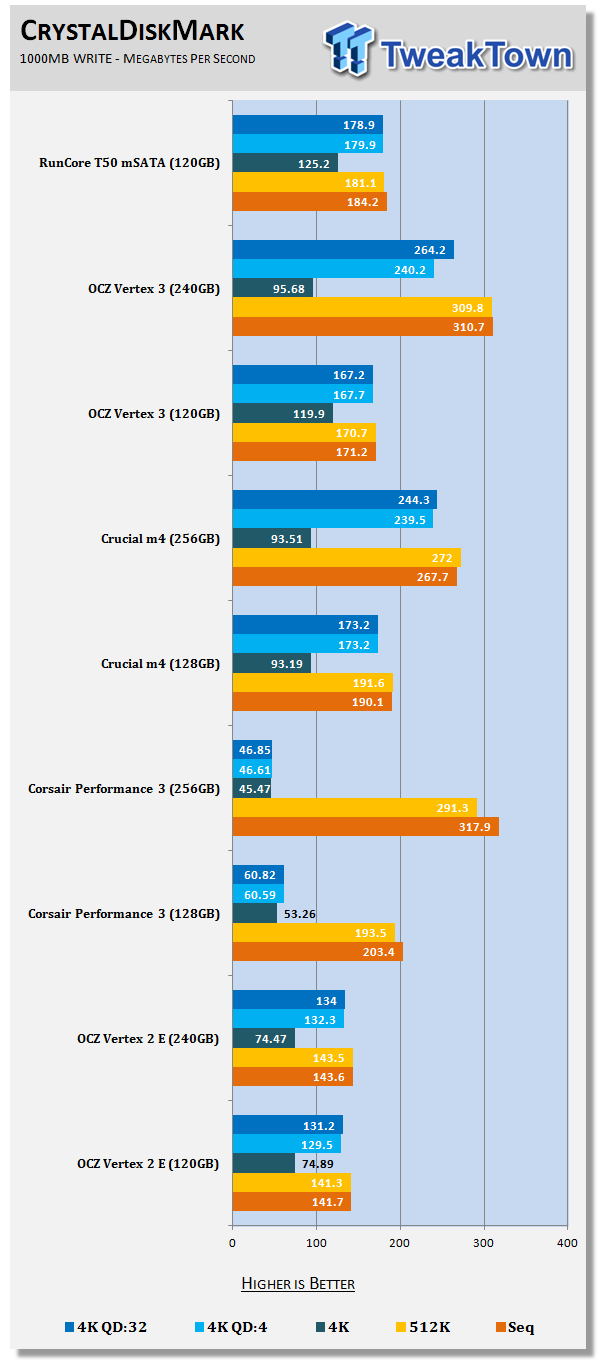 The T50 gave us predictable performance in the 4K and 4K NCQ write tests. The smaller SF-2200 Series drives (those under 240GB) hit a wall as seen with the Vertex 3 and RunCore T50. This wall keeps going up as firmware gets better, but the T50 manages to break the 180MB/s mark, though not by much.
Benchmarks - PCMark Vantage Hard Disk Tests
PCMark Vantage - Hard Disk Tests
Version and / or Patch Used: 1.0.0
Developer Homepage: http://www.futuremark.com
Product Homepage: http://www.futuremark.com/benchmarks/pcmark-vantage/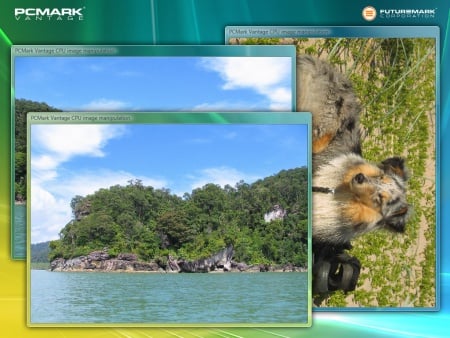 PCMark Vantage is the first objective hardware performance benchmark for PCs running 32 and 64 bit versions of Microsoft Windows Vista. PCMark Vantage is perfectly suited for benchmarking any type of Microsoft Windows Vista PC from multimedia home entertainment systems and laptops to dedicated workstations and high-end gaming rigs. Regardless of whether the benchmarker is an artist or an IT Professional, PCMark Vantage shows the user where their system soars or falls flat, and how to get the most performance possible out of their hardware. PCMark Vantage is easy enough for even the most casual enthusiast to use yet supports in-depth, professional industry grade testing.
FutureMark has developed a good set of hard disk tests for their PCMark Vantage Suite. Windows users can count on Vantage to show them how a drive will perform in normal day to day usage scenarios. For most users these are the tests that matter since many of the old hat ways to measure performance have become ineffective to measure true Windows performance.

HDD1 - Windows Defender
HDD2 - Gaming
HDD3 - Windows Photo Gallery
HDD4 - Vista Startup
HDD5 - Windows Movie Maker
HDD6 - Windows Media Center
HDD7 - Windows Media Player
HDD8 - Application Loading
Sometimes it's difficult to determine what the real world performance will look like from synthetic benchmarks. The T50 looked really good in the early stages and that carried over to our first real world test too. Here we see the RunCore T50 delivering performance tit for tat with our baseline Vertex 3 SATA III drive. Any thoughts of compromised performance due to the new form factor have now been removed.
Benchmarks - AS SSD
AS SSD Benchmark
Version and / or Patch Used: 1.2.3577.40358
Developer Homepage: Alex Intelligent Software
Product Homepage: Alex Intelligent Software
Download here: http://www.alex-is.de/PHP/fusion/downloads.php?cat_id=4&download_id=9
AS determines the performance of Solid State Drives (SSD). The tool contains four synthetic as well as three practice tests. The synthetic tests are to determine the sequential and random read and write performance of the SSD. These tests are carried out without the use of the operating system caches.
In all synthetic tests the test file size is 1GB. AS can also determine the access time of the SSD, the access of which the drive is determined to read through the entire capacity of the SSD (Full Stroke). The write access test is only to be met with a 1 GB big test file. At the end of the tests three values for the read and write as well as the overall performance will be issued. In addition to the calculated values which are shown in MB/s, they are also represented in IO per seconds (IOPS).
Note: AS SSD is a great benchmark for many tests, but since Crystal Disk Mark covers a broader range of 4K tests and HD Tune Pro covering sequential speeds, we will only use the Copy Benchmark from AS SSD.
- Copy Benchmark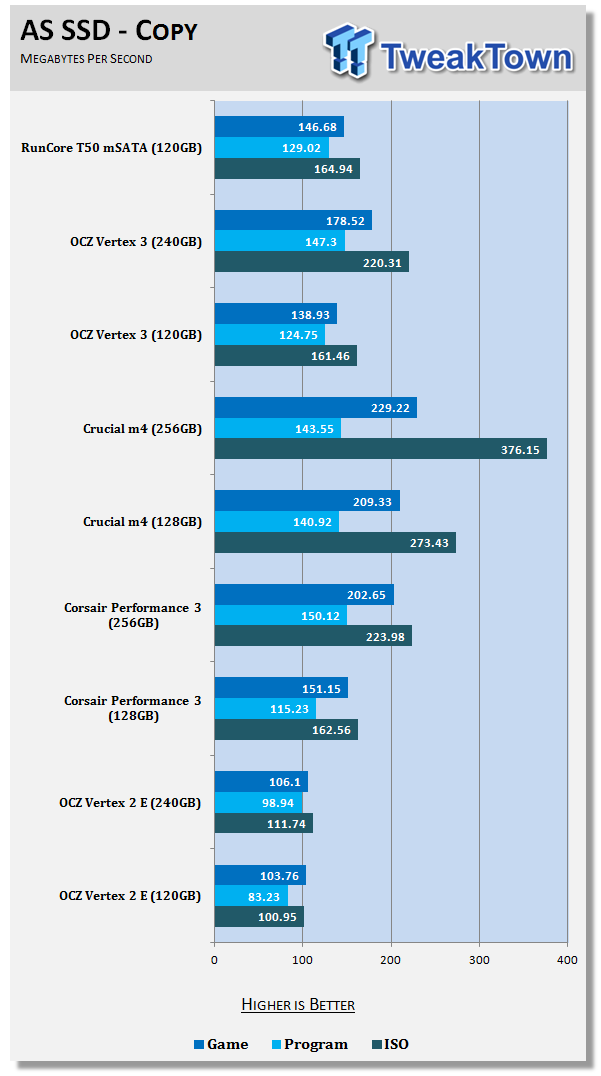 The larger your drive, the more prone you are to moving larger files to and from your system. In this series of tests we look at file transfer performance. The RunCore T50 managed to deliver good performance here too.
Benchmarks - Passmark
Passmark Advanced Multi-User Tests
Version and / or Patch Used: 6.1
Developer Homepage: http://www.passmark.com
Test Homepage: http://www.passmark.com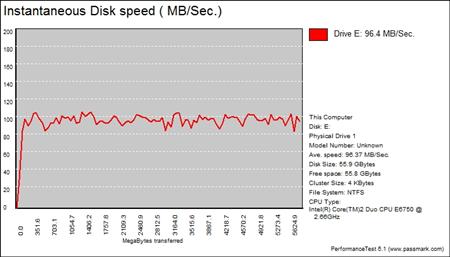 Many users complain that I/O Meter is too complicated of a benchmark to replicate results so my quest to find an alternative was started. Passmark has added several multi-user tests that measure a hard drives ability to operate in a multi-user environment.

The tests use different settings to mimic basic multi-user operations as they would play out on your server. Variances is read / write percentage as well as random / sequential reads are common in certain applications, Web Servers read nearly 100% of the time while Database Servers write a small amount of data.
The Workstation test is the only single user environment and will be similar to how you use your system at home.
The RunCore T50 isn't designed for server tasks, but we still like to run these tests to see how a drive performs. We've seen companies like LSI and Angel Bird work with mSATA like interfaces and the days are counting down before we see rack mount units filled with mSATA drives to increase density and make one hell of a fast storage array.
Final Thoughts
Just a few days ago we really ripped into the RunCore Pro V 2.5" SATA III for coming in overpriced and under powered (due to asynchronous flash). RunCore didn't release a 2.5" SF-2281 model with higher speed synchronous flash and we felt it was a poor choice for their market and previous reputation of releasing class leading products. Our faith in RunCore took a real hit.
The T50 mSATA SATA III on the other hand restored our confidence in the company and once again has us excited in the brand. Innovative products like the T50 are what brought RunCore on our radar in the first place; hopefully RunCore can continue to deliver these types of products in the future.
With larger SSD players sitting on the sidelines of the mSATA field right now, RunCore is free to run the market. We are starting to see Samsung and Renice get their mSATA products together, but RunCore has the fastest drive on the market already.
If you have a mSATA hole to fill then you can't go wrong with going with the best today. Even products that only use SATA II can use the T50 even though performance is still limited to SATA II speeds. When you upgrade your notebook, netbook or ultrabook the T50 can easily come with you into the newer product and then you can take advantage of full SATA III performance.