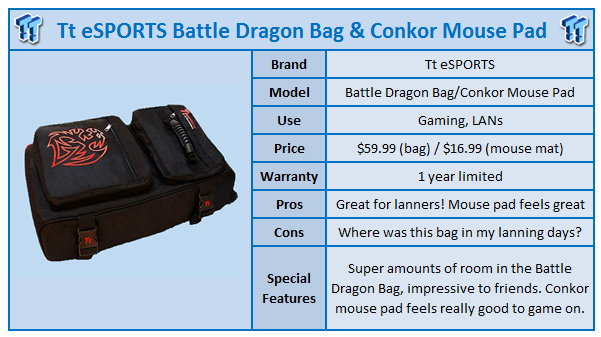 I received a box of goodies from Tt eSPORTS at the beginning of this month. The box was absolutely huge and I was thinking, "what in the hell is in this box? It can't be a mouse or a keyboard". As I opened the box I revealed what looked like a duffel bag. But it is much more than that; much, much more.
Enter the Tt eSPORTS Battle Dragon Bag. The bag looks quite the LAN buddy from the outside, but once you start exploring it inside of the bag, you really see just how much work Tt have put into this bag. Upon opening the bag, you start realizing that this bag is quite special. The bag itself is Tt's signature black and red scheme, which looks undeniably hot.
The red in the Battle Dragon Bag is a lot better than the signature black and red scheme as the red is felt and stands out perfectly. It almost feels like Tt have found the perfect balance of red in the bag - the red felt feels like the furry wall from "Get Him To The Greek". I wanted to wait to use the Battle Dragon Bag until I had to attend a LAN for some real-world testing and I had my best mate want to host a Battlefield 3 LAN for the official launch.
So here we are, I'm sitting in the middle of the LAN and I have my impressions, right here. I installed quite a bit of kit into the bag, as I had to bring more than I usually do, which is perfect for this review. What did I have installed? Well, here we go:-
Razer BlackWidow Ultimate Stealth Edition, Mionix NAOS 5000 gaming mouse, NZKT Avatar S Gaming Mouse, Mionix Propus 380, 1 x 5m Cat6 cable, 1 x 10m Cat6 cable, 16 port Netgear GbE switch, two dual-link DVI cables, four power cables, Logitech G35 gaming headset, a 4-board for power, and of course - LAN munchies, a bunch of lollies, etc.
[img]2[/img]
Yeah, the bag was pretty packed. The keyboard has its own slot - between that slot there are three other smaller slots which are used for cables, etc and the next slot is another one used for a mouse pad, etc. I had the Razer keyboard in the one slot, then the Netgear 16-port GbE switch in the other longer slot. In-between, I had my power, data and monitor cables. I had my Logitech G35's sitting on top of the slots, with a few spare cables next to them. The bag just has...room. Lots of it!
Once I had everything in, I had to sit back and make sure I had everything for the LAN so I didn't turn up and have something missing. It felt like I did, because it felt like I had my entire computer setup in one bag. Could I really have it all? Yes, with the Battle Dragon Bag, you can.
The goods in the bag are really secure too, as it's a felt-type material that keeps everything very secure and safe. Once I had the top of the bag zipped up, I thought I'd look around the bag to check out what else I could cram into it. On the back of the Battle Dragon Bag there is another zip that I promptly unzipped. What did it reveal?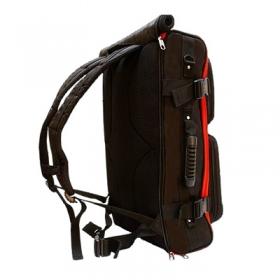 As I unzipped the bag, I saw a strap fall out, then another. What was this sorcery? It was straps to use the bag as a damn backpack! Tt, you have impressed this reviewer, a lot. I instantly pulled them out and set it up - this is amazing. It transforms the entire bag. It already had a handle and a shoulder strap, but to be used as a backpack, too? Wow.
I then tried carrying it, while carrying my monitor (which has a carry bag) and my tower (which has a carry strap) and I could carry my entire PC setup, with one trip from the car to the LAN, without any worries whatsoever.
The Battle Dragon Bag also has some front compartments which can be used for cabling, books, a small netbook, iPad or tablet, or many other smaller items.
The bag sports a maximum loading weight of 41kg, which is just insane for a carry bag. And also features multiple handles to act as a hand carry bag, a backpack or side-carry bag. Tt have gone all out on this bag and it really deserves its Battle Dragon name.
This is one of the best LAN-based accessories I've ever had the joy of using and every single one of my friends at the LAN were impressed all the same. Thank you, Tt eSPORTS.
[img]3[/img]
Onto the Tt eSPORTS Conkor mouse pad. The Conkor comes in a rectangular shaped cardboard box with a "feel the difference" peep hole that lets you feel the texture of the mousemat itself before purchasing it. Out of the box, the mousemat feels quite heavy and we find a little book (documentation on warranty, etc) and as well as a carry bag! A carry bag for a mouse mat?! Thank you, Tt eSPORTS!
The Conkor features the signature Tt eSPORTS colours just like the bag, red and black, and features the Tt logo in the top right, with the Conkor branding stamped in the bottom left. There is a crosshair in the dead center, which feels like the mouse mat is aiming at your mouse, or helping you aim through Tt magic.
The rear side of the mouse mat features a natural rubber surface, which ensures that it won't move side to side or roll up during an intense gaming session. I used the mouse mat to thrash Battlefield 3 to hell and it didn't move once during use. I used various mice with all different play styles (NZXT Avatar S, Mionix NAOS 5000, Razer Mamba and even a Microsoft Touch Mouse) - they all felt great on the mouse pad.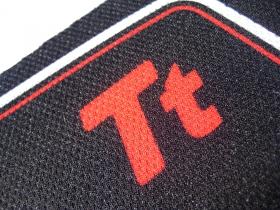 Very smooth to glide across, but because of its texture, also very precise! The cloth-based texture feels good on the wrist and hand, without feeling too rough.
Going to a LAN, or a friend's house? No worries, roll up your Conkor and slide it into its carry bag. Thermaltake could not have made it any easier. The Conkor rocks out on FPS gaming, but Thermaltake also have the Dasher which is more for the MMORPGs, strategy/adventure and other slower paced gaming.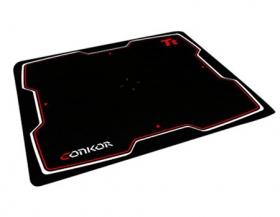 Getting both the Battle Dragon Bag and Conkor mouse pad really is the way to go. As a combo, they are great, and the Battle Dragon Bag even includes a spot to carry your mouse pad. Tt are pretty much the king of LAN-built accessories.
Considering Newegg has the Battle Dragon Bag for just $59.99, the bag is a bargain. It helps your LAN life considerably, so for the weekly/bi-monthly lanners (or more frequent), this is a must buy. Just run out and get one, now. The Conkor rocks along at just $16.99 - this is a 'feel before you buy' mouse mat thanks to the peep hole.
Great work, Tt eSPORTS.