Corsair Dominator GTX8 PC3-19200 Quad Channel 8GB Kit Review
Corsair come out hard and fast with a Quad Channel kit under the Dominator GTX name. Let's check out the new GTX8 kit.
Published Mon, Nov 14 2011 7:08 AM CST
|
Updated Tue, Nov 3 2020 7:01 PM CST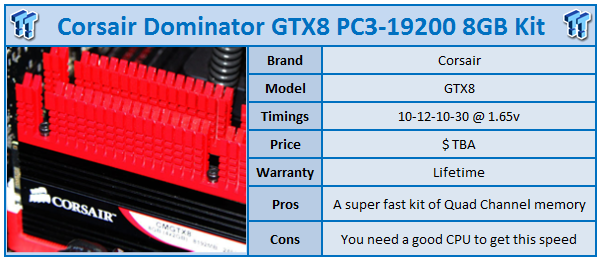 The launch of the new X79 platform brings with it the introduction of a new memory standard in the form of "Quad Channel". During our testing, Quad Channel hasn't had the best start as we see some programs have a real issue testing it at the moment. The biggest culprit for that seems to be AIDA64. Considering how active they are, though, I'm sure that we'll see this change soon.
Today we'll be officially testing our first Quad Channel kit, the brand new Dominator GTX8 kit which is of course part of the high end Dominator GTX series which has seen some amazing fast modules.
Because AIDA64 isn't the most Quad Channel friendly benchmark at the moment, we're expanding our memory line-up with a couple of other synthetic benchmark programs via Passmark PerformanceTest and SiSoft Sandra. We've been using PerformanceTest in all our CPU reviews for a while and Sandra has always been a bit on and off for us.
Due to the fact that CPU-Z isn't picking up the memory speed at the moment as well, we're not able to offer our normal CPU-Z validation for the speeds. Instead we'll show you the screens from our AIDA64 tests, though, which give us a great idea of all the settings.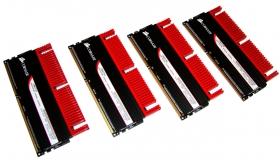 Checking out the kit, you can see that it looks all very familiar with that typical black and red Dominator heatsink present on the modules. Of course, the big thing is the kit comes with four modules due to the fact it's a Quad Channel one.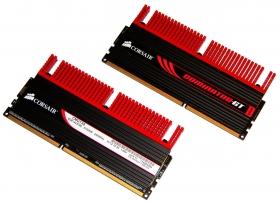 While we've got the Corsair logo on both sides of the module, we can see that one side offers us the Dominator GT branding while the other gives us all the main specifications of the modules we've got on hand.

Moving in closer to see the specifications, we can see that the CMGTX8 kit is part of an 8GB kit that is made up via four 2GB modules. The stock speeds on the kit are 2400MHz DDR and on the timings front we've got a 10-12-10-30 @ 1.65v setup.
Getting up and running at the stock timings isn't easy and this is absolutely no fault of Corsairs. The new X79 platform has some awesome dividers for RAM, but with the Memory Controller built on the processor you need to have a good CPU to achieve the RAM speed.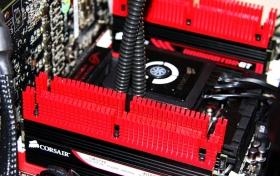 To give you an idea, we tested three CPUs. One could do 2250MHz DDR, the second could do 2320MHz DDR and the final one didn't have a single issue doing 2400MHz DDR straight away. Everything but the CPU was the same between all three setups, but it gives you an idea of the CPU lottery you're playing when buying a new high end processor.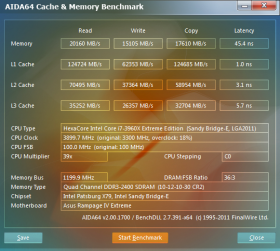 With third time being a charm, we got up and running at the default settings as you can see above. From there we wanted to see how much more we could squeeze out of the kit. Since we're already dealing with a CL10 kit, we didn't want to do anything with the timings. Leaving them at the same speed, you can see below we ended up getting the GTX kit running at 2450MHz DDR.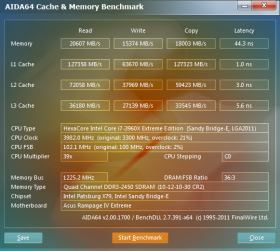 With the maximum speed set, we headed back into the BIOS and cranked our CPU speed up to 4.99GHz. Because of the pre-set, though, the RAM timings changed on me accidently to 10-12-11-28-2T which is a little more aggressive in one area, but slightly looser in another. Either way, I was looking forward to seeing the performance out of the kit.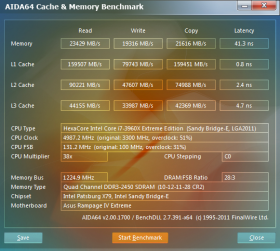 Along with a Quad Channel Kit running at 1600MHz CL9, we can see the performance as we move through our benchmarks. Below you can see that under AIDA64 we slightly move up in performance as we climb up in speed. The best gains are of course seen when we move our CPU to 4.99GHz, though.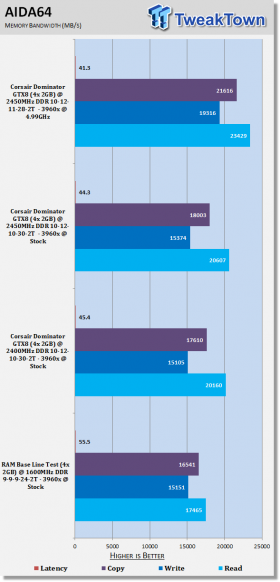 PerformanceTest paints very much the same picture. You can see the really nice boost in all areas when we move our CPU north as well.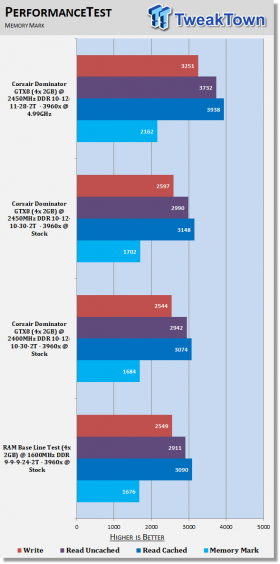 Finally, we finish up with Sandra and you can again see the improvements as we move along. This paints a really strong picture of the 2400MHz DDR performance over that stock 1600MHz CL9 kit.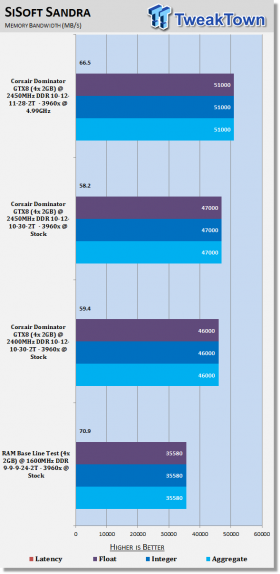 Corsair has come out really fast with a high performance kit and really hasn't chosen to mess around. While they've also got more budget friendly kits on offer, there's no denying that users wanting some real high speed memory are going to enjoy what Corsair are offering us on day one.
As always, though, like any GTX kit from Corsair, the line will probably be no doubt limited with only so many kits available at this speed. The associated price with the kit will also sit a little on the high side for the same reason. Being only 2GB modules, though, instead of 4GB ones will help bring the price down a little.
While 16GB will no doubt become the sweet spot for a lot of users when it comes to buying Quad Channel kits, 8GB continues to be loads for so many people. Throw in the associated price tag of these higher end kits, and then throw in the price tag associated with 4GB modules, and the price the GTX8 hits at should look a lot more enticing than 16GB 2400MHz DDR kits.
The biggest issue for users is making sure that the GTX8 is paired with a CPU that is capable of pushing out 2400MHz DDR+. Having the new i7 3960X is one thing, but as you can see today, out of the three we tested only one was able to offer us 2400MHz DDR. No doubt over the coming weeks, though, we'll have a better idea with what's going on with retail models and their overclocking capabilities.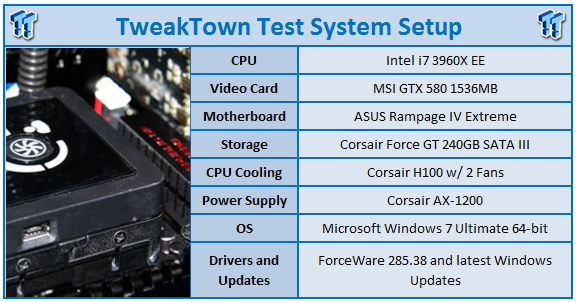 PRICING: You can find products similar to this one for sale below.

United States: Find other tech and computer products like this over at Amazon.com

United Kingdom: Find other tech and computer products like this over at Amazon.co.uk

Australia: Find other tech and computer products like this over at Amazon.com.au

Canada: Find other tech and computer products like this over at Amazon.ca

Deutschland: Finde andere Technik- und Computerprodukte wie dieses auf Amazon.de