Introduction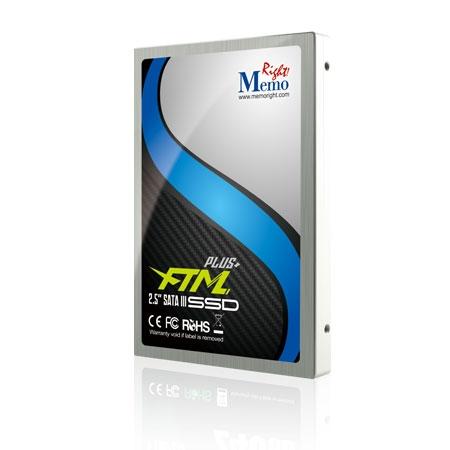 You may not have heard of MemoRight before, but they have been building SSDs for a very long time. We first looked at one of their products in 2008 when they were designing their own controllers and breaking new ground in the market. Back then SSDs were barely a myth and quite mysterious.
Fast-forward to 2011 and the SSD market has exploded with new and old companies fighting for supremacy. Solid state drives are now sold on retail shelves and at price points that are pushing them into commodity status. At this time many enthusiast computer people have already owned at least two solid state drives and feel that the technology is the only way to boot their PC. It's true there have been hurdles, a few eggs tossed on faces and more than a handful of ticked off people, but hearing about such issues is becoming less common.
One of the biggest challenges for consumers has been companies releasing products into the wild before the products have been deemed problem free. A few companies like MemoRight have taken a different path and waited until their products were right before going to market. This has led to several lost sales, but at the same time kept their name in pristine condition.
The only thing worse than having your name tarnished is not having a name at all. This is what MemoRight is looking to change in 2011. The company doesn't make consumer products per se, they make products that are a step above the average. Because of this, many of MemoRight's products have cost considerably more than their consumer competitors, but that is now changing. MemoRight is ready to get in the fight and challenge the consumer market, but do so on their own terms. The same high build quality is present in the FTM Plus that we are looking at today, but the price point is now placing this product right at the bottom end of the consumer market.
Specifications, Pricing and Availability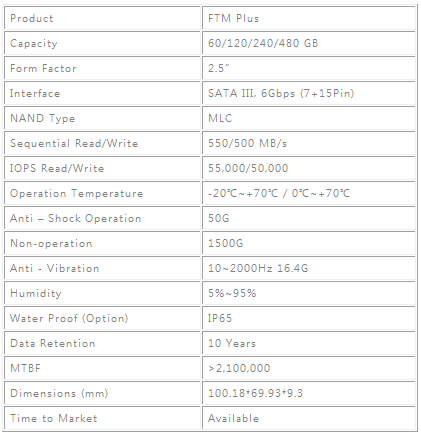 MemoRight has released the SATA III FTM Plus in four capacity sizes; 60GB, 120GB, 240GB that we are looking at today and a large 480GB. Data transfer performance is quoted at 550MB/s read and 500MB/s write with a maximum read IOPS rating of 55,000. Write IOPS is quoted at 50,000.
The FTM Plus models are in MemoRight's Commercial Series of products. MemoRight believes they manufacture SSDs that are a cut above consumer drives; a claim we will be looking at today in the build quality. In the past we've found MemoRight's products to be of the highest quality with custom features and a strong emphasis placed on reliability. The company isn't always the first to market with a new product, but their products are generally regarded as some of the best.
Unfortunately MemoRight doesn't have the large marketing budget as say OCZ Technology or even for that matter Mushkin. Because of this, few consumers know about MemoRight and even fewer looking to purchase prosumer / commercial SSDs. MemoRight is a hidden gem at this time, but they are making moves to step out of the hay.
After a quick search online I was able to find the MemoRight FTM Plus Series of SSDs controlled by a SandForce SF-2281 and synchronous flash. At this time the 120GB model has the absolute lowest price for this combination I've seen to date, 159.99 USD. It is important to remember that this is a drive with synchronous flash, not asynchronous flash. To put it bluntly, this is the combination you want. The 240GB model that we are looking at today doesn't share the same ultra-low cost, it's 449.99. The 240GB model is right in the middle of the pack with its competitors.
When it comes to value added accessories and other choice add-ons, MemoRight has a 3-year warranty with the FTM Plus and includes a desktop adapter bracket. The FTM Plus is also one of the few SandForce controlled SSDs to use over voltage protection and over current protection. Along with the normal goodies, MemoRight also provides an SSD Health Monitoring software package that helps users keep an eye on their SSD.
The Packaging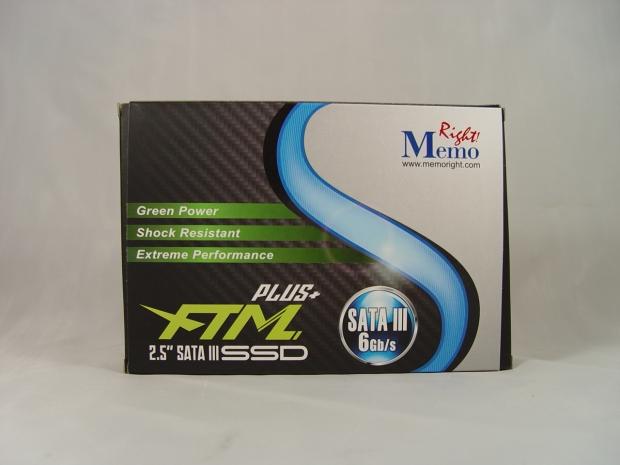 Here we get our first look at the MemoRight FTM Plus package. MemoRight came up with an attractive design that lists SATA III on the front of the box. Personally, I love the carbon fiber print.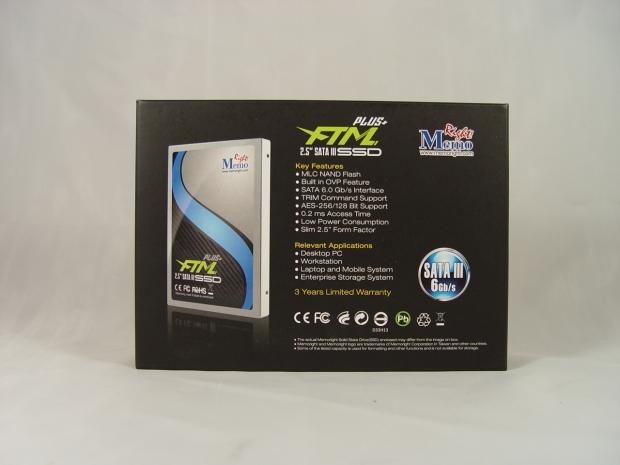 On the back we see the key features listed and also some of the 'Relevant Applications" for use.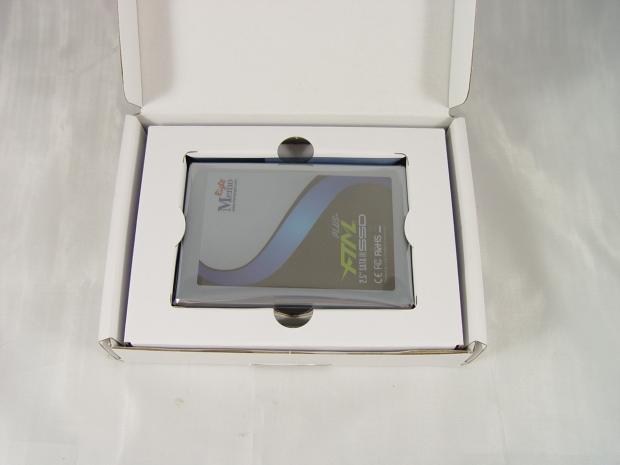 On the inside we found the drive to be well secured in an anti-static bag and harnessed inside of a cardboard structure to keep the drive from moving around.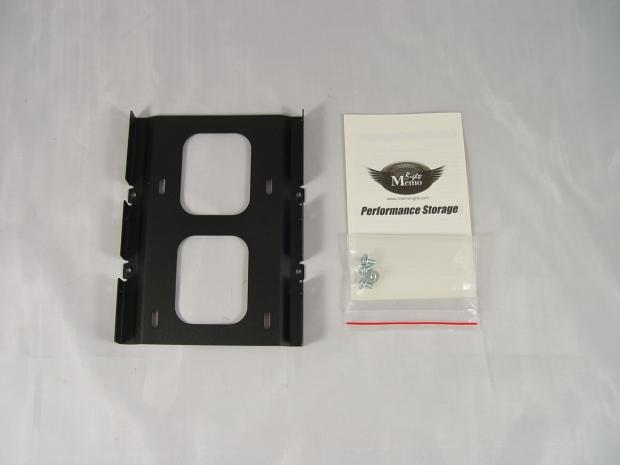 Also inside the package, in a separate area was the 2.5" to 3.5" desktop adapter bracket, a set of screws for securing the drive to the bracket and a paper manual.
The MemoRight FTM Plus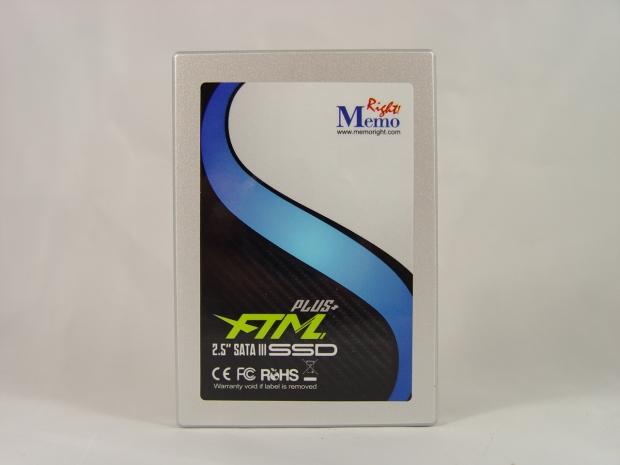 The drive itself is an aluminum chassis with a label that carries the theme of the box over to the drive.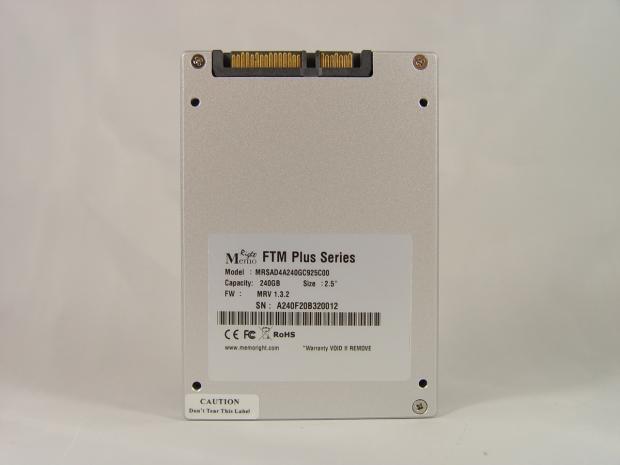 The back of the drive lists the model number MRSAD4A240GC925C00, the serial number and the firmware of the drive when shipped.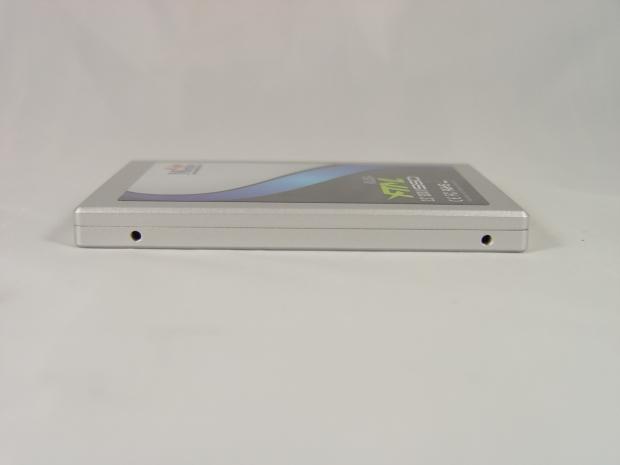 On the drive we found the side screw locations placed where they should be.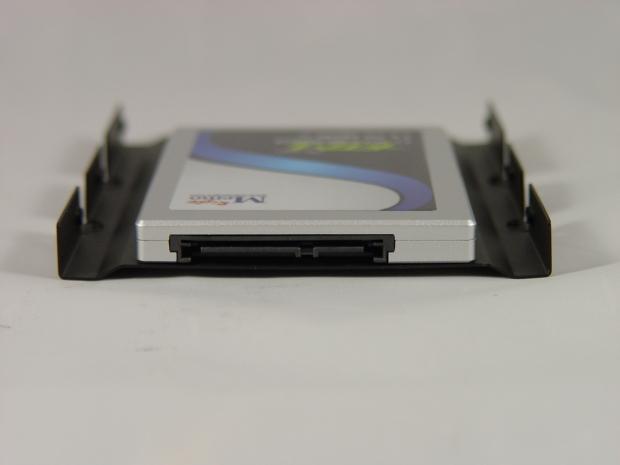 The power and data points are where they should be on the drive, but the drive bracket doesn't offset the drive. This means if you are using the FTM Plus in a drive enclosure, you will need a different bracket if your enclosure sleds do not already have support for 2.5" drives.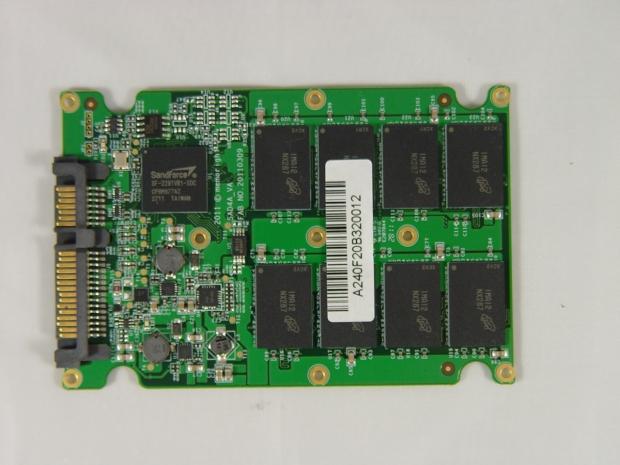 MemoRight use a custom PCB for their SandForce SF-2281 controlled SSD. The PCB is secured to the aluminum case by several screws, some of which are in the middle of the PCB. This is quite a bit different from what we've seen from other manufacturers and should keep the PCB from flexing as a result of high G loads. This is just one example of MemoRight making their products to a higher standard and why they claim to be a commercial drive maker and not just a maker of consumer grade products.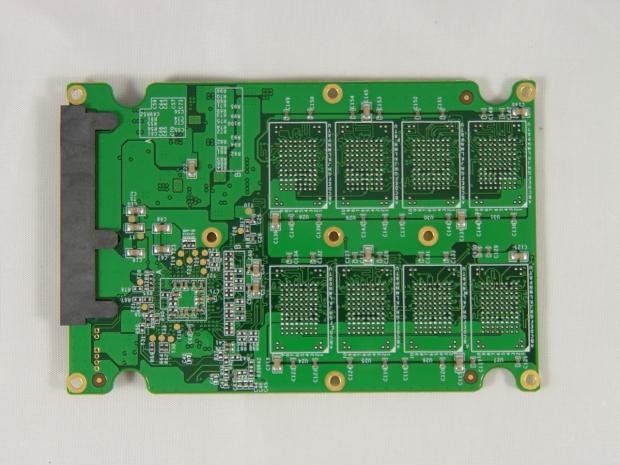 MemoRight uses higher density flash on their 240GB drive, so only one side of the PCB is covered in NAND flash. The other side is void of everything other than a handful of surface mount components.
Test System Setup and ATTO Baseline Performance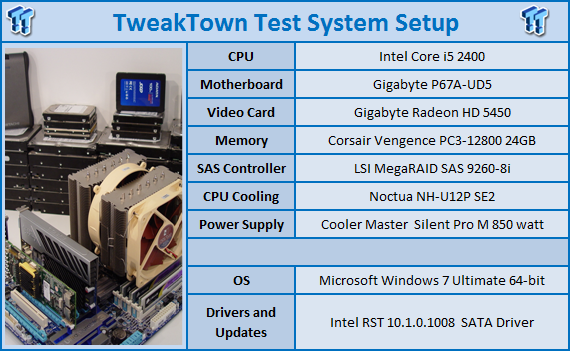 We would like to thank the following companies for supplying and supporting us with our test system hardware and equipment: AVADirect, GIGABYTE, Cooler Master, LSI, Corsair and Noctua.
You can read more about TweakTown's Storage Product Testing Workstation and the procedures followed to test products in this article.
Armed with the latest firmware, the MemoRight FTM Plus should be a solid performer. We expect it to rank among the fastest SSDs we've tested to date. Given the custom PCB, claimed commercial quality and a strong engineering background, this might actually be able to outperform the Kingston HyperX SSD we looked at a few months ago.
ATTO Baseline Performance
Version and / or Patch Used: 2.34
ATTO is used by many disk manufacturers to determine the read and write speeds that will be presented to customers.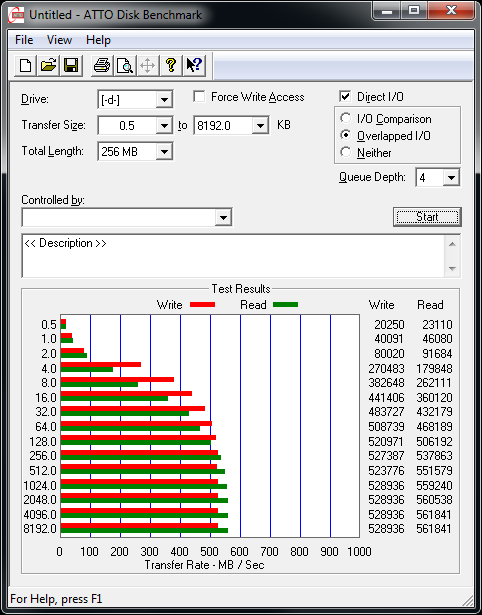 The MemoRight FTM Plus is starting out very strong with a solid 561MB/s read speed and nearly 530MB/s write speed.
Benchmarks - HD Tune Pro
HD Tune Pro
Version and / or Patch Used: 4.00
Developer Homepage: http://www.efdsoftware.com
Product Homepage: http://www.hdtune.com
HD Tune is a Hard Disk utility which has the following functions:
Benchmark: measures the performance
Info: shows detailed information
Health: checks the health status by using SMART
Error Scan: scans the surface for errors
Temperature display
HD Tune Pro gives us accurate read, write and access time results and for the last couple of years has been gaining popularity amongst reviewers. It is now considered a must have application for storage device testing.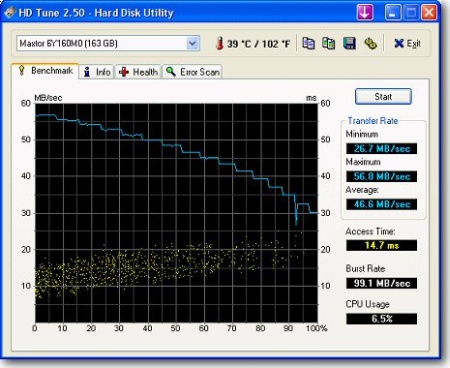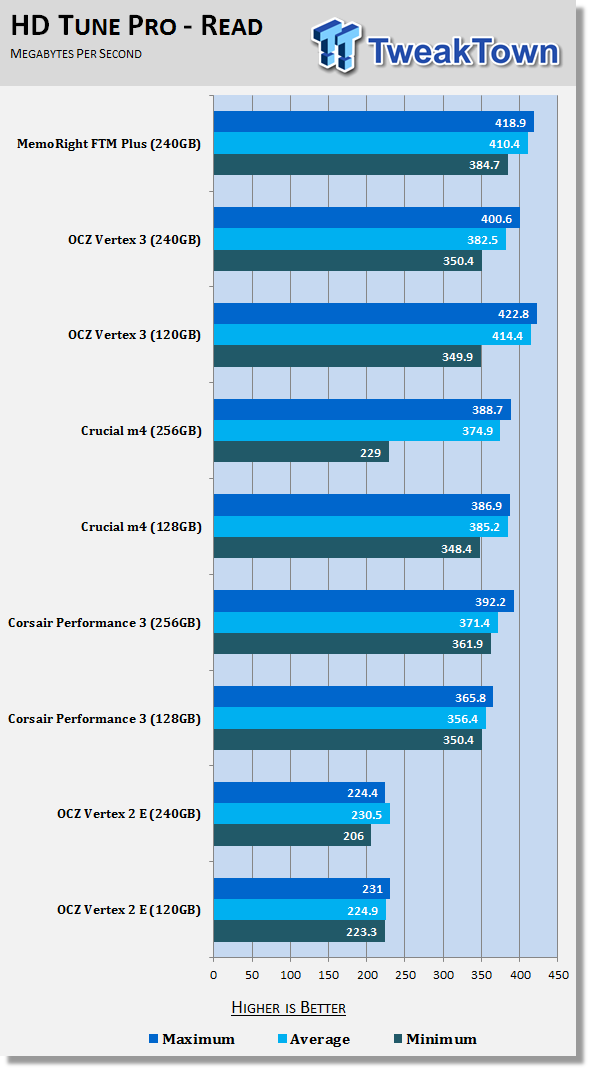 While reading across the drive, we saw a fairly flat graph with minimal variation. Our average read score was just over 410MB/s and the minimum was 384MB/s.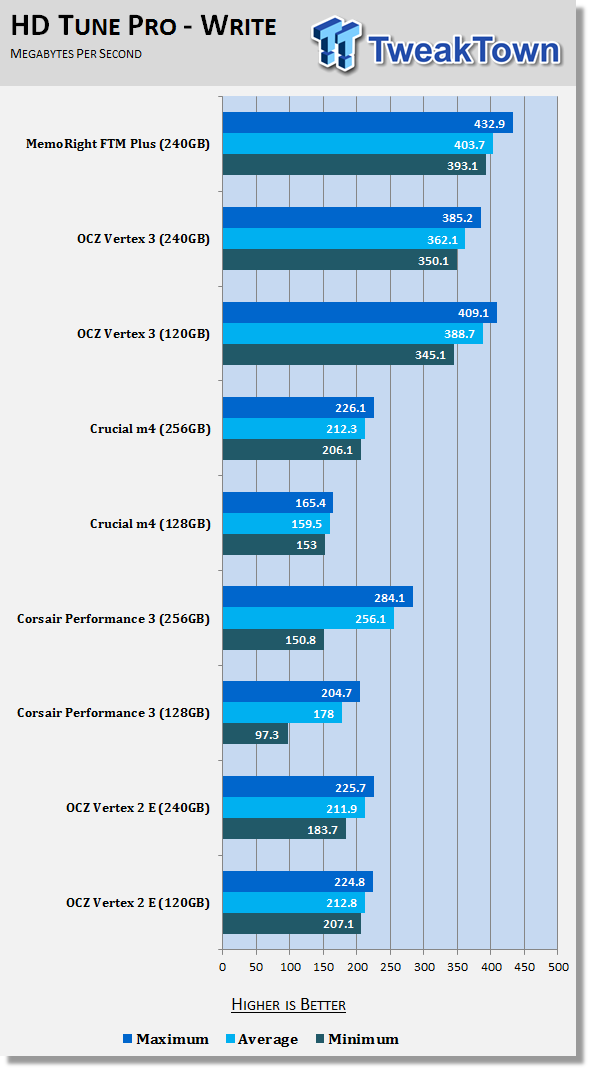 The write test across the drive was strong as well. Here we recorded an average of 403MB/s and a minimum of over 393.
Benchmarks - AIDA64 Random Access Time
AIDA64 Random Access Time
Version and / or Patch Used: 1.60
Developer Homepage: http://www.aida64.com
Product Homepage: http://www.aida64.com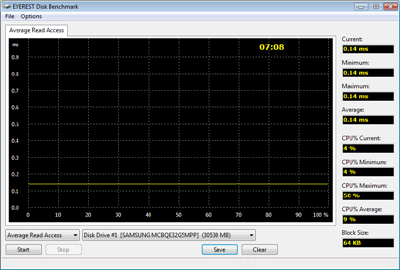 AIDA64 offers several different benchmarks for testing and optimizing your system or network. The Random Access test is one of very few if not only that will measure hard drives random access times in hundredths of milliseconds as oppose to tens of milliseconds.
Drives with only one or two tests displayed in the write test mean that they have failed the test and their Maximum and possibly their Average Scores were very high after the cached fills. This usually happens only with controllers manufactured by JMicron and Toshiba.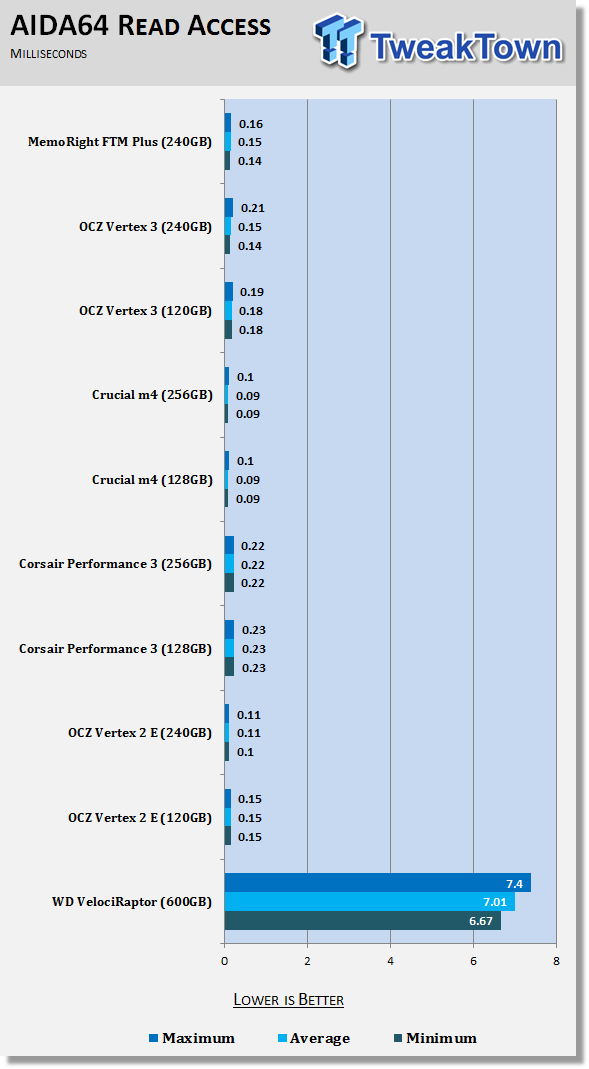 We believe access time has been addressed in the last couple of firmware updates from SandForce and here we see the results. The chart was very smooth in the read access test and in the 64kb block size the FTM Plus held an average of just .15ms.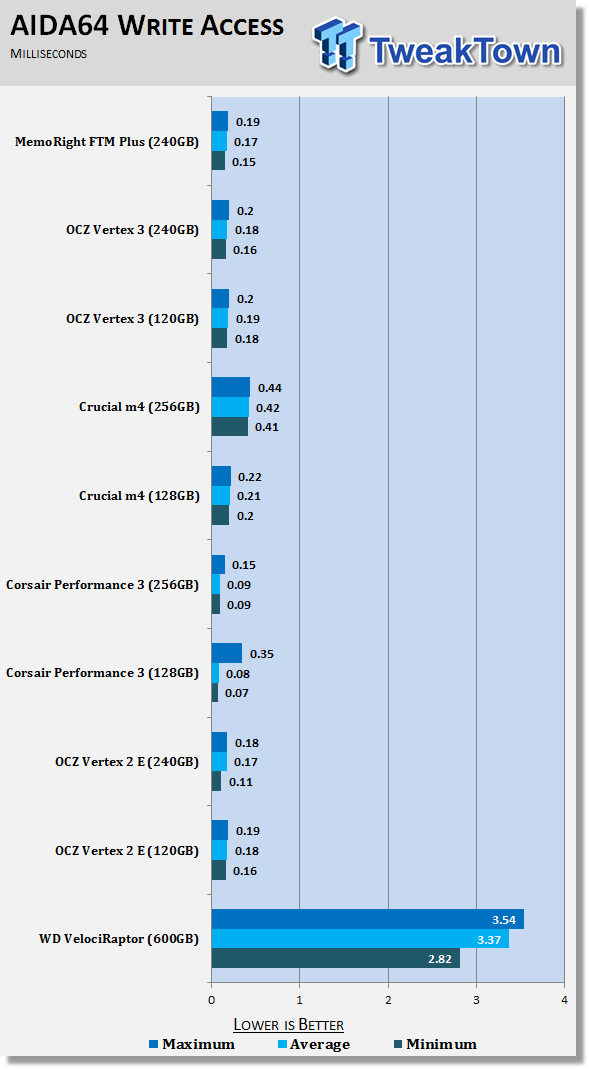 The write access time was a tad higher. We recorded an average of .17ms. The ultra-low access times are what make SSDs feel fast.
Benchmarks - CrystalDiskMark
CrystalDiskMark
Version and / or Patch Used: 3.0 Technical Preview
Developer Homepage: http://crystalmark.info
Product Homepage: http://crystalmark.info/software/CrystalDiskMark/index-e.html
Download here: http://crystaldew.info/category/software/crystaldiskmark
CrystalDiskMark is a disk benchmark software that allows us to benchmark 4K and 4K queue depths with accuracy.
Key Features:-
* Sequential reads/writes
* Random 4KB/512KB reads/writes
* Text copy
* Change dialog design
* internationalization (i18n)
Note: Crystal Disk Mark 3.0 Technical Preview was used for these tests since it offers the ability to measure native command queuing at 4 and 32.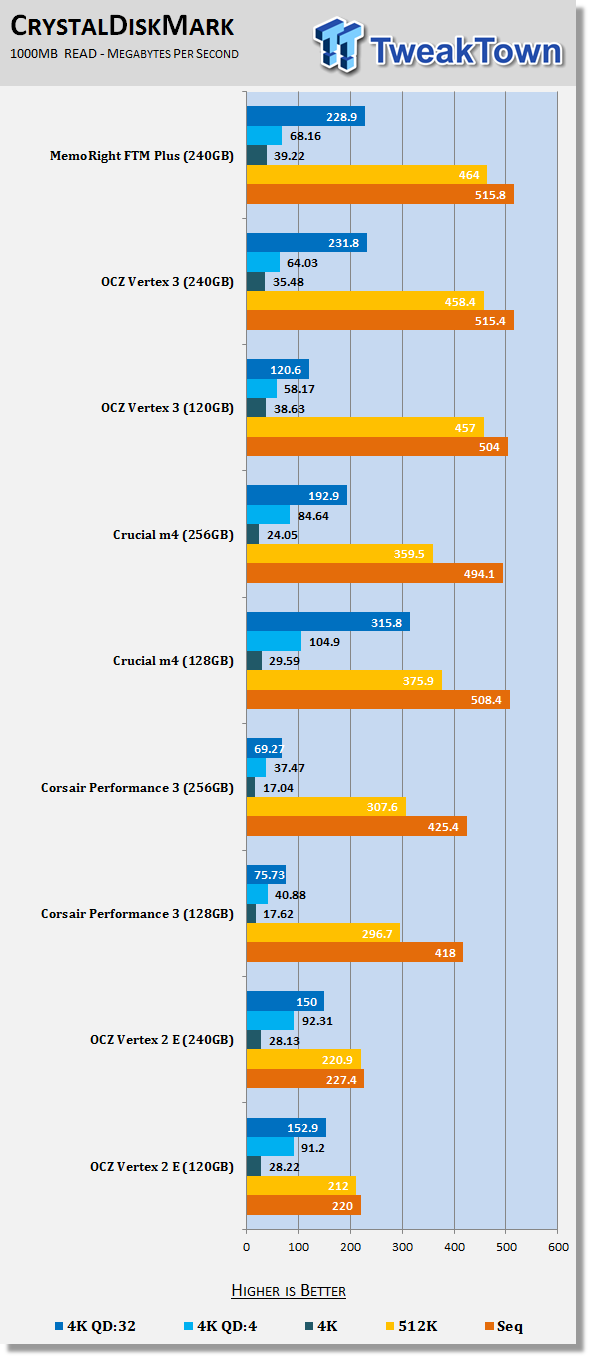 In CDM we are looking at 4K performance and native command queuing depth. The FTM Plus delivers nearly 40MB/s while reading 4K and that scales nicely when NCQ is applied.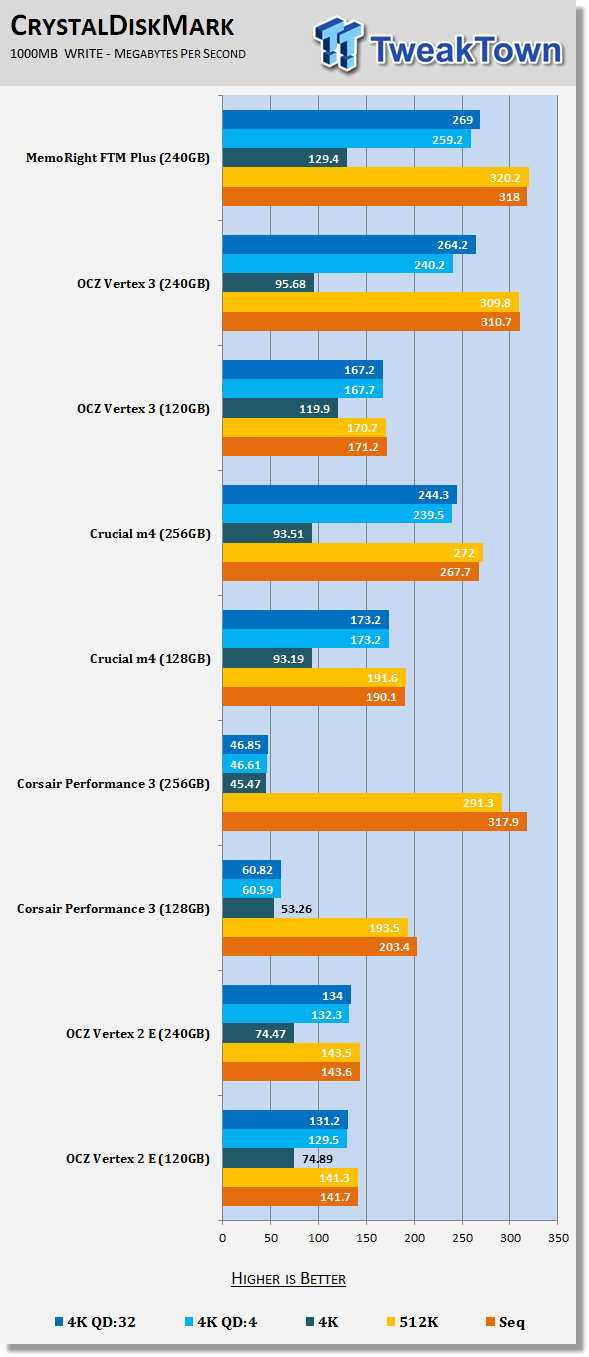 The 4K write speed is incredible with nearly 130MB/s of performance and that nearly doubles with a queue depth of 4.
Benchmarks - PCMark Vantage Hard Disk Tests
PCMark Vantage - Hard Disk Tests
Version and / or Patch Used: 1.0.0
Developer Homepage: http://www.futuremark.com
Product Homepage: http://www.futuremark.com/benchmarks/pcmark-vantage/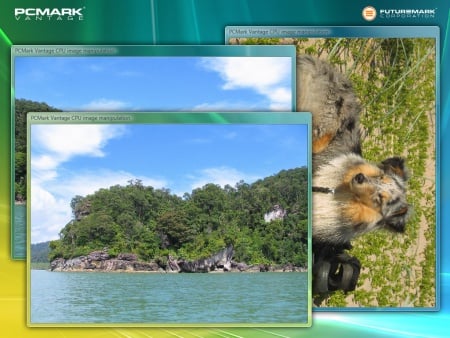 PCMark Vantage is the first objective hardware performance benchmark for PCs running 32 and 64 bit versions of Microsoft Windows Vista. PCMark Vantage is perfectly suited for benchmarking any type of Microsoft Windows Vista PC from multimedia home entertainment systems and laptops to dedicated workstations and high-end gaming rigs. Regardless of whether the benchmarker is an artist or an IT Professional, PCMark Vantage shows the user where their system soars or falls flat, and how to get the most performance possible out of their hardware. PCMark Vantage is easy enough for even the most casual enthusiast to use yet supports in-depth, professional industry grade testing.
FutureMark has developed a good set of hard disk tests for their PCMark Vantage Suite. Windows users can count on Vantage to show them how a drive will perform in normal day to day usage scenarios. For most users these are the tests that matter since many of the old hat ways to measure performance have become ineffective to measure true Windows performance.

HDD1 - Windows Defender
HDD2 - Gaming
HDD3 - Windows Photo Gallery
HDD4 - Vista Startup
HDD5 - Windows Movie Maker
HDD6 - Windows Media Center
HDD7 - Windows Media Player
HDD8 - Application Loading
The MemoRight FTM Plus produces a nice 'fat' chain of graphs in our initial Vantage test. SandForce has made several performance improvements since the SF-2281 launch and here we see the results of those efforts.
PCMark Vantage - Drives with Data Testing
For a complete breakdown on the Drives with Data Testing please read this article. You will be able to perform this test at home with the files provided in the article - full instructions are included.
Brief Methodology
SSDs perform differently when used for a period of time and when data is already present on the drive. The purpose of the Drives with Data testing is to show how a drive performs in these 'dirty' states. SSDs also need time to recover, either with TRIM or onboard garbage collection methods.
Drives with Data Testing - 25%, 50%, 75% Full States and Dirty / Empty Test
Files needed for 60 (64GB), 120 (128GB), 240 (256GB)
60GB Fill - 15GB, 30GB, 45GB
120GB Fill - 30GB, 60GB, 90GB
240GB Fill - 60GB, 120GB, 160GB
Empty but Dirty - a test run just after the fill tests and shows if a drive needs time to recover or if performance is instantly restored.

HDD1 - Windows Defender
HDD2 - Gaming
HDD3 - Windows Photo Gallery
HDD4 - Vista Startup
HDD5 - Windows Movie Maker
HDD6 - Windows Media Center
HDD7 - Windows Media Player
HDD8 - Application Loading
In the middle of 2011 we introduced testing with data on the drives at different fill points. These tests allow us to see performance with a drive deployed in a system with data on it. The FTM Plus starts out very strong and is just as fast as the Kingston HyperX. Both drives were very close to breaking the 80,000 Mark point in initial testing. These go downhill, though, from there and performance is reduced to around 50,000 when the FTM Plus is filled half way.
The last test in the group is a TRIM test. This is run just after the 75% full test and shows if a drive is able to quickly recover. The FTM Plus was able to pull off a 77,000 Mark run with the data deleted, so TRIM is working very well.
Benchmarks - AS SSD
AS SSD Benchmark
Version and / or Patch Used: 1.2.3577.40358
Developer Homepage: Alex Intelligent Software
Product Homepage: Alex Intelligent Software
Download here: http://www.alex-is.de/PHP/fusion/downloads.php?cat_id=4&download_id=9
AS determines the performance of Solid State Drives (SSD). The tool contains four synthetic as well as three practice tests. The synthetic tests are to determine the sequential and random read and write performance of the SSD. These tests are carried out without the use of the operating system caches.
In all synthetic tests the test file size is 1GB. AS can also determine the access time of the SSD, the access of which the drive is determined to read through the entire capacity of the SSD (Full Stroke). The write access test is only to be met with a 1 GB big test file. At the end of the tests three values for the read and write as well as the overall performance will be issued. In addition to the calculated values which are shown in MB/s, they are also represented in IO per seconds (IOPS).
Note: AS SSD is a great benchmark for many tests, but since Crystal Disk Mark covers a broader range of 4K tests and HD Tune Pro covering sequential speeds, we will only use the Copy Benchmark from AS SSD.
- Copy Benchmark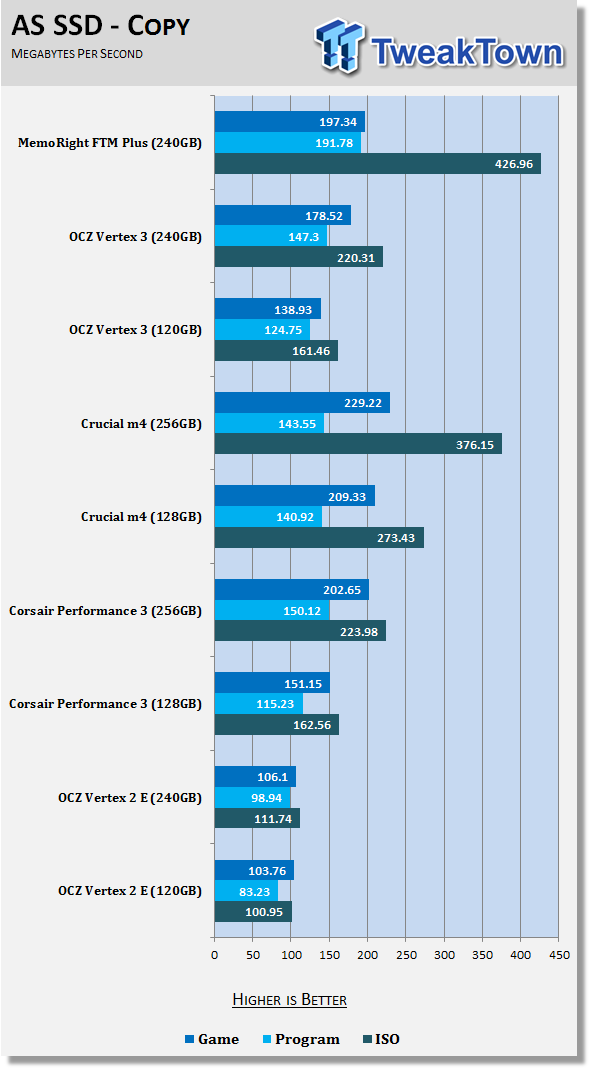 To date we've only seen two other SandForce based drives deliver this level of transfer performance in the ISO test. These manufacturers have unlocked something in the software programming to get very high transfer performance. The Game and Program tests were very fast as well, but clearly the ISO transfer performance makes the FTM Plus something special.
Benchmarks - Passmark
Passmark Advanced Multi-User Tests
Version and / or Patch Used: 6.1
Developer Homepage: http://www.passmark.com
Test Homepage: http://www.passmark.com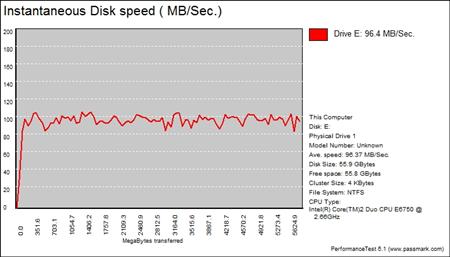 Many users complain that I/O Meter is too complicated of a benchmark to replicate results so my quest to find an alternative was started. Passmark has added several multi-user tests that measure a hard drives ability to operate in a multi-user environment.

The tests use different settings to mimic basic multi-user operations as they would play out on your server. Variances is read / write percentage as well as random / sequential reads are common in certain applications, Web Servers read nearly 100% of the time while Database Servers write a small amount of data.
The Workstation test is the only single user environment and will be similar to how you use your system at home.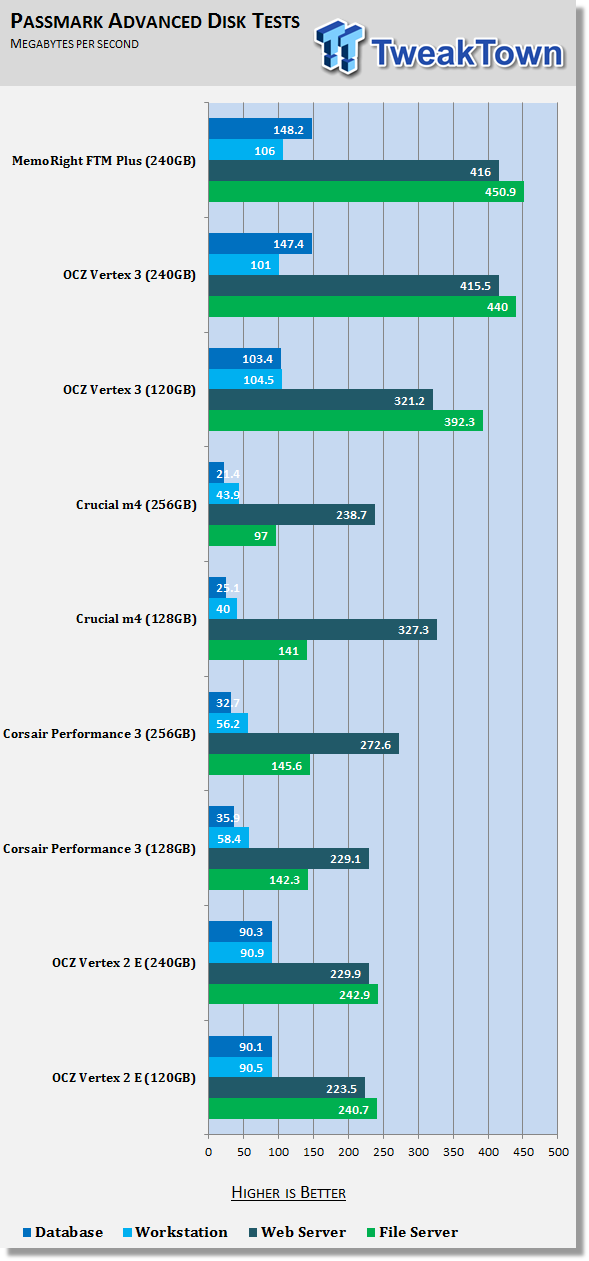 The SandForce controller used in the MemoRight FTM Plus is a close cousin to the SF-2500 enterprise controller. Because of that, we see all of the SandForce based drives performing very well in our enterprise tests.
Final Thoughts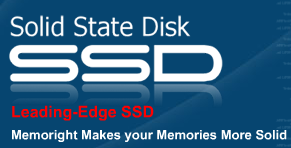 Some of you may remember the old MemoRight logo from back in 2008 when we first started looking at their products. The sad thing is MemoRight has had a very long time to build up their name recognition, but has failed to do so. The company has taken a slow but steady growth pattern and to this day continues to deliver good products while keeping with their core values. In 2009 MemoRight was the first company to receive SSDA Certification and now we see the company making inroads to the consumer market. Hopefully over the next couple of years the company will work on building their name so more consumers know about their very good products.
As we've shown today, MemoRight's products are top notch. They have been going back to 2007's GT Series. With the company's aggressive pricing it shouldn't take too long for MemoRight to gain the recognition they deserve.
The MemoRight FTM Plus that we looked at today is a real contender in the SATA III SSD market and shouldn't be overlooked. At this time the 240GB doesn't hold the same price crown that the 120GB model has, but MemoRight is looking to move products in more quantity than they did in the past, so this could change very soon.
At this time the 120GB FTM Plus is the lowest priced SandForce SF-2281 controlled drive paired with synchronous flash on the market. The drive ships with a desktop adapter bracket, three year warranty and has a solid support network. That should be enough to get some attention really fast, because a 120GB SF drive at 160 USD is enough to get mine.
The 240GB drive we looked at today costs just under 450 Dollars and is still great performance, but doesn't have the same value as some of the other 240GB drives on the market; although it is very close.
As we talked about in the review, MemoRight doesn't make the same cookie cutter reference design products that many SSD manufacturers are putting out on the market. In 2009 the company built their own R&D center and has been custom building their own PCBs ever since. Our 240GB sample was put through the ringer and didn't have a single problem.
Our sample also didn't have the latest SandForce firmware that was built to address BSOD issues; it seems the FTM Plus was designed from the start to be problem free. Then again, we've only had two products show signs of the problem to start with - I guess that goes to show that our test system validation process was pretty good as well.