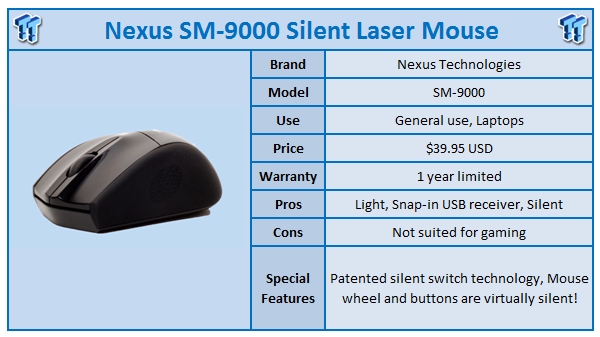 Nexus were built upon a group of experts on heat conductivity and noise reduction in the computer industry. They have concreted themselves into the industry by using their skills and working closely with many of the largest PC manufacturers for the last few years. This has helped them form a group capable of delivering a silent mouse.
I first wrote some news about this mouse a little while ago and was quite excited just reporting about it. But, reviewing it? Well, shiver me timbers! A mouse that claims to be silent after decades of hearing that click clack sound of the mouse click? Yeah, right. I'll believe it when I hear it. Well, I really should have had faith... but before we go into the review, let's cover the packaging and contents.
The package is quite small which was good; none of this over-sized box nonsense. There's no useless stuff in the box, everything you need to use the mouse out of the box is included, even the 2 x AAA batteries that are required. The feel of the mouse is great; it has rubberized sides, so it doesn't slip on your fingers and it actually feels quite comfortable. The mouse itself is a bit on the small side, but not too small to be annoying.
After the 2 x AAA batteries are slotted in, the snap-in receiver is installed onto my computer and away we go. I was very skeptical on the "silent" claim from Nexus, but after clicking a few times you sit there thinking you're imagining this. It is actually silent. The only way I could hear the clicks from this mouse was by putting my ear up to the mouse and you could just barely hear it!
Nexus are golden. They've done it. They've made a silent mouse! - Is the scroll wheel silent? Yes, again it's silent. If I put it right up to my ear I can hear it, but who does that during standard use? The only sound the mouse makes is the sound of your own finger hitting it. The actual "click" of the mouse click is pure, silent ecstasy.
[img]3[/img]
Next up, I thought I would try it on gaming. I thought a bit of rage pressing in a hectic multiplayer game or during a quick-clicking game like Deus Ex. Again, nothing. This mouse has yet to have let me down. Even whilst thrashing my two fingers on both buttons, there is just no noise. How have they created such magic? Is it trickery? Their patented silent switch technology has truly unleashed a beast.
I used the mouse for around 8 - 10 hours in mixed Windows, Mac, gaming and general use and the batteries last throughout this. Like other wireless mice, the battery life has increased exponentially over the past couple of years.
The right thumb placement has a thumb grip, which would point to this mouse being a right-handed only mouse, but its design definitely allows it to be an ambidextrous mouse without a problem. On the bottom of the mouse there are four low-friction feet at every corner of the mouse. There's also a small battery compartment and the snap-in Nano receiver bay at the rear of the mouse. I did find the battery compartment a bit hard to open up, but thankfully it has a little groove toward the end of the compartment, which allows your (small) fingernail to get under.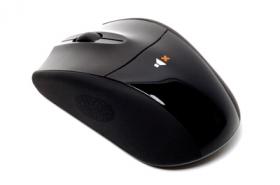 The second annoyance is removing the snap-in receiver from the mouse itself. There's no real easy way to remove this and it becomes a hassle to do. I really wish a push-release mechanism were used where it was spring-based. That way you could just press the snap-in receiver and it would pop out making the whole process a million times easier.
To give you an idea of comparison in size, my recently reviewed NZXT Avatar S mouse is roughly 30% longer and about the same width. It's also just as tall, but no way near as silent.
I used the SM-9000 on a Tt eSPORTS Conkor mouse pad on my wooden desk and I also threw in a Mionix Propus 380 mousepad for a bit of spice. It worked gloriously on all three surfaces, but I found the Conkor the best. Only because the Conkor mouse pad is a cloth-based mouse pad, so it works much more silently with the silent SM-9000 compared to the "scratching" sound of the Propus's hard surface.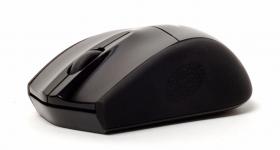 The SM-9000 worked without an issue with the rated 6-10m range, but anything more than that and no go. This is not a disappointment as it's not rated to work any further than that anyway.
I hooked the mouse up to my laptop when I went away for a weekend and I really think I found the SM-9000's home. Portability. The snap-in receiver makes it easy to click into the mouse and put it into your laptop bag and go. Installation is as easy as plugging in the snap-in receiver and clicking away. On the desktop for gaming, I just can't recommend it.
Pin-point accuracy and quick-flicks in FPS games just did not gel well with the SM-9000. This isn't a bad thing, as it's not aimed toward the gaming market. I would say it's aimed toward an office-type environment, a laptop user or even a traveler or businessman.
One thing I did miss sometimes were the back and forward buttons above the thumb grip. I don't use them often, but they do come in handy in some cases. They're not sorely missed, but I would like to see a future revision of the mouse where they're an included feature.
My thoughts on it after a full 2 weeks of use? It's great. The silent clicking is something you get used to way, way too quickly. Going back to any other mouse feels like you're travelling back in time to the Stone Age. That slight clicking sound becomes an overbearing clicking sound because you're so used to silence.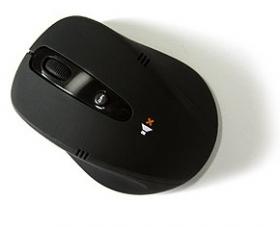 I don't like the mouse for gaming, but that is mostly because the mouse is a bit too small for my liking. In casual Facebook games, it's absolutely fine. For those fast-paced FPS or RTS games, I would say give the SM-9000 a miss. Other than that, the batteries are still going, the silence is still beautiful and the SM-9000 impresses you every single time you use it.
At $39.95, the mouse is great value for money and does not break the bank, or your ears.
The silent factor is the selling point here and Nexus smash it out of the ballpark, but silently. They made a large claim and actually came through with it. Great work, Nexus.