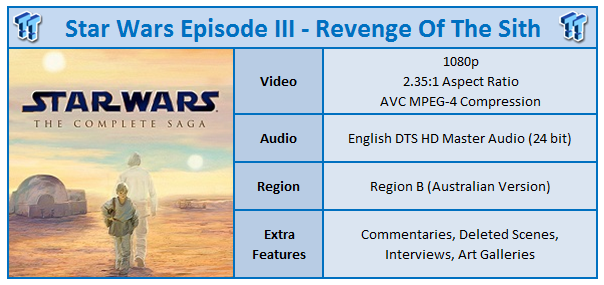 After two mostly critical bombs and a somewhat tarnished reputation, George Lucas soldiered on to finalise his vision, giving fans a visualisation of the long discussed legend of how Anakin Skywalker became Darth Vader.
Haunted by nightmares of the death of his wife, Padme Amidala (Natalie Portman), Anakin Skywalker (Hayden Christensen) is spurned on by Chancellor Palpatine (Ian McDiarmid) to embrace the dark side of the force, which he promises will save Padme from certain death. The galaxy has changed forever and the stars have aligned for the destruction of the Jedi order and the fall of the galactic democracy, all leading to a final confrontation between the learner and his master, Obi-Wan Kenobi (Ewan McGregor).
With expectations at bargain basement levels and a smart advertising campaign that successfully rekindled fans love for the original trilogy, it wasn't really hard for Revenge of the Sith to find a level of critical and fan acceptance. It's not a perfect film. Far, far, far from it. But it's likely the best we could expect, all things considered.
Now it's all said and done, and it's been six years since this final chapter graced cinema screens, I still don't know what to make of the prequels. Sure, they have their moments, and there is a sense of finality now that the story arc is completed. But they flat out are not good movies, and just like 2010: The Year we make contact explained the mysteriousness of its predecessor 2001: A Space Odyssey, could it have been wiser to leave the Star Wars backstory to the imagination of fans? The world had moved on since the innocence of the 1970's. Perhaps, Star Wars really was a factor of its time and maybe it was fine just the way it was.
Video
Revenge of the Sith is presented in the aspect ratio of 2.35:1 (its original aspect ratio), encoded with AVC MPEG-4 compression.
Just as with Clones, Sith was produced entirely in the digital realm, albeit with a far more advanced digital camera system, which does result in improved optics even if they have been manipulated almost beyond recognition.
The image is sharp and detailed and again shows up some of the effects work which hasn't stood the test of time, especially during the climactic lightsabre battle. Other effects hold up very well. During a close up of General Grievous' face during his battle with Obi-Wan, I had to pause the image to enjoy the absolute cacophony of detail. It really is quite stunning.
I found the colour palette of Sith to be more aesthetically pleasing than its predecessors. For example, the contrasting neon green and purples on General Grievous' ship is a more pleasant eye candy than the brown tones from Clones.
Again, for all intents and purposes, save for compression, this Blu-ray might as well be the films master. The reality is it will never look better than it does here.
[img]2[/img]
Audio
The main audio track is encoded with DTS HD Master Audio 6.1 at 24 bits.
With the departure of longtime sound mixer Gary Rydstrom from the LucasFilm halls, sound mixing duties went to Tom Myers, who's mixing ethos differs substantially to Rydstrom's. Sith features a significantly less aggressive sound mix than its prequel predecessors - bass activity is far more restrained, especially noticeable during battle sequences and lightsabre battles. It's a shame that the three prequels couldn't have a more cohesive sound design. Despite this, my complaint remains with the original sound design. The Blu-ray does a perfect job of reproducing it.
It's an acceptable enough mix, but not in line with the aggressiveness of what has come before. Ultimately, disappointing and somewhat anemic.
[img]3[/img]
Extras
Again, LucasFilm have included some worthwhile extra features designed to co-exist with the previous DVD supplements. That is, they aren't replicated here, so you'll have to hang onto your old DVDs to retain everything.
The main disc features two audio commentaries. The first is carried over intact from the DVD release, featuring George Lucas and many members of the crew, including Producer Rick McCallum, Sound Editor Ben Burtt and ILM staff. The second, newly produced track is comprised of interview comments and edited together in a fairly relevant and cohesive manner.
The remaining bonus features are contained on the first extras disc, along with the bonus features for Phantom Menace and Attack of the Clones For this review, I will talk about the bonus features relevant to Revenge of the Sith. The bonus features are divided by the four 'worlds' relevant to the plot: Coruscant, Utapau, Mustafar, Kashyyk and Order 66.
Next up are 11 Deleted Scenes, although most are presented in unfilmed animatic style. However, the most interesting are two of the shortest; 'Jedi Imposters at the temple', which finds Clone Troopers dressed in Jedi garb, and 'Changes to the Constitution', which signals the end of democracy.
The Overview segments are some of the more interesting features on the disc, which take a brief look at each of the four menu worlds. Despite their brief length of just 3-4 minutes each, there is a lot of information imparted and they are edited very well together.
Next are a few brief Interviews segments; one with Natalie Portman and another with Samuel L Jackson discussing the genesis of his purple lightsaber.
The Collection returns again and shows a few of the stunning models, costumes and creatures created for the film, with impressive 360 degree turns which show the detail the artisans went to. The 'Burnt Anakin head' is pretty gruesome for a Star Wars film. I'm pretty surprised that even in 2005, how much was created with physical work and not just CG. Sadly however, ILM has since disbanded their model shop.
Finally, the concept art gallery brings a handful of high resolution concept art sketches and artwork to screens. Star Wars fans will recognize a lot of this art from the 'Art of Star Wars' series of books. Again, some of it is impressive, but I've always disliked on screen still galleries and this doesn't change my mind.