Many of you would know Kingston as one of the biggest memory manufacturers in the world, if not the biggest. Kingston has been in the process of spreading its wings the past few years with a move to hit more consumers with its Solid State Disk drives, high-performance HyperX memory kits and now the Wi-Drive. Given that Kingston is also one of the world's biggest producers of flash storage devices such as memory cards and pen drives, it makes sense that Kingston would attempt to hit one of the largest consumer products on the market, Apple iOS devices.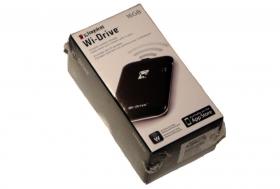 Essentially the Kingston Wi-Drive is just an oversized pen drive with a wireless chip inside designed to communicate with iOS devices including the iPhone, iPad and iPod Touch. Coming in sizes of 16GB and 32GB, the Wi-Drive is designed to add portable and flexible storage to your iOS device which are running low on internally provided storage space.
I personally first saw a prototype of the Wi-Drive back at CES in Las Vegas earlier this year. It definitely drew in an interested group of media in that room who were intrigued about this strange storage device which itself looked rather similar in design and size to the iPhone 3G/S. That's right, the Wi-Drive looks rather similar to the 3G/S and it's even not too dissimilar to the iPhone 4 albeit that the Wi-Drive is a little longer and wider, but a little thinner than the iPhone 4.
[img]3[/img]
The Wi-Drive looks great and of course will not look out of place sitting next to your iPhone. I have to wonder, though, is the design a little too similar? I am not sure if Kingston had to make the device look so much like an iPhone, but they've gone and done it this time. I reckon next time they could be a little more original, though. There is just something that feels a bit off about it. The device is lightweight and functions rather well from the outside. There is an on/off button on the side of the device which flashes green when charging and holds a solid green when fully charged.
On the front side of the device next to the Kingston logo are two blue LEDs - one that indicates Wi-Fi is enabled and another that indicates wireless activity from connected iOS devices. You can connect up to three devices at one time. On the back of the device there isn't anything exciting going on with just some details about the device including the serial number and so on. The device casing is made of a fairly high grade black plastic that smudges easily - if that is something that annoys you, it may bother you. The device is pretty solid and while untested, it should be able to withstand a few drops here and there.
[img]2[/img]
As far as the package goes, the Wi-Drive comes seated in a small yet stylish looking retail box. Inside the box you get the Wi-Drive device itself (thank god!), a little manual as well as a USB cable.
Moving onto using the device, it's pretty simple - it's the type of device I would be comfortable giving my parents and after sometime they'd be able to work it by themselves. After plugging the Wi-Drive into my PC via the included USB cable, it took longer than expected to fully charge the device - around two hours. Once fully charged, you'll get around four hours of usage before another charge is required. The device does get fairly warm towards the top of it on both sides, but it shouldn't cause too much concern.
The next step on the testing list was copying data to the device and that is achieved in pretty much the same way as you would copy data to a pen drive. Once plugged in, the Wi-Drive creates two drives under My Computer - one called "CDROM" and another called "Wi-Drive". Just copy across your data to the device as you would a normal pen drive; it's as easy as that. Don't expect super fast transfers of data from your computer to the Wi-Drive since it is only USB 2.0 - we saw speeds of around 10MB/s - 15MB/s during testing.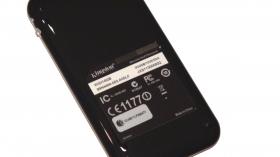 Now, you are probably wondering, how do I access my data on my iOS device? - For that you need to go and download and install the Kingston "Wi-Drive" app from the Apple app store. It's a small download and installs very quickly - you'll find a bunch of screenshots I took in the image gallery below for a closer look. At this stage you'll want to make sure that the Wi-Drive is turned on and is accepting wireless connections - this is a matter of making sure the green LED is on and then push the on/off button again and wait for the bottom blue LED to start flashing. Once you've got the app, you need to go into the wireless settings of your iOS device and select the Wi-Drive network and connect to it. It connects to this 'network' like any other Wi-Fi network.
Once connected, you open the app and it quickly searches and finds the Wi-Drive in your near area and indicates which one it is with its IP address in brackets. You then just tap the device and you get taken to the home menu which lists all of the content on your Wi-Drive. All you need to do then is tap on the file you want to play, watch or view and it loads up fairly quickly.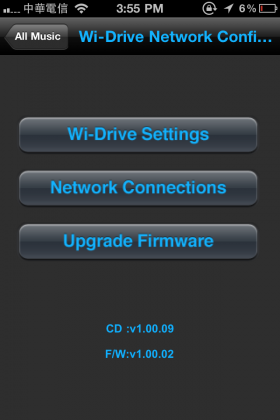 On the iPhone you are taken to the section required to play the file and on the iPad you always have a listing of the content on the left panel and the file plays on the right side in the viewing panel area. It's not a great interface on either device, but it is somewhat better on the iPad.
You will be happy to know you can secure your Wi-Drive from allowing anyone to connect to the device and access your data. In the app in the settings area is the security options for the device which allows you to set WEP, WPA, WPA2 or WPA2 mixed. By default and as usual with networking products, security is disabled. Remember to enable security if you are dealing with sensitive data.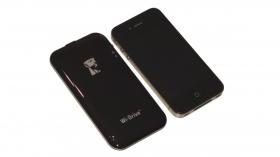 As far as supported formats go, that's where things begin to get disappointing. As far as images go you can view jpg, bmp, tiff and png formats and for documents there is a good range including pdf, doc, docx, ppt, pptx, txt, rtf and xls. You can tap to zoom into documents and images and that part works rather well. As far as audio goes, you get AAC, MP3, WAV support and as far as video goes you only get m4v, mp4, mov, Motion JPEG (M-JPEG) support.
I didn't have many issues with audio support (however I was disappointed to find FLAC music would not playback since I have a large collection), but on the video front I struggled to find a movie that would playback. I eventually found some movies recorded on my iPad that are in MOV format that worked without a problem. In future versions of the Wi-Drive and maybe even newer firmware updates, Kingston really need to work on massively improving file support.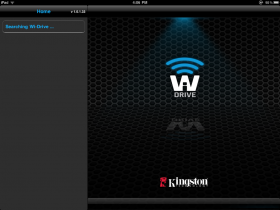 On the price front it's a good thing to see that Kingston has recently dropped prices on both the 16GB and 32GB models. When they were first launched, I remember thinking they were crazy expensive. At the time of writing on Newegg you can pick up the 16GB model for $99.99 USD and the 32GB model for $129.99 USD. I have to say, though, for what you get, and I'm calling it a fancy yet still basic device with much room for improvement, its price is still set too high. I'd much rather see the 16GB model at around $69.99 USD and the 32GB model at around $99.99 USD.
Good job to Kingston for sticking a limb out and trying to do something new with the Wi-Drive for the Apple crowd which in some respects they did okay, but it's not a device I can recommend. The big issue for me is the price and one point not yet mentioned is connectivity. If iOS devices had the ability to connect to more than one Wi-Fi network at once, it would be alright, but if you want to enjoy the content on your Wi-Drive, you are without an Internet connection. And doubly annoying is that you are always having to switch between networks. Additionally, in my building I found the wireless connection to be not that great. In close range up to around 10 meters or so, the device is fine, but as soon as I extended the distance much further than that (or introduce solid obstructions) and the wireless signal hit one bar, things went bad. Music would stop playing, I couldn't get a menu content list and the app even crashed a couple times. I had to force close the app and re-open it (and get back into range) for it to start working again.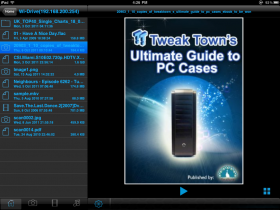 I've been hard on the Wi-Drive as I need to be as a reviewer. However, having said all of this, if you do have an iOS device which is completely full and will remain that way and you need more storage, the Wi-Drive could be a viable option for you - as long as you take into consideration some of my gripes with the device. As much as I love having physical storage I can hold onto, do remember with Apple finally launching iCloud in iOS 5.0 next week (which comes with 5GB of free online storage for most users), it makes it even harder to recommend the Wi-Drive. I would love to see Kingston re-think the Wi-Drive, address the issues I found and come out with a wicked second generation Wi-Drive that I can love, because I really want to love it.
UPDATE - Kingston contacted us about our Wi-Drive review with some concerns relating to not being able to use 3G while using the Wi-Drive and format support.
Addressing the 3G issue, I went back and re-tested and still found that 3G (or other forms of mobile Internet) access does not work when using the Wi-Drive. 3G works up until the point where the app begins to access information from the Wi-Drive and that is the point in which the Wi-Fi connection starts working and bumps off the cellular connection. It would be looking to get Internet access from the Wi-Drive (as far as I can tell), but of course the Wi-Drive doesn't have internet connected to it. I disabled the wireless connection to the Wi-Drive right away and tested my 3G connection again and it was working. It was not a case of my 3G not working at the time of testing.
As for format support, Kingston mentioned a good point in that they can only provide format support for the same formats that Apple provide for legal reasons and having their app approved for listing on the App Store. I should have given this more thought when writing my initial thoughts on the product. I have been using another app which has since been delisted from the Apple app store which plays pretty much any format and didn't give it enough thought at the time. Kingston should not be penalized for this, but it does still mean format support is limited with the Wi-Drive.