Star Wars Episode II: Attack of the Clones (2002) Blu-ray Movie Review
"Sometimes there are things no one can fix."

Published Sun, Oct 2 2011 9:11 AM CDT
|
Updated Tue, Nov 3 2020 7:01 PM CST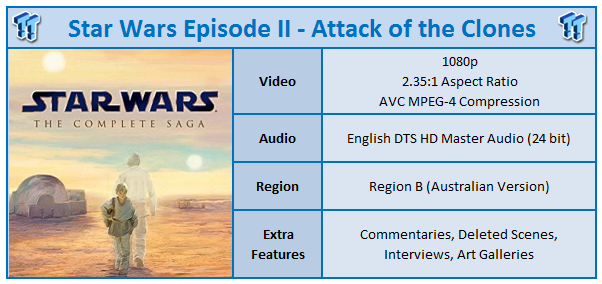 Despite its commercial success, many Star Wars fans were left confused and disappointed by The Phantom Menace, which by the time the next prequel was released, had hardened into staunch negativity. This made the launch of Attack of the Clones a harder sell for LucasFilm and Fox, however a strong film could have turned it around. Unfortunately, Clones seemed to take many of the complaints of its predecessor on board and magnify them exponentially.
Anakin Skywalker (Hayden Christensen) has grown up to be a confident, albeit arrogant Jedi under the tutelage of Obi-Wan Kenobi (Ewan MacGregor), who's command of the Force is undoubtedly strong, but altogether reckless. The Jedi are spread thin across the galaxy to defend the Republic from the growing threat of the Separatists, led by Count Dooku (Christopher Lee) but a pawn to be manipulated by Darth Sidious (Ian McDiarmid). When the Jedi become aware of a giant army of humanoid clones designed for the purposes of battle, the wheels for all out war start to grind into action. Amidst this backdrop, Anakin Skywalker now reunited with Padme Amidala (Natalie Portman) foster an impossible relationship which feeds into Anakin's anxiety for control and love.
Attack of the Clones is essentially a good story, told poorly. Once again, the actors look confused and unconvincing composited from the blue screen into an ILM created backdrop. The Clone War battle is basically a joke; the most bloodless, unrealistic and cartoony portrayal of war ever seen. There are no consequences to any actions, making the sequences feel like watching someone play a video game. The script, despite input from screenwriter Jonathan Hales, is still very pedestrian and despite some effort by the cast to inject warmth and humanity into its robotic words.
Overall, Attack of the Clones solidified to many that Lucas had lost the handle on the franchise and left many hardcore and casual fans alike rather disappointed one times too many.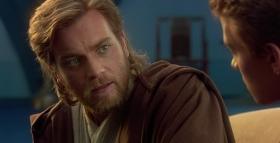 Video
Attack of the Clones is presented in the aspect ratio of 2.35:1 (its original aspect ratio), encoded with AVC MPEG-4 compression.
Unlike Menace, Clones had a state of the art DVD transfer, the first live action DVD to be mastered from digital files. As such, this Blu-ray whilst still a generational leap in quality, is just not to the same level.
Ten years ago, Lucas shot Clones on the Sony/ Panavision CineAlta 24p 1080 camera. Think about the amazing leaps in digital photography quality we've had in this time. They are significant. Most digitally shot films are now lensed at 4K resolution, so it's kind of a shame that 1080p will be the best Clones will ever look, unless the live action segments are upconverted - which is unlikely. The transfer's digital pipeline certainly magnifies the cartoony CG aspects of the film, making it appear all the more unrealistic. But that is the film and little can be done about that.
Colours are generally bright and bold, with a fairly sharp amount of detail, even if some live action is strangely soft in focus (which was apparently a deliberate decision of Lucas whilst filming).
So for all intents and purposes, save for compression, this Blu-ray might as well be the films master. The reality is it will never look better than it does here.
[img]2[/img]
Audio
The main audio track is encoded with DTS HD Master Audio 6.1 at 24 bits.
Sound mixer Gary Rydstrom knows how to mix a film and he returns for the last time to the Star Wars universe to create an aggressive, full blooded mix with deep and booming bass that will rock the foundations of the home theatre. The mix has been accused of being 'overly cooked' by some home theatre gurus, but most will simply turn it up. It's amazing.
Whilst there is no real issue with hearing dialogue, occasionally it becomes obvious that some of the on-set dialogue which should have been re-recorded has not been, and has a noticeable hiss underneath it. The lossless nature of the track means it's not able to hide deficiencies as well as before.
The soundtrack by John Williams is quite reasonable, although far from his best. George Lucas evidently didn't love it that much either. He cut it to bits during post production and added segments from Menace. If you have a keen ear, the sloppy editing does become fairly obvious.
Surround channel use is very high and when the clone battle begins, you'll at least believe you are there.
This is a reference quality mix. My cat hates it, but it gets a thumbs up from me.
[img]3[/img]
Extras
Again, LucasFilm have included some worthwhile extra features designed to co-exist with the previous DVD supplements. That is, they aren't replicated here, so you'll have to hang onto your old DVDs to retain everything.
The main disc features two audio commentaries. The first is carried over intact from the DVD release, featuring George Lucas and many members of the crew, including Producer Rick McCallum, Sound Editor Ben Burtt and ILM staff. The second, newly produced track is comprised of interview comments and edited together in a fairly relevant and cohesive manner.
The remaining bonus features are contained on the first extras disc, along with the bonus features for Phantom Menace and Revenge of the Sith For this review, I will talk about the bonus features relevant to Attack of the Clones. The bonus features are divided by the four 'worlds' relevant to the plot: Coruscant, Naboo, Tatooine and Geonosis.
Next up are five Deleted Scenes including a more explained backstory for Count Dooku leaving the Jedi order, a very unfinished extended speeder chase (the sequence was already way too long), more light on Anakin's nightmares, a brief talk between Anakin and Padme's disturbingly Australian father and a subplot from the climactic end battle where Jedi master Ki-Adi Mundi leading an attack on the droid control ship.
The Overview segments are some of the more interesting features on the disc, which take a brief look at each of the four menu worlds. Despite their brief length of just 3-4 minutes each, there is a lot of information imparted and they are edited very well together.
Next are a few brief Interviews segments; one with Ewan McGregor and another with Hayden Christensen, and another brief segment with Hayden Christensen and Christopher Lee discussing the complexities of blue screen photography.
The Collection shows a few of the stunning models, costumes and creatures created for the film, with impressive 360 degree turns which show the detail the artisans went to.
Finally, the concept art gallery brings a handful of high resolution concept art sketches and artwork to screens. Star Wars fans will recognize a lot of this art from the 'Art of Star Wars' series of books. Whilst much of the art is impressive, I've always disliked on screen still galleries and this doesn't change my mind.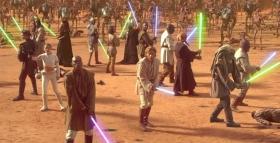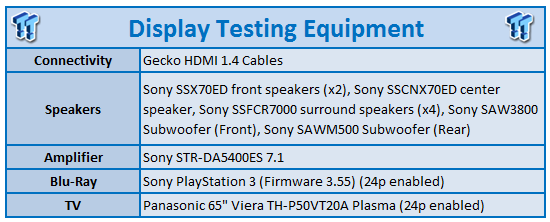 PRICING: You can find products similar to this one for sale below.

United States: Find other tech and computer products like this over at Amazon.com

United Kingdom: Find other tech and computer products like this over at Amazon.co.uk

Australia: Find other tech and computer products like this over at Amazon.com.au

Canada: Find other tech and computer products like this over at Amazon.ca

Deutschland: Finde andere Technik- und Computerprodukte wie dieses auf Amazon.de
We openly invite the companies who provide us with review samples / who are mentioned or discussed to express their opinion. If any company representative wishes to respond, we will publish the response here. Please contact us if you wish to respond.