Star Wars Episode I: The Phantom Menace (1999) Blu-ray Movie Review
"I've got a bad feeling about this..."

Published Wed, Sep 28 2011 7:07 AM CDT
|
Updated Tue, Nov 3 2020 7:01 PM CST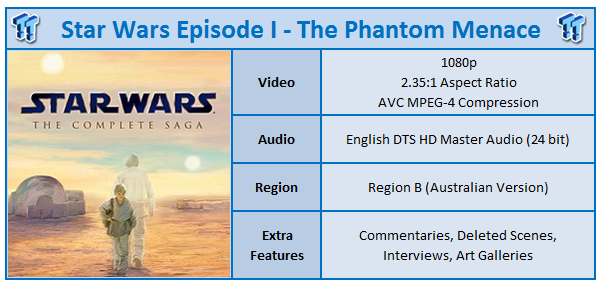 Never before in the history of cinema has one film been so anticipated as the Star Wars prequels, which was the first issue that Phantom Menace had to grapple with. Unfortunately, Lucasfilm did little to hose down the anticipation, signing promotional deals with hundreds of brands including a $2 billion deal with PepsiCo, ensuring that there wasn't a person alive who wasn't aware the film was coming out. This effectively set the film up for a fall. The Phantom Menace, even if it was an amazing movie was going to be a disappointment on some level. The fact it was a relatively weak science fiction film made the fall even more enhanced.
12 years on, divorced from the hype (did I say this film was hyped?) and what were once cutting edge special effects are now aging and The Phantom Menace is left to stand on its own two feet, finally speaking for itself. I'll be frank. It's not a great film. It's a good film. It's not a good Star Wars film, it's a weak effort. But worse is to come.
When Jedi masters Qui-Gon Jinn (Liam Neeson) and Obi-Wan Kenobi (Ewan McGregor) are sent to negotiate with the galactic Trade Federation regarding their illegal blockade of the planet Naboo, they are attacked and stow away to Naboo, ruled by the young Queen Amidala (Natalie Portman) while they attempt to get to the bottom of the mystery of who tried to dispatch them and why. A chance encounter with a child Anakin Skywalker (Jake Lloyd) will come to have grave ramifications for the galaxy.
There are many problems inherent with The Phantom Menace. The script and situations are convoluted and often seldom make sense, the performances were hampered by way too much blue screen, Jar Jar Binks continues to prove why he is one of the most loathed characters in the Star Wars universe and the role of Anakin Skywalker was horribly miscast.
But there are some things that are done right. The score by John Williams is extremely good and the Duel of the Fates track played during the climactic lightsabre battle is one of the best contributed to the entire series. The special effects have held up reasonably, especially those during the Pod Race segment. Above all, though, it's the first time in the series that we get to see a Jedi in his prime, go up against the Sith hungry for blood, and they kick some serious ass.
A lot has been said and written about The Phantom Menace over the last 12 years and most of the criticisms are apt. Many have apportioned the blame far more eloquently than I can, suffice to say that it gets worse before it gets better...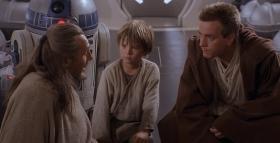 Video
The Phantom Menace is presented in a full screen aspect ratio of 2.40:1 (its original aspect ratio), encoded with AVC MPEG-4 compression.
The pre-existing video transfer for Phantom Menace was a shockingly bad, noise addled, overscanned and pink-hued monstrosity. This new transfer sourced from the 2K resolution digital master is a significant improvement, but some poor decisions have taken their toll.
The image is sometimes quite sharp and pleasing, with some stunning detail. Colour is very nice and in this regard significantly improved. Unlike other transfers, there is a complete absence of film artifacts and the transfer is now framed correctly, with no overscan.
Unfortunately, Lucasfilm have seen fit to slather the transfer with digital noise reduction, in an effort I suspect to make it appear as glossy as the next two films. This is a really strange choice. The DNR is pretty awful at times, eliminating grain and fudging fine detail, but the judicious nature of it is all the more confusing. Some shots have a complete absence of DNR and look amazing.
Overall, this is the best that Phantom Menace has looked and infinitely better than other releases, but far from perfect.
[img]2[/img]
Audio
The main audio track is encoded with DTS HD Master Audio 6.1 at 24 bits.
Even on VHS (don't laugh) Phantom Menace had a very impressive audio transfer, but that on offer here is light years ahead of previous presentations. The lossless presentation is something of a revelation.
Despite much of the audio being re-recorded, I didn't see any evidence of audio sync issues, although the Neimodian latex masks don't move properly with their speech (despite the year before's The Fifth Element having no such issues).
The front soundstage is very balanced, but it's the rear channels which really shine, creating a 360 degree wall of sound throughout, but even more impressive during the stand out sequences, such as the pod race.
Featuring one of the most aggressive audio mixes in cinematic history, this mix will test whatever level of equipment you have. Bass is very deep into the single digit frequencies and you will feel it.
This is a reference quality mix.
[img]3[/img]
Extras
LucasFilm have gone to a bit of effort to produce some new and interesting extra features, but it all seems a bit lackluster after the amazing DVD supplements (which apart from one commentary are not carried over). So you'll have to hang onto those as well.
The main disc features two audio commentaries. The first is carried over intact from the DVD release, featuring George Lucas and many members of the crew, including Producer Rick McCallum, Sound Designer Ben Burtt and ILM staff. The second, newly produced track is comprised of interview comments and edited together in a fairly relevant manner.
The remaining bonus features are contained on the first extras disc, along with the bonus features for Attack of the Clones and Revenge of the Sith. For this review, I will talk about the bonus features relevant to Phantom Menace. The bonus features are divided by the three 'worlds' relevant to the plot: Naboo, Tatooine, Coruscant.
First up are seven Deleted Scenes including a slightly alternate opening, additional dialogue between Qui-Gon and Watto over the Pod Race wager, a slightly extended battle with Darth Maul and Qui-Gon on the ramp of the Queens ship, a brief appearance of the originally cast Bail Organa of Alderaan (Leais adoptive father), an alternate capture of the Neimodians Nute and Rune and some more dialogue when Anakin returns from destroying the Trade Federation battleship.
Interviews make up the bulk of the extra features, including a 1994 interview with Lucas who briefly discusses (albeit not in any depth) preparing to write 'Episode One', Producer Rick McCallum discusses the logistical issues of filming in Tunisia and building and transporting the full size Podracers.
The Collection shows a few of the stunning models, costumes and creatures created for the film, with impressive 360 degree turns which show the detail the artisans went to.
Finally, the concept art gallery brings a handful of high resolution concept art sketches and artwork to screens. Star Wars fans will recognize a lot of this art from the 'Art of Star Wars' series of books. Whilst much of the art is impressive, I've always disliked on screen still galleries and this doesn't change my mind.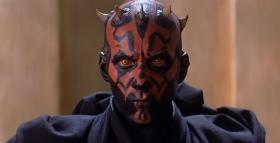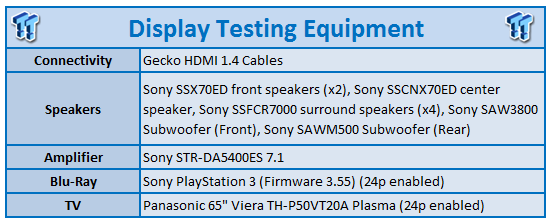 PRICING: You can find products similar to this one for sale below.

United States: Find other tech and computer products like this over at Amazon.com

United Kingdom: Find other tech and computer products like this over at Amazon.co.uk

Australia: Find other tech and computer products like this over at Amazon.com.au

Canada: Find other tech and computer products like this over at Amazon.ca

Deutschland: Finde andere Technik- und Computerprodukte wie dieses auf Amazon.de
We openly invite the companies who provide us with review samples / who are mentioned or discussed to express their opinion. If any company representative wishes to respond, we will publish the response here. Please contact us if you wish to respond.