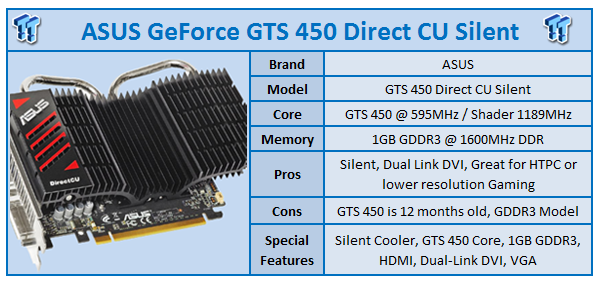 The GTS 450 from NVIDIA launched a little over a year ago; on September 13th, 2010 to be exact. For that reason, you can't help but imagine my surprise when ASUS wanted to shoot over a new version of the card as it was introduced to the new Direct CU Silent family.
Knowing there's a clear market for low end silent cards, I was happy to look at it, but I knew that running it through our normal benchmark line-up was a bit pointless. Instead we'd use our smaller format here today to look at it and just cover what it does and who will most likely use it.
The GTS 450 Direct CU Silent doesn't hold any surprises when it comes to checking out the package; we've got a fairly standard setup going on and the front gives us a good idea of what's going on with the Silent cooler while the back expands on some of the features.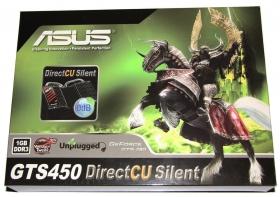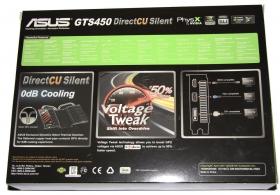 Being a lower end card, we've got a pretty small bundle going on with just a manual and driver CD included in the box. Honestly, it's not much of a surprise, but the main thing you'll probably grab off the CD is the driver, although you'd be better off heading over to the NVIDIA site to grab the latest.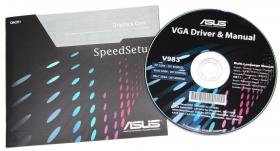 Looking at the card, you can see we've got a massive heatsink going on that has got two heat pipes coming out of the top. The overall look is really nice, though, with the black heatsink and black PCB which is something that's normally skipped on the lower end cards.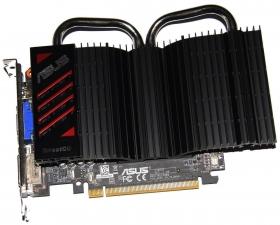 While we lack any need for an extra power connector on the card, you can see closer to the front of the card we've got a single SLI connector. The problem is with the way the heat pipes go, it's not much use. To be honest, though, the chances of anyone actually wanting to SLI one of these cards is extremely slim as it is.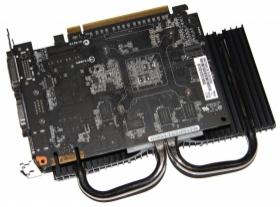 If you wanted more performance, you'd be better off opting for something higher up instead of going down the path of adding a second one into the mix. Before we talk about the performance, though, let's just quickly have a look what's going on with the I/O side of things.

Connectivity comes in the form of a Dual-Link DVI, VGA and HDMI connector. The combination of the silent cooler and HDMI port are probably the two stand-out items that make it an attractive option for anyone interested in a silent HTPC card.
Since the launch of the GTS 450 we've seen two versions introduced; we've got the higher end GDDR5 model and the lower end GDDR3 model. The card we're looking at today is based on the latter, meaning the core comes in at 595MHz and the Shader clock comes in at 1189MHz.
As for the GDDR3 memory, we've got a total of 1GB of that and it comes in at a clock speed of 800MHz or 1600MHz DDR. These clocks are a bit lower than the GDDR5 model, but of course the big advantage is that the card simply isn't going to run as hot. Combined with the fact that the aim of the model isn't really a hard core gamer, it's not a big issue. It's worth knowing, though, that the card is based on the GDDR3 version instead of the GDDR5 one.
Firing up 3DMark 11, we're able to get a good idea of how performance sits when compared to other models. Scoring P1776 puts it in line with an AMD HD 6570. On the gaming side of things, that means we'll be able to pull some playable FPS at 1680 x 1050 under older games like Resident Evil 5.
If we fire up Far Cry 2 at 1680 x 1050, we can see we've got a minimum of 23 FPS and average of 56 FPS making for some "smoothish" game play. Essentially we want to boost that minimum up to 30 and that could be done by dropping our in-game detail down. Considering we're dealing with a completely silent card, the performance isn't too bad. Again, the design does make for a card that's better opted for something in a media centre PC.
Taking a closer look at the cooler, it's of course silent and on the heat front it runs very well. Chugging along at idle, the card is running at 36c. During our game testing the card only got up to as high as 62c which is impressive and not a number we'd be worried about.
As for power draw, the most we saw it peak at was 194 watt on our system and considering our system is actually quite high end, for any kind of media PC you're going to get away with a PSU that a mouse on a wheel is literally running.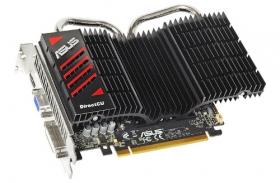 We know that the GTS 450 Direct CU Silent isn't going to be breaking any records here or be going into the PC of any serious gamer. Instead, it's going to be an option for people who want something completely silent in a media PC or are maybe wanting something silent that can run those older Source based games at 1680 x 1050 or lower.
Power draw is extremely low and looking at the heat numbers, we can see that the cooler while being silent does a good job of keeping the temperature down.
Sure, the GTS 450 Direct CU Silent isn't for everyone, but there's a clear market for it and ASUS make sure that if you're in that market, they've got a card for you.