Introduction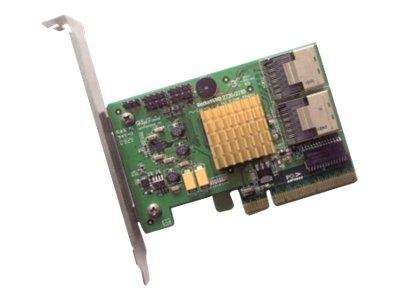 If you wait long enough, sooner or later all technology trickles down to a point where price is no longer an issue. The HighPoint RocketRAID 272X Series of products is a very good example of this. The 272X Series is a low cost product line that delivers a large amount of technology at a reasonable price. Today we are looking at the 2720SGL, a sub 140 Dollar SATA/SAS software RAID controller that now supports RAID 6.
The RAID 6 feature is a big advancement for this price point and so far we've been unable to find anything on the market to even compare the 2720SGL to. The price is amazing, but today we will see if the performance follows the price to the ground level or if the controller is good value.
HighPoint has six products in the 272X Series. The base 2720SGL that we are looking at today ships without cables. The 2720 standard package includes cables that run from the controller to backplane systems, something most end users looking to add drives to the system will not need since they need SFF-8087 to SATA or SAS drive connections. We feel there isn't any reason to purchase cables that you won't need. In the long run, though, you still need to buy cables to get the SGL version up and running, but they can be found for as little as 10 Dollars each.
Let's take a look at the specifications and then see how the HighPoint 2720SGL performs.
Specifications, Pricing and Availability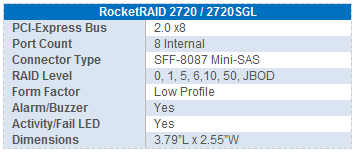 HighPoint doesn't give us a lot of information on their website about the 2720SGL. In fact, they don't even have a dedicated webpage for the product, just a webpage for the 272X Series of products. From there you have to look for the 2720SGL. Once you find it, you get the specifications we've shown above.
The interface back to the host system is a PCIe 2.0 8x lane connector that can be used in either an 8 or 16 lane slot. Two adapters ship with the card; a low profile and a standard desktop profile. On the back of the card two SFF-8087 ports allow you to connect the card to your drives through breakout cables; two are required to connect up to 8 drives. You can also purchase SFF-8087 to SFF-8087 cables if you have backplanes that support this connector.
The RocketRAID 2720SGL supports the latest SATA / SAS 6Gb/s protocol, so your new drives are supported at full speed. We'll test the controller with some of the latest SSDs to see how it fairs with SandForce's latest 500+MB/s drives today. The 2720 is designed for use with traditional mechanical platter drives, though, so users looking to take advantage of large capacity storage are the target audience.
The software RAID controller supports RAID 0, 1, 5, 6, 10, 50 and JBOD. RAID 6 is the standout here for users looking for the most redundancy. In RAID 6 up to two drives can fail before you start to lose data on the third failure. This is a feature that until now was only found on more expensive RAID controllers.
The price of the HighPoint 2720SGL is what makes the controller so attractive, though. At just 139.99 at Newegg at the time of writing, the controller is quite a bargain. Adding to the overall value is HighPoint's 3-year warranty.
The Packaging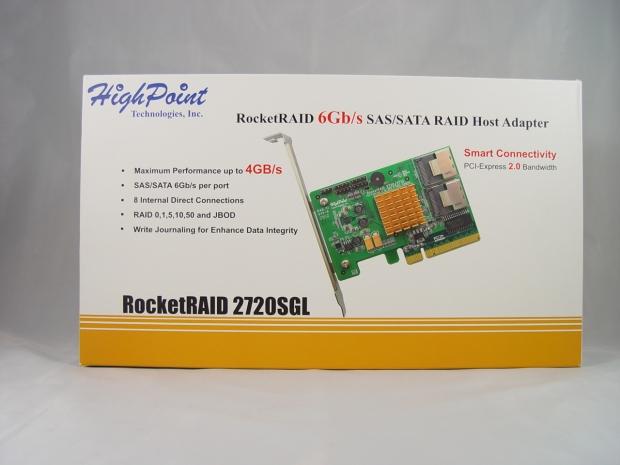 HighPoint put together a nice package for the RocketRAID 2720SGL. On the front we found quite a bit of information and an image of the controller.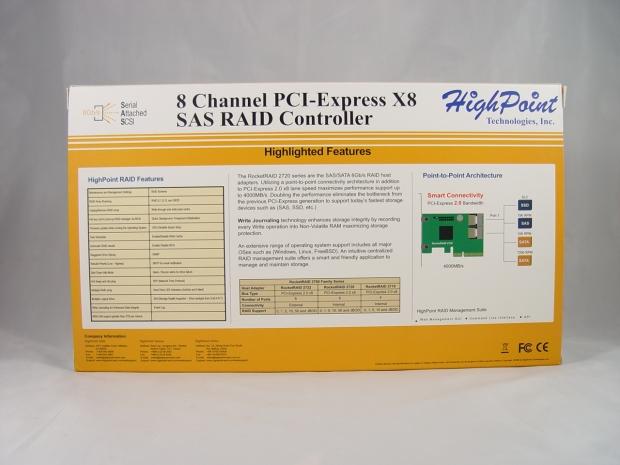 The back of the package lists all of the features for the controller, more than what we found on the HighPoint website. Here you will learn about Write Journaling and the capabilities of the controller.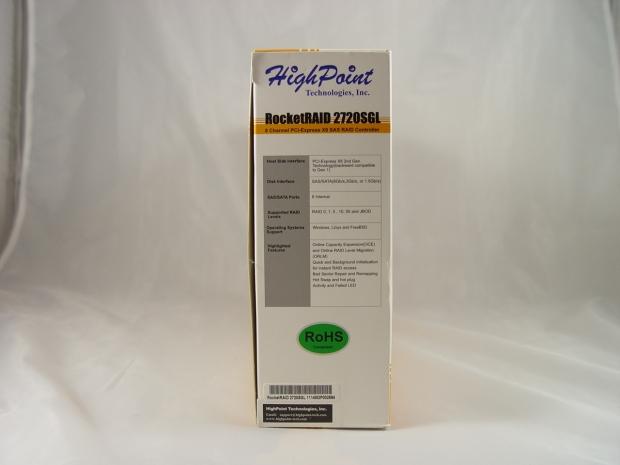 The side of the package lists the product specifications as shown on the previous page.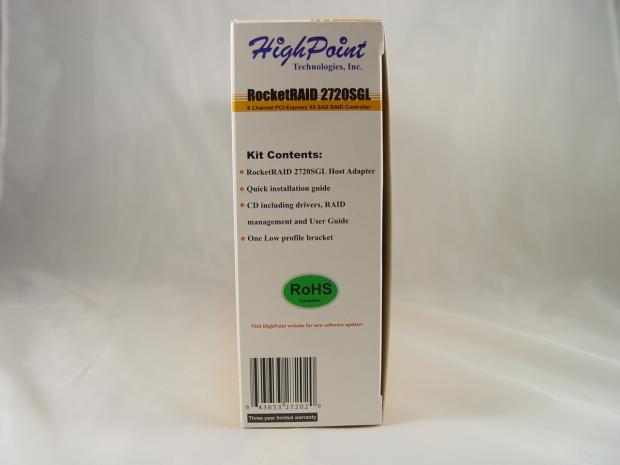 The other side of the package shows the contents that are included in the purchase.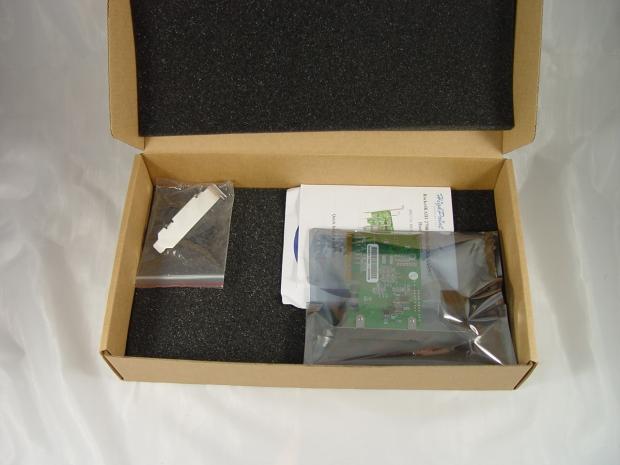 The inner packaging uses foam to secure the controller and accessories.
The HighPoint RocketRAID 2720SGL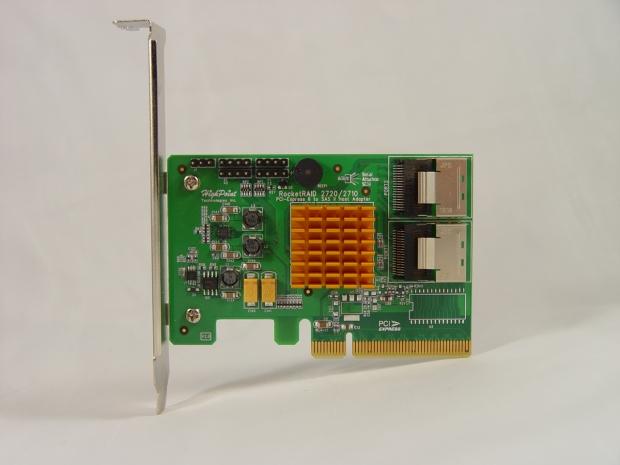 Here we get our first look at the RocketRAID 2720SGL. Being a software RAID controller, there isn't an XOR engine onboard or RAM for a data buffer. On the back you see the two SFF-8087 ports that are used to connect the drives and at the bottom is the PCIe 2.0 8 lane connector.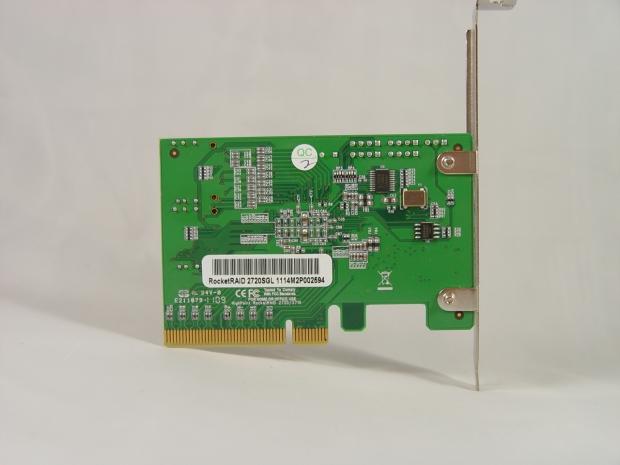 The back of the card is fairly plain with nothing connecting on this side.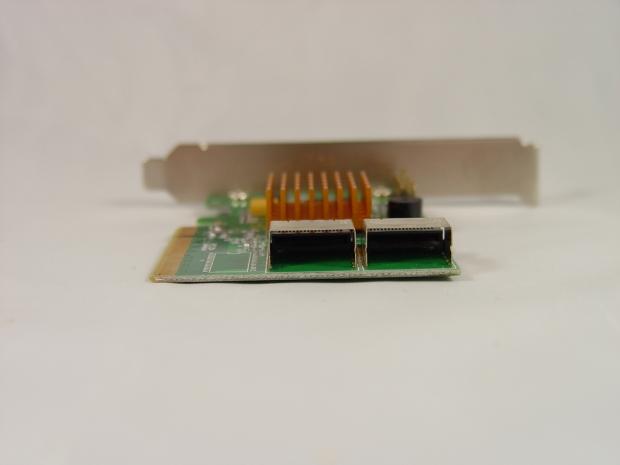 The two SFF-8087 connectors use standard spacing, so there is a small gap between them.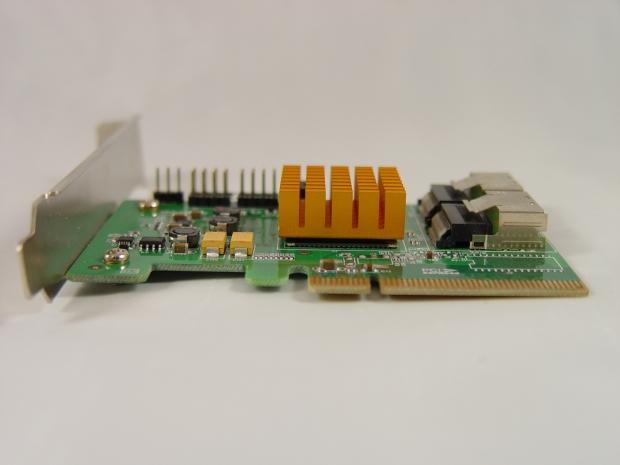 The heatsink fits inside the envelope of space specified for a single PCIe slot, so if you need to use the RocketRAID 2720 between two video cards, you can.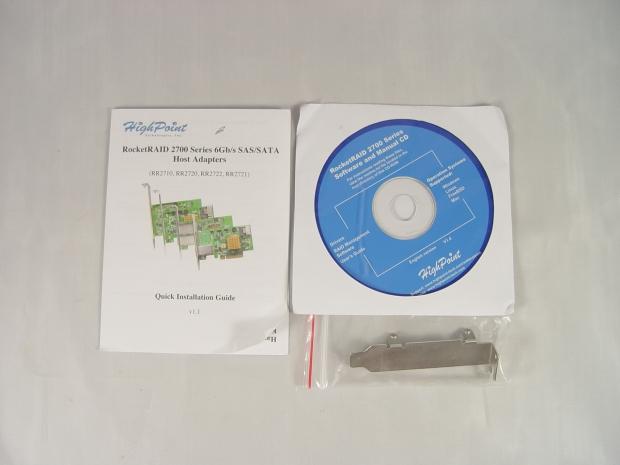 Included in the package is a paper manual, driver / software disk and a low profile bracket for use in smaller servers.
Test System Setup and ATTO Baseline Performance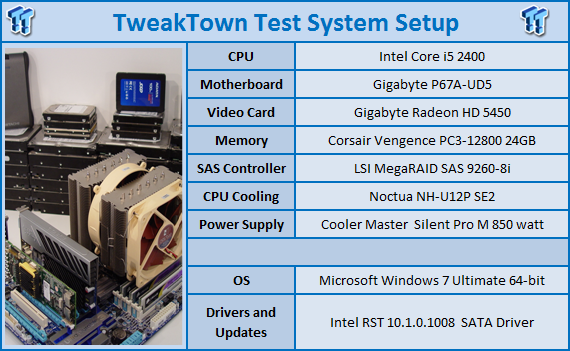 We would like to thank the following companies for supplying and supporting us with our test system hardware and equipment: AVADirect, GIGABYTE, Cooler Master, LSI, Corsair and Noctua.
You can read more about TweakTown's Storage Product Testing Workstation and the procedures followed to test products in this article.
We tested the HighPoint RocketRAID 2720SGL a couple of ways to see how much performance we could pull out of the sub 140 Dollar controller. The first thing I was interested in seeing was if the controller could handle a single OCZ Vertex 3 SSD. The Vertex 3 uses a SandForce SF-2281 controller that is capable of delivering up to 550MB/s in synthetic tests.
After the Vertex 3 tests were completed, we moved on to test the maximum performance available by adding eight Crucial C300 256GB SATA 6G drives in RAID arrays. We tested in RAID 0, RAID 5 and RAID 6. Most users will opt to use RAID 5 to balance capacity, performance and redundancy. RAID 0 is good for all out performance, but offers no redundancy. RAID 6 increases redundancy, but reduces performance and capacity.
ATTO Baseline Performance
Version and / or Patch Used: 2.34
ATTO is used by many disk manufacturers to determine the read and write speeds that will be presented to customers.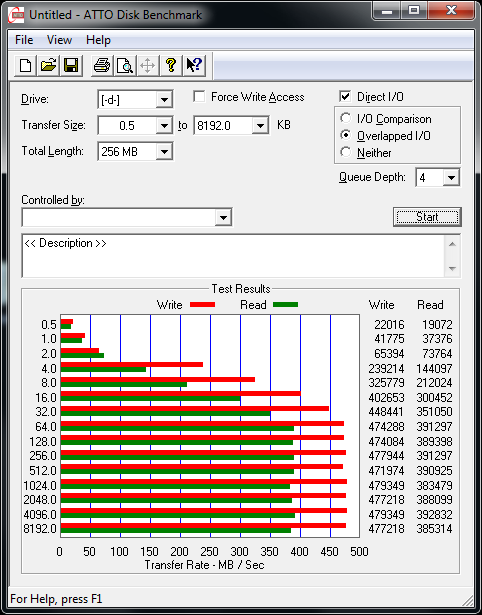 OCZ Vertex 3 JBOD
I'm not going to spend a whole lot of time covering the single drive Vertex 3 performance on the 2720, since it wasn't really designed to be used this way. I get a fairly large number of emails asking about how to add SandForce SF-2281 controller drives to older systems like X58 that don't have SATA 6G support onboard.
Our tests with native Intel SATA 6G produce results close to 560MB/s read and 500MB/s write speeds. The RocketRAID 2720SGL gives us 477MB/s read and 385MB/s write. This is better than most of the Marvell solutions that shipped onboard some X58 motherboards, but isn't quite up to the standard Intel has given us.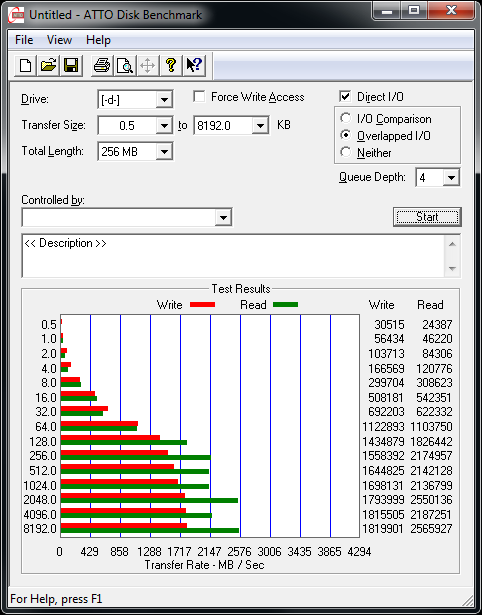 8x Crucial C300 256GB in RAID 0
Intel's P67 and Z68 motherboards only have two SATA 6G ports, so you are not going to achieve numbers like this on them. This is where the RocketRAID 2720 really stretches its legs, while running a large number of drives.
As we stated before, the RocketRAID 2720 is designed for mechanical drives. The problem with testing with spinners is that we can't really see just how fast the controller will allow us to go. Seagate's new 1TB per platter 3TB drives are able to reach around 170MB/s read and write speed, so eight of them gives us around 1300MB/s maximum when everything is lined up perfectly.
Since we tested with eight Crucial SATA 6G SSDs, we were able to measure performance past 2500MB/s! Given the results we see above in RAID 0, 2565MB/s read and 1819MB/s write speeds, we can say without a doubt that you will be able to use your SATA / SAS 6G drives to their full potential in RAID 0.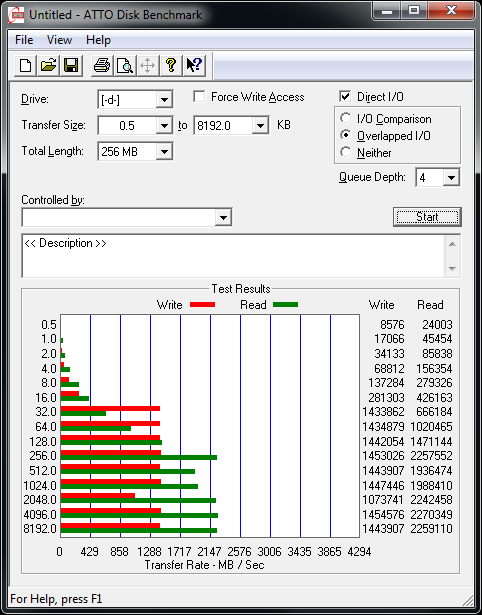 8x Crucial C300 256GB in RAID 5
The real tests come with RAID 5 and RAID 6, though. Since the RocketRAID 2720 is a software RAID system, the host processor is used to make the calculations for redundancy. In the RAID 5 test we achieved a read speed of 2259MB/s and a write speed of 1443MB/s.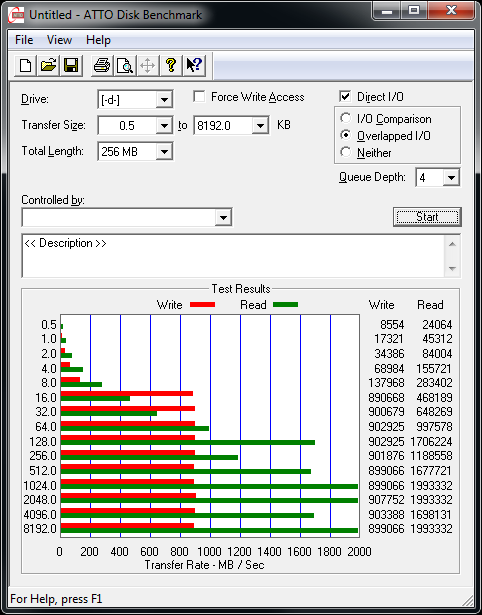 8x Crucial C300 256GB in RAID 6
RAID 6 delivered 1993MB/s while reading data, but just 900MB/s writing data. Obviously RAID 6 is the most demanding of the RAID tests we performed, but for the price we feel you get your money's worth.
Benchmarks - AIDA64 Random Access Time
AIDA64 Random Access Time
Version and / or Patch Used: 1.60
Developer Homepage: http://www.aida64.com
Product Homepage: http://www.aida64.com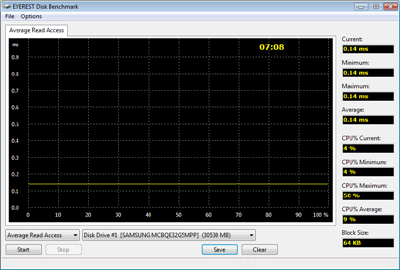 AIDA64 offers several different benchmarks for testing and optimizing your system or network. The Random Access test is one of very few if not only that will measure hard drives random access times in hundredths of milliseconds as oppose to tens of milliseconds.
Drives with only one or two tests displayed in the write test mean that they have failed the test and their Maximum and possibly their Average Scores were very high after the cached fills. This usually happens only with controllers manufactured by JMicron and Toshiba.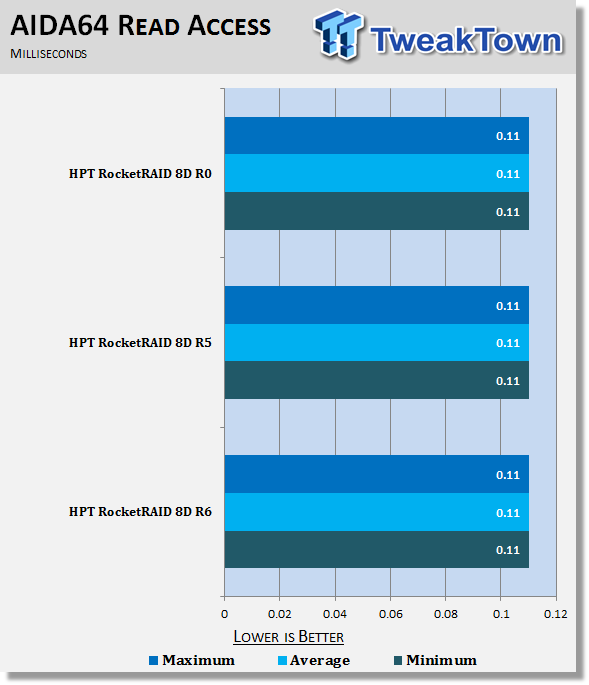 The HighPoint RocketRAID 2720 is able to keep latency at a minimum even when running in redundant RAID configurations. Here we see that all three modes tested produced the exact same .11ms response time.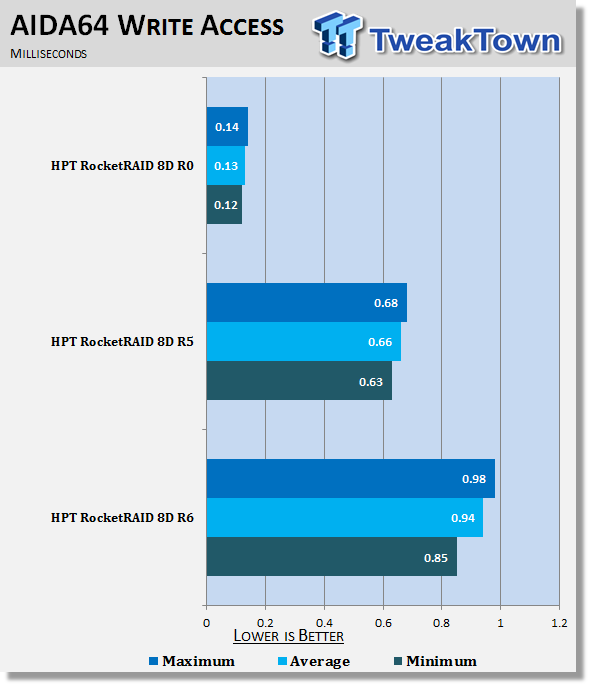 Things changed a little when writing data. Here we see the latency increasing as we move to the more advanced redundancy modes. On its own the Crucial C300 we tested with has a write latency of around .7ms, so the results are in line with what we expected to see.
Benchmarks - CrystalDiskMark
CrystalDiskMark
Version and / or Patch Used: 3.0 Technical Preview
Developer Homepage: http://crystalmark.info
Product Homepage: http://crystalmark.info/software/CrystalDiskMark/index-e.html
Download here: http://crystaldew.info/category/software/crystaldiskmark
CrystalDiskMark is a disk benchmark software that allows us to benchmark 4K and 4K queue depths with accuracy.
Key Features:-
* Sequential reads/writes
* Random 4KB/512KB reads/writes
* Text copy
* Change dialog design
* internationalization (i18n)
Note: Crystal Disk Mark 3.0 Technical Preview was used for these tests since it offers the ability to measure native command queuing at 4 and 32.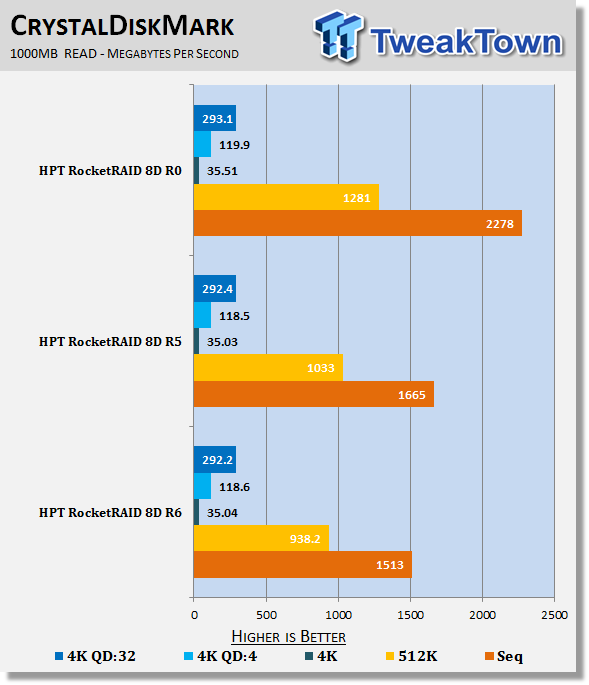 In CDM we are looking at the native command queuing performance. All three RAID modes tested show good scaling as the commands get stack.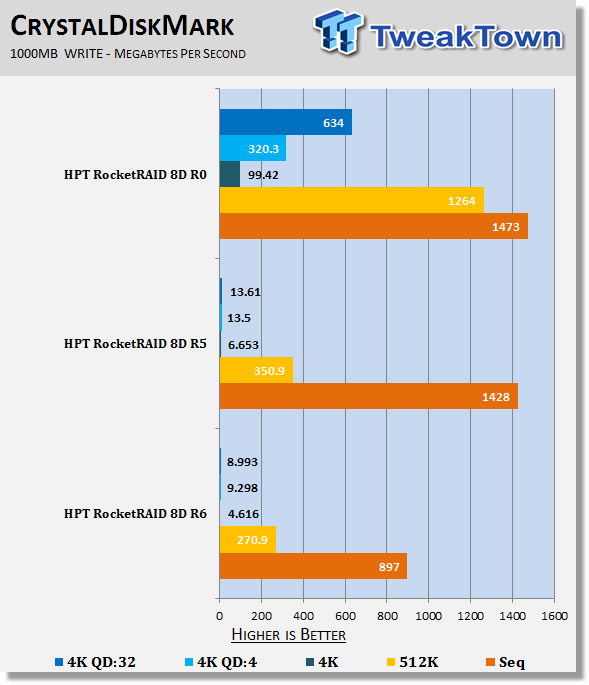 As is so often the case, budget offerings generally cut corners in one place or another. Here we see that in RAID 0 the controller is able to handle the high queue depths and take advantage of them. The RAID 5 and RAID 6 tests, though, don't look as nice.
This is one area that our testing methodology comes to bite us, though. SSDs are able to produce very high 4K numbers, but mechanical platter drives can't perform at this level. If you are using mechanical drives in your array then the limited 4K NCQ performance shouldn't be an issue.
Benchmarks - PCMark Vantage Hard Disk Tests
PCMark Vantage - Hard Disk Tests
Version and / or Patch Used: 1.0.0
Developer Homepage: http://www.futuremark.com
Product Homepage: http://www.futuremark.com/benchmarks/pcmark-vantage/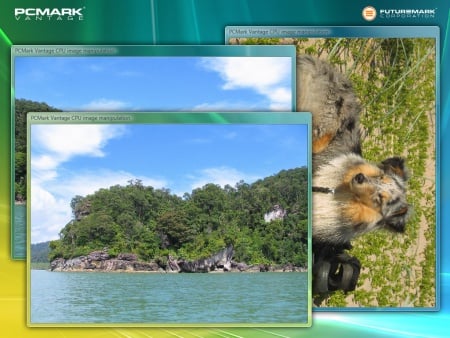 PCMark Vantage is the first objective hardware performance benchmark for PCs running 32 and 64 bit versions of Microsoft Windows Vista. PCMark Vantage is perfectly suited for benchmarking any type of Microsoft Windows Vista PC from multimedia home entertainment systems and laptops to dedicated workstations and high-end gaming rigs. Regardless of whether the benchmarker is an artist or an IT Professional, PCMark Vantage shows the user where their system soars or falls flat, and how to get the most performance possible out of their hardware. PCMark Vantage is easy enough for even the most casual enthusiast to use yet supports in-depth, professional industry grade testing.
FutureMark has developed a good set of hard disk tests for their PCMark Vantage Suite. Windows users can count on Vantage to show them how a drive will perform in normal day to day usage scenarios. For most users these are the tests that matter since many of the old hat ways to measure performance have become ineffective to measure true Windows performance.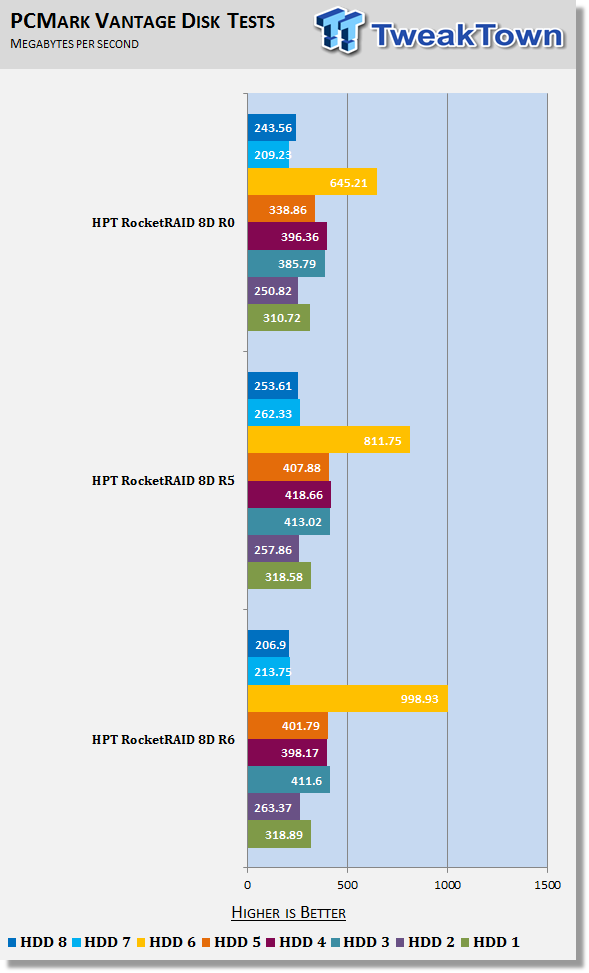 HDD1 - Windows Defender
HDD2 - Gaming
HDD3 - Windows Photo Gallery
HDD4 - Vista Startup
HDD5 - Windows Movie Maker
HDD6 - Windows Media Center
HDD7 - Windows Media Player
HDD8 - Application Loading
At this price point there is no telling how many ways the RocketRAID 2720 will be used. For those looking to build a bootable array and put your OS on it, this is for you. In the real world Vantage tests we see the performance holding fairly steady in all tests. The Windows Media Center Test usually produces a large result on RAID controllers since in this test data is being read in a sequential manner.
Benchmarks - AS SSD
AS SSD Benchmark
Version and / or Patch Used: 1.2.3577.40358
Developer Homepage: Alex Intelligent Software
Product Homepage: Alex Intelligent Software
Download here: http://www.alex-is.de/PHP/fusion/downloads.php?cat_id=4&download_id=9
AS determines the performance of Solid State Drives (SSD). The tool contains four synthetic as well as three practice tests. The synthetic tests are to determine the sequential and random read and write performance of the SSD. These tests are carried out without the use of the operating system caches.
In all synthetic tests the test file size is 1GB. AS can also determine the access time of the SSD, the access of which the drive is determined to read through the entire capacity of the SSD (Full Stroke). The write access test is only to be met with a 1 GB big test file. At the end of the tests three values for the read and write as well as the overall performance will be issued. In addition to the calculated values which are shown in MB/s, they are also represented in IO per seconds (IOPS).
Note: AS SSD is a great benchmark for many tests, but since Crystal Disk Mark covers a broader range of 4K tests and HD Tune Pro covering sequential speeds, we will only use the Copy Benchmark from AS SSD.
- Copy Benchmark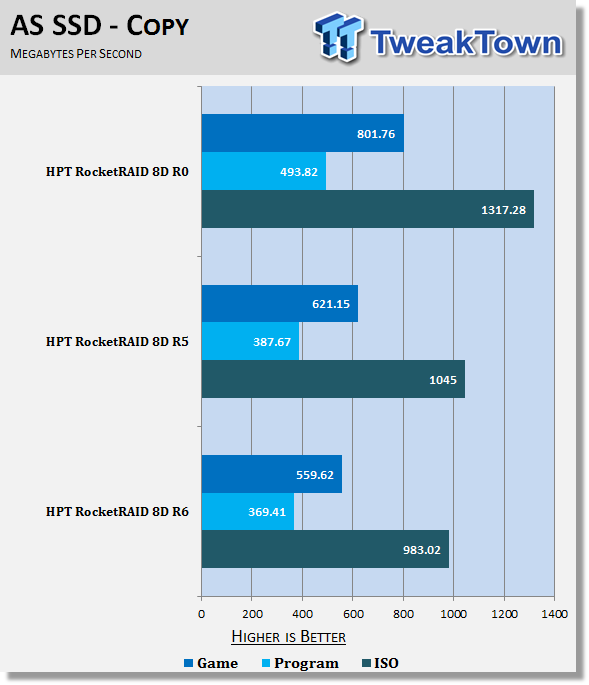 Most likely most users will be building file servers with the RocketRAID 2720 and moving data around on a network. If you are concerned about moving data on a client PC, then these tests are for you. Here we see impressive performance in all tests, especially when you consider the cost of the controller.
Benchmarks - Passmark
Passmark Advanced Multi-User Tests
Version and / or Patch Used: 6.1
Developer Homepage: http://www.passmark.com
Test Homepage: http://www.passmark.com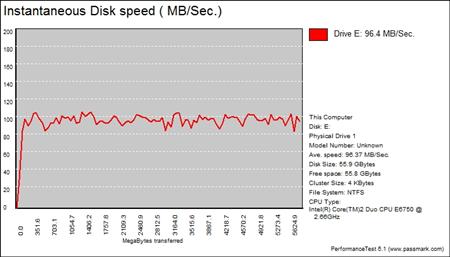 Many users complain that I/O Meter is too complicated of a benchmark to replicate results so my quest to find an alternative was started. Passmark has added several multi-user tests that measure a hard drives ability to operate in a multi-user environment.

The tests use different settings to mimic basic multi-user operations as they would play out on your server. Variances is read / write percentage as well as random / sequential reads are common in certain applications, Web Servers read nearly 100% of the time while Database Servers write a small amount of data.
The Workstation test is the only single user environment and will be similar to how you use your system at home.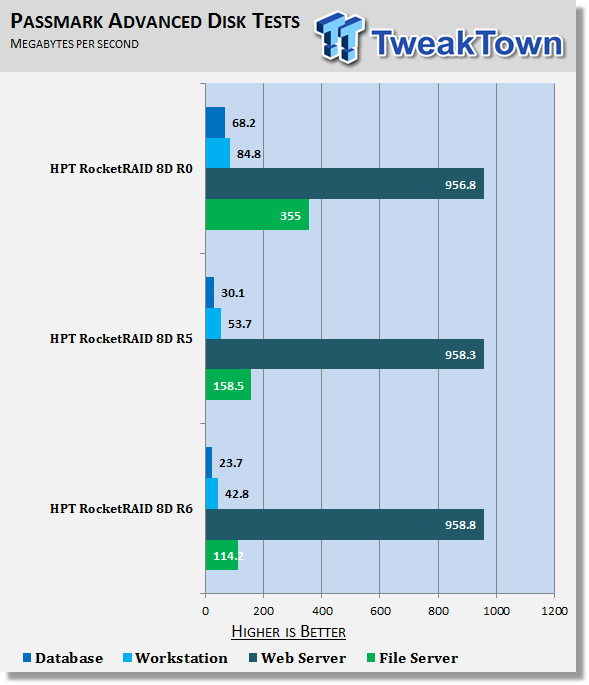 You can't really expect the 140 Dollar HighPoint RocketRAID 2720SGL to compare with products like the LSI 9265-8i in performance. Still, the controller does fairly well considering its lack of an XOR engine and cache.
Final Thoughts
I have to admit that I didn't expect too much from the 140 Dollar HighPoint RocketRAID 2720SGL controller, but I was pleasantly surprised. With this controller you get the ability to add up to 8 drives in RAID, even RAID 6 and up to 2500MB/s in measured performance. For the price you really can't beat the 2720SGL.
To get up and running, though, you need a few things already. The first is a PCIe 8x slot (or 16x slot) to plug the controller into. Most motherboards these days have a few spare slots unless you are going crazy with video cards. The next thing you will need is cables since the SGL model is cableless. Depending on how picky you are with your cables, a single SFF-8087 to SATA cables can cost anywhere between 10 Dollars to around 80 Dollars. SFF-8087 to SAS cables cost a little more, but can be found for as little as 15 Dollars. Since you need cables to connect your RocketRAID 2720SGL to anything, these factors must be included in your purchasing decision.
Still, even after you include around 30 Dollars in two cables, the total cost of the RocketRAID 2720SGL is quite low. There really isn't anything else on the market that can compare to the overall value offered by this controller.
When it comes to performance, there is an old saying; "You Get What You Pay For". That really isn't the case with the RocketRAID 2720SGL, because the performance doesn't match the price at all. For most users the RocketRAID 2720SGL will give you your money's worth and then keep giving.