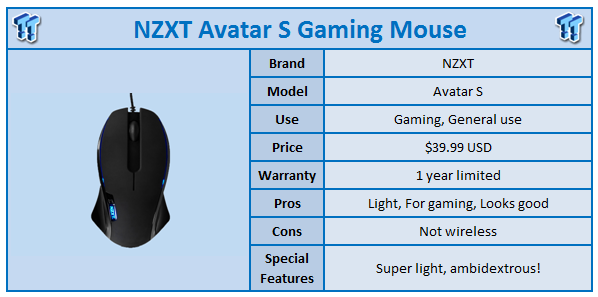 The NZXT is a strange beast. On first impressions it looks small and light - almost too small and too light. But after using it for a two week period for review, I came to love its lightness for casual gaming, hardcore gaming or even just plain Windows use.
[img]2[/img]
The mouse itself looks very, very cool. I love the style of the mouse itself and the color scheme used by NZXT (black and a very dark, cool looking blue). Hardware-wise, the mouse packs quite a punch.
The punch extends into pricing, too. Newegg sells the NZXT Avatar S mouse for just $39.99. This is an amazing price from NZXT, something that should really bring people in to take a look at the mouse.
It has a 1600 DPI laser sensor with three adjustment settings out of the box of 1600/800/400 DPI. The Avatar S has a tracking speed of 30 inches per second, so you should be fine unless you're Superman. It also includes 16Kb of on-board memory which can store one profile of macros, DPI settings and LED settings for gaming on-the-go.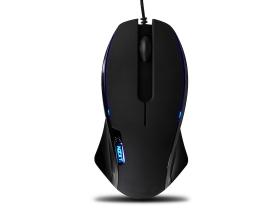 One feature that the Avatar S has over most gaming mice is that it is ambidextrous. This is a great design feature by NZXT and I applaud them at making it comfortable for me as a right-handed user, as well as feeling comfortable for a left-handed user. Now we just need a gaming "Leftorium" and we're all set. Ah, maybe Ned Flanders too!
I used the Avatar S with my usual FPS love of my life, Team Fortress 2, but spruced it up with some Praxis-powered lovin' from Deus Ex: Human Revolution and a heap of Windows-based use. I loved it. It's not the best mouse I've ever used, but it's a nice feel and I never felt like I was pressing too hard to move it, because it's just that light.
[img]3[/img]
I had a great time gaming on it; I couldn't bring myself to use another mouse after because I got used to the weight of the Avatar S. Having never used a NZXT mouse before (with the Avatar range being their first), I was left with a great impression from it.
The Avatar S slid across my mouse mat perfectly and the buttons don't feel too clunky to press. The ability to modify DPI settings, etc. is all standard now on gaming mice, so I won't go into that in great depth.
The Avatar S impressed me. For a simple box and small mouse I thought I wouldn't be impressed, but I was. Thanks NZXT, you've shown that gaming mice can be light and quick as well as looking great.