Corsair Vengeance LP White PC3-12800 8GB Kit Review
We saw that Corsair expanded the Vengeance line-up at Computex. Today we check out the new Low Profile version.
Published Wed, Sep 14 2011 5:26 AM CDT
|
Updated Tue, Nov 3 2020 7:01 PM CST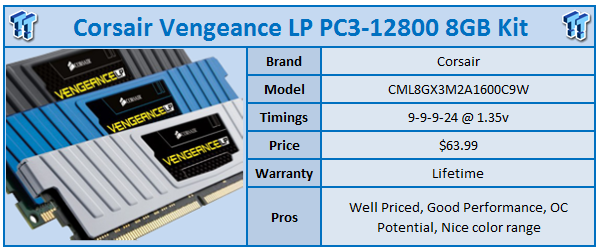 The Vengeance series was the first kit of RAM I tested on the new P67 platform when it launched earlier in the year. It was also the first kit that ran into problems when it came to using the massive Noctua NH-D14 on our P67 motherboard. The Corsair Vengeance kit we looked at was actually the reason we moved over to the Corsair Hydro series of water cooling units, as it gave us the ability to use any size RAM without an issue; and we haven't looked back.
During Computex we saw that Corsair announced that they were expanding the line of Vengeance series with the introduction of the new LP models, or Low Profile. Alongside the introduction of new low profile heatsinks, we saw them expand the color range. Alongside the typical black that we've come to see from most companies, a Blue and White heatsink was also implemented.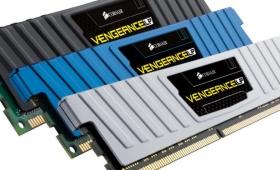 Today we've got a White kit on our hands and to be honest, the new color really is a breath of fresh air. For the most part we see that even if a kit isn't black, a darker color palette is normally chosen.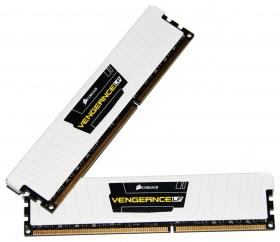 The kit itself isn't anything too extreme when it comes to the speed side of things. If anything, it's a very main stream 8GB kit with its default 1600MHz DDR clock. On the timings front, we've got a 9-9-9-24 setup at an extremely low 1.35v.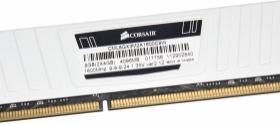 As for the CAS rating, in CPU-Z the memory section tells us it's 2T, but initially I wasn't sure, so when setting the kit up for the first time I set it to 1T and we didn't run into any problems at all. You can see our CPU-Z validation here. Up and running in Windows, it was time to check out the performance we could get.
Under AIDA64 we ended up with Read / Write numbers of 18,230 MB/s / 17,541 MB/s, Copy speed of 20,365 MB/s and latency of 48.2ns.
The performance of the kit doesn't hold any surprises, it sits a bit behind a lot of kits we've looked at lately, but that's only because this is a lower end kit with a lower end price tag. Apart from the heatsink color, there's nothing too flashy about this kit and no doubt that's what Corsair have wanted to aim for here.
Moving away from extreme speeds and crazy low latencies that indeed result in high price tags, the new LP Vengeance series instead cater to people who don't want to worry about overclocking and just want a good looking kit that's going to perform as it should.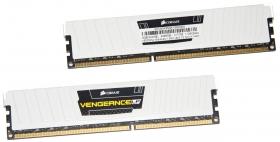 With that said, we always want to look at the overclocking side of things and going back into the BIOS, we took a bit of time to see just what kind of performance we could yield out of the Vengeance LP kit we've got here today.
Because of the limited ability to overclock memory by BCLK, we have to instead do it using the multipliers. The first thing we did was move the CAS rating to 2T and bump the voltage up to 1.5v. On the multiplier front we went for the next speed up; 1866MHz DDR and proceeded to reboot.
Unfortunately that was a no go, so back into the BIOS we went and moved the timings from 9-9-9-24 to 9-10-9-28 and proceeded to reboot. Again, we unfortunately weren't able to get the machine to boot. So we headed back in one more time to adjust the timings to 10-10-10-28 which is the loosest we'll set them to.
With everything set, it was again time to reboot and we didn't have an issue getting our system to boot and within a minute we arrived in Windows. You can see our CPU-Z validation here. Up and running in Windows, it was time to check out the performance we could get.
Under AIDA64 we ended up with Read / Write numbers of 19,554 MB/s / 17,941 MB/s, Copy speed of 21,345 MB/s and latency of 46.1ns.
You can see while we loosen up the timings, we do see a bump in performance across the board while memory latency is also reduced slightly. It's nice to know that if you want to get a bit more speed out of the memory, the option is available.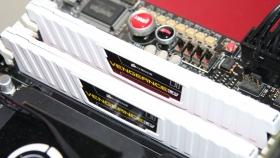 Corsair have put together a really nice little kit of RAM here and while it might not offer anything extreme when it comes to speed or latency, it instead offers a good setup for people who just want 8GB of quality RAM and at $63.99 US it does that. If that wasn't enough, we've also got a nice range of colors to choose from which step outside the typical black setup we see on so many other kits.
If you're looking for an 8GB kit of RAM that will sit nicely in your new Z68 system, this is a great kit. Combined with a white version of the 600T case from Corsair and a motherboard which is very heavy on a black color scheme and you'd just have such a sweet looking setup here.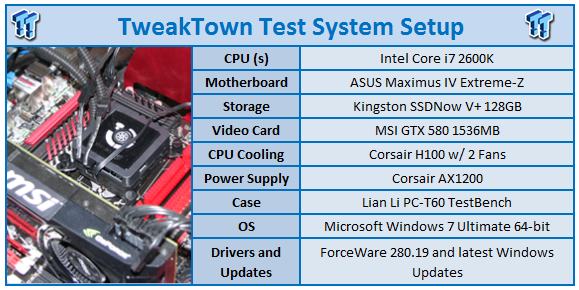 PRICING: You can find products similar to this one for sale below.

United States: Find other tech and computer products like this over at Amazon.com

United Kingdom: Find other tech and computer products like this over at Amazon.co.uk

Australia: Find other tech and computer products like this over at Amazon.com.au

Canada: Find other tech and computer products like this over at Amazon.ca

Deutschland: Finde andere Technik- und Computerprodukte wie dieses auf Amazon.de