Introduction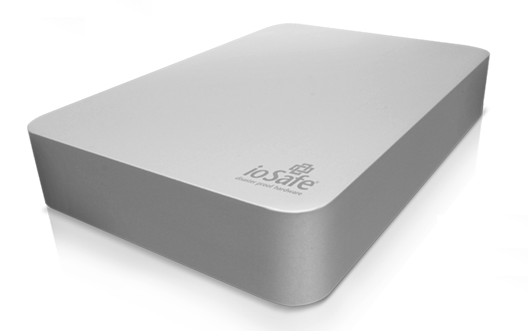 What is there to say about a storage product that I personally shot with a shotgun and watched it come to life as soon as it was plugged into a USB port? Amazing, incredible, unreal, wicked...I really just don't know where to begin. You see, my job is to look at a product and find faults. The companies that send these products hate that I do things in reverse, but take great pleasure in having an honest opinion on their products (when the results are favorable).
Many product reviewers look at a product and emphasize the good and downplay the shortcomings, but I see a lot of products and many of these products do many things well. It's the shortcomings end users want to know about before they make a purchase.
The ioSafe Rugged Portable is heavy. This damn thing weighs as much as a brick; OK maybe as much as half a brick. That's it - it weighs as much as half a brick. After spending the last three months toting a 750GB Rugged Portable around in a backpack and using it exclusively as my personal portable storage device, that is the best I can come up with.
Now that I've told you about the only fault I could find with the ioSafe Rugged Portable, let me tell you about how amazing, incredible, unreal and wicked this storage device is.
Specifications, Pricing and Availability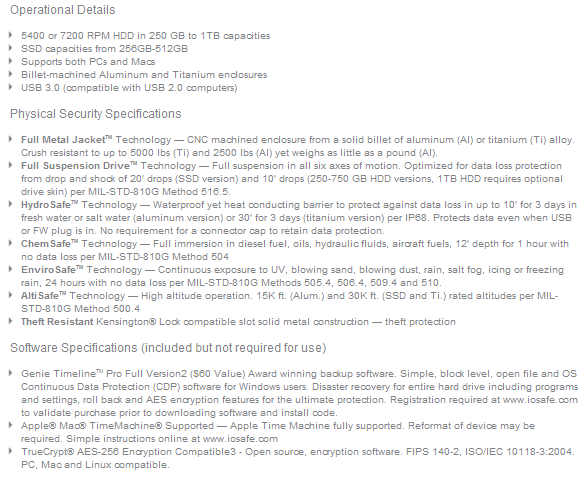 I spent a lot of time researching military specifications, because the ioSafe Rugged Portable spec list is full of references to them. Only the government could come up with such a system. These tests can't be called, Fall from 20 Feet, nope; they have to be called MIL-STD-810 and the like. No wonder everything takes so long with the government, they have to decode everything to English first. Luckily ioSafe didn't just post the MIL spec codes and actually talks about how good their product is in the specifications.
Before we get too far along, let's look at the options and pricing. The ioSafe Rugged Portable isn't a plastic USB enclosure that can take a fall off a desk. It is a military grade enclosure that can be ran over by a tank, so you can expect to pay a bit more for it than some Buffalo plastic enclosure. The base unit with 250GB HDD and the standard 1 year warranty and 1 year Data Recovery Service costs 149.99. You can move the DRS and warranty to 3 years for 50 Dollars more or out to 5 years for 100 Dollars more. 250GB isn't a lot of space, but as I said, you can configure your Rugged Portable. With a 62 Dollar upgrade you get 500GB of capacity and for 250 Dollars you can have a full 1TB. That rounds out your options.
I dropped in a buzz phrase above, Data Recovery Service. If you somehow manage to damage your drive and it no longer works, ioSafe will pay to have your data removed from the broken disk and put on another HDD. This is for the most part the same plan they use on the popular Solo and SoloPRO models. You can think of this protecting like your backup plan. I say that because at CES this last year we were shooting ioSafe Rugged Portables with shotguns and they all survived several shots. If you really want to kill one, you have to move up to assault rifles.
The Packaging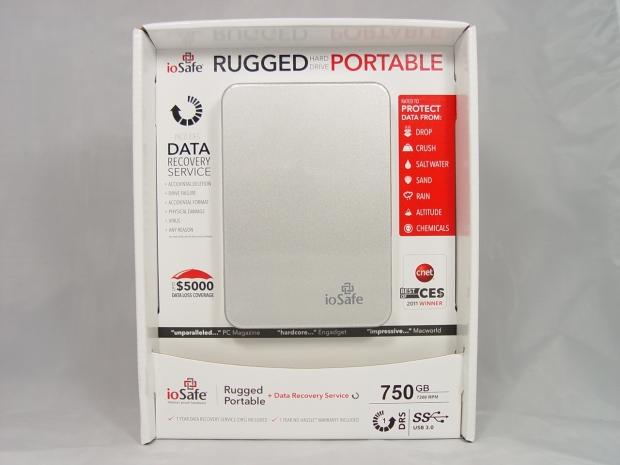 The ioSafe Rugged Portable doesn't need any protection. It's like Chuck Norris trying to hire a bodyguard. Still, ioSafe came up with a nice retail package that shows off the enclosure and gives a lot of product details on the front.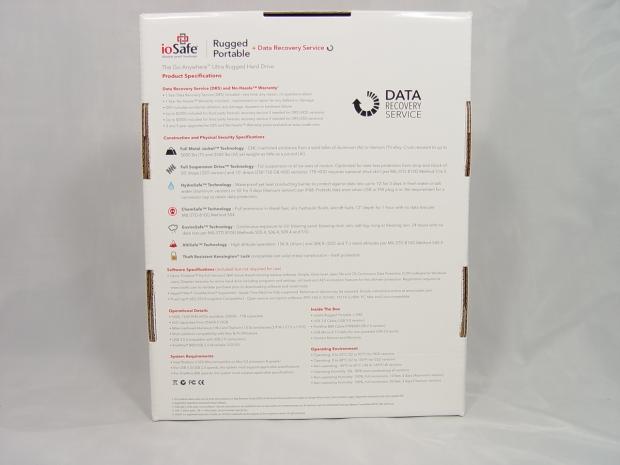 The back of the package has all of the features, DRS information and specifications laid out in an easy to follow way.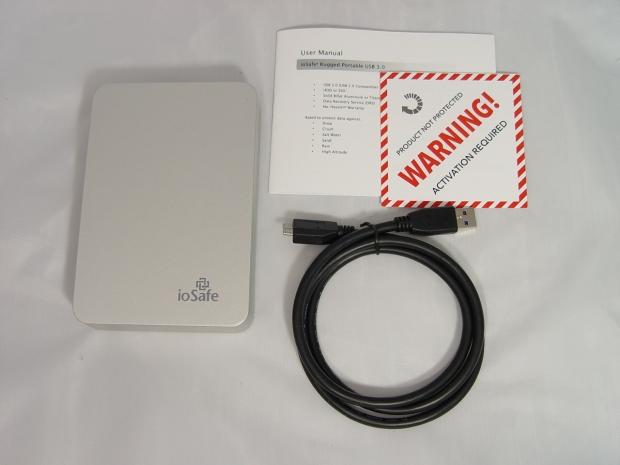 You get the drive, USB 3.0 cable and some product literature with the retail package.
The ioSafe Rugged Portable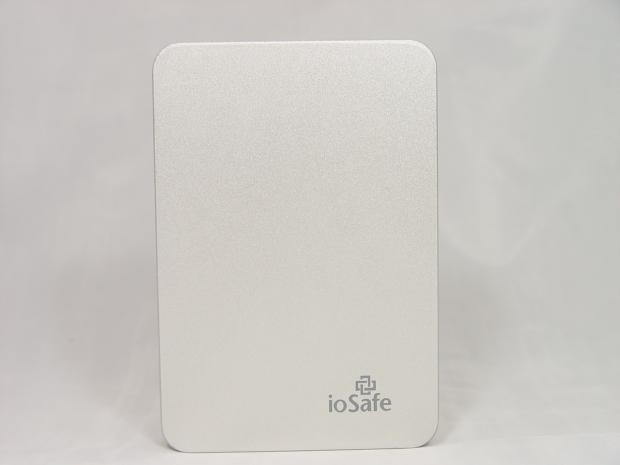 There really isn't a lot that can be said for a rectangle bock of aluminum. It is aluminum, but if you want something even stronger, call ioSafe and asked about the titanium model that is available by special request.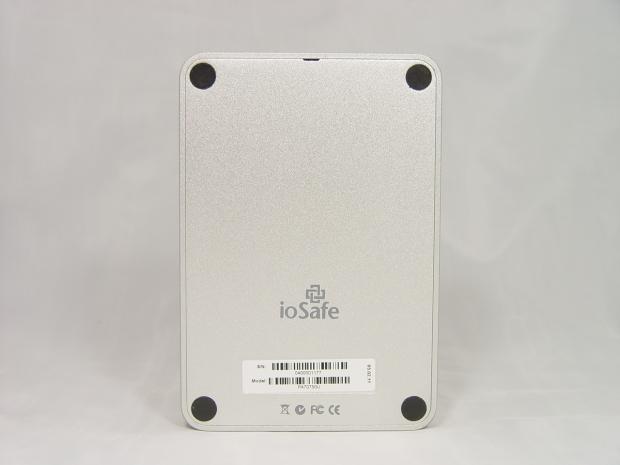 On the bottom ioSafe installed four rubber pads so the Rugged Portable won't slide across your desk easily. I don't think it would move around much on your tank dashboard either.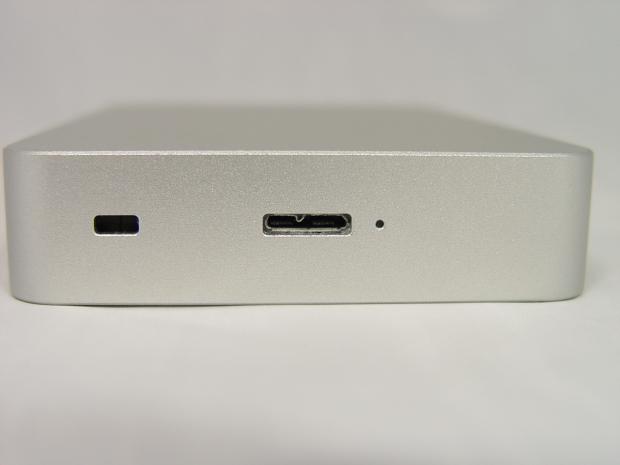 There aren't many extras to mess with on the data connector side either. There is a Kensington lock system and a USB 3.0 mini port.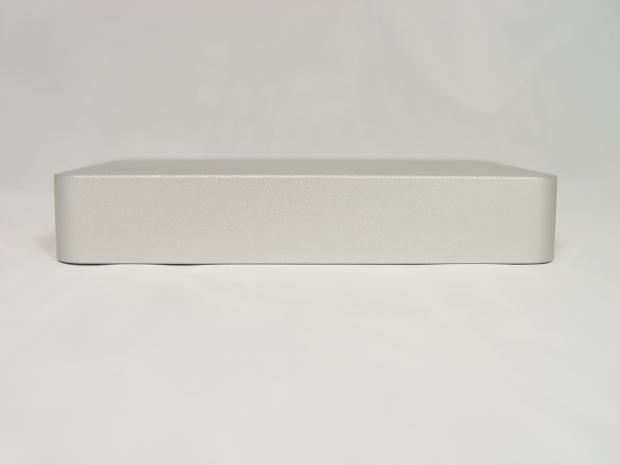 To achieve this level of protection the Rugged Portable isn't small. It isn't light nor wimpy. There is some heft here, but not enough to keep it planted on your desk. You can stuff it in a backpack or purse quite easily.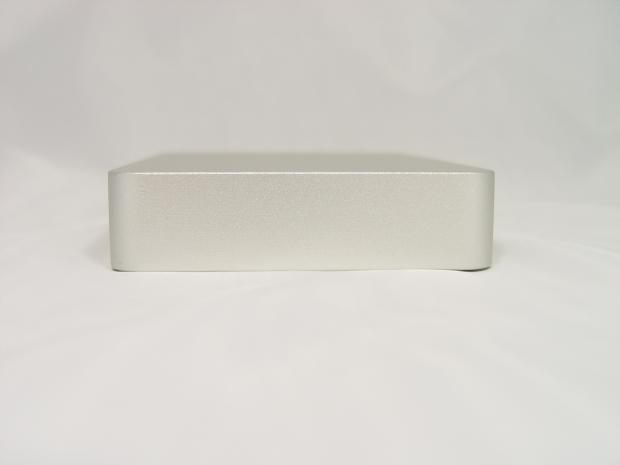 The overall size isn't much larger than a traditional 3.5" HDD.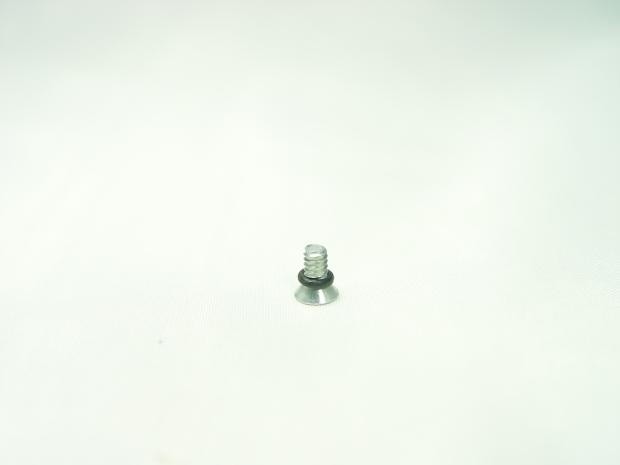 Given that the outside is as bland as you can get, we'll have to take a closer look at the little bits and pieces that make the Rugged Portable more utilitarian. Here we see one of the screws that holds the cover on. It has a rubber O-ring to keep dust and dirt out of the enclosure.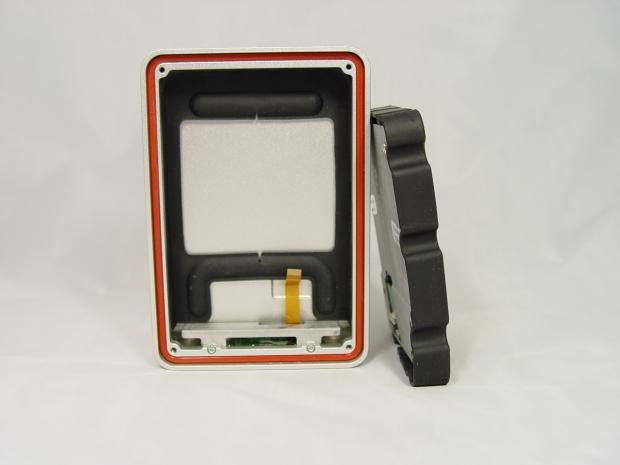 In its most basic form we see the thick rubber surround that covers the HDD on the right side. All of the electronics are compacted on one side and even the HDD surround has a rubber surround for added shock protection.
With the drive in place we can start to see just how protected the 2.5" notebook drive really is.
Test System Setup and ATTO Baseline Performance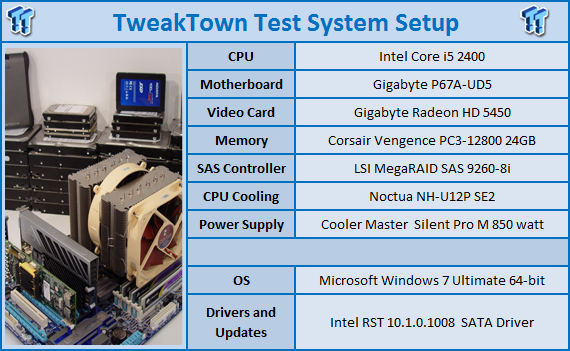 We would like to thank the following companies for supplying and supporting us with our test system hardware and equipment: AVADirect, GIGABYTE, Cooler Master, LSI, Corsair and Noctua.
You can read more about TweakTown's Storage Product Testing Workstation and the procedures followed to test products in this article.
The ioSafe Rugged Portable isn't really about speed and data transfer performance, but we still want to run some numbers to give you an idea of how fast the drive is.
ATTO Baseline Performance
Version and / or Patch Used: 2.34
ATTO is used by many disk manufacturers to determine the read and write speeds that will be presented to customers.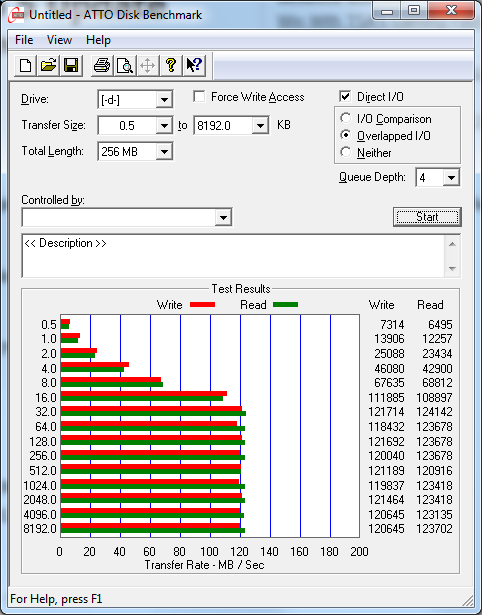 In ATTO we achieved just over 120MB/s read and write speeds. The drive inside the Rugged Portable is a Seagate 5,400 RPM 750GB HDD.
Benchmarks - HD Tach
HD Tach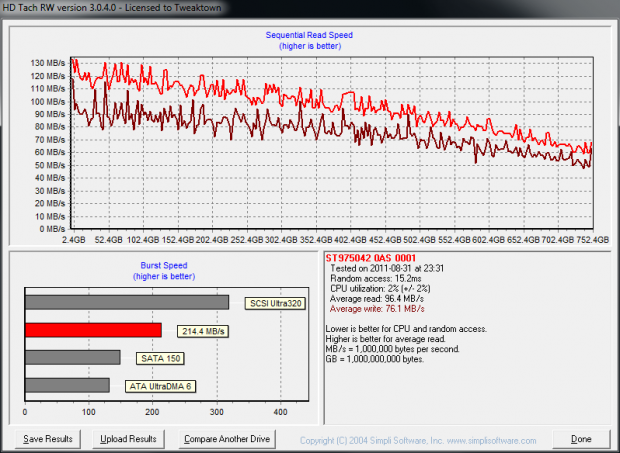 The read speed at the slow end of the drive is around 60MB/s and the write speed at the same end is right around 70MB/s. Traditional platter drives have degraded performance as you move across the platters. The Solid State version of the Rugged Portable will not have this same issue.
Benchmarks - CrystalDiskMark
CrystalDiskMark
Version and / or Patch Used: 3.0 Technical Preview
Developer Homepage: http://crystalmark.info
Product Homepage: http://crystalmark.info/software/CrystalDiskMark/index-e.html
Download here: http://crystaldew.info/category/software/crystaldiskmark
CrystalDiskMark is a disk benchmark software that allows us to benchmark 4K and 4K queue depths with accuracy.
Key Features:-
* Sequential reads/writes
* Random 4KB/512KB reads/writes
* Text copy
* Change dialog design
* internationalization (i18n)
Note: Crystal Disk Mark 3.0 Technical Preview was used for these tests since it offers the ability to measure native command queuing at 4 and 32.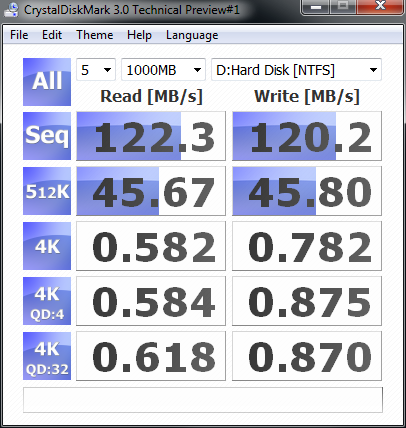 USB 3.0 is nearly perfect, but it misses out on one key feature that is available with SATA; native command queuing. In CDM we see that the Rugged Portable is able to deliver just under 1MB/s in the 4K tests. This block size gets a substantial performance boost in this area. Still, the numbers are in line with other portable, high capacity storage devices.
Benchmarks - AS SSD
AS SSD Benchmark
Version and / or Patch Used: 1.2.3577.40358
Developer Homepage: Alex Intelligent Software
Product Homepage: Alex Intelligent Software
Download here: http://www.alex-is.de/PHP/fusion/downloads.php?cat_id=4&download_id=9
AS determines the performance of Solid State Drives (SSD). The tool contains four synthetic as well as three practice tests. The synthetic tests are to determine the sequential and random read and write performance of the SSD. These tests are carried out without the use of the operating system caches.
In all synthetic tests the test file size is 1GB. AS can also determine the access time of the SSD, the access of which the drive is determined to read through the entire capacity of the SSD (Full Stroke). The write access test is only to be met with a 1 GB big test file. At the end of the tests three values for the read and write as well as the overall performance will be issued. In addition to the calculated values which are shown in MB/s, they are also represented in IO per seconds (IOPS).
Note: AS SSD is a great benchmark for many tests, but since Crystal Disk Mark covers a broader range of 4K tests and HD Tune Pro covering sequential speeds, we will only use the Copy Benchmark from AS SSD.
- Copy Benchmark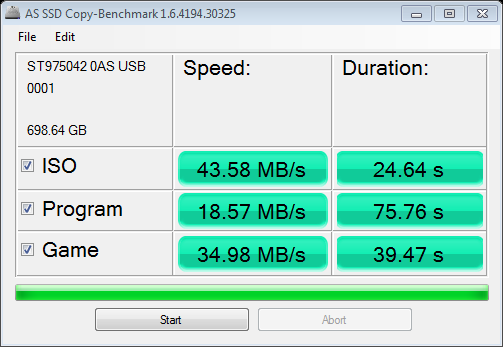 To make things a little more interesting, we ran AS SSD's copy benchmark two ways. Here we see the HDD in the ioSafe Portable Rugged connected to a USB 3.0 port. The performance is in line with other portable devices that use similar HDDs over USB 3.0.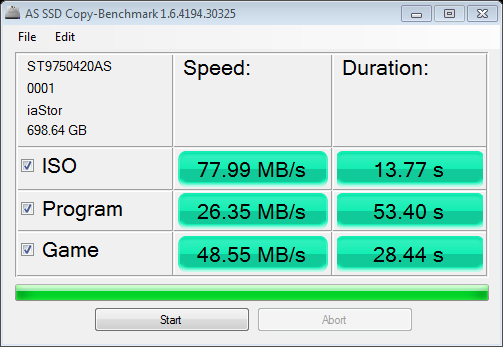 In this test we removed the Seagate drive from the Rugged Portable and connected it to the motherboards native SATA interface. Ideally the two benchmark runs should be very close to each other, but as you can see, the Rugged Portable's USB 3.0 to SATA bridge slows the drive down a bit.
Final Thoughts
When it comes to devices like the ioSafe Rugged Portable, performance comes secondary since the drive's main purpose is to keep your data safe. With that in mind, ioSafe has done a good job squeezing performance out of the 5,400 RPM drive, but we would have liked to see a 7,200 RPM drive used to get the most out of the Rugged Portable. Users looking for ultimate performance can choose the SSD option, but the price goes up quite a bit and the capacity drops at the same time.
The primary purpose of the ioSafe Rugged Portable is to keep your data safe and secure no matter where you are. At CES we shot one with a shotgun, threw it on the concrete floor as hard as we could and the unit kept on running perfectly. When I say we shot the Rugged Portable, I mean we shot the hell out of it. The same drive took several direct hits from steel shots and kept going. At that point the drive was thrown to the ground several times, all of the media in attendance took a turn and we were still unable to kill it. We finally managed to break the aluminum shield after getting out the assault rifles.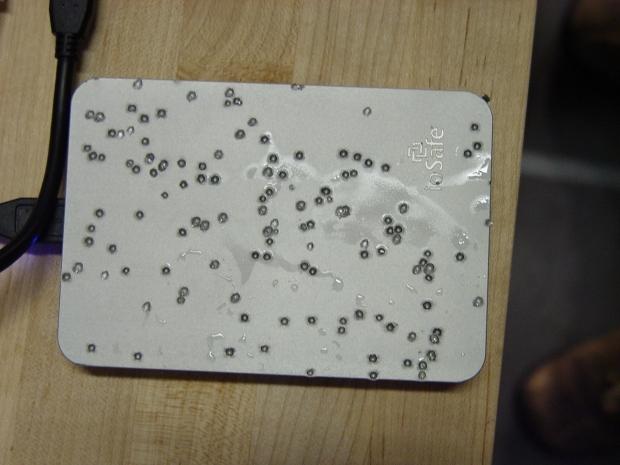 You might think all of this is excessive and it is. The Rugged Portable is about taking the most obscene abuse and still having a comfortable buffer before your data is even close to being compromised. There are drawbacks, though. The first is the weight; this drive has some heft to it. Then there is the size which is about the same as a 3.5" HDD. Finally, there is the price.
The full 1TB Rugged Portable with the 5 year warranty and data recovery service costs around 500 Dollars. This combination gives you the maximum amount of storage and the longest ultimate protection plan. I really don't think you'll ever use the data recovery service under normal circumstances, but if you actually need a Rugged Portable then there is nothing normal about your circumstances. That said, the 250GB drive is available for just 150 Dollars and uses the same rugged aluminum case, but only has one year of back end protection.