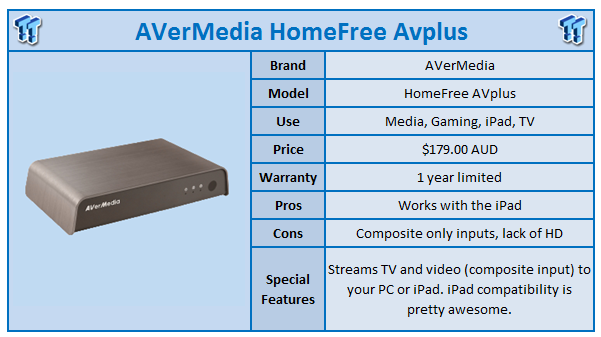 AVerMedia have been a giant in the video capture/TV tuner industry and have just recently started releasing the HomeFree AVplus range around the world. It's aimed at streaming TV and other TV-related goodies (like your Xbox, or PS3) and can broadcast digital TV, satellite TV and AV-in (as per the previously mentioned consoles) to your PC or iPad via your wireless home network, supporting two users accessing different TV sources simultaneously.
The device itself is not that large, about the size of a standard media player, maybe a bit taller. It has composite and S-video connectivity on the back (which is a downfall, very big downfall in this HD world we live in).
The AVerMedia website does a great job of letting you know what you can actually do with the device and in my opinion, comes off as a little too "yeah, baby", when it's more like "oh, really?". For example, the AVerMedia HomeFree AVplus only has composite inputs. For someone with an Xbox 360, PS3 or high-def TV, this is pretty bad.
But then you have to consider, the iPad only does 1024x768, which is sub-HD. So streaming video shouldn't be too much of a problem; but again, we do live in a full-HD world. It's not like 1080p is something new, it has been around for years now. If the AVerMedia HomeFree AVplus did full-HD, it would be much more impressive in my book.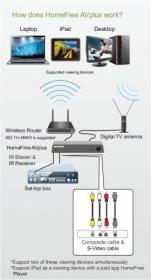 The HomeFree Player iPad app is available on the Apple App Store and includes a nice UI with built-in support for quick and simple changing of channels by a simple tap of the screen. Dragging is also supported. Included is EPG (Electronic Program Guide) which shows full channel and TV program information, right there on your iPad as well as an 'e-Shop list' which allows users to purchase a HomeFree device online instantly if they have installed HomeFree Player on their iPads already.
Because of hardware limitations, the iPad doesn't support the recording function - AVerMedia, please build support in for this in a future revision or next-gen version of your HomeFree devices. The ability to sit in my lounge and watch TV, something might pop up which will make me think "I want to record that!" and to just tap the screen to record; that would be quite an amazing feat.
The AVerMedia HomeFree AVplus also has compatibility built-in for Windows Media Center, which is great. The PC application from AVerMedia allows for the recording of TV (and of course, viewing) directly on your PC. The included IR blaster lets you control your set top box remotely though the PC application - as you can imagine, this comes in handy if your set top box is not in the same room as your PC.
[img]3[/img]
I did try some PS3 gaming with the iPad as a wireless gaming monitor - say what! And whilst it worked, it was really limited to SD because of the hardware limitation. Not only that, there was video lag because of the limitation of Wi-Fi, but it was not bad to use as a gaming monitor. Once technology is improved in future revisions of the HomeFree range - this will become a very cool option indeed.
Do you need an AVerMedia HomeFree AVplus in your house? Well, every setup in every house is unique. Do the features I've talked about interest you? Then yes. But right now, it feels like the HomeFree AVplus is a bit dated with its input sources.
I'm hoping future revisions include HDMI or at least VGA/DVI for some PC monitor action as well as built-in support for Android tablets, as they are becoming more and more popular.