Lately it seems that if you look at any sort of case mods or custom built setups, individually sleeving the wires on the power supply is the latest and greatest thing to do. At least it sure seems this way. I have also fallen into this when I got my P55A-UD7 motherboard. The 24-pin wire I had just didn't look right, so I shelled out right around $40 to have a custom light blue and white 24-pin lead made so I could rid myself of the rainbow of wires I was looking at previously.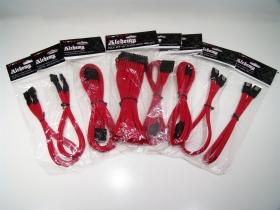 That is a pretty serious chunk of change for just one cable and that is why I paid what I did. For those who have the desire to change all of the wires in the case, my solution isn't going to come very cheap. As time went on, we first saw NZXT offer up some cables, so those of us who aren't very savvy to the sleeving process don't have to void our warranties trying to learn as we go. The wiring was relatively cheap to do a full rig, but there are a couple of downsides to them. There is a limited color choice of red, white, or black, and compared to what we are about to see, they are more expensive than BitFenix's new offerings.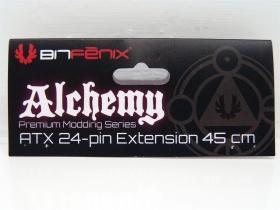 The packaging is kept simple with the Alchemy cables and this makes the cost cheaper for the customer as well. The wires are all packaged neatly, tied with a wire tie and sealed in a cellophane bag. On the top you will find the cardboard seen above stapled to the top of the packaging. This part of the packaging is where the type of cable and the length is displayed on the front, while on the reverse there is a check box to denote which of the many colors of wiring is contained within.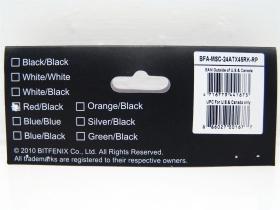 BitFenix sent me pretty much everything I would need to build a rig with full on custom cables. As far as the powering of the main components, these red sleeved cables are all terminated with black plastic ends. The major thing to note here is the lack of heat shrink tubing applied to the ends of the cloth sleeving. This sleeving is tied into the same clip that gets soldered or crimped to the wiring before they are inserted into the plastic clip. These are most of the more obvious wires we would need to adapt to make things look a lot more customized inside.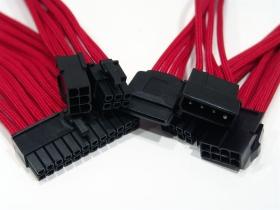 BitFenix didn't stop there, though. They went into this full on and offer things like USB, fan, a SATA power lead with connectivity for four devices, SATA cables, the works!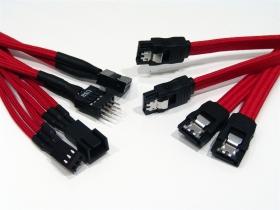 With this amount of possibilities, you went from making a rig look somewhat custom with the main leads addressed, to something that covers all the wires and takes your build to the next level.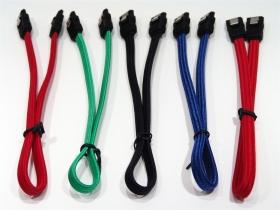 What if red, white and black aren't what you are looking for? Bitfenix has you covered again. Just to show some of the options available, they sent me a few variations of the 30cm STAT cables. Out of all of the colors we have discussed, these 30cm and 60cm cables also come in silver and orange. What I like is that even if you color all the main cables in a set color, you can still add various colors to color code all of your SATA devices.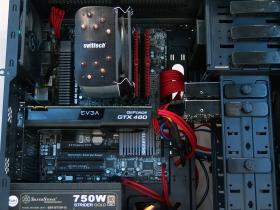 I thought I would finish after a look of all of the cables inside of the Shinobi, just to give a visual concept of the possibilities. At this point I can hear you asking me, what is all this going to cost me to do something like this to my PC? Pricing on the cables vary from 3-pin fan cables starting at $4.99 on the low end of the pricing, and the 24-pin is only going to cost you $8.99.
If this is something you really like the look of, but you really aren't into voiding your power supply warranty, shop at BitFenix directly and enjoy the savings and the terrific looking finished product! I for one am completely sold on these and will be dealing with BitFenix for these to be added to my next build.