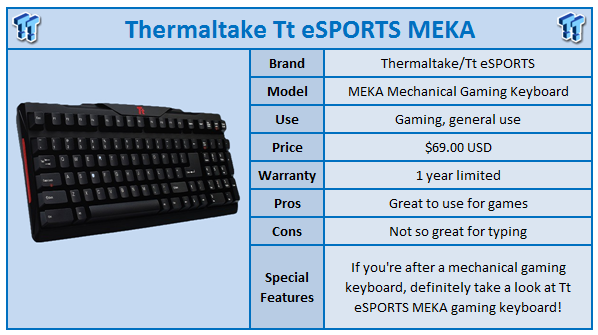 Thermaltake launched their successful gaming-orientated line of "Tt eSPORTS" branded gear to much success and have released a slew of Tt eSPORTS products such as gaming mice, keyboards and headsets.
Today we're looking at the Tt eSPORTS MEKA Mechanical Gaming Keyboard. "Challenge is the game" is their motto and challenge, they do. Upon receiving the keyboard, I was highly impressed with the box art and style. It was a sign of things to come.
The keyboard itself is quite heavy for its size - being that it's mechanical would help its weight. The MEKA comes with a braided cable which helps it not only in looks, but practicality - the cable is similar thickness to the Logitech G35 headset's braided cable (as an example). It's even described as "military grade".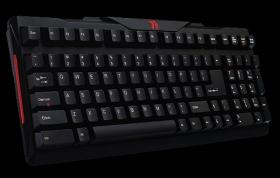 As for looks, it's a great looking matte-finish black color with a great red styling near the edges and the "Tt" logo also. Red LEDs come from the caps lock, scroll lock and number lock keys.
On to the keys themselves, which are cherry black mechanical switch keys that enable "excellent gaming elastic capacity with life expectancy of up to 50 million keystrokes". The keys themselves feel similar to most mechanical keyboards, with a defining 'click' for each press. I type at close to or above 100 wpm and my typing speed dropped easily, by 30%.
But, for games, its superior feel and quick press is definitely a winner. Because it's mechanical there's no need for a full 100% press; just a half way or 50% press is enough to click the button below the key itself.
The MEKA performs quite fast for quick-press gamers too, featuring a 1000Hz polling rate which is 8X quicker than regular gaming keyboards. This eliminates virtually all lag from the keyboard. I played plenty of quick paced FPS games whilst reviewing the MEKA and it never disappointed with how quick it reacted.
The MEKA compared to other mechanical keyboards I've tried did feel slightly faster. I can't explain this and it's something you'd need to try yourself to feel. It's not a "press and you'll see it on screen" in your actions thing, it's more of a "feel" or sixth-sense type of thing. I know the keyboards impressive polling rate is helping me - I feel it with the nano-second improvements it gives me when moving, strafing or jumping.
[img]2[/img]
Included with the MEKA are two USB 2.0 ports, gold-plated USB connectors and smart cable management. The smart cable management is impressive for such a small keyboard, allowing the cables to be managed underneath and popped out near the end to plug into the computer. Some very nice work by Thermaltake there.
I want to take a minute to also address something. Keyboards (and especially mechanical gaming keyboards) are such a personal thing. It is hard to read a review and for me to either come across as loving the product, hating it or it just being "good". Personally, I enjoy having two keyboards now that I do the peripheral reviews for a glorious site called TweakTown.
I use one for my typing - it keeps up with me. The mechanical-based gaming keyboard's for gaming. This gives me the best of both worlds. But as a reviewer, it is so hard to keep a review on an item that is such a personal decision, unbiased.
One major gripe I had with the MEKA is the key layout. Thermaltake. What. Were. You. Thinking? My entire typing life, I've been used to the same key layout and it's almost like Themaltake have stuffed something up, it's that bad. The question mark is in a weird place and there's no Windows key. For a gaming keyboard with a high price, this is something that is a show-stopper for a lot of people.
Would I pay for the Tt eSPORTS gaming keyboard? No. Would I recommend YOU pay for the MEKA? That is up to you. If you enjoy the feel of the mechanical keys, I would say this is one of the better ones on the market. It is quite compact which is a plus, as gamers would usually take this to a LAN and I think this would take a punch, be it in your bag, from uber-rage or even a drop.
[img]3[/img]
But don't let this ruin your decision. Thermaltake have done what they set out to do; release a great mechanical-based gaming keyboard in the form of the MEKA. The MEKA out did my expectations for a mechanical keyboard and did it with style.
What I would like next for the mechanical keyboard market is wireless. Wireless mechanical keyboards would be pretty awesome, especially for the reason of using multiple keyboards. For someone who can't type fast on the mechanical keyboard as fast (like me), could just push it to the side without worrying about cords, tangles, etc.
It would be a pretty big evolution for mechanical keyboards and I think it would be a step in the right direction to get mechanical keyboards out to the mainstream.