Patriot Gamer 2 AMD Edition PC3-12800 8GB Kit Review
We begin to see companies start to offer us AMD specific RAM with the first iteration in a while from Patriot.
Published Fri, Jul 15 2011 4:30 AM CDT
|
Updated Tue, Nov 3 2020 7:01 PM CST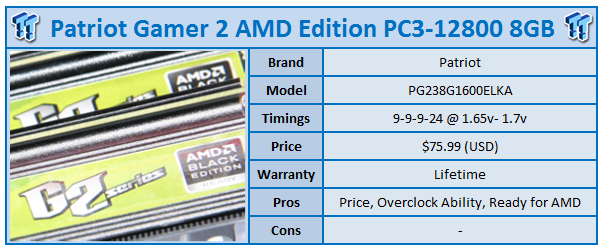 AMD systems are a little picky when it comes to RAM. Sure, most RAM will work, but quite often when we start to hit high speed kits they can have problems running at stock speed on an AMD platform. With the launch of the new 990FX chipset that's ready for Bulldozer along with the new Llano platform which has shown strong memory performance, it was only a matter of time 'till we saw some AMD specific kits.
The first in a long while comes from Patriot and is part of the Gamer 2 series with the particular kit we're dealing with being labelled "AMD Edition", which of course means it's designed for AMD systems.
Coming in at 1600MHz DDR, the PC3-12800 8GB kit carrying a 9-9-9-24 @ 1.65v - 1.7v isn't a really high speed kit. It is of course an 8GB kit, though, which does tend to impact the speed we have. Combined with the fact it's an AMD one as well, we see that the speed can be limited a little more again. Still, hopefully we'll see some overclocking potential from the kit.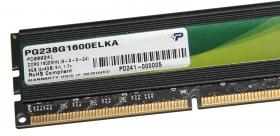 Before we get into the performance, though, let's just quickly look at the kit. It's a fairly basic looking kit and if you've seen the Gamer 2 series before from Patriot then there won't be any real surprise here when looking at the AMD version. The main difference is the Green color scheme instead of the Blue seen on the Intel version and the AMD Black Edition Ready logo seen on the modules themselves.
Using the ASUS F1A75-V Pro today, we'll be testing the Gamer 2 kit in our Llano platform. Considering we've achieved speeds of 2000MHz DDR already from higher speed kits, we knew that running the default timings here would be easy and as we expected, they were. You can see our CPU-Z validation here. Up and running in Windows, it was time to check out the performance we could get.
Under AIDA64 we ended up with Read / Write numbers of 9,257 MB/s / 6,975 MB/s, Copy speed of 10,686 MB/s and latency of 54.1ns. Looking at SiSoftware Sandra, our memory bandwidth numbers are 15,840 MB/s for Integer and 15,780 MB/s for Float.
Since we are up and running at stock speeds with no problems, let's get into the BIOS of our ASUS F1A75-V Pro and see what the kit is really capable of. Leaving the voltage at 1.65v, we thought the first thing we would try is move our memory divider to 1866MHz DDR which is the next step up from 1600MHz DDR.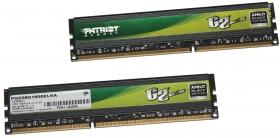 We could get in Windows, then we couldn't, then we could, then we couldn't and it kept going on. We tried to push the voltage to 1.7v which Patriot say is safe, but it didn't make a difference. What was consistent was the fact we could boot with no problem which gave us the impression we were close to what we could achieve.
Going back to the BIOS, we moved our memory divider down to 1600MHz DDR again and instead opted at adjusting the bus speed of our A8-3850. We pushed our bus up to a point where the memory was sitting around 1750MHz DDR. Once we got that up and running, we just started moving the bus speed up until we got to a point where our system became unstable.
What we ended up with was our bus at 114MHz which resulted in our memory running at 1824MHz DDR, which is really not that far from the 1866MHz DDR we aimed at for starters.
You can see our CPU-Z validation here. Running at 1824MHz DDR, it's time to see what kind of performance increase we get.
Under AIDA64 we ended up with Read / Write numbers of 10,382 MB/s / 7,778 MB/s, Copy speed of 12,155 MB/s and latency of 47.6ns. Looking at SiSoftware Sandra, our memory bandwidth numbers are 18,000 MB/s for Integer and 18,000 MB/s for Float.
Compared to stock, you can see we've got a nice little boost in memory performance while thanks to the extra clock speed which sees our APU now running at 3.3GHz, we also get a bit of a performance boost again in those CPU tests.
Since the launch of the Sandy Bridge platform in January we've seen some really high speed memory kits with speeds exceeding 2000MHz DDR for the platform. Unfortunately AMD doesn't get the same love; with that said, though, we're seeing that some AMD specific kits are coming and with the overclocking potential we've seen on the Llano platform and Bulldozer coming we should hopefully see even more companies put effort into releasing AMD specific kits.
As for the Patriot Gamer 2 AMD Edition kit we're looking at today, out of the box it's not the highest speed kit with a default clock of only 1600MHz DDR. But thanks to those more relaxed timings we can see that heading into the BIOS we managed to achieve an overclock of over 1800MHz DDR.
Priced at $75.99 US over at Newegg, they're a great looking kit for anyone interested in the AMD platform. What makes them so appealing is not only the strong price point they're at or the good performance they offer, but instead the fact that they're AMD specific, making people think if they're going to go down the AMD path, they may as well get a kit that is designed for that platform and to be honest, it's smart thinking because AMD can be quite fussy with memory.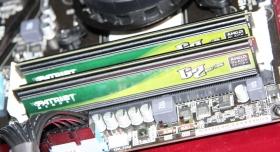 Saying that, though, when I say that AMD is quite fussy with memory, it's not that some memory will work and others won't. It should all work, but buying a 2000MHz DDR high performance kit that hasn't been designed for the AMD platform does mean that getting those high stock speeds can be an issue, so that's something worth keeping in mind.
If you're looking for a good quality kit of memory, aimed at the AMD platform which won't break the bank, this Gamer 2 AMD Edition kit we're looking at today is a great option. While 1600MHz DDR isn't the highest out of the box speed, you can see we've got good overclocking potential and it's worth remembering we're also dealing with a 8GB kit here and not a 4GB one.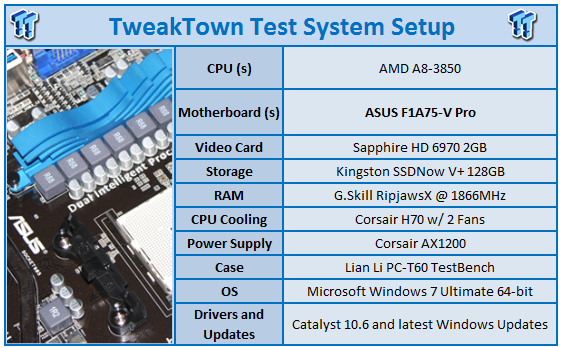 PRICING: You can find products similar to this one for sale below.

United States: Find other tech and computer products like this over at Amazon.com

United Kingdom: Find other tech and computer products like this over at Amazon.co.uk

Australia: Find other tech and computer products like this over at Amazon.com.au

Canada: Find other tech and computer products like this over at Amazon.ca

Deutschland: Finde andere Technik- und Computerprodukte wie dieses auf Amazon.de