GIGABYTE P2532 15.6-inch Multimedia Notebook Review
The GIGABYTE P2532 is a beautifully designed ultra thin 15.6" notebook with a display that makes you weak in the knees.
Published Tue, Jul 12 2011 9:26 AM CDT
|
Updated Tue, Nov 3 2020 7:01 PM CST
The GIGABYTE P2532 is reputed to be one of the thinnest core i7's on the market at 27.6mm in the front and 35.1mm at its thickest. Its 15.6" chassis sports a full HD display with 1920 x 1080 resolution and a LED backlit screen. Under the hood we've got a 500GB 7200rpm HDD, 4GB of RAM and NVIDIA GeForce GT550M/ 2GB VRAM with Optimus technology.
Taking a look around the unit, you'll find a DVD burner, two USB 3.0 ports, HDMI and THX Tru Studio Pro technology in its four speakers and one subwoofer. What is pretty neat about this unit is that the USB 2.0 port is combined with the e-SATA, which is a great feature in my books since I rarely use my e-SATA ports.
If you're looking for something with great design, a beautiful display that is accompanied by four speakers and a subwoofer, then look no further, the P2532 is a competitively priced Multimedia notebook.
Design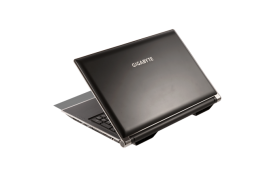 The design of this 15.6" desktop replacement has an angular trapezoid shape that shows off its thin 27.6-35.1 profile and the lid has a matt back finish that hides finger prints well. Its lid and base are both lined with glossy silver trim that actually wraps around the hinge that gives it a classy high end feeling. Smack center in the lid is a rather large GIGABYTE logo that matches the silver trim.
We could do with a slightly smaller logo, but we'll forgive it because we like the look of the heating vents in the back of the device. The vents look pretty bad ass giving the PC a racing car feeling. If black doesn't tickle your fancy, you'll also be able to pick this up in bright orange, red, blue and yellow!
Design wise, the trapezoid shape is very appealing to look at. However, when we were plugging in various devices, we found the ports hard to locate and had to bend over to check out where the desired port was. This annoyance got less with time, but it definitely takes some getting used to and the ports that you won't be using very often will require attention when you do decide to use them.
Keyboard
[img]2[/img]
The keyboard is extensive as it includes a full number pad in addition to its full sized chiclet style keys with rounded edges. The typing experience is first rate as the keys have a perfect amount of give, but what is missing in the experience is a back-lit keyboard. The right Shift key isn't completely full size, but it's large enough that it shouldn't cause any typing issues. It's just surprising that with so much room to play with and the inclusion of a number pad, a full size right Shift key wasn't allocated for those who favor that typing style.
Trackpad
[img]3[/img]
The trackpad has a slightly rough finish and is actually very pleasant to the touch. It's almost like a massage on my fingers. I don't think that the texture will become annoying over time, but it does contrast nicely with the faux metal finish. It does sport a single mouse button which we don't like too much, since there is a dead space in the middle that is unusable. However, the button itself is a little stiff and not responsive.
The trackpad is also multi-touch, but it could use a little work. The thing about GIGABYTE is they are known for issuing touchpad and touch screen displays after release, so I have faith that they'll issue an update to make it more responsive.
Display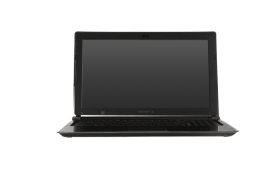 We love the 1920 x 1080 screen resolution; its colors are reasonable and we love the viewing angles which sit around 70 degrees and the horizontal viewing angle as well is very wide.
The display is one of the highlights of the notebook; it works well with fast video as we watched a few of our time lapse videos and the display handled them flawlessly. Looking at flesh tones, they remained true and when checking out some of the darker scenes the video showed enough detail to keep us happy. For a multimedia focused notebook, this HD display has done all the right things to impress.
Audio
High Five GIGABYTE! - The speakers are first rate. Playing Bass Nectar, the P2532 handled the heavy bass; you can clearly tell the four dual-channel speakers including one subwoofer and sound optimization technology are working in full effect. When hitting some of the high notes, it was perfectly clear and not distorted. If you're looking for something that can handle filling a living room party with full deep sound, then you've found your notebook!
Ports & Webcam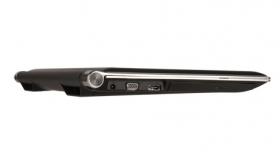 The P2532 has a full bevy of ports to which range from two USB 3.0 to a HDMI to output content quickly or stream video to other devices. The 1.3MP webcam performs adequately in a well lit room, though showing severe blurring and minor pixelation when with rapid movement. In low light it's severely pixelated which will keep you on the straight and narrow evening Skype activities.
Performance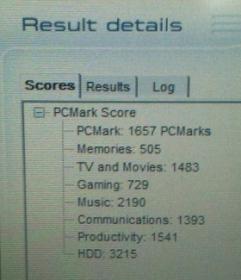 This 15.6" media notebook is running the second generation Core i7-2630QM rated at 2GHz which can be scaled up to 2.9 GHz using Intel's turbo boost technology. You also get 4GB of RAM and an NVIDIA GeForce GT 550M graphics processor. The notebook scored 6,864 on PCMark Vantage, which gauges overall Windows performance. That's higher than the mainstream notebook category average score (5,551) according to Laptop Magazine's performance comparison charts.
Configuration
Recapping on our opening comments, in its 15.6" chassis it sports a full HD display with 1920 x 1080 resolution and a LED backlight screen. Under the hood we've got a 500GB 7200rpm HDD, 4GB of RAM and NVIDIA GeForce GT550M/ 2GB VRAM with Optimus technology. Taking a look around the unit, you'll find a DVD burner, two USB 3.0 ports, HDMI and THX Tru Studio Pro technology in its four speakers and one subwoofer.
There are two versions; the P2532N and the P2532V. These are both identical in configuration apart from the V which denotes a 1366 x 768 LED backlit 120Hz display supporting NVIDIA 3D Vision. The P2532N has a Full HD 1920 x 1080 display. If you want to check out a side by side comparison, here is a link to the GIGABYTE website.
The Verdict
If you are after a desktop replacement that is actually pretty portable, the P2532 is a great option. Its thin profile and light weight make it less cumbersome than the other 15" notebooks on the market. If you can look past its webcam being subpar and the absent Blu-ray player, then the P2532 should be a strong contender. Its strengths are definitely its aesthetic design, display and its pumping speakers! Multimedia playback isn't an issue with its NVIDIA GT550M either.
If you're looking for a notebook to watch movies on and maybe even bring the noise to a late night living room party, the P2532 is ready to rock out with you!

PRICING: You can find products similar to this one for sale below.

United States: Find other tech and computer products like this over at Amazon.com

United Kingdom: Find other tech and computer products like this over at Amazon.co.uk

Australia: Find other tech and computer products like this over at Amazon.com.au

Canada: Find other tech and computer products like this over at Amazon.ca

Deutschland: Finde andere Technik- und Computerprodukte wie dieses auf Amazon.de