USB 3.0, the big brother of the USB 2.0 bus standard which was introduced way back in 2000, is now here and in force after quickly gaining momentum in the market after both ASUS and GIGABYTE launched boards at CES 2010 with USB 3.0 chips onboard. As a quick recap, USB 3.0 claims to offer a ten times improvement over USB 2.0, which has a maximum bandwidth of 480Mbit/s or 60MB/s. USB 3.0 has a maximum bandwidth of 5Gbit/s or 625MB/s. While we are not sure if you would actually know someone who has achieved speeds this high, the potential is there as the products that make up USB 3.0 such as chips and devices ramp up in terms of performance.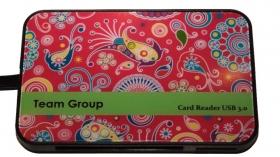 And when I say the market acceptance of USB 3.0 was quick, it was more or less a few motherboard companies bringing on the new standard quicker than some would have liked. Up until rather recently, though, it was tough to find many USB 3.0 supported devices on the market, but now they are starting to be released in good numbers. A quick search of the TweakTown shopping site shows pages full of USB 3.0 devices.
One such device which it felt like it would take forever to come out was a USB 3.0 card reader. During our meeting with TEAM Group during Computex Taipei 2011 earlier this month, we spotted the TR1151 USB 3.0 42-in-1 USB 3.0 card reader at their booth and just had to get our hands on one. We were lucky enough to walk away with one on the show floor and intend to tell you all about it right now.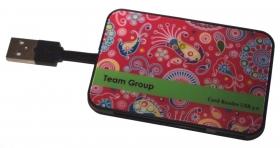 The TR1151 is one of several USB 3.0 card readers on the market that comes in at an affordable price of $29.95 AUD or around $32 USD. This puts it basically around the same price as many of the others that are selling now. Is there anything that makes the TR1151 special, though?
Starting off with the appearance, it is what drew our attention to the device at the start. It features somewhat of a floral design with a pink background and various patterns reminiscent of fish, leaves, shells and even a Ferris wheel - at least that's how my mind perceived it. No doubt, the artist folk out there will get a kick out of it and while others may find it a little "full on" or "out there", at least it isn't boring. Another good point is that the device only weighs in at 80 grams i.e. next door to nothing, so it won't be a hassle at all to carry around with you, being the size of roughly a credit card, only thicker.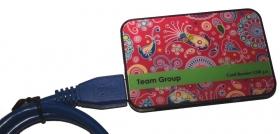 As far as connectivity goes, you are spoilt for choice. As you may have gathered from the title, the TR1151 supports up to 41 different memory cards and even supports new generation SDXC types and pretty much anything else that you could throw at it. Being USB 3.0, it of course will also be able to handle high performance memory cards such as 600x Compact Flash cards that are now on the market that come with read speeds of up to almost 88MB/s.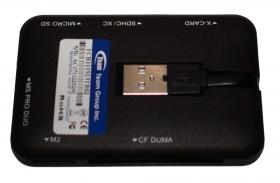 In TEAM's release notes for the product, they claim that the TR1151 can provide read speeds up to 85MB/s with a 600x CF 32GB card and up to 60MB/s with a SDXC 64GB card - we will look into proving those numbers true or false in just a little bit. On the reverse side of the reader are labels for what card goes where as well as a very (we mean very, only around a couple centimetres or shorter) short USB 2.0 connector which will allow you to hook up the device if you forget your cable. Mind you, it is only a USB 2.0 connector and you will only see USB 2.0 speeds of up to 60MB/s in the absolute best case times. This should have really been a USB 3.0 connector for best performance, but at least it is there for times of urgency.
[img]2[/img]
As far as the package goes, there is not a lot to it. The card reader comes packaged in a stylish yet hard to open plastic case which includes a quick and small user guide, USB 3.0 cable and of course the card reader itself. For around 30 bucks, you cannot really expect much else.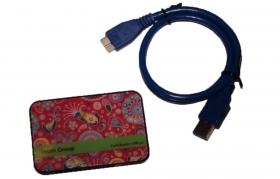 However, one thing I would have expected and much rather preferred, was a longer USB 3.0 cable. The one included is only around 40 centimetres in length and while it may be perfectly fine for laptop users, I found it (while sitting on my desk) could not reach the back of my case, which sits on the ground. This is a common usage scenario for many users and they will probably be rather disappointed to find out it can only sit inconveniently on the top of their chassis and not with easy access on their desk, under their monitor for example. I hope TEAM Group will consider correcting this and ditching the old cable and including a longer one of at least one meter or more. Now I need to go and hunt down one or buy one, which is a hassle and one that most will want to avoid.
Now we move on to one of the final and most important points and that is performance. The good folks over at Kingston were friendly enough to send one of their CompactFlash Ultimate 600x CF/16GB-U3 (16GB) cards over for testing with the TR1151. During our testing, the main thing we were looking for was a vast improvement over USB 2.0 transfer speeds. We were impressed. Our results showed a marked improvement in performance with USB 3.0. We used the TR1151 with the Kingston 600x CF card plugged into USB 3.0 and USB 2.0 ports to run our tests.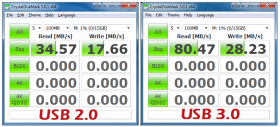 When plugged into a USB 2.0 port using Crystal Disk Mark, we saw read speeds of 34.57MB/s and write speeds of 17.66MB/s - as you can see above. However, when plugged into a USB 3.0 port, we saw read speeds of 80.47MB/s and write speeds of 28.23MB/s. As a follow-up test and as you can see below, we also ran AS SSD and when plugged into a USB 2.0 port we saw sequential read speeds of 32.79MB/s and write speeds of 23.35MB/s. In the same test except on USB 3.0, we saw read speeds of 79.68MB/s and write speeds of 47.03MB/s. This equates to well over double the performance when plugged into a USB 3.0 port.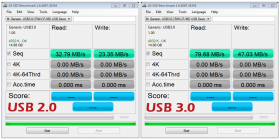 We cannot say how it performs against other USB 3.0 card readers as this is the first one we have tested, but going by the numbers, it would make a very worthy upgrade for folks out there with new computers that come with USB 3.0 support and those who are looking to get their most out of their shiny new systems and also one of the quickest ways to extract data from your portable memory cards. Really, though, TEAM Group, throw in a longer USB 3.0 cable!