G.Skill Ripjaws-X Series PC3-14900 8GB Kit Review
Have we found a kit that's perfect for users who want the speed and size without going too crazy? Check out this PC3-14900 Ripjaws-X kit and see for yourself!
Published Fri, Jun 10 2011 9:46 AM CDT
|
Updated Tue, Nov 3 2020 7:02 PM CST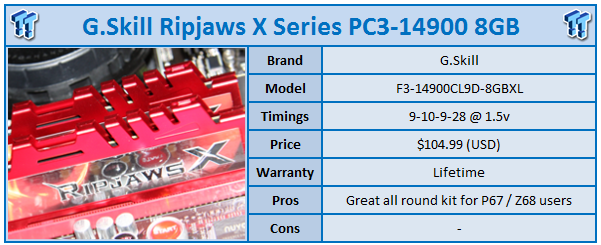 We have a look at a lot of RAM, but so often we see them sit at one end of the scale or the other. What I mean by that is, we see these really high end kits or these more budget orientated ones. Speaking to G.Skill the other day, we wanted to organise something that was in between them; a kit for people who were happy to spend a bit more than a more budget 1600MHz DDR kit, but didn't want to go too crazy moving to something like 2133MHz DDR.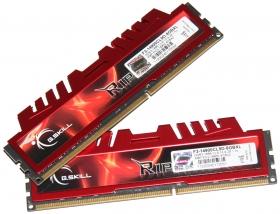 What we ended up with was the F3-14900CL9D-8GBXL kit. It looks to have everything for someone who is after a great mid-range kit for their Z68 or P67 platform. Being part of the Ripjaws X kit, we have that great looking cooler that G.Skill has been using.
The kit we're looking at, as you may have guessed from the model number, is an 8GB PC3-14900 kit. 14900 is a bit of a weird number; what it translates to is 1866MHz DDR. What we sometimes see, though, is companies use the PC3-15000 name. We're not 100% sure why, but it most likely to do with the fact 15000 rolls off the tongue easier than 14900.
Either way, we're indeed dealing with an 1866MHz DDR 8GB kit. As for timings, they come in at 9-10-9-28-2N using only 1.5v, which is something we've seen more of from companies when it comes to Z68 and P67 kits.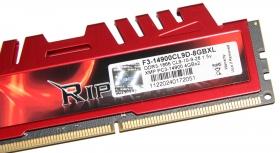 Because we've just come off testing the ultra-fast Maximus IV Extreme from ASUS, I figured we'd throw this kit into that to see how we go. Considering we've got dividers all the way up to 2200MHz DDR on the board, we knew that getting the default 1866MHz DDR wasn't going to be an issue. You can see our CPU-Z validation
here.
Up and running in Windows, it was time to check out the performance we could get.
Under AIDA64 we ended up with Read / Write numbers of
19,003 MB/s / 18,005 MB/s
, Copy speed of
21,205 MB/s
and latency of
44.5ns
. Looking at SiSoftware Sandra, our memory bandwidth numbers are
23,420 MB/s
for Integer and
24,120 MB/s
for Float.
These numbers pretty much line up exactly how you'd think they would, performing between lower end 1600MHz DDR kits and higher up 2133MHz DDR ones. With that all up and running, it was time to see how we could go with overclocking them.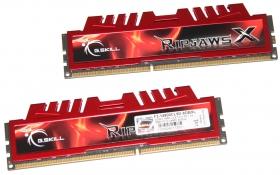 Considering the lower price of the modules and more relaxed timings with a 2T CMD rate, I wasn't expecting a lot from the kit. Really, at stock they're a good buy considering the price tag and the speed.
To my surprise, though, pushing the voltage to 1.65v which is the maximum we'd suggest on a RAM kit and moving the CMD rate to the more aggressive 1T, we ended up running the kit at 1943MHz DDR which is actually a nice overclock considering we did drop the CMD rate.
You can see our CPU-Z validation
here.
So overclocked, it was time to get back in Windows to see what kind of performance we could get from the kit.
Under AIDA64 we ended up with Read / Write numbers of
21,751 MB/s / 20,522 MB/s
, Copy speed of
23,691 MB/s
and latency of
40.7ns
. Looking at SiSoftware Sandra, our memory bandwidth numbers are
25,550 MB/s
for Integer and
25,530 MB/s
for Float.
This is a nice boost over the stock clocks and you can see a nice improvement in the latency which has dropped almost 10%. Since everything was going so well, it was time to head back in the BIOS and crank our CPU multiplier up to 51x. That put us in Windows at just over 5.3GHz and our memory at the same 1943MHz DDR clock.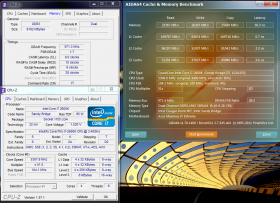 As you can see from the screenshot above, we get a nice boost in performance with the most impressive being the memory write speed which comes in at
26,267 MB/s.
This is a really nice kit of RAM for people who as we said are looking for something that's faster than the 1600MHz DDR kit, but cheaper than the 2133MHz DDR ones. Combined with the fact you're getting 8GB of RAM instead of 4GB which is seen on the really high end ones, it's an attractive option for people who don't need that extreme MHz.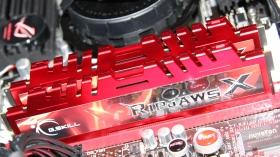 Throw that in with the fact we're able to then pull in almost 1950MHz DDR from the kit with the CMD Rate dropped to 1T instead of the stock 2T and you've got a great kit of RAM.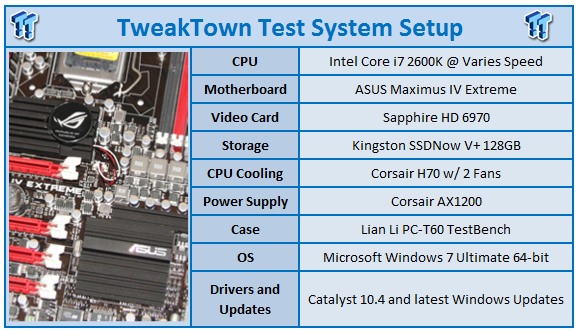 PRICING: You can find products similar to this one for sale below.

United States: Find other tech and computer products like this over at Amazon.com

United Kingdom: Find other tech and computer products like this over at Amazon.co.uk

Australia: Find other tech and computer products like this over at Amazon.com.au

Canada: Find other tech and computer products like this over at Amazon.ca

Deutschland: Finde andere Technik- und Computerprodukte wie dieses auf Amazon.de