Silicon Power V20 120GB SandForce SF-1200 SSD Review
No, today's review isn't a throwback to 2010. The SF-1200 still has life, only now with a nicer price.
Published Thu, May 26 2011 10:40 AM CDT
|
Updated Tue, Nov 3 2020 7:02 PM CST
Introduction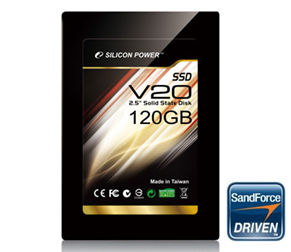 If you follow my State of Solid State Series of articles then you already know the SandForce SF-1200 controller isn't going away anytime soon. The SF-1200 will go down in history as the fastest SATA 3G SSD controller ever developed. With its 285MB/s read and 275MB/s write speeds, the SF-1200 pushed SATA 3G to the limits and taught us what solid state performance should feel like.
What was last year's enthusiast standard is making a comeback, this time as a mainstream and decaf power user product. With a majority of users still clinging onto their SATA 3G desktops and notebooks, it's no surprise to see companies like Silicon Power introducing new SF-1200 products. The 2011 SF-1200 products will arrive in several shapes and configurations. Companies like Renice have already developed mSATA drives, OCZ still has their Vertex 2, but now with 25nm flash, and many others are following suit to reduce costs even further.
Finding SF-1200 drives without 25nm flash is going to be a difficult task in 2011 from the usual suspects. Silicon Power on the other hand has decided to stick with tried and true 3Xnm flash since it's faster and offers more longevity. We've spoken with Silicon Power's product manager and he's very excited about bringing more of their SSDs to the global market and the US market in particular. Silicon Power is going to be aggressive with their pricing on the V20 and will keep the shelves stocked at Amazon.com.
Let's take a look at the new Silicon Power V20 SF-1200 controlled SSD.
Specifications, Pricing and Availability

Silicon Power isn't very forthcoming with their product specifications on their website, but the SF-1200 controller's reputation is starting to become cliche anyhow. With 285MB/s read and 275MB/s write, the Silicon Power V20 pushes the SATA II (3G) bus to its limits.
Even though the Silicon Power V20 is being placed in the mainstream product category, the drive ships with a desktop adapter bracket. We've already seen some of the competing products in this mainstream category like the Patriot Torqx 2 and most are not shipping with this add-on that makes life much easier for desktop users. The V20 also ships with a standard 3 year warranty.
When it comes to pricing, we hear the 120GB V20 that we are looking at today will sell for just over 200 USD. This is quite a bit cheaper than the SF-2200 SATA 6G drives on the market today and falls in line with other SF-1200 drives on the market today that ship with 25nm flash.
The Packaging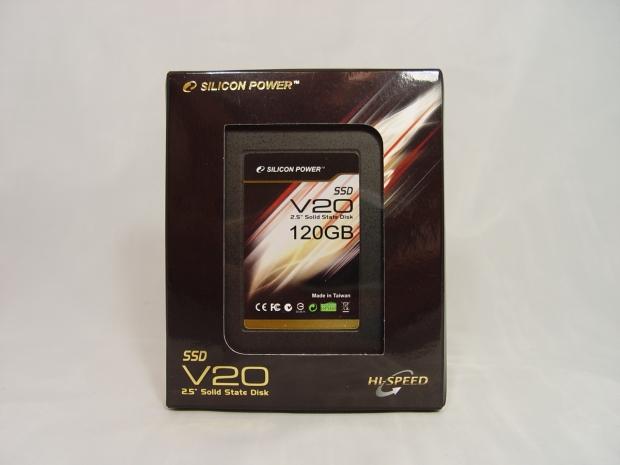 Silicon Power has designed an attractive package for the V20. The image of a streaking object on the drive carries over to the package. You can see the actual drive through the window on the front of the box. There isn't a lot of information on the front, though.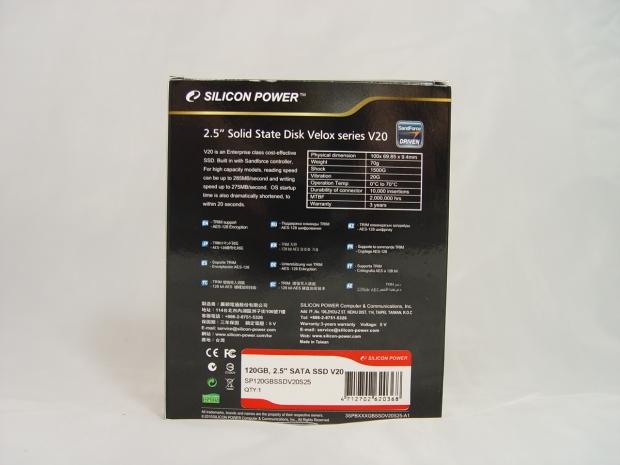 On the back of the package we see the SandForce Driven logo and the familiar SandForce SF-1200 drive specifications. The package is the same for all of the capacity points, but on the bottom Silicon Power has placed a logo that shows the drives capacity.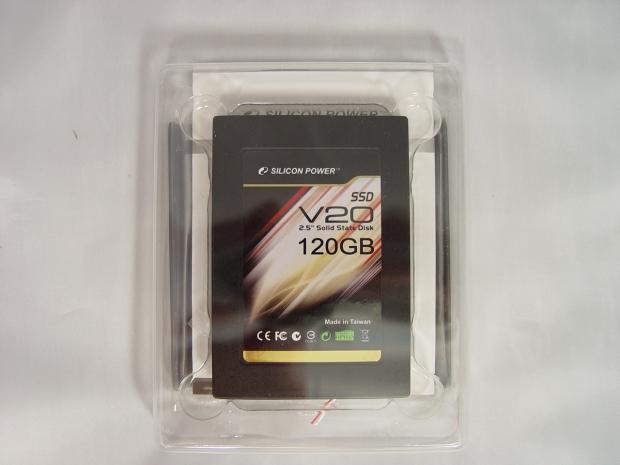 The inner package is made of two compartments. The drive is kept separate from the desktop adapter bracket in the inner packaging.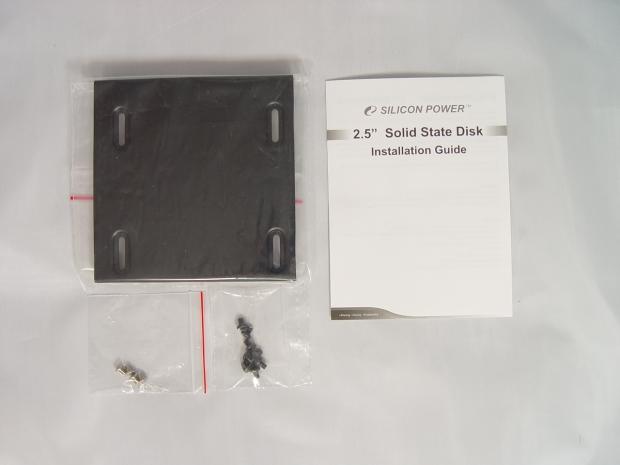 Here we see the accessory package laid out; you get a desktop adapter bracket, paper manual and two sets of screws for installing the drive in your desktop.
The Silicon Power V20 120GB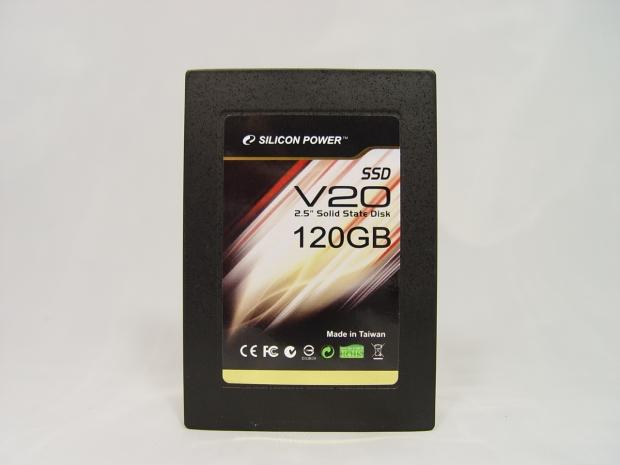 Here we get our first look at the Silicon Power V20. On the outside there isn't much to look at, but Silicon Power has put the capacity size on the front label.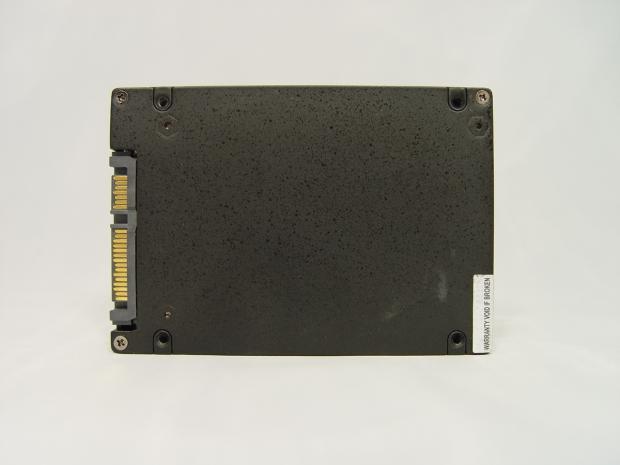 The back of the drive is bare without a label or additional information. The V20 does have the standard bottom mounting points.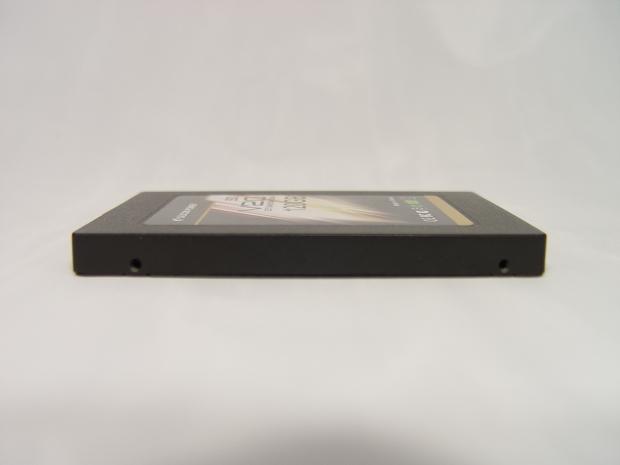 The side mounting points are also where they should be, so the drive will fit in your notebook or desktop without issue.
Silicon Power's desktop adapter bracket uses a design that we haven't seen before. The bracket allows you to install the drive in the middle of the bracket or offset as shown here.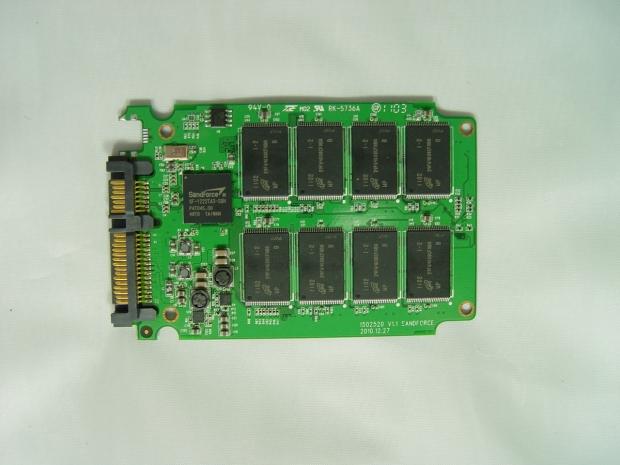 Silicon Power chooses to use Micron Technology's flash and pair it with the SandForce SF-1222TA3-SBH controller.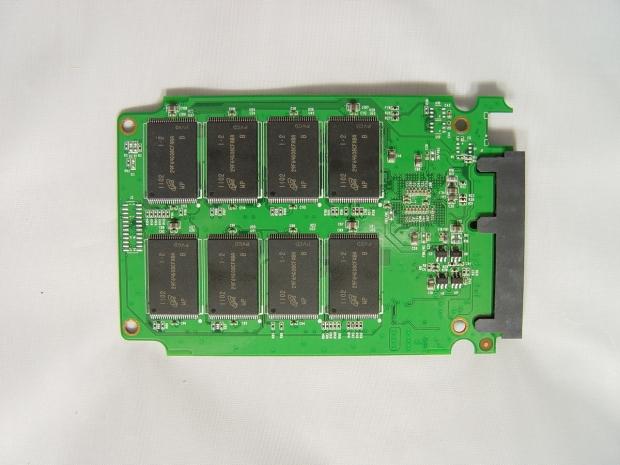 There are sixteen flash chips total, eight on each side.
Test System Setup and ATTO Baseline Performance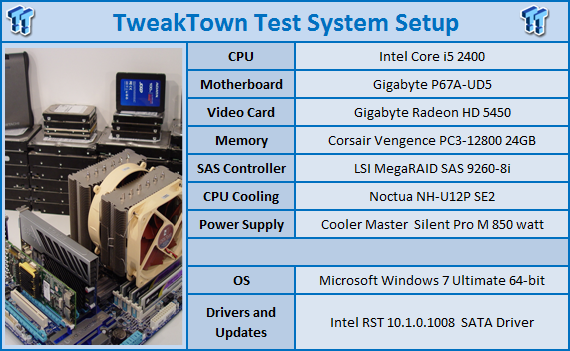 We would like to thank the following companies for supplying and supporting us with our test system hardware and equipment:
AVADirect
,
GIGABYTE
,
Cooler Master
,
LSI
,
Corsair
and
Noctua
.
You can read more about TweakTown's Storage Product Testing Workstation and the procedures followed to test products
in this article
.
We've spent a lot of time talking about the high end this year and neglected the mainstream market a bit. There are a couple of reasons for this. The first is the high end products are just so freaking cool! The second really has to do with the state of the current mainstream SSDs on the market.
The mainstream market is having a bit of an identity crisis right now. Products like the Kingston V100+ and Patriot Torqx 2 are shipping with mainstream performance, but still carry high end product prices. When you're spending 300 Dollars on a 120-128GB drive, there isn't a reason to buy a mainstream performance drive when you can buy the best for the same amount of money.
SandForce and the Team SandForce partners have wrecked the entire pricing scheme foundation and are in the process of rebuilding it how they see fit. That means we are going to see these SF-1200 drives sell for 200 USD or less in 120GB capacity and the SF-2200 drives sell for 250 to 300 USD. That doesn't leave a lot of room for drives with controllers from JMicron, Phison, Toshiba, Samsung or Intel.
ATTO Baseline PerformanceVersion and / or Patch Used:
2.34
ATTO is used by many disk manufacturers to determine the read and write speeds that will be presented to customers.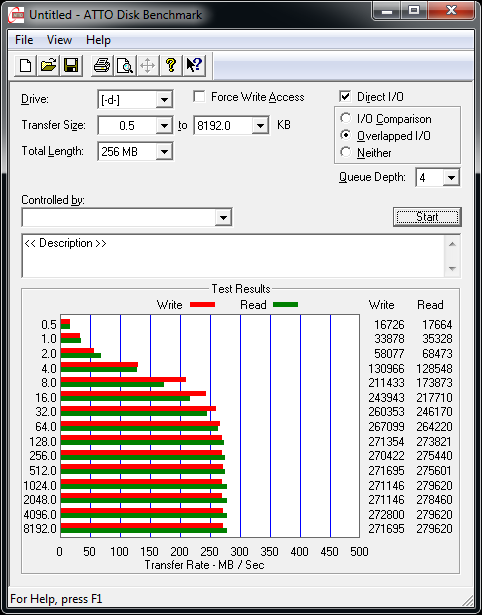 We've been looking at ATTO result images like this since January 2010 with 280MB/s read and over 270MB/s write depending on which motherboard and drive package you are using. This is the pentacle of SATA 3G performance; you can't get any better.
Benchmarks - HD Tune Pro
HD Tune ProVersion and / or Patch Used:
4.00
Developer Homepage:
http://www.efdsoftware.com
Product Homepage:
http://www.hdtune.com
HD Tune is a Hard Disk utility which has the following functions:
Benchmark: measures the performance
Info: shows detailed information
Health: checks the health status by using SMART
Error Scan: scans the surface for errors
Temperature display
HD Tune Pro gives us accurate read, write and access time results and for the last couple of years has been gaining popularity amongst reviewers. It is now considered a must have application for storage device testing.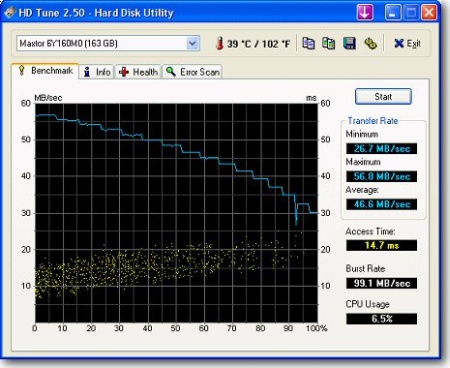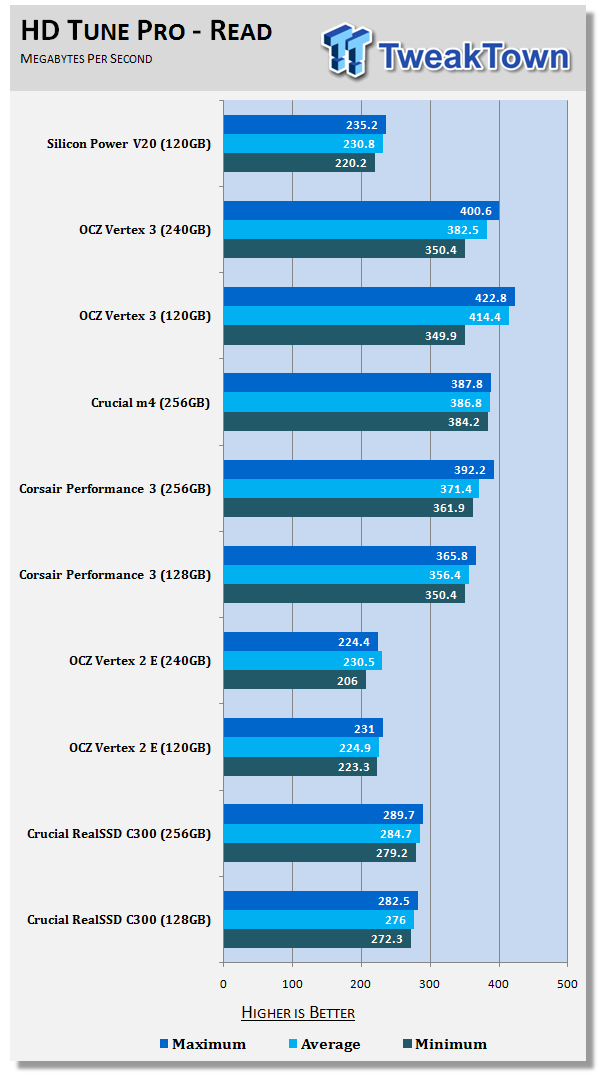 Our benchmark results consist of the 2011 super drives that all use SATA 6G other than the Vertex 2 and Silicon Power V20 that we are showcasing today. The Vertex 2 drives use the same 34nm flash that the V20 does. These Vertex 2 drives are becoming difficult to find these days. OCZ Technology has been building the Vertex 2 with 25nm flash since December 2010.
The Silicon Power V20 has nearly identical read performance that we found on the Vertex 2 120GB drive.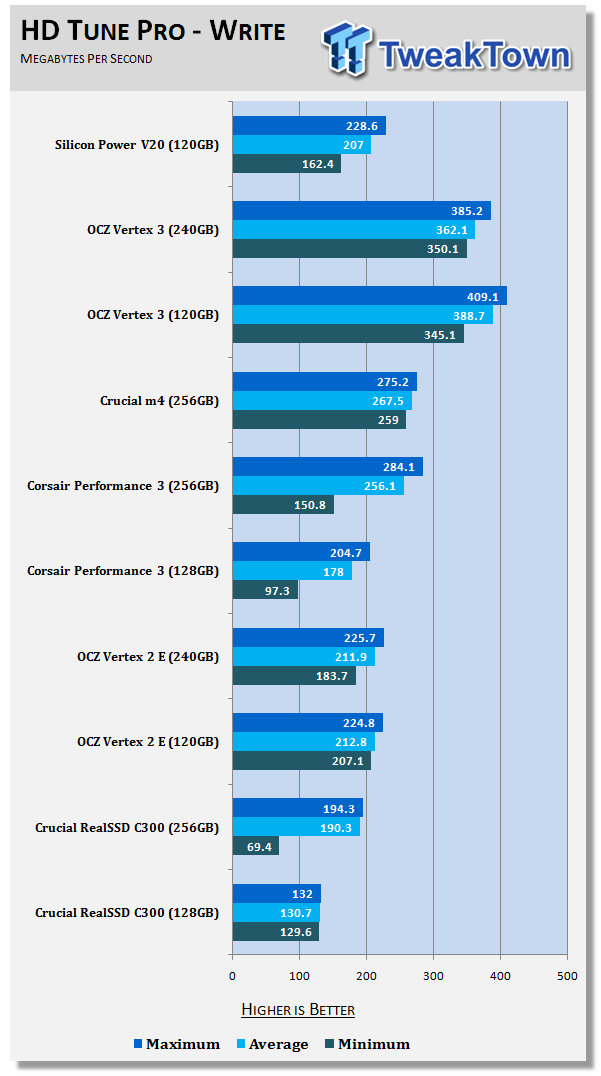 When it comes to the average write speed across the drive, the V20 runs almost as well as the 34nm Vertex 2. Both drives had different firmware when tested, so we expect to see some variation in performance on the charts.
Benchmarks - AIDA64 Random Access Time
AIDA64 Random Access TimeVersion and / or Patch Used:
1.60
Developer Homepage:
http://www.aida64.com
Product Homepage:
http://www.aida64.com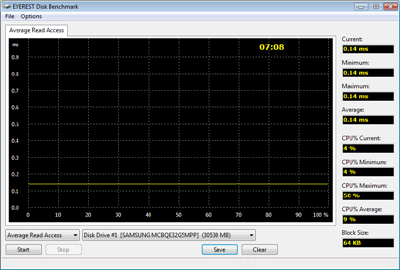 AIDA64 offers several different benchmarks for testing and optimizing your system or network. The Random Access test is one of very few if not only that will measure hard drives random access times in hundredths of milliseconds as oppose to tens of milliseconds.
Drives with only one or two tests displayed in the write test mean that they have failed the test and their Maximum and possibly their Average Scores were very high after the cached fills. This usually happens only with controllers manufactured by JMicron and Toshiba.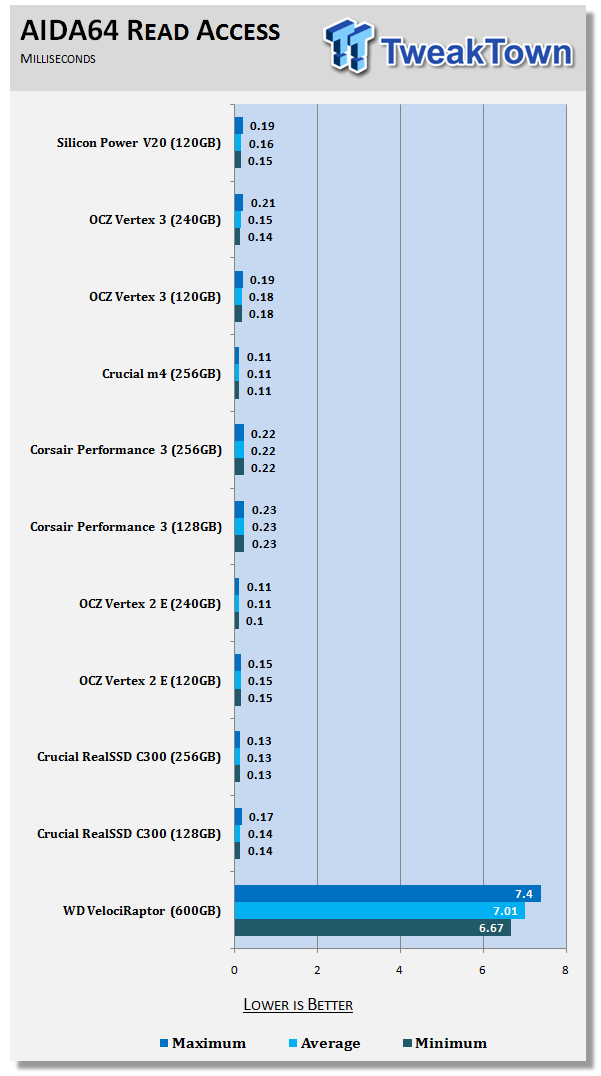 Access times are what make SSDs feel fast and the SF-1200 gives around the best feel you can get. When opening a program, the action starts before you can even get your finger lifted from the click.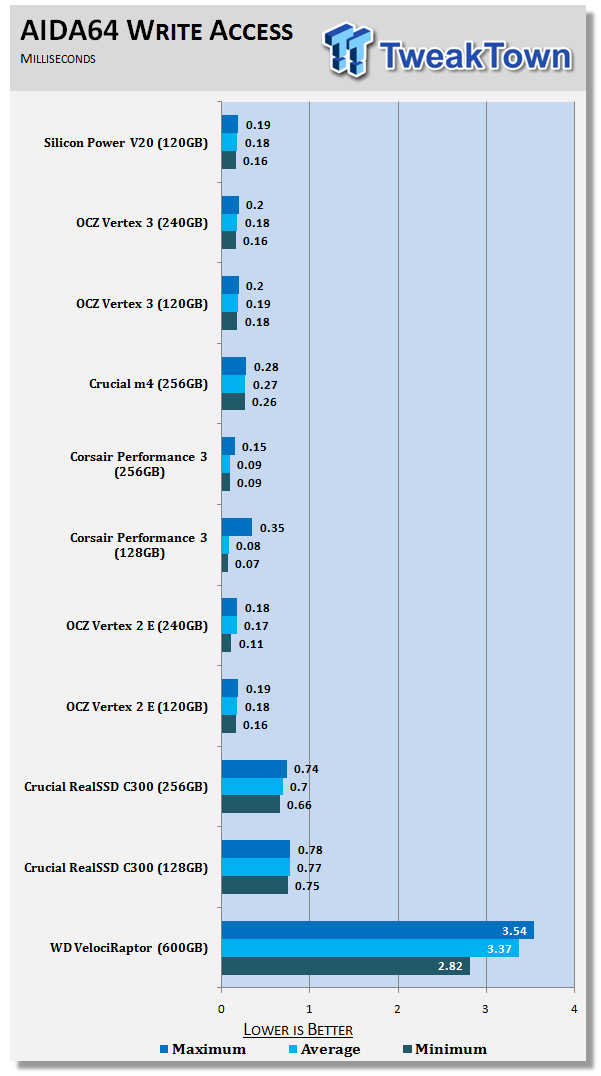 The read and write access times are in line with what we saw with the Vertex 2.
Benchmarks - CrystalDiskMark
CrystalDiskMarkVersion and / or Patch Used:
3.0 Technical Preview
Developer Homepage:
http://crystalmark.info
Product Homepage:
http://crystalmark.info/software/CrystalDiskMark/index-e.html
Download here:
http://crystaldew.info/category/software/crystaldiskmark
CrystalDiskMark is a disk benchmark software that allows us to benchmark 4K and 4K queue depths with accuracy.
Key Features:-
* Sequential reads/writes
* Random 4KB/512KB reads/writes
* Text copy
* Change dialog design
* internationalization (i18n)
Note:
Crystal Disk Mark 3.0 Technical Preview was used for these tests since it offers the ability to measure native command queuing at 4 and 32.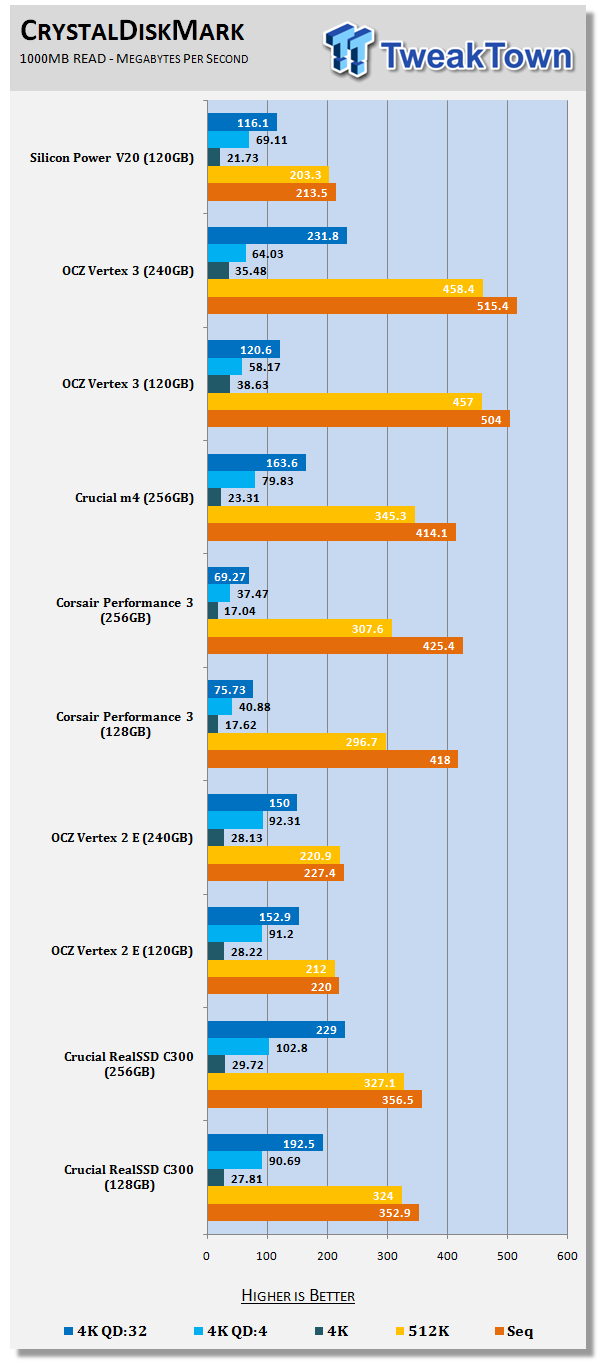 In CDM we look at 4K and NCQ performance. When the SandForce SF-1200 arrived it set new standards for 4K read and write speeds and our real world performance shot up quite a bit as the result. The Silicon Power V20 is a little slower than the Vertex 2 in 4K reads and 4K NCQ performance.
The Silicon Power V20 has better 4K write performance when compared to the Vertex 2. This carries over to NCQ performance as well.
Benchmarks - PCMark Vantage Hard Disk Tests
PCMark Vantage - Hard Disk TestsVersion and / or Patch Used:
1.0.0
Developer Homepage:
http://www.futuremark.com
Product Homepage:
http://www.futuremark.com/benchmarks/pcmark-vantage/
Buy It Here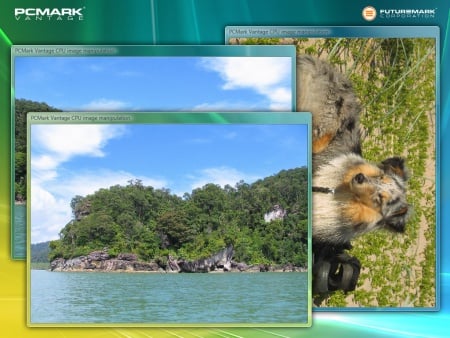 PCMark Vantage is the first objective hardware performance benchmark for PCs running 32 and 64 bit versions of Microsoft Windows Vista. PCMark Vantage is perfectly suited for benchmarking any type of Microsoft Windows Vista PC from multimedia home entertainment systems and laptops to dedicated workstations and high-end gaming rigs. Regardless of whether the benchmarker is an artist or an IT Professional, PCMark Vantage shows the user where their system soars or falls flat, and how to get the most performance possible out of their hardware. PCMark Vantage is easy enough for even the most casual enthusiast to use yet supports in-depth, professional industry grade testing.
FutureMark has developed a good set of hard disk tests for their PCMark Vantage Suite. Windows users can count on Vantage to show them how a drive will perform in normal day to day usage scenarios. For most users these are the tests that matter since many of the old hat ways to measure performance have become ineffective to measure true Windows performance.

HDD1 - Windows Defender
HDD2 - Gaming
HDD3 - Windows Photo Gallery
HDD4 - Vista Startup
HDD5 - Windows Movie Maker
HDD6 - Windows Media Center
HDD7 - Windows Media Player
HDD8 - Application Loading
When it comes to real world performance, the Silicon Power V20 offers nearly the exact same levels of performance as the 120GB Vertex 2 34nm drive. The performance is down when compared to today's high end SATA 6G drives, but there is over 100 Dollars pricing difference between the two and the V20 is designed for those without 6G capability.
PCMark Vantage - Drives with Data Testing
For a complete breakdown on the Drives with Data Testing please
read this article
. You will be able to perform this test at home with the files provided in the article - full instructions are included.
Brief Methodology
SSDs perform differently when used for a period of time and when data is already present on the drive. The purpose of the Drives with Data testing is to show how a drive performs in these 'dirty' states. SSDs also need time to recover, either with TRIM or onboard garbage collection methods.
Drives with Data Testing - 25%, 50%, 75% Full States and Dirty / Empty Test
Files needed for 60 (64GB), 120 (128GB), 240 (256GB)
60GB Fill - 15GB, 30GB, 45GB
120GB Fill - 30GB, 60GB, 90GB
240GB Fill - 60GB, 120GB, 160GB
Empty but Dirty - a test run just after the fill tests and shows if a drive needs time to recover or if performance is instantly restored.

HDD1 - Windows Defender
HDD2 - Gaming
HDD3 - Windows Photo Gallery
HDD4 - Vista Startup
HDD5 - Windows Movie Maker
HDD6 - Windows Media Center
HDD7 - Windows Media Player
HDD8 - Application Loading
In this set of tests we are looking at performance when the drive has data present at 25%, 50% and 75% full. The Silicon Power V20 slows as the drive is populated, but still very fast even when 75% full.
Benchmarks - AS SSD
AS SSD BenchmarkVersion and / or Patch Used:
1.2.3577.40358
Developer Homepage:
Alex Intelligent Software
Product Homepage:
Alex Intelligent Software
Download here:
http://www.alex-is.de/PHP/fusion/downloads.php?cat_id=4&download_id=9
AS determines the performance of Solid State Drives (SSD). The tool contains four synthetic as well as three practice tests. The synthetic tests are to determine the sequential and random read and write performance of the SSD. These tests are carried out without the use of the operating system caches.
In all synthetic tests the test file size is 1GB. AS can also determine the access time of the SSD, the access of which the drive is determined to read through the entire capacity of the SSD (Full Stroke). The write access test is only to be met with a 1 GB big test file. At the end of the tests three values for the read and write as well as the overall performance will be issued. In addition to the calculated values which are shown in MB/s, they are also represented in IO per seconds (IOPS).
Note:
AS SSD is a great benchmark for many tests, but since Crystal Disk Mark covers a broader range of 4K tests and HD Tune Pro covering sequential speeds, we will only use the Copy Benchmark from AS SSD.
- Copy Benchmark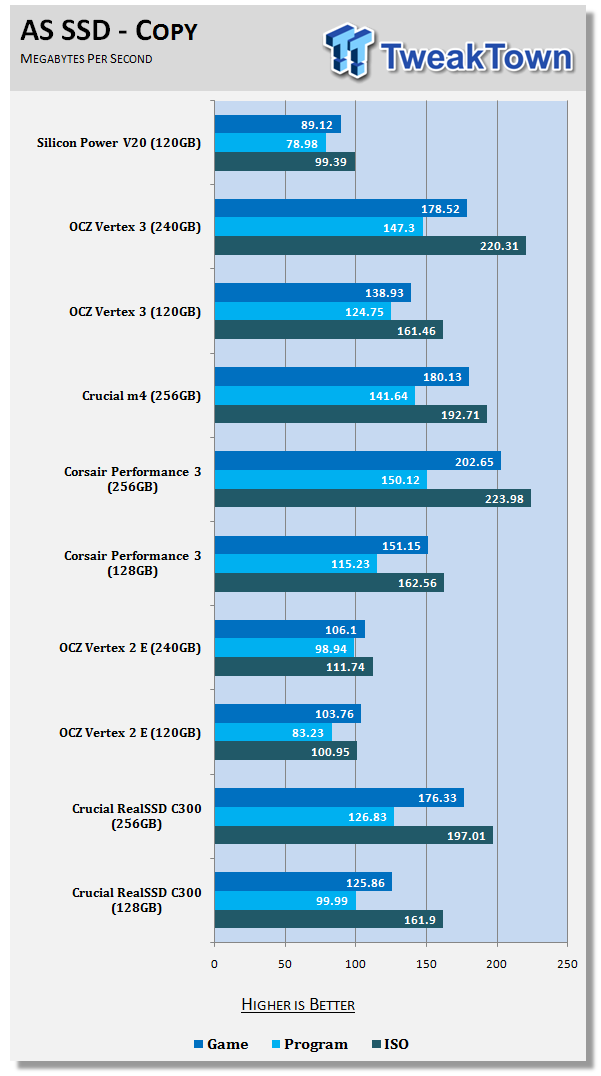 Transferring large files on the same drive becomes more important when using larger drives. Since users have more available capacity, they tend to keep more music, movies and program files on the drive. Here we see how the drive handles moving these files.
Benchmarks - Passmark
Passmark Advanced Multi-User TestsVersion and / or Patch Used:
6.1
Developer Homepage:
http://www.passmark.com
Test Homepage:
http://www.passmark.com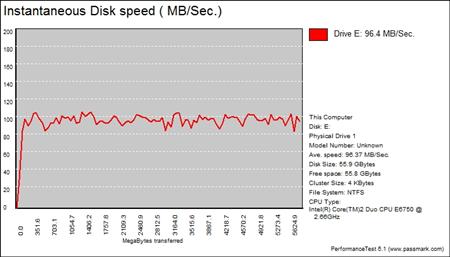 Many users complain that I/O Meter is too complicated of a benchmark to replicate results so my quest to find an alternative was started. Passmark has added several multi-user tests that measure a hard drives ability to operate in a multi-user environment.

The tests use different settings to mimic basic multi-user operations as they would play out on your server. Variances is read / write percentage as well as random / sequential reads are common in certain applications, Web Servers read nearly 100% of the time while Database Servers write a small amount of data.
The Workstation test is the only single user environment and will be similar to how you use your system at home.
The SF-1200 was based on the SF-1500 enterprise controller. The Silicon Power V20 does a very good job running enterprise tasks when called upon to do so.
Final Thoughts
We knew the SandForce SF-1200 would live on for a long time after testing three or four drives in 2010. Even if SandForce discontinued the controller chip when releasing its successor, people would still be looking for drives based on SF-1200 since it is the best SATA 3G controller ever built. The SF-1200 is the Intel BX chipset for solid state drives and we will still be talking about it three years from now.
The Silicon Power V20 offers the same SandForce SF-1200 performance that we fell in love with in 2010. Other companies are going to keep SF-1200 offerings, but few will offer 34nm drives. Those with 25nm are still very fast, but not nearly as fast as those with 34nm. If I needed to buy a SATA 3G drive today it would be one with a SF-1200 and 34nm flash.
At the time of writing the Silicon Power V20 drives were not available at Amazon, so we don't have a final tally on the pricing. All we really know in this area for the 120GB drive is a rough estimate, around 200 USD. At that price, the Silicon Power V20 120GB is on par with many other SF-1200 offerings from other companies. To add to the final value, Silicon Power includes a desktop adapter bracket with the screws needed for installation and a 3 year warranty. The warranty is in line with several other manufacturers.
If you are not ready to invest in a new processor, motherboard (with SATA 6G) and all of the other parts needed to build a new system, then adding a low cost, high speed SSD is a great way to increase performance and user experience. If that sounds like you and you are not already on the SandForce bus, then the Silicon Power V20 is a really good way to make the journey to a really good user experience.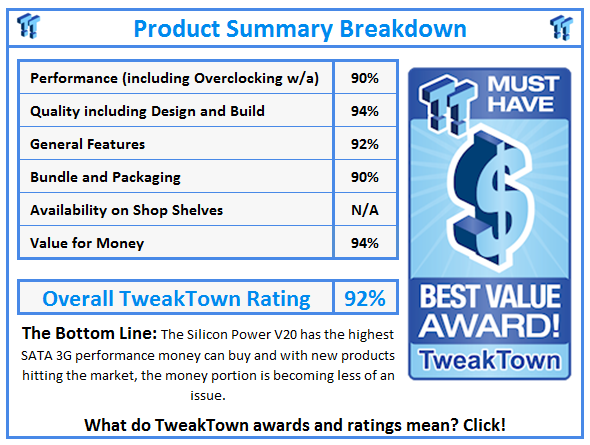 PRICING: You can find products similar to this one for sale below.

United States: Find other tech and computer products like this over at Amazon.com

United Kingdom: Find other tech and computer products like this over at Amazon.co.uk

Australia: Find other tech and computer products like this over at Amazon.com.au

Canada: Find other tech and computer products like this over at Amazon.ca

Deutschland: Finde andere Technik- und Computerprodukte wie dieses auf Amazon.de
We openly invite the companies who provide us with review samples / who are mentioned or discussed to express their opinion. If any company representative wishes to respond, we will publish the response here. Please contact us if you wish to respond.