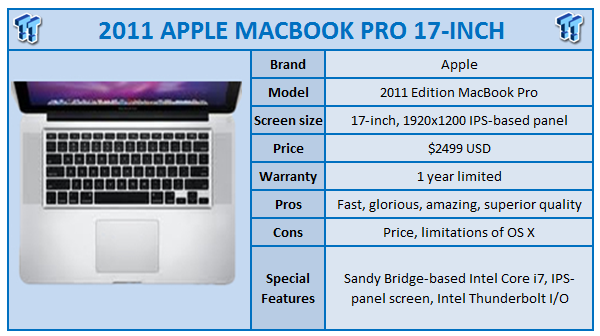 I have been a fan of Apple-built hardware for quite some time, but the price hike versus Windows-based computers has always been hard to justify.
Enter, Intel's Sandy Bridge.
Specs
The 2011 Edition Apple MacBook Pro's are some seriously beautiful pieces of technology. Thin, unbelievably fast, amazing screen and finally, not so expensive. Spec-wise, Apple throw some decent tech into their 17-inch MacBook Pro.
The 17-inch model contains; an Intel Core i7 2.2GHz processor (6MB shared L3 cache), 4GB of 1333MHz DDR3 memory (upgradeable to 8GB), 750GB 5400-rpm SATA HDD, AMD Radeon HD 6750M GPU with 1GB GDDR5 memory, Intel HD Graphics 3000 with 384MB of DDR3 shared with main memory, and a 17-inch LED-backlit glossy widescreen display with a resolution of 1920x1200.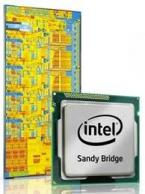 Other features included are Gigabit Ethernet, FireWire 800, USB 2.0 (3 ports), Thunderbolt, Audio line in/out, ExpressCard/34 slot, 802.11n Wi-Fi, Bluetooth 2.1 + EDR, an 8x slot-loading SuperDrive (DVD and CD-capable), full-size backlit keyboard and a multi-touch trackpad.
Price
I picked up the 17-inch MacBook Pro for AUD $2600 which is not bad at all. Yes, it's a premium of roughly $1000 over the Windows-based machines, but a premium I find that is justified.
It's hard to explain. Once you've turned the notebook on and used it, you just feel as though the premium was worth it.
Keyboard & Trackpad
The keyboard is one of the best I've had the pleasure of typing on; the keys look cramped - but they're not. The keys are very soft to press and make typing quite easy. The keyboard also looks great in dark areas or rooms because of the backlight. For people who don't touch type or require their eyes on the keys when typing, this is a great option.
Now onto one of the best features of the laptop, one that is not really discussed in reviews - the multi-touch trackpad. The multi-touch trackpad is capable of inertial scrolling, pinch, rotate, swipe, three-finger swipe, four-finger swipe, tap, double-tap and even includes drag capabilities.
[img]3[/img]
I never thought it would be *that* useful, but it truly is. Want to go back to a previous webpage? Three finger swipe. Want to right-click? Double-press. I did not even know it supported double-press, but the entire multi-touch trackpad is one large button. There is no left or right button; it comes down to the amount of fingers you use that determines the action in the software.
Scrolling on websites is so smooth with the trackpad, once you've had a few hours with it,it becomes something you start thinking about. Things like "why isn't every other manufacturer including this" to "how could I ever live without this!"
Display
The screen Apple have chosen to use is an IPS-based 17-inch, 1920x1200 resolution LED display. A single word to describe the screen? Gorgeous. The color feels so vibrant and when the brightness is at full, the screen really shines - one of the best features of the MacBook Pro.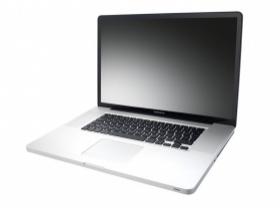 Having it next to some TN-based panels, the Apple MBP screen just wipes the floor with sharpness and color. It really jumps out at you and sucks you into the notebook.
Storage
Performance wise, the system feels very fast. I'm using the stock 5400-rpm HDD and compared to my other desktops and notebooks that are powered with after-market SSD's, it definitely feels sluggish at times - not in brute power, but in multi-tasking, etc. I will be adding a Corsair SSD drive to the machine to give it a nice kick up the bum.
The machine, albeit no SSD, is fast. Everything loads up pretty quick and there doesn't seem to be much delay. The only thing I've noticed is when I'm installing something, while on the net, listening to music all at once, it does just think for 1 - 2 seconds. This is something the SSD will solve.
(
Post SSD Installation
): I installed a G.Skill Phoenix Pro 120GB Solid State into the MBP and re-installed OS X. Were there improvements? Do birds fly? Is the Earth round? Yes; a resounding YES. I think SSDs should be standard in all computers - especially on Apple-based systems.
OS X boots very quick and the most surprising thing for me was the speed of which it comes back on after opening the lid. Not even 2 seconds! This is something I love; I can open the screen and get right into my work.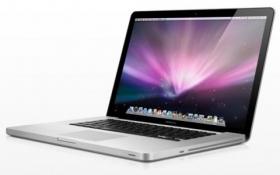 Battery Life
Battery wise, for normal use (writing up news, general surfing of the web, couple of YouTube clips, e-mails, etc) I get around 4 hours. This is with Wi-Fi on, screen brightness at full and the backlit light off.
The system will use the integrated graphics nearly the entire time, until it reaches a point of load (such as a game) where the integrated graphics switches to the GPU. I was unable to find a decent Battery Eater-like program for Mac OS X, so I did some real-world testing instead.
I ran a Quicktime 1920x1080p trailer of the upcoming Marvel Comics movie, Thor. I had Wi-Fi disabled, all applications closed, the backlit keyboard light off and the screen brightness on maximum. I was able to get 5.5 hours out of the MacBook Pro - these results in my mind are great. Apple say they get around 7 hours from Wi-Fi internet use and my results mirror this (6.5 hours). Again, great results.
Boot Camp
I installed Windows 7 Home Premium x64 onto my MacBook Pro through Boot Camp. Boot Camp Assistant is great, it helped me through it - burnt a disc of drivers for Windows, then went through the standard Windows install. Once I was in Windows I just installed the DVD with Boot Camp drivers and voila - Windows on a Mac!
I instantly noticed it runs warmer in Windows; this comes down to control of the hardware on OS X being better (fan control, clock speed control, etc). But still, it's fast, very fast. It feels as fast as my Core i7 desktop with an SSD installed at home. I downloaded Max Payne 2 from Steam for some nostalgia and fired it up. Yes, it's an older game, but you don't see many results for older games on newer machines, so I thought 'why not?'.
System Tests and Benchmarks
I was able to run Max Payne 2 at the native resolution of 1920x1200 with all details on 'high' at a sustained 60fps constant. I don't know how I could be more impressed, so I thought I'd push the laptop. Enter, Crysis 2!
I was able to run Crysis 2 at "high" graphics, 1280x720 and could maintain an average of 28fps in a 13 player multiplayer match.
I downloaded and tested the Mac version of Team Fortress 2 and ran the game at the native resolution of 1920x1200, maximum detail w/16x AF. The results? A silky smooth, constant 60fps. Impressive, very impressive.
I fired up Portal 2 and was pretty blown away by the results - 1920x1200, high detail, 60fps minimum - excellent results!
As for synthetic benchmarks:-
Unigine Benchmark: 1680x1050, shaders on HIGH, tessellation on NORMAL. Results:
FPS: 11.4
Score: 287
3D Mark 11: Performance setting, Benchmark only, 1280x720:
P1327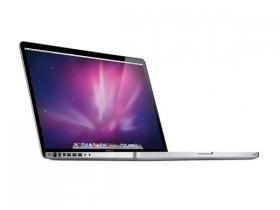 Other Features
The MagSafe power port I've always loved; it's magnetic so it just snaps into place and is amazingly thin which is great. Instead of a bulky circular design, it just slithers into place and feels like it's part of the notebook instead of the usual bulky connector which stands out like a sore thumb.
Thunderbolt. Ah, Thunderbolt. It's great in theory, but completely useless to me. Not just me, but probably you, too. There's virtually nothing on the market that uses it, but once it is supported, the MBP has it ready to go. It's a nice future-proof inclusion.
[img]2[/img]
Today I ordered myself the Apple Magic Mouse which is basically the same thing, multi-touch capable, but in mouse form. Using a mouse on an operating system is something that is very hard to stop doing - the multi-touch trackpad makes this change easier, but I simply can't live without a mouse.
The 2011 Edition MacBook Pro's now include a 720p-capable FaceTime HD camera. This is something I don't particularly use as I don't webcam chat with anyone - this may change, but it's nice to see a 720p resolution camera built into such a thin screen.
Other outputs include Mini DisplayPort and various other outputs using optional adapters (DVI and VGA are options), as well as dual-link DVI which supports 2560x1600. HDMI audio and video output is also made capable using a third-party Mini DisplayPort to HDMI adaptor.
Software
On the software side, we have Mac OS X v10.6 Snow Leopard (which includes iTunes, Time Machine, Quick Look, Spaces, Spotlight, Dashboard, Mail, iChat, Safari, Address Book, QuickTime, iCal, DVD Player, Photo Booth, Front Row, Xcode Developer Tools).
iLife is also included which comprises of iPhoto, iMovie, iDVD, iWeb and GarageBand. That's enough i's to last an entire iLife time. iLOL.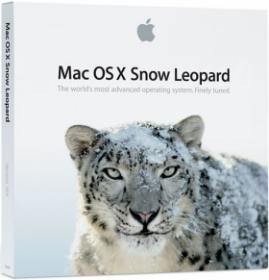 One downside to this notebook is the inclusion of an 8x SuperDrive which is only capable of CD and DVD reading/writing. Of course, Apple don't want to support Blu-ray, but that doesn't mean their customers don't. For nearly $3000, you'd expect Blu-ray to be a default option. The same goes for an SSD drive.
There are more positive feelings toward the MBP than there is negative and virtually every product in the world is not flawless - the 17-inch MacBook Pro is no different. However, I have a feeling for people that haven't used a Mac before that the following quote would apply to them: Once you go Mac, you never go back.