Plextor PX-M2 Series 256GB SATA 6G Solid State Drive Review
With a master's degree in digital data, Plextor sets their sights on a solid future.
Published Fri, May 6 2011 1:36 PM CDT
|
Updated Tue, Nov 3 2020 7:02 PM CST
Introduction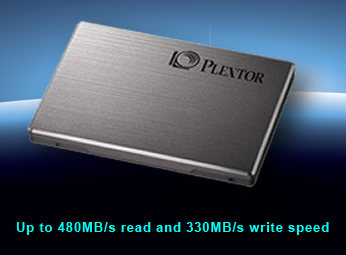 I told myself going into this review that I wouldn't spend a lot of time talking about Plextor's fabled past or ODD product line. After getting the images edited down and the charts pieced together, I made the mistake of pulling out my large box filled with around 40 CD and DVD optical drives. More than half of those drives were either labeled Plextor or known to be built by Plextor for companies like IBM. If you think spending 300 Dollars on a solid state drive is a feat, then try spending 300 Dollars on a Plextor 12/10/32A one week and then buying another one at 300 Dollars a week later to achieve the highest quality bit-for-bit copy imaginable. These drives, along with the SCSI models still sell on the used market for up to 100 Dollars each; not bad for an 11 year old optical drive. That should give you an idea of the quality products produced by Plextor at that time. Before we move on,
here is a blast from the past
that all of you old timers will get a chuckle over.
A lot has changed since those days for Plextor. Over the years the Plextor name has lost some of its polish. Optical drives are now commodity items pieced together to hit extremely low price points and innovative features have been sued out of R&D by the evil MPAA and RIAA litigation farms. Plextor still plays a leading role in the optical storage market, but not in the same ways as the glory days.
In order to survive and flex their innovative muscles, Plextor has turned to new avenues of creation. For a time it looked like the company would focus on video capture products, but that fizzled out after a couple of years. In 2011 Plextor has set their sights on two areas that I work heavily in; NAS appliances and solid state drives. It's fair to say that you will be seeing more Plextor products on TweakTown over the next couple of years, but these will mainly be products designed for the masses; Average Joe conservative parts.
Today we are looking at the Plextor PX-M2 256GB solid state drive that uses the Marvell 88SS9174-
BKK2
controller. We first used this controller back in June 2010 when ADATA closed a section of their Computex booth to allow us to get a feel for the new controller. At the time we knew Plextor had a hand in the products beginnings since the drive was actually labeled as a LiteON (Plextor's parent company) drive.
Specifications, Pricing and Availability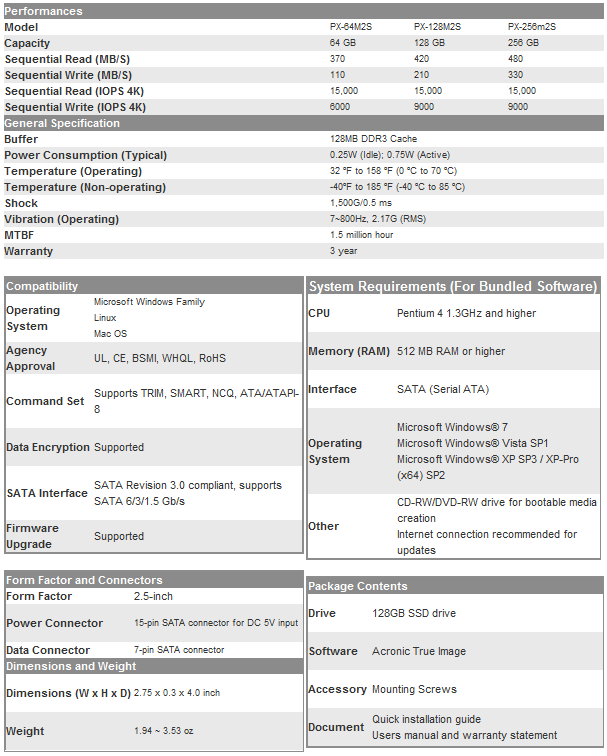 The Marvell 88SS9174-
BKK2
is an interesting and unique solid state controller. At this time there are three versions of the 9174 that we know about. The first was used exclusively in the Crucial C300 that held the title of the first SATA 6G controller on the market. Later Crucial once again pioneered a new revision that is currently in use in the m4. The middle sibling is the BKK2 used in the Plextor PX-M2, Corsair Performance 3 and Intel 510 Series of products to name a few. Most of these products based on the BKK2 can be traced back to those early display samples found at Computex, thus they can be traced back to LiteON / Plextor.
What makes the Marvell BKK2 so unique is the controller's ability to perform at the same level no matter how much data is on the drive. This is quite a rare occurrence since most SSDs lose both read and write performance as the drive fills with data and even when used over a period of time. The Plextor PX-M2 might not be the fastest drive out of the gate, but its long term endurance ensures it will take a podium position after a long marathon.
Plextor has announced three capacity sizes for the M2 Series. All three capacity points have different performance envelopes due to the density of the flash used. Today we are looking at the flagship 256GB drive that has a maximum sustained read speed of 480MB/s and a maximum sustained write speed of 330MB/s. Plextor's documentation lists all models as having a 128MB cache buffer and they all use SATA 6G connectivity for maximum performance.
As for the rest of the specifications, everything appears to be on the level with other next generation solid state drives on the market. The only area of concern is the conservative IOPS ratings. In order to process all of the internal garbage collection, IOPS took a bit of a performance hit. In the grand scheme of things the sacrifice worked out well, especially for users working without TRIM, MAC OS, RAID and legacy operating systems.
When it comes to pricing, Newegg currently lists the Plextor PX-256M2S
at 559.99
. This is around 10 Dollars more than the OCZ Vertex 3 240GB drive, but 100 Dollars less than the Corsair Performance 3 256GB and around 50 Dollars less than the Intel 510 250GB drives. The latter use the same BKK2 controller, so this makes the Plextor the lowest priced Marvell 9174-BKK2 25X GB drive available on the market today.
When it comes to accessories, the Plextor M2 Series has some high points with the software bundle that includes Acronis True Image Home and Plextor's propriety Instant Restore. An extensive paper manual is also included as are mounting screws. The low point of the bundle, though, is the lack of a 2.5 to 3.5" desktop adapter bracket that we feel should be standard with 2.5" form factor SSDs since a large volume of these drives are being used in high performance desktops.
The Packaging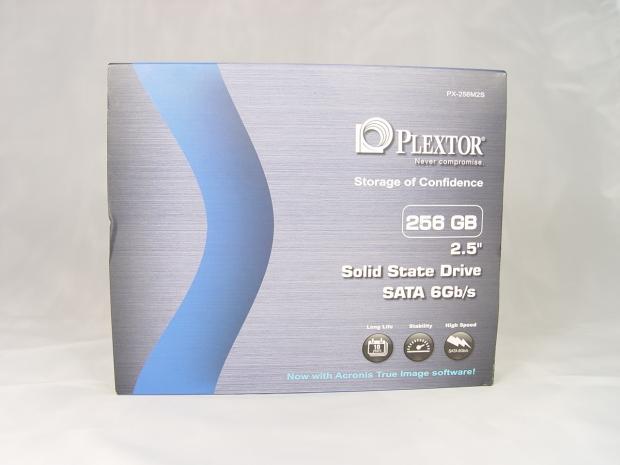 In order to save the marketing budget Plextor shuffles their drives around and each reviewer only has a brief amount of time with the sample. The package was tore up quite a bit from the last guy or gal; sorry about that. On the front of the package Plextor clearly shows the products capacity and a few small details about the M2 Series.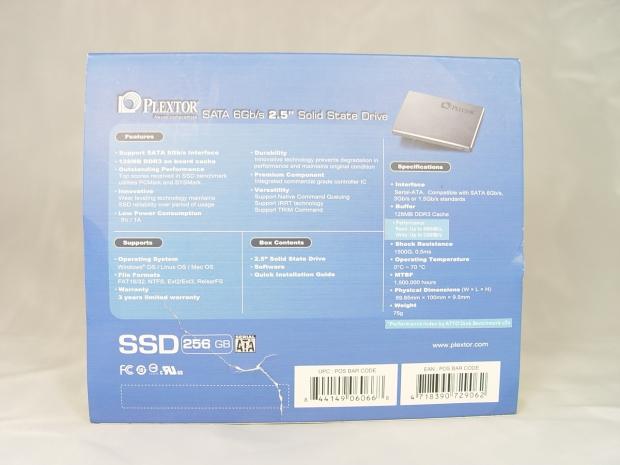 On the back we found some general statements about the M2 Series, but no specific performance information. Retail shoppers may look at this and think the 128GB or the 64GB models perform at the same levels as what you will read about in this review, which is not the case. I'd really like to see Plextor include a sticker for each individual capacities performance or at least list them all on the retail package so retail shoppers avoid confusion.
The inner packaging is very well thought out. The main construction material is based on dense paper with a center chamber for the SSD. All of the paper documentation is kept in an isolated section away from the drive.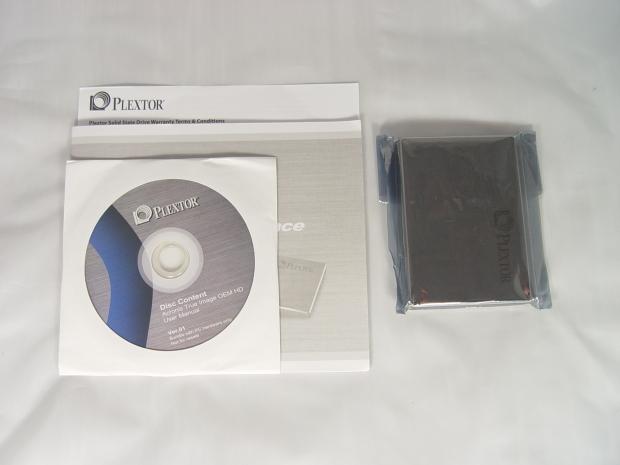 Our package didn't include the mounting screws that should have been in the retail kit. These were most likely retained by the previous reviewer. Here you can see the software disk and paper manuals.
The Plextor PX-M2 Series 256GB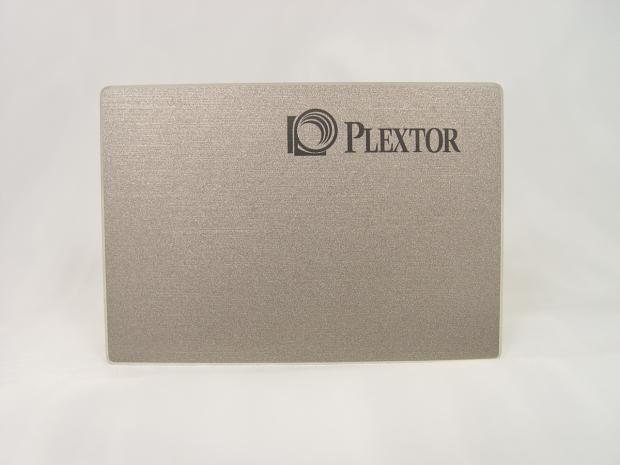 Here we get our first look at the Plextor M2 Series drive. Plextor used an aluminum shell with a silk screened logo on the front.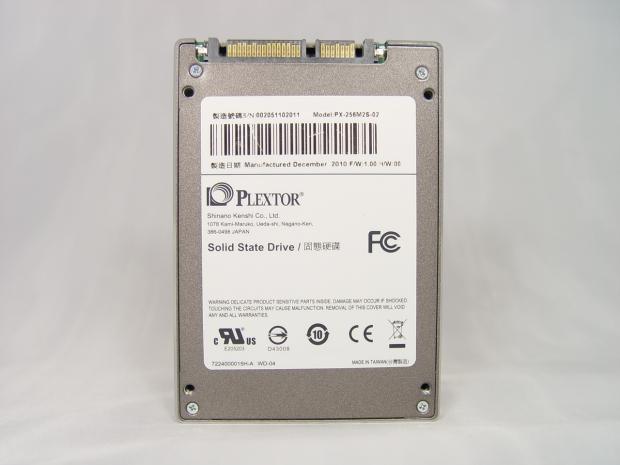 The model and serial numbers are located on the back of the drive. You will also find the capacity size listed. The four bottom mounting locations are positioned where they should be, so you will not have a problem installing the drive in an aftermarket bracket.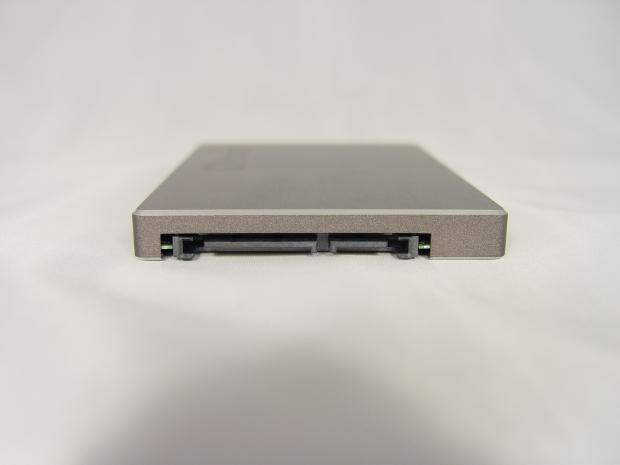 The SATA power and data connectors are where they should be as well, so installing the drive in a location built for 2.5" 9mm height drives will not be an issue. This is for the most part the standard 'notebook' drive size.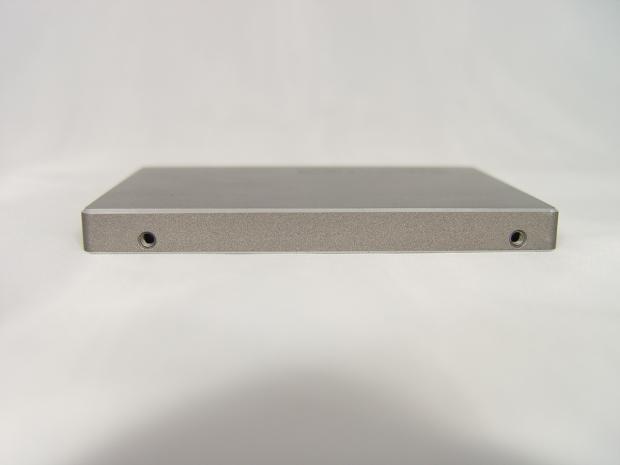 Last but not least, the side mounting points are where they should be located.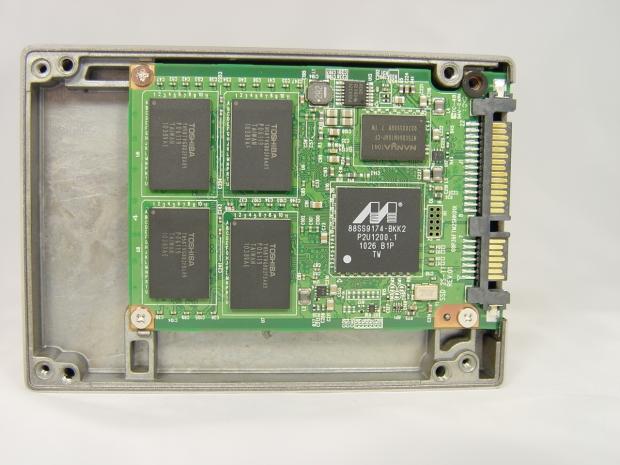 I remember back when we popped the top on the ADATA S501 how surprised we were to see a 1.8" drive inside. The Plextor PX-M2 retained the same 1.8" internals that we found on the LiteON engineering sample. Here we see four of the Toshiba Toggle flash chips, a Nanya 128MB DDR3 chip and the Marvell controller.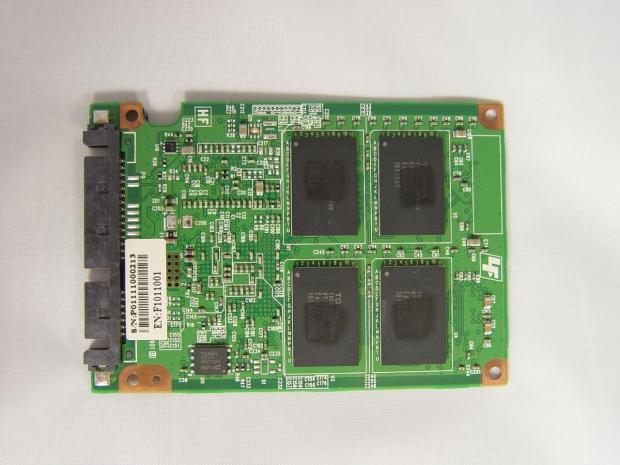 On the other side we found the additional four Toshiba NAND flash chips. Each chip on this side was attached to a thermal transfer pad that went to the other side of the aluminum case housing. I think they are in place for stability more so than they are to transfer heat away from the flash.
Test System Setup and ATTO Baseline Performance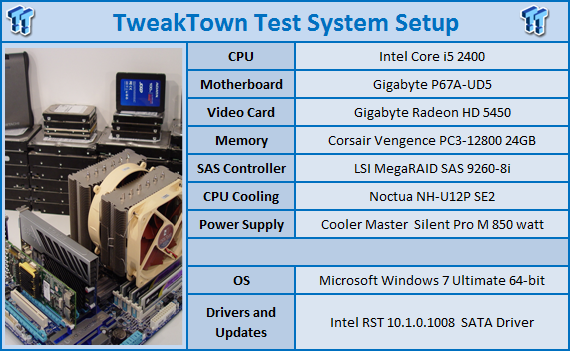 We would like to thank the following companies for supplying and supporting us with our test system hardware and equipment:
AVADirect
,
GIGABYTE
,
Cooler Master
,
LSI
,
Corsair
and
Noctua
.
You can read more about TweakTown's Storage Product Testing Workstation and the procedures followed to test products
in this article
.
In order to achieve the highest levels of performance from your next generation SATA 6G drive, you will need a high performance SATA 6G bus to run the drive on. We choose GIGABYTE's P67A-UD5 since it offers more bandwidth than the Marvell SATA 6G implementation found on many X58 motherboards. Another option would be to use a high performance 6Gb/s RAID controller like the LSI 9260-8i.
Plextor was first to market with their new next generation SATA 6G SSD (the Crucial C300 was a previous generation), but they are the last to get a product in our hands. Now that we have the whole gamut of next gen controllers at our disposal, we can compare the PX-M2 to SandForce's SF-2200 and Crucial's m4 products and get a clear representation of where the Plextor drive sits.
ATTO Baseline PerformanceVersion and / or Patch Used:
2.34
ATTO is used by many disk manufacturers to determine the read and write speeds that will be presented to customers.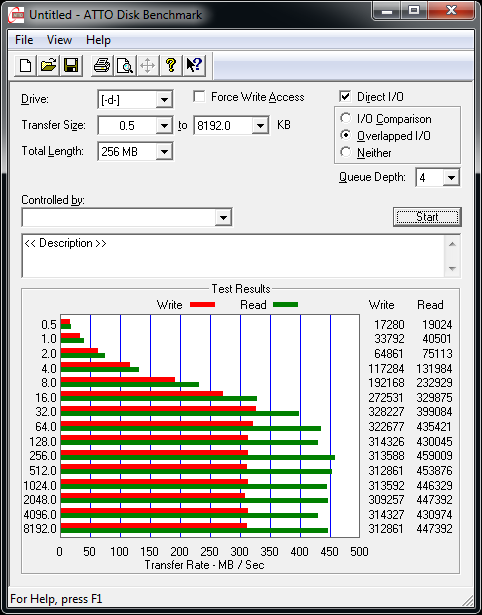 As expected, we found the Plextor PX-M2 performing at very high levels, but a little off from their quoted speeds. Our measurement showed read speeds of very close to 450MB/s and write speed around 315MB/s. With the drive already being brought to a steady state by the previous reviewer, we couldn't measure out of the box speeds which would have been a little higher than what we measured here.
Benchmarks - HD Tune Pro
HD Tune ProVersion and / or Patch Used:
4.00
Developer Homepage:
http://www.efdsoftware.com
Product Homepage:
http://www.hdtune.com
HD Tune is a Hard Disk utility which has the following functions:
Benchmark: measures the performance
Info: shows detailed information
Health: checks the health status by using SMART
Error Scan: scans the surface for errors
Temperature display
HD Tune Pro gives us accurate read, write and access time results and for the last couple of years has been gaining popularity amongst reviewers. It is now considered a must have application for storage device testing.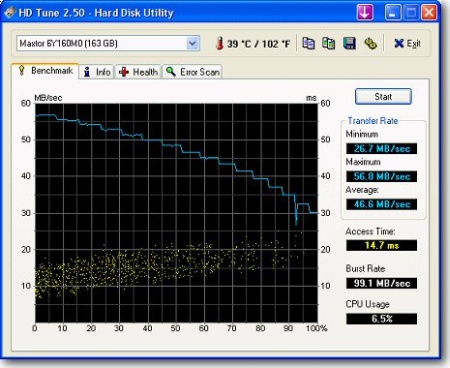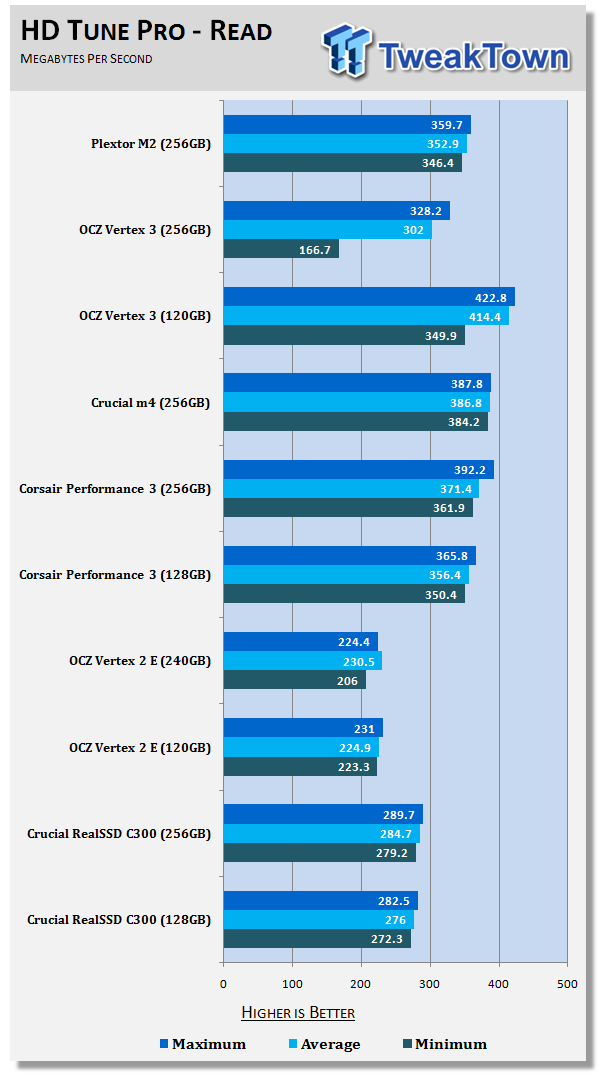 Before we get started looking at the charts, I want to point out that the Vertex 3 240GB drive tested was an early sample and not a complete retail unit. We have a full retail 240GB Vertex 3 on the way; it shipped out with the new Vertex 3 Max IOPS model that was announced the day of writing and both should be here very soon.
The Plextor M2 256GB does a really good job reading data from across the drive. Here we see a nice tight pattern between the minimum, average and maximum performance.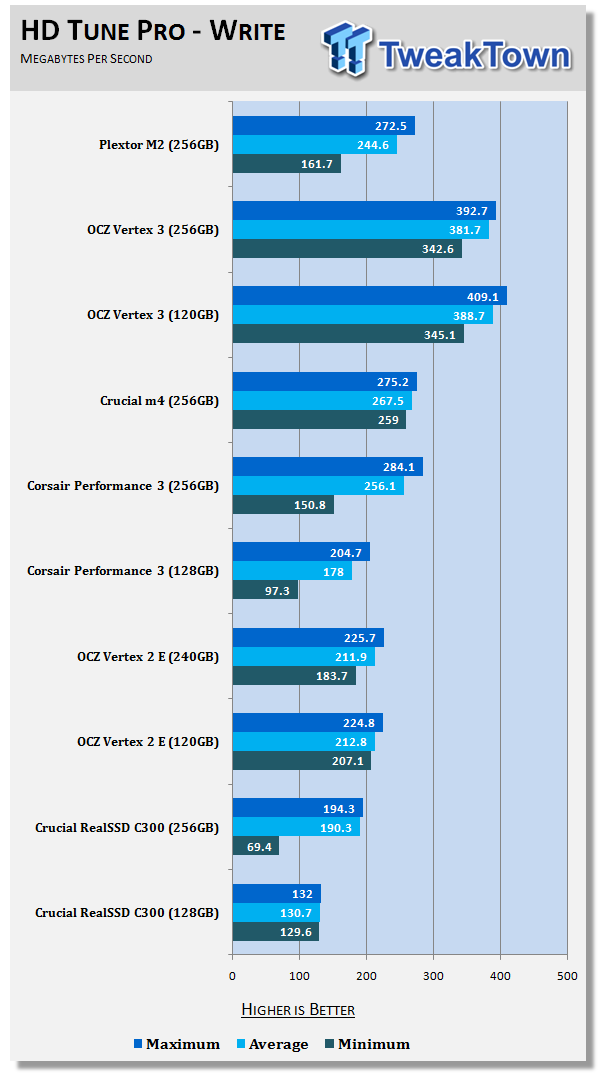 We weren't as lucky with the write performance. Our drive had been used heavily before we got it and we could see TRIM and garbage collection cleansing the drive. What was odd is that even after a secure erase we still couldn't get the Plextor M2 to tighten up on the write group. The same thing happened with the Corsair Performance 3 as well.
Benchmarks - AIDA64 Random Access Time
AIDA64 Random Access TimeVersion and / or Patch Used:
1.60
Developer Homepage:
http://www.aida64.com
Product Homepage:
http://www.aida64.com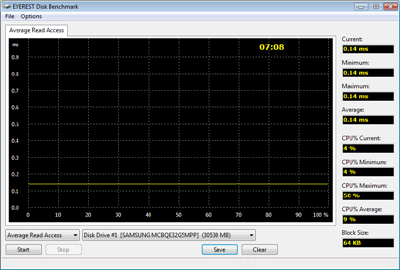 AIDA64 offers several different benchmarks for testing and optimizing your system or network. The Random Access test is one of very few if not only that will measure hard drives random access times in hundredths of milliseconds as oppose to tens of milliseconds.
Drives with only one or two tests displayed in the write test mean that they have failed the test and their Maximum and possibly their Average Scores were very high after the cached fills. This usually happens only with controllers manufactured by JMicron and Toshiba.
I've added the Western Digital VelociRaptor 600GB back to the access time charts after writing a couple of reviews without it. The SSD only results were starting to give the appearance that a thousandth of a second actually meant something when comparing SSDs. It really doesn't. Access times are what make SSDs 'feel' fast in your computer when opening documents, windows, games, programs and even booting your PC. As you can see in the chart, the difference between a very fast platter drive and any SSD is remarkable.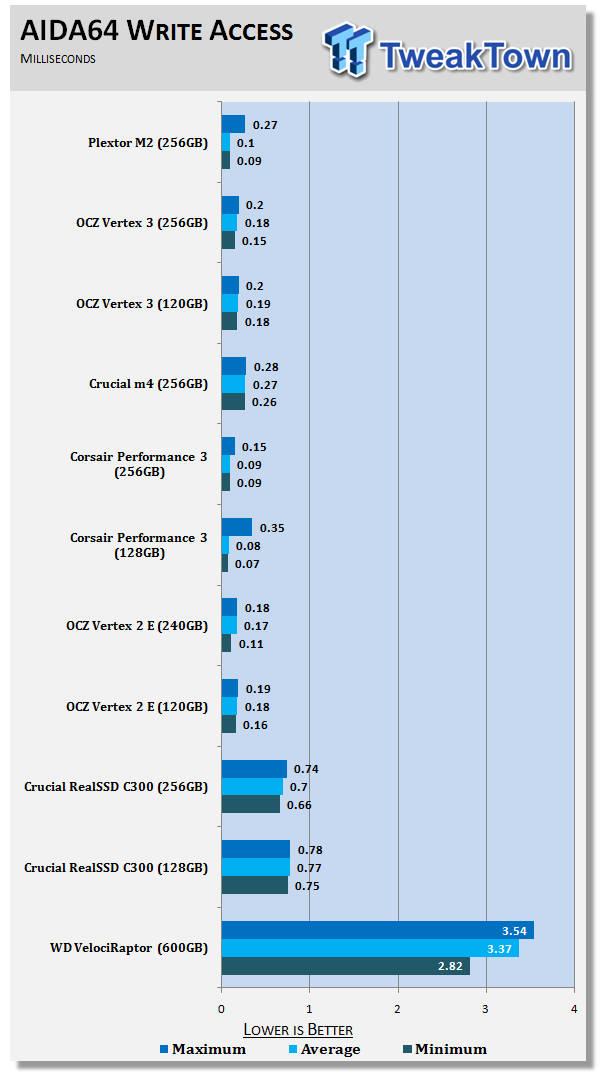 You may think that just because all SSDs read data quickly, they all write quickly as well. That isn't a correct assessment. We've tested SSDs that have very poor write access time after the cache module fills up with data. This resulted in write access times that were actually longer than that of a typical platter drive. Thankfully those drives are not on my chart.
The Plextor M2 does really well accessing data and is in line with many of the industry leading SSDs on the market.
Benchmarks - CrystalDiskMark
CrystalDiskMarkVersion and / or Patch Used:
3.0 Technical Preview
Developer Homepage:
http://crystalmark.info
Product Homepage:
http://crystalmark.info/software/CrystalDiskMark/index-e.html
Download here:
http://crystaldew.info/category/software/crystaldiskmark
CrystalDiskMark is a disk benchmark software that allows us to benchmark 4K and 4K queue depths with accuracy.
Key Features:-
* Sequential reads/writes
* Random 4KB/512KB reads/writes
* Text copy
* Change dialog design
* internationalization (i18n)
Note:
Crystal Disk Mark 3.0 Technical Preview was used for these tests since it offers the ability to measure native command queuing at 4 and 32.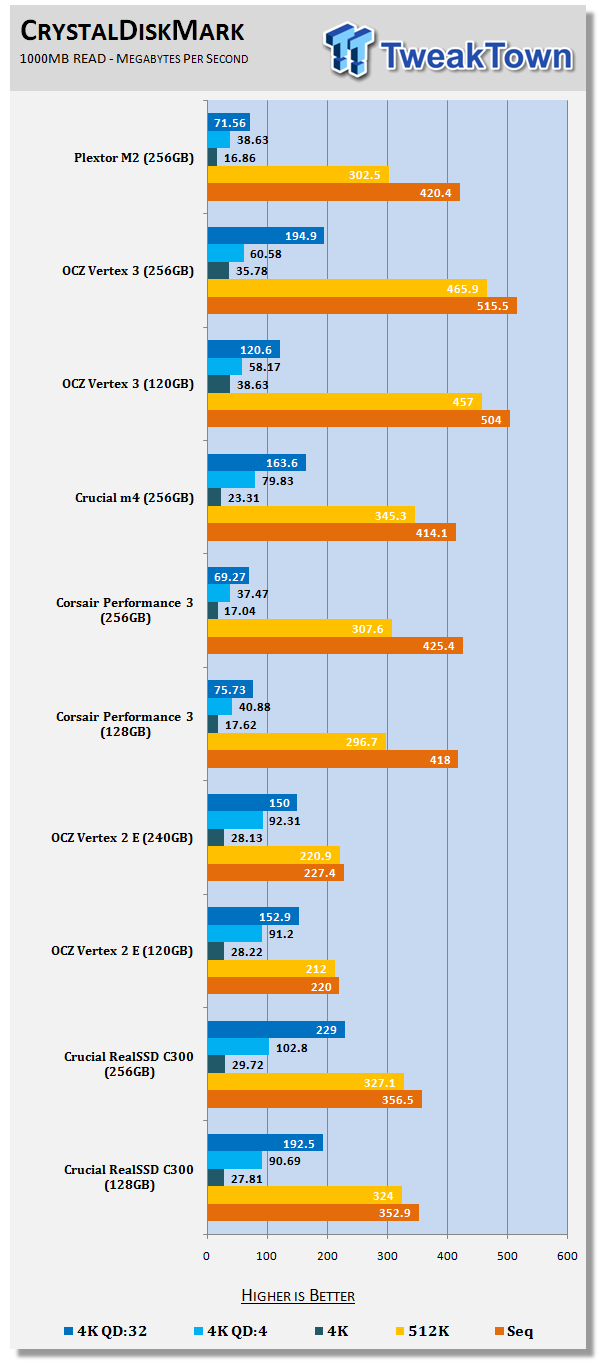 So far we've seen the Plextor M2 keep pace with other industry leaders, but now it's time to really start showing where the Plextor M2 differs from the pack. 4k performance has really become a hot topic with the introduction of the SSD. High IOPS and near instant data access has increased 4k performance in magnitudes. The M2 is able to read right around 16MB/s at 4k and this performance more than doubles when 4 commands are used. That number nearly doubles again at 32 commands.
This is a nice progression and one that we would look favorably upon if it wasn't for the introduction of the SandForce SF-2281 controller found in the OCZ Technology Vertex 3. For the most part, the Vertex 3 doubles the 4k performance of the Plextor M2.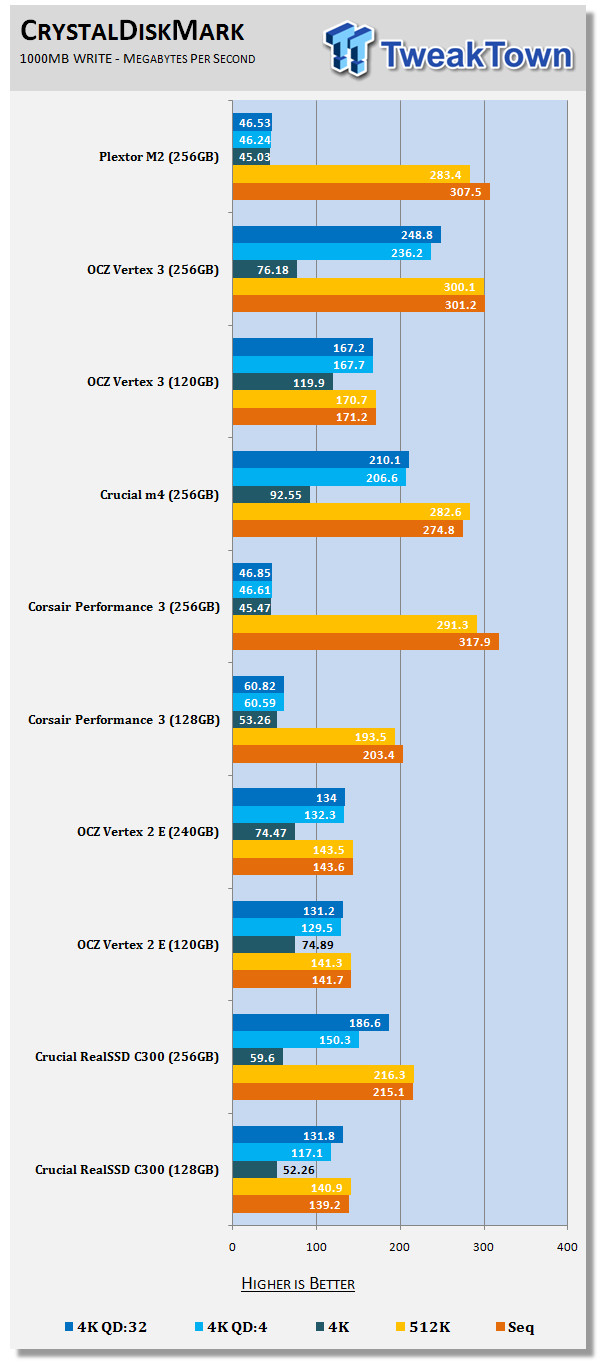 Things get even worse for the Plextor M2 when it comes to 4k writes. Here we see the M2 delivering around 45MB/s at 4k which is very good, but there is no progression when commands are stacked at all. To add insult to injury, the Crucial m4, with another variant of the Marvell controller, does have working NCQ writes and just like the Vertex 3, blows the doors off the Plextor M2 in this area.
Benchmarks - PCMark Vantage Hard Disk Tests
PCMark Vantage - Hard Disk TestsVersion and / or Patch Used:
1.0.0
Developer Homepage:
http://www.futuremark.com
Product Homepage:
http://www.futuremark.com/benchmarks/pcmark-vantage/
Buy It Here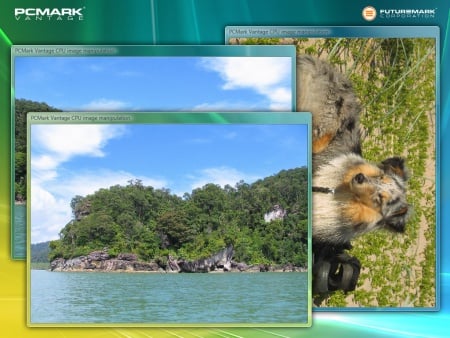 PCMark Vantage is the first objective hardware performance benchmark for PCs running 32 and 64 bit versions of Microsoft Windows Vista. PCMark Vantage is perfectly suited for benchmarking any type of Microsoft Windows Vista PC from multimedia home entertainment systems and laptops to dedicated workstations and high-end gaming rigs. Regardless of whether the benchmarker is an artist or an IT Professional, PCMark Vantage shows the user where their system soars or falls flat, and how to get the most performance possible out of their hardware. PCMark Vantage is easy enough for even the most casual enthusiast to use yet supports in-depth, professional industry grade testing.
FutureMark has developed a good set of hard disk tests for their PCMark Vantage Suite. Windows users can count on Vantage to show them how a drive will perform in normal day to day usage scenarios. For most users these are the tests that matter since many of the old hat ways to measure performance have become ineffective to measure true Windows performance.

HDD1 - Windows Defender
HDD2 - Gaming
HDD3 - Windows Photo Gallery
HDD4 - Vista Startup
HDD5 - Windows Movie Maker
HDD6 - Windows Media Center
HDD7 - Windows Media Player
HDD8 - Application Loading
For Windows users the tests on this page and the next are the most important to look at because these tests show performance in many of the most used tasks ran daily on your machine. The Plextor M2 delivers solid performance that is better than the Crucial C300 and Vertex 2 in some areas, but those are last year's models. The new 2011 drives from Crucial and OCZ deliver performance that is faster in almost all tests.
PCMark Vantage - Drives with Data Testing
For a complete breakdown on the Drives with Data Testing please read
this article
. You will be able to perform this test at home with the files provided in the article - full instructions are included.
Brief Methodology
SSDs perform differently when used for a period of time and when data is already present on the drive. The purpose of the Drives with Data testing is to show how a drive performs in these 'dirty' states. SSDs also need time to recover, either with TRIM or onboard garbage collection methods.
Drives with Data Testing - 25%, 50%, 75% Full States and Dirty / Empty Test
Files needed for 60 (64GB), 120 (128GB), 240 (256GB)
60GB Fill - 15GB, 30GB, 45GB
120GB Fill - 30GB, 60GB, 90GB
240GB Fill - 60GB, 120GB, 160GB
Empty but Dirty - a test run just after the fill tests and shows if a drive needs time to recover or if performance is instantly restored.

HDD1 - Windows Defender
HDD2 - Gaming
HDD3 - Windows Photo Gallery
HDD4 - Vista Startup
HDD5 - Windows Movie Maker
HDD6 - Windows Media Center
HDD7 - Windows Media Player
HDD8 - Application Loading
In this set of tests we see the overall performance from the PCMark Vantage HDD tests, but with data on the drive in 25%, 50% and 75% full states. The top and bottom numbers on the chart are with the drives void of data, the top in a clean state and the bottom in a dirty state.
This is the Plextor M2's strong suit; the test actually developed specifically for the Marvell BKK2 controller. Here we see that the Plextor M2 is able to perform at a constant rate all the way up to the 75% full mark. At 75% there is a little variation in performance, but the change is not nearly as radical as what we observed with the SandForce SF-2281 controlled Vertex 3.
This means you are going to get constant performance from the Plextor M2. The TRIM + garbage collection capabilities of this drive are second to none. This will also carry on into RAID applications and when using operating systems void of TRIM.
Benchmarks - AS SSD
AS SSD BenchmarkVersion and / or Patch Used:
1.2.3577.40358
Developer Homepage:
Alex Intelligent Software
Product Homepage:
Alex Intelligent Software
Download here:
http://www.alex-is.de/PHP/fusion/downloads.php?cat_id=4&download_id=9
AS determines the performance of Solid State Drives (SSD). The tool contains four synthetic as well as three practice tests. The synthetic tests are to determine the sequential and random read and write performance of the SSD. These tests are carried out without the use of the operating system caches.
In all synthetic tests the test file size is 1GB. AS can also determine the access time of the SSD, the access of which the drive is determined to read through the entire capacity of the SSD (Full Stroke). The write access test is only to be met with a 1 GB big test file. At the end of the tests three values for the read and write as well as the overall performance will be issued. In addition to the calculated values which are shown in MB/s, they are also represented in IO per seconds (IOPS).
Note:
AS SSD is a great benchmark for many tests, but since Crystal Disk Mark covers a broader range of 4K tests and HD Tune Pro covering sequential speeds, we will only use the Copy Benchmark from AS SSD.
- Copy Benchmark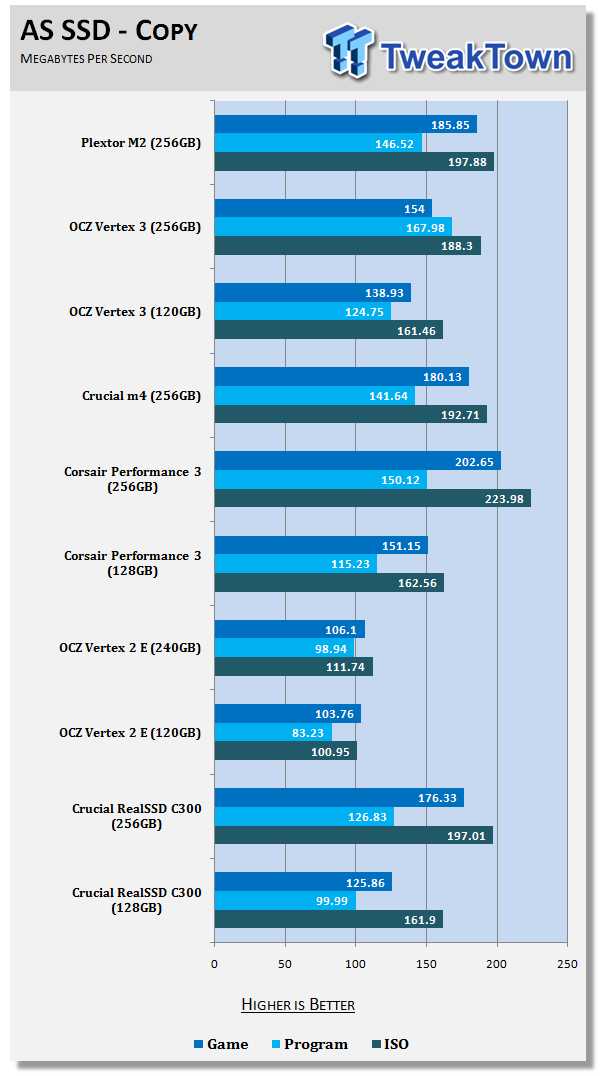 Where the SandForce falters, the BKK2 will raise. The Plextor M2 is able to utilize its SATA 6G interface very well when reading and writing data from one spot on the drive to another. Here we see the data copy test results and easily declare the Plextor M2 victorious over the Vertex 3 in this task.
If you move a lot of data around, especially large compressed data like movies, large collections of pictures and such, then the Plextor M2 may be a better choice than the Vertex 3.
Benchmarks - Passmark
Passmark Advanced Multi-User TestsVersion and / or Patch Used:
6.1
Developer Homepage:
http://www.passmark.com
Test Homepage:
http://www.passmark.com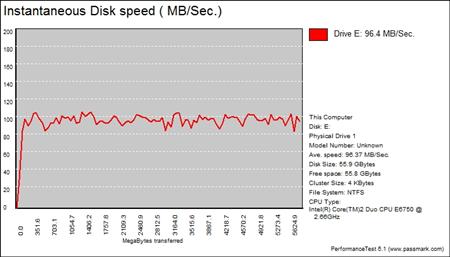 Many users complain that I/O Meter is too complicated of a benchmark to replicate results so my quest to find an alternative was started. Passmark has added several multi-user tests that measure a hard drives ability to operate in a multi-user environment.

The tests use different settings to mimic basic multi-user operations as they would play out on your server. Variances is read / write percentage as well as random / sequential reads are common in certain applications, Web Servers read nearly 100% of the time while Database Servers write a small amount of data.
The Workstation test is the only single user environment and will be similar to how you use your system at home.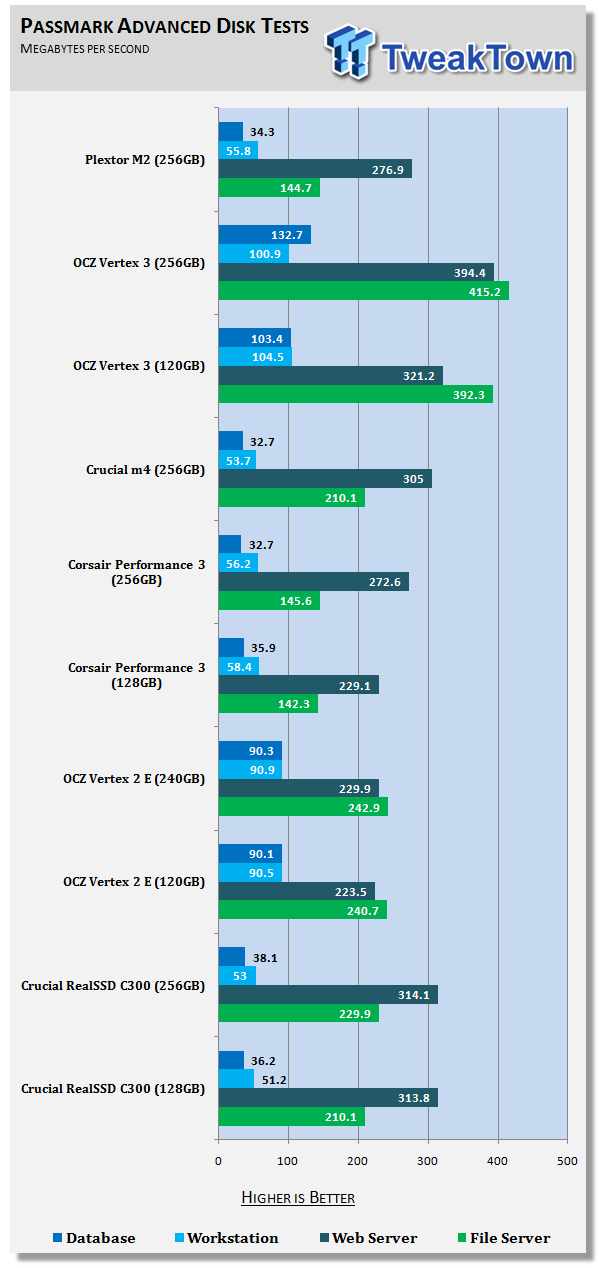 Moving data around is one thing, but being able to handle enterprise workloads where high IOPS are required is another story all together. Normally with consumer SSDs I pass over this section with barely a comment since consumer drives are not really meant for these tasks. I do like running these tests and with some drives, using them in an enterprise environment with light use is acceptable.
I've never heard anyone use server and a Marvell SSD controller in the same sentence until I found it on Plextor's Asian Region / English Language website. Here is what I found:
Boasting a server-grade "Marvell 88SS9174" control chip, currently the industry's most advanced control chip. This chip supports the latest SATA III functions, similar to those used in central processors, thus providing users with the best read/write performance, increasing product lifespan, enhancing data security and stability, and giving you world-class performance!
It almost sounds too innocent to pick through, but the facts are so far off I have to give my .02. The Plextor M2 beat all of the Team SandForce SF-2200 Series products to market, so when this was written the Marvell 88SS9174-BKK2 was the most advanced SSD controller on the market...but it was never intended to be a 'server grade' control chip. The Marvell BKK2 has always been designated as a consumer controller. The next piece we see as suspect is the security portion of that statement. I have yet to find any information on the encryption used on the Marvell 9174. Marvell has been very quiet about all of their SSD controllers; we've had issues in the past getting information directly from Marvell.
Looking at the database performance, we see that the Marvell controlled drives on the chart all offer around the same level. When compared to platter drives the database performance is actually very good, but when you introduce the SandForce drive, even last year's model, we see that database performance for the M2 is down quite a bit. The same is true for heavy workstation loads. The file and web server performance is up quite a bit from the other two categories, but once again the SandForce drives with their enterprise heritage leave the M2 looking amazed.
Final Thoughts
If the Plextor M2 would have arrived in our office just a month ago, our outlook would have been a little different. Back in June 2010 when we spent time with the ADATA S501 we were ecstatic about the performance offered by the Marvell BKK2 controller. On its own the Plextor M2 256GB is very fast and a great successor to the drives offered in 2010. The controller's ability to deliver peak performance all the way up to a 75% full state is impressive and in my opinion the most significant single technical achievement for SSDs in 2011. The only problem is that we're talking about solid state drives and a handful of game changing advances are not enough; you need the total package, everything has to come together and more to reign supreme.
This is Plextor's second run in the SSD marketplace, but they are still making a few rookie mistakes. The biggest is the omission of a 2.5 to 3.5" desktop adapter bracket. The notebook market is huge and growing daily, but when it comes to 500 Dollar SSDs you're marketing to enthusiasts, power users and gamers, those guys aren't tossing expensive SSDs in off the shelf notebooks. Upgrading a thousand Dollar notebook with a 500 Dollar SSD will give you a serious performance increase; doing it to a 400 Dollar notebook will do the same, but users running 600 Dollar video cards, thousand Dollar processors and RAM at exotic timings are the real buyers of flagship SSDs and they can only cram that kind of processing power in a desktop. By not delivering a suitable adapter bracket for use in desktops, Plextor is virtually telling those users to shop elsewhere.
Plextor does make up for the desktop unfriendliness with their attractive price point, though. The Plextor M2 costs less than their direct competitors that use the same controller and capacity; the Intel 510 and Corsair Performance 3. Then comes the OCZ Technology Vertex 3, the 2011 party pooper for everyone. The Plextor M2 costs 10 Dollars more than the 240GB Vertex 3 that delivers 550MB/s read and 500MB/s write, performance that is much higher than the M2. The M2 does have a capacity advantage over the Vertex 3 and performance isn't dynamic like the Vertex 3 when filled with data or after heavy use. The Vertex 3 still just out muscles the M2 when it comes to IOPS and daily desktop tasks.
Despite the Vertex 3 raining on Plextor's best offering, to date we still see the Plextor M2 as having a place in the market. Power users looking to take performance to the next level with extravagant RAID arrays can rejoice in not needing to do regular spring cleaning, running the drives through HDDErase to regain performance. The Plextor M2 will also do very well in situations where TRIM is not available; legacy OSes like Vista, XP and MAC are prime targets.
As we discussed in the introduction, Plextor has turned into a company catering to the Average Joe, but it seems as if the M2 has some enthusiast DNA from Plextor's old days. Nothing is more Average Joe than legacy OSes, but nothing is more enthusiast than an array of SSDs running RAID. I highly doubt Plextor planned this, so it is quite ironic.
In order for Plextor to tap the Average Joe crowd, they are going to need to work on the pricing even more. When OCZ Technology started quoting MSRPs I didn't think it could be done, but we are seeing a steady decline, just as OCZ methodically planned. Plextor is going to have to follow suit to keep the enthusiast crowd excited about the M2, but Average Joe's are going to need more of a commitment from Plextor, more of a bargain on e-tail websites.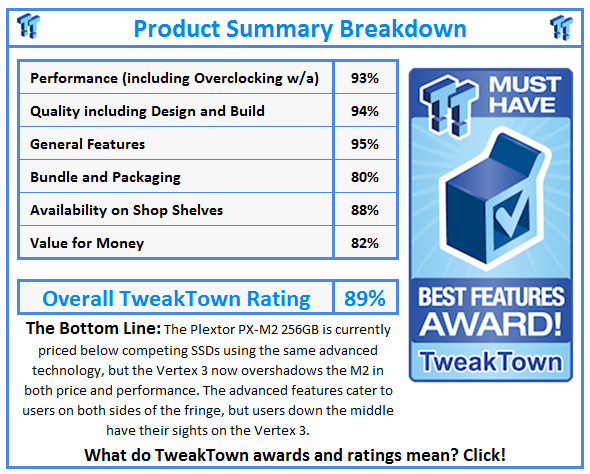 PRICING: You can find products similar to this one for sale below.

United States: Find other tech and computer products like this over at Amazon.com

United Kingdom: Find other tech and computer products like this over at Amazon.co.uk

Australia: Find other tech and computer products like this over at Amazon.com.au

Canada: Find other tech and computer products like this over at Amazon.ca

Deutschland: Finde andere Technik- und Computerprodukte wie dieses auf Amazon.de
We openly invite the companies who provide us with review samples / who are mentioned or discussed to express their opinion. If any company representative wishes to respond, we will publish the response here. Please contact us if you wish to respond.