GIGABYTE T1125N-CF1 11.6-inch Tablet Convertible Notebook Review
The T1125N-CF1 convertible notebook combines a Core i5 processor with Optimus graphics in a tablet form factor, as well as filling the desktop computer space.
Published Mon, Apr 18 2011 1:09 AM CDT
|
Updated Tue, Nov 3 2020 7:02 PM CST
Style
What we have here is an 11.6" notebook that measures in at 11.4" x 8.7" x 1.1" and weighs 3.8 pounds. It's a little heftier than you'd expect in an 11.6" device, but that's due in part to the fact that this is no ordinary notebook; it's a convertible. The hinge and touch screen adds a bit of beef to this notebook turned tablet; it would have been nice if they had made it a little thinner to compensate.
[img]2[/img]
It's got a finger print resistant lid which I'm very fond of, because it has a brushed metal finished even though it's plastic. Previous generations of GIGABYTE notebooks haven't been as lucky and their finish was a little cheap feeling. Both in look and feel, this finish is an improvement.
[img]3[/img]
Because the GIGABYTE T1125N is a convertible tablet, there's a single, chrome-colored hinge under the screen that rotates 180 degrees to the left. The hinge felt very sturdy as this is the third generation of convertible notebook GIGABYTE has produced; they have definitely gotten the quality of the hinge right on this model.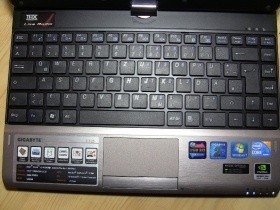 Keyboard and Trackpad
The keyboard isn't the best in the business, but it definitely got the job done. There was some flex when typing and which left the experience feeling less crisp than I would have liked. After typing on it for a day I think the issue with the keyboard is the keys are too small and are set further apart, so you feel like you have to type very accurately. It seems like they have used netbook sized keys on a regular sized computer. Having said that, I think you could get used to it; by the end of the day I did.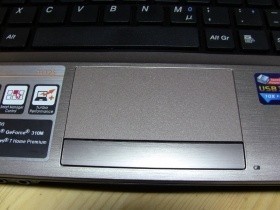 The trackpad offers friction resistance, which is pleasant to the touch. There is only a single mouse button which can be an issue; however, since this is a touch enabled device, the trackpad is going to get very little use - As once you get used to having a touch screen, your work flow entirely changes and the trackpad is an afterthought. This is why it's rather surprising that more room wasn't dedicated to adding a top notch keyboard to this device.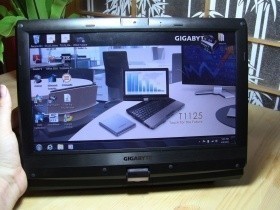 Display
The T1125N offers 1366 x 768 screen resolution; however, the screen is glossy, which is great for brilliant colours, but not great for outdoor viewing. The viewing angles were around 45 degrees which can cause problems in tablet mode, especially in combination with the glossy display. GIGABYTE has been known to upgrade models after release, as they added resistive touch to the T1005P due to consumer demand. Let's hope they take the same initiative with the T1125N.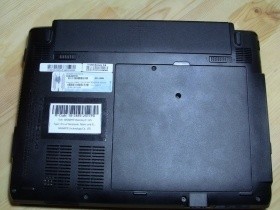 Heat
This device runs hot, but pretty much any Core i5 running in an 11.6" device is going to experience some heat issues. Laptop Magazine was able to measure the temperature of the device during their testing, and I'd have to agree 100% with their analysis. The bottom right side of the notebook gets hot; 100 degrees hot after streaming Hulu for 15 minutes. At idle the chassis does feel unpleasantly warm - too warm to want to hold in your hands. At one point the air coming out of the vent was measured at 104 degrees.
The bottom right appears to be the only real problem area, but for a device you want to hold in your hand, the bottom right hand corner is a pretty important area.
Touch Screen
GIGABYTE got this right; it's extremely accurate, which in my experience is a first for GIGABYTE right out of the gate. Usually their touch experience gets improved a few months after release with a software update. However, this time they've gotten it right; nailing the small buttons in windows and word were a synch. The screen felt responsive and needed only the lightest touch.
The biggest issue with the touch screen is the lack of accelerometer. They've included a smart manager that allows you to change the orientation, but it's a bit cumbersome to click around while holding the device. Alternatively, you can also use ctrl-alt and the arrow keys to change screen orientation. It's not perfect, but for the price I feel that an accelerometer should have been included.

Ports & Connectivity
Connectivity wise we are looking at one USB 3.0, two x USB 2.0, eSATA, audio jacks, VGA, 4-in-1 card reader and a port for the docking station which will house the DVD burner.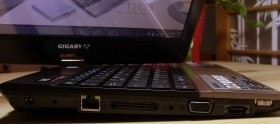 Getting online, you've got a few options such as Bluetooth 2.1 if you want to tether, 802.11 b/g/n Wireless and a 3.5G module being optional, but the antenna is already built in.

Dock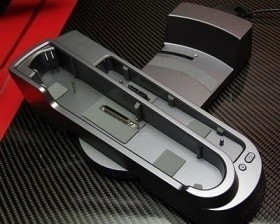 One of the reasons why the GIGABYTE T1125N is pricy for a convertible notebook is that it comes with the value of a docking station. The docking station has a wide variety of ports, including HDMI out, VGA, Ethernet, audio in/out, two USB 3.0 ports, and two USB 2.0 connectors.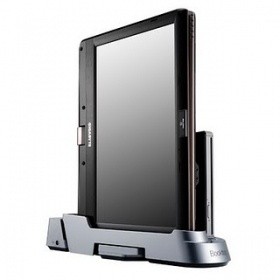 This docking station is very unique in that the notebook docks with the monitor facing out, allowing it to act as a second monitor. A nice detail while the unit is docked is having the SD card reader face up so it can still be used while it's plugged in.
If you've ever used your notebook with a secondary monitor and keyboard, you'll know that often the connectors loosen as the unit ages. If you've never experienced that on your devices, you're getting the added convenience of simply placing your notebook in the dock and not having to plug any of your peripherals in. If you crave portability and a full desktop experience, this is how you're going to get it.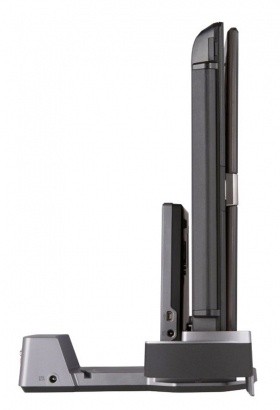 Performance
On PCMark Vantage, a synthetic benchmark that measures overall speed, the T1125N scored 3,658; slightly below Laptopmag's ultraportable category average (3,837). What is interesting to note about this score is that during Laptop Magazine's testing of the T1125N-CF1 (running the Core i3 U380), their unit scored 3,889, whlle our CF2 model with the Core i5 U470 scored a lower 3,658. We're not entirely sure what to make of these results; we're wondering if a clean install of the operating system might set the scores right.
In the graphics department both models have an NVIDIA GeForce 310M GPU, giving it a very strong score of 3,617 which is roughly three times what a notebook without NVIDIA graphics would score. You'll be able to game no problem on this device. Playing Need for Speed, I was able to get 57 FPS and I'm sure if I turned the shaders off and made a few tweaks, I could have gotten it even higher!
Battery Life
The T1125N-CF2 ran for 3 hours 48 minutes and on charge it took nearly 3 hours to reach 100% and 2 hours to get to 80% full.
Configuration
There are two options for this notebook. The T1125-CF2 has a 1.3-GHz Intel Core i5 U470 CPU, NVIDIA GeForce 310M GPU, 4GB of RAM, and a 500GB hard drive that will run you $1,249, while the T1125N-CF1 has a 1.3-GHz Intel Core i3 U380 CPU, NVIDIA GeForce 310M graphics, a 320GB hard drive, and 2GB of RAM for $1,099.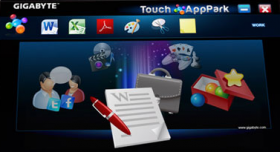 Software
Every convertible notebook on the market has some sort of software pack installed
to help negotiate the fact that Windows is not a touch friendly O/S. GIGABYTE has installed Touch AppPark; an app launcher that, via desktop short cut, allows you to choose from five categories - Media, Work, Community, Play & Other. Within each category you can choose from more specific apps like Windows Media Player, Twitter, Word etc.
What is a bit of a let down is that the launcher is not customizable. If you could say choose VLC as your media player rather than Windows Media Player or Open Office vs. Word, it would be much nicer. You'll even see in the video that I wanted to play a clip for you, but had to close the launcher to access it. It was a great idea, but if you were going to go through the trouble, having ExoPCs UI pop up would be amazing! If that UI can make a Windows Tablet viable, then it certainly can do wonders for this convertible notebook.
Verdict
GIGABYTE has pulled together a device with an interesting proposition; a convertible notebook with docking station that uses the device as a secondary monitor. The T1125N has all the makings of a premium convertible notebook with its faux brushed metal finish, USB 3.0, NVIDIA graphics and docking station. To bring it over as a legitimate contender in the high end space, a few things were missing such as an accelerometer being notably absent and a glossy display that makes use in tablet mode a glaring experience. The keyboard as well could have been a little more robust, but I think if this was your main computer, you'd adjust easily.
The biggest selling point apart from the fantastic touch screen is the docking station. It saves your connectors from wear and tear and creates a desktop environment in an ultraportable device. Since the T1125N is your desktop, tablet and notebook, it saves you from buying multiple devices and having to sync data across your various gadgets. It also steps up when you need to edit a few videos or game on your lunch hour; you'll be satisfied by this convertibles performance.
If you want to get a real sense of how this device presents itself and missed it earlier, we've got a full video review at the top of this page.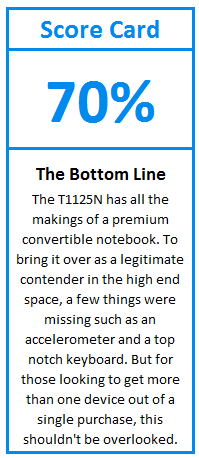 PRICING: You can find products similar to this one for sale below.

United States: Find other tech and computer products like this over at Amazon.com

United Kingdom: Find other tech and computer products like this over at Amazon.co.uk

Australia: Find other tech and computer products like this over at Amazon.com.au

Canada: Find other tech and computer products like this over at Amazon.ca

Deutschland: Finde andere Technik- und Computerprodukte wie dieses auf Amazon.de