MSI CX640 15.6-inch Notebook Review
With the Sandy Bridge chipset issue all sorted now, we look at the CX640 Notebook carrying the H67 chipset. Is it something you should be looking at?
Published Wed, Apr 13 2011 3:51 AM CDT
|
Updated Tue, Nov 3 2020 7:02 PM CST
Rating:

90%
Manufacturer: MSI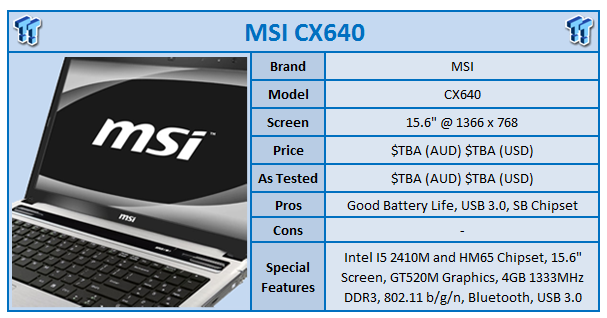 The Sandy Bridge issue no doubt caused problems for motherboard manufacturers, but many forget about the issue affecting notebook ones. With the issue all sorted now, it's time for companies to start releasing notebooks based on the Sandy Bridge chipset.
The first one we're looking at comes from MSI and is labelled the CX640, and on the specifications front it does indeed look the goods with an Intel i5-2410M clocked at 2.3GHz on the H65 chipset. We've also got 4GB of DDR3 memory clocked at 1333MHz in the form of two 2GB modules. Graphics comes from NVIDIA with the 520M that carries with it 1GB of GDDR3. You can check out all the main specifications in our CPU-Z validation
here
.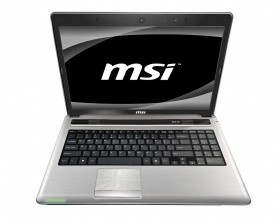 Looking at storage, we've got a 500GB Hitachi drive. The screen is quite large at 15.6" and carries with it a 1366 x 768 resolution. Outside of these specifications there's a fair few extras on the CX640. On the left side we've got our power plug, 10 / 100 / 1000 networking port, VGA and HDMI out along with two USB 3.0 ports.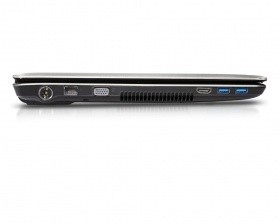 On the right side we've got audio in and out ports, two more USB ports, but in this case just 2.0 ones, along with a DVD burner and our power button. The back is completely bare and the front holds only a card reader that supports all the major formats.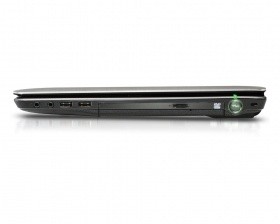 It's a clean design and MSI say it's a "Clutter Free" one, as if you want to use a mouse on the right side, no cables will come out and get in the way. Of course, if you're left handed the benefit is non-existent. Overall, the laptop comes in at 380mm x 260mm x 34mm and 2.6 Kg. It's not a heavy laptop, but quite bulky due to the 15.6" screen.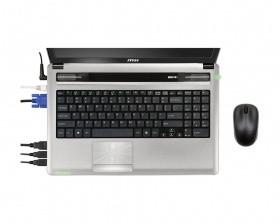 Out of the box the CX640 carries with it a 64-bit copy of Windows 7 Home Premium. There's a bit of bloat ware, but nothing too major that you might find yourself uninstalling quickly.
Opening up the CX640, you're dealing with a good looking notebook. We've got an aluminium look, but the casing is plastic. The fact it's plastic probably makes it feel a bit more convertible and if you wear a bracelet you don't have to worry about that screeching noise.
Across the bottom and slightly to the left we've got our touch pad which not only looks great, but works well and above that we've got quite a large keyboard that offers a numpad. Above that we've got some speakers that are actually quite good and that is thanks to the slightly larger format of the CX640.
Firing up Battery Eater Pro, we're able to see what kind of battery life we can get out of the CX640 in an absolute worst case scenario. When we hit 0% we had been running Battery Eater Pro for 86 minutes which is very good considering it's a larger laptop.
Firing up Far Cry 2, we're able to look at gaming performance at the CX640s native resolution. In DX9 and the present at medium we've got a 26 FPS minimum and 33 FPS average. With a 33 FPS average we would normally say this isn't playable, but because the minimum is very close it's not bad at all. If we move the settings to low we get a 37 FPS minimum and 51 FPS average which is ultra-smooth.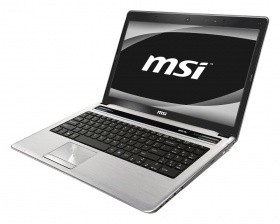 Since we were getting some decent FPS from Far Cry 2, we thought we'd fire up the favoured NVIDIA H.A.W.X. 2. At the native resolution and most of the settings low and off, we ended up with an average of 93 FPS which is extremely strong. Upping the detail a good chunk we managed to achieve a 50 FPS average which is very impressive. Gaming on this notebook is really an option and that's something worth noting.
Overall, the CX640 from MSI is a very good middle of the road notebook that should set you back less than $1,000 AUD / USD. While it lacks some of the fancier features like an LED-lit screen or Blu-ray player, the price and performance is strong making it a good option for people who want something larger and more powerful than a netbook or 13" notebook, but don't want to go to the expense of gaming notebooks with higher end graphics and bigger screens.
At just over 2.5Kg it's not too heavy and its battery life of 86 minutes as we mentioned is very strong. Considering this was at full brightness and the CPU at 2.2GHz, you'll be able to extend that battery life further by dulling the brightness and slowing down the CPU.
Throw in little features like USB 3.0 support which comes thanks to the Sandy Bridge chipset and you've got a great middle of the road notebook from MSI that a lot of people will have interest in.

PRICING: You can find products similar to this one for sale below.

United States: Find other tech and computer products like this over at Amazon.com

United Kingdom: Find other tech and computer products like this over at Amazon.co.uk

Australia: Find other tech and computer products like this over at Amazon.com.au

Canada: Find other tech and computer products like this over at Amazon.ca

Deutschland: Finde andere Technik- und Computerprodukte wie dieses auf Amazon.de