Viking Modular SATADIMM 200GB SSD Review
The most innovative SSD to come out of 2010 is here, and it is sure to be a hit with 1U server users, if you qualify to buy it.
Published Sun, Mar 20 2011 10:44 PM CDT
|
Updated Tue, Nov 3 2020 7:02 PM CST
Introduction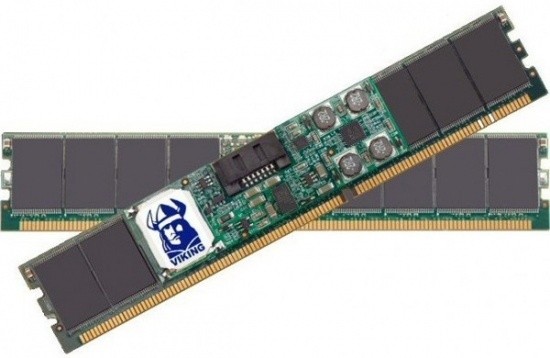 There is no doubt that the most innovative SSD to come out of 2010 was the Viding Modular Solutions SATADIMM. Based on another 2010 standout, the SandForce SF-1000 Series controller, the SATADIMM is not only a great example of SSD technology revolutionizing the storage market, but also how thoughtful manufacturers can shape future standards.
Viking Modular Solutions isn't a high volume manufacturer and you aren't going to find many of their products in the retail market. Viking is far from a one hit wonder, though. The company was started in 1988 and since their first product has been manufacturing high quality parts for the enterprise market space and for some of the world's largest OEM manufacturers.
Vikings current product line-up consists of many memory products. You can find everything from standard 2.5" SSDs and memory DIMMs to the custom SATA Cube and SATADIMM. Today we are looking at the Viking Modular Solutions SATADIMM, a SandForce SF-1000 Series based SSD that is designed for the enterprise market, but is unlike the current crop of 2.5" SSDs that are in the channel now. To be more specific, the SATADIMM is a unique implementation that gives users the ability to run up to 400GB of capacity in a single DDR3 DIMM (memory) slot.
To know the innovative value of the SATADIMM is to know the current state of the server market. 1U servers are 1.75 inches tall. This size has very limited space for disk drives; only five 2.5" drives can fit across the front in drive sleds in a 1U chassis and that number drops to four when using 3.5" drives. With server motherboards now offering an increased number of DIMM sockets (The Tyan S7016 has 18!), Viking engineered a way to make better use of unused DIMM sockets while giving more flexibility to users looking for more high speed storage capacity.
Once you add in virtualization the SATADIMM makes even more sense. Just imagine using an array of SATADIMMs for database tasks and four 3.5" SAS drives handling long term storage duties (storage server) all in the same 1U form factor server. This not only saves on rack space storage costs, but also on power usage fees.
Specifications, Pricing and Availability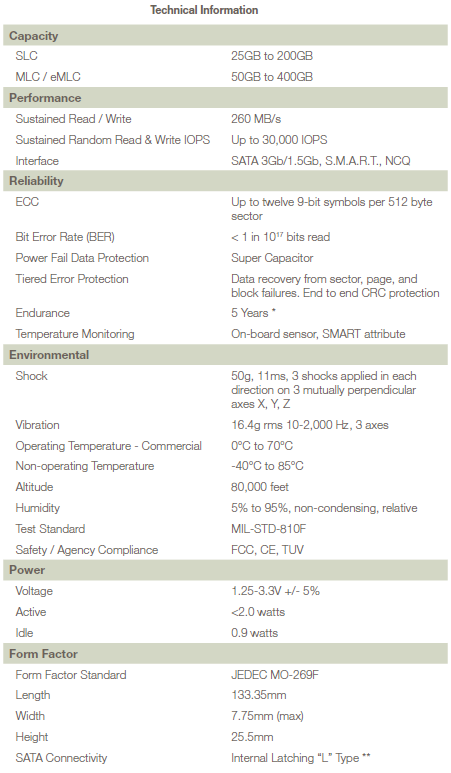 Viking is offering the SF-1500 based SATADIMM in SLC, MLC and eMLC flash configurations. The claimed read and write speeds are 260MB/s, but we can tell that is a conservative rating. IOPS performance goes up to 30,000. You might expect the Viking SATADIMM to use a SAS interface, but Viking went with the more common SATA interface to save space and increase server compatibility.
The rest of the specifications match what we've come to known as Team SandForce products. The SF-1500 has a few trick programming bits like the Super Capacitor, but for the most part a SF-1500 is a SF-1500. The real difference with the SATADIMM comes from the DIMM portion in the name. Using a JEDEC MO-269F form factor, commonly known as standard DDR3 slot, the SATADIMM is far from standard.
Power is fed to the SATADIMM through the memory slots power circuits. The SATADIMM uses a tiny switching power circuit to bring clean, consistent power to the SSD. The first thing we were worried about is how the SATADIMM would react to some of the overclocked environments, but the onboard power circuits handle the conversion. Of course, there aren't any proper servers that do what you or I do with memory.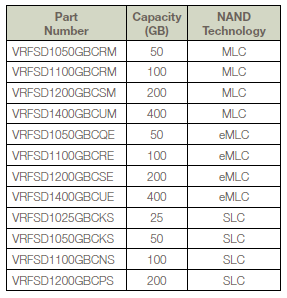 Viking has no less than 12 product SKUs for the SATADIMM. The capacity options are 25GB (SLC only), 50GB, 100GB, 200GB and 400GB (MLC and eMLC only). All of the drives use the SandForce SF-1500 28% over provisioning. This guarantees long lasting high performance and long life from your SATADIMM. It will also increase performance when using an array of SATADIMMs when TRIM support is not available.
Our sample is the VRFSD1200GBCSM, AKA the 200GB MLC. We would love to be able to say these are available somewhere, anywhere in the e-tail or retail market, but as of now you have to go directly to Viking. Viking didn't want to give us pricing information and we don't know if there is a lead time between placing the order and delivery. For us, such an amazing, innovative component that has the ability to change the server market should have higher availability and a higher profile so sales can flourish and the market can quickly adapt the new form factor.
The Viking Modular SATADIMM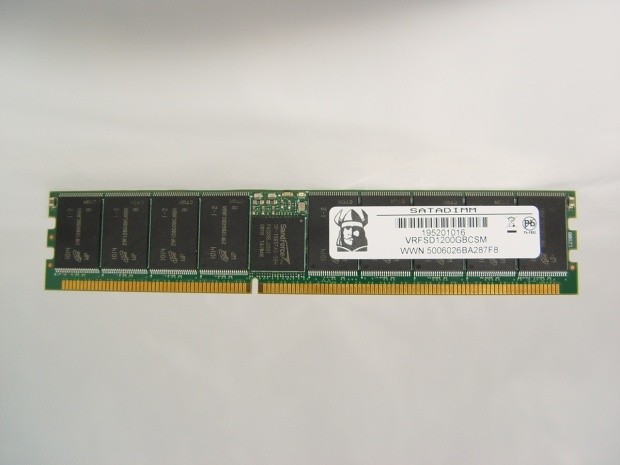 From this side the Viking SATADIMM looks like it could be an ECC DDR3 memory module. Upon closer inspection, the SandForce SF-1500 controller gives the secret away. Viking Modular used Micron NAND flash on the SATADIMM.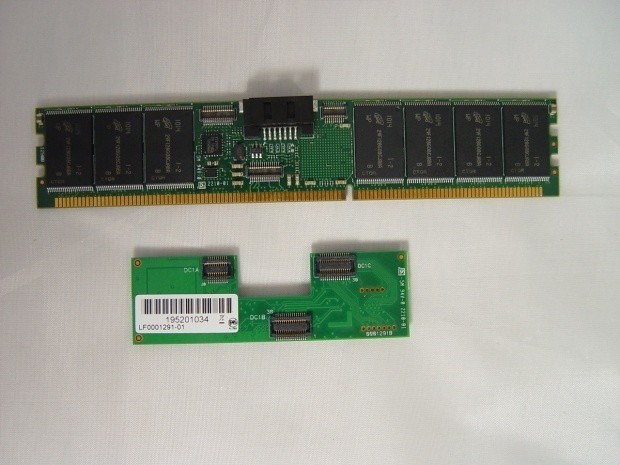 On the other side we found a daughter board that holds the Super Cap and power circuitry. The standard SATA connector is on the DIMM PCB side.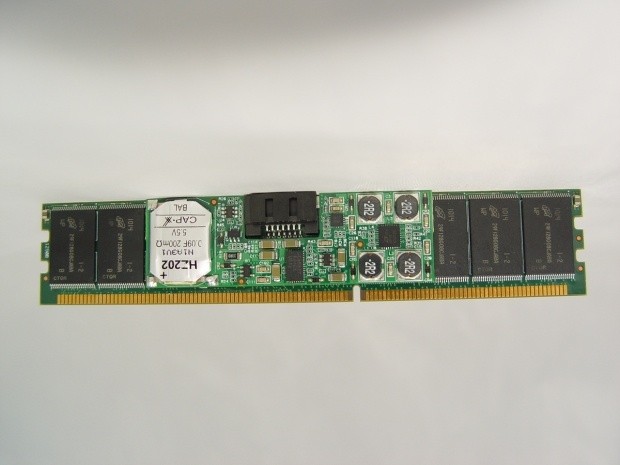 Here we see it all together with the Super Cap exposed. The amount of engineering that went into the Viking SATADIMM is remarkable.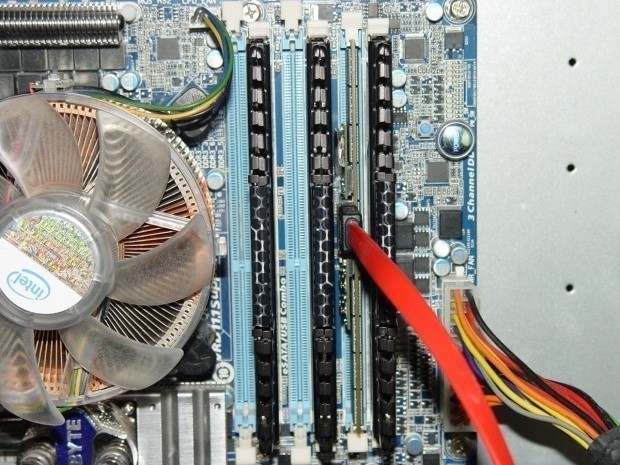 Most people would think that a DIMM socket is pretty straight forward, but that isn't the case. Modern motherboards have their sockets installed in pairs; two sockets are close together, then a small space, then another pair. This posed a challenge when designing the SATADIMM and the SATA plug needed to be placed strategically to avoid contact with other DIMMs.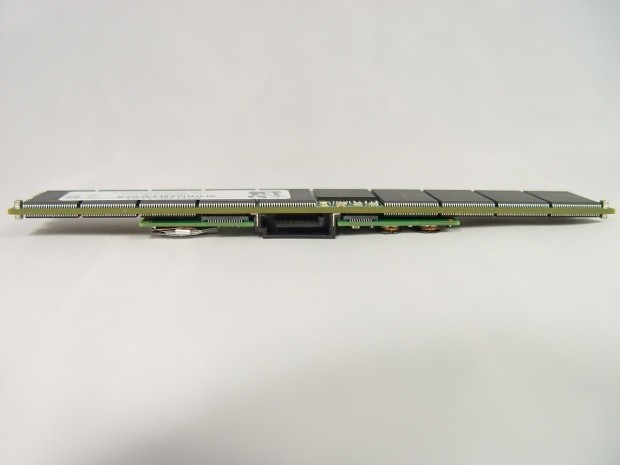 Even with the daughter board, the SATADIMM has an extremely thin profile that will allow you to make servers with higher storage density.
Test System Setup and ATTO Baseline Performance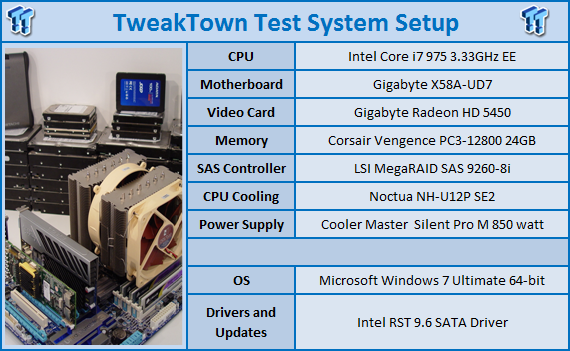 We would like to thank the following companies for supplying and supporting us with our test system hardware and equipment:
AVADirect
,
GIGABYTE
,
Cooler Master
,
LSI
,
Corsair
and
Noctua
.
You can read more about TweakTown's Storage Product Testing Workstation and the procedures followed to test products
in this article
.
ATTO Baseline PerformanceVersion and / or Patch Used:
2.34
ATTO is used by many disk manufacturers to determine the read and write speeds that will be presented to customers.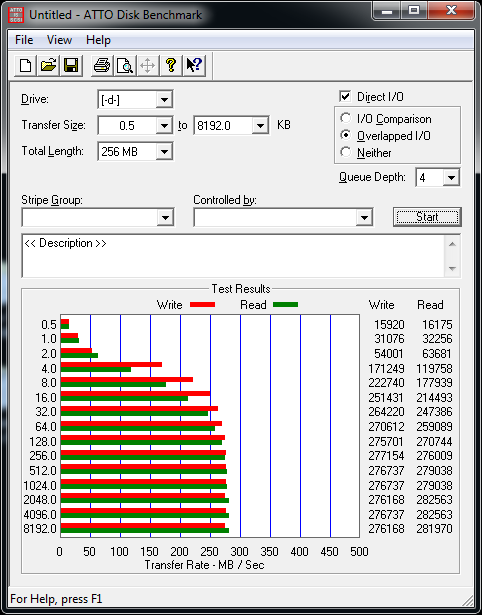 Just as we thought, Viking Modular Solutions went very conservative with their 260MB/s read / write rating. Using ATTO we found that number should be closer to 280MB/s read and 276MB/s write. These are pretty standard numbers for a 2.5" SandForce based SSD, but the SATADIMM's originality means they are the highest available for a SATA SSD built into a DIMM profile. OK, the SATADIMM is the only one that we know of; it is still the highest.
It would be interesting to see how the 200GB SLC drive compares to the MLC drive we are looking at today.
Benchmarks - HD Tune Pro
HD Tune ProVersion and / or Patch Used:
4.00
Developer Homepage:
http://www.efdsoftware.com
Product Homepage:
http://www.hdtune.com
HD Tune is a Hard Disk utility which has the following functions:
Benchmark: measures the performance
Info: shows detailed information
Health: checks the health status by using SMART
Error Scan: scans the surface for errors
Temperature display
HD Tune Pro gives us accurate read, write and access time results and for the last couple of years has been gaining popularity amongst reviewers. It is now considered a must have application for storage device testing.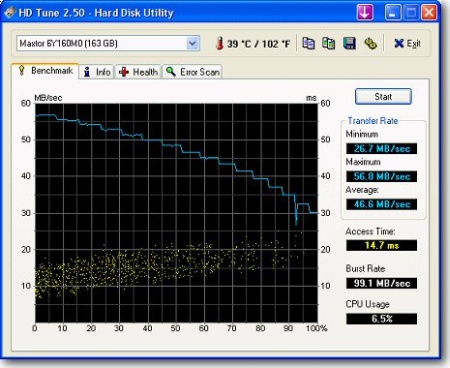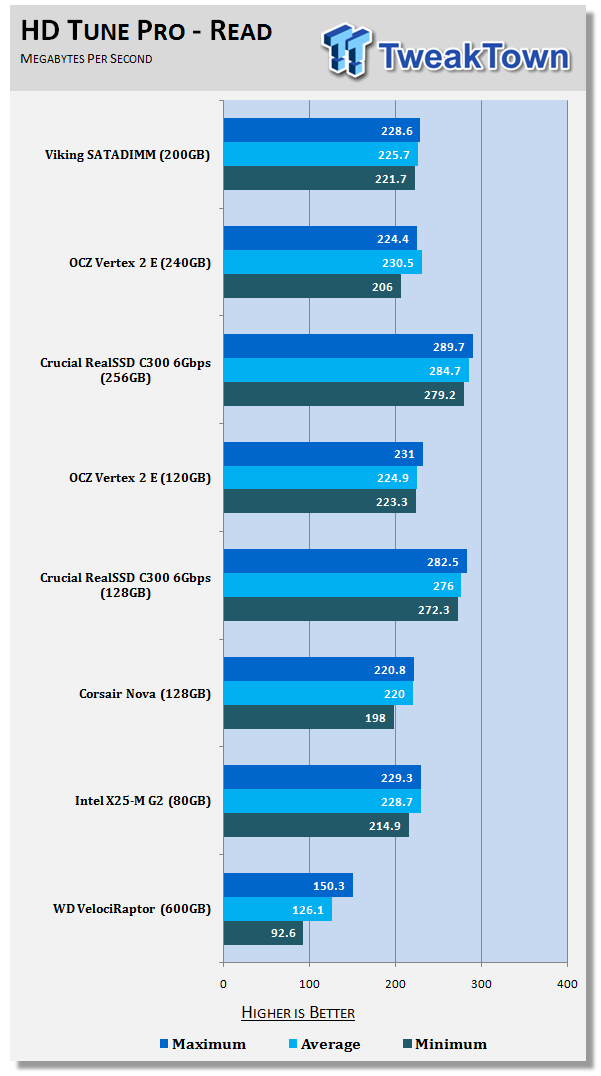 The last time we looked at a SF-1500 controlled SSD we weren't all that impressed. We've reviewed more SF-1200 SSDs than anyone else, but all of our SF-1500 testing took place when the controller was new and unrefined. Now that the SF-1500 has grown up and matured, we can see how things turned out.
The Viking Modular SATADIMM produces a tight sustained performance line across the graph with very little variation. The average speed was very close to the Vertex 2 240GB consumer drive, but both the maximum and minimum were higher.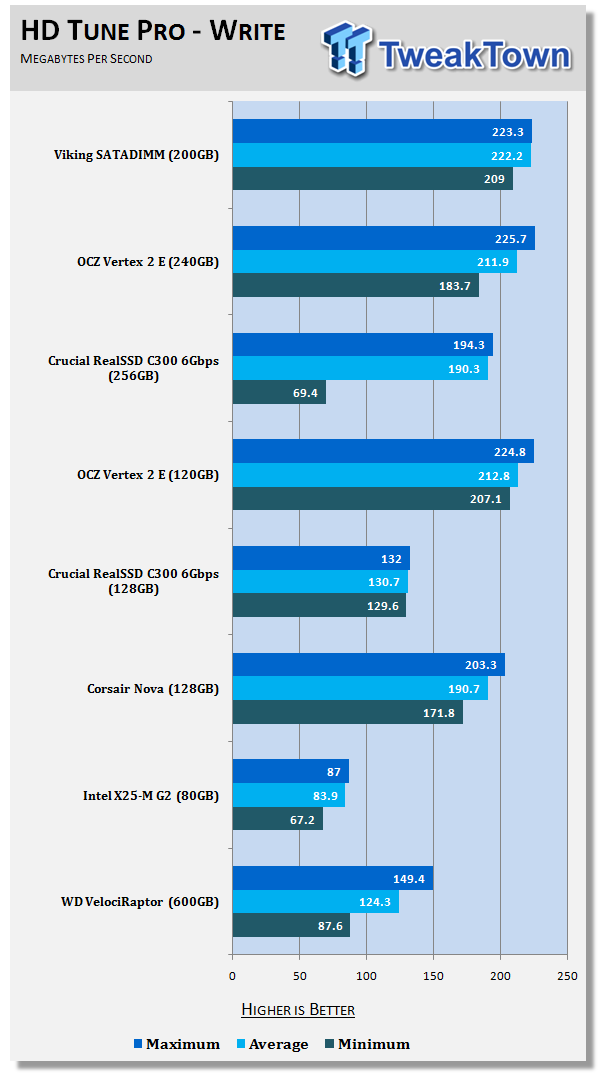 So much goes into keeping steady performance on the SF-1500 and that shows here on the write chart. Here we see another very tight grouping and the enterprise SATADIMM manages to outperform the consumer Vertex 2.
Benchmarks - Everest Random Access Time
Everest Random Access TimeVersion and / or Patch Used:
4.60
Developer Homepage:
http://www.lavalys.com
Product Homepage:
http://www.lavalys.com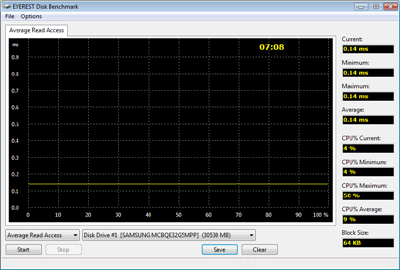 Everest Ultimate and Corporate Edition offer several different benchmarks for testing and optimizing your system or network. The Random Access test is one of very few if not only that will measure hard drives random access times in hundredths of milliseconds as oppose to tens of milliseconds.
Drives with only one or two tests displayed in write the write test mean that they have failed the test and their Maximum and possibly their Average Scores were very high after the cached fills. This usually happens only with controllers manufactured by JMicron.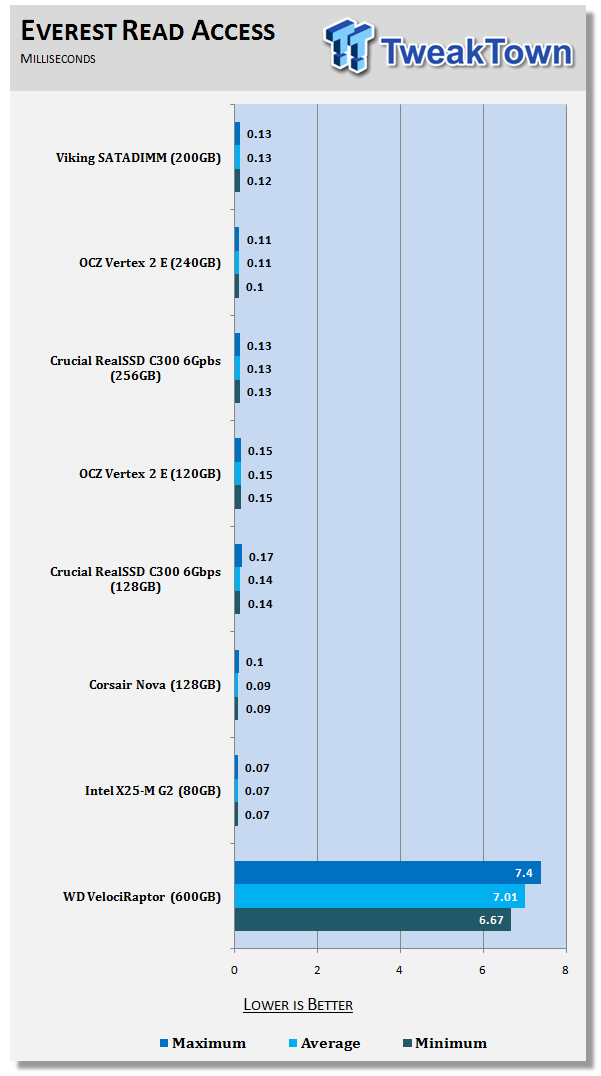 Access times are what give SSDs their great feel when moving between windows and allow for high speed multitasking. In the case of the SATADIMM, access times and a very high number of IOPS allow for database performance that is virtually unmatched.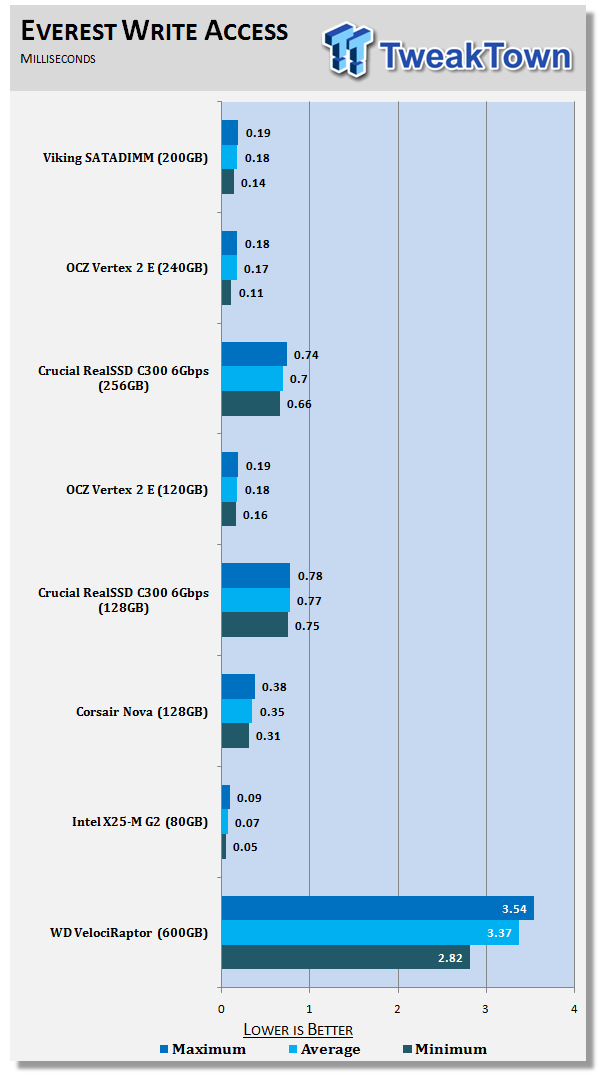 Both the consumer and enterprise SandForce controlled models keep the access times very low and the two register in our software as nearly identical.
Benchmarks - Crystal Disk Mark
CrystalDiskMarkVersion and / or Patch Used:
3.0 Technical Preview
Developer Homepage:
http://crystalmark.info
Product Homepage:
http://crystalmark.info/software/CrystalDiskMark/index-e.html
Download here:
http://crystaldew.info/category/software/crystaldiskmark
CrystalDiskMark is a disk benchmark software.
Key Features:-
* Sequential reads/writes
* Random 4KB/512KB reads/writes
* Text copy
* Change dialog design
* internationalization (i18n)
Note:
Crystal Disk Mark 3.0 is not available to the public yet, but the Technical Preview does allow us to test 4K performance at queue depths of 4 and 32 in addition to 1. The current release Crystal Disk Mark only shows us QD 1.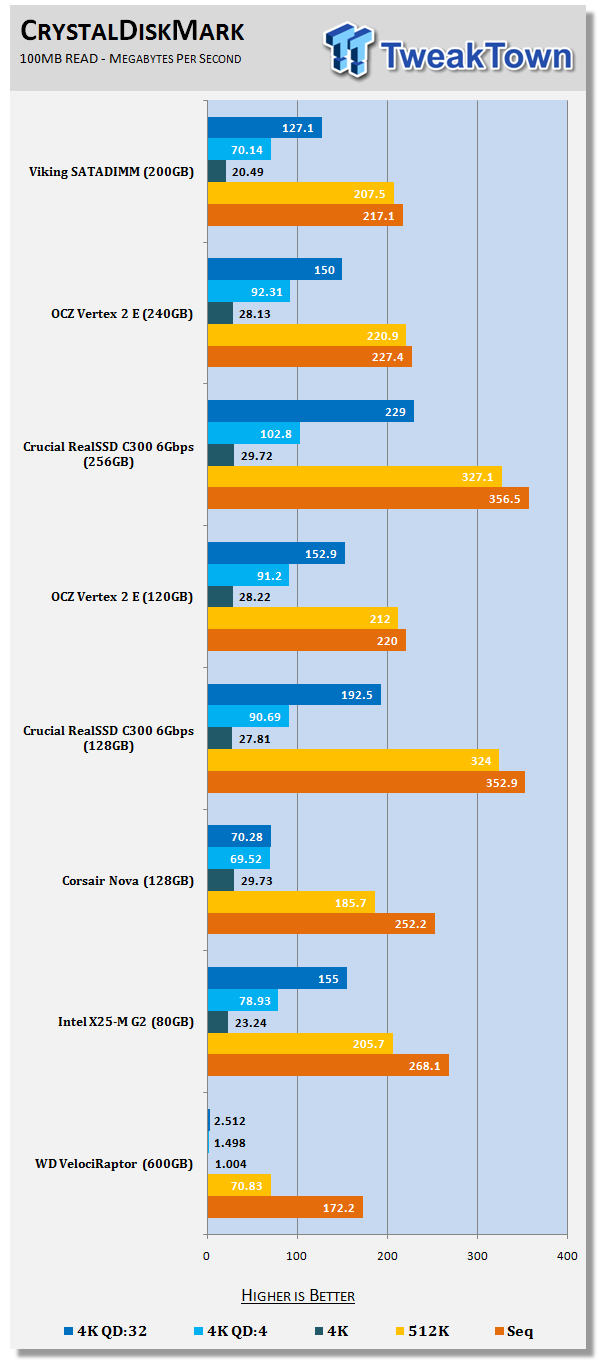 In CDM we are looking at 4K performance and how it scales when commands are stacked using native command queuing. Here we see good NCQ scaling on the SATADIMM, but the overall 4K performance is a little lower than what we have on the Vertex 2.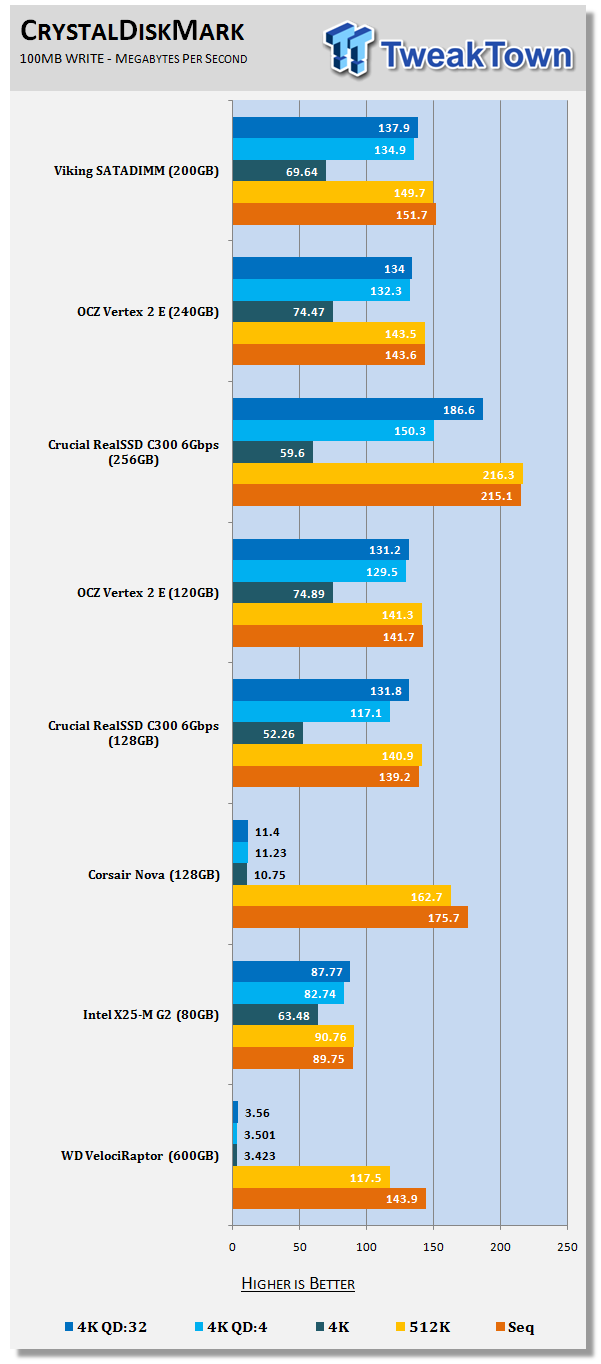 When it comes to 4K writes the SATADIMM is down a little to the Vertex 2 initially, but quickly takes the lead when commands are stacked up 4 and 32 deep.
Benchmarks - PCMark Vantage Hard Disk Tests
PCMark Vantage - Hard Disk TestsVersion and / or Patch Used:
1.0.0
Developer Homepage:
http://www.futuremark.com
Product Homepage:
http://www.futuremark.com/benchmarks/pcmark-vantage/
Buy It Here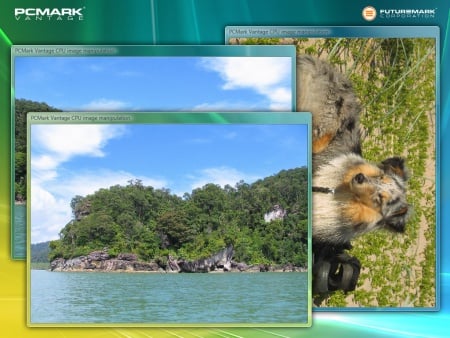 PCMark Vantage is the first objective hardware performance benchmark for PCs running 32 and 64 bit versions of Microsoft Windows Vista. PCMark Vantage is perfectly suited for benchmarking any type of Microsoft Windows Vista PC from multimedia home entertainment systems and laptops to dedicated workstations and high-end gaming rigs. Regardless of whether the benchmarker is an artist or an IT Professional, PCMark Vantage shows the user where their system soars or falls flat, and how to get the most performance possible out of their hardware. PCMark Vantage is easy enough for even the most casual enthusiast to use yet supports in-depth, professional industry grade testing.
FutureMark has developed a good set of hard disk tests for their PCMark Vantage Suite. Windows users can count on Vantage to show them how a drive will perform in normal day to day usage scenarios. For most users these are the tests that matter since many of the old hat ways to measure performance have become ineffective to measure true Windows performance.

HDD1 - Windows Defender
HDD2 - Gaming
HDD3 - Windows Photo Gallery
HDD4 - Vista Startup
HDD5 - Windows Movie Maker
HDD6 - Windows Media Center
HDD7 - Windows Media Player
HDD8 - Application Loading
Due to cost and availability we aren't going to hear about many Viking SATADIMMs being used in consumer grade systems as the boot drive, but if you do get your hands on one the performance would be amazing. Here we see the SATADIMM running away from the 240GB Vertex 2 in many of the tests and taking the SATA 6G Crucial RealSSD C300 head on.
Benchmarks - AS SSD
AS SSD BenchmarkVersion and / or Patch Used:
1.2.3577.40358
Developer Homepage:
Alex Intelligent Software
Product Homepage:
Alex Intelligent Software
Download here:
http://www.alex-is.de/PHP/fusion/downloads.php?cat_id=4&download_id=9
AS determines the performance of Solid State Drives (SSD). The tool contains four synthetic as well as three practice tests. The synthetic tests are to determine the sequential and random read and write performance of the SSD. These tests are carried out without the use of the operating system caches.
In all synthetic tests the test file size is 1GB. AS can also determine the access time of the SSD, the access of which the drive is determined to read through the entire capacity of the SSD (Full Stroke). The write access test is only to be met with a 1 GB big test file. At the end of the tests three values for the read and write as well as the overall performance will be issued. In addition to the calculated values which are shown in MB/s, they are also represented in IO per seconds (IOPS).
Note:
AS SSD is a great benchmark for many tests, but since Crystal Disk Mark covers a broader range of 4K tests and HD Tune Pro covering sequential speeds, we will only use the Copy Benchmark from AS SSD.
- Copy Benchmark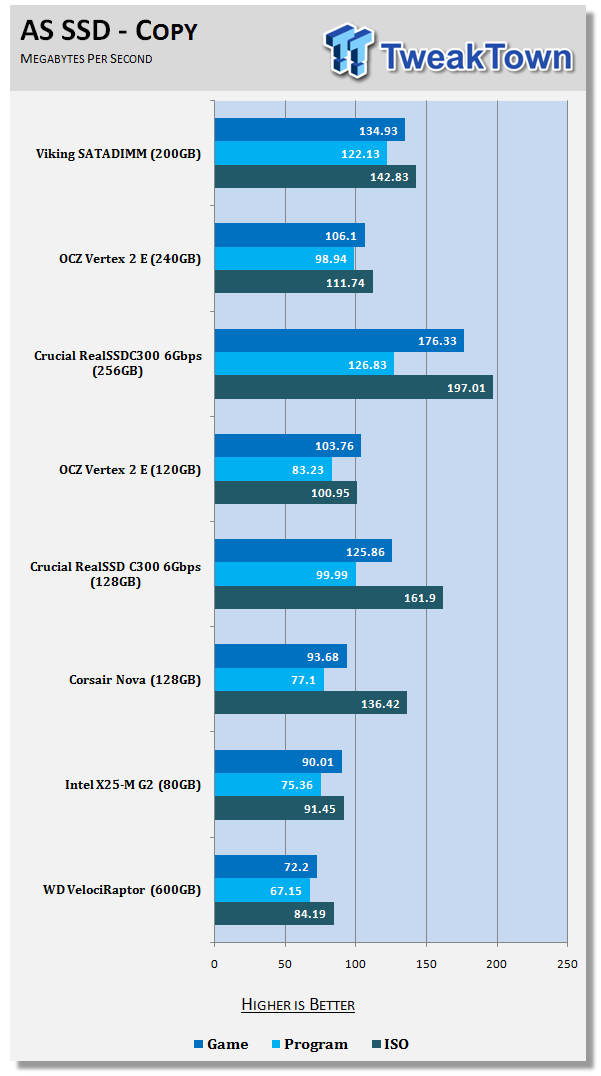 The latest firmware from SandForce has given the Viking SATADIMM a nice boost in performance when copying data to and from the drive. Here we see the solid performance from the mature SF-1500 controlled drive.
Benchmarks - Passmark
Passmark Advanced Multi-User TestsVersion and / or Patch Used:
6.1
Developer Homepage:
http://www.passmark.com
Test Homepage:
http://www.passmark.com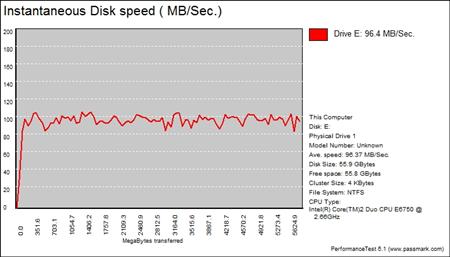 Many users complain that I/O Meter is too complicated of a benchmark to replicate results so my quest to find an alternative was started. Passmark has added several multi-user tests that measure a hard drives ability to operate in a multi-user environment.

The tests use different settings to mimic basic multi-user operations as they would play out on your server. Variances is read / write percentage as well as random / sequential reads are common in certain applications, Web Servers read nearly 100% of the time while Database Servers write a small amount of data.
The Workstation test is the only single user environment and will be similar to how you use your system at home.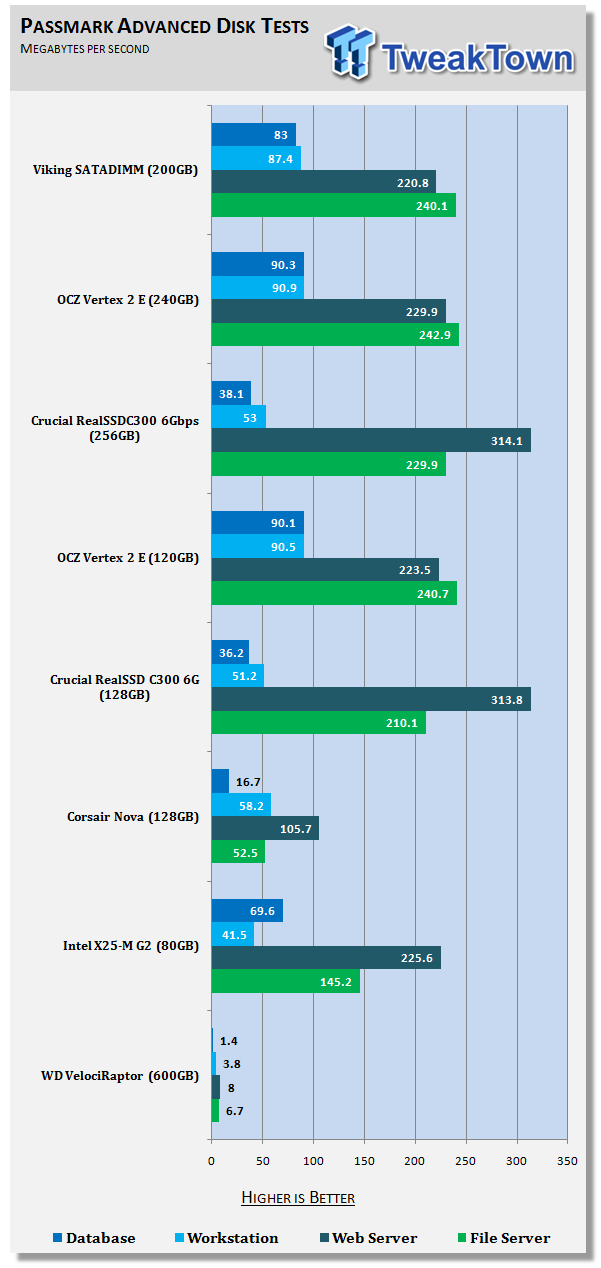 The Viking Modular SATADIMM is designed for server workloads and that fact makes these tests more relevant than when we test consumer drives. On our chart we have several heavy hitters from the SSD industry and one of the fastest platter drives available today. Even when compared to a 15,000 RPM Seagate platter drive, all of the SSDs outperform the platter drives. SSDs are quieter, faster and draw less power.
The Viking SATADIMM brings all of those key areas to the table, but the 28% over provisioning will allow the SATADIMM to do it longer than a consumer SSD.
Final Thoughts
Viking Modular had the vision to develop the SATADIMM and then move onto manufacturing the drive. Most companies lack the vision to get past step one, but Viking is a company looking to develop products that are unconventional to make better use of conventional problems. The current portfolio of products has several of these unique solutions, but dreaming and then producing is only 2/3 of the way to a successful product.
Viking was very quiet when we started asking about availability and pricing. This has us a little worried since usually companies are throwing their availability and pricing at us before we even think to ask. The SATADIMM shouldn't be kept in a tightly sealed bottle only for the OEM market to utilize. Even in its current enterprise form with the SF-1500, many people and companies could effectively use the SATADIMM in their densely populated servers. A SF-1200 product would see even higher adaption and even a solid group of consumers would get in on the action.
The sad thing is the door on low cost, high performance 3Xnm flash is closing, but at the same time the SF-2000 door is opening and it offers even higher performance with even lower cost 25nm flash. I would really like to see Viking Modular update the SATADIMM with the new technology rapidly and then make the moves necessary to get these on the open market. I would be the first in line to pick up a SF-2200 SATADIMM with low cost 25nm flash to use in my media center as a boot drive. That would free up a 3.5" HDD slot for the RAID 5 array.
The Viking Modular SATADIMM performs with the best SandForce drives on the market and outperforms all of the other SF-1500 drives we've tested to date. The performance is there and the need for such a product is high. Now we just need Viking to do the rest.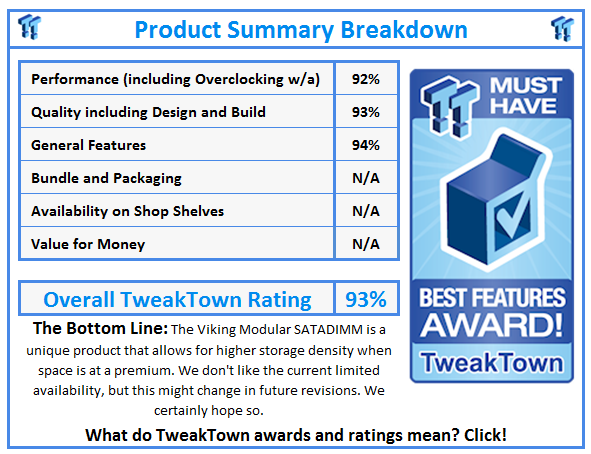 PRICING: You can find products similar to this one for sale below.

United States: Find other tech and computer products like this over at Amazon.com

United Kingdom: Find other tech and computer products like this over at Amazon.co.uk

Australia: Find other tech and computer products like this over at Amazon.com.au

Canada: Find other tech and computer products like this over at Amazon.ca

Deutschland: Finde andere Technik- und Computerprodukte wie dieses auf Amazon.de
We openly invite the companies who provide us with review samples / who are mentioned or discussed to express their opinion. If any company representative wishes to respond, we will publish the response here. Please contact us if you wish to respond.