Western Digital WD TV Live Hub Review
I've had the opportunity to use this for the past few months. Will I continue to use it, or will it go to the shelf?
Published Mon, Mar 7 2011 8:53 AM CST
|
Updated Tue, Nov 3 2020 7:02 PM CST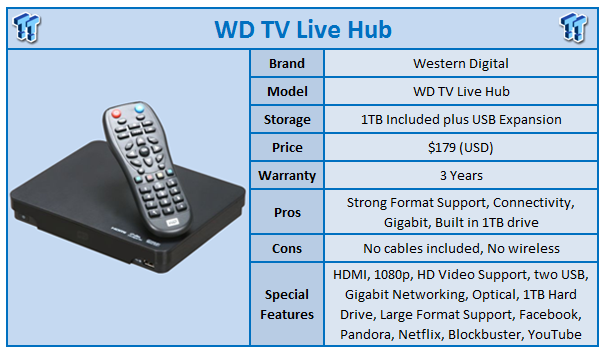 I've always been a bit of a fan of the Western Digital media boxes, but I never had a chance to actually use one in hand. The specifications always looked good and the device on a whole looked sleek.
Sitting at the top of the WD TV line-up is the Live Hub and that's the one we're looking at today. Checking out the box, you can see the device and some of the main features. One of the bigger features is the 1TB hard drive that's embedded into the WD TV Live Hub.
On the front of the box we can also see some of the other main features which include support with Blockbuster, Netflix, Pandora, Facebook and YouTube. Unfortunately not all these features are available outside of the US, but the ones that are like YouTube and Facebook work great. We'll get into all that a little later, though.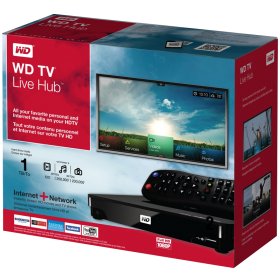 Inside the box there's not a lot going on; we've got the device itself, power cable, manual along with a remote and some batteries for it. There are no video or audio cables which is something worth noting. It's hardly a deal breaker, though.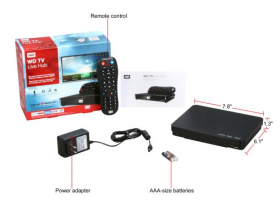 Looking at the actual device, it's very sleek and while it's a little thinner than other devices we've seen, it's a little wider. You shouldn't have any problem finding a nice spot for it, though, and that's the most important thing.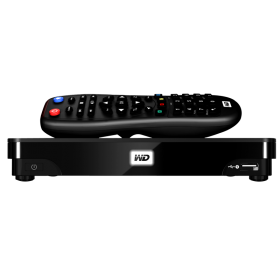 The device is fairly simple looking and there's not a whole lot going on with the front having a lit up WD logo along with a power button and USB port. Both sides don't have anything while the back has all our connectivity, which is pretty strong.
Starting from the left, we've got the port for our power connector; continuing across, we've got an Optical port, HDMI, second USB port, gigabit Ethernet, composite ports followed by component ports. Really, everything you could possibly need from older analogue connections to more common digital ones is here.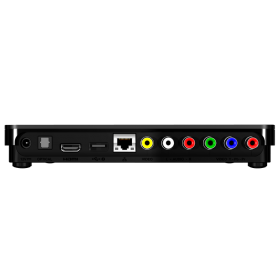 Instead of plugging the device straight into the TV, we opted to hook it into our AMP via HDMI, which means we could make use of our surround sound setup. This makes for a really clean setup as you only have a single power cable running out the back and the HDMI cable doing both video and audio. Saying that, though, you will probably also have a network cable hanging out the back.
Turning the device on, it detects the HDMI connection and shows up straight away. You can go through and set everything up which takes absolutely no time. If you're also making use of the built in network port, you can setup DHCP or manually set your IP address.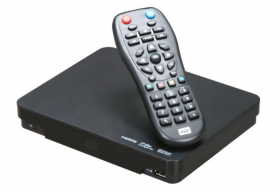 Navigating the menu is very easy and it's here I really noticed the awesome quality of the remote control. It's so often we see with these media devices a really cheap feeling and low quality remote, but this isn't the case with the WD TV Live Hub which feels fantastic with nice squishy buttons and a great range and response.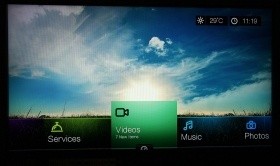 In the menu your three main options are video, music and photos when it comes to standard playback that you would expect. File extension support is just crazy with video supporting AVI (Xvid, AVC, MPEG1/2/4), MPG/MPEG, VOB, MKV (h.264, x.264, AVC, MPEG1/2/4, VC-1), TS/TP/M2T (MPEG1/2/4, AVC, VC-1), MP4/MOV (MPEG4, h.264), M2TS, WMV9, audio supporting, MP3, WAV/PCM/LPCM, WMA, AAC, FLAC, MKA, AIF/AIFF, OGG, Dolby Digital, DTS and photo supporting JPEG, GIF, TIF/TIFF, BMP, PNG.
Also supported is playlist formats, PLS, M3U, WPL and subtitle formats, SRT, ASS, SSA, SUB, SMI, or as I like to put it,
everything.
Really, there shouldn't be a format that you have which isn't supported by the WD TV Live Hub, and that's something that makes it so appealing.
Video playback is fantastic with support up to 1920 x 1080 on the high definition formats and multi-channel audio which make for an unreal viewing experience.
Playback is smooth over the gigabit network thanks to the large amount of bandwidth, but even when just running at 100Mbps playback on the high definition formats, it was also very good.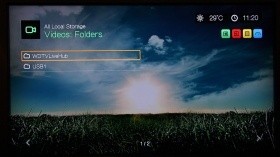 Other menu options include files which just list what's on the device along with setup and services. Setup is fairly self-explanatory and in there you can adjust the settings to video, audio and photo, as well as the appearance of the menu via themes. You can also do things like setup the time zone, auto play, auto syncing the front lighting and a whole bunch of other stuff.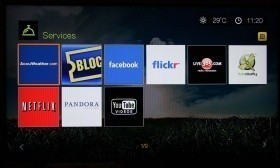 The services tab offers us support to all those other features that are included. Netflix, Blockbuster and Pandora will all require you to have an account and be in the US. Fortunately this isn't the same for a lot of the other services. YouTube gives you the ability to search and if you have an account you're able to sign in and do the normal things.
Flickr is the same and you can take advantage of the site without needing to log in. Live365 is a radio streaming site that lets you stream radio. You have a limited amount of free time for the VIP section, but if you want to continue to make use of it you'll have to sign up via the Live365 website, otherwise you can enjoy the free stations. Saying that,
enjoy
might be a bit of a stretch with there only being a limited amount of free stations and the range being quite poor.
Also in this section we've got Mediafly which is a little like YouTube; it's got some pretty cool stuff on it and it's really easy to navigate. Facebook lets you do all the normal stuff like post comments and like updates. You can also see what's happening with your friends. It's not bad, but with Facebook on just about every mobile phone these days you probably won't find yourself in here too much.
Finally, we've got AccuWeather which is just a weather channel and lets you know what's happening in the forecast in a designated area. It's really quite cool with current temperature on offer along with Satellite Image and 7 day forecast. It's quick to get to and once setup to your area will display the current temperature on every page.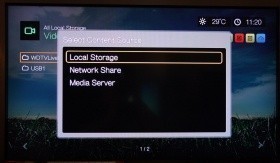 What I really liked about the WD TV Live Hub was in the event you didn't have the device hooked up to a network and you only cared about the playable ability of video, audio and photos. You're able to plug in an external hard drive and copy from that or play from it directly.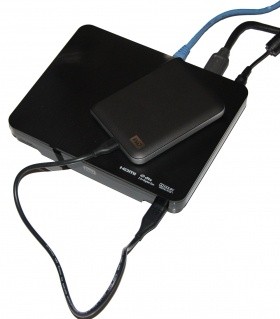 With a WD Passport which is really quite cheap these days and requires no external power, you're able to enjoy the device without the need to have it plugged into your network. Sure, to make full use of all the features, using the network port is recommended, but if you just wanted to throw it in your bedroom or your lounge didn't have easy network access, this ability is really handy.
In a time where we're seeing really cheap little PCs that can handle all these formats, you have to wonder how a device like this fairs. Well, it fairs extremely well and that's for a few reasons. For starters, this is cheaper than any media PC you should find at
only $179.99
.
Another big pro is the simple interface; anyone can use it; anyone can set this device up; there's really nothing to it. The simplicity behind it is what makes it so great. Apart from maybe the inclusion of a HDMI cable and possibly wireless support, there's very little to pick at when it comes to the WD TV Live Hub.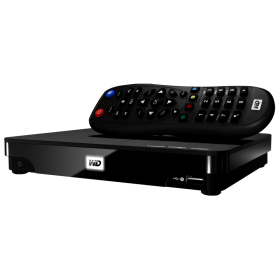 All in all, this is just a great product for anyone who is looking for something that will stream just about every format. The extras, though, like services, HDMI, great quality remote control and built in 1TB hard drive make the product really stand out and go straight to the top of the list. For under $200, you really can't go wrong with the WD TV Live Hub.

PRICING: You can find products similar to this one for sale below.

United States: Find other tech and computer products like this over at Amazon.com

United Kingdom: Find other tech and computer products like this over at Amazon.co.uk

Australia: Find other tech and computer products like this over at Amazon.com.au

Canada: Find other tech and computer products like this over at Amazon.ca

Deutschland: Finde andere Technik- und Computerprodukte wie dieses auf Amazon.de