Introduction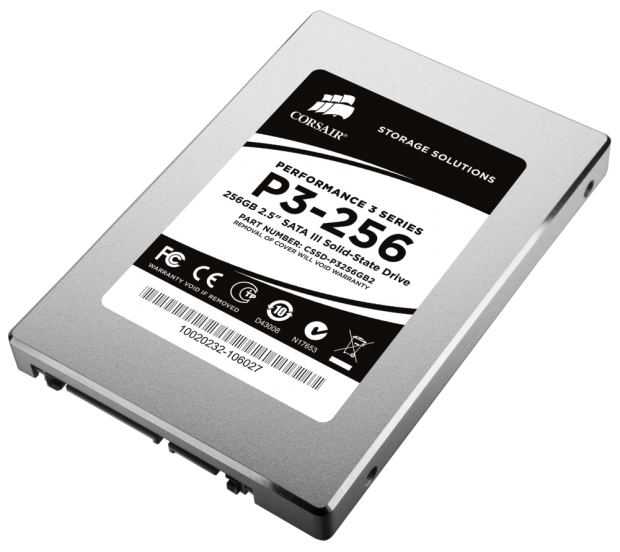 They are finally here, a moment I've anticipated since June 2010. Back in June we shut down a booth at Computex to take a sneak peak at a prototype Marvell 88SS9174 SSD controller. At the time we didn't fully realize just how special this new controller was, since we were blinded by record setting sequential data transfer rates.
Those of you that read this site often already know that the Marvell 88SS9174 is the same controller in the Crucial RealSSD C300, but we have to go a little deeper to differentiate the old from the new. The C300 uses the 88SS9174-
BJP2
, a first generation SATA 6G controller that is known for its high sequential and IOPS performance, but has less than average garbage collection capability. The new 88SS9174-
BKK2
is the new second generation SATA 6G controller used in the Corsair Performance 3 Series.
The new 88SS9174-
BKK2
is a different animal, one that was built out of necessity. It is hard to imagine that in 2011 we are still talking about TRIM support, or more specifically the lack of TRIM support. This far in the game TRIM shouldn't even be a checkbox or considered a feature. TRIM is as essential to the solid state experience as the gas pedal or head lights are to your car. The reality is that a long string of failures, miscalculations and ignorance has led to us still talking about TRIM and companies like Corsair looking for ways to keep performance high when TRIM is not available.
A SSD controller's ability to cleanse itself of deleted data is called garbage collection. If you are driving your car down an alley full of half empty boxes you need to slow down to move the boxes out of your way. If that alley was already cleared and the boxes were removed, you can put your foot on the floor and go as fast as you needed. Both TRIM and garbage collection remove the half empty boxes, stack them neatly on the sides, compress them into a flat pile and allow you to move freely.
With TRIM you need your operating system, SATA and SSD to support it, and everything has to work perfectly. With garbage collection the SSD is in charge and cleans up after itself. TRIM currently is not available on MAC operating systems, RAID array configurations or most motherboard onboard SATA 6G ports (this is debatable, it might be there but it doesn't work all of the time). So what's left? - Well, if you are lucky and everything is working right you can use Windows 7 with a single SSD on an Intel chipset. Newer AMD chipsets support TRIM, but most of us aren't playing on that field these days.
Let's hop in and take a look at the new Corsair Performance 3 Series 256GB specifications. There we can see all of the specs and features. We haven't even got into what makes this drive so revolutionary, so read on!
Specifications, Pricing and Availability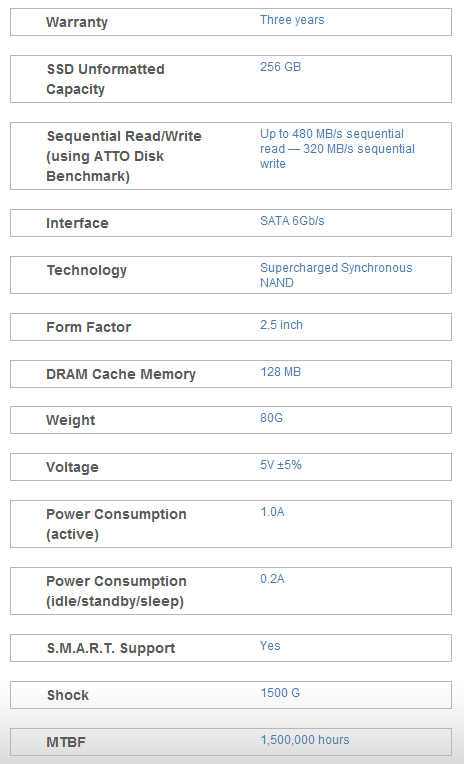 Corsair launched the Performance 3 in three capacity sizes; 64GB, 128GB and 256GB. Today we're focusing mainly on the flagship 256GB model. As the flagship with the largest flash, its 480MB/s read and 320MB/s write speeds are the highest advertised speeds available on the market today. The 128GB and 64GB read and write speeds are lower than the 256GB drive we are reviewing here today. We'll have a full review of the 128GB drive and a RAID Report on a pair of 128GB drives coming soon.
Things aren't all that peachy in this new high speed world. We now know why so many companies have been shy about releasing SATA 6G SSDs. In order to reach the full potential of the flagship 256GB drive you need to use a full speed 6G SATA port. At this time you are pretty much limited to Sandy Bridge or a high performance SATA / SAS 6G controller card like the LSI 9260-8i that we routinely use for RAID articles. At this time the most common form of 6G is found on X58 motherboards that are paired with the Marvell 9128 SATA controller. Unfortunately the X58/Marvell combination won't offer enough bandwidth in most cases to run the Performance 3 256GB at it maximum potential.
You might have caught the 'most cases' part there. At CES 2011 we learned that GIGABYTE has worked some magic on the new G1 Gaming Killer motherboards, but at this time it is untested by our labs. We'll run the Performance 3 256GB drive on several different SATA 6G controllers and even SATA 3G from a native Intel chipset to see how it fairs in different combinations today.
Going down the list, one area that sticks out is the power consumption rating. We've seen SandForce drives rated as low as .35 amps, but the Corsair Performance 3 256GB is rated at a full 1 amp. Power ratings are usually a nice round number and we rarely focus on them, but if a drive is rated at taking up more than 2x the amount of power, then it is something to consider when using an SSD in a notebook.
The rest of the information listed is pretty standard for SSDs. Corsair lists the high shock rating and 1.5 million hours of mean time between failure. Many SSDs carry similar ratings.
Not listed on the specification sheet is the Performance 3 Series' feature list. On Corsair's website we found this statement:
Most solid-state drives are fast right out of the box, but many of those same drives slow down over time. Corsair Performance 3 Series SSDs offer more robust background garbage collection for consistent read and write speeds from day 1 to day 101.
If you currently own a SSD then you know that SSDs slow down as they fill with data. Corsair is claiming the Performance 3 doesn't slow down. This is a huge announcement and something that has never been claimed before with SSDs. As a matter of fact, this opens the door to a new genre of performance testing and a whole new level in which SSDs need to be looked at.
I've said in the past that storage product performance isn't cut and dry with just IOPS or Sequential performance. The two need to be looked at together, at the same time. Maybe in 2020 we will have Microsoft Excel 3D Edition where performance graphs can be holograms and spun around to see the full picture. That graph will actually need to gain a new level after today; performance at filled capacity. We've actually been running tests like this over the last year, but haven't gone live with any of the findings. We are still in the middle of validating a standard.
In the introduction we talked about garbage collection and stated that RAID and TRIM don't mix. Corsair recognizes that many enthusiasts prefer to reach higher levels of performance by purchasing two smaller SSDs rather than one large SSD. Solid state drives scale very well in RAID, at least at first. Over time the lack of TRIM slows most SSDs down and the user needs to cleanse the drives and start over with a fresh RAID array build. Breaking a strip is a big hassle unless you like backing up, scrubbing and then restoring your operating system. What fun, right? - Let's spend all day regaining lost performance!
The Corsair Performance 3 was built in a manner that will eliminate your spring cleaning. The combination of aggressive garbage collection and the high speed all the time features make the Performance 3 the best high performance RAID array drive on the market, at least for long term use. We'll put those claims to the test in the RAID Report Article coming soon. Today we can focus on the single drive performance and features that make the Corsair Performance 3 the SSD to adapt at this time.
We'll cover the cost in the conclusion; there are some issues there that are out of Corsair's hands, but not off limits of my opinion.
The Packaging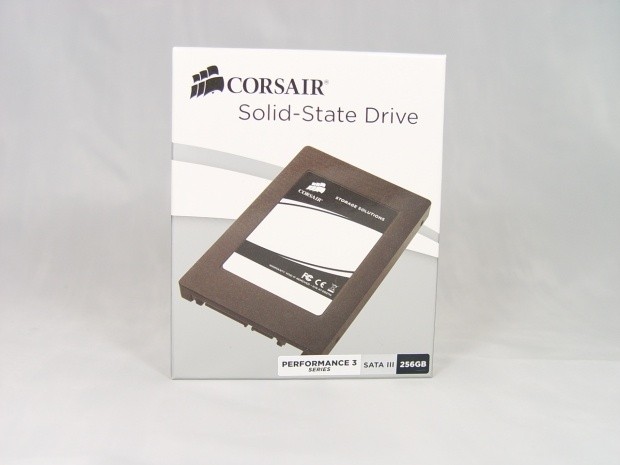 The packaging for the Performance 3 is the standard, universal Corsair SSD box that has been used for a while now. On the front lower right side a sticker notes the model and capacity size.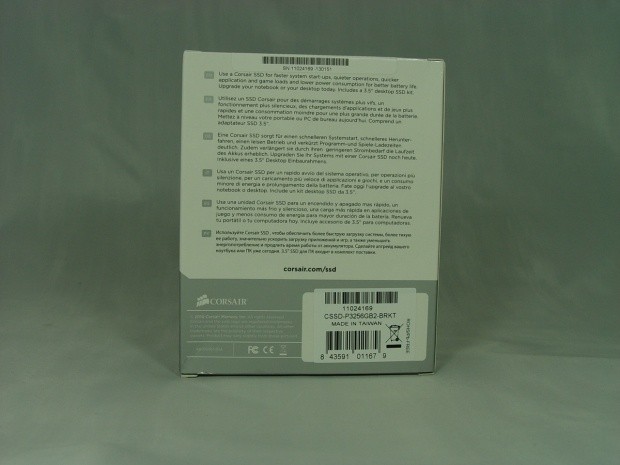 The back of the package has a quick statement about Corsair SSDs in several languages and another sticker shows the part number and SKU codes.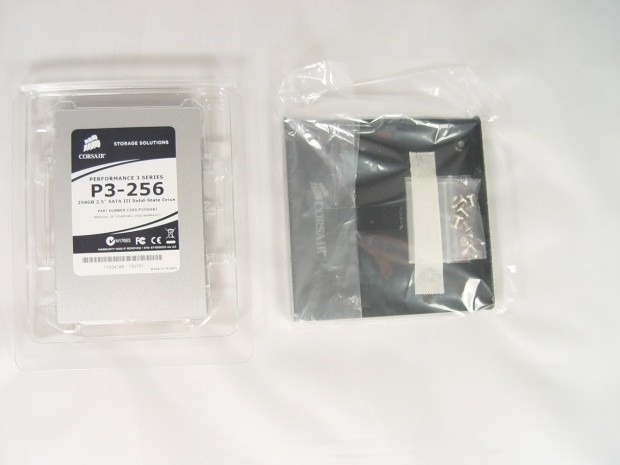 The inner packaging is done very well with the box divided into two separate sections. The drive is held on one side and the 2.5 to 3.5" desktop bracket is located on the other.
The Corsair Performance 3 256GB SSD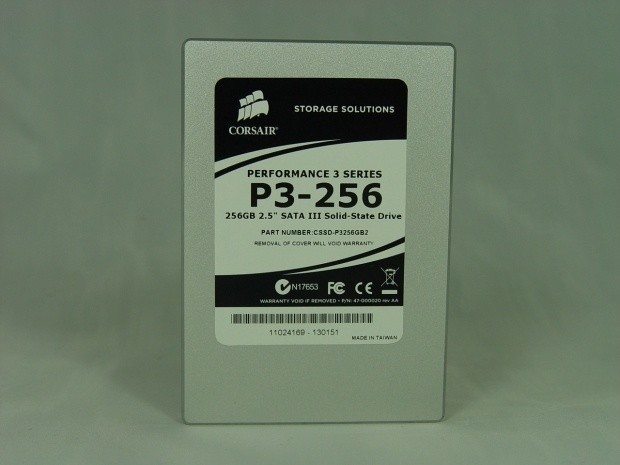 Here we get our first look at the drive. Just like the previous Performance Series the drive is encased in a silver aluminum housing. The label on the front shows the model number and capacity size.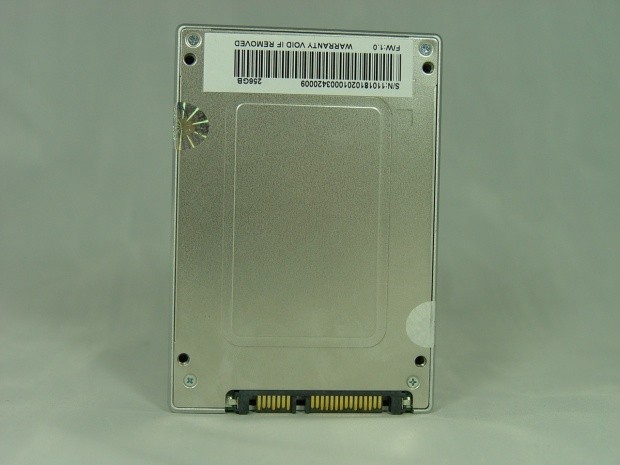 The back of the drive is fairly basic other than a serial number sticker. The standard undermount screw points are included. These are mainly used to secure the drive to a caddy or adapter bracket.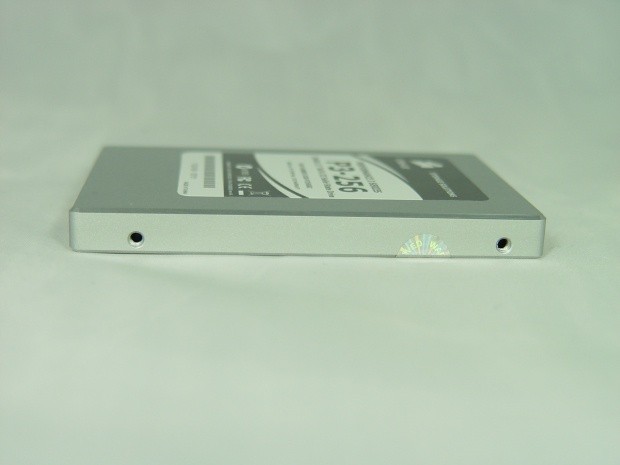 The side mounting points are also where they should be. The Performance 3 is a 9.5mm, standard 2.5" form factor height drive.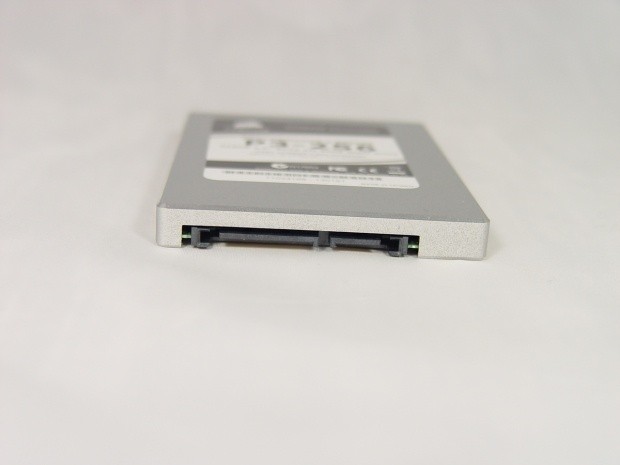 The SATA power and data connections are where they should be both inside and outside of the included desktop adapter bracket.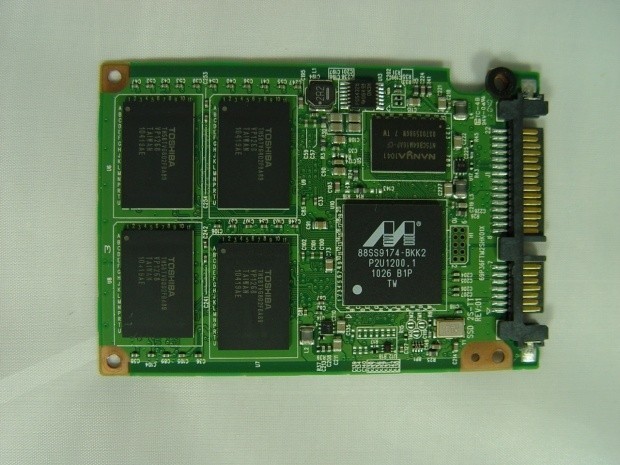 You might notice a few things that are very different with the new Corsair Performance 3 compared to most of the SSDs we've looked at. On the first side of the drive we see the Marvell 88SS9174-BKK2 controller. There are four Toshiba 32nm flash modules on this side. The flash uses Toggle Mode; think DDR for flash. There is also a Nanya 70nm DDR3-1333 module that works as a cache buffer and temporary storage when all of that garbage collection is taking place.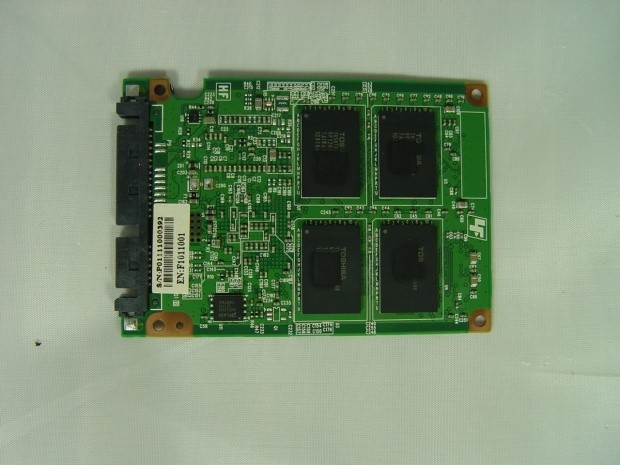 The other side of the drive is pretty uneventful other than the four flash modules. This is also where we really start to see how next generation SSDs are going to change things as well. The total flash module count is only four with this drive. We've seen sixteen with Indilinx and SandForce, eight in a few other drives, and now that count has been reduced to just four with the Corsair Performance 3 256GB.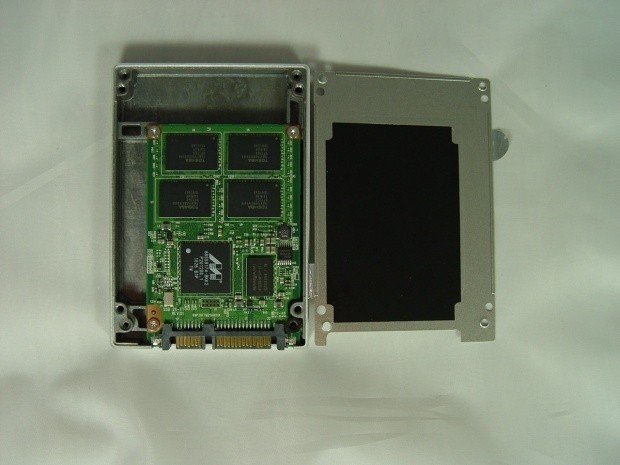 Have you figured out why the Corsair Performance 3 PCB looks so different yet? - This picture will help. The actual PCB for our retail drive is a 1.8" form factor. Corsair chose to use a 2.5" case, but then theinternals are based on an ultra compact 1.8" design.
Test System Setup and ATTO Baseline Performance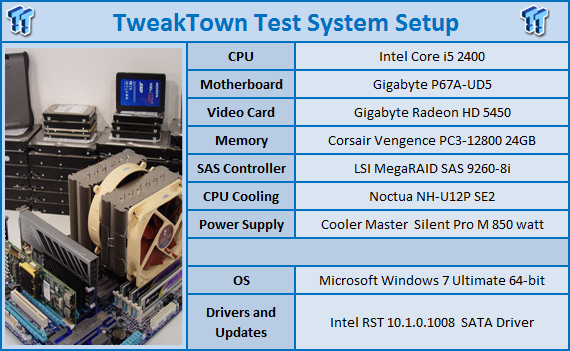 We would like to thank the following companies for supplying and supporting us with our test system hardware and equipment:
AVADirect
,
GIGABYTE
,
Cooler Master
,
LSI
,
Corsair
and
Noctua
.
You can read more about TweakTown's Storage Product Testing Workstation and the procedures followed to test products
in this article
.
The Corsair Performance 3 was run on several different host devices. Intel's Sandy Bridge SATA 6G might be the best balance between performance and value, but many enthusiasts still use X58 motherboards, most of which have onboard Marvell SATA 6G controllers. A low cost add-on product like the HighPoint 600 Series will give you SATA 6G through a PCIe 2.0 1x lane card. The last set of tests were ran on the X58 platform, but on Intel's native SATA 3G chipset.
The last section is something I've been working on for some time now, but it is still far from completion (mainly because I really didn't need it until now). This is a set of tests performed when the drive has data already on it. In March I will refine the test and use files that can be downloaded from the web. As long as no one threatens to sue me, we will publish the entire package, or at the very least give you links to download all of the content to make your own fill test files.
ATTO Baseline PerformanceVersion and / or Patch Used:
2.34
ATTO is used by many disk manufacturers to determine the read and write speeds that will be presented to customers.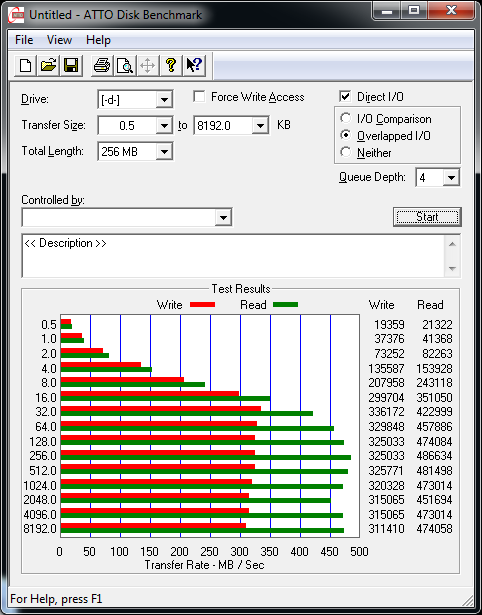 With the Sandy Bridge based GIGABYTE P67A-UD5 we achieved the above ATTO results. The Corsair Performance 3 256GB really lit up the scoreboard with roughly 486MB/s read and 336MB/s write.
Benchmarks - HD Tune Pro
HD Tune ProVersion and / or Patch Used:
4.00
Developer Homepage:
http://www.efdsoftware.com
Product Homepage:
http://www.hdtune.com
HD Tune is a Hard Disk utility which has the following functions:
Benchmark: measures the performance
Info: shows detailed information
Health: checks the health status by using SMART
Error Scan: scans the surface for errors
Temperature display
HD Tune Pro gives us accurate read, write and access time results and for the last couple of years has been gaining popularity amongst reviewers. It is now considered a must have application for storage device testing.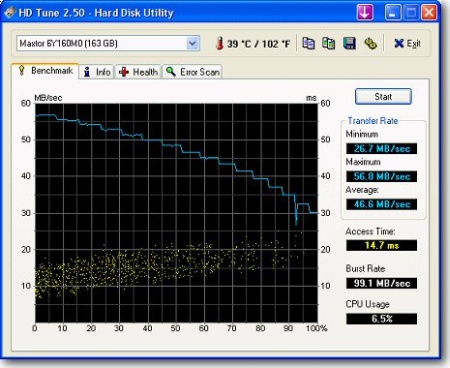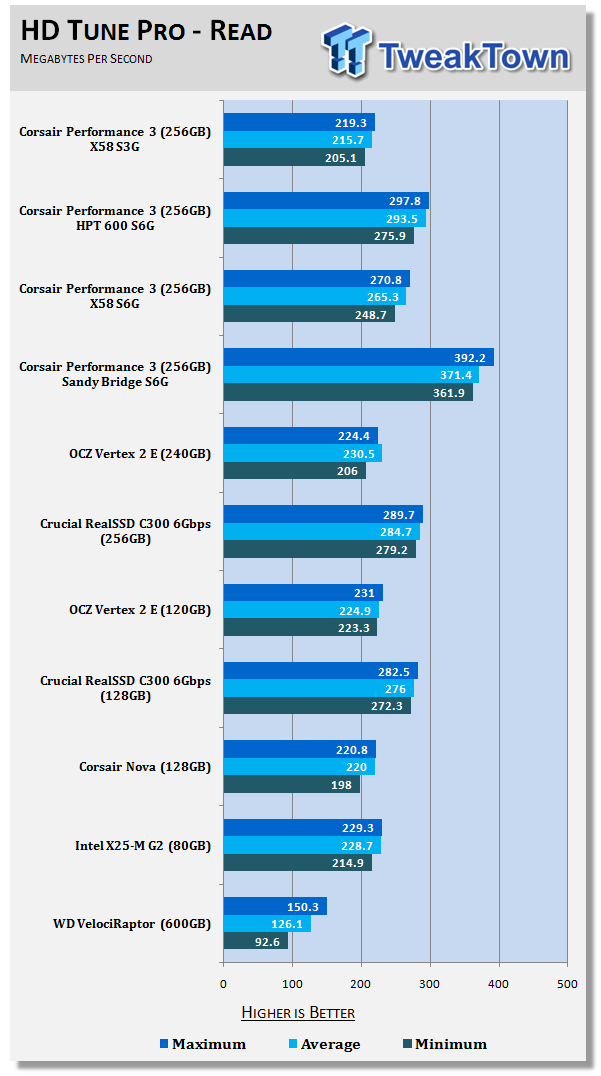 HD Tune isn't a very good real world indicator of performance, but it does allow us to gain some insight into what to expect once we get into the tests that matter most. This test also shows how the Corsair Performance 3 reacts to different SATA configurations.
As we predicted, Sandy Bridge allowed the Performance 3 to stretch its legs and operate at full speed. The HighPoint 600 and X58/Marvell setup performed about the same. The X58/Intel ICH performed about the same as the SandForce SF-1200 based Vertex 2.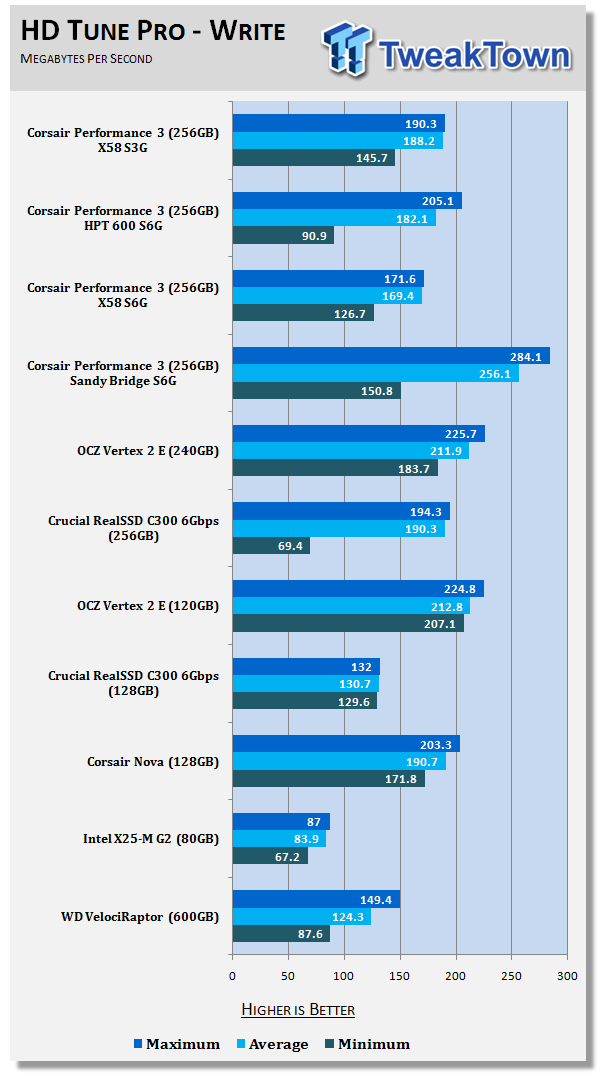 When it comes to write performance with the Performance 3, you will need a Sandy Bridge based motherboard to reach full speed. All of the other configurations we tested were very close and didn't allow the Performance 3 to let loose.
Benchmarks - Everest Random Access Time
Everest Random Access TimeVersion and / or Patch Used:
4.60
Developer Homepage:
http://www.lavalys.com
Product Homepage:
http://www.lavalys.com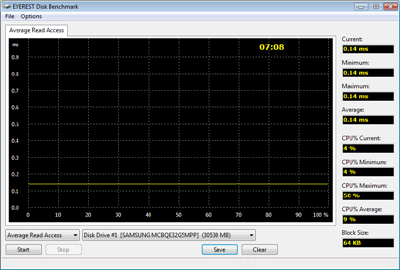 Everest Ultimate and Corporate Edition offer several different benchmarks for testing and optimizing your system or network. The Random Access test is one of very few if not only that will measure hard drives random access times in hundredths of milliseconds as oppose to tens of milliseconds.
Drives with only one or two tests displayed in write the write test mean that they have failed the test and their Maximum and possibly their Average Scores were very high after the cached fills. This usually happens only with controllers manufactured by JMicron.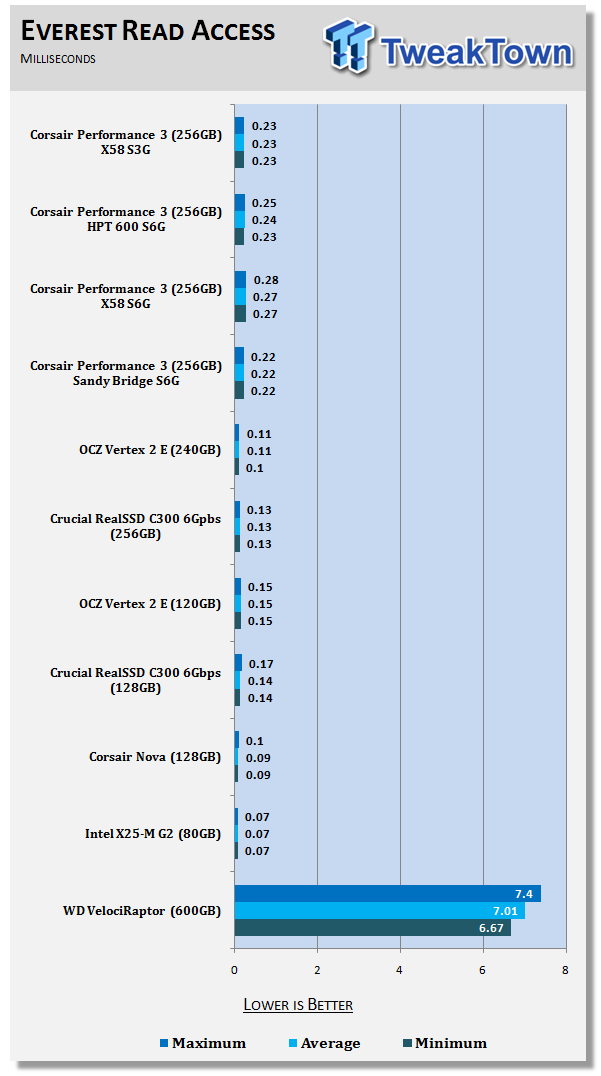 We didn't expect to find a lot of variation in the access times, but there was actually a little more than we thought we'd see. Still, the Corsair Performance 3 achieves very low read access times that can only come from a high quality SSD.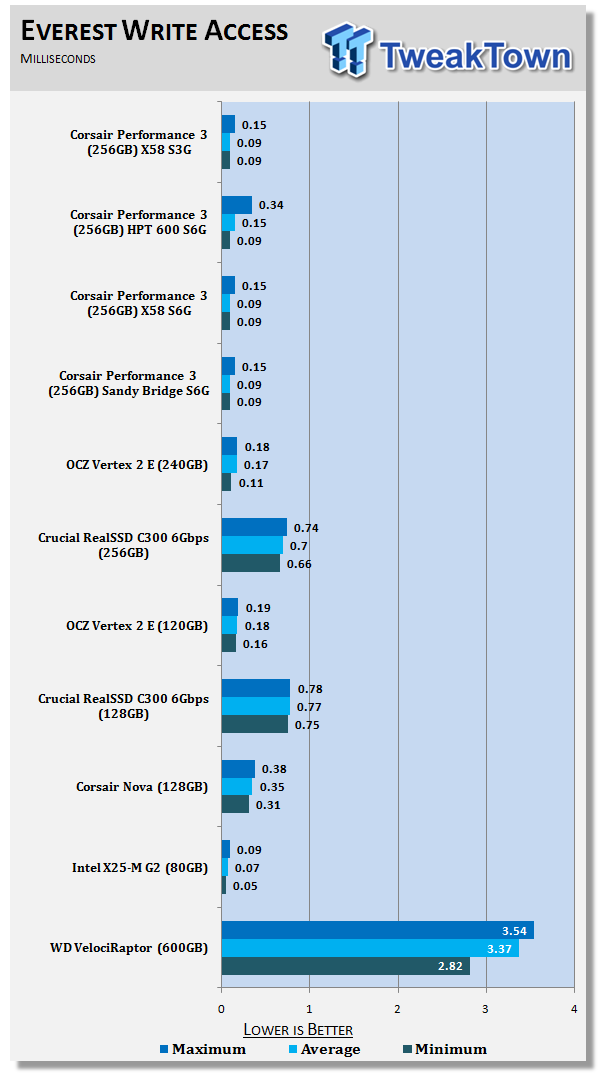 The write access times were an area that we weren't too sure about when we started hearing about the features of the Performance 3. The Kingston V100 has aggressive garbage collection, but that drives write access time is horrible compared to the powerhouses on this list. We're glad to see that Corsair was able to keep the aggressive garbage collection feature and still keep the write access times low.
Benchmarks - Crystal Disk Mark
CrystalDiskMarkVersion and / or Patch Used:
3.0 Technical Preview
Developer Homepage:
http://crystalmark.info
Product Homepage:
http://crystalmark.info/software/CrystalDiskMark/index-e.html
Download here:
http://crystaldew.info/category/software/crystaldiskmark
CrystalDiskMark is a disk benchmark software.
Key Features:-
* Sequential reads/writes
* Random 4KB/512KB reads/writes
* Text copy
* Change dialog design
* internationalization (i18n)
Note:
Crystal Disk Mark 3.0 is not available to the public yet, but the Technical Preview does allow us to test 4K performance at queue depths of 4 and 32 in addition to 1. The current release Crystal Disk Mark only shows us QD 1.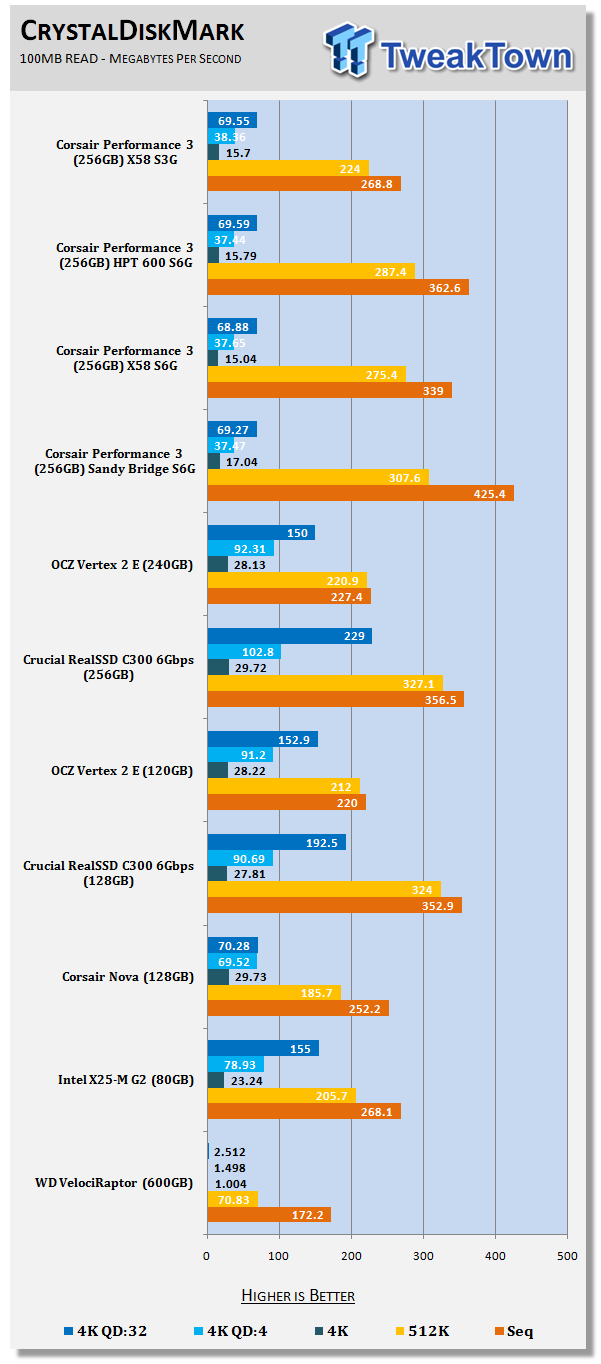 In CDM we are looking at 4K performance and 4K at depth (NCQ). You might have seen the 4K numbers of the Performance 3 in some of the forum discussions, but those talking are only looking at half of the story. The Corsair Performance 3 has around half the 4K speed of the SandForce SF-1200 drives, but it reserves so much power, kind of like cycles for a processor to clean the drive at the same time.
We would all like to have it both ways; high 4K performance and great long term performance, but if that were to happen we'd need a heat sink and a different form factor, not to mention the drive would take quite a bit more power.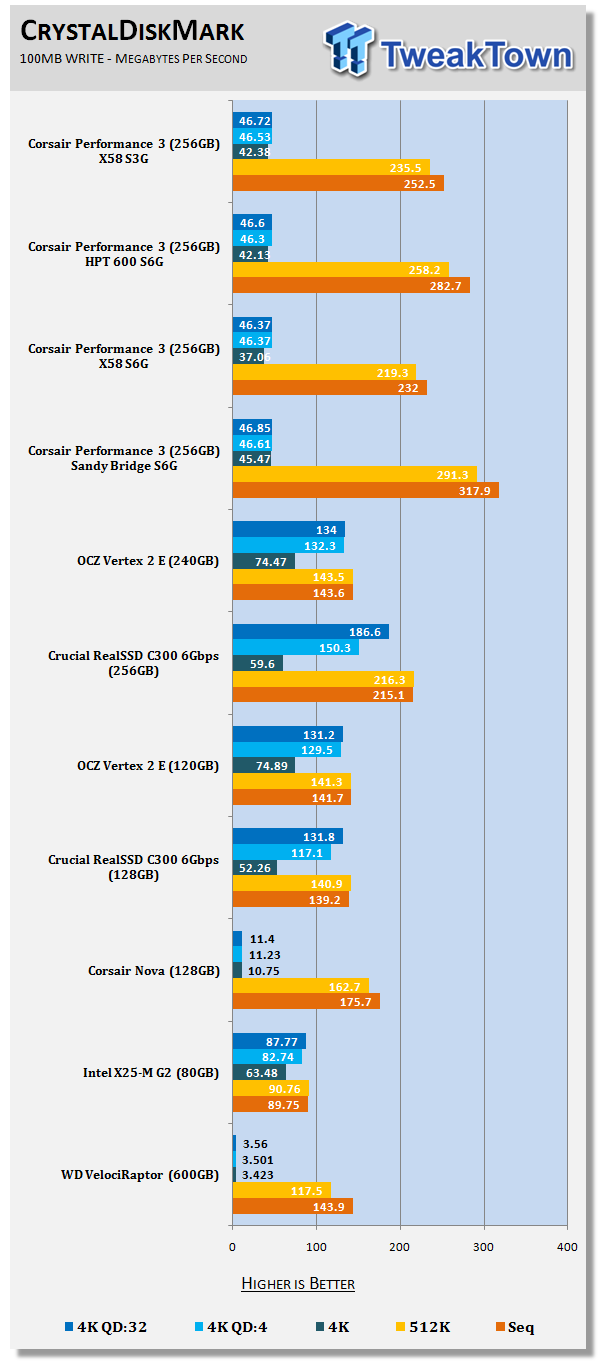 The write performance at depth caught me off guard. I was expecting better scaling, but it just wasn't there. Actually, there wasn't really any scaling at depth. This leads me to believe that either the drive doesn't respond to NCQ while writing data, or this is something that might be addressed in future firmware updates.
Benchmarks - PCMark Vantage Hard Disk Tests
PCMark Vantage - Hard Disk TestsVersion and / or Patch Used:
1.0.0
Developer Homepage:
http://www.futuremark.com
Product Homepage:
http://www.futuremark.com/benchmarks/pcmark-vantage/
Buy It Here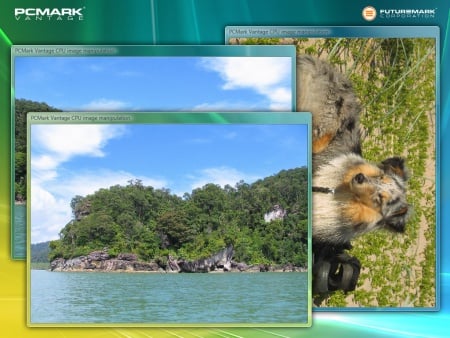 PCMark Vantage is the first objective hardware performance benchmark for PCs running 32 and 64 bit versions of Microsoft Windows Vista. PCMark Vantage is perfectly suited for benchmarking any type of Microsoft Windows Vista PC from multimedia home entertainment systems and laptops to dedicated workstations and high-end gaming rigs. Regardless of whether the benchmarker is an artist or an IT Professional, PCMark Vantage shows the user where their system soars or falls flat, and how to get the most performance possible out of their hardware. PCMark Vantage is easy enough for even the most casual enthusiast to use yet supports in-depth, professional industry grade testing.
FutureMark has developed a good set of hard disk tests for their PCMark Vantage Suite. Windows users can count on Vantage to show them how a drive will perform in normal day to day usage scenarios. For most users these are the tests that matter since many of the old hat ways to measure performance have become ineffective to measure true Windows performance.

HDD1 - Windows Defender
HDD2 - Gaming
HDD3 - Windows Photo Gallery
HDD4 - Vista Startup
HDD5 - Windows Movie Maker
HDD6 - Windows Media Center
HDD7 - Windows Media Player
HDD8 - Application Loading
Well, if this isn't a chart and a half.... Normally we would put the fastest of a series of tests at the top, but for this review we wanted to get the Corsair Performance 3 right next to the OCZ Vertex 2 240GB so you guys would easily see these two battling it out.
Here we see the two drives really getting dirty in the real world tests. The Performance 3 (with Sandy Bridge) wins some and at the same time the Vertex 2 wins some. This Vertex 2 was returned to My Digital Discount a couple of months after our test was over, so we don't have it for some extended tests.
PCMark Vantage - Fill Test
We did have a MemoRight 240GB drive in house that uses a similar configuration as the Vertex 2 240GB. These drives are not identical, but they do use the same SF-1200 and flash. They do not share the exact same programming or firmware. Let me set this up for you real quick, and then we can get back to the benchmark goodies.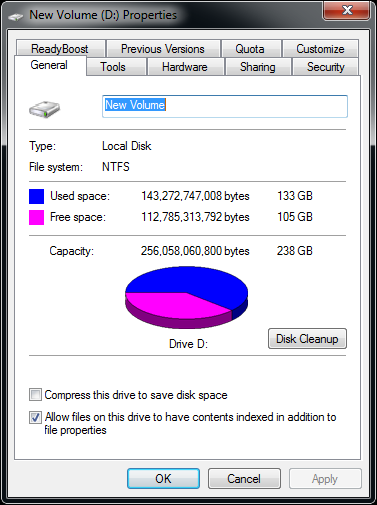 Corsair Performance 3 256GB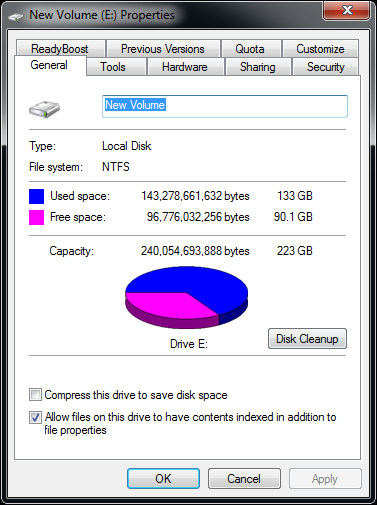 MemoRight FTM-25 240GB
Both drives were filled with roughly 133GB worth of data. This data was a mix of compressed files and non-compressed files. In the near future we will make a set of files available for testing several different capacity sizes of SSDs, but these files were real world files from my daily use notebook and NAS server.
In this chart we have the original benchmark runs with the drives empty and we have added the results of the drives with 133GB of data added. Things look quite a bit different now. The SandForce SF-1200 drive dropped performance across the board, but the Corsair Performance 3 actually gained some performance in some tests and lost very little in others.
Over time we will expand this type of coverage and include performance data from drives filled with 25%, 50% and 75% fill. The Corsair Performance 3 moved this type of testing up in this somewhat beta run. We felt that this story adds to the total picture and ignoring it would have led to a half truth review of the Performance 3.
Benchmarks - AS SSD
AS SSD BenchmarkVersion and / or Patch Used:
1.2.3577.40358
Developer Homepage:
Alex Intelligent Software
Product Homepage:
Alex Intelligent Software
Download here:
http://www.alex-is.de/PHP/fusion/downloads.php?cat_id=4&download_id=9
AS determines the performance of Solid State Drives (SSD). The tool contains four synthetic as well as three practice tests. The synthetic tests are to determine the sequential and random read and write performance of the SSD. These tests are carried out without the use of the operating system caches.
In all synthetic tests the test file size is 1GB. AS can also determine the access time of the SSD, the access of which the drive is determined to read through the entire capacity of the SSD (Full Stroke). The write access test is only to be met with a 1 GB big test file. At the end of the tests three values for the read and write as well as the overall performance will be issued. In addition to the calculated values which are shown in MB/s, they are also represented in IO per seconds (IOPS).
Note:
AS SSD is a great benchmark for many tests, but since Crystal Disk Mark covers a broader range of 4K tests and HD Tune Pro covering sequential speeds, we will only use the Copy Benchmark from AS SSD.
- Copy Benchmark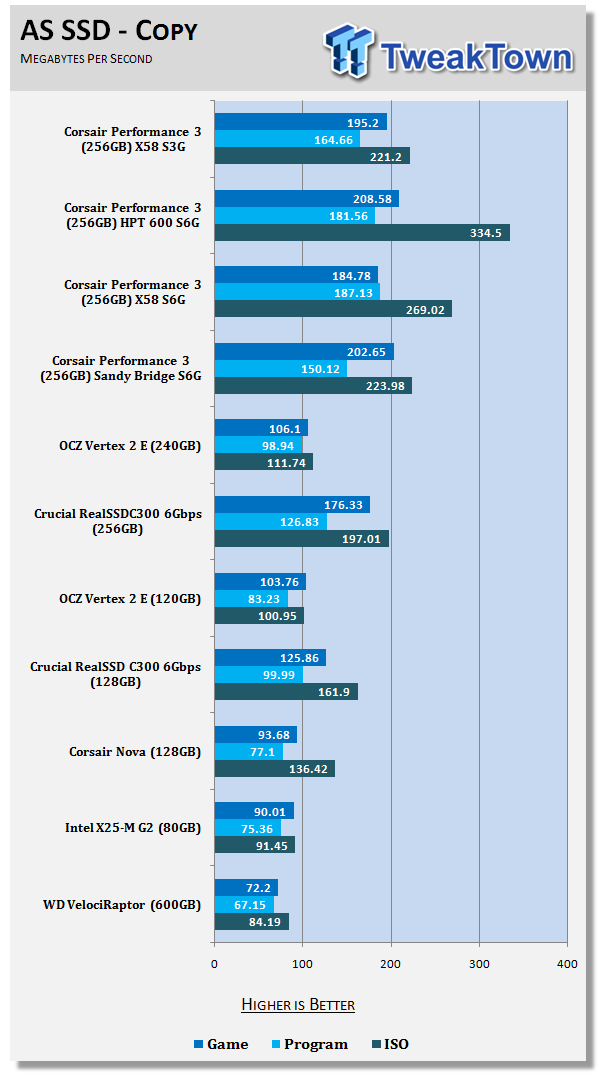 In the AS SSD Copy Test we found the Performance 3 has been the fastest single SSD we've tested to date. This is one area that SandForce has had difficulty in since it writes compressed data differently than it does data not compressed.
- Copy Benchmark - Fill Test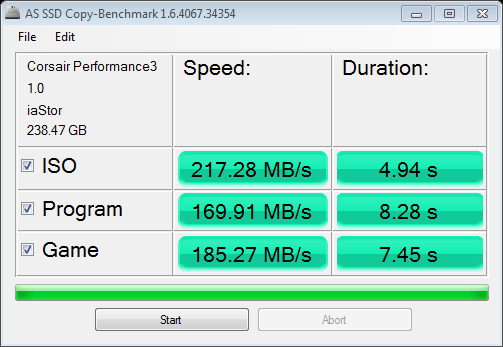 Corsair Performance 3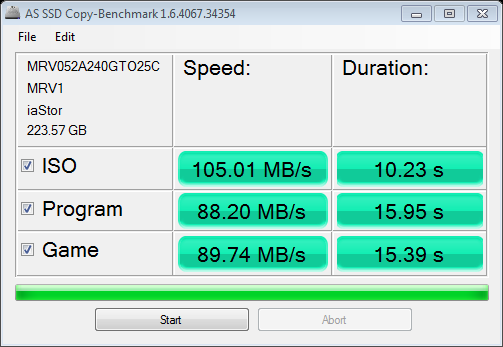 MemoRight FTM-25 240GB
Our new Fill Test is back again, this time with the same 133GB added to the drives and the test performed. In this test the Corsair Performance 3 doubles the MemoRight SF-1200 drive in all of the tests.
Benchmarks - Passmark
Passmark Advanced Multi-User TestsVersion and / or Patch Used:
6.1
Developer Homepage:
http://www.passmark.com
Test Homepage:
http://www.passmark.com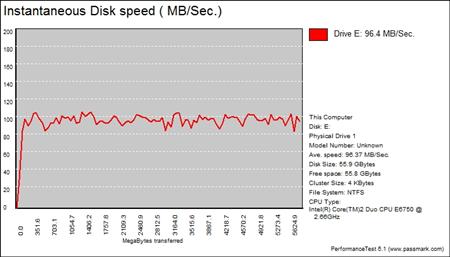 Many users complain that I/O Meter is too complicated of a benchmark to replicate results so my quest to find an alternative was started. Passmark has added several multi-user tests that measure a hard drives ability to operate in a multi-user environment.

The tests use different settings to mimic basic multi-user operations as they would play out on your server. Variances is read / write percentage as well as random / sequential reads are common in certain applications, Web Servers read nearly 100% of the time while Database Servers write a small amount of data.
The Workstation test is the only single user environment and will be similar to how you use your system at home.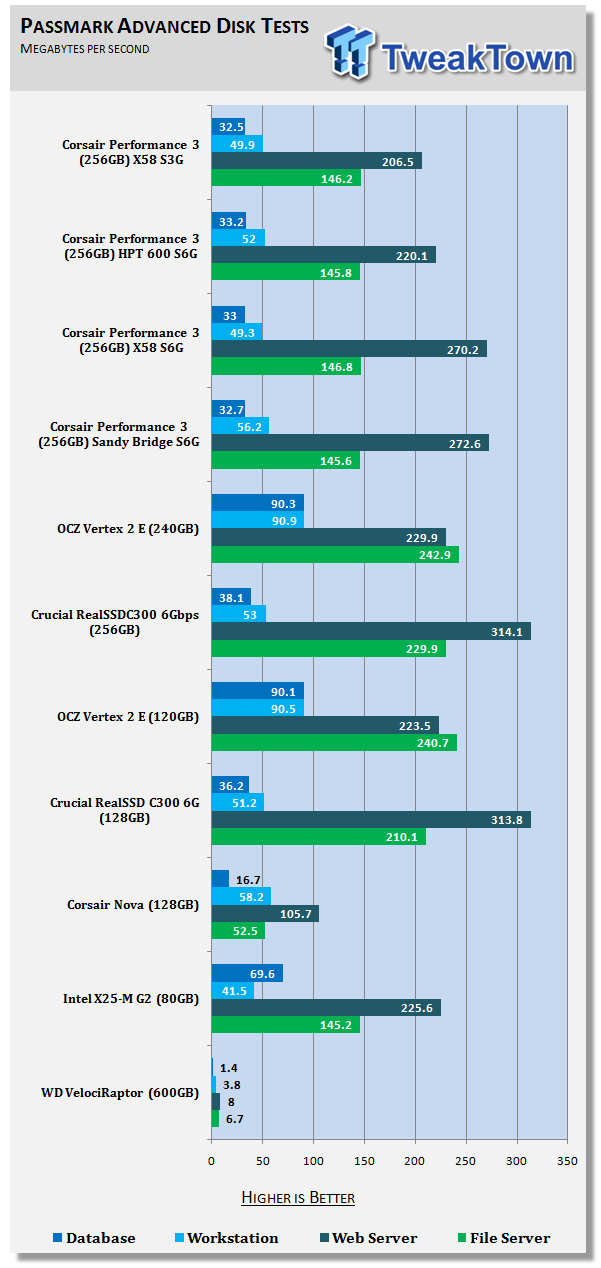 By giving up IOPS performance to gain real world performance when the drive has data on it, the Performance 3 loses quite a bit in the server tests. This is an area we will look at further in the future when the drives hold data.
Final Thoughts
The Corsair Performance 3 at this time is the tiger hiding in the bushes. The 64GB, 128GB and 256GB drives have been in e-tail warehouses for several weeks now. Corsair hasn't done a whole lot to advertise the drives or get them into reviewer's hands. Maybe it is the current economy, or maybe it is the complexity in testing this new generation of products that has Corsair a little worried to pull the trigger on this release. A few drives have shown up in 'forum reviews', but no one has touched on the most impressive or relevant features. SSDs are complicated and storage products are entering an area where there are more variables involved than ever before. The Corsair Performance 3 pulls resources from one area that makes benchmarks look good, but does so to give a better overall user experience.
Right out of the box the current lineup of Team SandForce consumer drives appear faster than the new Corsair Performance 3 that uses an updated Marvell controller. You and I might benchmark drives right out of the box, but when it comes to using solid state drives in our computers, they are dirty; like how your kids get at the little league ball park. Once that dirty weight builds up on your SandForce drive it slows down like it has a few pounds of mud on its shoes. The Corsair Performance 3 is like having a pair of shoes made of Teflon and Stainguard covering it. The drive can perform at full speed while tromping through the mud. If benchmarking your drive is all you want to do, then by all means, stick with the 2010 standard and have a good time. If you want to actually use your new SSD as a boot drive, then it might be time to look to the future.
That said, there is some deep mud out there and it might be deep enough to get past the shoes; your pants might get a little dirty. The first issue is cost. When Newegg first started selling the 256GB Performance 3 it cost 499 USD. At the time of writing
Newegg listed the 256GB drive at 749.99
! - Okay, maybe the mud is high enough to make your pants dirty. This isn't anything new, though. Over the next few weeks more drives will hit their warehouse and the prices will start to drop back down to levels that aren't so offensive.
The next issue is Sandy Bridge. If you want to really rock the Corsair Performance 3, you are going to need Sandy Bridge and at this time it just isn't possible. Sandy Bridge will be back on the shelves in a few days, maybe a week or two at the latest. Personally, I think most enthusiasts are already running X58 systems and waiting on X68 or whatever Intel will call their new enthusiast platform at the end of the year. Most X58 boards already have SATA 6G via a Marvell PCIe to SATA 6G chip. These will work fairly well; we've shown the benchmarks today, but if you want to really see full speed with the Corsair Performance 3 you need native Intel PCH SATA 6G and at this time it is only available on Sandy Bridge.