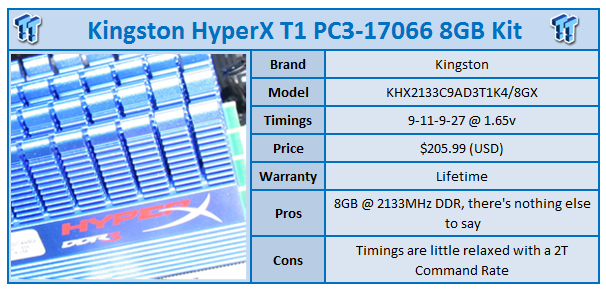 With the release of P67 has come a massive amount of memory to look at, and as I was sitting here testing a bunch of 2133MHz DDR 4GB kits, I was thinking to myself; I wonder if we could get two kits of something and have 8GB of memory running at 2133MHz DDR. I knew it would have to come in the form of four modules, as there are simply no 4GB modules that carry 2133MHz rated speeds.
Of course, four modules and all, your memory banks full can open up a whole lot of more issues. Anyway, I continued to think that once CNY was over I would email someone and see if they could send another 4GB 2133MHz DDR kit over to see if it was possible.
Much to my surprise, I already had a set in the form of Kingston HyperX. I originally thought the Kingston was two different sets, but when I examined it, even though packed in pairs, it's an 8GB kit. In conclusion, it seemed like I was going to answer my own question a lot sooner than I thought.
The packaging is pretty simple, there are two versions of the HyperX package; the normal brown box, and a more retail looking one. We got the boring one. No big deal, though, as we weren't interested in that.

The modules themselves hold no surprises; they're the tried and trusted T1 heatsink that we've been seeing for ages from Kingston and it's always been a pretty good heatsink.
Specification wise, the kit is a 2133MHz DDR one as we mentioned at the start. As for timings, they come in a little relaxed at 9-11-9-27-2T @ 1.65v. They're quite loose, but considering we're dealing with a kit that's guaranteed to work with four modules at this speed, the timings don't come as a shock.

With all our memory banks full we fired up the BIOS, set everything to what it's supposed to be at and got on our way. We got straight in to Windows with no issues and you can see that CPU-Z validation
here.
With that all going well, it was time to check out a couple of benchmarks to see what we can do.
Under AIDA64 we ended up with Read / Write numbers of
20,996 MB/s / 18,144 MB/s
, Copy speed of
22,475 MB/s
and latency of
40.7ns
. Looking at SiSoftware Sandra, our memory bandwidth numbers are
27,190 MB/s
for Integer and
27,200 MB/s
for Float.
They're not the highest 2133MHz DDR speeds we've seen; they're probably one of the lowest, but that's due to the more relaxed timings. With that all looking good, it was time for a reboot to get back into the BIOS. We've had some luck lately setting our BCLK to 104 and we thought we'd try the same thing with this kit.
Not expecting it to boot for the simple reason being all the banks where full, I was pleasantly surprised when it did and we got into Windows with again with no problems. You can see that CPU-Z validation
here.
At 2219MHz DDR it was time to fire up the benchmarks again and see what kind of performance boost we could achieve.
Under AIDA64 we ended up with Read / Write numbers of
21,885 MB/s / 18,920 MB/s
, Copy speed of
22,065 MB/s
and latency of
93.1ns
. Looking at SiSoftware Sandra, our memory bandwidth numbers are
28,290 MB/s
for Integer and
28,220 MB/s
for Float.
We ended up with a nice little boost across the board. With that all running fine, we decided to jump back in the BIOS and just push our CPU multiplier up. We've had a good run of putting it to 45 and firing up our testbed at over 4.5GHz.
It wasn't meant to be this time, which we can honestly say wasn't a surprise. Instead we dropped it down to 43 and it fired up and got into Windows. This put our CPU at 4472MHz and our memory stayed the same at 2219MHz DDR.
We again managed to get a nice performance boost and under AIDA64 we ended up with Read / Write numbers of
24,360 MB/s / 23,232 MB/s
.
Below you can also see both our copy speed and latency improved.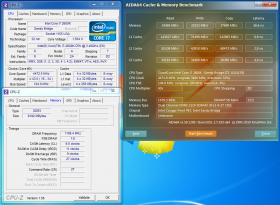 With everything working so well, I thought we'd push our luck a little and see if we could drop the kit down to 1T. Unfortunately it wasn't meant to be with our testbed choosing not to post.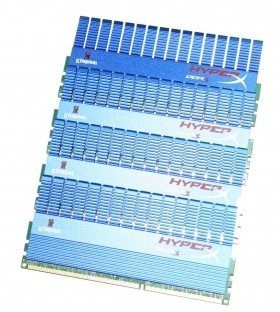 I can honestly say, though, at the end of it all the Kingston kit managed to perform better than I thought it would. Of course, we expected it to work at the default timings, otherwise Kingston wouldn't be selling it, but to then fire up at over 2200MHz DDR, we were shocked. Not because we didn't think Kingston couldn't do it, but more so because when you fill up all your RAM banks, overclocking can be quite hindered.
Priced at $208.99 USD
, the kit as amazing value considering most 2133MHz DDR kits sit around the $150 USD mark. Sure, the timings are a little more relaxed, but it's a small price to pay for the speed you're able to achieve and the luxury of having 8GB of memory to play with.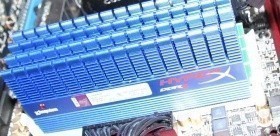 Kingston has always been a personal favourite of mine and what I've always loved about the company is they offer this higher end memory that runs a little more relaxed than some other competitors, but just works in absolutely everything. Throw in the fact you're not paying twice as much as other 2133MHz DDR kits for twice the amount of memory, and you've got a fantastic kit on offer.