Quick Review: OCZ Gold XTE Series PC3-17000 4GB Kit
We check out a more P67 friendly Gold series kit from OCZ which carries a default 2133MHz DDR clock.
Published Mon, Feb 14 2011 8:53 AM CST
|
Updated Tue, Nov 3 2020 7:02 PM CST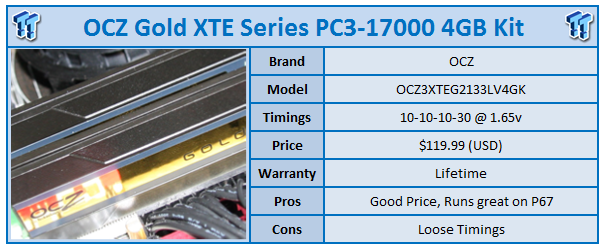 While on the P55 platform 2000MHz DDR memory worked great due to our divider choices, and 2133MHz was a bit of a pain due to having to tweak extra settings, the tables have really turned on the latest Intel chipset.
We've mentioned already a number of times, including in our
OCZ Platinum XTE review
of the 2000MHz DDR kit, because of there being no divider for 2000MHz DDR you have to adjust the very limited BCLK. What it ultimately means is a bit of a hit and miss experience with 2000MHz DDR memory. If it's good overclocking RAM, you'll be ok. If not, you could struggle to hit the default clocks due to the limited option in the BIOS.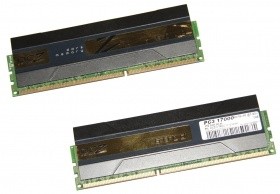 Today, though, we hope to completely miss that issue with the Gold XTE series which while lower on the food chain in the OCZ line up; does carry with it a higher clock speed; in this case 2133MHz DDR.
Like the Platinum series there's not much going on in the package with the two modules being the main highlight. The two 2GB modules come in at 2133MHz DDR as we have already mentioned, and on the timings front we're seeing a 10-10-10-30-1T @ 1.65v setup.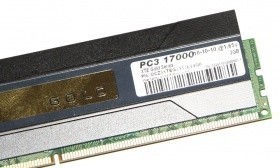 Setting our motherboard to run at 2133MHz DDR and manually setting the timings and voltage to as above result in a boot up straight away. You can see that CPU-Z validation
here.
Now in Windows at the default speeds, it was time to see what performance was like.
Under AIDA64 we ended up with Read / Write numbers of
21,260 MB/s / 18,148 MB/s
, Copy speed of
22,248 MB/s
and latency of
39.9ns
. Looking at SiSoftware Sandra, our memory bandwidth numbers are
27,210 MB/s
for Integer and
27,220 MB/s
for Float.
For 2133MHz DDR memory these are some of the slower numbers we've seen and that's due to the more relaxed timings that are present on this kit. Since most kits we've looked at haven't had any problems dealing with a slight bump in the BCLK, we have done the same to the OCZ hoping that the looser timings that are present will mean it won't run into any problems.
With the BCLK set to 103 and no problem getting into Windows, we went back into the BIOS and set it to 104. What we ended up with was a memory clock of 2219MHz DDR which is the highest we've had on this machine so far. No doubt the looser timings helped. You can see that CPU-Z validation
here
. And now it's time to see what the increased speed does for performance.
Under AIDA64 we ended up with Read / Write numbers of
22,126 MB/s / 18,917 MB/s
, Copy speed of
23,370 MB/s
and latency of
38.7ns
.
Looking at SiSoftware Sandra, our memory bandwidth numbers are
28,330 MB/s
for Integer and
28,110 MB/s
for Float.
Like our other kits that we've had joy overclocking with, we headed back to the BIOS and changed our CPU multiplier to 45. While we booted, we couldn't get in to Windows, so what we did was drop the BCLK from 104 to 103 like our other kits and we got into Windows with no dramas.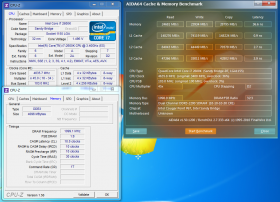 Once in we went back too AIDA64 and ended up with Read / Write numbers of
24,681 MB/s / 23,934 MB/s
. You can also see our improved copy and latency numbers in the screenshot above.
At default the OCZ performs a little slower than the other 2133MHz kits we've looked at due to those looser timings. Those same timings do two things for us, though. One, they give us the ability to overclock a little higher. Secondly, and probably more importantly, the looser timings help keep pricing down, making this the cheapest 2133MHz DDR kit we've tested.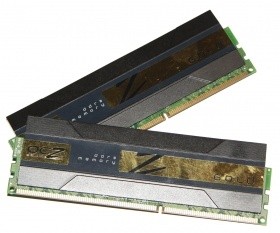 If you're after the MHz more than anything else, this is a great little kit as it carries with it a cheaper price tag. The more relaxed timings also give us a little more headroom when it comes to overclocking. Of course, you could relax the timings on other kits, but you're going to be paying more, so we're not sure why you would choose that option.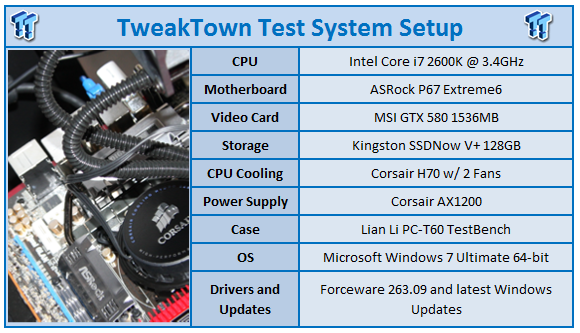 PRICING: You can find products similar to this one for sale below.

United States: Find other tech and computer products like this over at Amazon.com

United Kingdom: Find other tech and computer products like this over at Amazon.co.uk

Australia: Find other tech and computer products like this over at Amazon.com.au

Canada: Find other tech and computer products like this over at Amazon.ca

Deutschland: Finde andere Technik- und Computerprodukte wie dieses auf Amazon.de