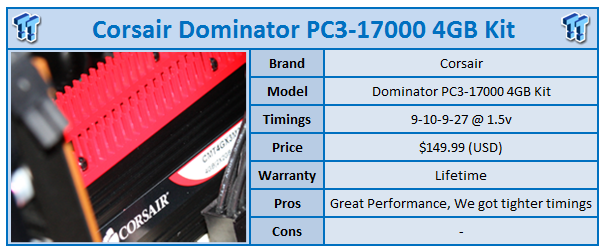 When we heard about how overclocking wasn't going to work via the BCLK on the P67 chipset, it really made me wonder how companies were going to attack the higher end RAM market. For years we've used a combination of dividers and a high BCLK to achieve high memory speeds; with only dividers available now we wouldn't be able to fine tune as much.
So in came the beloved Dominator series from Corsair which we know from past experience is designed for high speed. The question was, though, how will we go about getting to the 2133MHz DDR default clock that Corsair is offering us?
Before that, though, we'll look at the modules. Being part of the Dominator series, you're not going to see anything that really surprises you. We've got the black and red modules with Dominator tagging.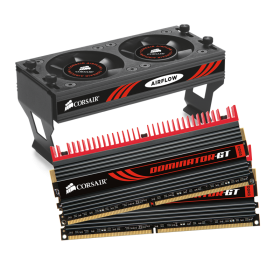 Also in the bundle we've got the Corsair Airflow II fan that'll help just get a little bit more air across the top of the modules to make sure you don't have any problems getting the stock speeds, which in this case are quite high. As we mentioned already, the PC3-17000 kit comes with a default 2133MHz DDR clock.
At 2133MHz DDR the modules come in with a 9-10-9-27-2T setup. On one side those timings are a little bit more relaxed than others, but at the same time the kit carries with it such a high speed default clock.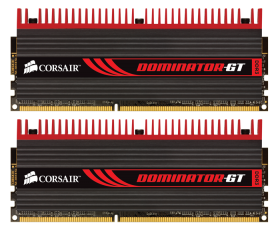 Getting into the BIOS of our ASRock P67 Extreme6, it was an absolute breeze getting that default 2133MHz DDR clock. We could use the XMP profile, or under "DRAM Frequency" select the highest option which was 2133MHz DDR.
We went the XMP path and got into Windows which resulted in our RAM speed running at only 1800MHz DDR. It seems there's still some teething issues with overclocking RAM on the P67 chipset at the moment, so we went back into the BIOS and selected 2133MHz under the "DRAM Frequency" section and had all our timings set to AUTO.
Once we got in Windows I found myself surprised that we even booted. For some reason when set at AUTO our timings came in at 9-10-10-24-1T which is a fair bit more aggressive than the default ones. Since that worked, we fired up our two memory benchmarks and saw what kind of performance we were able to achieve with these timings.
Under AIDA64 we ended up with Read / Write numbers of
21,457 MB/s / 18,262 MB/s
. Looking at SiSoftware Sandra, our memory bandwidth numbers are
27,550 MB/s
for Integer and
27,630 MB/s
for Float. These are impressive numbers to say the least.
Anyway, we went back into the BIOS and set the timings manually to 9-10-9-27-2T and again fired up our benchmarks. You can see that CPU-Z validation
here.
Under AIDA64 we ended up with Read / Write numbers of
21,263 MB/s / 18,263 MB/s
. Looking at SiSoftware Sandra, our memory bandwidth numbers are
27,300 MB/s
for Integer and
27,220 MB/s
for Float. Even with the timings relaxed off a little, we can see that the performance is very similar.
I really like this kit of RAM for a few reasons, and to be honest it's not just Corsair that make it so nice to deal with. Slide it into our ASRock P67 Extreme6 board, select 2133MHz, set the timings and we're good to go.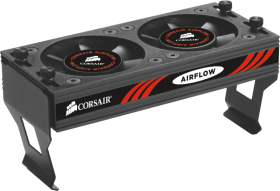 No longer is the "Dominator" series something that the most "hardcore" overclocker needs to be looking at. Sure, it's great for them, but you don't need to be a BIOS genius to get the most out of this RAM. Corsair give us a kit that offers great performance and runs like a gem at its default spec and Intel have given us a great chipset that opens up the easy use of this high speed memory for the masses.
The Vengeance kit is a really nice new series and if you want to save some money it's a fantastic option. If you want to crank that DDR speed right up, though, you can't go past the Dominator series and especially the kit we're looking at today.