Quick Review: Corsair Vengeance Series PC3-12800 8GB Kit
With our P67 platform now set up, it's time to see how it handles some new RAM. We check out the 8GB Vengeance kit from Corsair today.
Published Tue, Jan 4 2011 7:57 AM CST
|
Updated Tue, Nov 3 2020 7:02 PM CST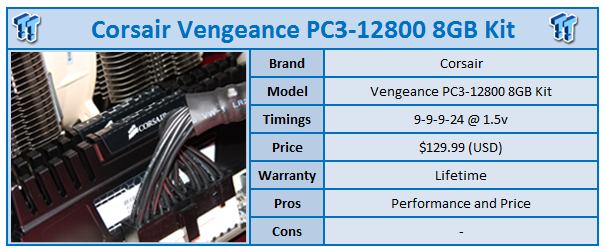 The release of P67 hasn't done much in the way of RAM requirements, which for the most part is great. We say for the most part only because the lack of changes means that there's nothing super exciting about RAM on the new platform.
With that said, though, there's a change when it comes to JEDEC standard; 1600MHz DDR being the stock minimum clock now and CL9 timings also being the minimum at those speeds. Companies aren't going to have an issue, though, as we've been dealing with speeds well above 1600MHz DDR for a long time now.
So the good news is that if you want to upgrade to P67 from your P55 platform, which as we've shown you in our articles on Sandy thus far, would be quite a nice upgrade, you won't need to buy yourself new memory if you're using something decent already. This is great news for people who have invested in more expensive memory.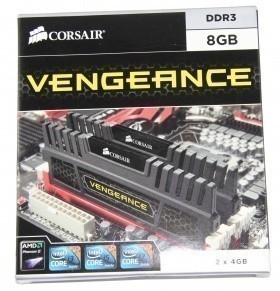 The first company to bring memory to us for the new P67 platform is Corsair with the Vengeance series. This isn't the first time we've looked at the series. Actually, the last RAM review we did was pretty much the exact same kit, but in triple channel form.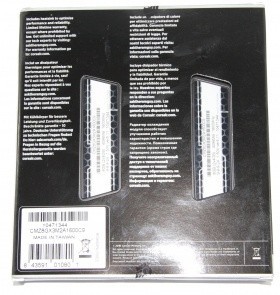 The kit we're looking at today is the CMZ8GX3M2A1600C9 which translates to a Corsair Vengeance 8GB PC3-12800 kit. Getting a bit more technical, the kit is a CL9 one with a 9-9-9-24-1T setup at 1.5 volts.
We didn't have any problems at all achieving these speeds on our new P67 Extreme6 ASRock platform via the XMP profile. Once up and running we fired up CPU-Z and you can see our validation
here.
While the modules themselves are pretty much identical to the 12GB kit we looked at previously, we of course don't expect the same kind of performance because P67 is a Dual Channel platform unlike X58 which is triple channel. With that said, we fired up AIDA64 Extreme Edition which was formally known as Everest Extreme Edition.
Under AIDA64 we ended up with Read / Write numbers of
18,434 MB/s / 17,570 MB/s
which are very impressive. Looking at SiSoftware Sandra, our memory bandwidth numbers are
21,000 MB/s
for both Integer and Float.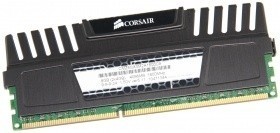 With default running all good, it was time to see if we could get some more out of the kit. You'll have to excuse us a little as we're new to P67 overclocking and due to CPU overclocking being exceptional in that you use the multiplier, the lack of BCLK adjustment makes memory overclocking a little harder.
Under the BIOS we were limited by our options when it came to memory overclocking. We moved from 1600MHz DDR, though, to 1866MHz DDR leaving all the timings at Auto. We had no problems getting into Windows, but with the timings set at Auto we ended up in Windows at 9-13-13-34-1T at 1.5v. You can see our CPU-Z validation on that
here.
Since we were in Windows, it seemed silly to not test the kind of performance we could get out of the kit in this instance. Under AIDA64 we saw our Read / Write numbers improve to
19,806 MB/s / 17,971 MB/s
, which is a nice little increase. Under Sandra we saw Integer / Float jump to
23,750 MB/s / 23,800 MB/s
.
Since when we moved to AUTO the timings went a little all over the place, we decided to go back into the BIOS and set the timings manually to 9-9-9-24-1T. Our board fired up, but as we started to get into Windows the system automatically rebooted.
We could've stopped there, but instead decided to just loosen the timings up a little, but not quite as much as they were when running AUTO. While we stayed at 1866MHz DDR, we only had to move a little on the timings which you can see in our CPU-Z validation
here.
You can see we ended up with a 9-10-10-24-1T setup which is only slightly more relaxed than the standard 9-9-9-24-1T setup.
Back in AIDA64 we saw our Read / Write numbers improve again slightly to
20,080 MB/s / 17,970 MB/s
and Sandra saw slight improvements in Integer and Float to
24,210 MB/s / 24,200 MB/s.
To achieve the last setup we did bump the voltage from 1.5v to 1.545v which is really nothing. Of course, though, it's something that we have to note. Most people wouldn't have an issue bumping the voltage to that.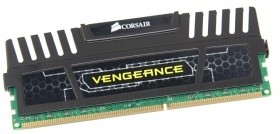 In all this is a fantastic kit of RAM if you're looking for something to go in your new P67 based system. Of course, you can use it in a P55 one and overclocking would yield more options as BCLK comes in to play, but if you're looking for a kit to go with your shiny new P67 system and want an 8GB one instead of a boring ol' 4GB one, this is a great purchase.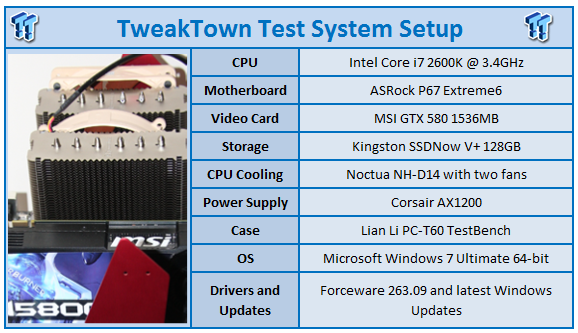 PRICING: You can find products similar to this one for sale below.

United States: Find other tech and computer products like this over at Amazon.com

United Kingdom: Find other tech and computer products like this over at Amazon.co.uk

Australia: Find other tech and computer products like this over at Amazon.com.au

Canada: Find other tech and computer products like this over at Amazon.ca

Deutschland: Finde andere Technik- und Computerprodukte wie dieses auf Amazon.de