Sapphire Radeon HD 6970 2GB Video Card
We check out the new cream of the crop from AMD. Make way for the HD 6970 which carries with it a juicy 2GB of GDDR5.
Published Tue, Dec 14 2010 10:38 PM CST
|
Updated Tue, Nov 3 2020 7:02 PM CST
Introduction and Package
Introduction

So
we checked out the HD 6950 already
and it's time to check out the big brother to the card; the HD 6970. We left feeling a bit of mixed emotion when it came to the HD 6950; it offered great value for its price bracket, but the said price bracket doesn't really have any competition. Instead, the card sits between others.
The HD 6970 is more expensive, though, and it's going to be inevitably faster. The question we ask is, how much faster? - Well, we'll find out soon enough. There's really not much need to go into much more detail here. Instead we can just start to check out the package that Sapphire is offering us before we check out the actual card, the specifications and of course, the performance!
Since there's no point carrying on here any further, let's check out the package.
The Package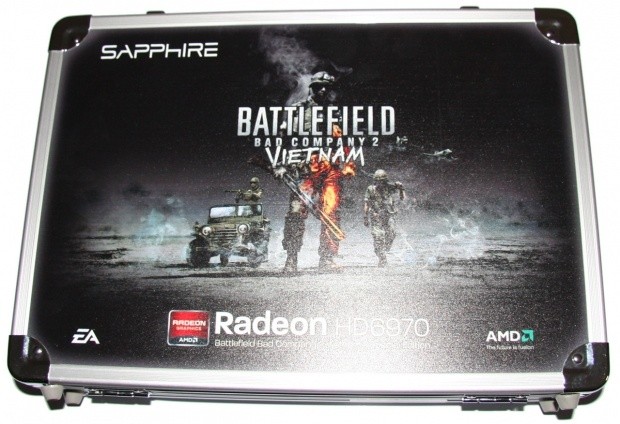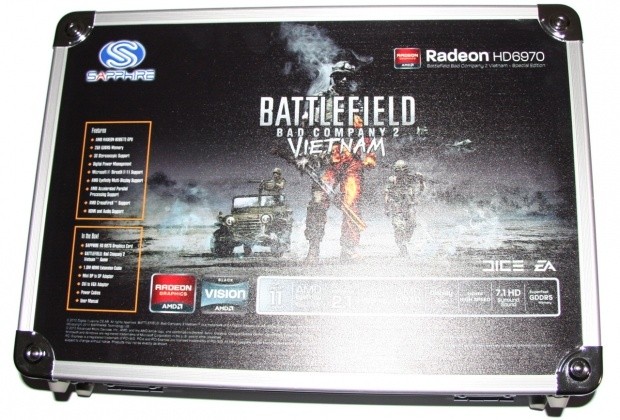 Sapphire made the effort to send us the fancy package of the HD 6970, and oh my, is it fancy! - I love these aluminum cases and being a fan of the Battlefield series, this one especially holds a special place in my heart.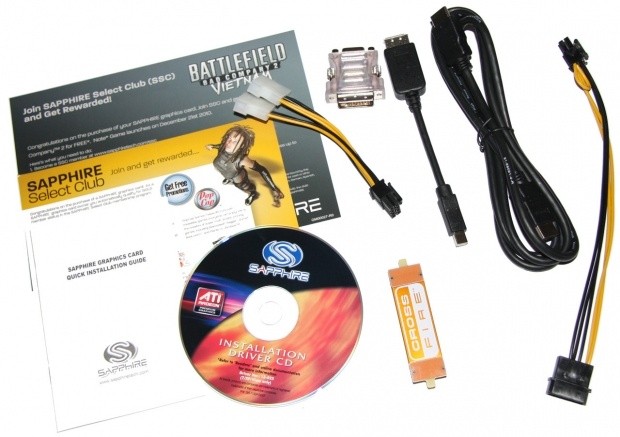 Opening up the case, we've got the normal array of cables and paperwork you would expect, which includes information on Sapphire Select Club, a Driver CD and quick install manual. On the cable front we've got a dual Molex to 8-Pin, Molex to 6-Pin, DVI to VGA, mini-DP to DisplayPort, HDMI cable and Crossfire connector.
Also included as you might've figured is a copy of Battlefield Bad Company 2 which you can download. You've got to go through the Sapphire Select Club to get it, but the instructions on how to get it are there and you shouldn't run into any problems.
It's nice to see a game included in a bundle. It feels like it's been ages since a company has included a game, but more importantly, it's nice to see a
good
game in a bundle; something that is even rarer.
Card and Specifications
The Card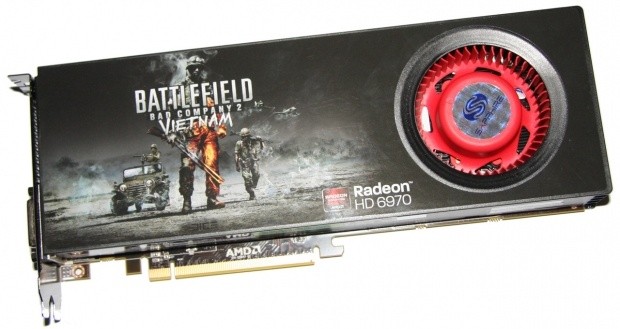 In the looks department you're not seeing anything too different to what you saw out of the HD 6950. Of course, Sapphire have added their own sticker to the card and again being a huge Battlefield fan, I love the Bad Company 2 Vietnam thing that they have going on.
It seems that Sapphire want to make sure they separate themselves from the pack this release and with the package they've put together, we'd say they're doing a good job.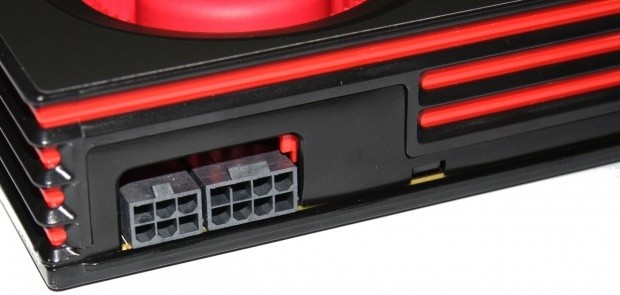 In the power department we've got a little more going on this time around. While the HD 6950 carried with it two 6-Pin PCI-E power connectors, this one carries only one. It does instead carry an 8-Pin PCI-E power connector for its second one, though.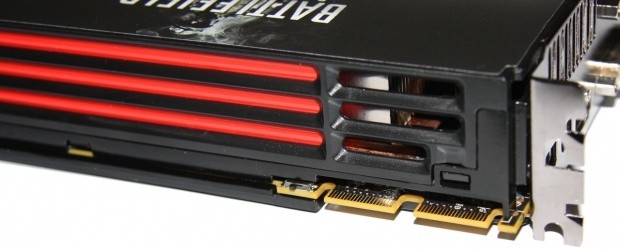 Looking at the Crossfire connectors, we've again got support for more than two cards. Here we've also got that little switch which as we mentioned in our HD 6950 review lets you switch between two different BIOS'.
To extract from my HD 6950 review; "
We had seen images of this float around the net and there was plenty of speculation as to what this switch would do. Well, today we can tell you; AMD say it's a Dual BIOS option that allows for safer end user updates.
Setting 1 is unprotected for user updates, and setting 2 is protected as factory defaults. The way it ultimately works is if you flash your card and it goes wrong, you can flick the switch and boot up off the default BIOS. It mainly helps prevent the bricking of cards.

At the moment we're not 100% sure how companies are going to make use of this feature, but we're sure in the coming weeks we'll see companies like Sapphire attack it with models like the TOXIC.
"

Connectivity wise we've got the same setup as both the HD 6950 and HD 6870. That means two mini-DP 1.2 ports, HDMI 1.4a and two DVI ports, one Single-Link and the other Dual-Link.
Specifications
The main specification boost the HD 6970 offers over the HD 6950 is the increased Stream Processors; we see it move from 1408 via 22 SIMD to 1536 via 24 SIMD. So many people expected to see 1600. It's possible that AMD are maybe keeping something up their sleeve for later, though.
Texture units have been bumped as well from 88 to 96; ROPs and Z-Stencil stay the same, though, at 32 and 128. The 256-bit memory bus is also the same along with the 2GB of GDDR5 being standard.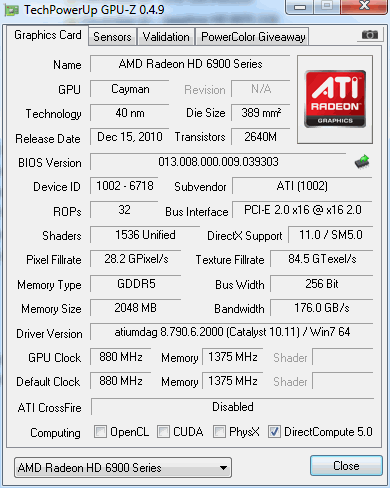 Clocks have been bumped, which is something you would expect. We go from 800MHz to 880MHz on the core and the memory jump from 5GHz QDR to 5.5GHz QDR.
Overclocking later down the track should yield some amazing numbers, especially when it comes to the memory clock.
Test System Setup and 3DMark 11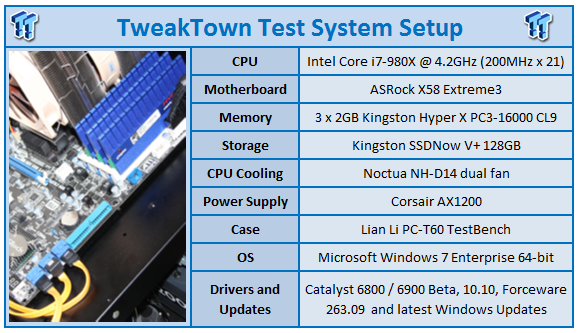 We would like to thank the following companies for supplying and supporting us with our test system hardware and equipment:
Intel
,
ASRock
,
Kingston
,
Mittoni
,
Noctua
and
Corsair
.
Everything you saw in the HD 6950 review will also be seen in this review, including the HD 6950 results. That means the HD 6870, HD 6850 and both cards in Crossfire will be seen, along with the HD 5870. On the NVIDIA front we've got the GTX 480, GTX 580 and the pre overclocked GTX 570 Goes Like Hell edition from Gainward.
Since we don't have a stock GTX 570, the best thing to look at when comparing performance of the HD 6970 to a stock GTX 570 is to look at the GTX 480 results. Between the GTX 570 and GTX 480 there's not much difference.
If you didn't read our HD 6950 review, we've removed Final Fantasy XIV from our benchmarks due to it being a benchmark that runs in windowed mode. Since Crossfire doesn't work in windowed mode, it meant the results at the end of our TPR graphs were quite skewed towards NVIDIA when it came to multi card setups.
We've added 3DMark 11 and replaced the original H.A.W.X. with H.A.W.X. 2. Vantage has been dropped from our TPR graphs, but the two new benchmarks have been added to it.
Let's get started!
3DMark 11Version and / or Patch Used:
1.0
Developer Homepage:
http://www.futuremark.com
Product Homepage:
http://www.3dmark.com/3dmark11/
Buy It Here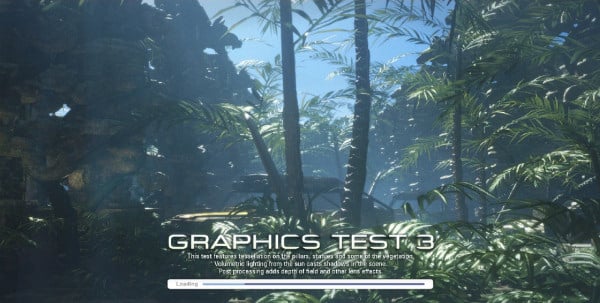 3DMark 11 is the latest version of the world's most popular benchmark. Designed to measure your PC's gaming performance 3DMark 11 makes extensive use of all the new features in DirectX 11 including tessellation, compute shaders and multi-threading. Trusted by gamers worldwide to give accurate and unbiased results, 3DMark 11 is the best way to consistently and reliably test DirectX 11 under game-like loads.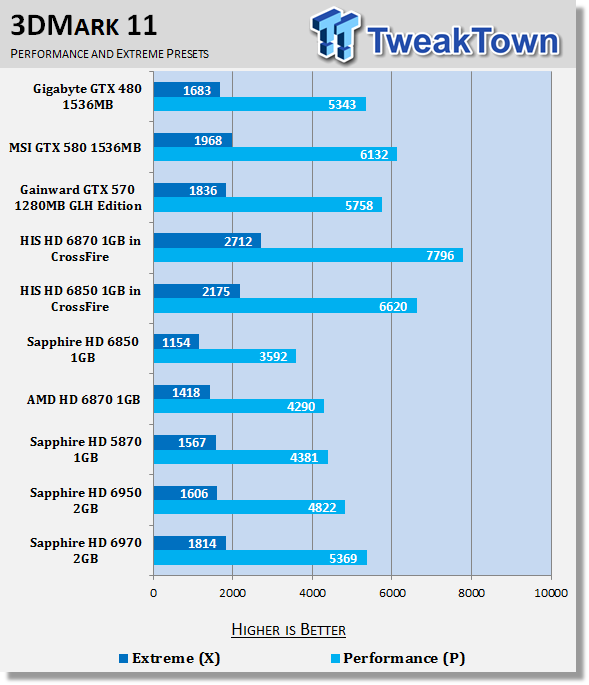 In 3DMark 11 we can see a nice boost over the HD 6950. Compared to the NVIDIA cards, you can see we're a little faster than the GTX 480, more so at the higher resolution.
3DMark Vantage
Version and / or Patch Used:
1.0.1
Developer Homepage:
http://www.futuremark.com
Product Homepage:
http://www.futuremark.com/products/3dmarkvantage/
Buy It Here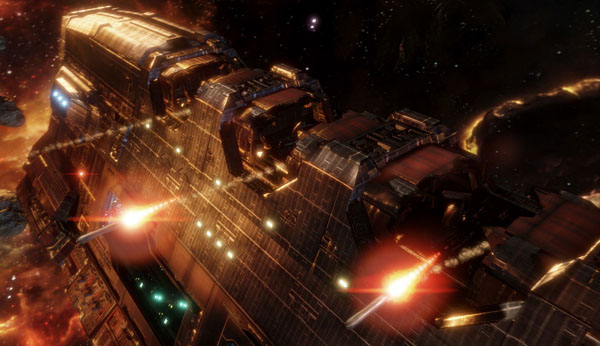 3DMark Vantage is the new industry standard PC gaming performance benchmark from Futuremark, newly designed for Windows Vista and DirectX10. It includes two new graphics tests, two new CPU tests, several new feature tests, and support for the latest hardware.
3DMark Vantage is based on a completely new rendering engine, developed specifically to take full advantage of DirectX10, the new graphics API from Microsoft.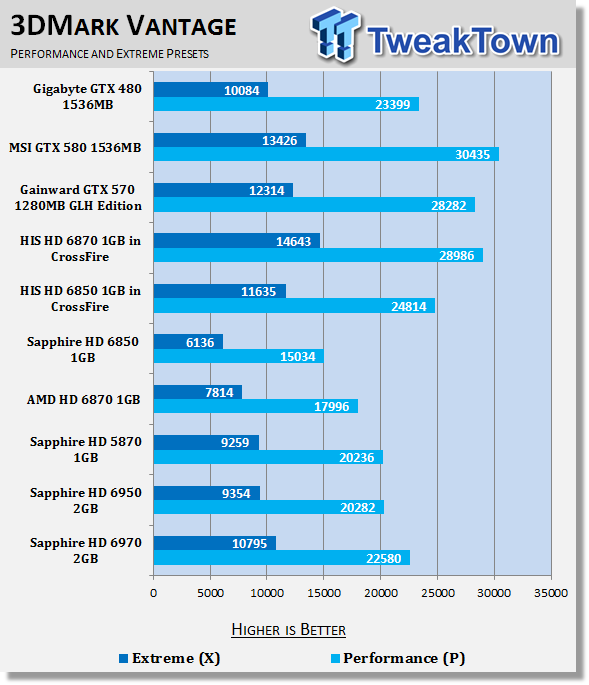 Even though Vantage makes use of PhysX, we can see that at the higher resolution X preset the HD 6970 is able to outperform the GTX 480. AMD have been performing very strong at the higher resolution and it seems to continue with the HD 6970.
Unigine Heaven Benchmark
Version and / or Patch Used:
2
Developer Homepage:
http://www.unigine.com
Product Homepage:
http://unigine.com/press-releases/091022-heaven_benchmark//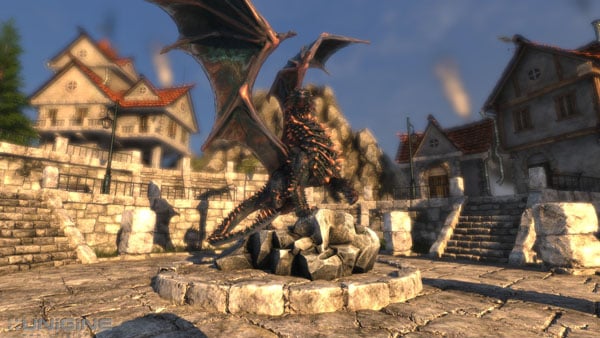 New benchmark grants the power to unleash the DirectX 11 potential in the gift wrapping of impressively towering graphics capabilities. It reveals the enchanting magic of floating islands with a tiny village hidden in the cloudy skies. With the interactive mode emerging experience of exploring the intricate world is ensured within reach. Through its advanced renderer, Unigine is one of the first to set precedence in showcasing the art assets with tessellation, bringing compelling visual finesse, utilizing the technology to the full extend and exhibiting the possibilities of enriching 3D gaming.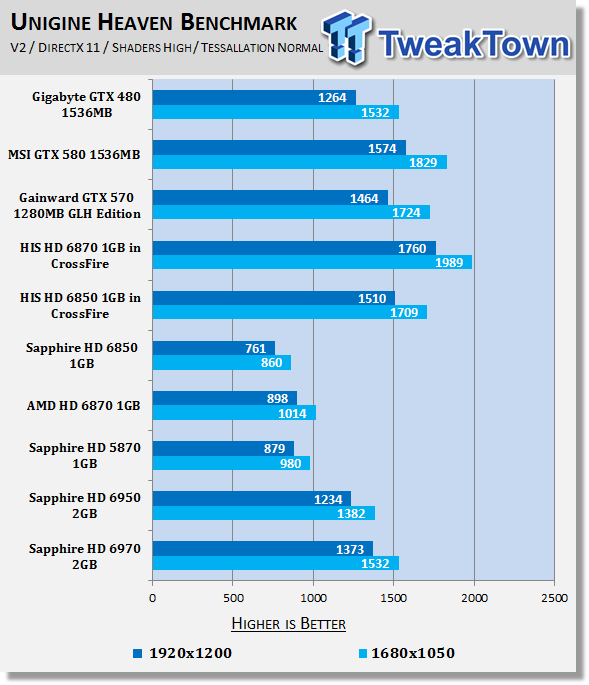 We again see that compared to the GTX 480 the performance at 1680 x 1050 is identical. At 1920 x 1200, though, there's a clear separation between the two models with the HD 6970 being the faster option.
Benchmarks - Resident Evil 5
Resident Evil 5Version and / or Patch Used:
Demo Benchmark
Developer Homepage:
www.residentevil.com/
Product Homepage:
http://www.residentevil.com/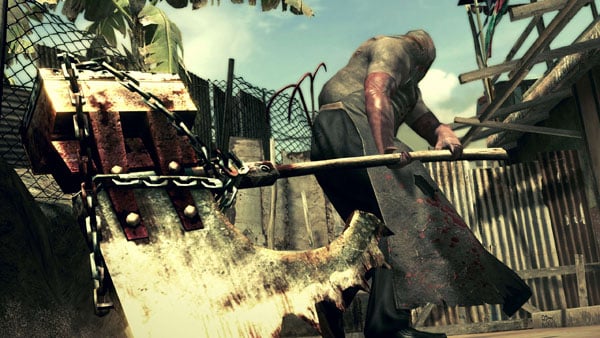 Resident Evil 5 is a survival horror video game developed and published by Capcom. The game is the seventh installment in the Resident Evil survival horror series, and was released on September 18. Resident Evil 5 revolves around Chris Redfield and Sheva Alomar as they investigate a terrorist threat in Kijuju, a fictional town in Africa.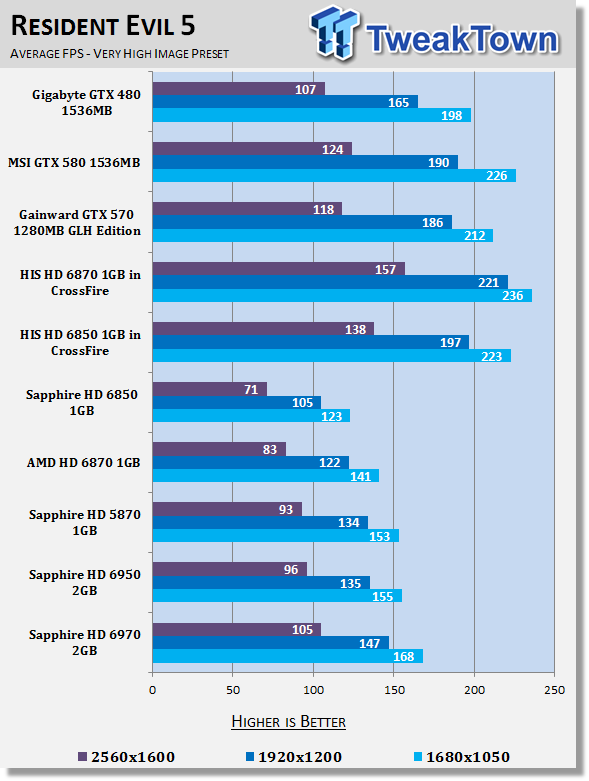 We continue to see the HD 6970 close the gap to almost nothing at the highest resolution. Let's see what happens as we get into our other game benchmarks.
Benchmarks - Tom Clancy's H.A.W.X. 2
Tom Clancy's H.A.W.X.2Version and / or Patch Used:
Benchmark Demo
Timedemo or Level Used:
Built-in Test
Developer Homepage:
http://www.ubi.com/UK/default.aspx
Product Homepage:
http://www.hawxgame.com/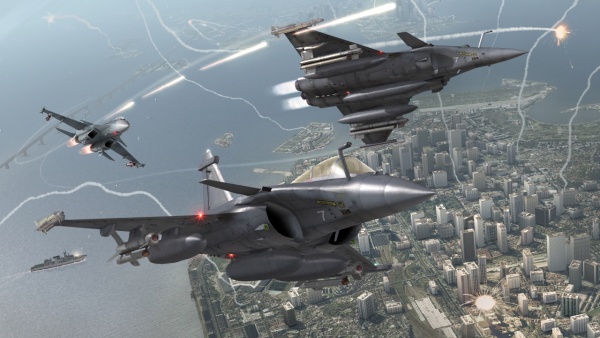 Tom Clancy's H.A.W.X. 2 is an arcade-style flight action game developed by Ubisoft Romania and published by Ubisoft. The game is the sequel to Tom Clancy's H.A.W.X., released in 2009.
The game begins with Colonel David Crenshaw participating in a routine patrol mission in the Middle East. After halting an insurgent attack, a volley of missiles is fired at the Air Force base that Crenshaw was stationed at, with one of the missiles disabling Crenshaw's aircraft, resulting Crenshaw being in enemy captivity. A joint strike force composed of the U.S. Navy, U.S. Air Force, and a Ghost Recon squad executes an operation to rescue Crenshaw. In Scotland, Royal Navy Pilot Colin Munro encounters an unidentified passenger aircraft that explodes from an on-board bomb when undergoing training exercise. In Russia, an air force squadron led by Colonel Denisov and Captain Dmitri Sokov engages separatist aircraft but is ordered to retreat from the region after numerous Russian military installations have been attacked.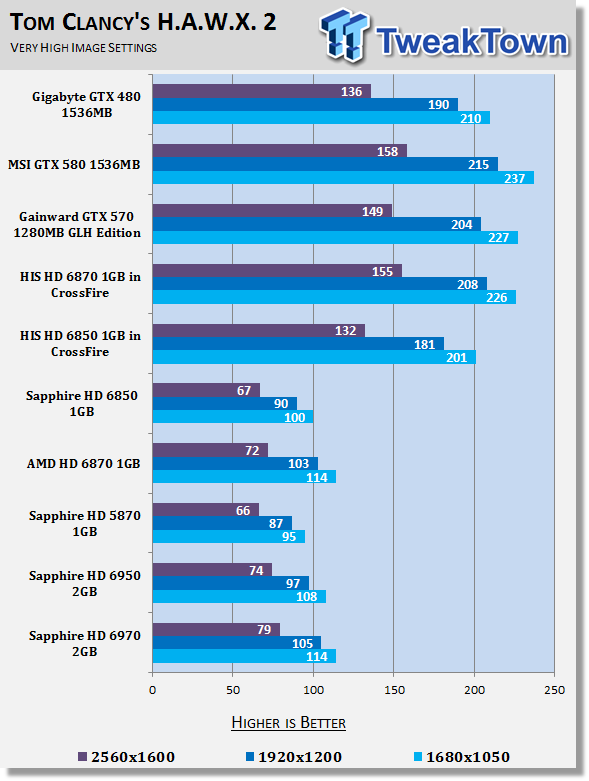 H.A.W.X. 2 is not kind to the AMD series of cards; we've known that since the release of the benchmark demo. We do see strong FPS at all resolutions, though, with an average of 60 FPS not being an issue even at 2560 x 1600.
Benchmarks - Mafia II
Mafia IIVersion and / or Patch Used:
Latest Steam Update
Timedemo or Level Used:
Built in Benchmark
Developer Homepage:
http://www.2kczech.com/
Product Homepage:
http://www.mafia2game.com/
Buy It Here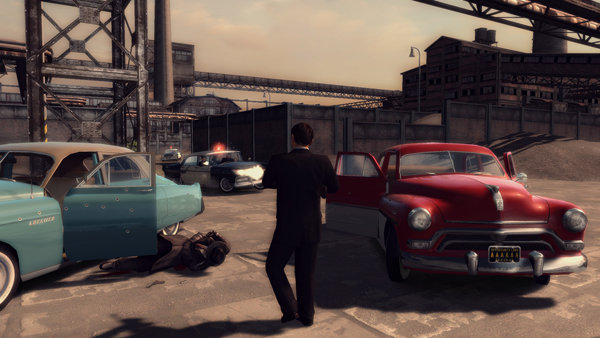 Mafia II is a third-person action-adventure video game, the sequel to Mafia: The City of Lost Heaven. It is developed by 2K Czech, previously known as Illusion Softworks, and is published by 2K Games. The game is set from 1943 to 1951 in Empire Bay (the name is a reference to New York's state nickname "The Empire State"), a fictional city based on San Francisco and New York City, with influences from Chicago and Detroit. The game features a completely open-ended game map of 10 square miles. No restrictions are included from the start of the game. There are around 50 vehicles in the game, as well as licensed music from the era.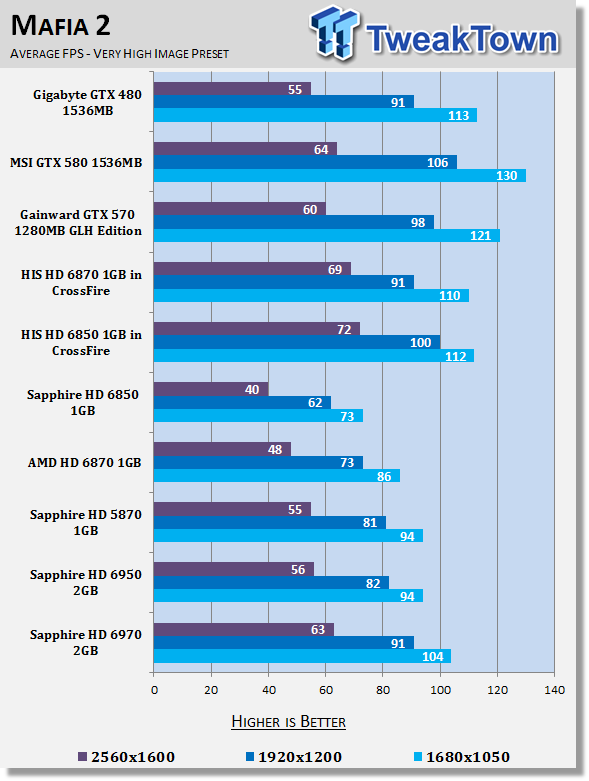 Here you can see what we're seeing since the start; at 1680 x 1050 the GTX 480 continues to hold a clear lead over the HD 6970. As we climb up the resolution table, that lead begins to shrink to the point where it no longer exists at the highest resolution.
At the highest resolution you can see that the HD 6970 doesn't have any problems outperforming the pre overclocked GTX 570 and is only a single FPS behind the GTX 580.
Benchmarks - Lost Planet 2
Lost Planet 2Version and / or Patch Used:
Benchmark Demo
Timedemo or Level Used:
Built in Benchmark - Test A Scene 1
Developer Homepage:
http://www.capcom.com/
Product Homepage:
http://www.lostplanet2game.com/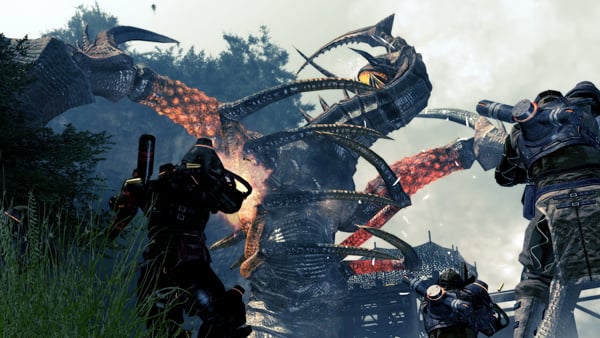 Lost Planet 2 is a third-person shooter video game developed and published by Capcom. The game is the sequel to Lost Planet: Extreme Condition which is also made by Capcom, taking place ten years after the events of the first game, on the same fictional planet. The story takes place back on E.D.N. III 10 years after the events of the first game. The snow has melted to reveal jungles and more tropical areas that have taken the place of more frozen regions. The plot begins with Mercenaries fighting against Jungle Pirates. After destroying a mine, the Mercenaries continue on to evacuate the area, in which a Category-G Akrid appears and attacks them. After being rescued, they find out their evacuation point (Where the Category-G appeared) was a set-up and no pick up team awaited them. The last words imply possible DLC additions to the game, "There's nothing to be gained by wiping out snow pirates... unless you had some kind of grudge."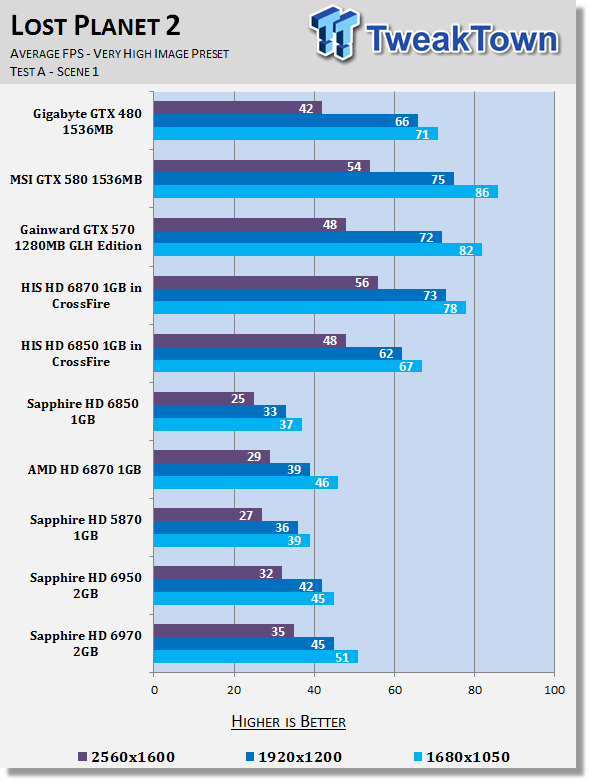 Under Lost Planet 2 we see a good gain over the HD 6950; unfortunately across the board we see our average is still below that 60 FPS mark which is the number we want to see.
Benchmarks - Aliens vs. Predator
Aliens vs. PredatorVersion and / or Patch Used:
Standalone Benchmark
Timedemo or Level Used:
Built in Benchmark
Developer Homepage:
http://www.rebellion.co.uk/
Product Homepage:
http://www.sega.com/games/aliens-vs-predator/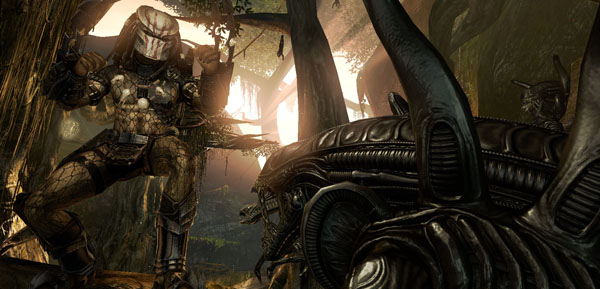 Aliens vs. Predator is a science fiction first-person shooter video game, developed by Rebellion Developments, the team behind the 1999 original PC game, and published by Sega for Microsoft Windows, the PlayStation 3 and the Xbox 360. The game is based on the Alien vs. Predator franchise, a combination of the characters and creatures of the Alien franchise and the Predator franchise. There are three campaigns in the game, one for each race/faction (the Predators, the Aliens and the Colonial Marines), that, while separate in terms of individual plot and gameplay, form one overarching storyline.
Following the storyline of the campaign modes comes the multiplayer aspect of the game. In this Multiplayer section of the game, players face off in various different gametypes in various different ways.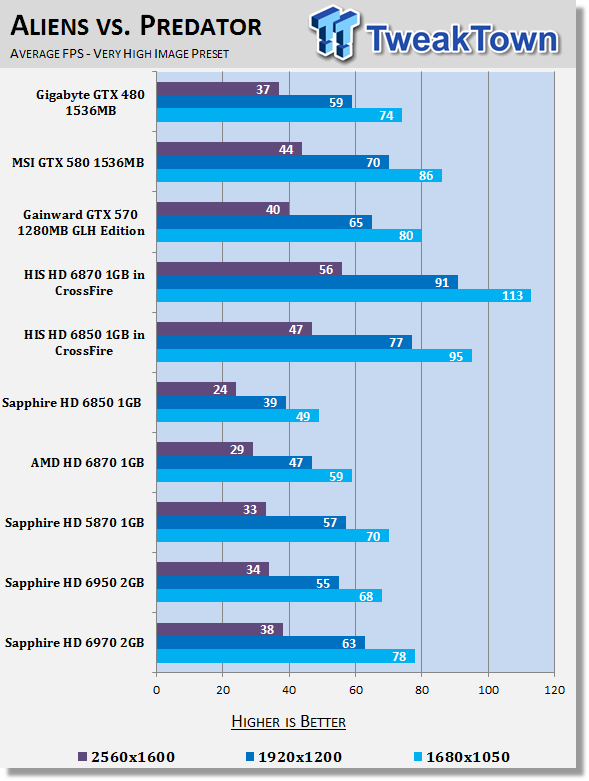 Aliens vs. Predator performance is strong and unlike the HD 6950 we've got playable FPS at 1920 x 1200 as well as 1680 x 1050. You can see that the card manages to outperform the GTX 480 at all resolutions and is nipping at the heels of the pre overclocked GTX 570 in this instance.
Benchmarks - Street Fighter IV
Street Fighter IVVersion and / or Patch Used:
Standalone Benchmark
Timedemo or Level Used:
Built in Benchmark
Developer Homepage:
http://www.capcom.com/
Product Homepage:
http://www.streetfighter.com/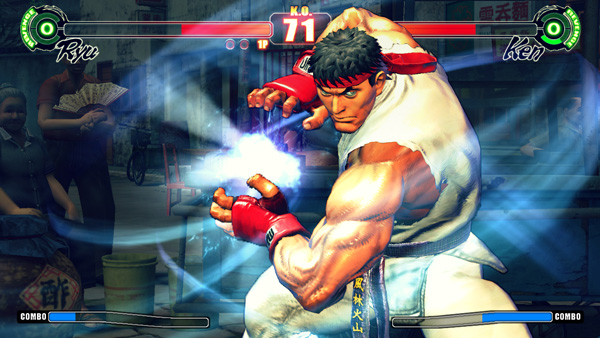 While Street Fighter IV features models and backgrounds rendered in 3D, the gameplay remains on a traditional 2D plane, with the camera having freedom to move in 3D at certain times during fights, for dramatic effect. Producer Yoshinori Ono has stated that he wanted to keep the game closer to Street Fighter II. A new system called "Focus Attacks" ("Saving Attack" for the Japanese version) has been introduced, as well as Ultra moves. The traditional six-button control scheme returns, with new features and special moves integrated into the input system, mixing classic gameplay with additional innovations.
All the characters and environments in Street Fighter IV are rendered as 3D models with polygons, similar to the Street Fighter EX sub-series Capcom produced with Arika. However, there are a couple of key differences. Art director and character designer Daigo Ikeno, who previously worked on Street Fighter III 3rd Strike, opted for non-photorealistic rendering to give them a hand-drawn look, with visual effects accented in calligraphic strokes, ink smudges and ink sprays during the fights.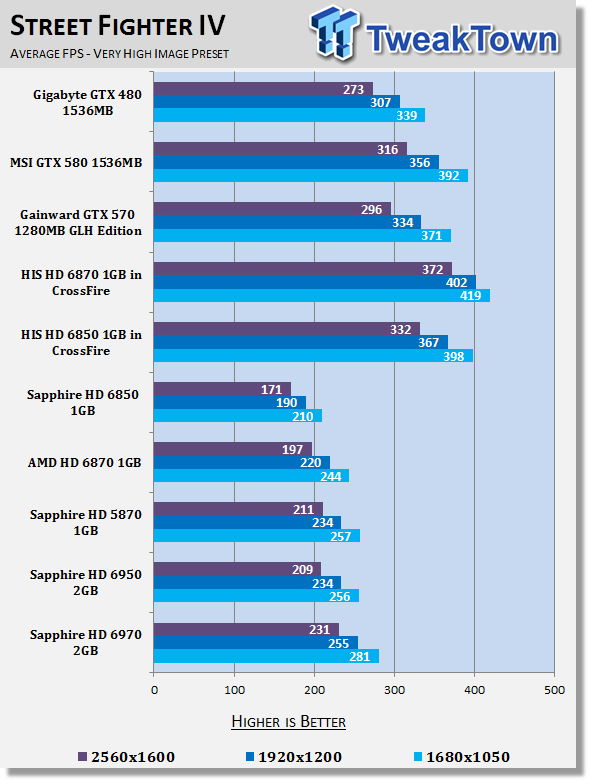 Street Fighter IV already offers us big numbers and the HD 6970 just improves upon the numbers we're seeing from the HD 6950.
Benchmarks - Far Cry 2
Far Cry 2Version and / or Patch Used:
1.01
Timedemo or Level Used:
Ranch Long
Developer Homepage:
http://www.ubi.com/
Product Homepage:
http://www.farcry2.com/
Buy It Here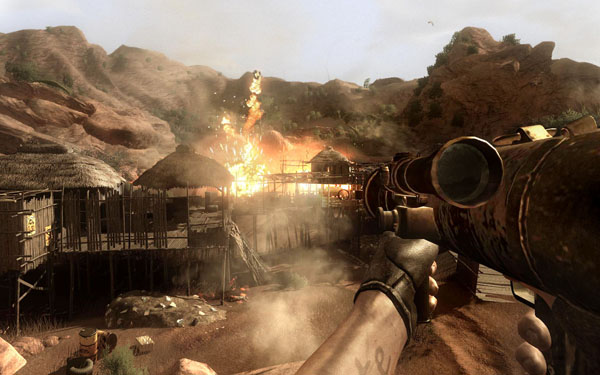 The Dunia Engine was built specifically for Far Cry 2 by the award-winning Ubisoft Montreal development team. It delivers the most realistic destructible environments, amazing special effects such as dynamic fire propagation and storm effects, real-time night-and-day cycle, dynamic music system, non-scripted enemy A.I. and so much more.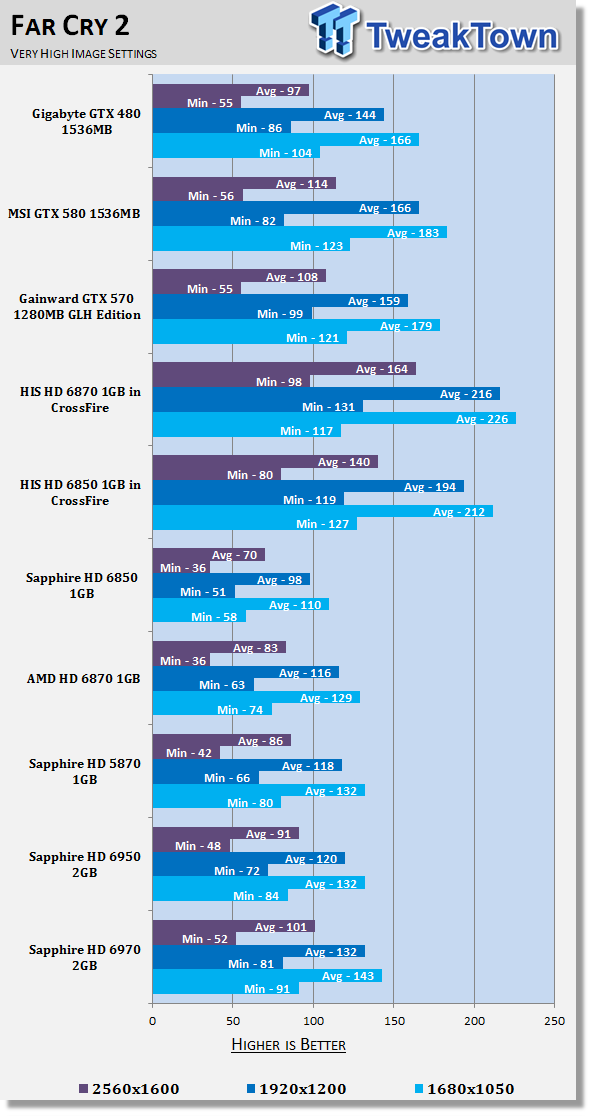 We've got playable FPS across the board, but we continue to see the GTX 480 win out at the lower resolution. The picture changes, though, when we start to hit 2560 x 1600. It's relevant as well because we're getting playable numbers out of the HD 6970 at this resolution.
Benchmarks - Batman Arkham Asylum
Batman Arkham AsylumVersion and / or Patch Used:
1.1
Timedemo or Level Used:
Built-in Test
Developer Homepage:
http://www.batmanarkhamasylum.com/
Product Homepage:
http://www.batmanarkhamasylum.com/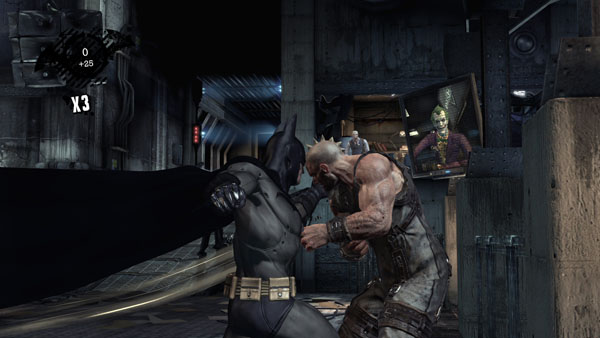 Batman: Arkham Asylum exposes players to a unique, dark and atmospheric adventure that takes them to the depths of Arkham Asylum - Gotham's psychiatric hospital for the criminally insane. Gamers will move in the shadows, instigate fear amongst their enemies and confront The Joker and Gotham City's most notorious villains who have taken over the asylum.
Using a wide range of Batman's gadgets and abilities, players will become the invisible predator and attempt to foil The Joker's demented scheme.
Batman: Arkham Asylum features an original story penned exclusively for the game by famous Batman author and five-time Emmy award winner Paul Dini, whose credits include Lost season one and Batman: The Animated Series.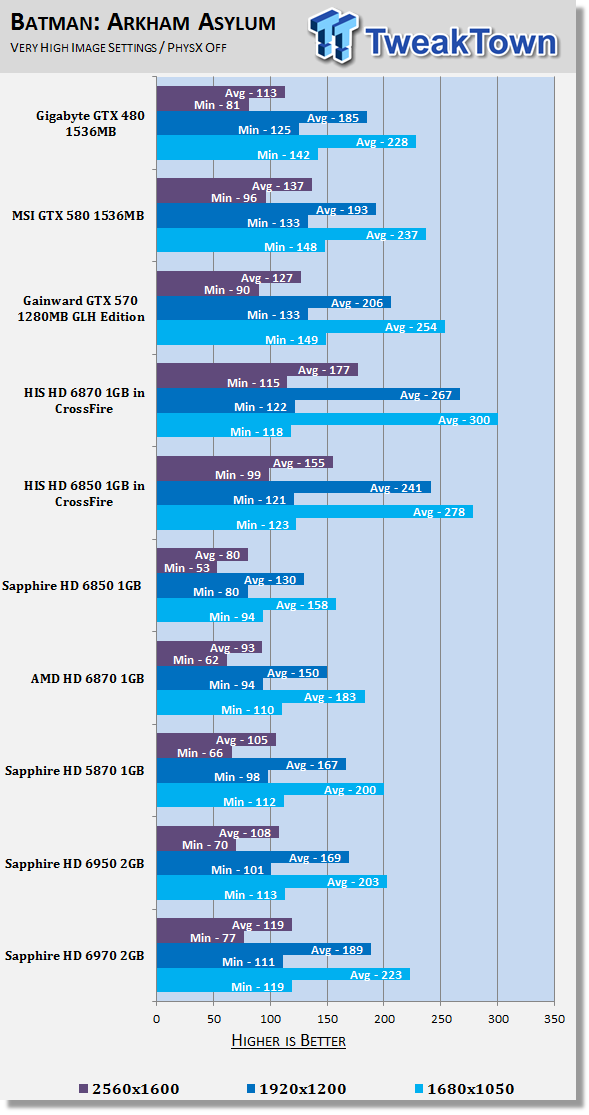 Really, an identical picture to what we saw from the cards under Far Cry 2. Strong performance across the board here, albeit the GTX 480 continues to win out at the lower resolution. The gap shrinks at 2560 x 1600, though, and we see that the average on the HD 6970 is slightly higher.
Benchmarks - High Quality AA and AF
High Quality AA and AF
Our high quality tests let us separate the men from the boys and the ladies from the girls. If the cards weren't struggling before they will start to now.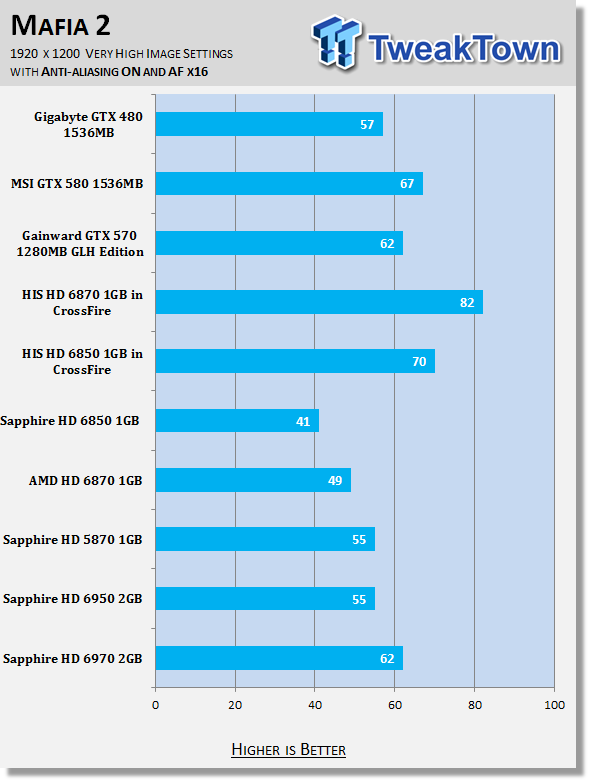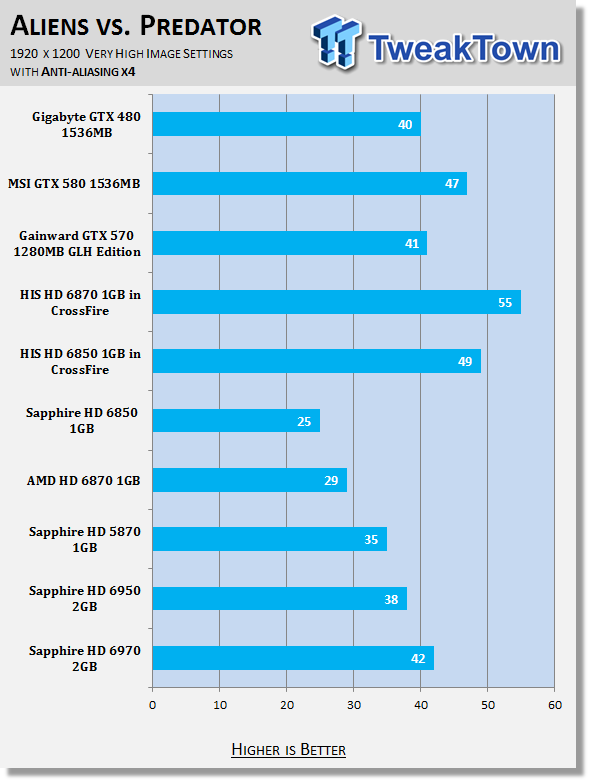 Under Mafia II you can see that the performance of the HD 6970 matches that of the pre overclocked GTX 570. Aliens vs. Predator sees the HD 6970 beat the GTX 570, albeit all setups are still under the 60 FPS average.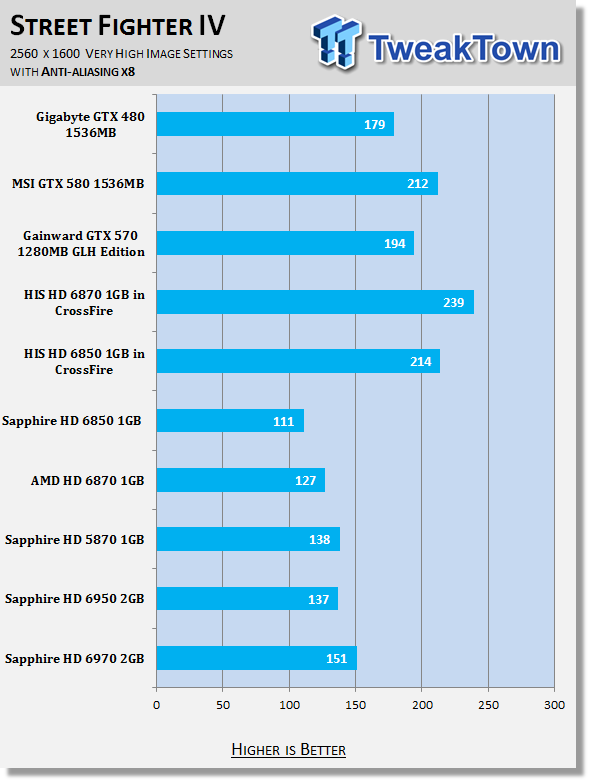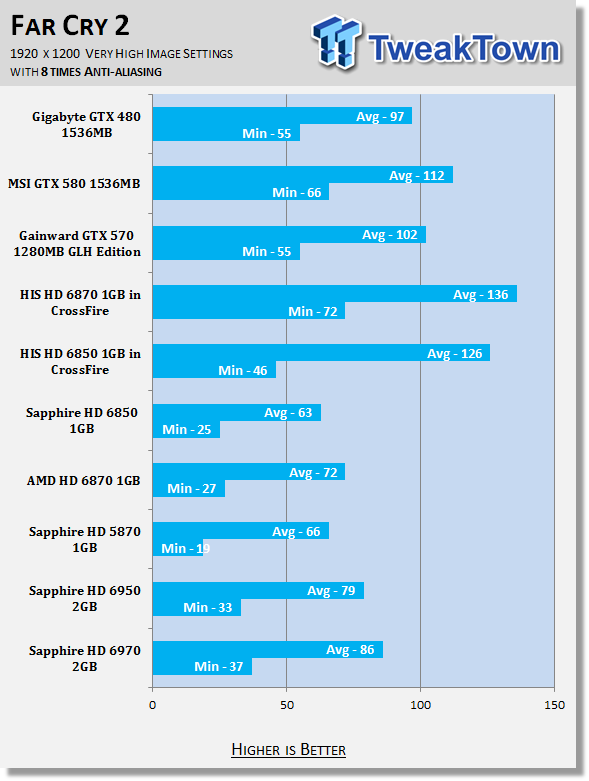 Street Fighter IV numbers are big as you would expect and Far Cry 2 numbers are improved over the HD 6950, and at playable levels. Not quite as high as the NVIDIA offerings, though.
Temperature Test
Temperature Tests
The temperature of the core is pulled from MSI Afterburner with the max reading used after a completed run off 3DMark Vantage and the Performance preset.

The HD 6970 runs 10c warmer than the HD 6950 at 80c. Overall the temp's not too bad, though. It's lower than the GTX 580 and while it's 6c warmer than the GTX 570, it has to be noted the Gainward GTX 570 carries with it a dual fan setup.
Sound Test
Sound Tests
Pulling out the TES 1350A Sound Level Meter we find ourselves quickly yelling into the top of it to see how loud we can be.
After five minutes of that we get a bit more serious and place the device two CM away from the fan on the card to find the maximum noise level of the card when idle (2D mode) and in load (3D mode).

Noise levels are impressive on the card. It's a little louder than the HD 6950, but still at a very good level sitting amongst a lot of the other higher end cards.
Power Consumption Tests
Using our new PROVA Power Analyzer WM-01 or "
Power Thingy
" as it has become quickly known as to our readers, we are now able to find out what kind of power is being used by our test system and the associated graphics cards installed. Keep in mind; it tests the complete system (minus LCD monitor, which is plugged directly into AC wall socket).
There are a few important notes to remember though; while our maximum power is taken in 3DMark06 at the same exact point, we have seen in particular tests the power being drawn as much as 10% more. We test at the exact same stage every time; therefore tests should be very consistent and accurate.
The other thing to remember is that our test system is bare minimum - only a SSD hard drive is used with a single CD ROM and minimal cooling fans.
So while the system might draw 400 watts in our test system, placing it into your own PC with a number of other items, the draw is going to be higher.

Power draw on the model is very impressive. Its idle power draw is very low and its load power draw is also very good coming in a good chunk below the GTX 500 series which are in the 400 watt region.
Total Performance Rating (TPR)
Total Performance Rating
The TPR graph is a combination of all our benchmarks in which NVIDIA and AMD are on an even playing field.
The TPR number is a combination of:
3DMark 11, Heaven Benchmark V2, Resident Evil 5, Tom Clancy's H.A.W.X.2, Mafia 2 (PhysX Off), Lost Planet 2, Aliens vs. Predator, Street Fighter IV, Far Cry 2, Batman: Arkham Asylum (PhysX Off) and our four High Quality tests which include Mafia 2, Aliens vs. Predator, Street Fighter IV and Far Cry 2.
All of the benchmark results achieved are then combined into a single number. As this graph will grow over time and cards won't be re-tested, next to each model you'll find the driver version that was used when the card was benchmarked.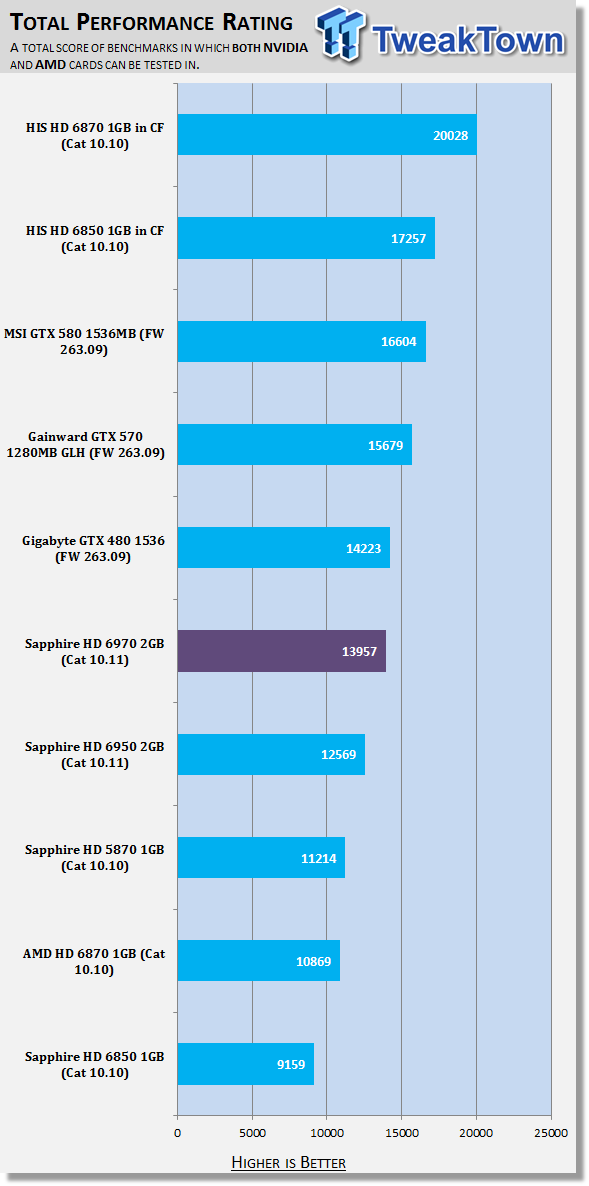 We can see that there's a clear difference between the two HD 6900 models. Compared to the NVIDA offerings we're almost perfectly in line with the GTX 480 which offers similar performance to the stock GTX 570.
The main reason the HD 6970 continues to fall a bit behind, though, is because the NVIDIA offerings perform stronger at the lower resolution. At 2560 x 1600, though, you really do see a a different picture.
Total Value Rating (TVR)
Total Value Rating
The TVR graph is the TPR score divided by the price of the video card. The price of the video card is based on the list price of the model on Newegg.com. In the event the card isn't listed, it will be based on the U.S. $ MSRP given to us by the manufacturer.
In the event we can't source a price from either, the product will not receive a TVR rating. As with our TPR graph, the amount of video cards on the list will grow over time and the price of the model won't change from what it was when first reviewed. For this reason the U.S. $ price that the card is based off will be included next to the name of the model.
In the event you want to find the TVR rating yourself based on the current price, all you have to do is simply divide the TPR number by the list price.
TVR numbers are rounded to the nearest whole number; 100.3 will be 100; 100.8 will be 101 and 100.5 will be rounded down to 100.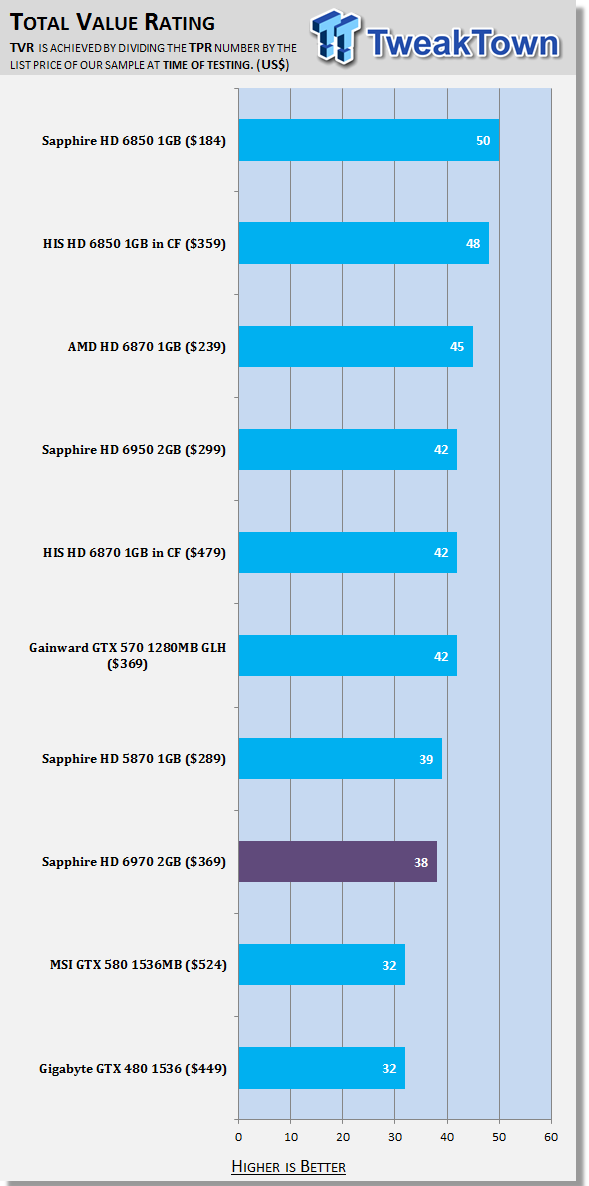 While dollar for FPS the HD 6950 remains the better buy, I would say that when it comes down to it, for what you're expecting out of the HD 6900 series the HD 6970 is the better buy.
Final Thoughts
The picture from the HD 6970 is a little clearer; not crystal clear, but indeed clearer. The thing is, if you remove the GTX 500 series from the picture and put the HD 6970 against the GTX 480, you've got a clear winner in the new AMD card. It performs similar to the GTX 480 with it performing better at the highest resolution.
Its temperature, heat and power numbers are also a lot more attractive when compared to the GTX 480. I think it was AMDs goal to make the HD 6970 a better card than the GTX 480, and I can honestly say that they have achieved that. You wouldn't buy a GTX 480 over the HD 6970.
The problem is that the GTX 500 series is in the picture now and you wouldn't buy a GTX 480 over the two new GTX 500 series cards. So, do you buy a HD 6970 over the GTX 500 series? Well, if you want the fastest single GPU card, no. The GTX 580 really is a good chunk faster and while at times the gap between the HD 6970 and GTX 580 does shrink, it's still not really competing with it.
The thing is, though, the GTX 580 is so much more expensive; AMD don't expect people who want to spend $500 on a video card to choose the HD 6970 over the GTX 580. What they do hope is that you would maybe look at a Crossfire setup at a similar price range. For under $500 you're able to get a HD 6870 Crossfire setup that performs a good chunk faster than the GTX 580.
So, do you buy the HD 6970 over the GTX 570? You know, even after all this testing I'm not sure I can answer that. Both are good cards, both are priced at a similar level and both offer similar performance when you look at the performance of a stock GTX 570.
I love what Sapphire has done with the bundle of the HD 6970 and it helps it stand out against the competition. That we can't deny. The new Catalyst Control Center
also looks great
and it's got a much needed face lift.
While I can't say you should buy a HD 6970 over a GTX 570, I can't say you should buy a GTX 570 over a HD 6970 either. I think what it really comes down to is what you want out of the card. Like I've said in a few of my reviews recently, as an Eyefinity user I'm choosing the AMD option over the NVIDIA one because I want to run three monitors off one video card. I'm also becoming quite dependent on DisplayPort and it's something that NVIDIA haven't really chosen to embrace yet; albeit we've seen Gainward and Palit offer it to us.
Connectivity wise, the HD 6970 is the better option. Feature wise, it's tough; NVIDIA has CUDA and PhysX, but AMD has Stream. PhysX also hasn't gained loads of momentum, so for many it's not a deal clincher.
I think what it all really comes down to is how much do you want to spend and what's in stock. If you want to be gaming over the Christmas holidays, you'd be crazy to wait for one model over another because all you're doing is delaying your gaming experience, and honestly, both cards offer good performance.
The confusion in what to buy is what's going to hurt AMD. We expected AMD to come out and have the fastest single GPU card. They don't. If the GTX 500 series didn't come out this year they would've, but they did come out. What has hurt AMD the most is delaying the launch of this product. The GTX 570 should've never had a chance to be released. If the HD 6900 series launched last month like it was meant to, they could've charged slightly more and gotten market penetration.
Instead the GTX 580 launched, it rattled the cages of AMD and seemed to cause a delay to the HD 6900 series. While AMD spent time worrying about the GTX 580, NVIDIA turned around and threw the GTX 570 at us for further measure. What could AMD do? Nothing really, they couldn't delay the card 'till next year.
The HD 6970 performs well, it offers good value and Sapphire has put a great bundle together. Ignoring the bundle, though, and just looking at the HD 6970 for what it is and at the suggested selling price, the answer to the question rises. Do you buy the GTX 570 or the HD 6970? It can't really be answered and I think that's a bigger issue for AMD than it is for NVIDIA.
We could end up in an aggressive price war with the consumer in the middle; and you know what, it wouldn't be a bad thing. Don't let it stop you from buying a card now, though.
PRICING: You can find products similar to this one for sale below.

United States: Find other tech and computer products like this over at Amazon.com

United Kingdom: Find other tech and computer products like this over at Amazon.co.uk

Australia: Find other tech and computer products like this over at Amazon.com.au

Canada: Find other tech and computer products like this over at Amazon.ca

Deutschland: Finde andere Technik- und Computerprodukte wie dieses auf Amazon.de